Adventurous Kate contains affiliate links. If you make a purchase through these links, I will earn a commission at no extra cost to you. Thanks!
My favorite travel moments of the year took me to interesting places. A spa overlooking Mont Blanc. A hot waterslide pool on the edge of the Black Sea. A gymnasium full of vaccine-administering National Guardsmen in Lynn, Massachusetts. And Old Town Square in Prague, where prices on beers were slashed in half to cater to locals rather than tourists.
Please enjoy my favorite travel moments of 2021! But first, the non-travel moment that dominated the first half of the year.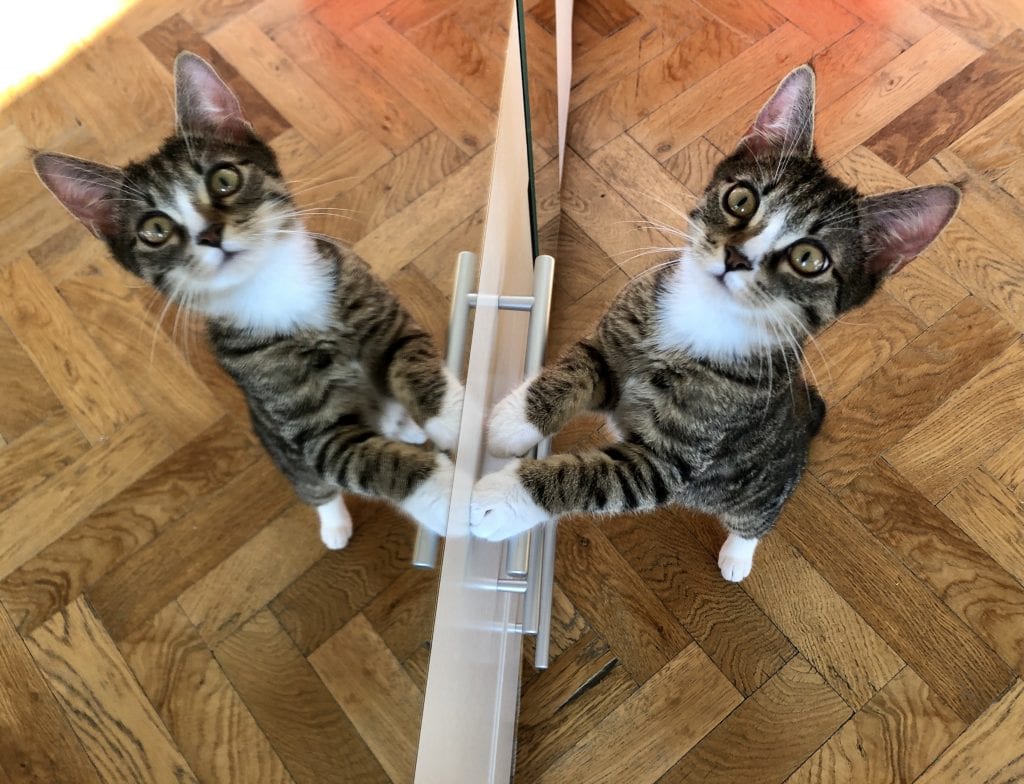 Saving Lewis's Life
This was the most important thing that happened this year, the defining event that shaped this year, and it brought me my greatest joys this year.
Very long story short: Lewis was diagnosed with FIP, Feline Infectious Peritonitis, on December 28, 2020. Our vet told us that we had to say goodbye to our cat, that this was fatal.
Not for Lewis.
There IS a cure for FIP nowadays, but it hasn't been approved by the FDA or the equivalent in other countries. It's called GS. Vets can't prescribe it and most haven't heard of it; you get the medicine from Facebook groups. We used the FIP Fighters Facebook group.
Lewis was very ill on his day of diagnosis, barely moving or eating. But after one dose, he started to wake up. Three days later, he was running to his food and jumping for his toys. Each new milestone brought me to happy tears.
If there's anything I want you to take away from this, it's that FIP is no longer a fatal disease. If your cat is diagnosed with FIP, join the FIP Fighters group on Facebook and speak with an admin. They will get the medicine to you, but you need to act quickly.
According to the head of the local FIP group in the Czech Republic, who keeps meticulous data, 95% of FIP cats treated with GS here have survived. That's no longer a fatal disease.
We found a wonderful team of vets in Prague who believe in GS and guided us through the process, including some road blocks along the way. We brought the scientific study about GS to our first vet, and he was surprised and pleased to see Lewis improve.
It was incredibly difficult. The daily injections were painfully acidic and required a large needle. Lewis would shriek and jump three feet in the air when jabbed. We tried doing it ourselves for awhile, but it got so hard (and each missed shot was around $15 of medicine wasted) that we resorted to taking him to the vet every day.
After 84 days of treatment and 84 days of observation, Lewis is officially cured — and is as healthy as a cat who never had FIP.
Today Lewis is a daredevil and a sweetheart. He meows loudly and his fur is so soft. His favorite thing to do is jump from the ground to the shoe cabinet to the top of the door to the top of the closet!! Not even Murray can do that!
Most of all, I am so grateful that my little cat survived, and that he and his brother Murray will get to grow up together. It was worth every penny.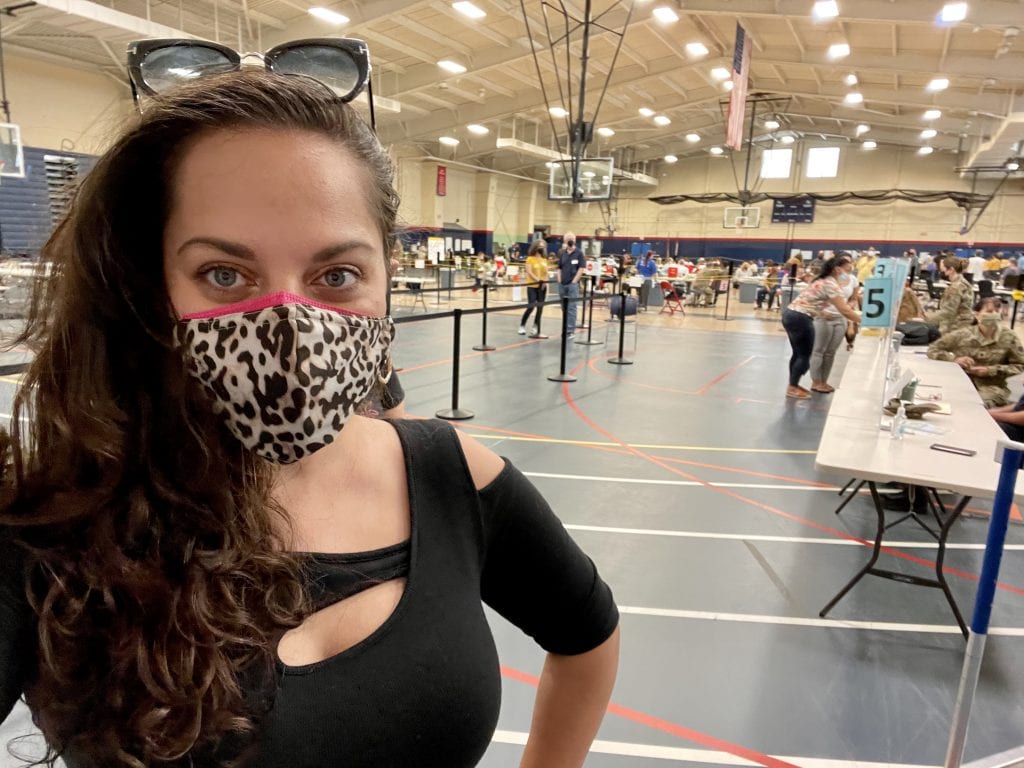 Getting Vaccinated — Three Times
Of course getting vaccinated was the travel highlight of the year! I flew home to the US to get my first shot on April 26. I literally went to get the shot a few hours after my flight touched down.
My second shot was four weeks later; I got my booster shot in Prague in late November.
I'm grateful to the scientists who were able to create this life-changing vaccine and save millions of lives. And I am so grateful to be vaccinated, knowing that I'm protecting others.
Please get vaccinated if you haven't yet. Please get your booster if you haven't yet. It might not feel like it's making a difference, but you are protecting people who are more vulnerable than you.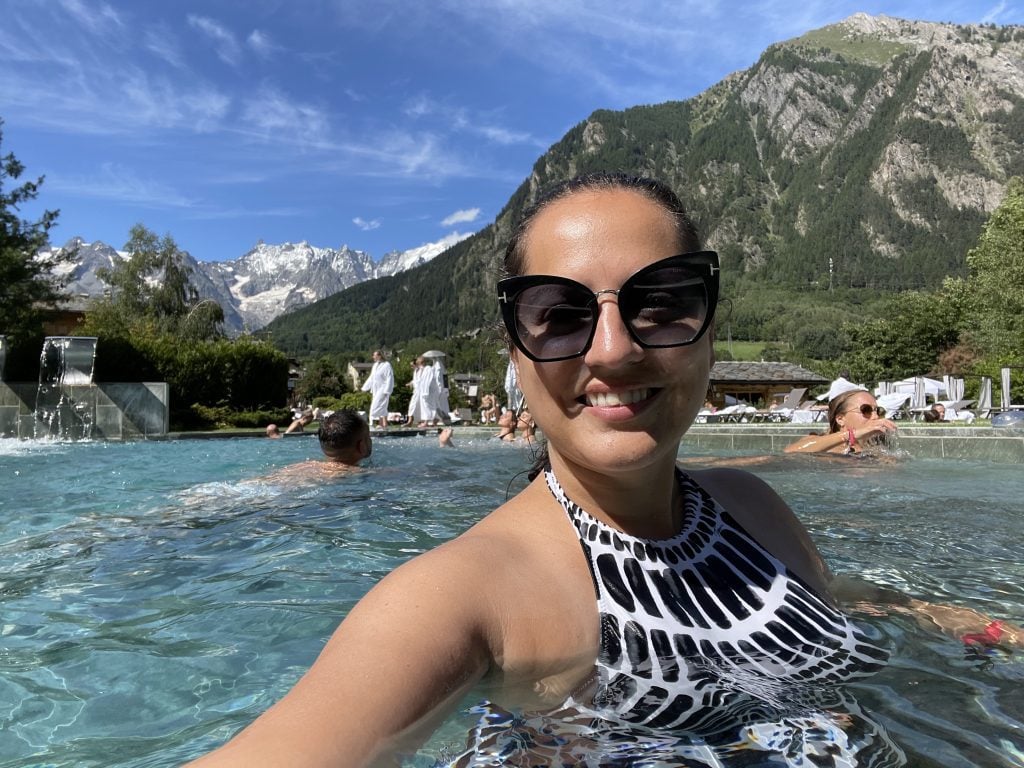 From Mont Blanc to Thermal Baths
One of my favorite days of travel in 2021 took place in Valle d'Aosta — and involved a lot of Mont Blanc! It was a stunningly beautiful day that allowed us to experience the best of this region.
We began the morning by driving to Courmayeur, close to the French border. Here you can take a cable car to the top of the mountain range, with up-close views of Mont Blanc. The top is a dizzying experience, with the mountain so close you can touch it.
Halfway down the mountain is an Alpine botanical garden, complete with a little pond and even more views of the mountains. You can even pull yourself across the pond on a raft!
After a fantastic lunch and a stroll through Courmayeur, we stopped in Pré-Saint-Didier to go to the QC Terme baths. This came highly recommended from a woman we met in the Aeolian Islands. This complex includes several baths and heated pools indoors and outdoors.
After getting our vaccine passports checked, we got settled in the outdoor baths. Enjoying a gorgeous summer afternoon, luxuriating in the bubbly warm water, gazing at the mountains around you, including the rounded top of Mont Blanc in the distance — it was heavenly.
Valle d'Aosta is such a gem, and if you visit this region, you must spend a day on the mountain and in the baths!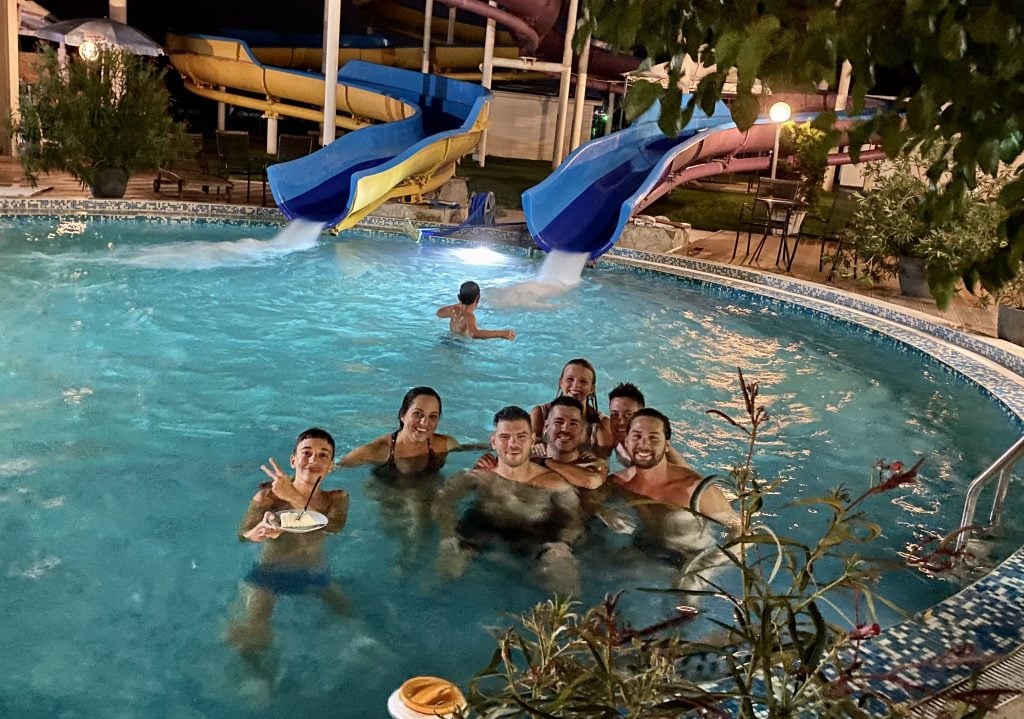 A Bulgarian Wedding — With Waterslides!
I was supposed to attend four weddings in 2020 — and all four were canceled. Wonderfully, though, I was able to attend a rescheduled wedding in 2021: a small, outdoor wedding on the shores of the Black Sea in Varna, Bulgaria.
Charlie and I met Sarah and Mitko in Mérida in early 2020, and we became buds for the duration of our Mexican winter. They ended up having a small wedding in the US, but the Bulgarian wedding (Mitko moved from Bulgaria to the US when he was 10) was always going to be an event!
COVID-wise, a small outdoor wedding made sense. There are plenty of beach clubs in Varna. Why not choose the one that came with had waterslides?! And amazingly, our bud Nathan paid for the waterslides to stay open into the evening as his gift for them.
It was AMAZING. The water was actually hot. Have you ever gone down a hot waterslide before?! It's SO GOOD.
Overall, I'm so glad we were able to be there for our friends, it was cool learning about Bulgarian wedding traditions, and EVERY WEDDING NEEDS TO COME WITH WATERSLIDES!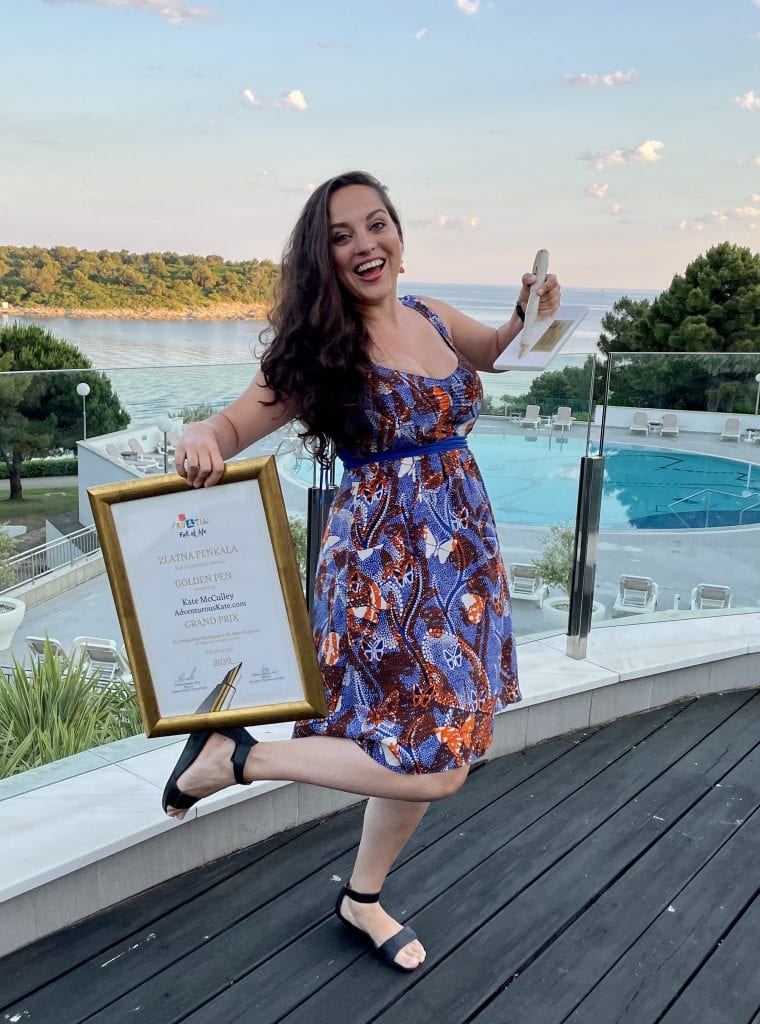 Winning the Golden Pen Grand Prix in Croatia
When I got invited to Pula, Croatia, as a nominee for the Golden Pen Awards, Croatia's travel writing awards for foreigners, I was pleased but wondered if attending would be worth it. Was it really worth going if I didn't come home with an award? But the team at Croatia have been good to me, and I figured it would be fun either way.
Then the awards ceremony came and I actually won the top prize — the Grand Prix. The top travel writing award in Croatia!
This recognition meant so much to me because I adore Croatia, have written SO much about Croatia, and have sent tons of my readers there. But what even meant more was talking to the Croatians and them telling me that I understand Croatia like a Croatian. Particularly this post.
Definitely a big highlight of the year!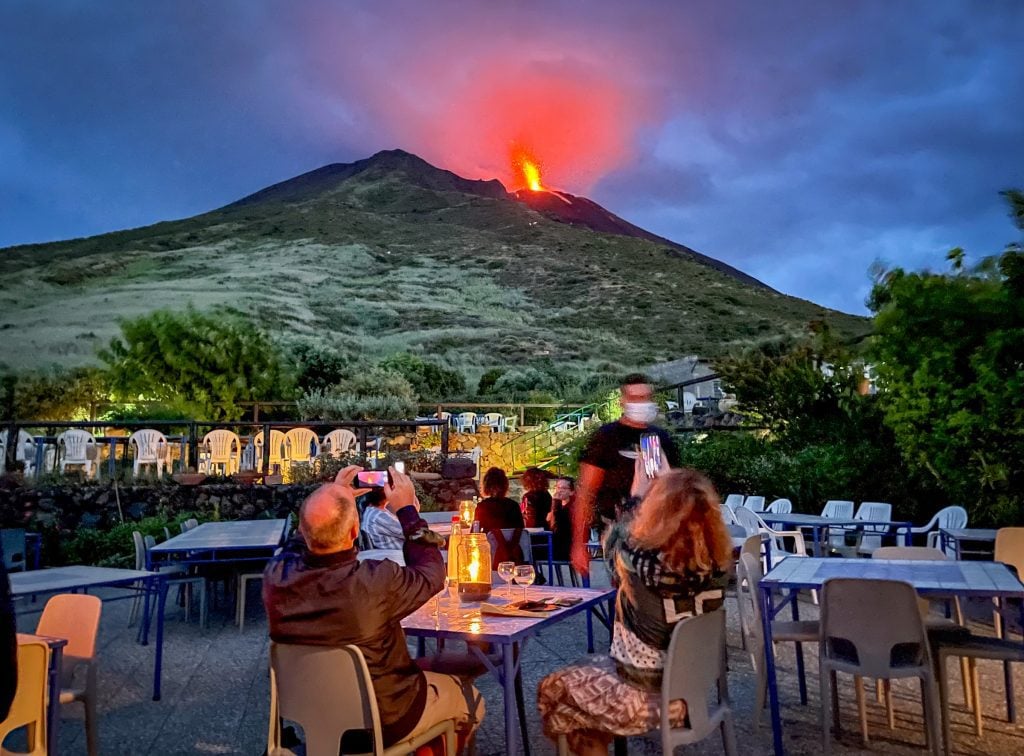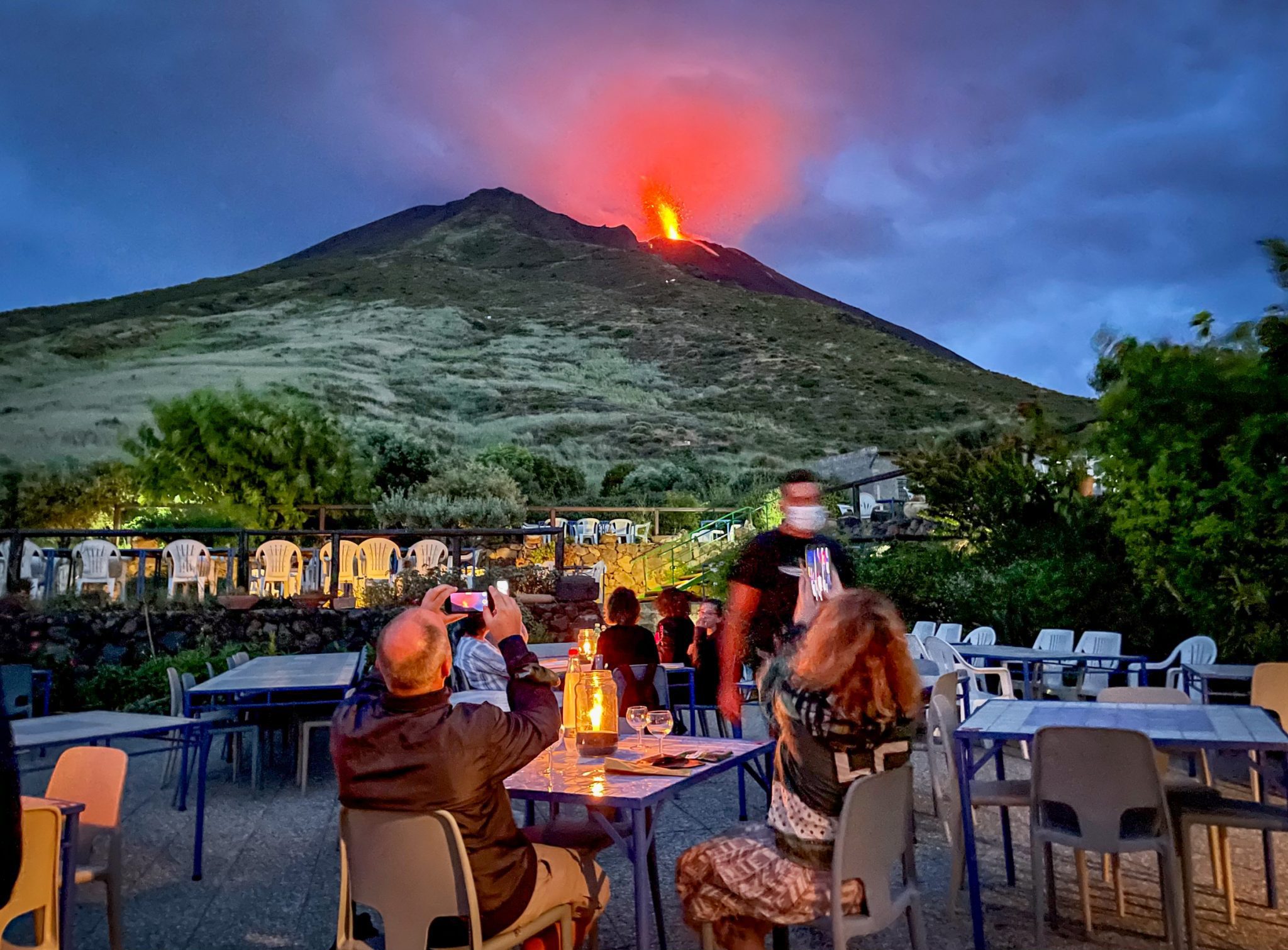 Dinner and a Volcano in Stromboli
Sometimes, the best part of an activity is relaxing after the fact and watching other people do it. I certainly felt that way in Hokkaido, Japan, after hiking the snowy trails of Noboribetsu Onsen. The best part was soaking in the onsen with a giant window while watching all the other people struggle up the snowy trails!
Which brings me to Stromboli in the Aeolian Islands. Hiking Stromboli is a quintessential Aeolian experience. We did it on our first of three nights on Stromboli. And while I'm glad I did it, it was VERY difficult at times.
The following night, we had dinner at Osservatorio, with a perfect view of the lava-spewing volcano. Now THAT was fun — after a night of dirt and soreness and gasping for breath, we got to enjoy the same view with pizza, wine, and cuddles from a cat we named Salvo. No physical exertion necessary, and even better photos!
And yes — from our vantage point at the restaurant, we could see the hikers, their headlamps tiny dots of light on the mountainside. It started to rain and I thanked my lucky stars we had done it the night before!
If you go to Stromboli, there are a few ways to experience the lava: the hike, Osservatorio, an evening cruise. But for me, Osservatorio was the highlight of Stromboli.
Re-Creating an Iconic Photo in Budapest
I first visited Budapest in 2004, during my semester abroad in Florence, and had a blast. I had no idea it would take so long to actually return — nearly 12 years into my travel blogger career!
I found an old picture and smiled. Wouldn't it be nice to re-create that photo on the Fisherman's Bastion? Only with my iPhone instead of my Let's Go: Europe?
Only we got there and found out that part of the Fisherman's Bastion was closed — it's part of a restaurant now. But I was there with my guide Balazs, who works for Visit Budapest, and he asked the restaurant if I could jump up and re-take the photo. They kindly agreed.
It took a lot of tries, but I think we did well! My hair even curves the same way. And look how much better cameras have become. That first shot was with a FILM camera!
Cider Donuts in the Berkshires
If I had to choose one single best food item of 2021, it would be the cider donuts at Hilltop Orchards in Richmond, Massachusetts. If you are ANYWHERE near the Berkshires, stop at this place. Make it a major detour, even. It's worth it.
I asked for two donuts. The guy smiled and put three in my bag. I took a bite in the orchard and HOLY HELL, these cider donuts were somehow several times better than any cider donuts I have EVER had. As soon as I was away from the farm, I almost doubled back to buy three more!
And guys, these have kind of ruined me. I got cider donuts at a good place in New Hampshire a few months later and they were good, but nothing like Hilltop donuts.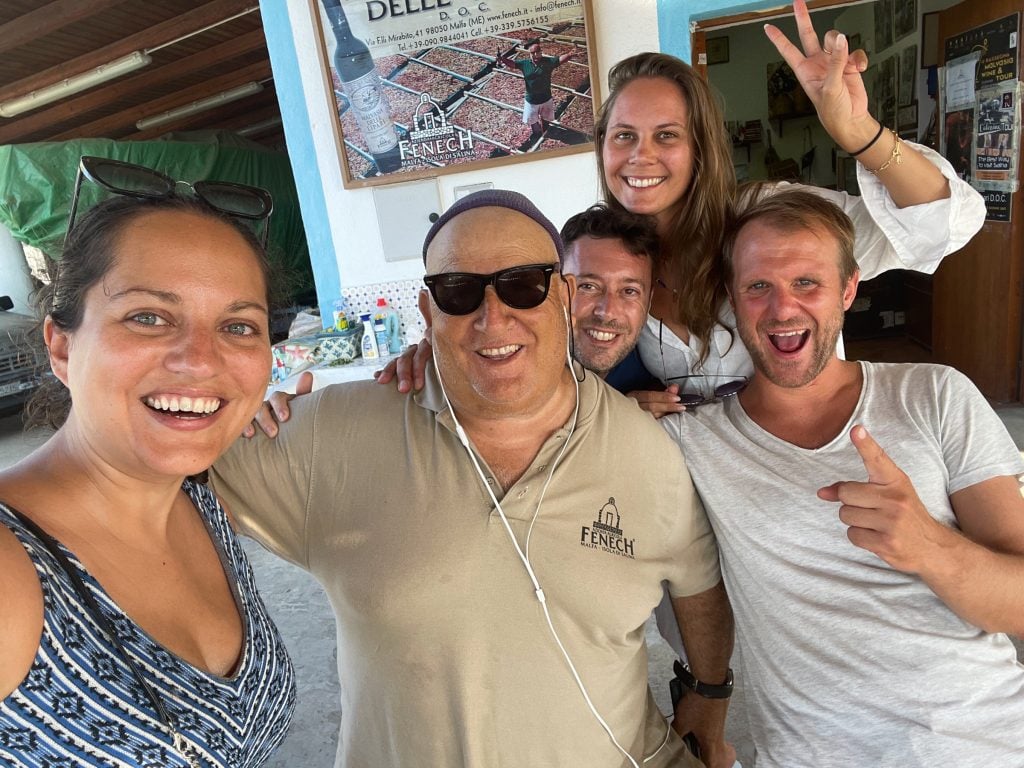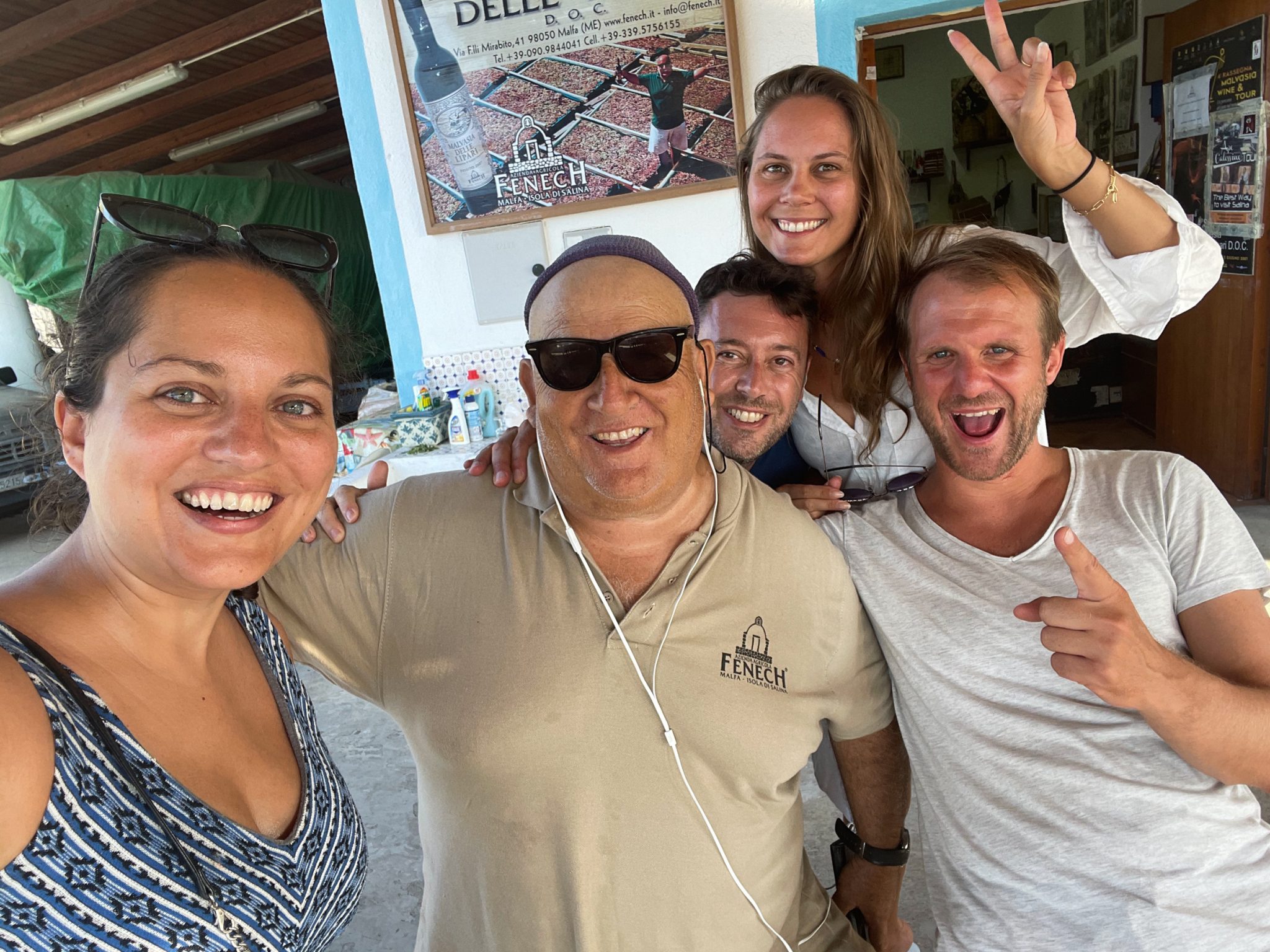 An Unforgettable Wine Tasting with Fenech
Looking for wine in the Aeolian Islands? Salina is your best bet. This island has the most wineries, thanks to the abundant natural springs and verdant plant life. Malvasia is the go-to wine, but they make all kinds of things.
We heard we had to visit Fenech Winery in Malfa, just up the road from our hotel. We arrived to Fenech himself serving wine and caper-strewn Aeolian salad to two couples.
Then Fenech got up and left. He told one of the girls to be in charge. Wait, what? Has the winery owner really left us to our own devices with a dozen half-drunk bottles of wine?
Over the next hour, we drank wine upon wine, not to mention grappa and limoncello. At one point one of the girls and I ended up in Fenech's office looking for a wine key. We told story after story, laughing our heads off in the Sicilian sunshine.
Fenech showed back up later — and all was good. He expected us to drink a lot of it. Turns out his grandfather immigrated from Italy to Boston, just as my great-grandfather did, and we shared their stories. Not a bad way to spend an afternoon in Salina!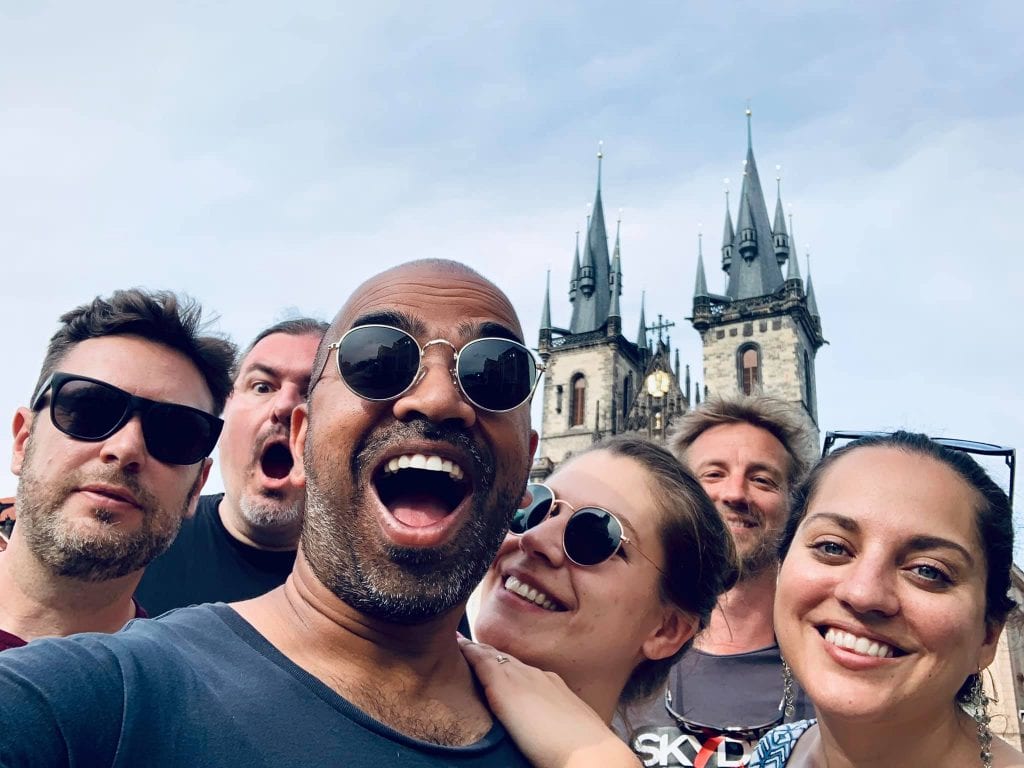 The Day My Travel Friends Returned
It was a blisteringly hot day in Prague, the kind of day when the wind burns you more than cooling you off — but man, was it fun. My friends and I had an actual meetup!
Back in the pre-COVID days, my friends and I would constantly meet up in cities around the world. And when I lived in New York, it seemed like someone was always dropping by.
This was the first time it had happened in more than a year. Kash and Sabrina came down from Berlin for a campaign. Melvin came down from Cologne for a campaign. And we…hung out. It was so normal and yet so special. I couldn't stop smiling.
That was also the day I learned that I could buy a round of beers (VERY GOOD BEERS) for myself and six friends for less than $20. PRAGUE IS THE BEST.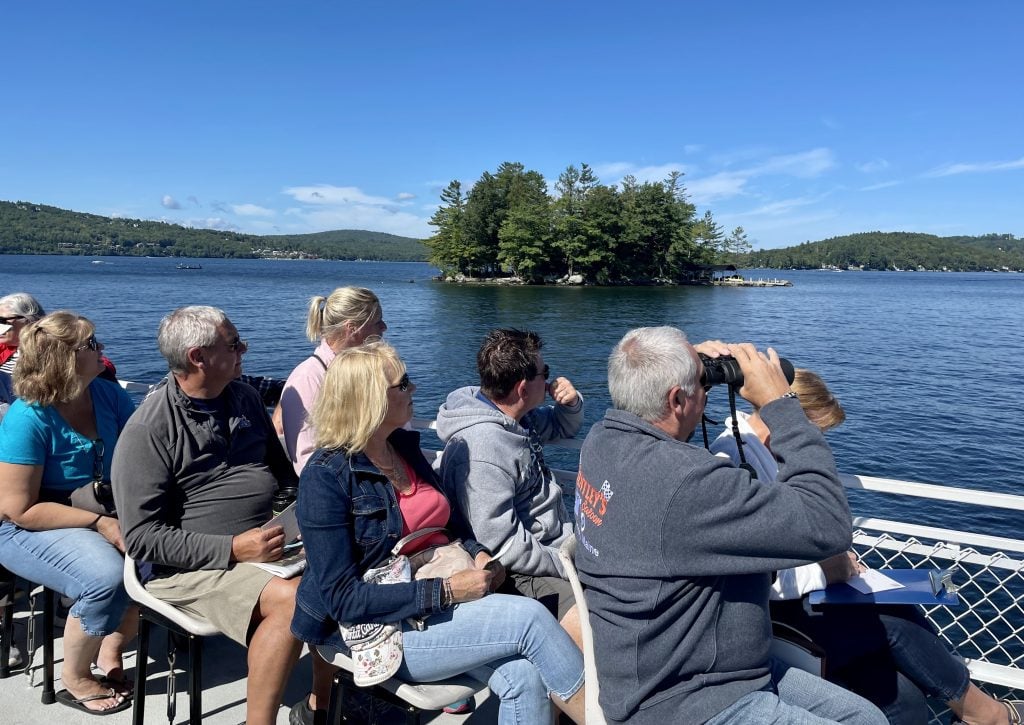 Mailboat Cruise on Lake Winnipesaukee
I did a TON of activities in New Hampshire this September — but the first activity was my favorite. There are lots of ways to cruise Lake Winnipesaukee, New Hampshire's largest lake, but I chose a unique means of transportation: the M/V Sophie C, an actual floating US post office.
Lake Winnipesaukee is home to more than 250 islands, of which several are inhabited. Those people have to get their mail somehow! So they've turned the mailboat into a cruise, taking passengers through smaller channels that the larger boats can't reach.
What did I love about this? The gorgeous views of the forested islands islands, the shimmering sapphire lake, and the blue Ossipee Mountains in the distance. I loved the tradition of people jumping off the dock as the mailboat blows its horn. And the mail exchange was exciting! The mail carrier handed a sack to a person on shore, took a sack back, and we all cheered! How wholesome is that?!
This is a very seasonal activity, from mid-June through mid-September, so be sure you plan for it. (I literally landed in Boston at 10:00 PM and left at 7:00 AM the next day to make the last sailing of the year on September 11.) It departs from Weirs Beach.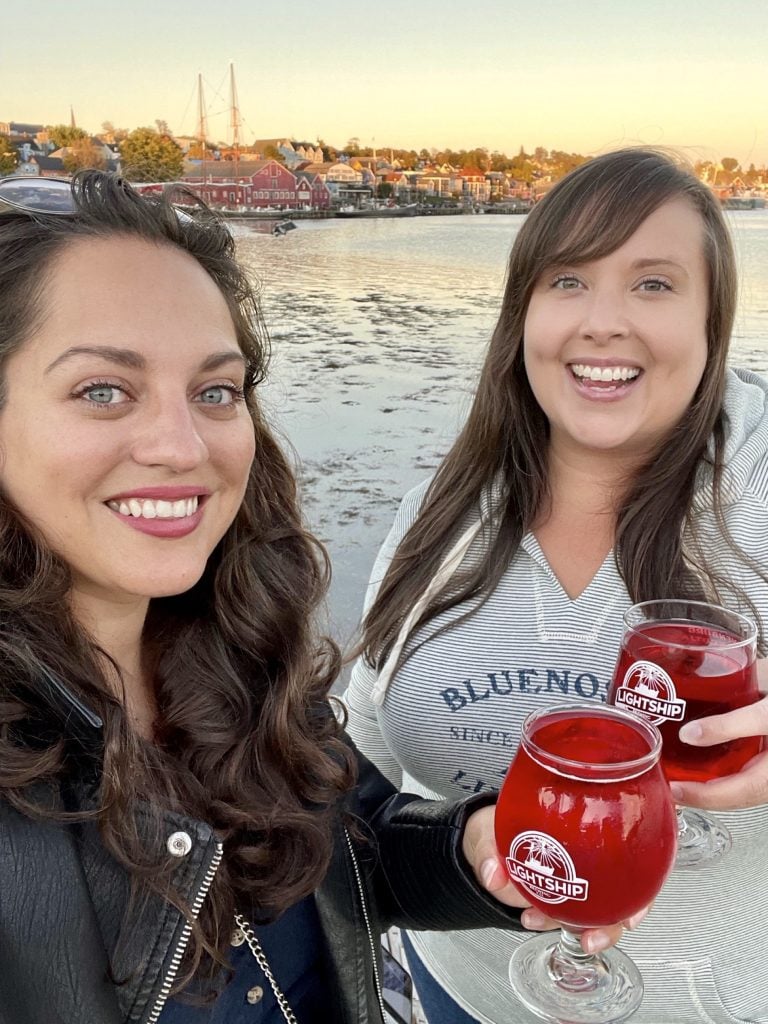 Nova Scotia-Hopping with Cailin
If you've been following this site for any amount of time, you know I travel with Cailin a lot! Before COVID, we were traveling together four or five times a year, from St. Croix to Key West to Leipzig to St. Pierre and Miquelon!
So it was amazing to FINALLY meet up after two years of not seeing each other. My Nova Scotia trip was to the South Shore, and Cailin lives on the South Shore, so we got to hang out a lot together. The Lightship Brewing Co in Lunenberg, the Sensea Spa in Chester, and trying fried pepperoni were highlights!
Most importantly, I got to meet her kitties, Murphy and Rafferty. Adorable little cuddle monsters.
I feel lucky we were able to spend that time together. My heart hurts for everyone missing friends and family during this pandemic.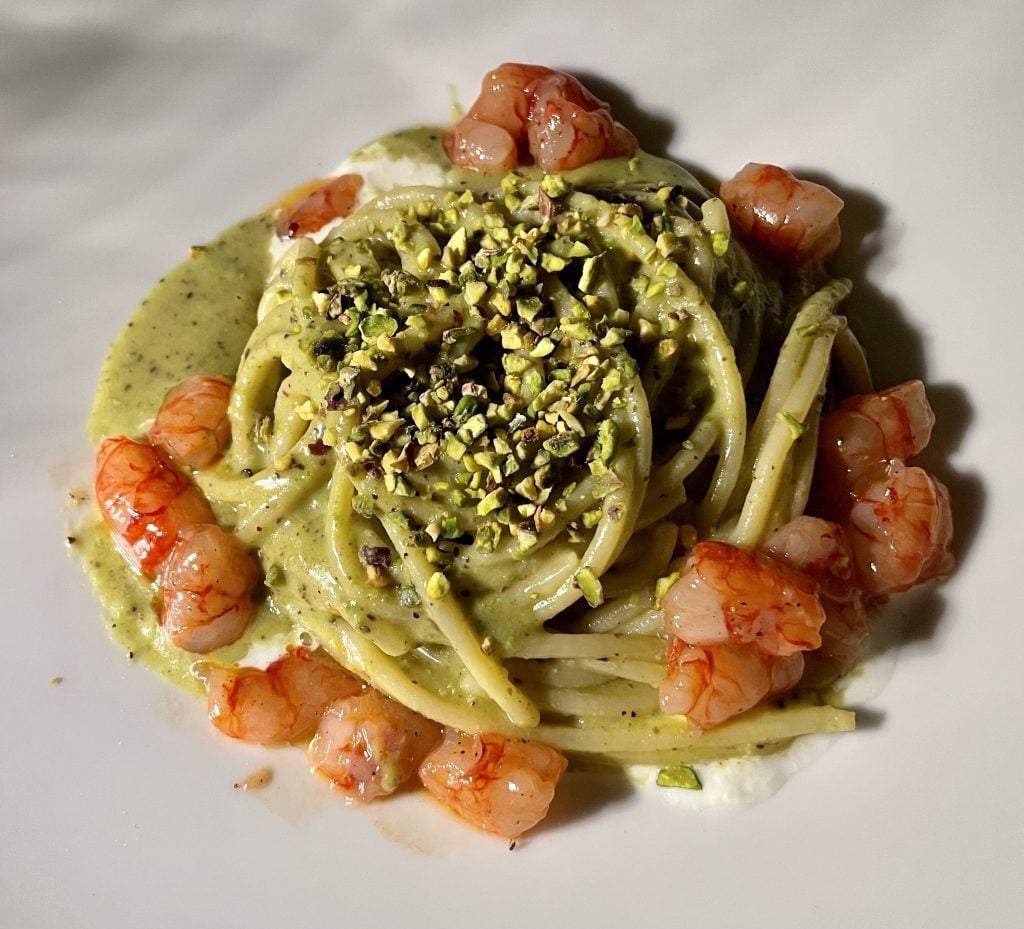 Dinner at Ngonia Bay
If I had to name the best place I ate in all of 2021, it was Ngonia Bay — a new boutique luxury hotel in Milazzo, Sicily. When our flight to Sicily got rescheduled two days earlier, we decided to spend three nights at Ngonia Bay (hosted for two) and we got to enjoy the restaurant's tasting menu.
This place. THIS RESTAURANT. It is the best food I have ever had in Sicily. Ricotta ravioli with nasturtium sauce, lemon foam, and carrots in carrot broth. Ricciola, spuma sauce of butter and almond, miso and bottarga. Ribeye with green tomatoes and a beef reduction. Blueberry sorbet with basil for dessert.
But the best dish is one we had for two different meals: pasta with pistachio pesto, stracciatella, and red shrimp from Mazara. HOLY HELL, IS THAT A PASTA DISH!
If you're traveling from far away to the Aeolian Islands, it's a good idea to spend a night or two in Milazzo to get your bearings before diving into all things Aeolian. THIS is what you do. Eat at Ngonia Bay. And if you can swing it, this is a fantastic place to stay, too.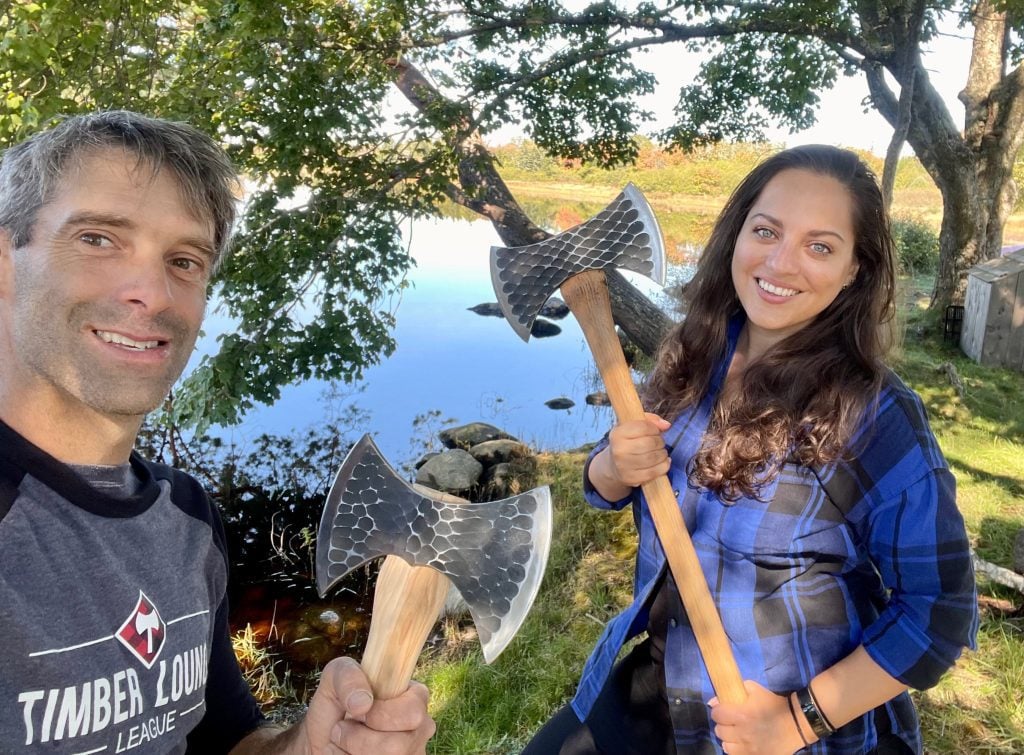 Learning to be a Lumberjack in Nova Scotia
I started planning my trip to Nova Scotia by going through the Nova Scotia tourism website for ideas. One popped out immediately: "Learn to be a Lumberjack for the Day with the Wild Axe Lumberjack AXEperience."
Okay, how could I not do that?!
And it was a blast. Darren was the lumberjack in question, teaching me how to use giant saws and throw axes at targets. SO BADASS! There's nothing like the feeling when you finally hit the target!
We canoed for a bit, he did some log rolling (you can join in if you want to, but it was chilly and I didn't want to risk falling in!), and we sampled some local craft beers. I also got some tartan weaving in at the museum next door.
Fun? Yes. Silly? Also yes! But what a quintessentially Canadian activity to do!
Darren told me that Nova Scotia is hosting the world axe throwing championships next summer. And he's working on an axe throwing brewery next. I think I need to go back next year!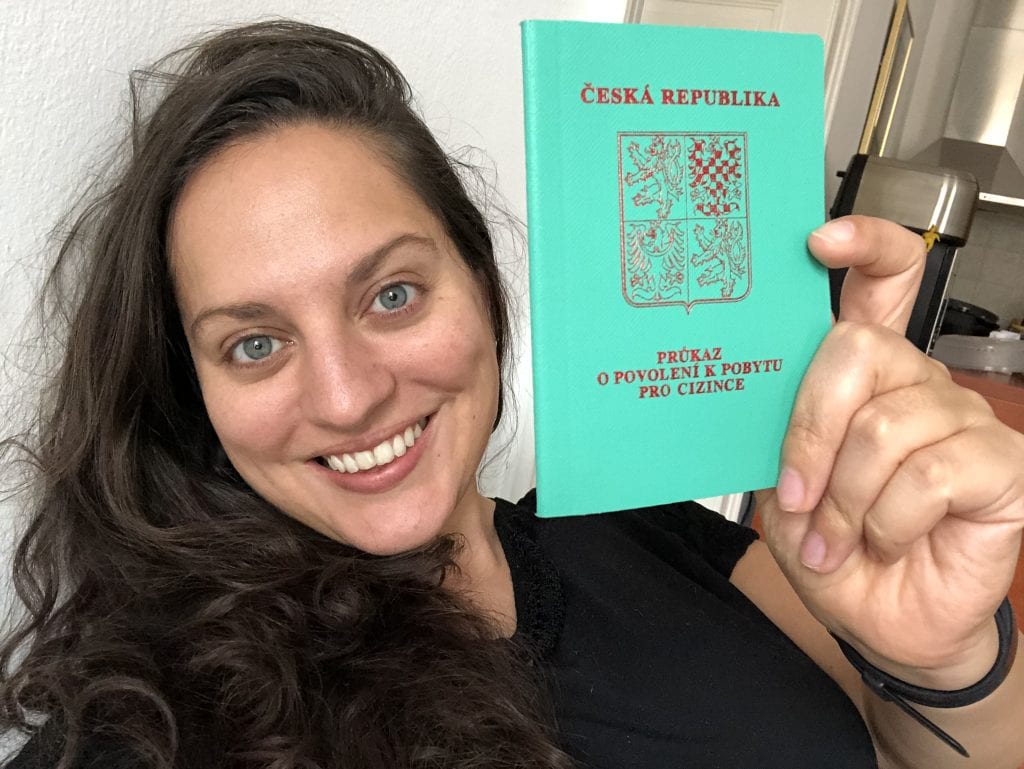 Getting My Residency in the Czech Republic
And the most important thing of all — I got residency in the Czech Republic in April! This was the culmination of a six-month process (even longer if you include the months I spent trying to get back to the Czech Republic) and several visits to different offices.
And this little green book gives me the right to stay here for FIVE YEARS. How amazing is that?! I was able to get a family visa thanks to my relationship with a Czech permanent resident, which made things so much easier, especially during COVID. (Had I gone the trade license and business visa route, I would have had to go to make multiple trips to the Czech consulate in Berlin or Vienna or Bratislava — at a time when those borders weren't open.)
I still have a ways to go. Learning Czech, for example. YIKES. (I did two months of that and took a break…that turned into a longer break.)
But I am so thankful to live in this country, a country that is perplexing and sometimes infuriating — but also quite gentle in many ways. I'm happy to be here, and happy that Prague feels like home.
What were your favorite travel moments of 2021?
Get email updates from Kate
Never miss a post. Unsubscribe anytime!