Adventurous Kate contains affiliate links. If you make a purchase through these links, I will earn a commission at no extra cost to you. Thanks!
Since coming home — and even before coming home — I've been asked one question more than any other: "What was your favorite place?"
I could never narrow it down to one! To me, my destinations are like my children — I could never say I love one more than all the others!
That said, there were several places in Southeast Asia that I adored.
Here are those places, listed in no particular order.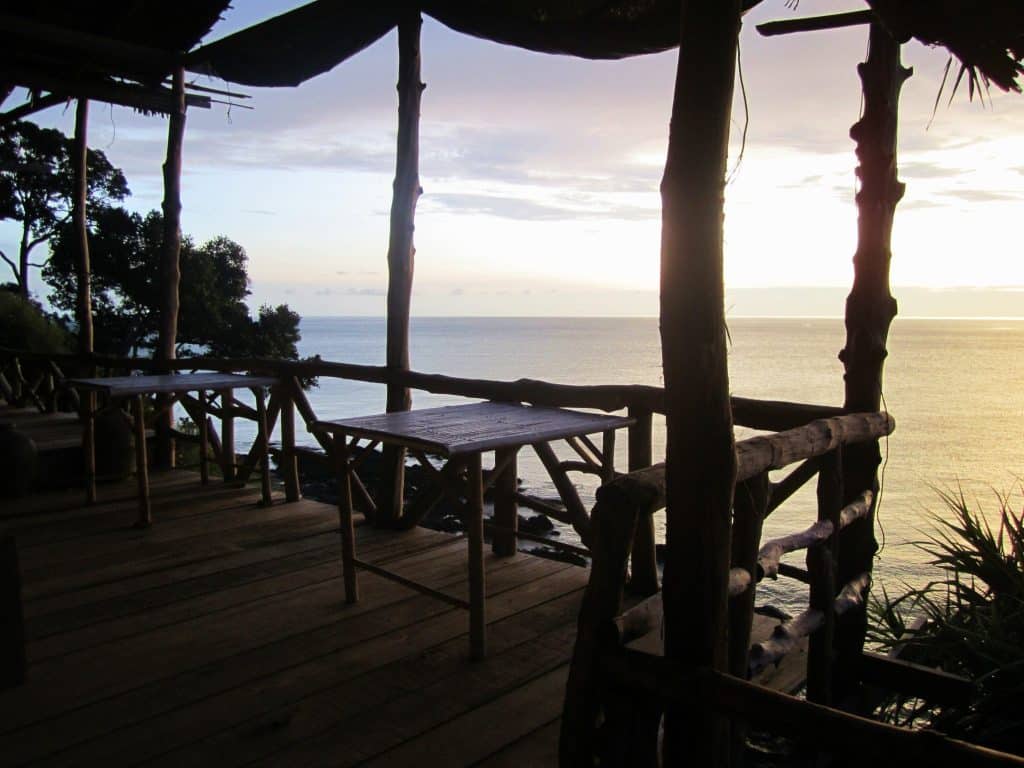 Koh Lanta, Thailand
I have no words to describe how much I love Koh Lanta. It's absolutely gorgeous, easy to get to, home to a friendly Muslim community, and cheaper than almost anywhere else on the Andaman Coast — yet it's virtually empty.  I am still dumbfounded as to why.
I loved jumping on a motorbike and riding around Lanta, my hair flying wildly behind me, seeing deserted beaches, cool restaurants, and meeting up with the small but growing expat community.  This island is a treasure, and I can't recommend it enough.
Click here to read my posts about Koh Lanta.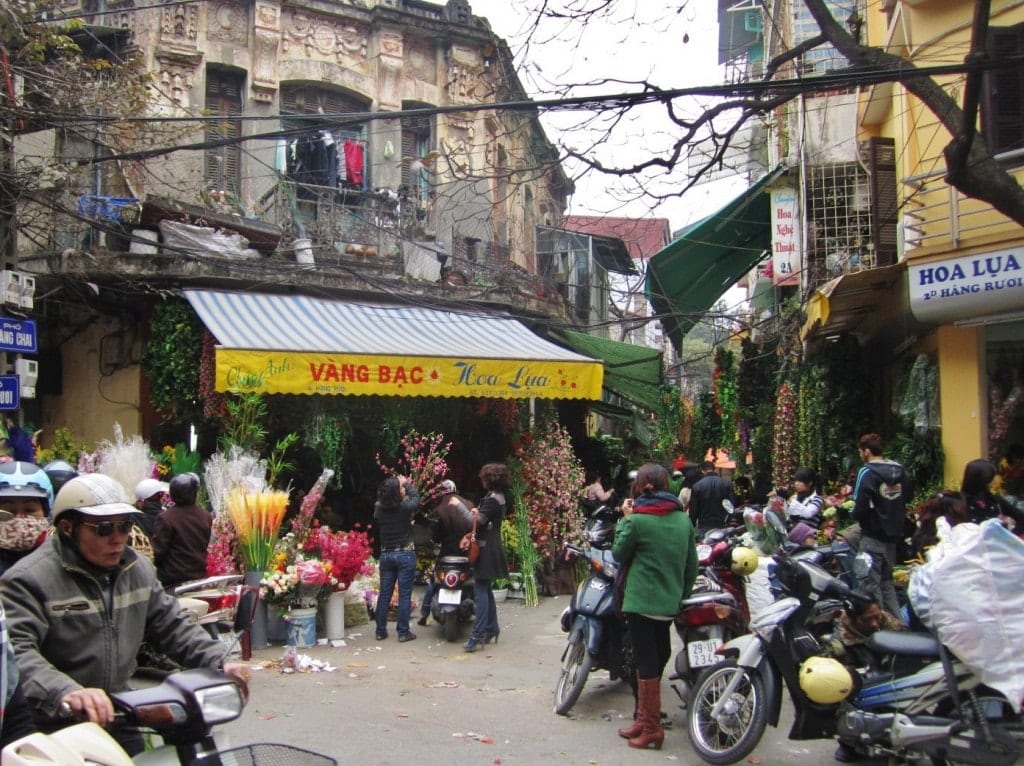 Hanoi, Vietnam
It was the only cold place I visited in Southeast Asia, but that didn't diminish my love for Hanoi. The Old Quarter is a sea of humanity — stores tightly packed together and overflowing onto the streets, motorbikes zipping dangerously in every direction, street carts serving pho taking up any spare corner.
Hanoi, with its many scams, is hard for some to love, but not for me. Underneath the grit, the city has an elegant, artsy feel to it.  At times, I felt like I was in Buenos Aires or even Paris!
Click here to read my posts about Hanoi.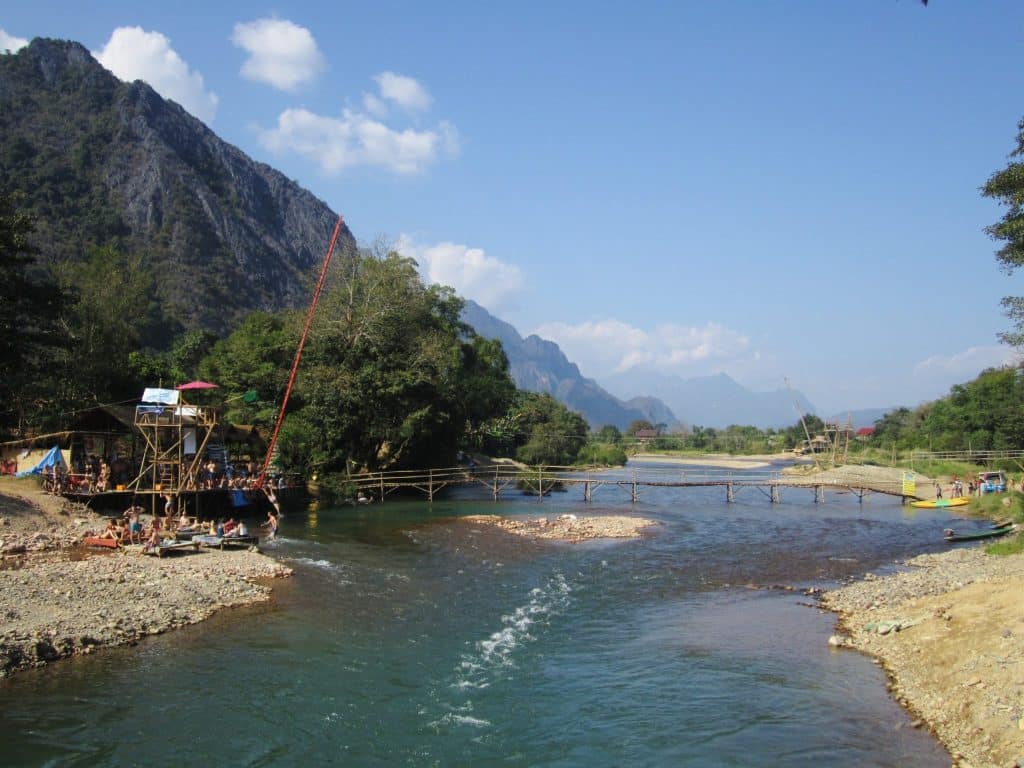 Vang Vieng, Laos
"It's the best and worst place in the world," my friend Chris likes to say.  And he's right. Vang Vieng is a gift from the gods to party-loving backpackers, with its glorious river, music-blasting bars, rope swings, free Lao Lao shots, and dance parties, all in a stunning natural setting.
Every morning, you find yourself bleary-eyed and grunting out your breakfast order at the Family Guy-playing restaurant the next day, wondering if your body can possibly take another day of Vang Vieng — but face it, you know you'll be back on the river in an hour.
Click here to read my posts about Vang Vieng.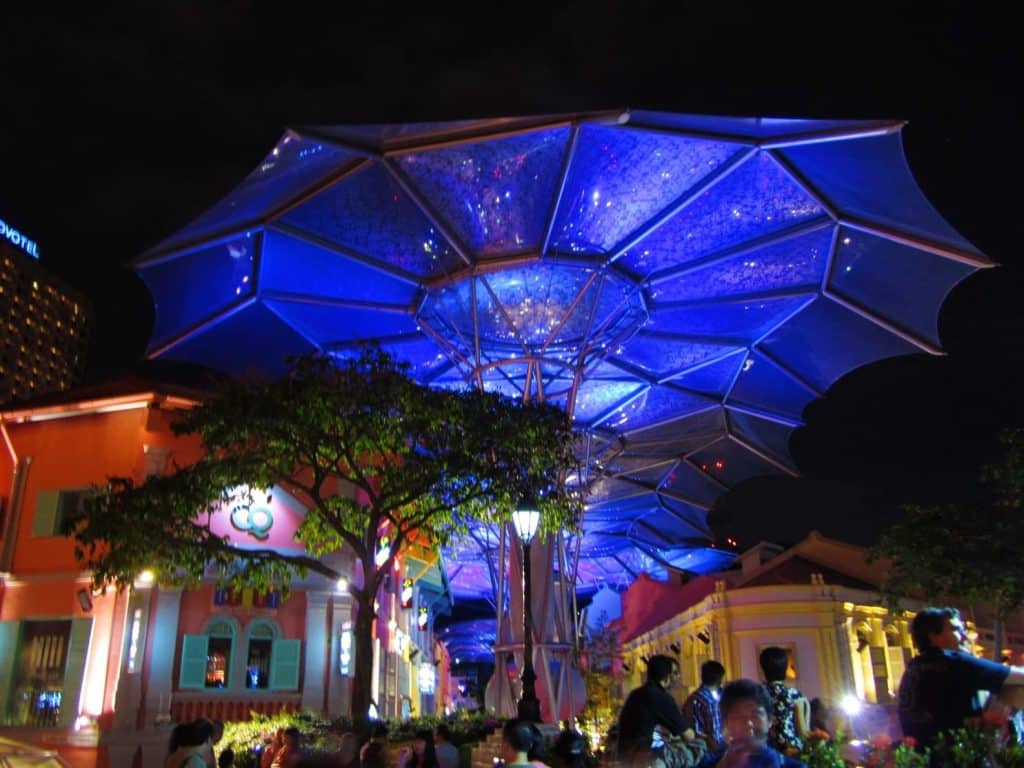 Singapore
Singapore is almost like a utopian society set in the future — how else could you explain such a clean, orderly and perfectly run place? It was blissful being in a city with beautiful, modern architecture; tidy, well-manicured parks; and perfectly plotted pedestrian walkways.
Singapore really shines when it comes to embracing its diversity. My two favorite things were walking around the different neighborhoods, from Little India to Chinatown to Kompong Glam, and eating everything in sight, especially the hawker stalls!
Click here to read my posts about Singapore.
Kampot, Cambodia
I am so protective of this French-influenced riverside town on Cambodia's south coast. I fell for Kampot, thanks to its beauty, more or less immediately.  It's perfect now, just as it is, and I am genuinely fearful that overdevelopment will turn it into a new Luang Prabang.
But setting aside my worries, Kampot is an absolutely wonderful small town.  My favorite thing was gathering in the center of town during sunset — kids would play badminton, ladies would do aerobics, and teenagers would come up to me to practice their English.  The people of Kampot always made me feel welcome.
Click here to read my posts about Kampot.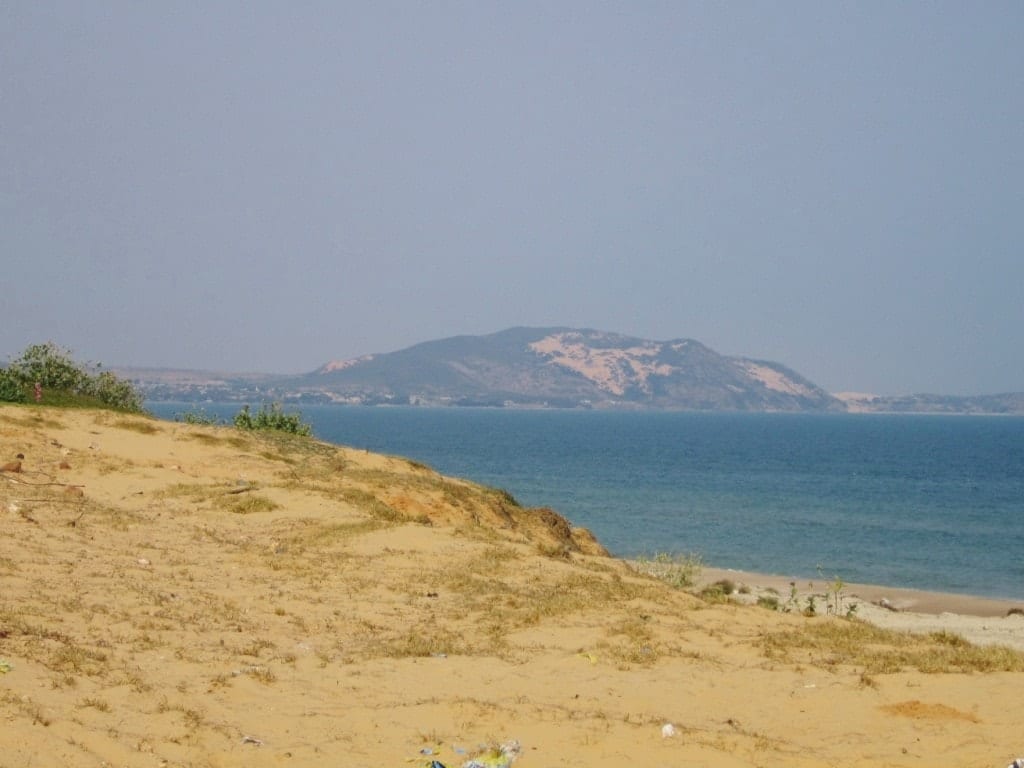 Mui Ne, Vietnam
At first glance, Mui Ne may seem like a laid-back hippie beach town — and I love laid-back hippie beach towns — but once you get on a motorbike, you see that it's so much more.  Giant red, white and yellow sand dunes.  Freestanding green mountains.  Tiny fishing villages.  The odd gritty city.
Every landscape in Mui Ne dazzled me, and I could see why so many people decide to stay for longer than they expected. Even if you stick to the beach, Mui Ne is a great place to just chill and soak up the sun.  I've resolved to return to finally go kitesurfing.
Click here to read my posts about Mui Ne.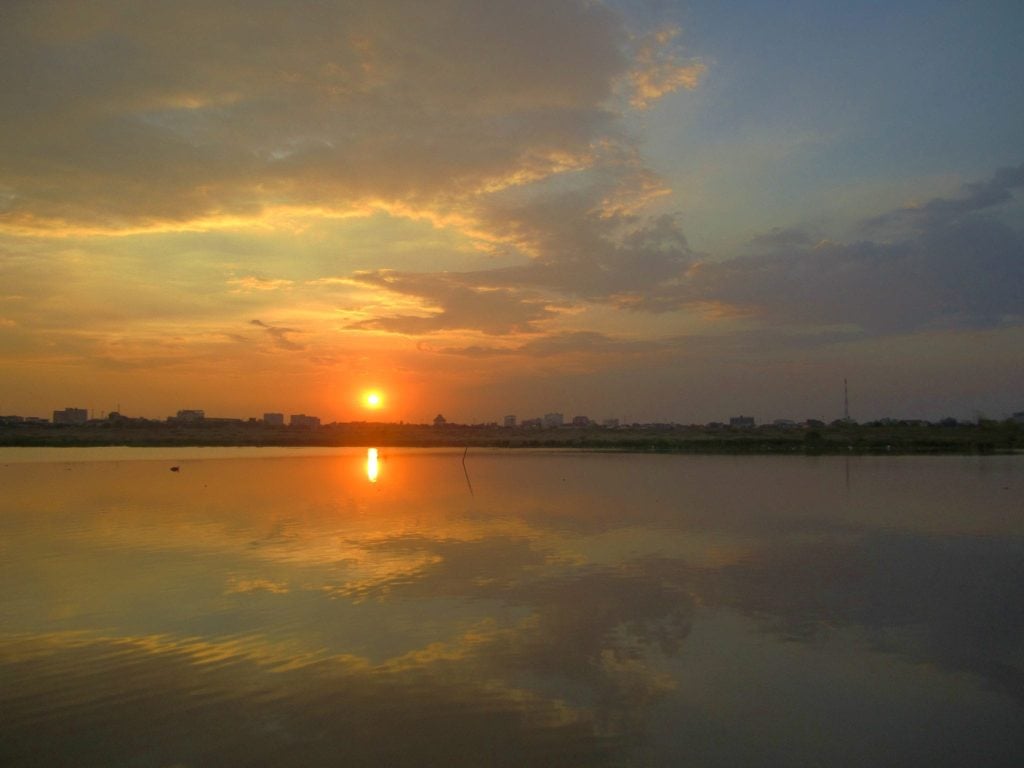 Phnom Penh, Cambodia
Phnom Penh is a hard, difficult city, from the trash-filled streets to the begging children to the very visible scars left from the reign of the Khmer Rouge.  It's certainly not a city for amateurs.
But Phnom Penh is also quite charming, and I was surprised that the city crawled into my heart! The slow pace, kind people, cheap markets, surprising amount of greenery and happening nightlife make me want to return to Phnom Penh again and again!
Click here to read my posts about Phnom Penh.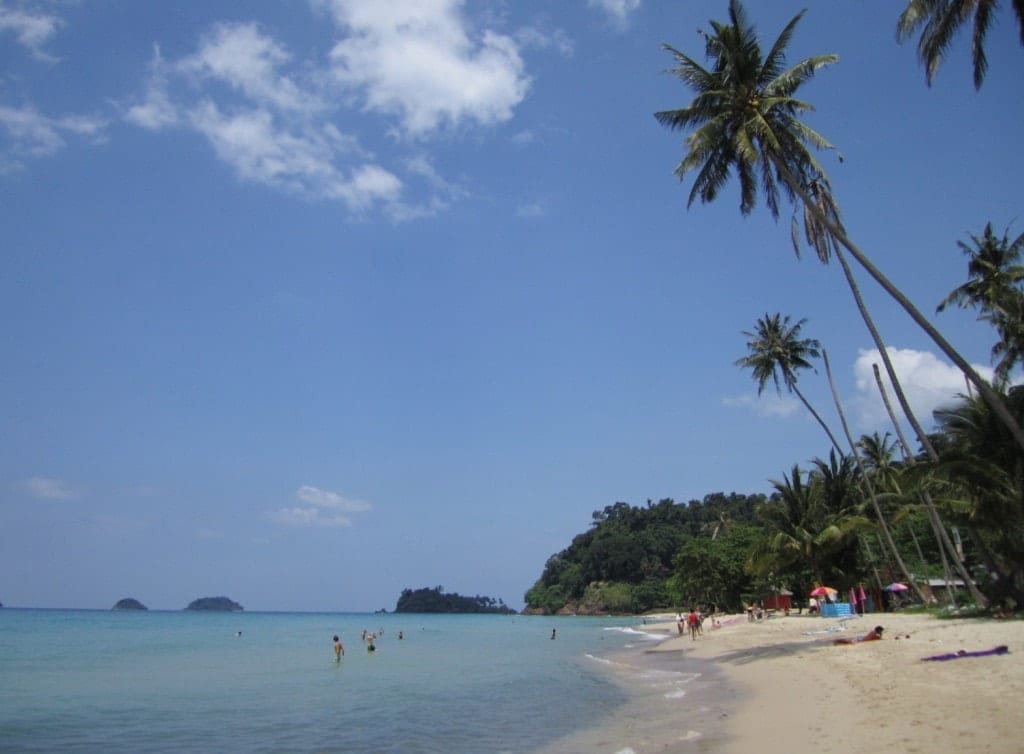 Koh Chang, Thailand
Koh Chang is exactly what a Thai island should be — beautiful, cheap, isolated but with plenty of amenities, including ubiquitous free WiFi, very LGBT-friendly, and home to a community of smiling beach hippies.  Koh Chang convinced me that I could be happy doing little more than lying in the sun and strumming a guitar.
Koh Chang is also home to my favorite beach in the world — Lonely Beach. Clear turquoise water, soft white sand, giant palm trees and while there are amenities, it has yet to be overdeveloped.  This is one place that you should visit soon.
Click here to read my posts about Koh Chang.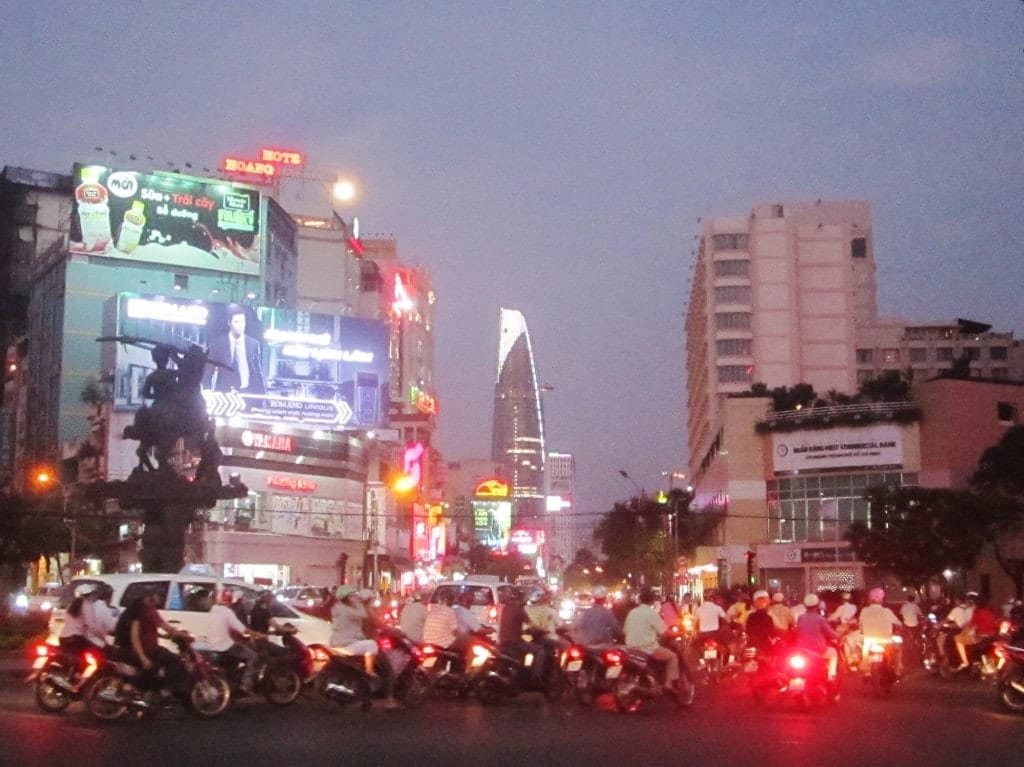 Saigon, Vietnam
More than any other city in Southeast Asia, I felt like Saigon was tailored to my personality. Sleek, modern, fashionable, culture-filled, with so many parks and delicious food!  Throw in the cheap, high quality manicures and a huge array of beauty products and you've got a happy girl!
Saigon has serious style. If nothing else, when you're carefully crossing the street through the world's most insane traffic, you want to look good!
Click here to read my posts about Saigon.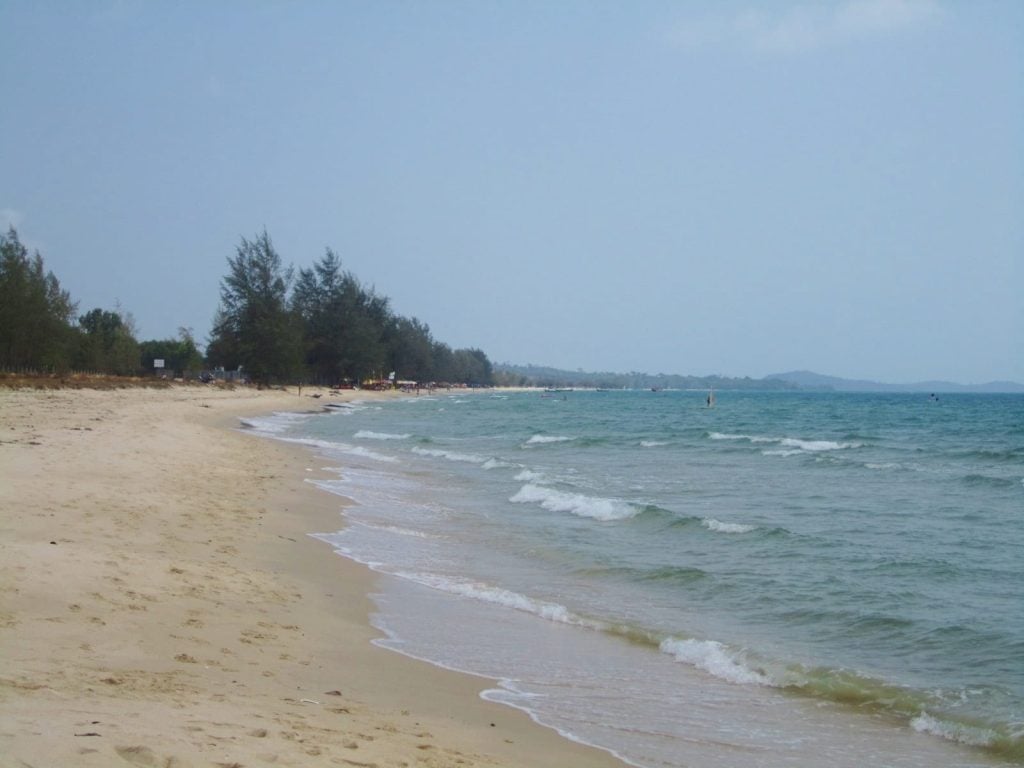 Sihanoukville, Cambodia
My favorite thing about Sihanoukville is that it isn't pretentious at all. It's small, low-key, and popular with Khmer tourists as well as Westerners.  You can live like royalty on $20 a day with barbecues on the beach, cheap beach massages and pedicures, and adorable cheeky bracelet-selling kids.
And, of course, Sihanoukville is one of the best backpacker party towns in all of Southeast Asia — not to mention one of the cheapest ones.  I set up shop in Sihanoukville on two different occasions, finding it a fun place to live, work and get an amazing tan.
Click here to read my posts about Sihanoukville.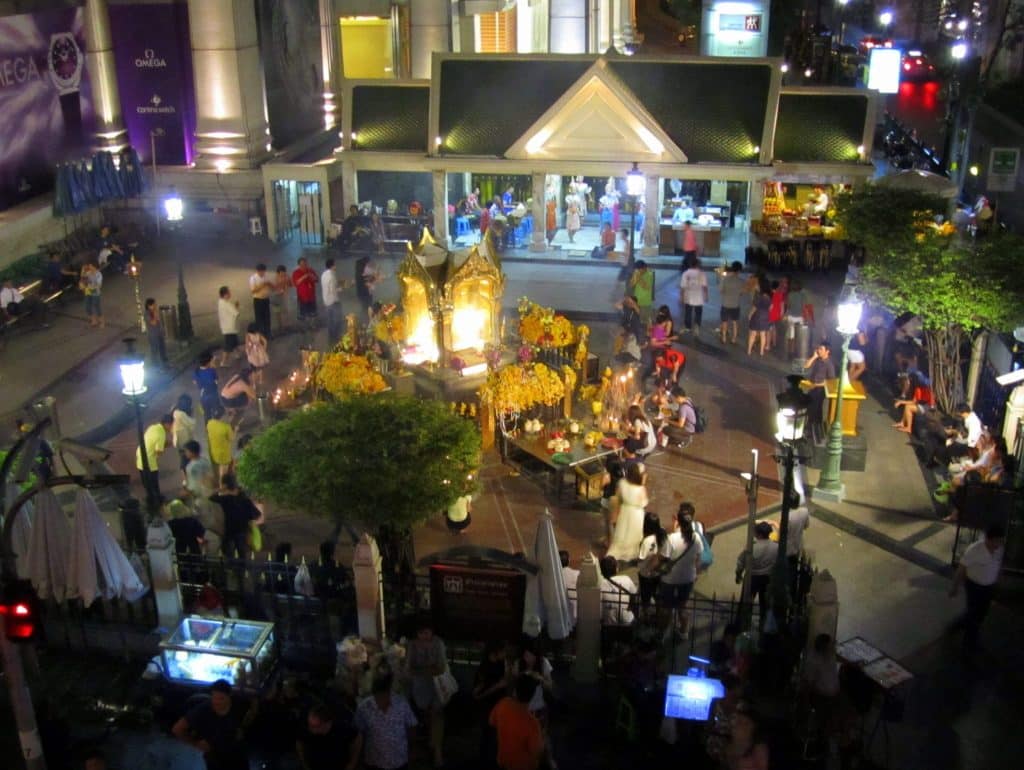 Bangkok, Thailand
More than anywhere else, Bangkok felt like home to me by the end of the trip. And I was shocked when I added up my days and realized that I spent nearly a month there in total!
You can be a backpacker on Khao San Road or get away from the scene.  Street food is delicious and on every corner.  Shopping is unparalleled anywhere else in the world.  The nightlife ranges from tame to sinister, as do the ping pong shows, and there is a great expat community.
Bangkok is whatever you want it to be. And for those 29 nights, it was my home.
Click here to read my posts about Bangkok.
I realize that I didn't list anywhere in Indonesia. I'm sure that if I had been up to exploring Bali more and not just locking myself in my room after the shipwreck, somewhere in Indonesia would have made the list.
But I was happy to fall in love these 11 great places.  I highly recommend visiting any and all of them!
Get email updates from Kate
Never miss a post. Unsubscribe anytime!