Adventurous Kate contains affiliate links. If you make a purchase through these links, I will earn a commission at no extra cost to you. Thanks!
It all began with a pamphlet entitled WILD & SEXY SCOTLAND.
It was last fall and I was about to leave Edinburgh and jump on a train back to Chester.  On my way out of Haggis Hostel, I grabbed several pamphlets to plan my return trip to Scotland.  On the way out, the WILD & SEXY SCOTLAND caught my eye and I grabbed the pamphlet as well.
And that is how I discovered Haggis Adventures, a tour company based in Scotland.  Right away, I knew that anyone who labeled their brochure WILD & SEXY SCOTLAND had to have a great sense of humor and know how to have a good time!
While Haggis Adventures runs trips year-round, this pamphlet was filled with their special holiday trips.  Christmas at a castle in the highlands, complete with a traditional ceilidh, mulled wine, and a snowball fight on Christmas morning.  New Year's at the Hogmanay in Edinburgh, one of the world's best celebrations to bring in the new year.
And there was one more: The Up Helly Aa in the Shetland Islands.  The description:
Few have heard of it, let alone been. Our destination is the remote Shetland Islands in the far north of Scotland for one of the most incredible festivals in Europe. On the last Tuesday of January, the town of Lerwick goes more than a little mad. Up Helly Aa is a lot more than a sub-arctic bonfire and booze-up. It's a superb spectacle, a celebration of Shetland history, and a triumphant demonstration of the islanders' skills and spirit. Fifty horny-helmeted Vikings, a burning Norse galley and an all night party. Unmissable.
My initial thoughts:
I AM SO GOING TO THIS FESTIVAL.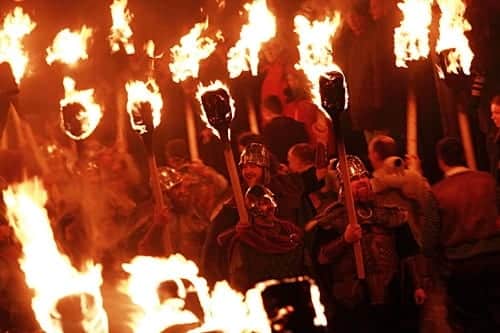 Long story short: I got in touch with Haggis Adventures, we talked business, and I was immediately impressed by their company.  I love the Scots to begin with; they have such a fun, gregarious attitude, and this attitude shines through Haggis Adventures.  Their tours are aimed at young, fun-loving backpackers, featuring guides as wacky as they are knowledgeable.
Haggis Adventures emphasizes having fun on a budget.  Like me, they splurge on the unforgettable parts of the adventures and keep everything else cheap.  With a commitment to staying green and local, the tours use low-emission buses and work with local businesses.
After learning about Haggis Adventures, I was sold.  They offered me a spot on the tour and I readily accepted.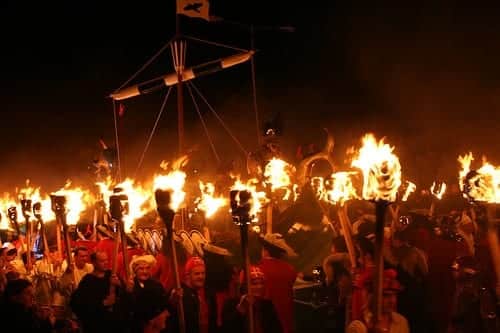 Here is the itinerary:
Day One (Sunday): Leave Edinburgh and drive through Scotland, visiting Royal Braemar, Crathie Kirk, John Brown's resting place, and Aberdeen.  Get on an overnight ferry to Lerwick, Shetland, via the Orkney Islands.

Day Two (Monday): Arrive in Shetland and explore the islands.  Visit the settlement of Scalloway, the Scalloway Islands, the Nature Reserve of Sumbugh Head, and Jarlshof, plus time in the main town of Lerwick.

Day Three (Tuesday): Up Helly Aa night!  Get started in the morning with festivities in town, including parades, folk music, and dancing.  Later, the Up Helly Aa begins, with torches and fire and a giant burning Viking boat!  Plus much more music, dancing, drinking, and celebrating.

Day Four (Wednesday): Sing away the hangovers with the locals.  Visit Tynwald Parliament and the northern part of the island before getting on an overnight ferry back to Scotland.

Day Five (Thursday): Drive through the Scottish countryside, visiting St. Andrews and some other sights on the way back to Edinburgh.
I am SO excited for this trip!
You'll be seeing my posts after the event, and more posts from Paris while I'm away.  For now, I'd love if you could follow me on Twitter or become a Facebook fan to stay up-to-date on the Shetland posts.  Not sure how the internet situation will be up there, but I'll try my best.
Before and after the trip, I'll be spending a bit of time in Edinburgh, hanging out with my Edinburgh friends, meeting new ones, staying at the awesome Haggis Hostel again, and getting to know this great city a little bit better.
Next time you see me, I'll be carrying a flaming torch and wearing a helmet with my arm around a giant Viking, bellowing out a traditional song.  This is going to be AMAZING!
Images: Haggis Adventures, Vincenzo_1949, reynard
Get email updates from Kate
Never miss a post. Unsubscribe anytime!