Adventurous Kate contains affiliate links. If you make a purchase through these links, I will earn a commission at no extra cost to you. Thanks!
When I was growing up in Massachusetts, my family and I took a lot of road trips to Canada. Québec was almost always part of the agenda, and for good reason.
But as I got older, Québec became more of a city destination. Montréal, of course, is the weekend destination for every freshly-turned-18-year-old in the Boston area. When I got older, I took trips to Québec City, loving how it felt like being in Europe without the expensive airfare.
But here's the thing — Québec City is lovely, Montréal is fantastic, but there is far, FAR more to Québec than its cities, my friends.
Like its national parks. There are 29 national parks in Québec (!!), maintained by Sépaq, the the Société des établissements de plein air du Québec.
And I've been able to visit a few of them in recent years, including Parc National de l'Île-Bonaventure-et-du-Rocher-Percé (Bonaventure Island and Percé Rock), as well as remote Anticosti Island.
These national parks comprise 500 hiking trails, 1,800 plant and animal species, and 500 cottages and rustic shelters. All that before you add in the campgrounds.
When COVID began, my travel style changed overnight. Suddenly I was drawn to the outdoors like never before. My trips became all about hiking, island-hopping, and spending time outside as possible.
I know many of you have done similar things. So let me introduce you to five hidden gems in Québec's national parks. They may not be on your radar, but they should be, especially if you've already visited the most popular parks in Canada and the US.
I'm proud to present you this post as a French Canadian-American, as a national parks fan, and someone who is always thrilled to return to Canada.
This post is brought to you by Bonjour Québec.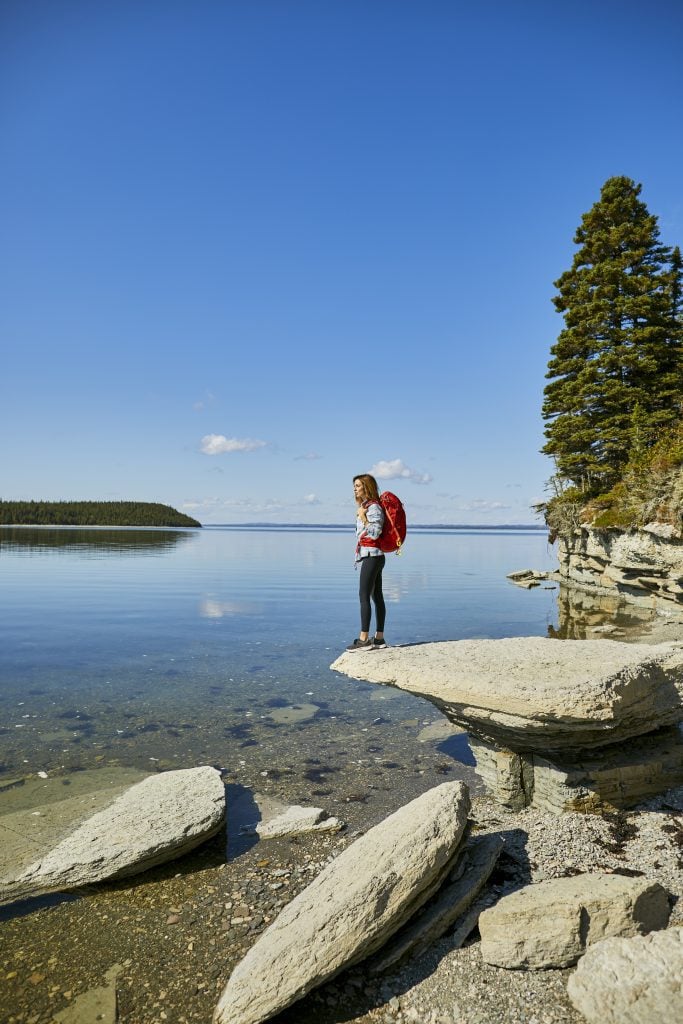 Surprising Things About Québec National Parks
Québec's national parks are stunning. Honestly, the Canadian Rockies and the west coast get so much attention for their beauty. Atlantic Canada as well, to a lesser degree.
Oh, but don't leave Québec behind.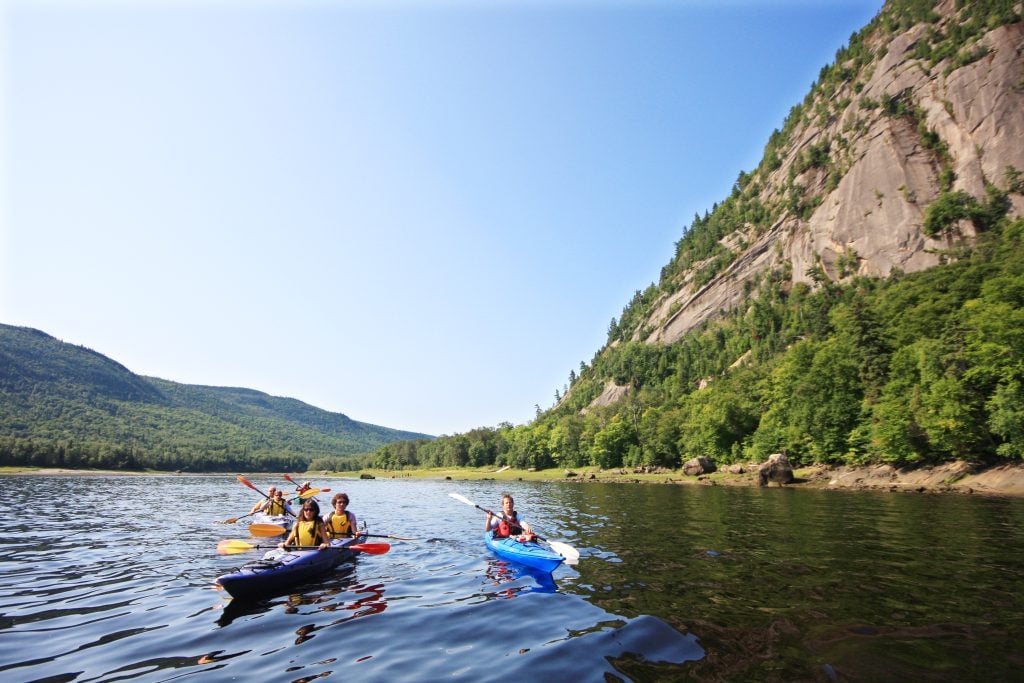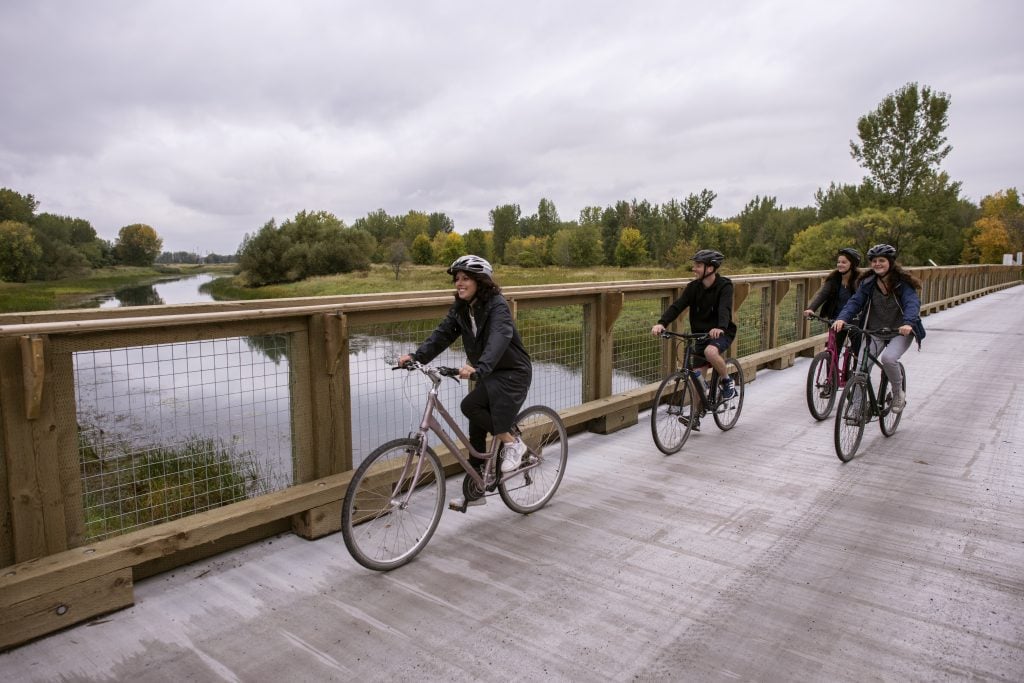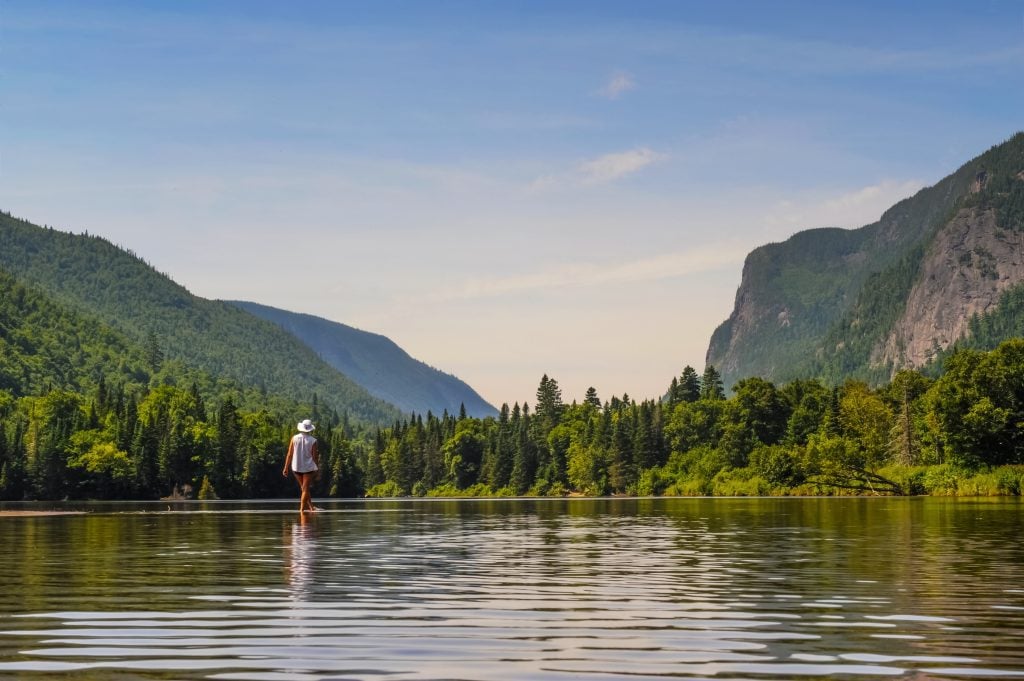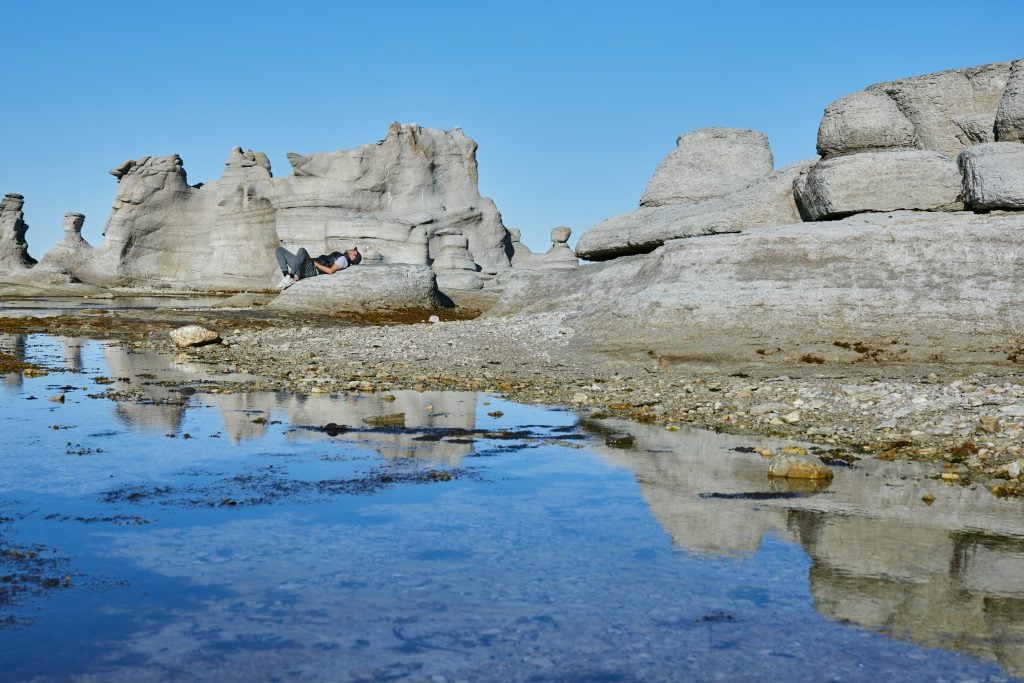 Québec's national parks are easy to get to. I know that for so many Americans, Québec is simply "Montréal" and "Québec City." But most of the parks are within a reasonable drive of the major cities.
Quebec's national parks are off the beaten path — in the best way. If you're sick of endless crowds at the more popular national parks, these places are for you. And in some places, you might be the only English speaker.
Let's take a look.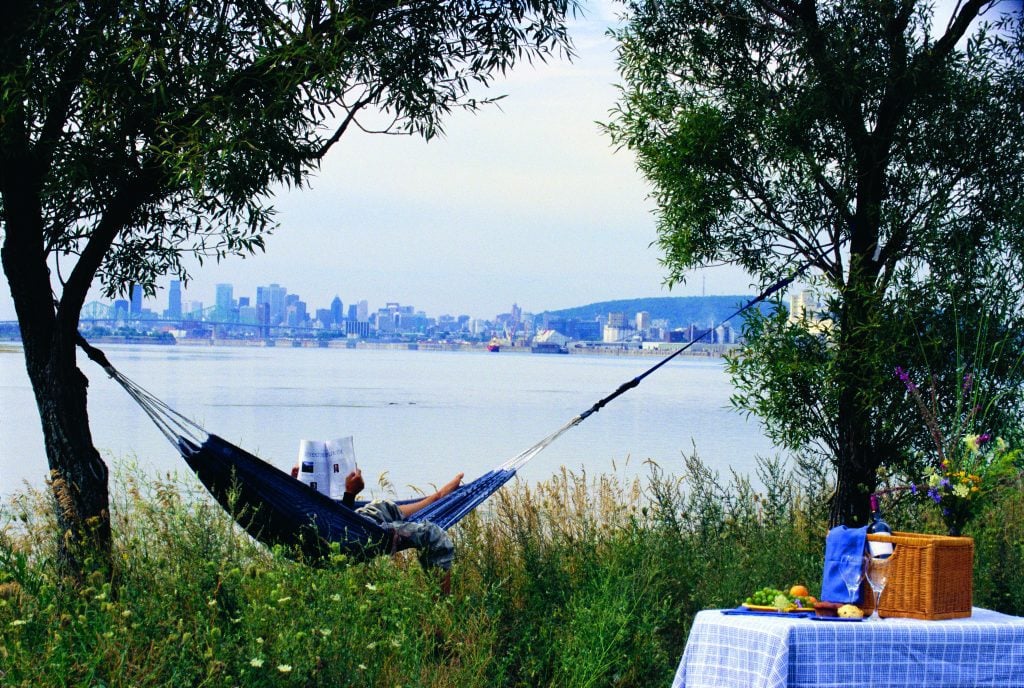 Îles-de-Boucherville National Park
This national park is for you if: You're planning a trip to Montréal and you want to get in some outdoorsy time without going too far or having to rent a car.
How to get there: Couldn't be easier! This national park is in five islands in the St. Lawrence River, just east of Montréal. You can even take a bus there if you'd like.
Îles-de-Boucherville National Park (Parc national des Îles-de-Boucherville) is a bit of a hat trick — it's an oasis of nature practically within a major city. Montréalers come to Boucherville to get out into nature, whether it's for a day trip or overnight camping getaway.
Here you'll find trails criss-crossing the islands, a haven for hikers, bikers in the warmer months, and cross-country skiers and snowshoers in the colder months. Would you rather explore by water? Rent a canoe or kayak, or explore the calm waters by stand-up paddleboard!
These islands were home to St. Lawrence Iroquoians for nearly 2,000 years, and today you can explore Indigenous culture. Visit a replica of traditional Indigenous living quarters, or take a ride on a large rabaska canoe.
And let's not forget the wildlife — there are more than 260 species of birds alone! Keep an eye out for great blue heron, red foxes, and white-tailed deer.
Quintessential Experience: Glamping, Québec style, at the recently opened Île Grosbois campground. 25 Huttopia tents with two queen beds, lamps, a hot plate, and basic kitchen supplies. If you've never camped before, this is a great way to get started without having to buy tons of gear!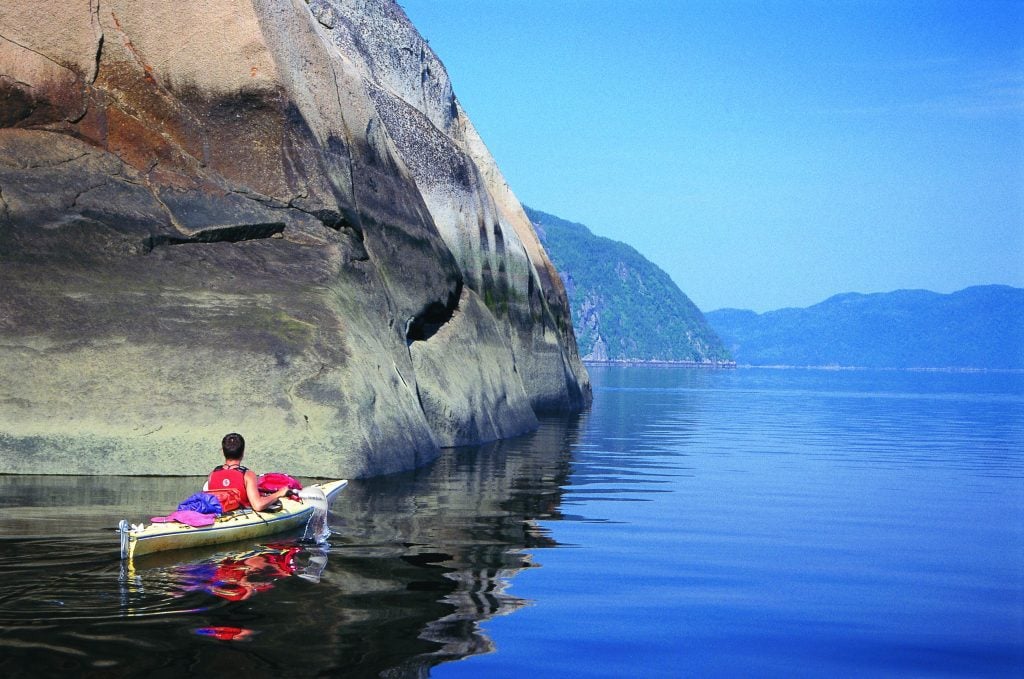 Saguenay Fjord National Park
This national park is for you if: You're looking for dramatic, jaw-dropping scenery with a side of outdoor adventure.
How to get there: Saguenay Fjord National Park is a one-hour drive from the town of Saguenay and a three-hour drive from Québec City.
If you thought you had to go to Norway to experience spectacular fjords, think again! The essence of Saguenay Fjord National Park is the enormous fjord itself, stretching 105 kilometers long (65 miles) and two to four kilometers wide (1.2-2.5 miles).
Saguenay is all about getting onto the water — sailing trips, whale watching, and kayaking excursions abound. For a real adventure, book a multi-day sailing or kayak trip that takes in the whole region.
As for land, there are plenty of hiking and rock climbing options, and photographers will be very happy here. The Musée du Fjord is worth a stop (say hi to Rosie the tarantula at the entrance). At Parc Aventures Cap Jaseux you can go ziplining, do a ropes course, or even attempt a Via Ferrata, climbing and rappelling along a sheer rock face!
In the winter, it's all about ice fishing and snowmobiling, and be sure to pack your warmest clothing to enjoy this winter getaway.
And the wildlife? Not bad at all, if you're into peregrine falcons, black bears, and Greenland sharks!
Quintessential Experience: Stay overnight in a treehouse! Parc Aventures Cap Jaseux has actual treehouses you can book with comfortable beds, a basic kitchen, and fantastic views of the fjord. Want something even more adventurous? Stay overnight in a suspended dome!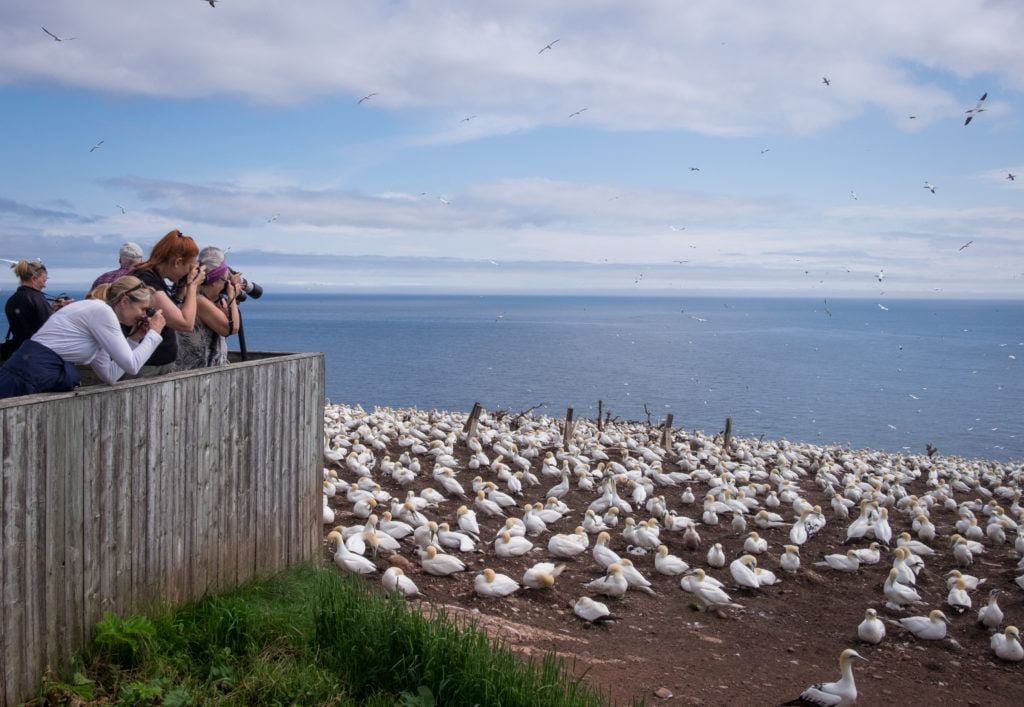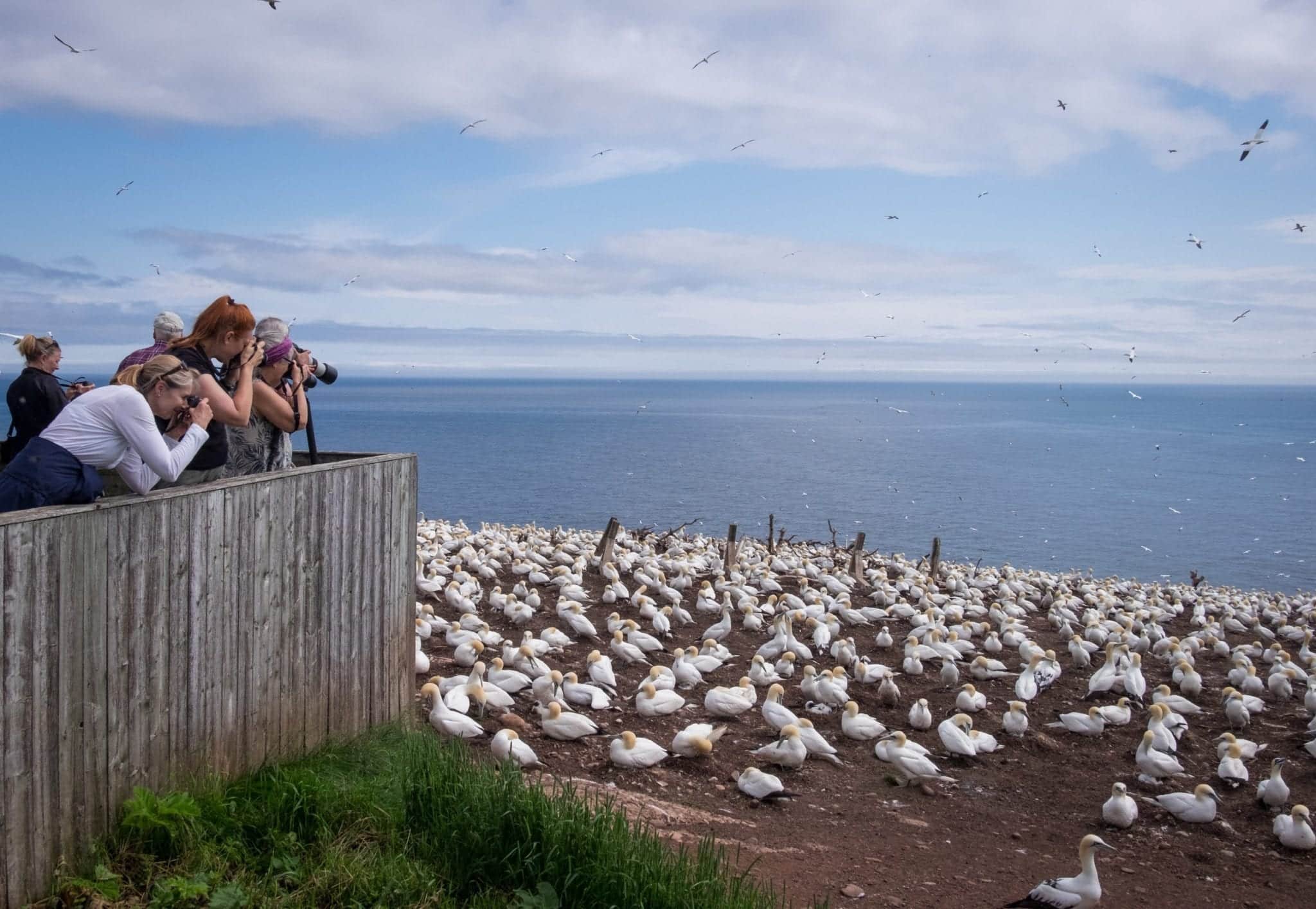 Bonaventure Island and Percé Rock National Park
This national park is for you if: You want a calm seaside getaway with beautiful nature, and easy ways to explore it.
How to get there: The town of Percé is a 50-minute drive from Gaspé, where there is an airport. If you're road tripping, it's an 8.5-hour drive from Québec City.
Parc National de l'Île-Bonaventure-et-du-Rocher-Percé (Bonaventure Island and Percé Rock) is located on the scenic Gaspé Peninsula, one of the premiere seaside destinations in Québec. Here you'll find two visual stunners: Bonaventure Island, home to wildlife and hiking trails, and Percé Rock, which is good to explore by boat.
Bonaventure Island is only accessible by boat, and you'll find plenty of boat trips from the town of Percé. Once you arrive on the island, a variety of hiking trails (15 km in total) criss-cross the island, eventually leading you to the northern gannet colony: the largest seabird sanctuary in North America, home to more than 116,000 birds!
It's also worth circling the island by boat or kayak and taking in the colony from the water. Many boat tours also take you for a close-up look at Percé Rock and its unusual geological formation.
Believe it or not, this part of Québec is also popular for diving! It might be chilly here, but if that's not a dealbreaker for you, the sea floors surrounding Percé are famous for their unique underwater wildlife.
Quintessential Experience: Take one of the longer hikes across Bonaventure Island, taking in the scenery, before making it to the loud, squawking gannet colony. Make a circle around Percé Rock on the way back to shore, then grab yourself a poutine!
Hautes-Gorges-de-la-Rivière-Malbaie National Park
This national park is for you if: You love dramatic mountain scenery — and can't get enough of climbing up them or canoeing between them.
How to get there: Hautes-Gorges-de-la-Rivière-Malbaie National Park is a two-hour drive from Québec City.
Hautes-Gorges-de-la-Rivière-Malbaie National Park is another visual stunner — it's named after the craggy gorges that straddle spiky mountains. Here, the rivers have churned through rocks for millennia, carving valleys out of mountains
Located in the Charlevoix region, a reasonable drive from Québec City, this national park is one of the core areas of the Charlevoix World Biosphere Reserve. And here it's all about exploring the rivers: canoeing, kayaking, taking a rabaska (large canoe from Indigenous communities), or stand-up paddle boarding.
In the winter, explore the hiking trails by snowshoe, or enjoy more than 50 km of cross-country skiing trails. For a true adventure, try ice climbing, a sport at which this national park excels, and attempt La Pomme d'Or, an ice climbing route that is as stunning as it is challenging.
Quintessential Experience: In the winter, take the ice shuttle to the remote Équerre sector of the park and enjoy the Vallée des Glaces, one of the top winter views in all of Canada.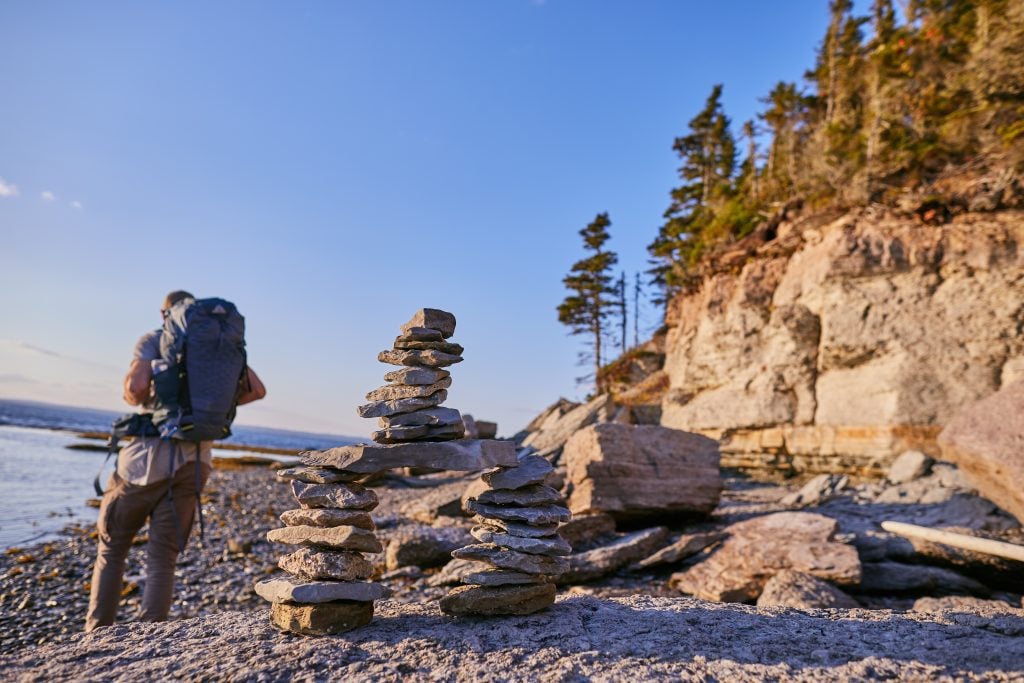 Mingan Archipelago National Park Reserve
This national park is for you if: You want to get FAR away and enjoy pristine solitude by the sea.
How to get there: This is a tough park to reach — but worth it. Start by flying to Sept-Îles, then
The most famous view in Mingan Archipelago National Park Reserve is the beach topped with enormous limestone boulders, shallow pools reflecting the bright blue sky. These outcroppings look like something out of the Stone Age, and are a popular subject for Canadian artists.
Here you can discover Indigenous Inns culture with members of the Ekuanitshit community, cruise around the islands, like the lighthouse-topped Île aux Perroquets and Île New de Mingan, the fossils-scattered Île Niapiskau and verdant Île du Fantôme.
The hiking in this national park is entirely easy or intermediate trails, making it a great option for not-so-experienced hikers. For more of a challenge, try the shoreline hikes on Île Rue de Mingan or Île du Havre, which will each take most of the day.
Quintessential Experience: Head out on a boat trip around the islands, spotting whales cavorting in the sea, then return for a night under the stars in an oTENTik glamping tent, snuggled up warm before awaking to watch the sunrise.
More on Québec:
Visiting the Îles-de-la-Madeleine in Québec
Have you been to the national parks of Québec? Which ones?