Adventurous Kate contains affiliate links. If you make a purchase through these links, I will earn a commission at no extra cost to you. Thanks!
To me, arriving in Bangkok feels like slipping on a well-worn leather shoe. It's so easy, familiar and friendly — yet exciting and full of surprises. No two days are ever the same.
That's a good thing — but Bangkok's familiarity has also become a problem. After exploring Bangkok like crazy during my first 10 days there more than three years ago, my subsequent visits were all about taking a break from travel and relaxing in a familiar place, as well as hanging out with whichever friends happened to be in the city and getting work done in places where I knew had good wifi. After my first visit, I never really picked up the sightseeing other than a few sporadic adventures now and then.
This time in Bangkok, though, I wanted to experience some new places. Here are a few of the new Bangkok experiences I enjoyed the most this time around: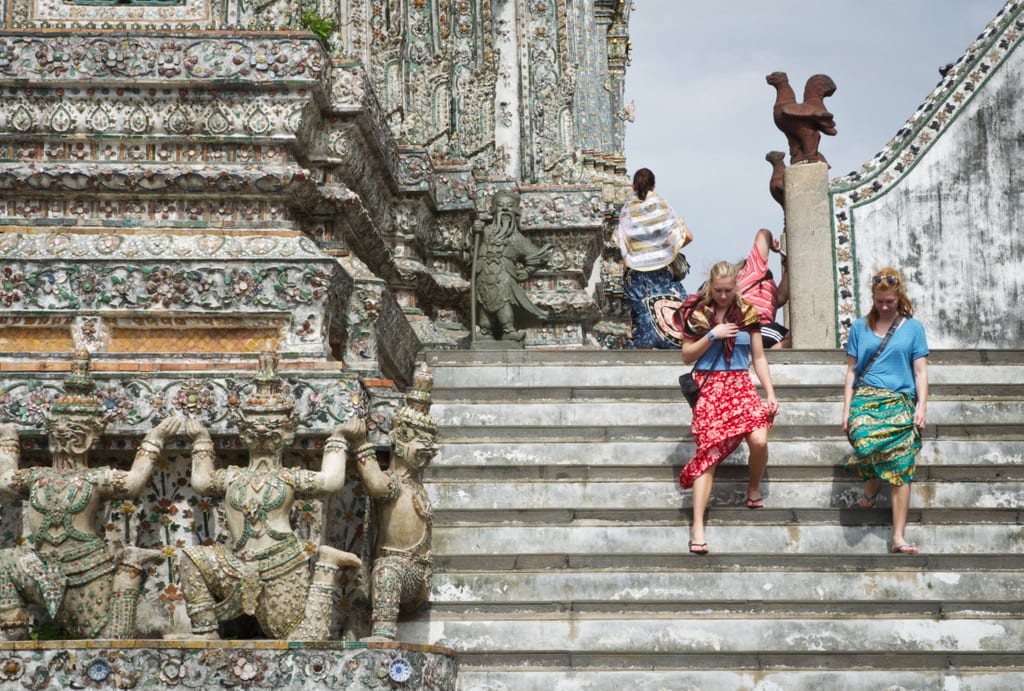 Wat Arun
This is pretty embarrassing — I visited Bangkok six times three years ago and never made it to this wonderful temple, which is now my favorite temple in Bangkok.
Wat Arun appears to be gray from a distance, but up close you see the brilliant colors. It's also a slightly terrifying place to climb, but it's well worth it. The grounds are nice for strolling around as well.
If you're visiting Bangkok for the first time, you must visit Wat Arun. I'd recommend it heartily over the Grand Palace.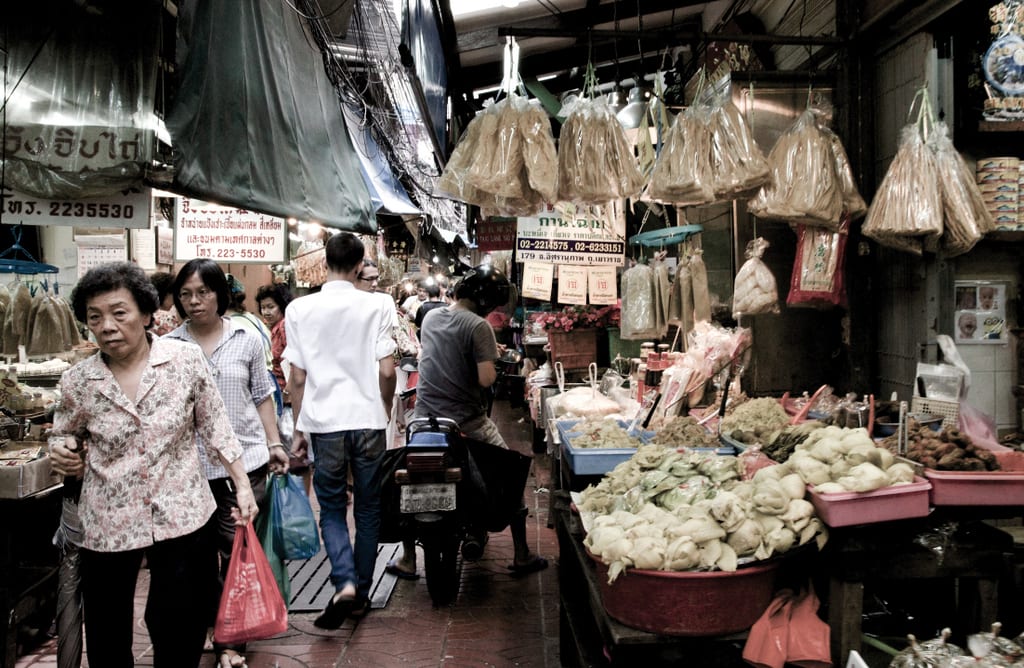 Chinatown
Is there a point to visiting Chinatown if you're already in Asia anyway? If it's Chinatown in Bangkok, absolutely!
This is one of the craziest shopping neighborhoods I've seen in the city that I consider to be the best shopping city in the world. After getting off the ferry, you'll find yourself in mazes upon mazes of covered markets, selling everything from giant Hello Kitty dolls to various neon wigs. Men on motorbikes drive right through the aisles, making just walking through an adrenaline rush!
And the street food here is amazing. Head over to Yaowarat Street for the best gathering of vendors; be sure to wade through the covered mall across the street, too. I've had some fabulous xiao long bao (Shanghainese soup-filled dumplings) and some soup filled with various unidentified meats, as well as lots of fresh pomegranate juice.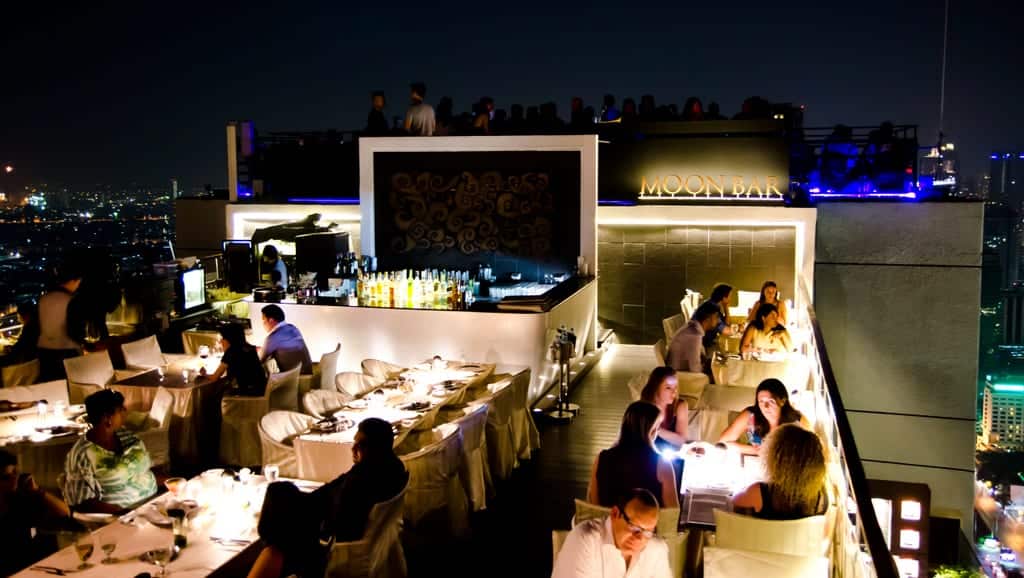 Moon Rooftop Bar at the Banyan Tree
I've frequented a few casual rooftop bars in Bangkok, but I always planned to go somewhere swankier someday — and I finally had the opportunity to visit Moon on top of the Banyan Tree hotel. This bar reminded me a lot of Vegas establishments.
The Banyan Tree is one of the tallest buildings in Bangkok, and the views from the top are sensational.
I've barely experienced the luxury side of travel in Thailand, but I've seen enough of it to know that it's exceptional. One place is Jim Thompson's house — while not an expensive or luxury activity, it definitely has a luxury atmosphere when it comes to the staff. Luxury destinations in Thailand have a veritable army of staff members wearing gorgeous uniforms, with perfect accessories, they call you madam, and they cater to your every need with soft-spoken words and broad smiles. They anticipate your every need, and if you don't need anything, they become invisible.
This luxury atmosphere is evident at the Banyan Tree. There is a staff member everywhere you turn, and we never wanted for anything.
After a round of cocktails at Moon, the Banyan Tree generously invited me to try the tasting menu at Saffron, their restaurant a few floors down.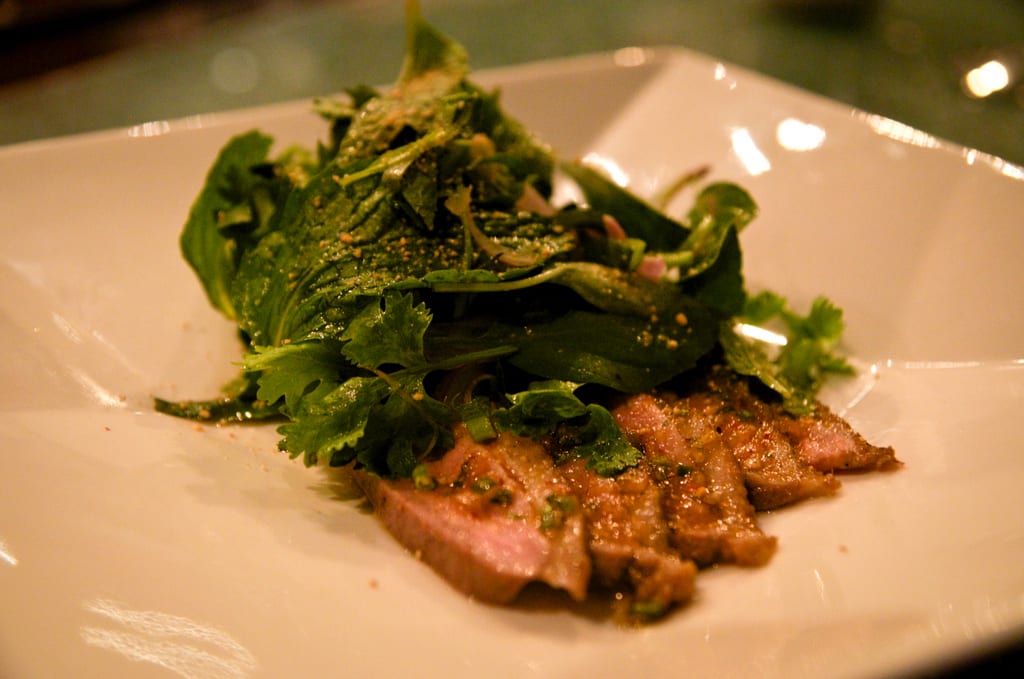 The food was exquisite.
I'm used to eating on the street in Bangkok, and as much as I love street food, these versions of dishes felt far more refined. The duck salad and the tom yam goong soup somehow tasted so much more complex than the varieties I've eaten before. The Massaman curry was outstanding — smoother than anything I've ever tasted.
Every dish has a story at Saffron. I asked my waitress about rice and she waxed poetic about the different varieties of rice they offered, along with their geographic origins and health benefits!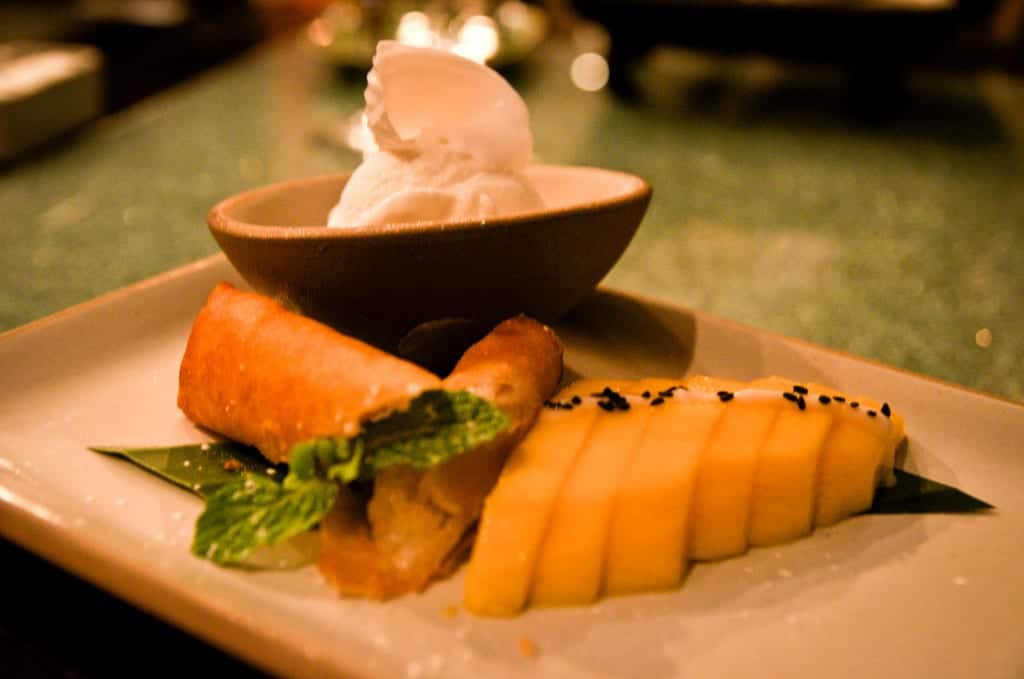 Dessert — my favorite, sticky rice with mango — was inventive, served in the form of a sticky rice spring roll with coconut ice cream and sliced mango.
I loved this meal, and if you're looking to splurge on a nice meal in Bangkok, Saffron is a fabulous place to do so.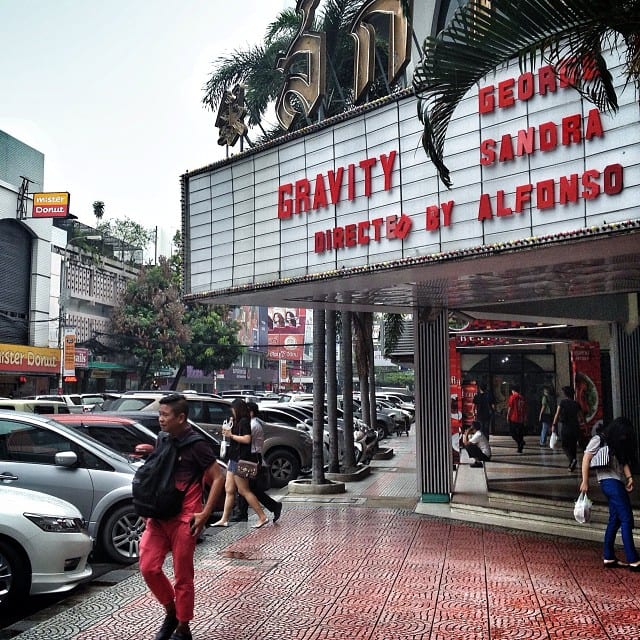 Movies in Bangkok
On my first day in Bangkok, it was pouring — so I decided to go see Gravity. I went to see an afternoon showing at Scala Cinema in Siam Square for 100 baht — $3.11. On opening weekend! Talk about a bargain.
This was a casual theater, but Bangkok is also known for its luxury movie theaters, which are more expensive than Scala but far more cushy. I'd love to try one of the fancy places out when I get back to Bangkok. I need to see Catching Fire already!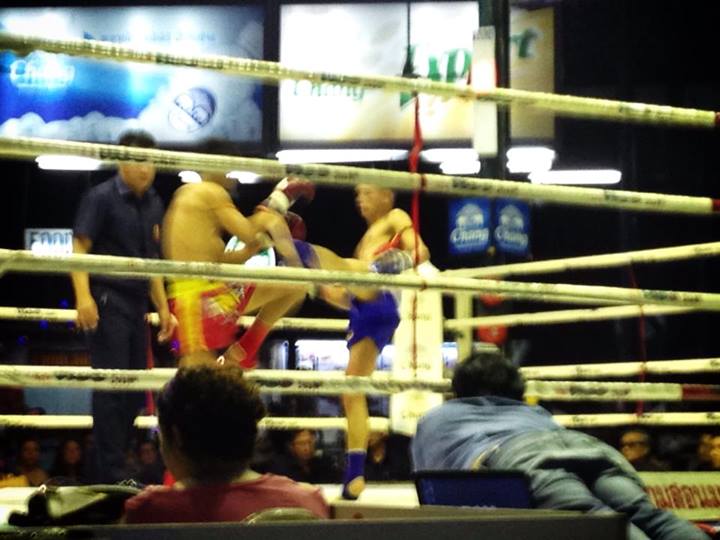 Muay Thai at Lumphini Stadium
While I've never been a sports fan, I've always loved the cultural side of sporting events. There's nothing like the atmosphere of a Red Sox game at Fenway Park, for example.
Lumphini Stadium is the world's home for Muay Thai, or Thai boxing, and it has a crackling atmosphere. The roof was tin and looked like it was going to fall in. Ceiling fans dangled from above. Women walked around in short-shorts selling beer and popcorn. Gamblers in the back yelled and groaned throughout the night. The evening consisted of nine fights total and the main event was the seventh fight.
In fact, some of the earlier bouts were more interesting. The tiny fighters were barely 100 pounds and looked like teenagers, and each corner had a collection of supporters who jumped and cheered with every hit. One of them even had a woman who appeared to be his mother cheering behind him!
At the end, I even got to meet the winning fighter and pose for photos with him. All in all, a very fun and very local Thai experience. Lumphini Stadium will reportedly be closing soon, so make sure you get there soon!
---
READ NEXT:
---
Have you been to Bangkok? What's your favorite offbeat thing to do?
Essential Info: To get to Wat Arun, take a Chao Phraya express boat to the Grand Palace and take the ferry across to the other side of the river. Admission is 50 baht ($1.50).

To get to Chinatown, take a Chao Phraya express boat to Ratchawong. Alternatively, take the MRT to Hualamphong and take a longish walk or a tuk-tuk.

To get to the Banyan Tree Bangkok, take the Skytrain to Surasak. Warning: Google Maps gave us the wrong location; but most drivers will know where it is.

To get to Scala Cinema, take the Skytrain to Siam or National Stadium. It's on the side of MBK. Afternoon tickets cost us 100 baht ($3.11).

There are plans for Lumphini Stadium to close in the near future, so see a fight there while you can. To get there, take the MRT to Lumphini. Tickets are purchased in front. We bought ringside tickets for 2,000 baht ($62); also available are open seats further back for 1,500 baht ($47) and standing room only in the back with the gamblers for 1,000 baht ($31).

You can compare the best prices on hotels in Bangkok here.

Never travel without travel insurance. It will protect you financially if something goes wrong. I use and recommend World Nomads.
Many thanks to The Banyan Tree Bangkok for inviting me for drinks at Moon and dinner at Saffron. All opinions, as always, are my own.
Get email updates from Kate
Never miss a post. Unsubscribe anytime!