Adventurous Kate contains affiliate links. If you make a purchase through these links, I will earn a commission at no extra cost to you. Thanks!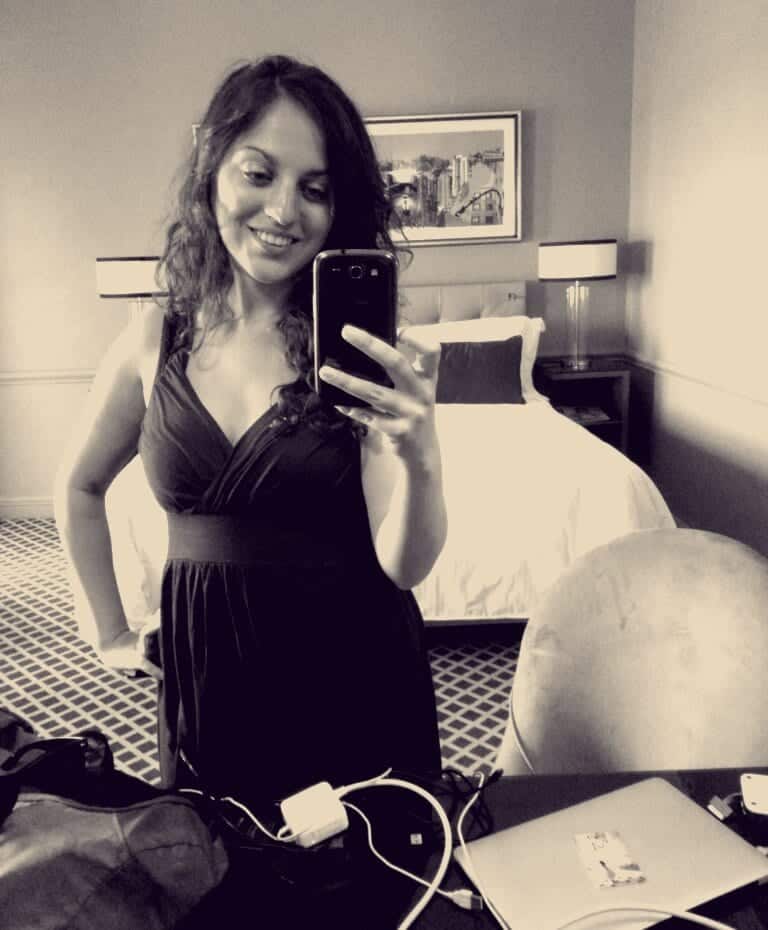 This past summer, I had a big shock while changing trains at Downtown Crossing station in Boston.  It was my first time taking the T during rush hour in quite a while, and I was stunned at the sea of people before me.
EVERY SINGLE PERSON on the platform, young and old, was on their smartphone.
I couldn't believe it.  Two years ago, when I left Boston, I would be one of few people glued to my phone while on the T.  It's amazing how much change can happen in such a short time.
Trying Out the Galaxy SIII
I recently received an opportunity to work with Samsung and try out the Galaxy SIII in South Africa, and I was eager to jump in.
Why?  Because it's a cool phone — and because I've missed the smartphone revolution.
I've had an iPhone since 2008, and what I didn't realize is that during those four years, there have been INCREDIBLE smartphone innovations.  I've missed them all because I've stuck to the same device.
So it's time to get a taste of what I've been missing — and see just how far technology has come.  The Galaxy SIII is one of the most impressive smartphones on the market right now, and I'm already very impressed.
Cool Galaxy SIII Features
The Galaxy SIII has a lot of cool features that I haven't seen on any other phone yet.  Some of them:
Pop-up Play — My favorite feature.  You can watch video and simultaneously run applications, like email or texting.  Having such a huge screen makes this easy.  I never realized how often I wanted to email my friends to watch a video before I had even finished watching it!
Smart Stay — If you're reading something lengthy or watching a video, the screen won't dim — because the phone is TRACKING YOUR EYES. My nervous tic of touching the screen to keep it active is now wholly unnecessary.
S-Voice — Not just talking to your phone.  You can come up with commands for it — like yelling "Snooze!" to snooze your alarm (though I'm thinking of something slightly more profane) or "Shoot!" when you want it to take a picture.
Social Tag and Buddy Photo Share — Tag your friends in your photos in the gallery and the Galaxy SIII will recognize them.  With a touch of a button, you can text, email or Facebook those exact friends (complete with tag!) immediately.
Intelligent Camera — Being an avid mobile photographer, I'm most interested in the photography features.  With the Intelligent Camera, you can take still photos while recording video, shoot bursts to get the single best shot of a rapid-fire move, and there's also the option of having the Galaxy SIII automatically select the best shot from your bursts.
My Trip: Knysna and the Garden Route
My trip with Visit South Africa took me to Johannesburg, Cape Town, and Kruger National Park, but that only scraped the surface in terms of places I wanted to visit in South Africa.  The place where I wanted to go most of all?  The Garden Route, a string of beautiful towns along the Western Cape.
The perfect solution?  Extending my South Africa trip to try out the Galaxy SIII!  Samsung is sponsoring my trip to Knysna (pronounced NY-znah), a beautiful town in the heart of the Garden Route.  This trip includes a stay at Phantom Forest Ecolodge, which has been crowned Africa's Leading Green Hotel by the World Travel Awards for the past three years in a row.
If you're looking to do sustainable travel in Africa, look no further than the Forest.  It's an extraordinary place, and I've been sharing plenty of photos of it on Instagram — all of them taken with the Galaxy SIII.  Just wait until you see the upcoming posts about it!
Stay in Touch
I've been posting lots of pictures with my Galaxy SIII throughout South Africa — and several more of my travel blogger colleagues working with Samsung are posting photos from Hawaii, Big Sur, Wisconsin, Italy, Costa Rica and more during the month of November.  Follow #galaxytraveler on Twitter and Instagram to see these sweet shots.
I hope you enjoy reading about my Knysna trip and my Galaxy SIII experience!
Many thanks to Samsung for gifting me a Galaxy SIII and sponsoring my trip to Knysna.  All opinions, as always, are my own.
Get email updates from Kate
Never miss a post. Unsubscribe anytime!