Adventurous Kate contains affiliate links. If you make a purchase through these links, I will earn a commission at no extra cost to you. Thanks!
So, how do you pack one small backpack for seven months in Southeast Asia?
It's not easy.
I've agonized over every single item in here.  And yes, I'm well aware that I've overpacked.  I couldn't help it.  But I'll send items home if I need to.
When it comes to clothing in general, I'm like Michael Kors — I LOVE fashion, but I'd gladly wear the same outfit every day.  (Black shirt, jeans and tall boots in my case.)  So I'm not agonizing over lack of variety.
Here is what I have in my backpack:
Tops
Three short-sleeved shirts.
Five tank tops.
There is actually another bright blue sleeveless shirt that my mom bought me and hid in my bag, so I added it.
The pink and purple patterned shirt works well as a dress-up outfit with the black ruffly skirt.
Bottoms
One pair black leggings.
One pair black yoga pants (not of the damn-my-ass-looks-FANTASTIC-in-these super-clingy variety.  I figured those were too much for Sri Lanka.  These are loose.)
Two pairs long shorts/capris.  (Prana.  LOVED the black ones so much I got another pair.)
One pair short shorts.
One pair super-short pajama shorts.
One sarong, which I plan to wear as a long skirt often.
One black ruffly skirt.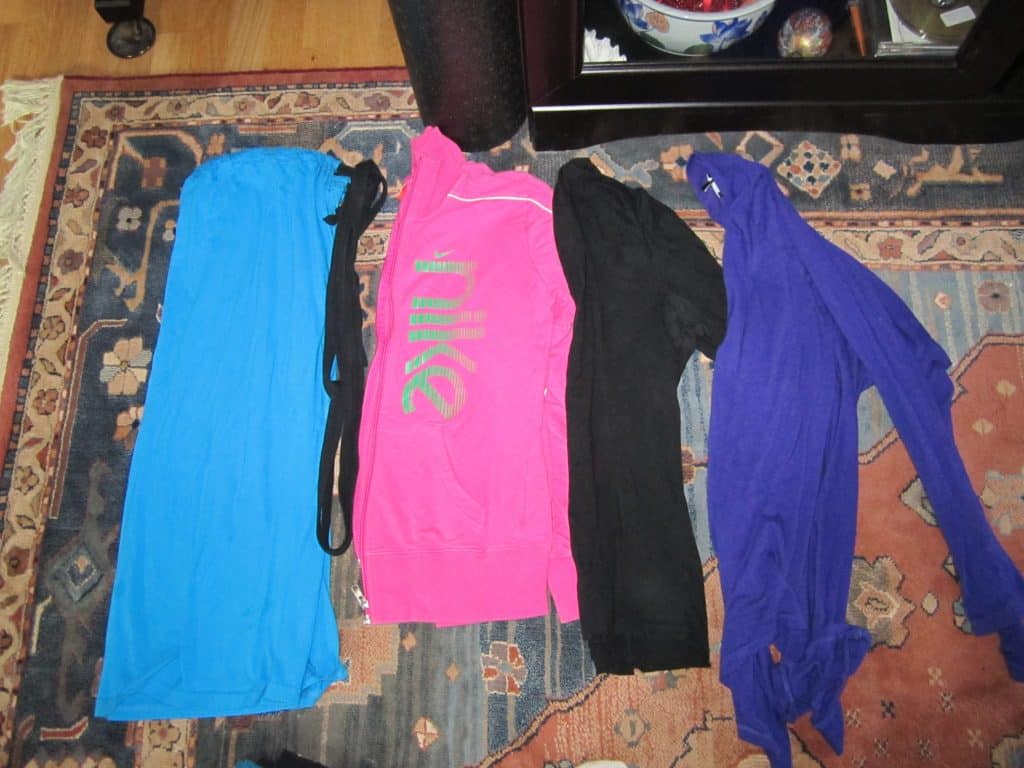 Other Items
One blue American Apparel Le Sac dress that can be worn in many ways.
One zip-up sweatshirt.
One three-quarter sleeve black shirt.
One thin purple cardigan-style shirt.  I plan to keep this in my daypack often for visiting temples.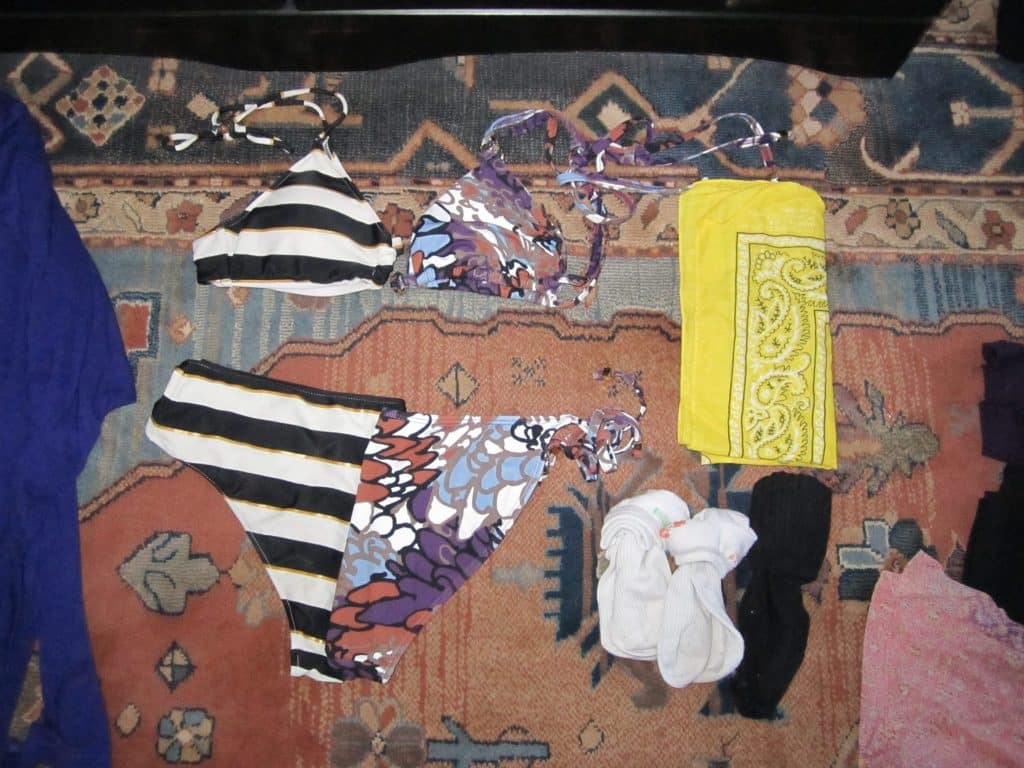 Bathing Suits
Two bathing suits.  The one on the right is the one I got at the Robert Verdi party that I attended in July.
One yellow bandana.
Three pairs socks: two short and white, one longer and black.
Three bras (one strapless) and a bunch of undies.  No pics of those, ya pervs!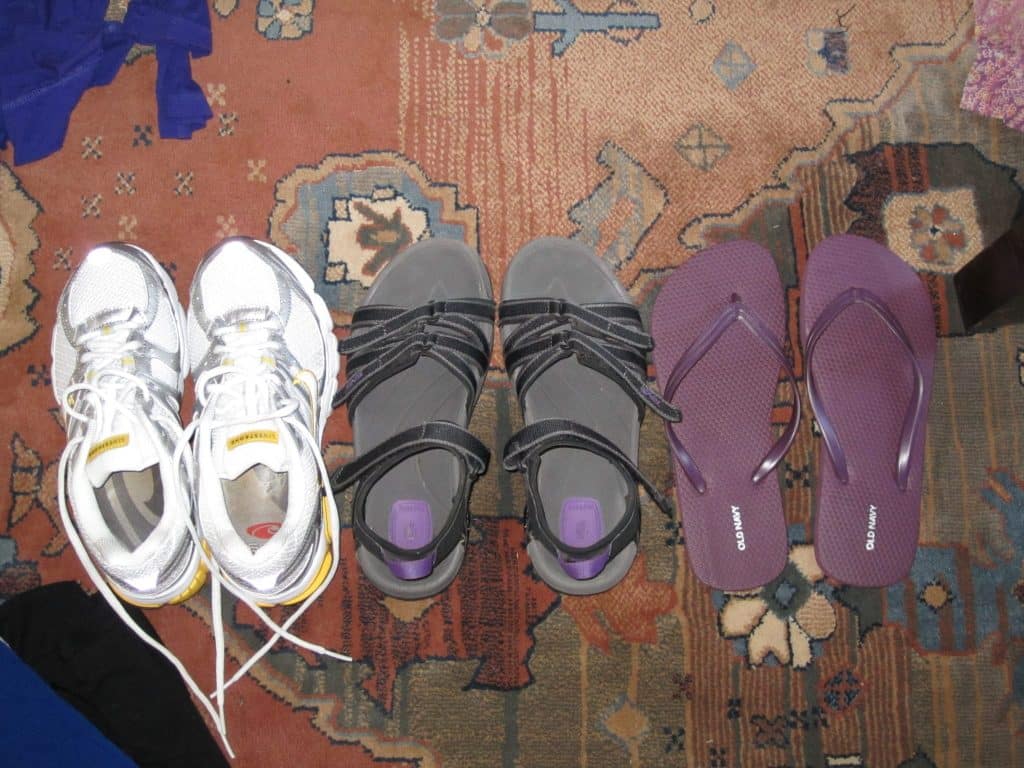 Shoes
One pair sneakers with my super-arched insoles inside.
One pair Teva sandals with strong arch support.
One pair flip-flops for the showers and possible low-key or beach wear.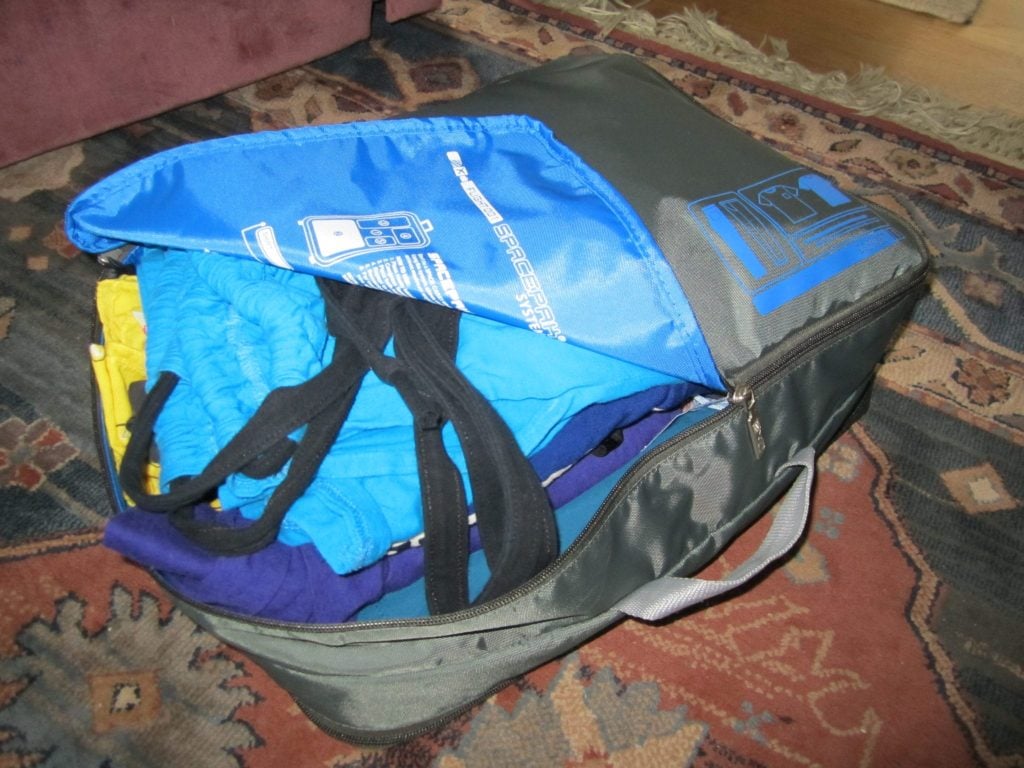 Every article of clothing fits into my Flight 001 Space Pak, which I also received at the Robert Verdi party.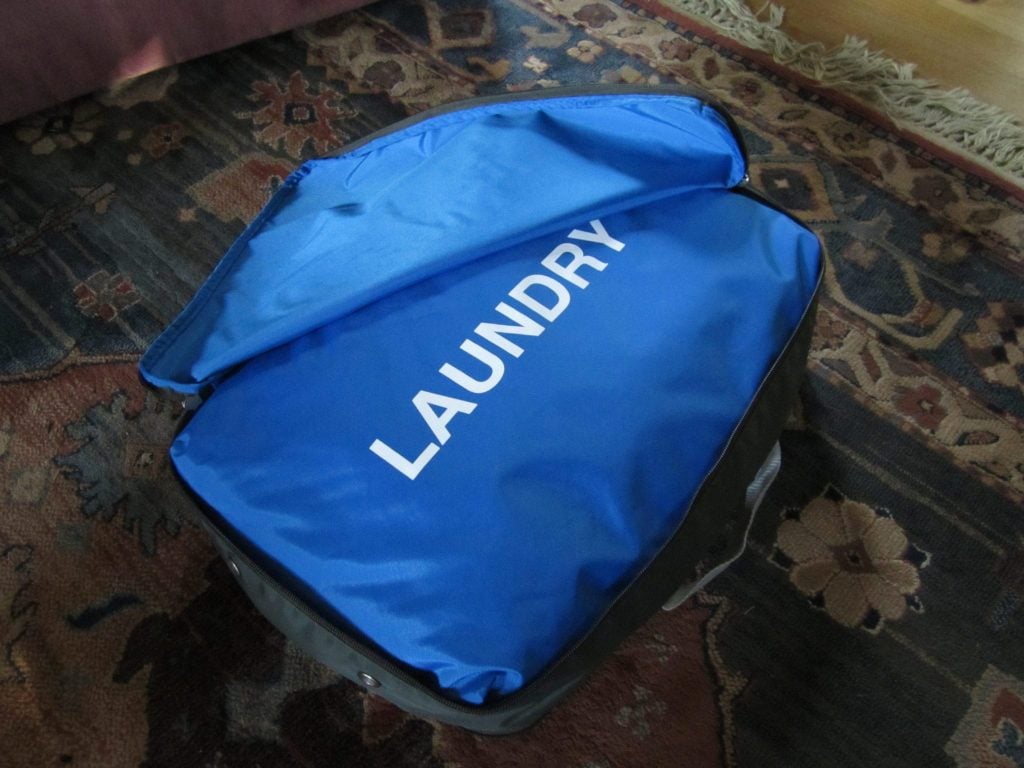 So, where will I put my dirty clothes?  OH WAIT — the other side of the SpacePak is designed for that purpose!
This is the SpacePak standing up.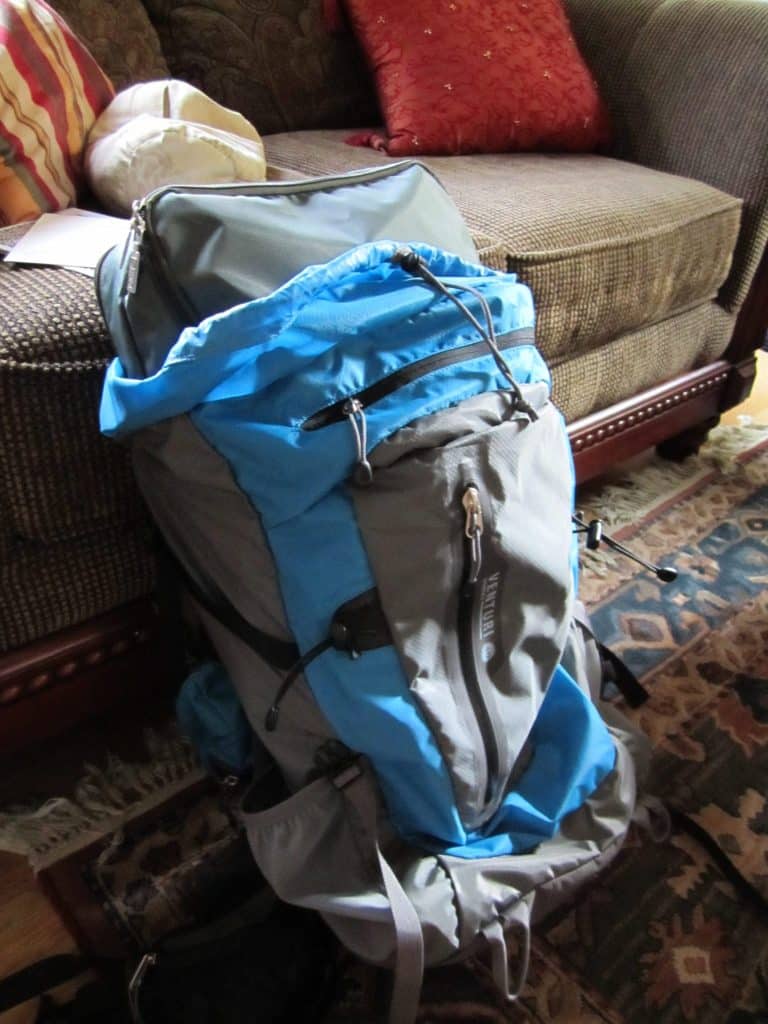 The Spacepak takes up most of the space in the backpack, but it's worth it to have all my clothing in one place.  It's a pain finding things in a top-loading backpack, but this makes things significantly easier.
Toiletries
Shower: Soap (that big bar has been replaced by a small one), razors and blades, deodorant.
Skin: Facial soap, moisturizer with sunscreen, benzoyl peroxide, hydrocortisone.
Hair: Solid shampoo and case, comb, Biosilk, hairspray.
Teeth: Toothbrush, toothpaste, floss, retainers.
Makeup: Foundation, eyeshadow, eyeliner, sharpener, mascara, lip gloss.
Lady Stuff: Diva Cup (guys, don't ask), backup tampons.
Other: tweezers, nail clippers.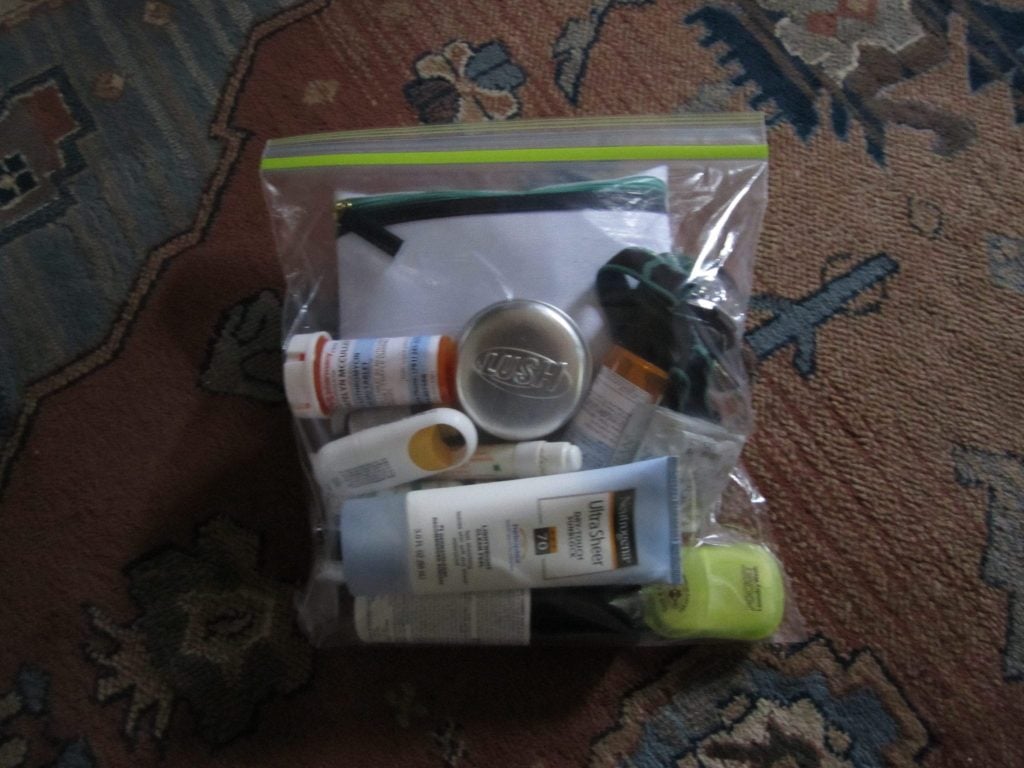 First Aid
Medication: Antibiotics (one for Thailand, one for elsewhere), Aleve, Immodium, Pepto-Bismol tablets, Benadryl, Sudafed.  I plan to buy malaria pills in Thailand.
Injury: Band-aids, assorted bandages, antibiotic spray.
Other: water purification tablets.
Miscellaneous
Hair elastics and pins.
Two pairs of earrings (one silver, one indigo) and watch.
Sunscreen.
DEET mosquito repellent.
Umbrella.
Combination padlock.
Sleep sheet.
Eye mask and earplugs.
Moneybelts (one for the waist, one for around the neck).
Laundry soap.
Headlamp.
Copy of passport.
Moleskine notebook and pens.
Business cards.
Guidebooks: Lonely Planet's Southeast Asia on a Shoestring and Sri Lanka.
Book to read and later exchange: Abundance: A Novel of Marie Antoinette.
A few other items not worth mentioning.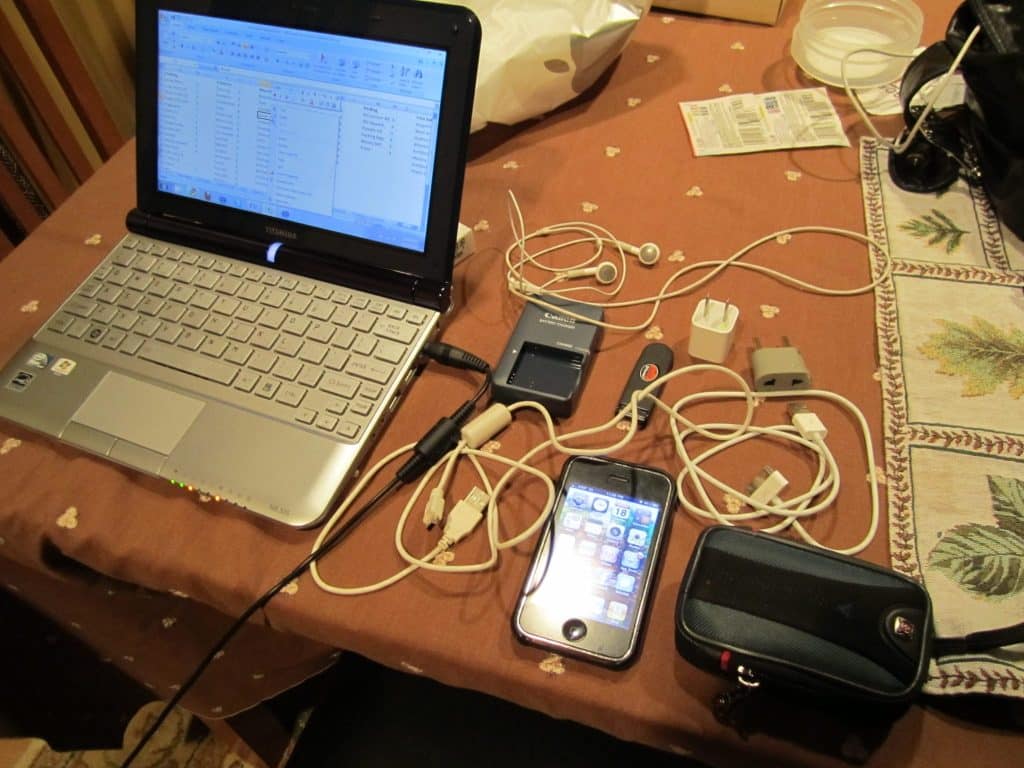 Technology
Toshiba NB300 and case.  I LOVE this computer.
Canon Powershot SD 1400 and case.
iPhone, functioning as an iPod Touch while I'm away.
USB drive.
Various plugs and wires.
One converter — it will work for Thailand, Laos and Cambodia, but I'll need to buy one for Malaysia when I arrive.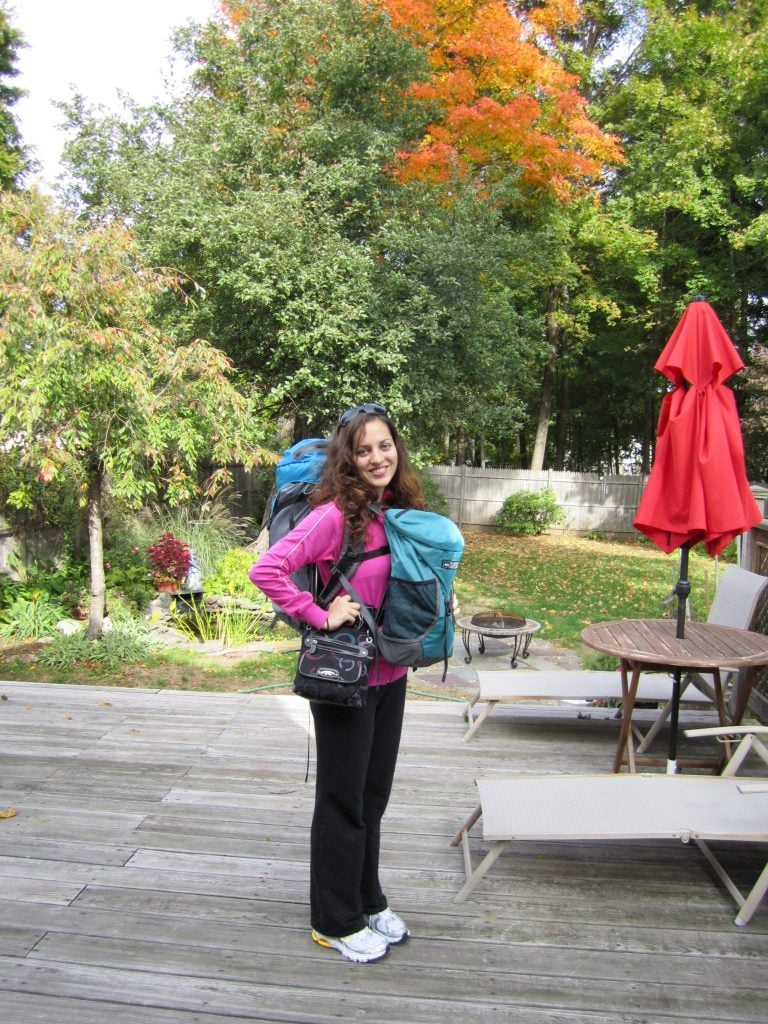 It all fits into three bags: my REI Venturi 40l bag (though I have the smallest model, so its capacity is 38l or so), my REI Zip Travel Daypack, and a cute crossbody purse that I found at Target.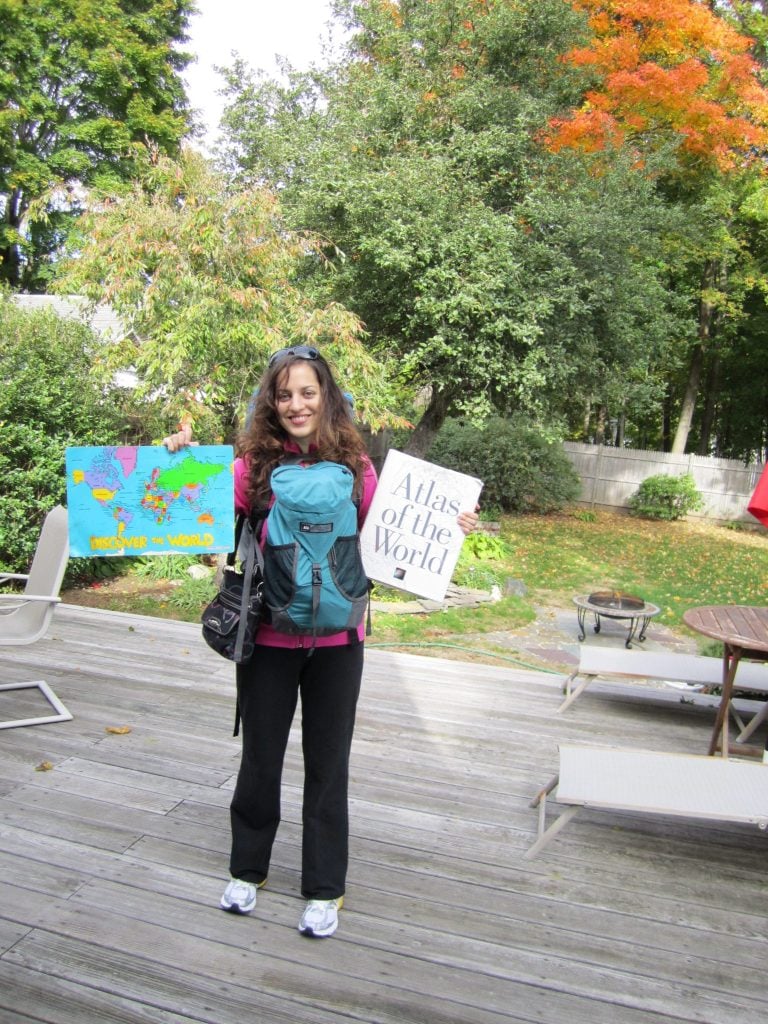 Not coming with me are two remnants of my childhood: my FAVORITE placemat in the world, which I would stare at every night, having my family quiz me on countries; and the atlas that I would pore over with equal obsession.
I'm happy for little Katelyn, who would watch Carmen Sandiego every night, who would head straight to the geography section in the school library, who would teach herself French and Spanish however she could.  Her dreams are coming true!
Get email updates from Kate
Never miss a post. Unsubscribe anytime!