Adventurous Kate contains affiliate links. If you make a purchase through these links, I will earn a commission at no extra cost to you. Thanks!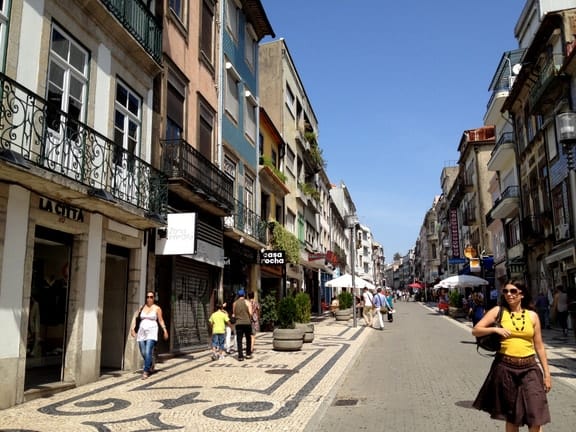 When I heard that TBU was taking place in Porto, Portugal, this year, I was intrigued — but mildly disappointed.  I had been to Porto earlier in the year and though I enjoyed photographing the riverfront, I hadn't really connected with the city itself.  Frankly, it had seemed a bit boring to me.
Well, TBU Porto changed everything.  The Porto of September was worlds away from the Porto of February — far from boring, the city was now bright, gritty, colorful, vibrant, casual and smirking.
This Porto?  I loved it.
While the weather and being among friends were certainly contributing factors to my enjoyment of Porto this time around, I think most of it was the fact that I stayed away from the old town and the riverfront.  I was spending time where the people of Porto lived, worked, sat at cafes and strolled with their families.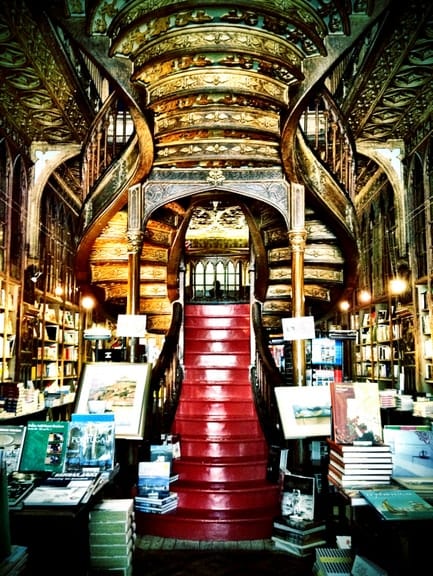 And this time, I FINALLY made it to Lello Bookstore, which had eluded me last time!  This bookstore served as inspiration for Harry Potter — J.K. Rowling lived in Porto for years.  Photos are not allowed inside, which I did not know, but at least I got a few shots in before they caught me!
As a bookstore junkie, I consider this place pretty close to heaven.
Rocking TBU
The TBU conference itself was fabulous.  I made lots of great contacts and learned tons of new ways to innovate my site and my business.
This was also my first TBU as a speaker.  I gave a talk about custom blog trips and sponsorship that went over extremely well — all the seats were taken and people were sitting on the floor (!!).  To see my slides from the presentation, click here.
The venues for TBU this time were also the best so far — like this night, when we took a cruise down the river and ended up at a riverfront setting with an infinity pool that looked straight out of Las Vegas!
The conference itself was at the Sheraton Porto, where I stayed for a few days.  You already know how much I love Sheraton!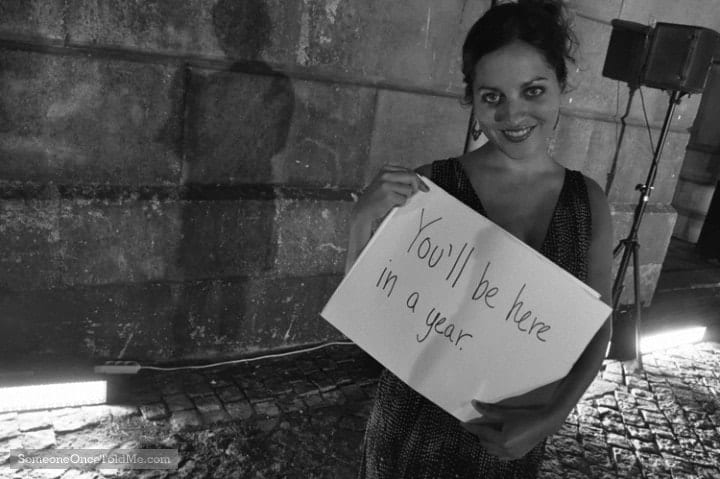 I even got onto Someone Once Told Me — an amazing photography blog that is one of my new favorites.  People pose for a black and white photo while holding a sketchbook featuring something significant or poignant that somebody once told them.  Find out the story behind my quote here.
Huge thanks to Mario for including me on the site (and for Creative Commons-ing all his site photos!).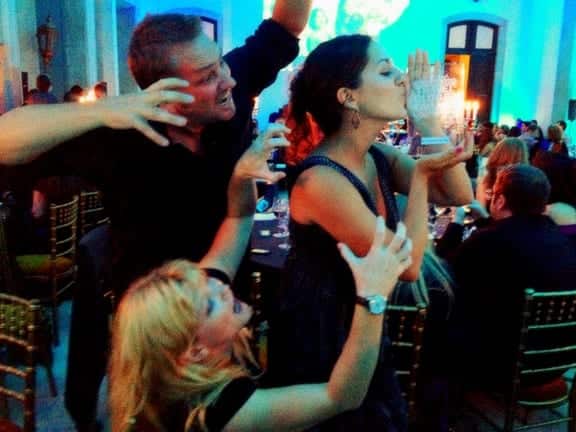 And then, to my great shock and delight, I won the Destinology Travel Bloggy for Best Adventure Travel Blog!  I mean it when I say that I did not expect this whatsoever — but I was thrilled.
(Dave and Deb?  Not impressed.  😉 Until they won the Best Photography Travel Bloggy, that is!)
Going Douro
As lovely as the conference was, there was far more to see in northern Portugal.  I jumped on a blog trip to the absolutely beautiful Douro Valley and spent a few days getting intimately acquainted with port wine.  Oh, Douro.  I knew you'd be beautiful, but I had no idea you'd be THAT gorgeous!
Also, over the course of my week at TBU, I drank about 10 more times more port than I had ever consumed in my life.  Who knew that port was amazing?!  And bloggers approved.  We drank it like wine, we drank it with tonic, we had it every few hours like clockwork.  I was getting the port shakes by the time I arrived in Lisbon.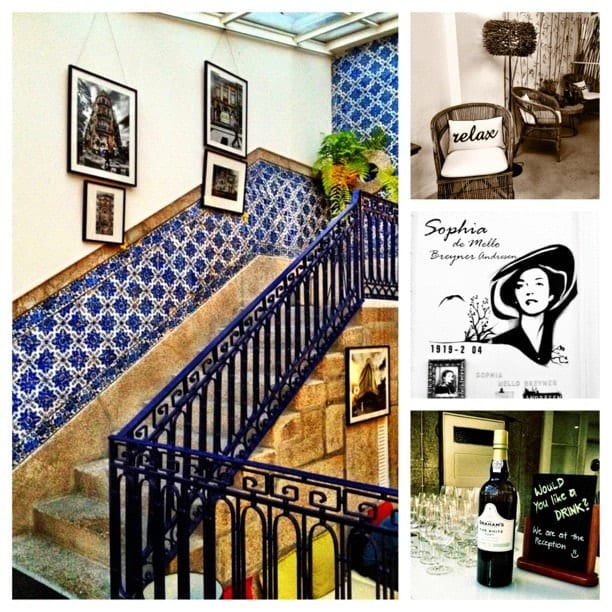 Gallery Hostel
One of the biggest surprises of TBU Porto is that I found my new favorite hostel in the world.  Congratulations, Gallery Hostel — you have officially eclipsed Hanoi Backpackers Hostel!  And you're much more beautiful, too!
Gallery Hostel is REALLY nice — one of Kash's Luxury Hostels of Europe picks.  Not only is it gorgeous and impeccably designed, but it feels like a warm and welcoming home, down to the wonderful staff.  One of them wished me a happy second I-quit-my-jobaversary because she saw it on my Facebook page!
It has everything from high quality linens to giant lockers keycard access to great wifi and a perfect location in the heart of Porto where the locals go out, shop, eat, and drink.
My favorite part was the hostel dinners.  They cost 10 euros, included wine, and were absolutely delicious.  (And when a guy who looks like Jesus is seated in the middle of the table, how can you NOT recreate The Last Supper?)
I can't say enough good things about this hostel.  I would return to Porto just so I could stay here again.  (And for the record, this was not a comped stay.  They offered me a free dinner one night, but I paid for the room and everything else myself!  I'm just writing this because I loved it so much!)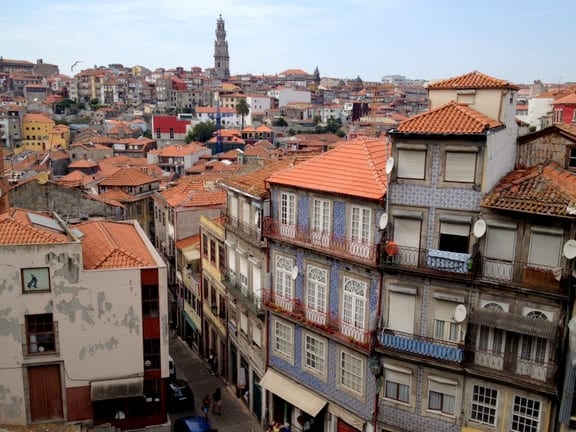 The Overall Takeaway
Today, I can't get enough of Porto.  It's a place where I'd love to return and just chill out for awhile, enjoying the ambience of the city.  Thanks to a perfect second visit, I can now recommend Porto like never before!
Get email updates from Kate
Never miss a post. Unsubscribe anytime!