Adventurous Kate contains affiliate links. If you make a purchase through these links, I will earn a commission at no extra cost to you. Thanks!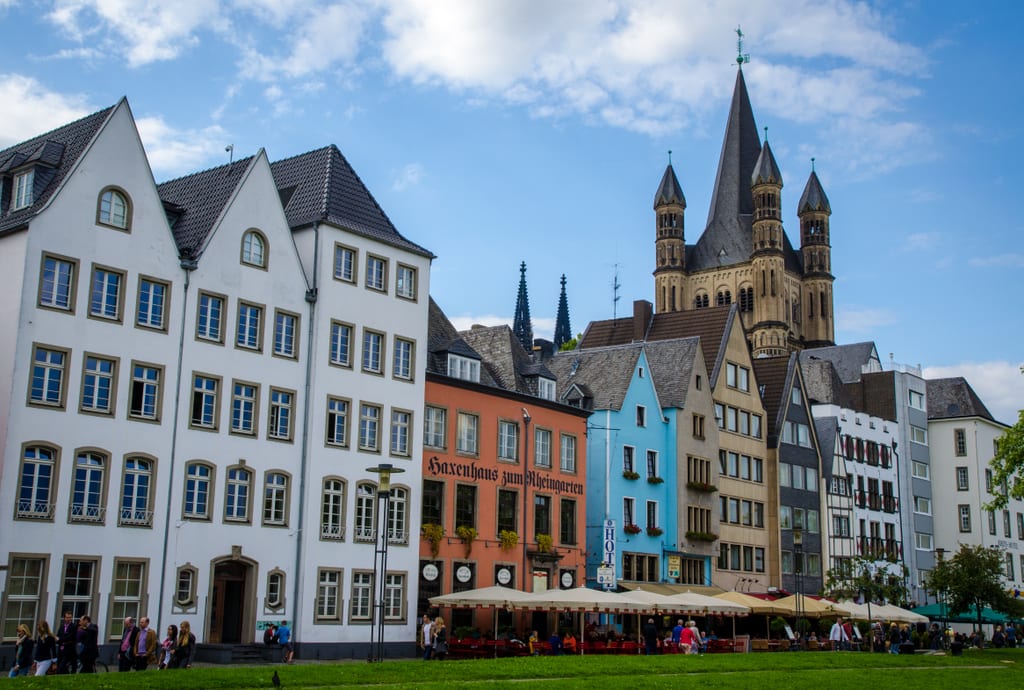 When New Year's 2014 rolled around, I didn't think I would be visiting Germany at all this year. How wrong I was! By August, I had visited Leipzig, Wilhelmshaven, Bremen, Hamburg, Lübeck, Berlin, Potsdam, and finally Cologne and Brühl. With the exception of Berlin, they were all new destinations for me.
Cologne closed out my summer of festivals — for this final event, I would be covering the Cologne Music Festival with support from Meininger Hotels.
I had four days to explore Cologne — or Köln, as it's locally known — and I discovered a fun, casual, low-key, very livable city.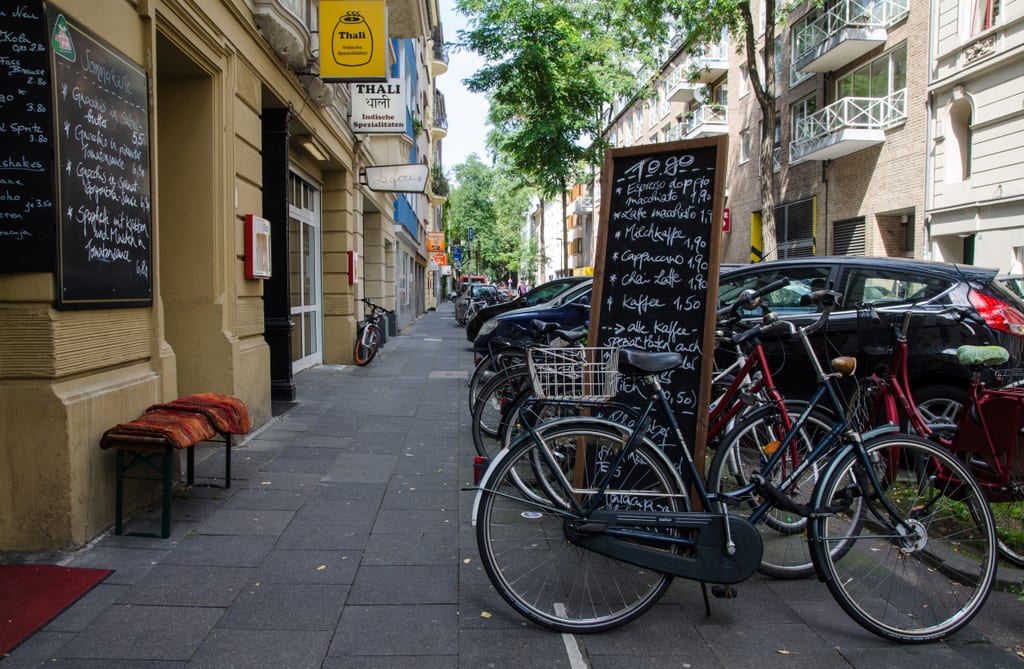 Meet Cologne
Cologne reminded me a lot of Cambridge, Massachusetts. It was a mix of urbanity and suburbia, super-easy to get around by walking, and had sections of hipstery cafes and fun restaurants interspersed with more sedate, business-oriented neighborhoods.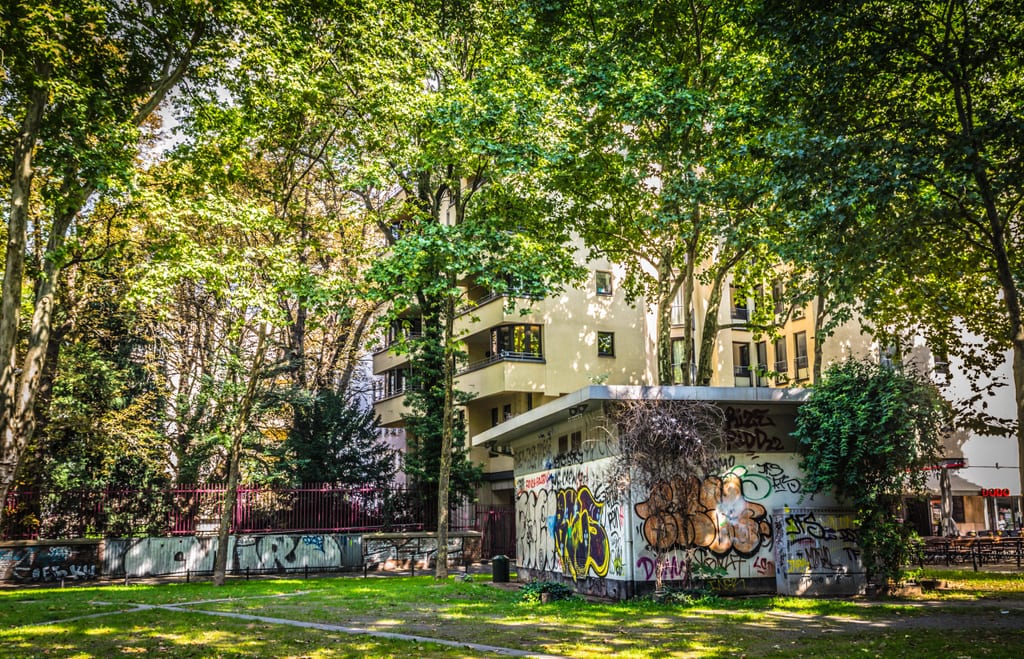 Alternative Berlin? Nope, it's Cologne!
Green, leafy trees dwarf the city blocks. Playful, geometric architecture dominates. Bikes rule the streets, as they do throughout Germany, and if you're not into that, there's an excellent u-bahn (subway/tram) system.
The only thing I didn't like about Cologne is that wifi is really hard to find. It's rare to find an independent cafe that actually has it. Though Meininger Hotels all have unlimited free wifi, I still needed to connect on and off throughout the day and thus ended up in Starbucks a lot.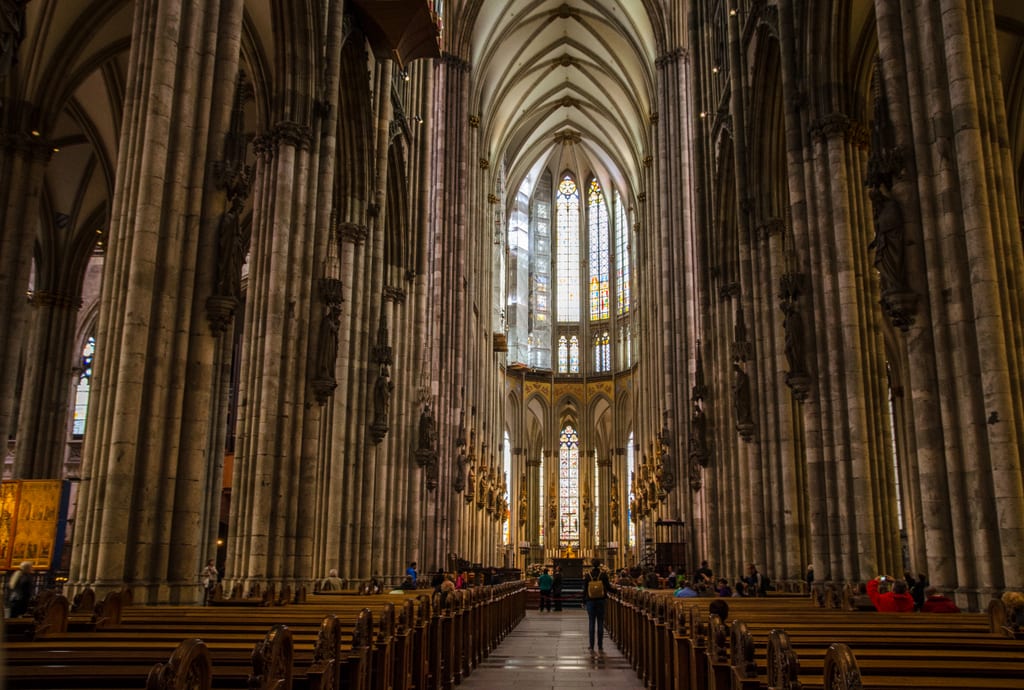 The Kölner Dom, or Cologne Cathedral, is one of the largest religious buildings in the world, a UNESCO World Heritage Site, and truly an astounding architectural achievement. It's every bit as good as everyone says.
Stay tuned for a full photo essay on the Dom.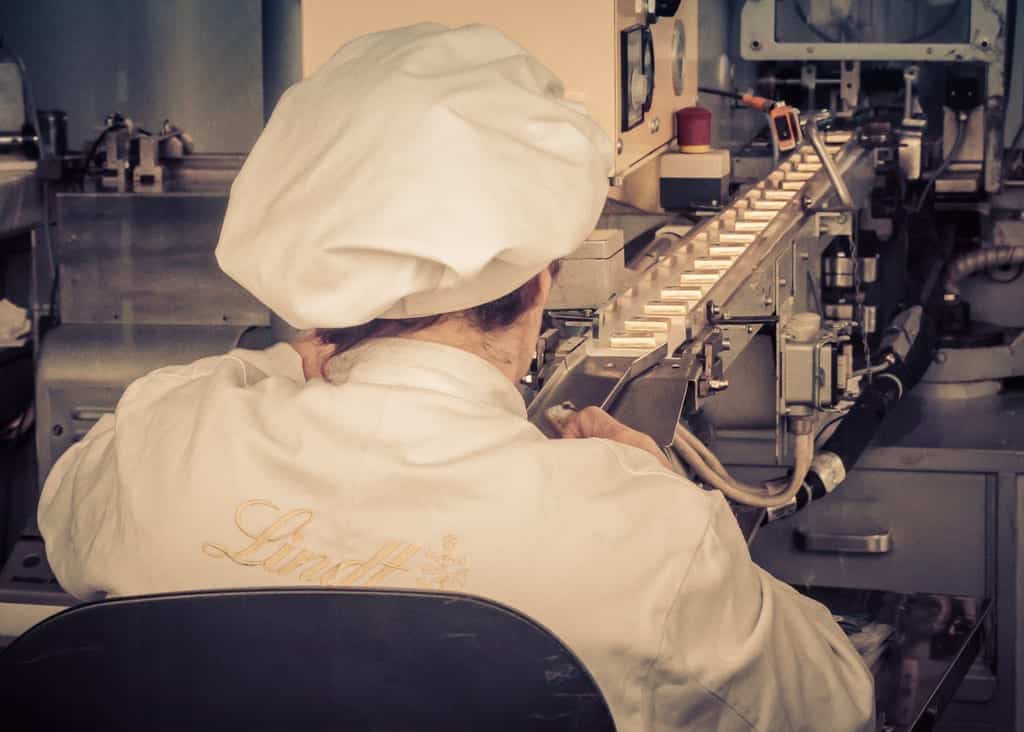 The other major highlight? LINDT CHOCOLATE FACTORY. The factory is part of the Schokoladenmuseum (Chocolate Museum) and you get to see the chocolate being made in real time. (Yes, there are free samples!!)
To be honest, the chocolate museum didn't really hold my attention, but I was so excited to visit the Lindt factory. I made an Instagram video here:
Cologne's Lindt Chocolate Factory — watch chocolates get made! #mustlovefestivals
Really…you've got to come here.
There's a cafe at the chocolate museum, and while their hot chocolate is served with a straw (and I kept thinking the straw was going to melt and kill me!), it was delicious.
The next band: Sparkling. Cute band and nice sound in a basement bar. #mustlovefestivals
Cologne Music Festival
I really had no idea what to expect at the Cologne Music Festival. I've never been to a music festival in my life. Hell, I've barely been to concerts in my life!
You know who I've paid to see in concert? The Backstreet Boys. The Spice Girls. Janet Jackson. I saw Guster in college, but that's just because they were playing at my school. I was going to see Michael Jackson perform in London, but that sadly didn't happen. Oh, and I won tickets to a Moby concert once, which was fun.
That…is honestly about it.
I'm not anti-concert by any means. It's just never been my thing. So I really had no idea how to behave at a festival. Was it going to be all mud and drugs and crowdsurfing?
Not in Cologne, it wasn't! Even though it was August, the weather was mostly cool and rainy (gotta love that northern European climate). At most of the concerts, Kölners wore jeans and leather jackets and simply hung out, drinking Kölsch beers and bopping in place to the music.
Most of the time, it looked like this:
Happy Super-Samstag from Cologne Music Festival! #mustlovefestivals Band: Urban Homes!   View on Instagram
Not too intimidating. Not too weird. I could do my favorite thing of all, pretend I live here and fade into the crowd, and it would look like I actually belonged here.
Over the course of four days, I saw all kinds of concerts. Some of them were free and at the Red Bull-branded pavilion; others were in tiny, exclusive-feeling bars; others performed in much larger venues. The biggest name? Kelis (who I sadly missed!).
The cool thing about Cologne Music Festival is that you can buy a pack to a selection of songs within a certain genre. I chose the dance pack, which cost 45 EUR ($56 USD), which included three concerts.
My favorite group from the dance pack? Inc. Though they were considered a "dance" artist, their music was more on the ambient/chill side of things. Check out a quick video of them here:
So glad I chose the dance music pack. This is Inc! Love it. #mustlovefestivals
And as good as Inc were, they were nothing compared to what I saw near the end of the concerts: Rap. German rap. German rap set to "Careless Whisper."
Yes, this is German rap set to Careless Whisper. Enjoy. #mustlovefestivals View on Instagram
"Shut it down," I half-whispered, Liz Lemon-style, as these guys finished performing. Really, after seeing German rap set to Careless Whisper, you have reached the apex of musical creativity.
So, after my experience in Cologne am I a concert freak? Well, I wouldn't say that next year you'll find me at Coachella, writhing in the desert to that random alternative band everyone loves in the finest duds Urban Outfitters has to offer.
But — I had a great time. I was wary about it at first, but I ended up relaxing and becoming a real part of the atmosphere.
If you're coming to Cologne, try to plan it around this concert. Even if you just hit up the free events, it's well worth getting to hear some of this great music.
Where I Stayed — Meininger Hotel Cologne
The older I get, the more I realize that my dorm days are numbered. I'm turning more toward single rooms in good budget hotels. Meininger Hotels certainly fit that criteria — they are budget hotels that cater to the urban traveller. They're in 10 cities throughout Europe, including Berlin, Amsterdam, and London.
Meininger Hotels sponsored this leg of the Must Love Festivals campaign, so I stayed at Meininger Cologne during my time in the city.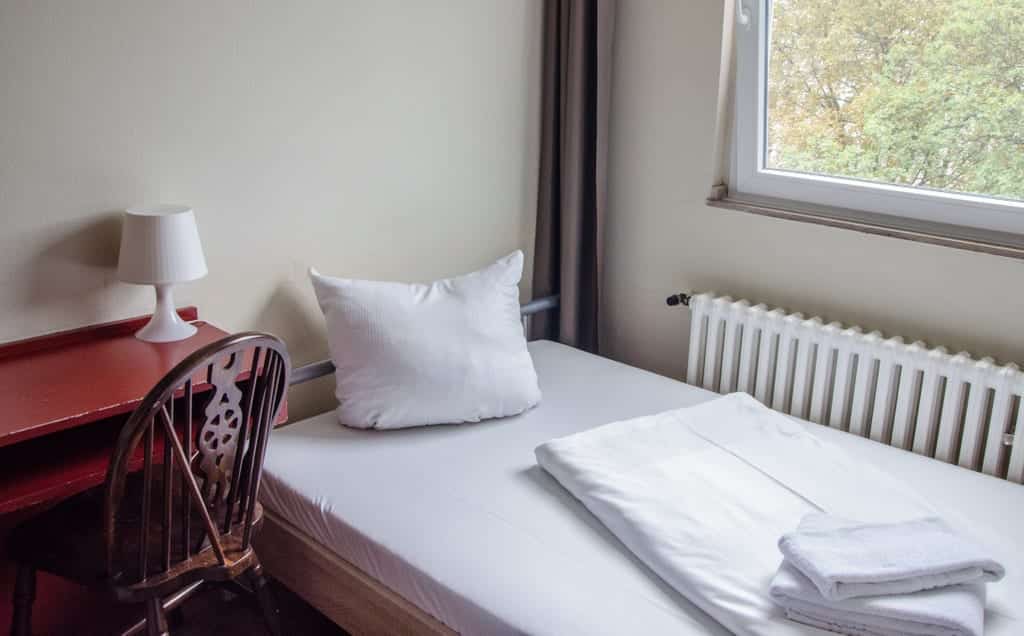 My room was small and simple — a bed slightly larger than a twin but smaller than a double, a (very chipped up) desk and chair, and a private bathroom with a shower.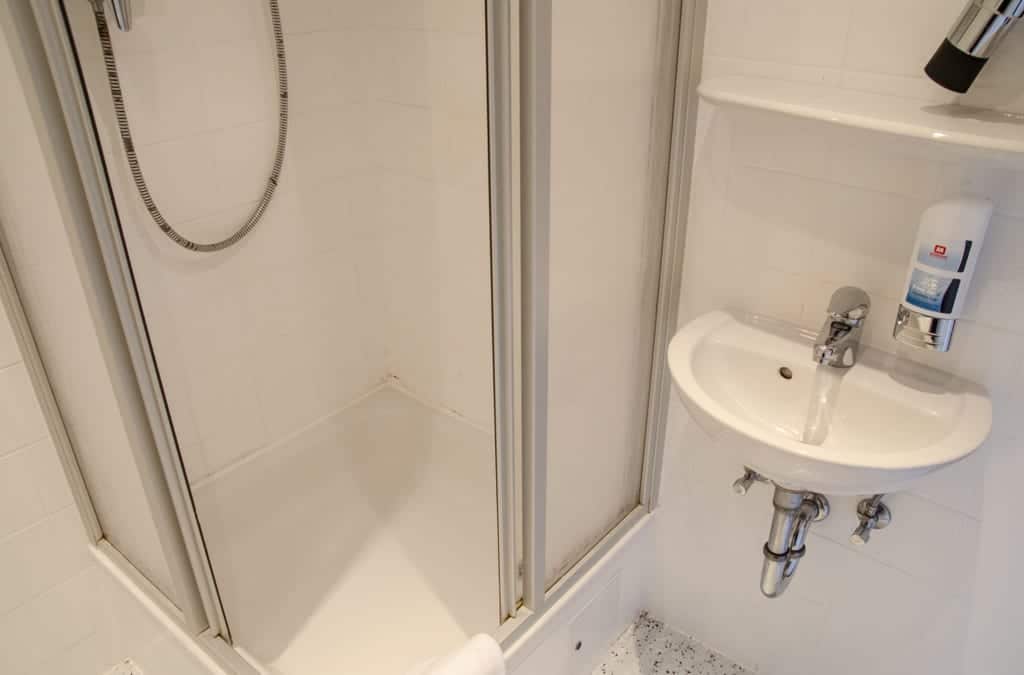 When I want a room of my own on the cheap, this is all I need — a bed, a desk, a shower, a toilet, and free wifi.
Even though it's technically a hotel, Meininger Cologne has dorms available as well. Because of the dorms, or perhaps because of their young and well-traveled clientele, it really has the feel of a hostel — not quite a party hostel, but a place where you could feel comfortable just hanging out in the communal areas.
And a big fridge downstairs filled with Kölsch beers for just two euros. (Many thanks to the staff for alerting me to the fact that I had chosen a nonalcoholic beer by mistake. Ha!)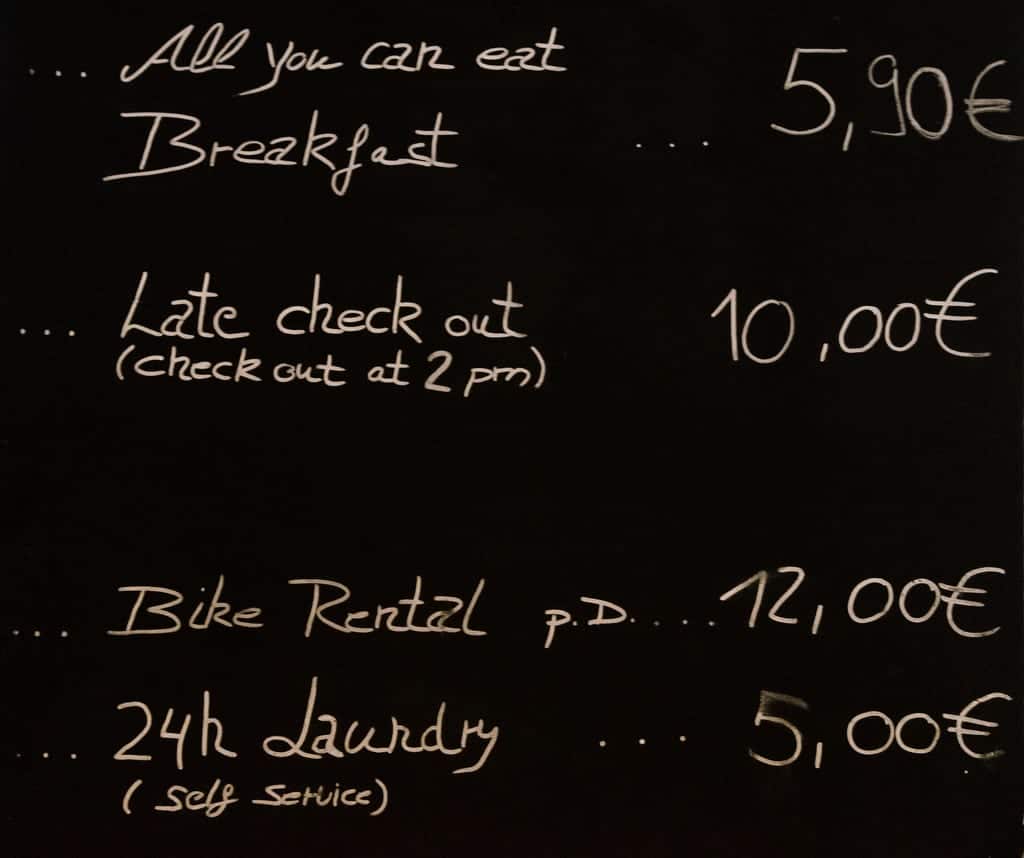 Meininger Cologne is in a great location, too — there's easy access to lots of restaurants, shops, and cafes, and it's right by several u-bahn stops. I recommend hitting up Vapiano, my German guilty pleasure — a fun and casual Italian restaurant where you order at the counter and they cook it right there in front of you.
The Takeaway
I had a great time in Cologne. If you're planning a trip to either Germany or the Benelux region, consider tacking on a few days to visit this city — if only for that amazing chocolate factory!
Essential Info: Cologne Music Festival, aka c/o pop Festival, takes place every August. Lots of shows are free, you can buy tickets to any show you'd like, and there are also packs you can by for several concerts within a music genre.

Visiting the Kölner Dom is free but it costs 3 EUR ($4 USD) to climb to the top. It's a challenging climb if you're not in shape.

Visiting the Schokoladenmuseum (Chocolate Museum) costs 9 EUR ($11.27).

Rates at Meininger Hotel Cologne start at 38 EUR ($48 USD) for small singles and 46 EUR ($58 USD) for two people in a double room. Dorms start 14 EUR ($18 USD). While these prices are the lowest I could find, it was rare for them to be this cheap, and I found that most dates tended to be about 50% more expensive than the lowest rates. You can find other hotels in Cologne here.

I recommend buying travel insurance before any trip and a music festival is no exception. You never know what crazy thing may happen and it will protect you financially if you do something like trip and get hurt in the mud. I use and recommend World Nomads.
Must Love Festivals is brought to you by the Budget Traveller with lead partner Expedia and in association with Meininger Hotels. All opinions, as always, are my own.
Get email updates from Kate
Never miss a post. Unsubscribe anytime!