Adventurous Kate contains affiliate links. If you make a purchase through these links, I will earn a commission at no extra cost to you. Thanks!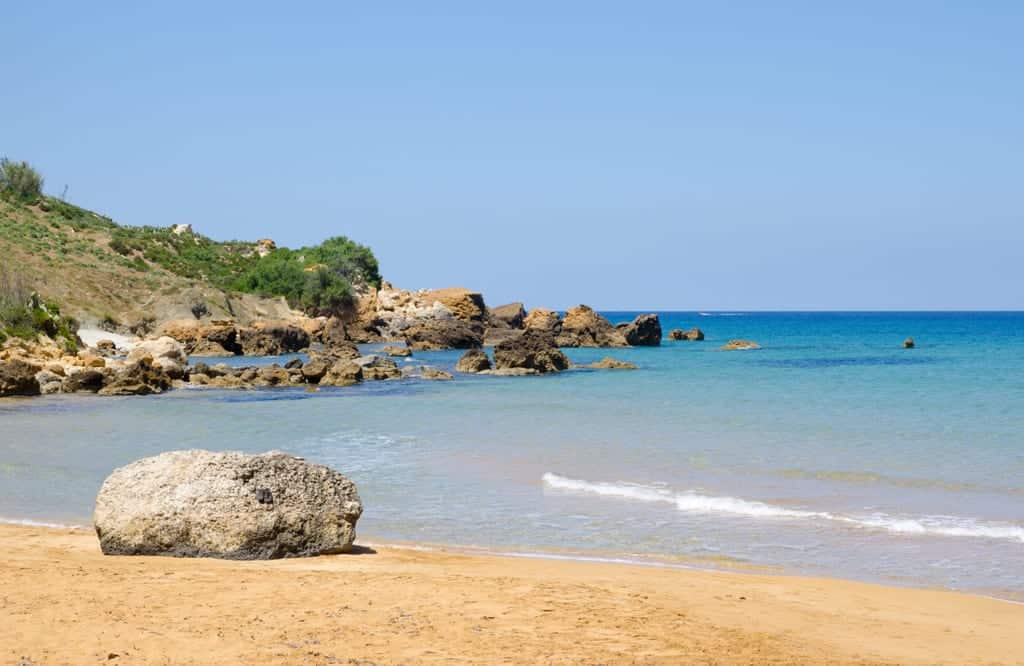 In a country as tiny as Malta, there aren't many new places to discover. Every geographic nook and cranny is well-documented — and if any two Maltese meet, I guarantee they will have at least have a few friends in common!
But if there is such thing as a secret beach in Malta, it's San Blas Bay on the island of Gozo. It's hidden, tough to access, sparsely visited, and breathtakingly beautiful — everything that you want a secret beach to be.
"San Blas!" I yelped out while perusing Google Maps as I drove up a steep hill. "One of my readers said that's a nice beach! Let's go there!"
Last time I was in Malta, I had borrowed a friend's falling-apart car, aptly named The Beast. Having zero confidence in how The Beast could perform on Gozo's steep, rough roads, I had stuck to the smooth roads on the beaten path for our first day on Malta's second island.
But by the time I returned nearly a year later, my friend had sold The Beast, and so I rented a little yellow Peugeot I nicknamed The Daffodil. She could take the rough roads — and so I drove north from the town of Nadur, following the signs for San Blas Bay, bouncing down a hill until I found a tiny parking lot.
There it was — San Blas Bay.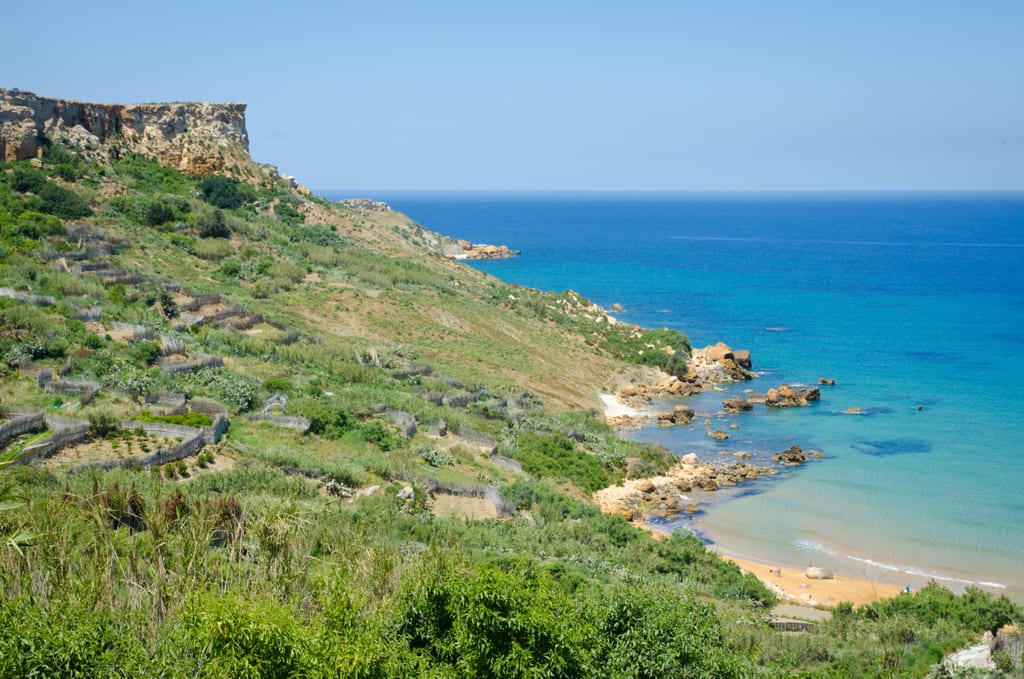 It wasn't just one steep, rough road in order to get to that point. Beyond the parking lot was an even steeper, rougher, narrower road leading all the way down to the beach. Few vehicles would be up to the task. I elected to walk down.
From the first few steps, I knew that my calves would be hurting for days.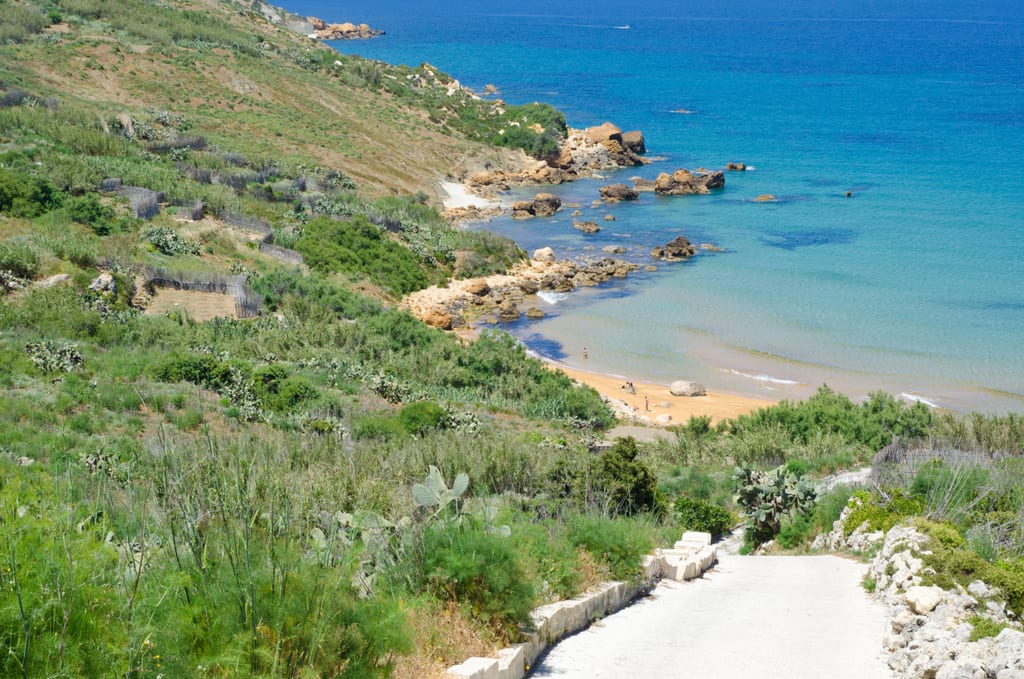 After 10 minutes of walking downhill, during which I passed trees swollen with lemons the size of footballs, I arrived on the tiny beach — small, clean, and nearly deserted, save a few couples and a family with a young kid.
Oh, and two naked dudes sunbathing behind a rock. (Which wasn't good. Malta is a surprisingly conservative country and topless sunbathing is forbidden, let alone PEENS OUT sunbathing!)
That said…this beach was just as lovely in person as it appeared from afar.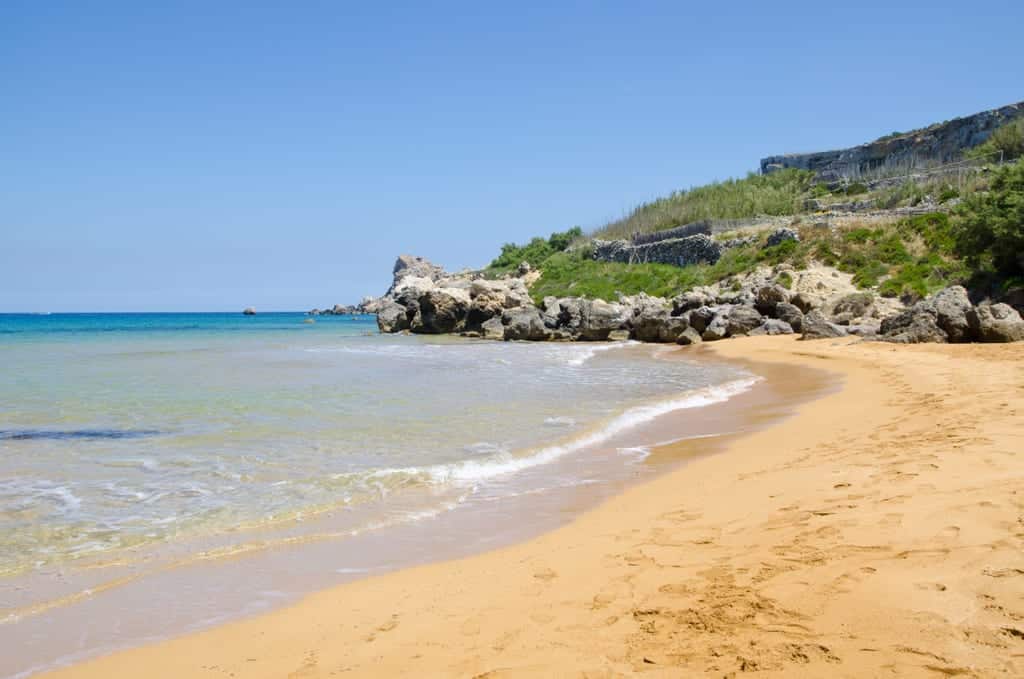 Have you ever seen water that clear in your life?
It was just a short visit and a small part of our day trip, but San Blas Bay has earned a spot on my list of favorite beaches in the world.
Gozo feels like a world away from Malta — though the architectural style is the same and the natural environment is similar, Gozo is one of the quietest, most chilled out, most relaxing places I've ever visited.
Next time I want to spend several days here and relax on beautiful beaches like these — even if it means climbing up that steep hill at the end of the day.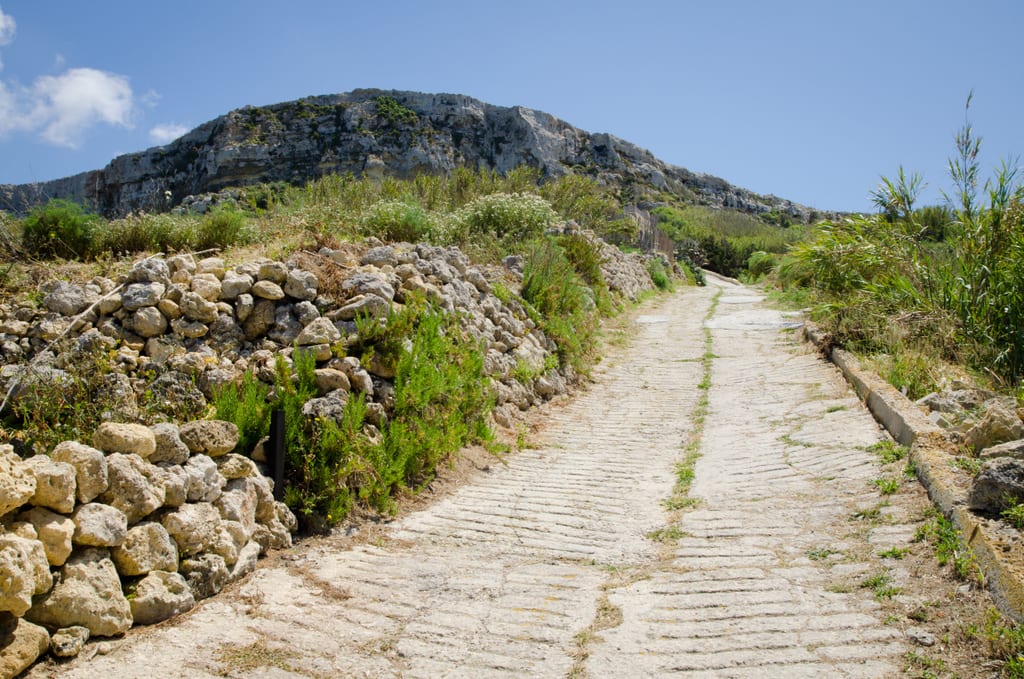 Essential Info: To reach San Blas Bay, you'll need to have a vehicle of your own, or else you'll be facing a long walk from Nadur. You can rent cars on both Gozo and Malta, and the ferry costs €15.70 for a car and all passengers (and is only charged on the way back to Malta).
This post was brought to you as a result of the Blog Island Malta campaign, created and managed by iambassador in partnership with the Malta Tourism Authority and the support of Air Malta. Adventurous Kate maintains full editorial control of the content published on this site.
Get email updates from Kate
Never miss a post. Unsubscribe anytime!