Adventurous Kate contains affiliate links. If you make a purchase through these links, I will earn a commission at no extra cost to you. Thanks!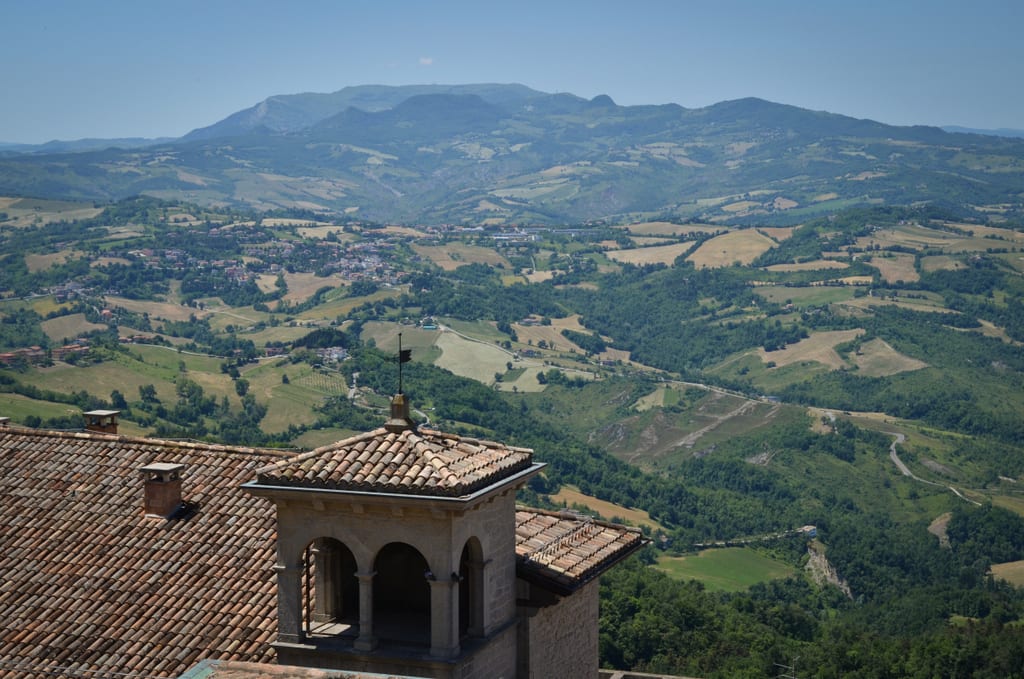 I've had an ongoing fascination with tiny nations and semi-autonomous regions in Europe — Monaco, Liechtenstein, the Faroe Islands.  How do their citizens define themselves?  What's it like growing up in a place where you're one of, say, 30,000 citizens?
I learned more about this on a day trip from Bologna to the tiny nation of San Marino, completely surrounded by Italy and nestled between the regions of Emilia-Romagna and Le Marche.  See it on the right?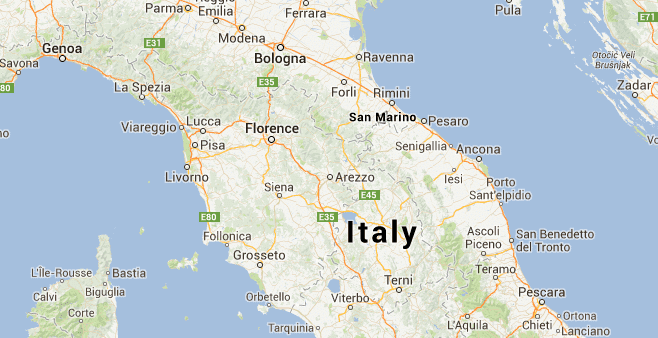 I've always wanted to visit San Marino, and being based in Emilia-Romagna was the best opportunity I've had so far.  San Marino is an hourlong bus ride from Rimini, Emilia-Romagna's most famous beach resort.
San Marino is perched on top of a mountain dwarfing the landscape.  It takes a long and twisty road climbing up the mountain, and then you're dropped in a picture-perfect town.
San Marino, a UNESCO World Heritage Site, claims to be the world's oldest republic.  They continue to rule the country from this absolutely beautiful building: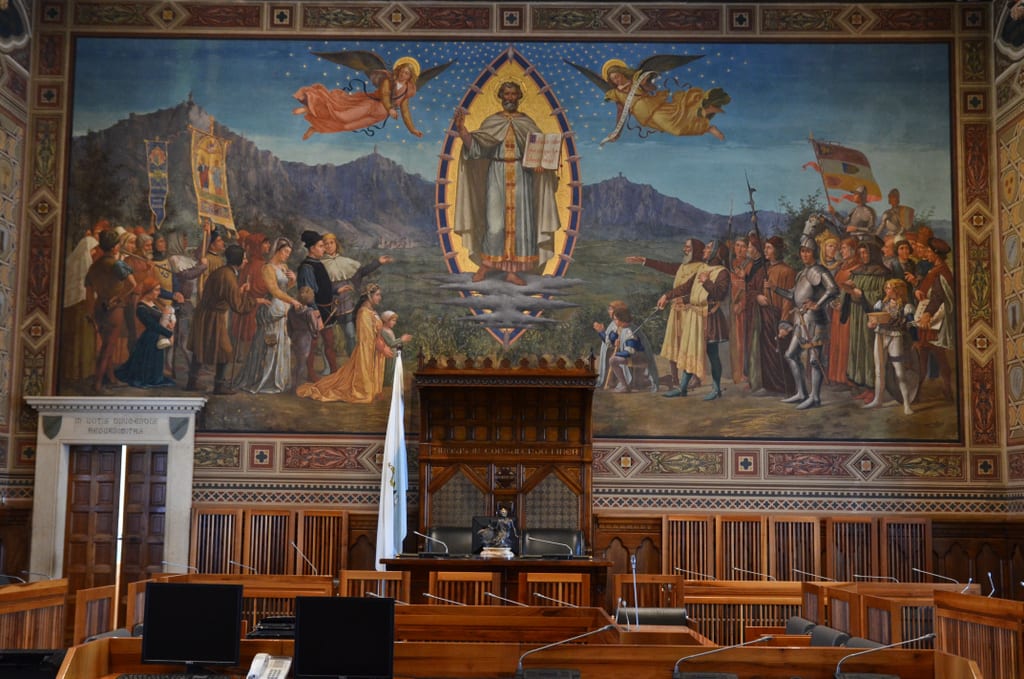 I love the frescoes, and it's not unexpected to see them in historical buildings in Italy.
What I did NOT expect was to see a bust of Abraham Lincoln!
San Marino sent Abraham Lincoln a letter during his presidency, and he replied to them.  The words of his letter are engraved on the bust in Latin and English:
Although your dominion is small your state is nevertheless one of the most honored in all history.
That's nice.
Then I took a look at the date: May 7, 1861.  The Civil War had just begun a month ago.  Could you imagine what was going through his head when he wrote that letter?
My favorite thing in San Marino was climbing Guaita Rocca, the First Tower.  Climbing up, I had a great view of the Adriatic in the distance…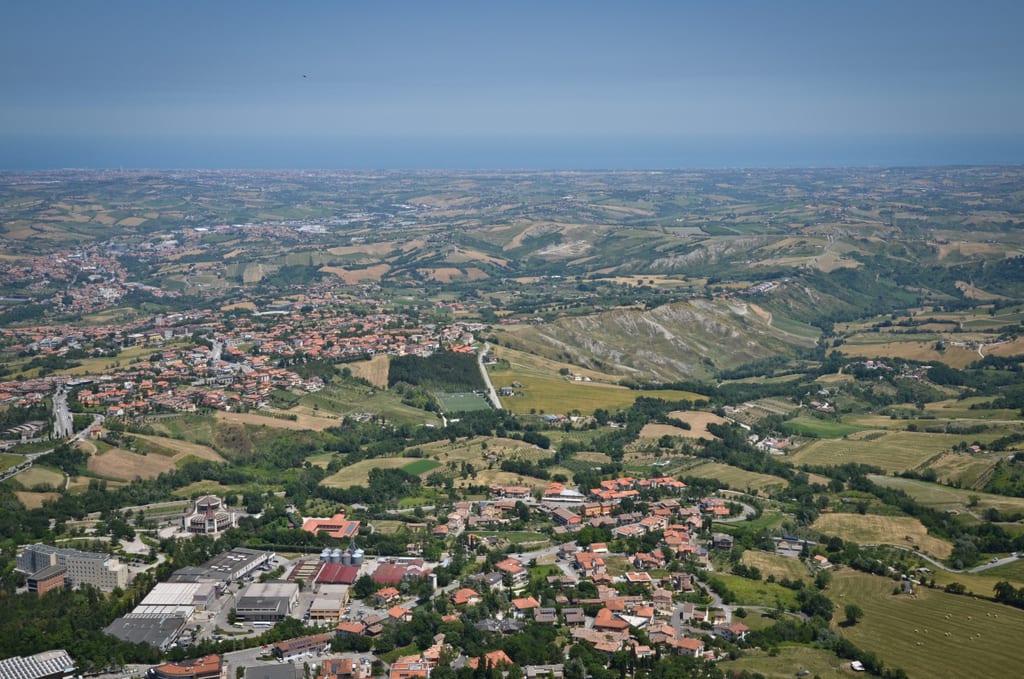 But even better was the unforgettable view of Mount Titano: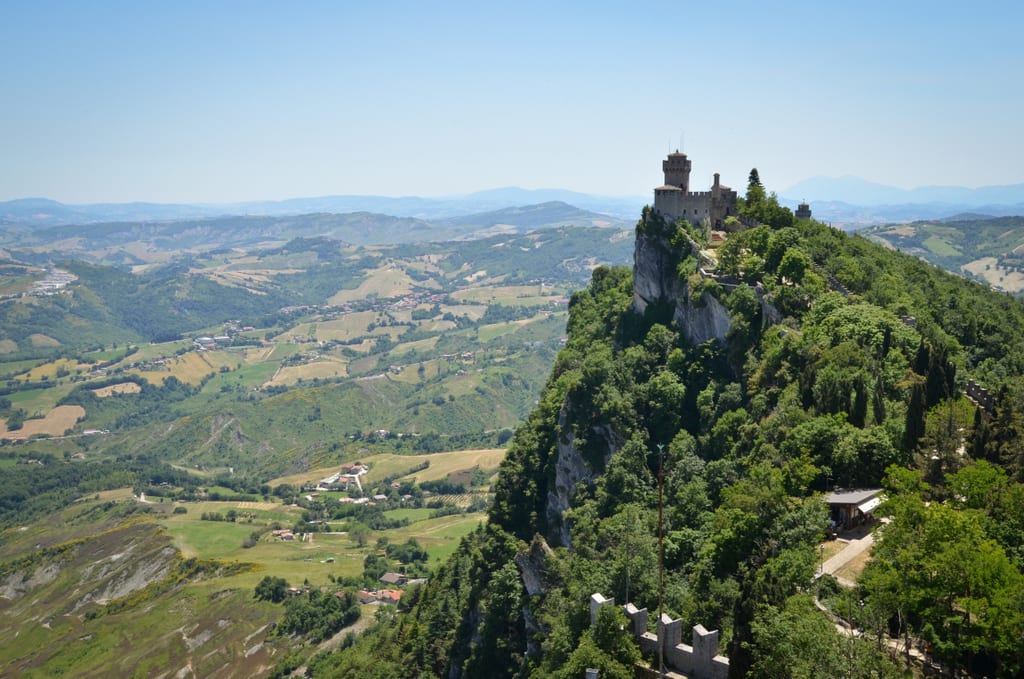 If you do one thing in San Marino, climb the first tower and get a picture of this view.  It's straight out of a fairy tale.
Nick arranged for me to meet Aldo Simoncini, goalkeeper for San Marino's national football team.
Yes, this country of 30,000 has a national football team!  And why shouldn't they?  While the team consists of nearly all San Marino residents, they are permitted to have up to eight team members from Italy.
When it comes to international games, you can imagine how the odds are stacked against San Marino.  The playing field isn't exactly even when they're playing the likes of, say, Spain.  San Marino's football team is mostly famous for its losses, especially one crushing 13-0 loss to Germany in 2006.
That's the complete opposite of Liechtenstein, a tiny country that's about two-thirds the size of San Marino, yet is famous for winning: the country claims to have the highest concentration of Olympic medalists per capita.
Can you imagine being one of your nation's top athletes, yet famous for losing all the time?  You have to have a healthy attitude to deal with that on a daily basis.
And I think Aldo demonstrates that attitude.  He graciously agreed to pose for Someone Once Told Me. Aldo shared a tweet that a fan sent him after a memorable match against Italy. San Marino lost 4-0, but Aldo played exceptionally, and he was hoping that someone would notice.  This fan did.
I left San Marino satisfied — though I'm far from understanding what it's like to be part of a country this small, I feel like I'm getting closer.
Essential Info: No trains go to San Marino, so the easiest way to visit is to take the bus from Rimini's train station.  The ride takes about one hour and costs €4 ($5) each way.  It's doable as a day trip from Bologna, as the train from Bologna to Rimini takes 60-90 minutes and costs €10-20 ($13-26) depending on the speed.

Climbing the First Tower (Guita Rocca) costs €3 ($4).

Almost every street in San Marino is part of a steep hill.  Our friends with a stroller got around just fine, but if you are mobility challenged, this isn't the easiest place to visit.

I visited San Marino as a day trip from Rimini but there are a few hotels if you'd like to stay overnight. You can find the best prices on them here.

I never travel without travel insurance and used World Nomads during this trip.
This is a Blog Ville campaign, created and managed by iambassador in partnership with the Emilia-Romagna tourism board. AdventurousKate.com maintains full editorial control of the content published on this site.
Many thanks to Eurail.com for their support of the European leg of the SOTM Tour. All opinions, as always, are my own.
Get email updates from Kate
Never miss a post. Unsubscribe anytime!