Adventurous Kate contains affiliate links. If you make a purchase through these links, I will earn a commission at no extra cost to you. Thanks!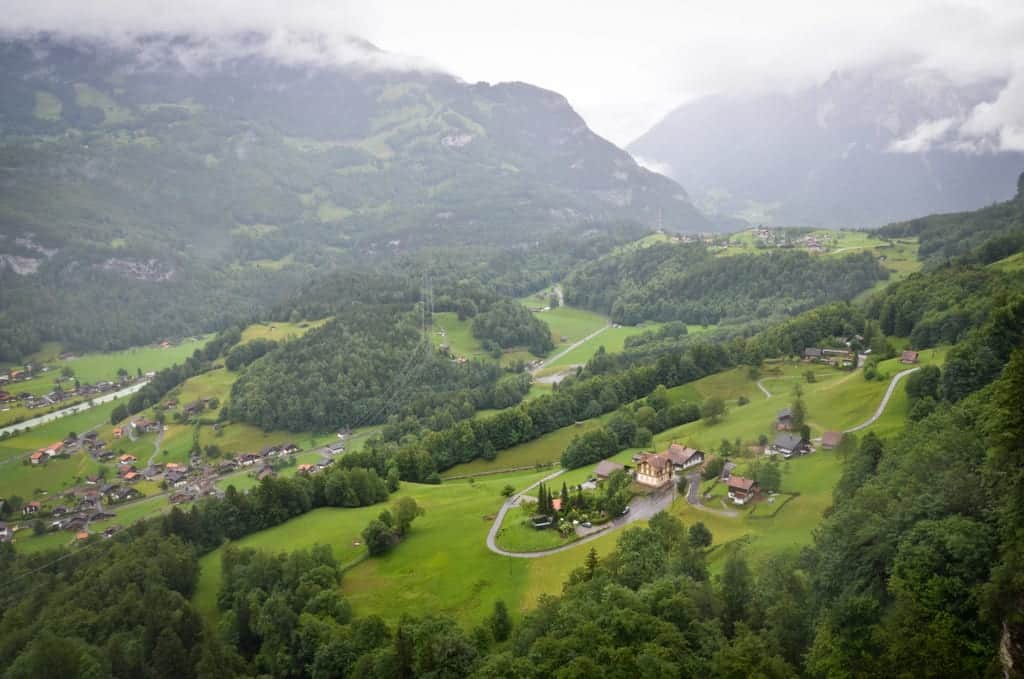 If you're backpacking or traveling on a tight budget, I have advice for you: skip Switzerland.
That's not to say that Switzerland's not a lovely and astoundingly beautiful place to visit. If you've got a mid-range or luxury budget, go ahead. And as I always say, if Switzerland is the destination that speaks to you, the place that you've always dreamed of visiting, go there! Make your travel dreams come true!
But Switzerland is painfully expensive — the most expensive place I've ever been. And, frankly, outside of adrenaline-crazed Interlaken, it's not the most interesting place in the world. I much prefer Austria, which has gorgeous mountain scenery and interesting towns and cities, yet costs far less.
That said, I actually visited Switzerland twice on this trip and had fun both times. After experiencing a bit of French Switzerland in Geneva a few weeks earlier, I headed to Zug, a city about 25 minutes from Zurich in German Switzerland.
Why Zug? I had a local connection. If anyone was going to show me the best of Switzerland, it would be a local!
Adriana and her husband could not have been more hospitable. After a few days of hosting me, feeding me, introducing me to their friends, driving me around, and taking me out to restaurants, Adriana was still muttering, "What else can I give to you?" as she packed us multiple sandwiches for my train ride to Vienna, along with big slices of cake.
That was my first taste of Maltese hospitality — and I loved it.
That on top of nights of endless conversation and fantastic wine, as well as karaoke performances by their four-year-old daughter and debates over Angry Birds with their six-year-old son, I think I was ready to move in!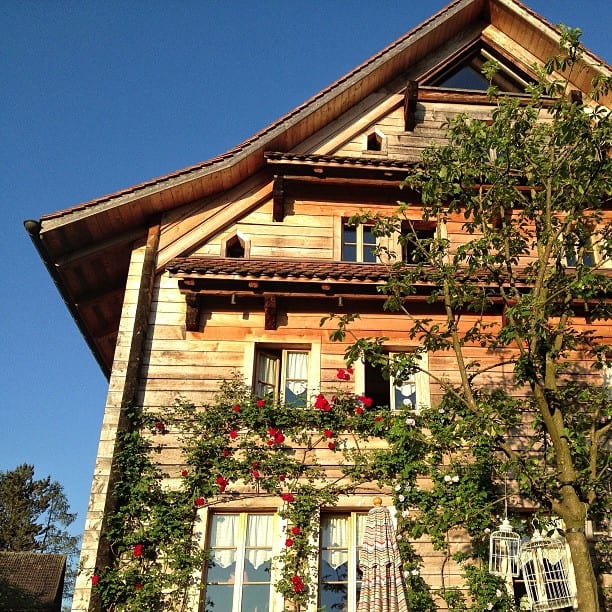 Culture Shock in Switzerland
Life in Switzerland is idyllic in lots of ways: pristine cottages topping mountainsides; safe cities filled with industrious citizens; transportation that runs on time. (And the polar opposite of urban Malta in the 70s and 80s, where Adriana grew up.)
At the same time, life here can be difficult. Shortly after arriving, we stopped to have drinks right on the banks of brilliant Zuggersee, Zug's lake. Nothing crazy. Two orange juices and a Sprite.
The bill came to 16 Swiss francs — $17. I nearly choked on my drink.
Yes, this is a region where people have lots of money. I gaped at a Ferrari that drove past us — then nearly melted down when we passed a Porsche Spyder.
"That's nothing," Adriana said. She once went to a party and took a look at what the women were wearing: "Gucci, Gucci, Gucci, Prada, Gucci, Gucci, Prada, Gucci. And I'm wearing a dress from Next."
While the money is culturally shocking in its own way, that's nothing compared to school in Switzerland.
From the age of four and a half, Adriana's son was expected to walk to school. Two kilometers away. Every day. In the darkness of winter. She is not permitted to drive him in anything less than a typhoon.
It's actually not that bad when you consider the system — her son lives the furthest away from the school, so he walks to his classmate's house and picks him up, then they walk together to the next classmate's house, picking up a few more kids along the way until they get to school. And in the early days, their mothers walk with them until they learn the route. But still, at the age of four and a half — I still have to wrap my head around that.
That's not all. One time, Adriana's son was sent home with a note saying that he needed to buy a certain type of knife to carve his turnip lantern ("Yes, here they carve turnips. It's actually really nice," says Adriana). She wasn't familiar with the word for the type of knife, so she showed it to a store clerk — who directed her to a huge and incredibly sharp knife. For a kindergartener.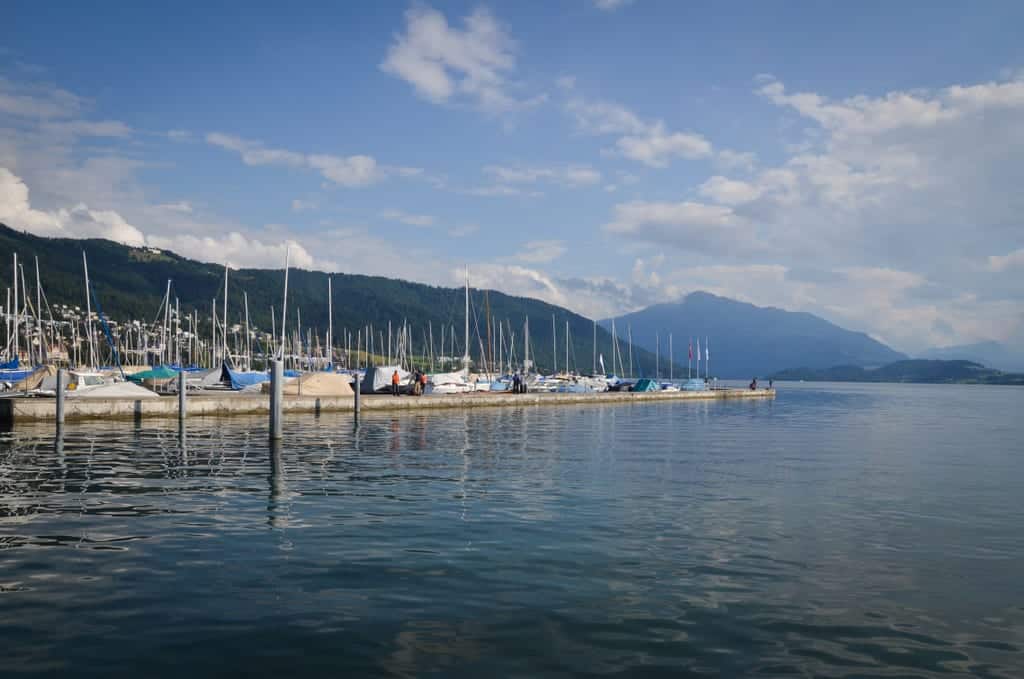 That's what's so different about education in Switzerland — kids are taught citizenship and life skills from an early age, rather than academic skills. The Swiss prioritize teaching things like having the kids greet their friends with handshakes each morning and having them take showers by themselves after gym class. As in many European countries, there are overnight class trips from a young age.
However, kids in Switzerland don't even learn to read or write until age six or seven!
Coming from your home country, would you find it easy to adjust to a system like this? I know I wouldn't. Adriana has found some things difficult to get used to, and has had some panicked conversations with her son's teachers. As a result, she's now got a reputation as a bit of a helicopter parent and has been hit with the dreaded question: "Do we need to call your husband?" (Yes, in this part of Switzerland, it's expected that the fathers work and the mothers stay at home, but that's another topic for another post…)
And then comes the funny part: though he speaks English at home, her son has recently started speaking English with a Swiss German accent. "They tell me the accent will fade eventually," Adriana says, but she has nonetheless signed her son up for English lessons with a tutor.
Getting Sherlocky in Meiringen
I had one special request for my time in Zug: to visit Reichenbach Falls, where Sherlock Holmes and his greatest nemesis, Moriarty, fought to the death. (…Or did they?)
Reichenbach Falls, in the town of Meiringen, was an easy journey from Zug: 25 minutes to Lucerne, then an hourlong train to Meiringen.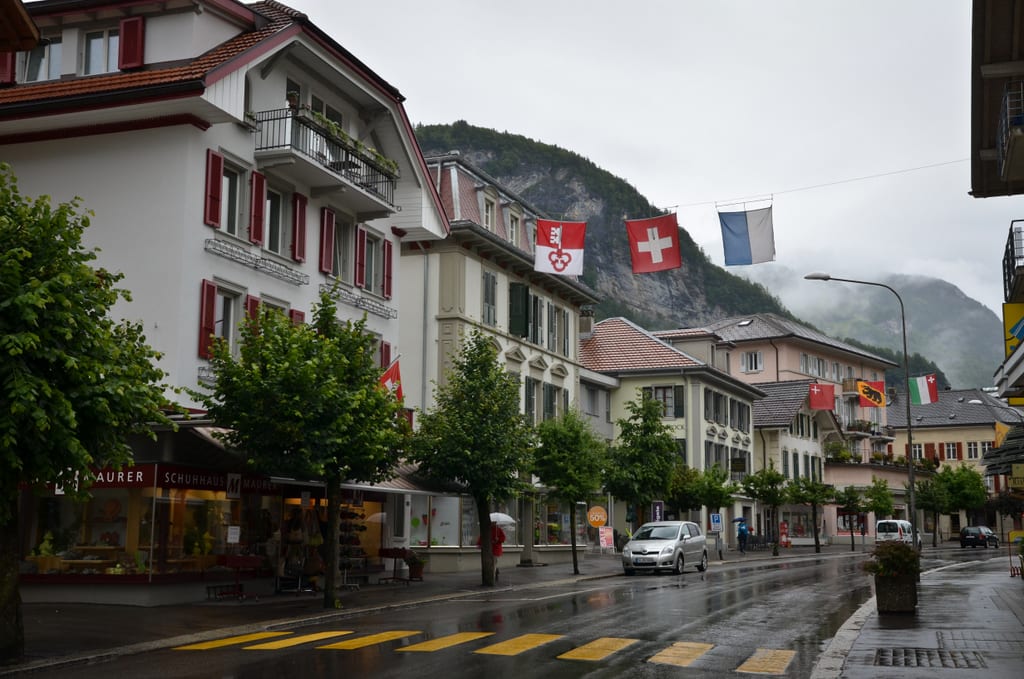 In Meiringen, I found a tiny, pretty town all too thrilled to be associated with Sherlock. First I visited the Sherlock Holmes Museum, which has a painstakingly created replica of Sherlock and Watson's living room.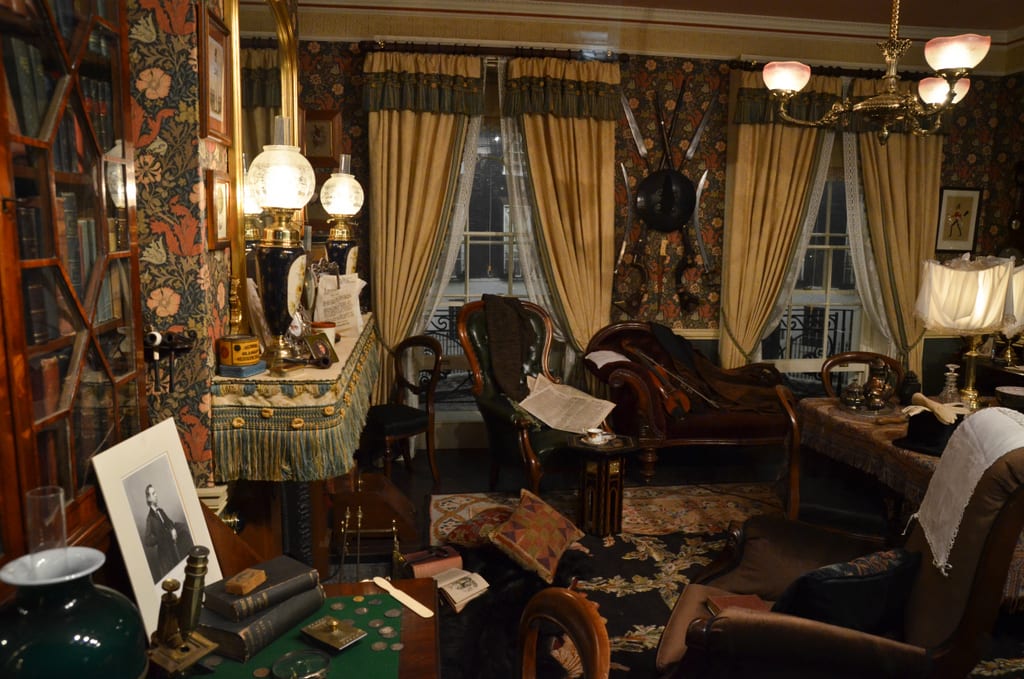 No literary detail is overlooked here — every single prop is part of a story. Including those knives on the wall.
Models of select Sherlock Holmes stories were built: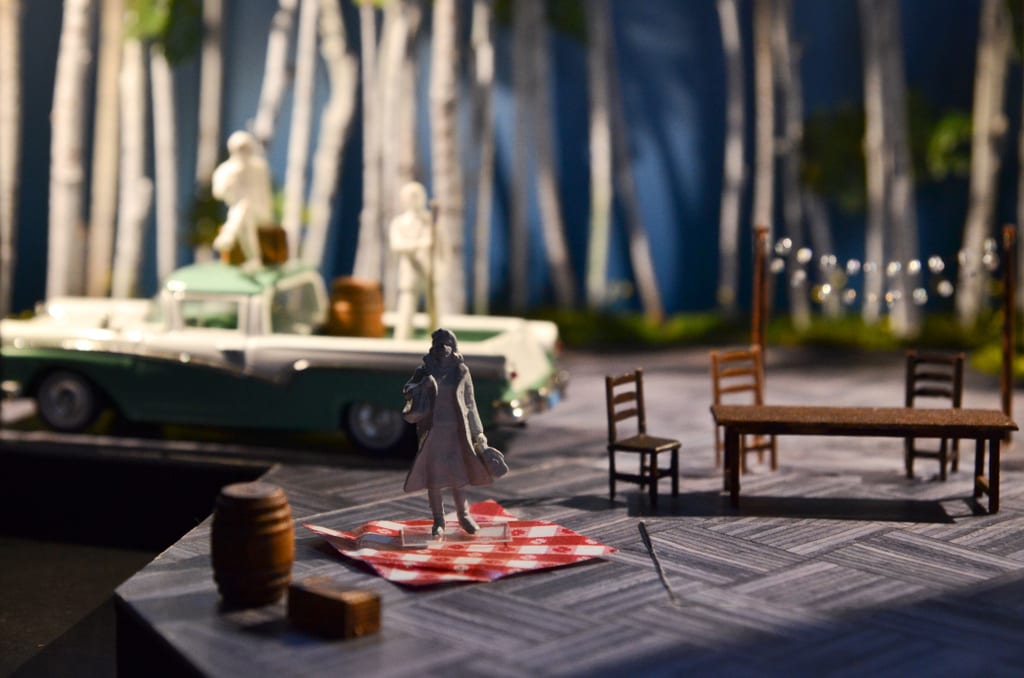 You can also see letters written to and from Sherlock: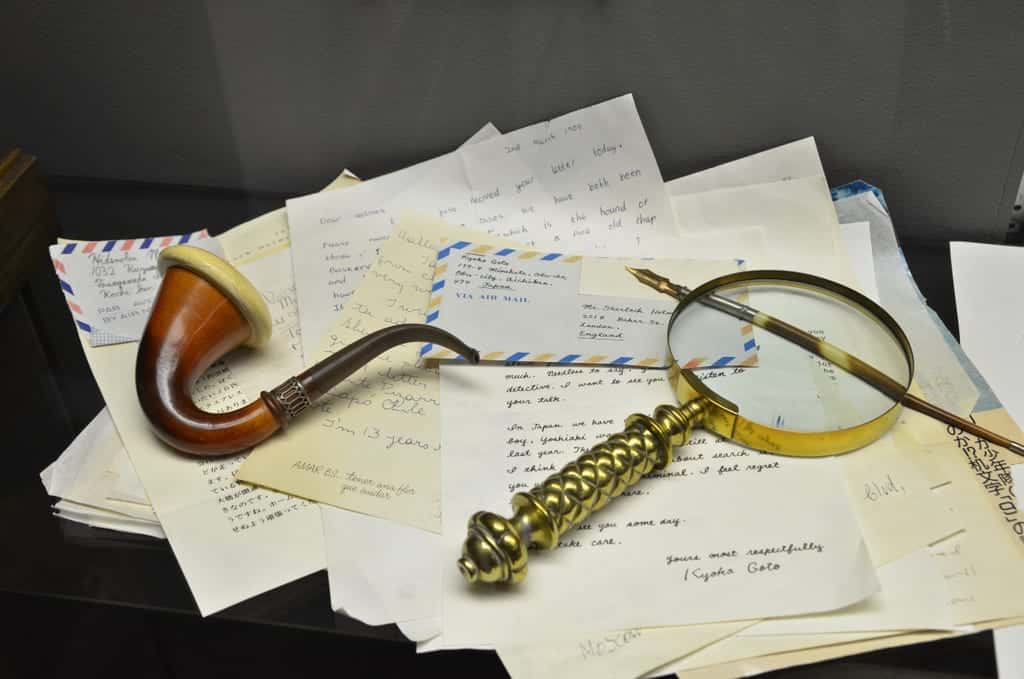 To this day, if you write a letter to Sherlock Holmes, his secretary will answer you on his behalf! I won't ruin the surprise, but the reply is simply delightful.
Even though I'm not a Sherlock Holmes fan, I loved this museum because you can see the passion that went into curating it. This is a museum built with love, and you feel that love when you walk through the rooms.
Next,  I headed to check out the falls. I had bought a combination ticket that gave me access to the museum and a round-trip ride on the funicular to the top.
With all the rain and mist, it wasn't exactly an ideal day — but I loved it.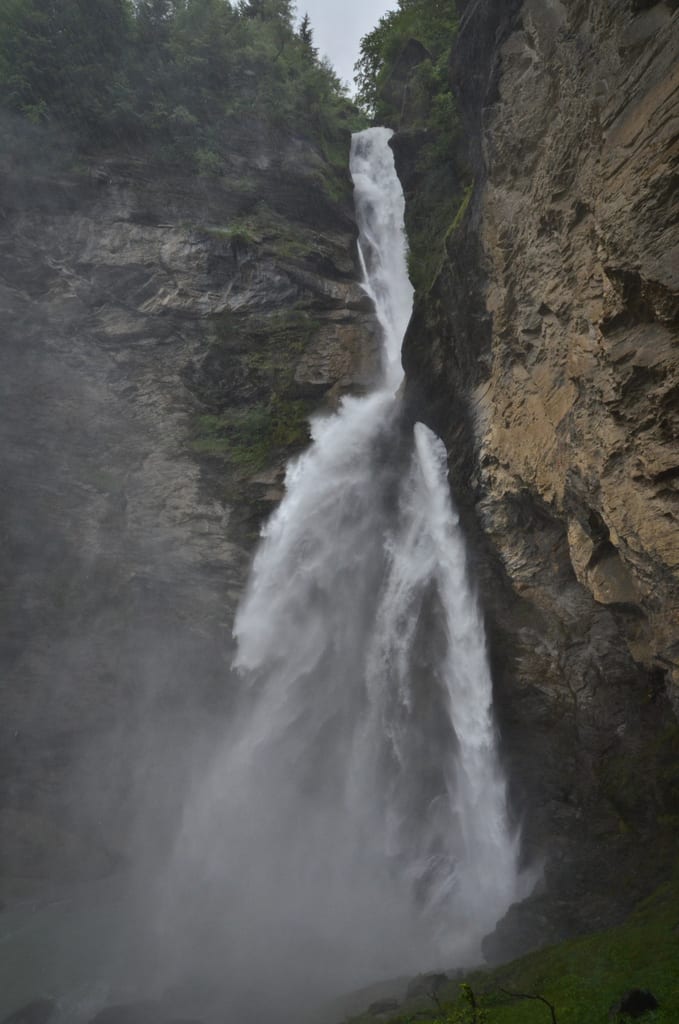 Arthur Conan Doyle had a flair for the dramatic. At the time that he wrote this story, he was sick of Sherlock Holmes and wanted to kill him off. Rather than just have him be stabbed in a London alley, Doyle had Holmes travel to Switzerland with Watson before falling into the violent falls with Moriarty, struggling as they churned through the thundering rapids. It was the perfect ending.
His readers, however, were not happy. After years of being deluged with hate mail, Doyle relented and wrote a new story, where Holmes was revealed to have been faking his own death.
The absolute highlight of the day was the trade ride from Lucerne to Meiringen. I've taken a lot of scenic train journeys, but none can top this — the snow-capped mountains, the dark green lakes, the curvy roads and tiny Alpine houses build on the sides of mountains.
My time in Switzerland was wonderful — but at the same time, visiting Switzerland comes at a price. This is not a country for backpackers or shoestringers.
But if you've got the funds to spend — or a Maltese cousin with a spare room — you will have an amazing time.
Essential Info: Meiringen is one hour from Lucerne, two hours from Zurich, and 20 minutes from Interlaken by train. If you have a Eurail pass, you don't need to make a reservation.

I bought a combination ticket for the Sherlock Holmes Museum and the funicular to the top of Reichenbach Falls for 11 CHF ($12). You can also buy museum tickets for 3 CHF ($3).

Letters to Sherlock Holmes can be addressed to him at 221B Baker Street, London, United Kingdom.

I stayed with Adriana in Switzerland but you can find the best prices on hotels here.

I never travel without travel insurance and always recommend getting it before a trip. I use and recommend World Nomads.
Many thanks to Eurail.com for their support of the European leg of the SOTM Tour. All opinions, as always, are my own.
Get email updates from Kate
Never miss a post. Unsubscribe anytime!