Adventurous Kate contains affiliate links. If you make a purchase through these links, I will earn a commission at no extra cost to you. Thanks!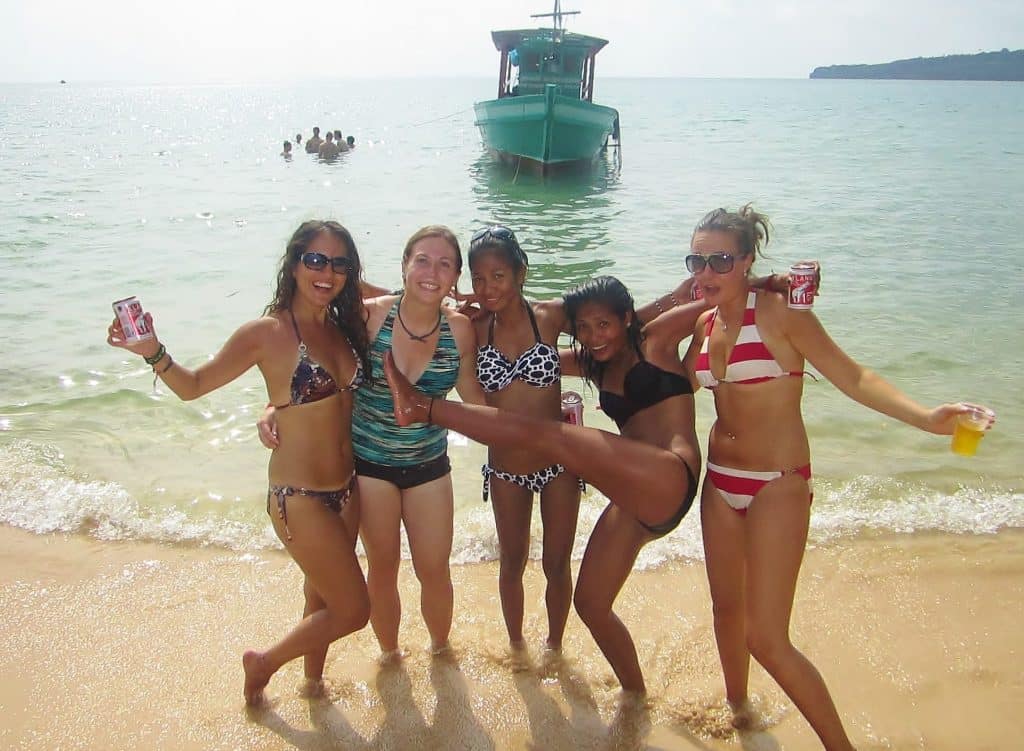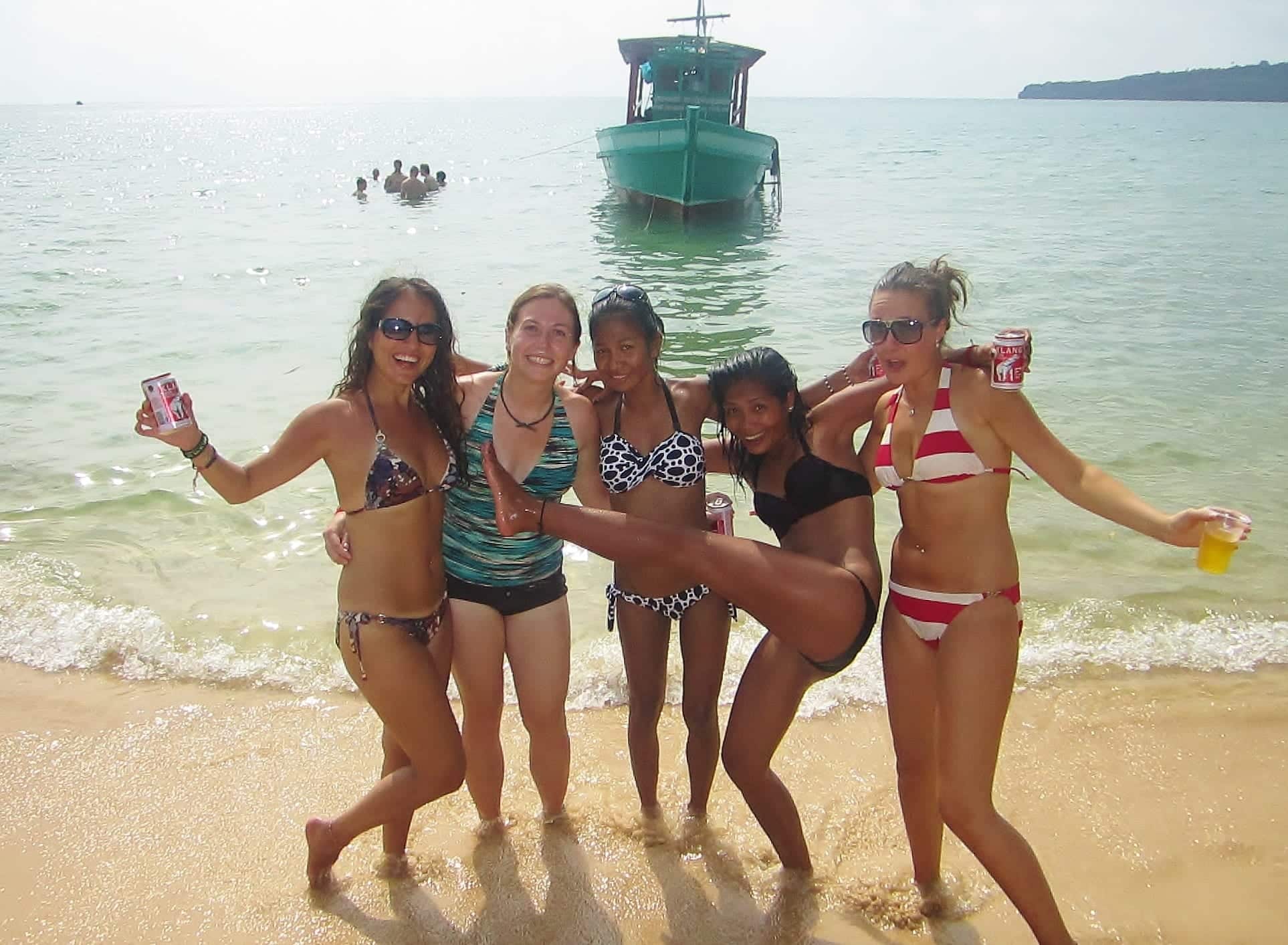 I didn't know what to expect in Sihanoukville, Cambodia's most famous beach destination. Most of what I had heard was that it was a bit of a dirty, grungy beach, and worth visiting, but not worth a lot of time.
Well, you know what?
Sihanoukville is an amazing backpacker hangout and a party paradise. And it's super-cheap.  Think 50-cent beers, $3 rooms, amazing $2 restaurant meals.
And it is grungy.  But I like grungy.
Even though I was a bit pressed for time, I managed to spend a week in Sihanoukville.  And when you're spending time in a place like this, you fall into a blissful routine.
A Typical Day in Sihanoukville
7:00 AM: Find out who hooked up last night.
I'm staying in the brand new ten-bed dorm at Monkey Republic, without a doubt the best place to stay in Snooky.  For some reason, guesthouse next door blasts music from 7:00 AM to 9:00 AM every morning, waking all of us up. We groan, put in earplugs, and try to fall asleep again.
I quickly take inventory of the wider-than-average bunk beds.  The Swedish girl hooked up with the Canadian guy, the Dutch guy is spooning one of the girls from the UK, and the hot guy from Hawaii has now had a different girl in his bed every night.  Well played, Hawaii.  Back to bed.
10:30 AM: Work and breakfast.
I'm up and heading to the lounge with my laptop.  I grab the WiFi password – today's is sexdrugsrocknroll – and order a fruit shake.  This may be a party town, but I need to work for a few hours.
I blog away and chat up advertisers with the Red Hot Chili Peppers' Californication, the official album of the Southeast Asia Backpacker Trail, playing in the background.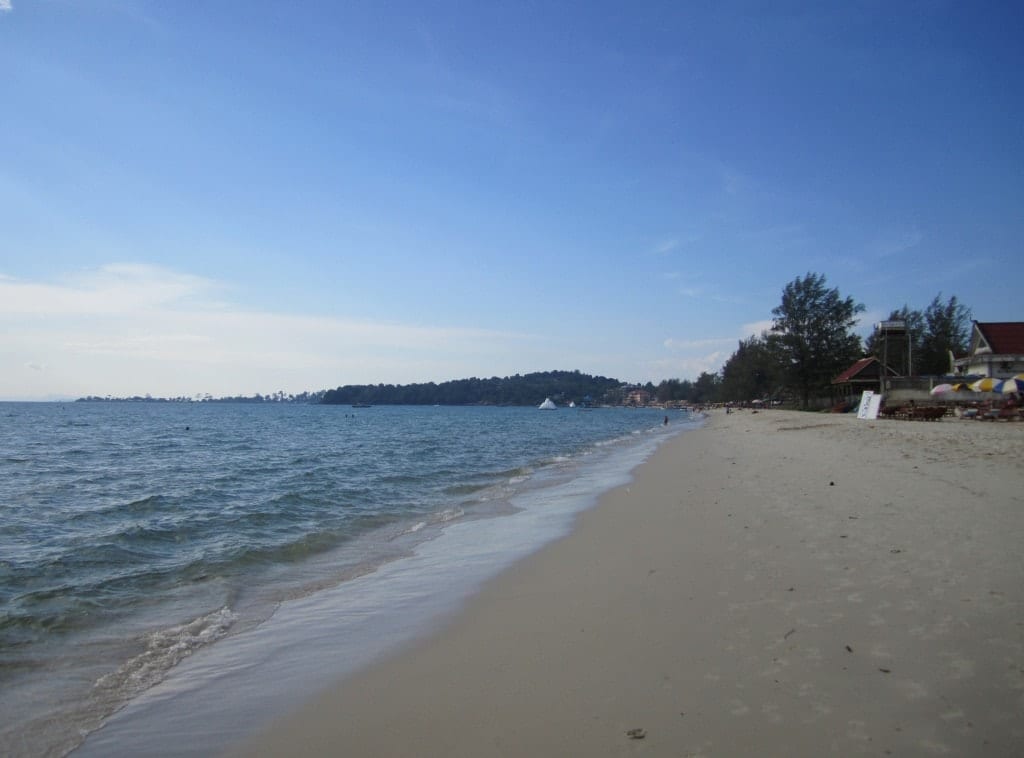 1:30 PM: Beach time!
I throw on my swimsuit and stroll down to Serendipity Beach, Sihanoukville's most popular beach.  I grab a chair by the water and spend the afternoon luxuriating in the sun and reading a snarky memoir – Dry, Waiter Rant, and Kitchen Confidential are devoured within a week.
---
---
Oh, and the amazing vendors of Serendipity!  I get a foot massage and a pedicure from one of the ladies, and she throws in a peppermint-scented scalp massage for free.  Later, a teen girl makes me fruit salad, chatting me up as she chops the pineapple and dragonfruit.  Altogether, two massages, a pedicure and the fruit salad cost me $8.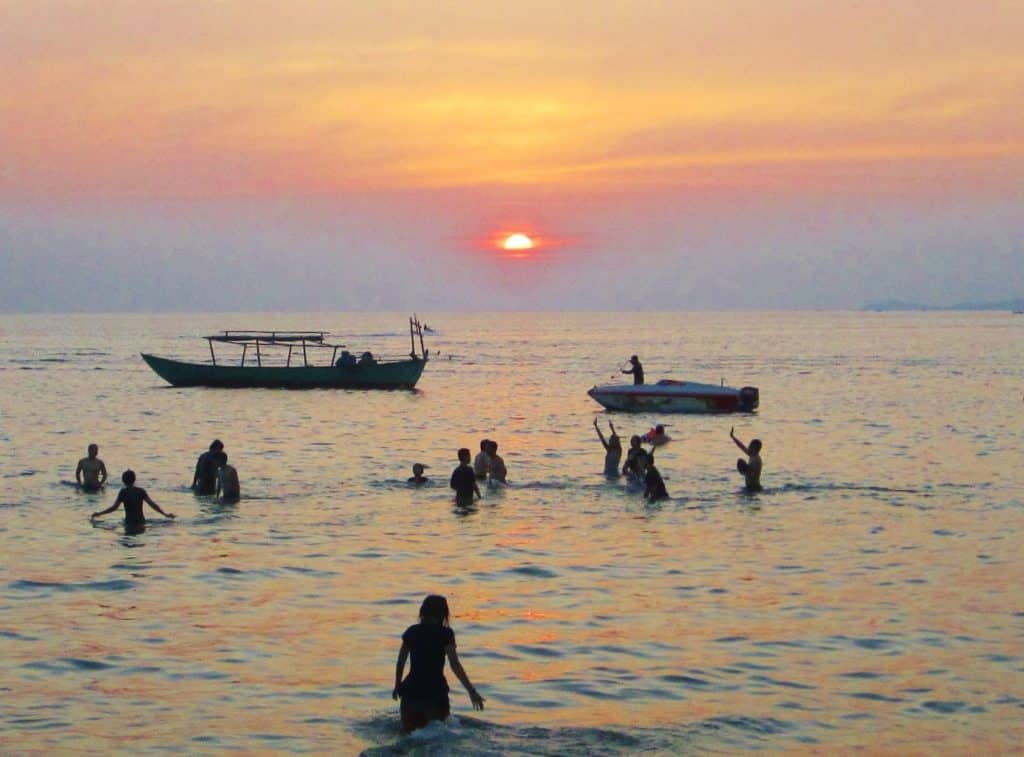 5:00 PM: Back to the Monkey.
When the vendors start putting the chairs away and setting up tables for dinner, it's time to go.  I head back to Monkey Republic, take a shower, and see if anyone new is in the dorm.  There is – a guy from Canada.
After having the usual backpackers' conversation – "Where are you from?  Where have you been?  How long are you traveling?" – we decide to grab dinner and have some freshly grilled barracuda.
8:00 PM: Happy Hour.
Those tables on the beach are still out, long after the sun's gone down.  My new friend and I grab a few 50-cent beers and are soon surrounded by kids trying to sell us bracelets.  I get a few more, as I have no willpower when it comes to those adorable, funny kids.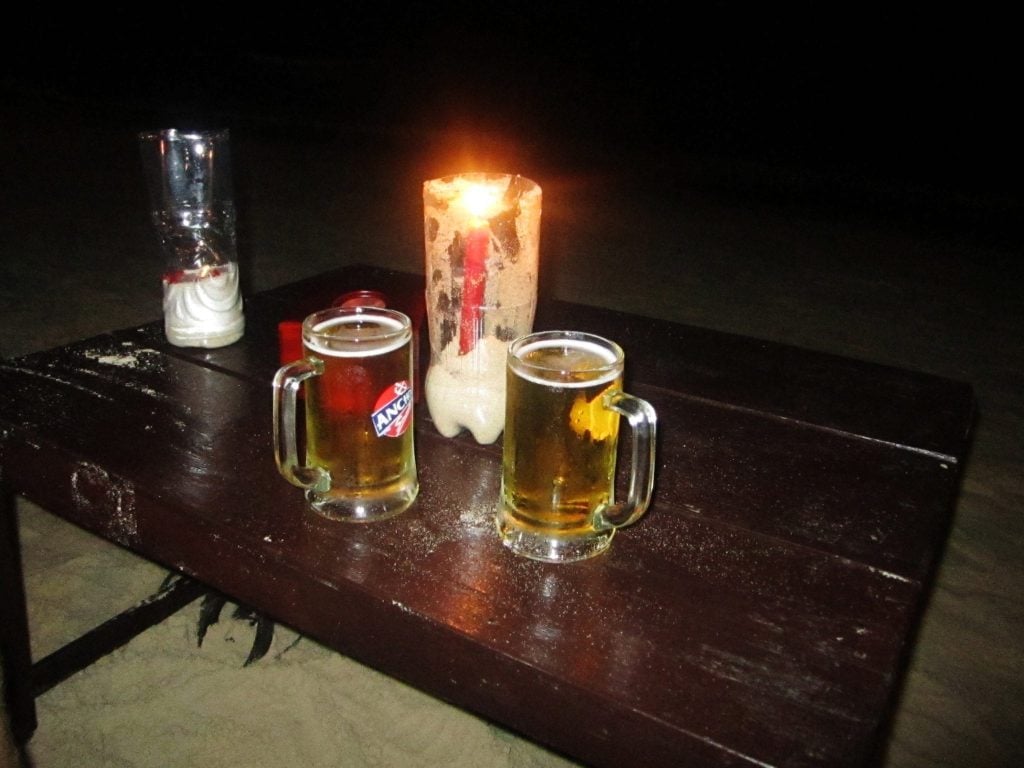 10:00 PM: The party starts!
There are plenty of early nightspots from which to choose – if we're on the beach, Sessions or the Dolphin are great.  Monkey Republic is a nice nightspot in its own right.  Utopia is a legendary club, but it's definitely on the skeevy side.
12:00 AM: Everyone meets up…at JJ's.
What I love about Sihanoukville is that everyone always ends up at the same bar: JJ's.  It's right on the beach, the buckets are served in halved two-liter bottles, and everyone's dancing to Hey Ya.
JJ's is like Sihanoukville itself — grungy, but in a fun way, and not one bit pretentious! It's the hottest party in town, and all your friends are there.
Things gets crazier as the night goes on.  People are riding the stripper poles, body paint is being flung around, and suddenly my new friends from Sweden and Australia have convinced me to go on an island cruise with them tomorrow.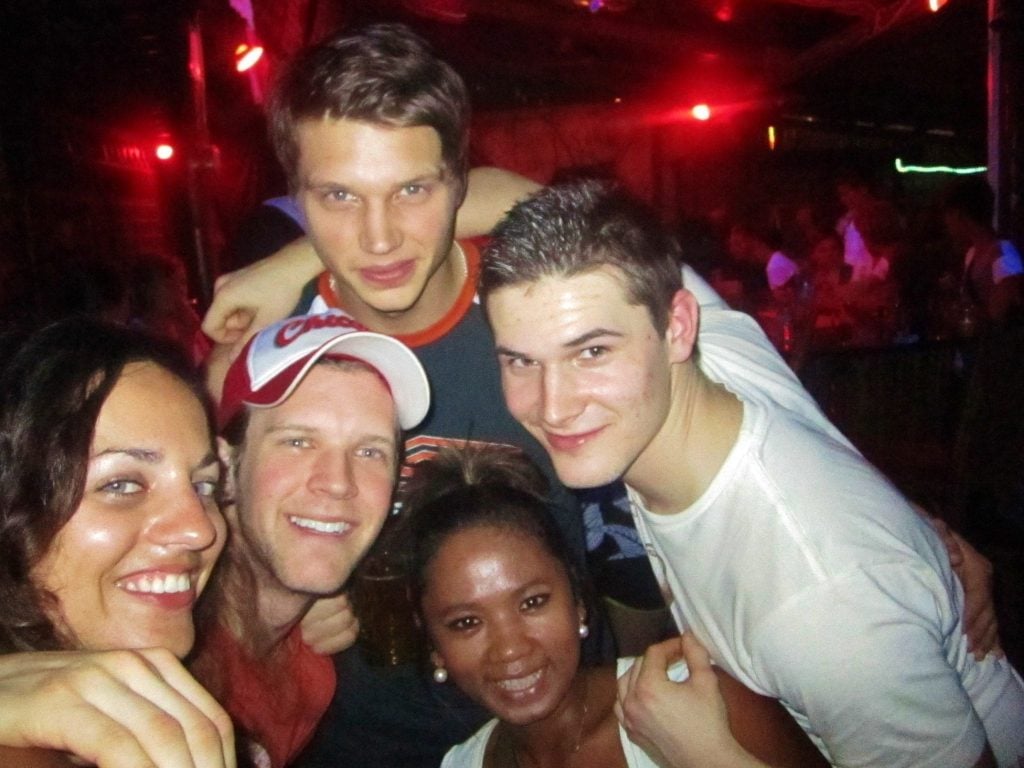 3:00 AM-5:00 AM: Bedtime.
JJ's will be rocking until sunrise, but at some point, I hit a wall.  I walk back to Monkey Republic…stopping for a 75-cent hot dog on the walk back.  As I fall into bed, I remember to put my earplugs in this time.
The typical day can vary. One night, we go to LV, a Cambodian club with no other foreigners.  One day, I hop on that island cruise.  I'll hang out on the beach with friends or visit one of the tiny movie theaters, where you can get your own room for $6.
Every day in Sihanoukville was fantastic.  Without question, this is one of my favorite destinations of the trip so far. If you're looking for a cheap, fun and fabulous party destination, look no further!
I stayed in Monkey Republic and loved it but you can find other hotels here.
Get email updates from Kate
Never miss a post. Unsubscribe anytime!