Adventurous Kate contains affiliate links. If you make a purchase through these links, I will earn a commission at no extra cost to you. Thanks!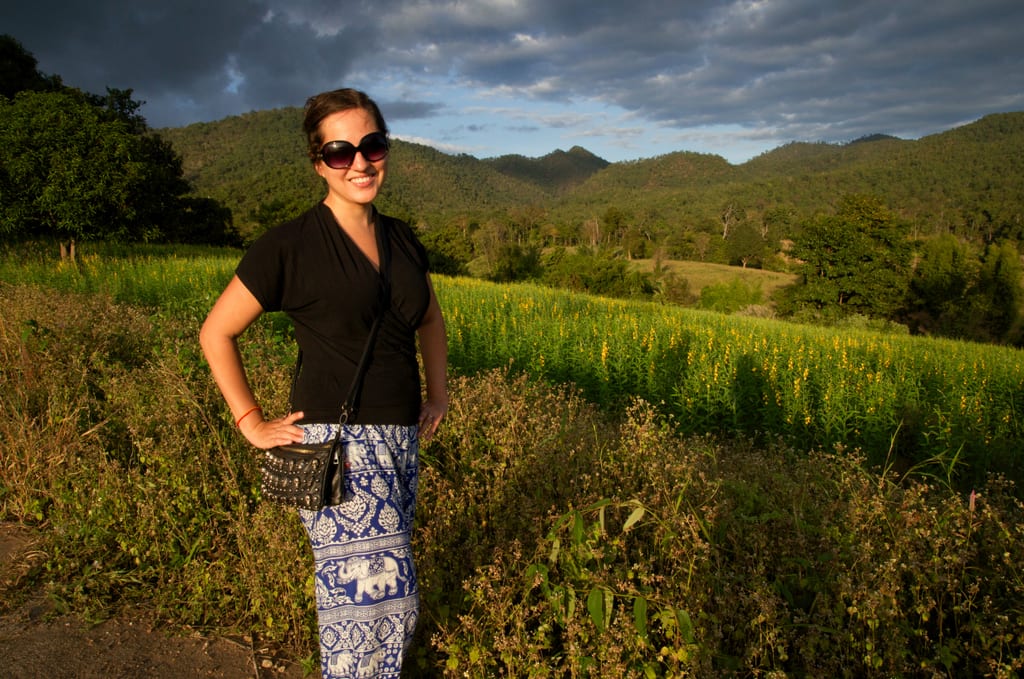 As of December 6, Mario and I have been on the road for six full months! The sixth month was filled with mostly joy, a few challenges, and a very special visitor as we traveled through Cambodia and Thailand.
On to the round up!
Destinations Visited
Phnom Penh, Kampot, Kep and Siem Reap, Cambodia
Bangkok, Chiang Mai and Pai, Thailand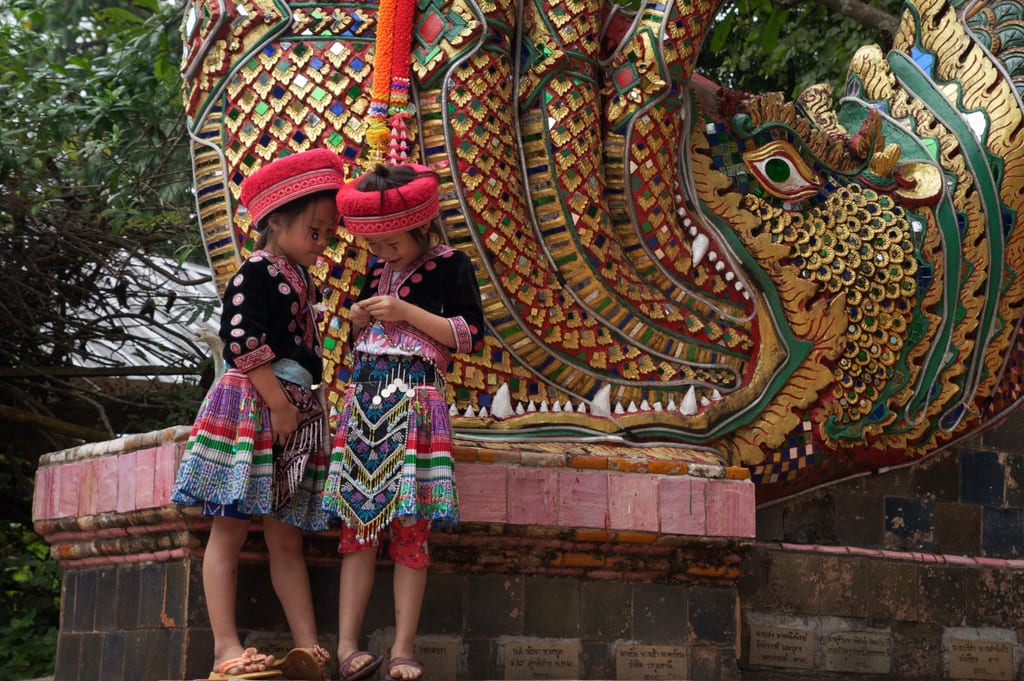 Favorite Destinations
Pai — What a turnaround! Three years ago, I thought Pai was beautiful but unfriendly and overrated; this time I loved the funky mountain vibe and the nightly market.
Chiang Mai — What a beautiful, comfortable, and easy place. And the food here? Amazing. Living in Chiang Mai as a digital nomad makes so much sense, and I wonder if I'll ever take the plunge and join everyone else.
Kampot — Still my favorite place in Cambodia. I got to see a bit more of it this time around, including some surrounding villages. The people here are amazing.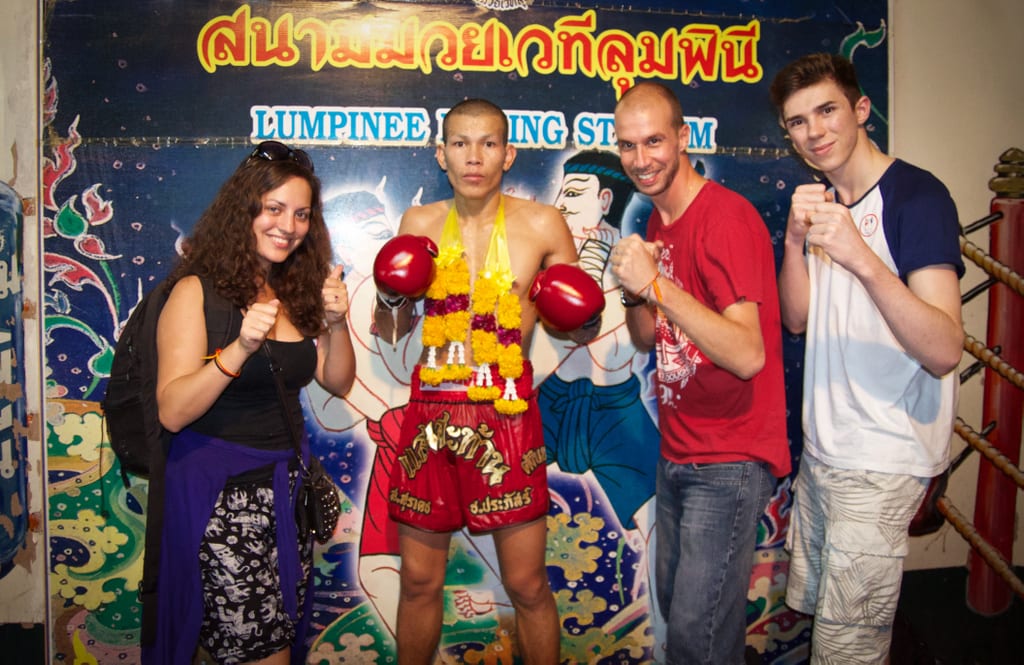 Highlights
The biggest highlight of this month was having the "nephew trip" — Mario's nephew Isaac came to visit us for two weeks! Isaac is 20 years old, lives in a small town in England, and had never been out of Europe — so we aimed to both shock and delight him as much as possible.
It was such a nice time. In Bangkok we took him to temples, Chinatown, and, um, Soi Cowboy. We went to see Muay Thai at Lumphini Stadium and introduced him to cheap massages, street food, the electronics floor at MBK, markets, and stores that sell burn pirated DVDs for you. Oh, and we ended up in a protest.
In Chiang Mai, we caught up with a lot of friends old and new, both the bloggers that so often live there and people completely outside the blogging industry. Mario and Isaac went to Elephant Nature Park and the three of us spent an hour chatting with a monk and made a trip to Doi Suthep, the temple above the city. Oh, and the street food — I miss the pork on rice, khao soi, and strawberry dragonfruit shakes.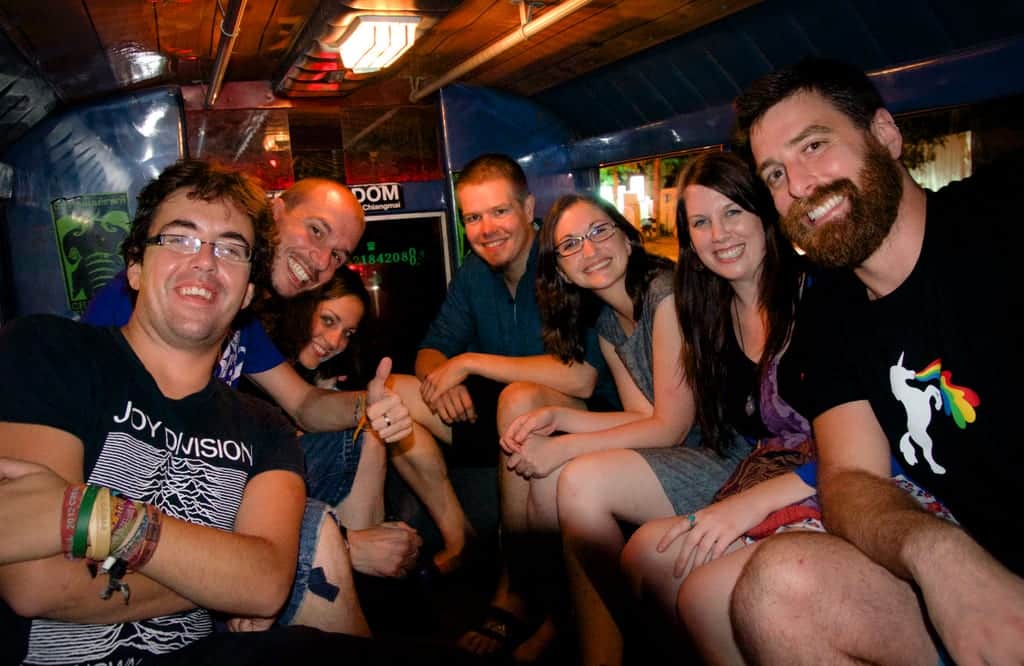 Pai was enormously fun. We rented motorbikes and rode all over the countryside, took in some live music (sometimes played by Isaac himself!), and enjoyed the night market and cafe scene. We finished with another meetup in Chiang Mai and an overnight train ride back to Bangkok.
The trip went really well, and Mario and I are thrilled that we got to show Thaisaac (as we're now calling him) a very different part of the world.
Prior to the nephew trip was Cambodia, and I enjoyed taking Mario to Angkor (his first time!) and getting much better photos this time around.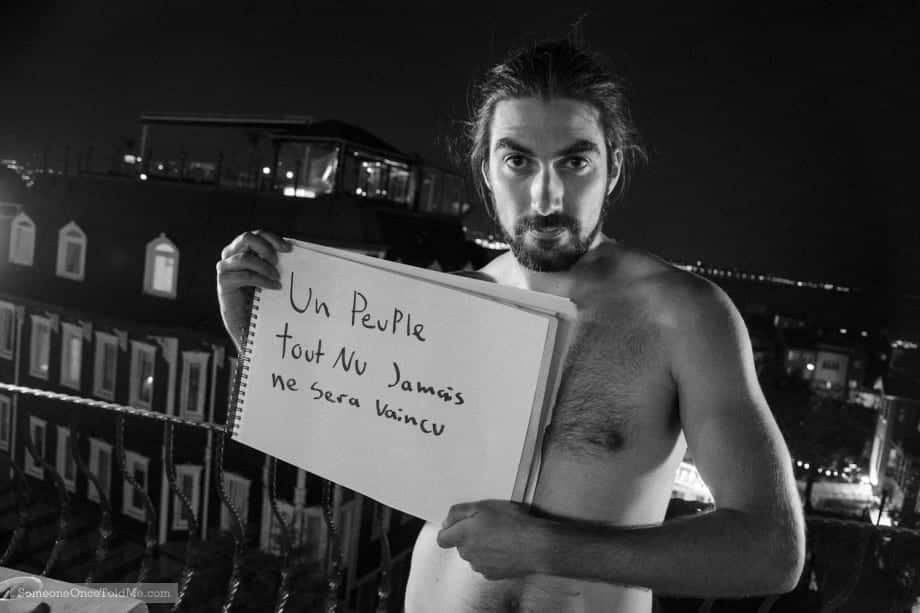 Memorable SOTM Pic
So one night in Istanbul we met militant French Canadian anarchist nudists.
Nothing unusual about that at all.
This guy, an affable chap named Thierry, posed with the words that meant the most to him: "Naked people will NEVER be defeated." Find out the full story here.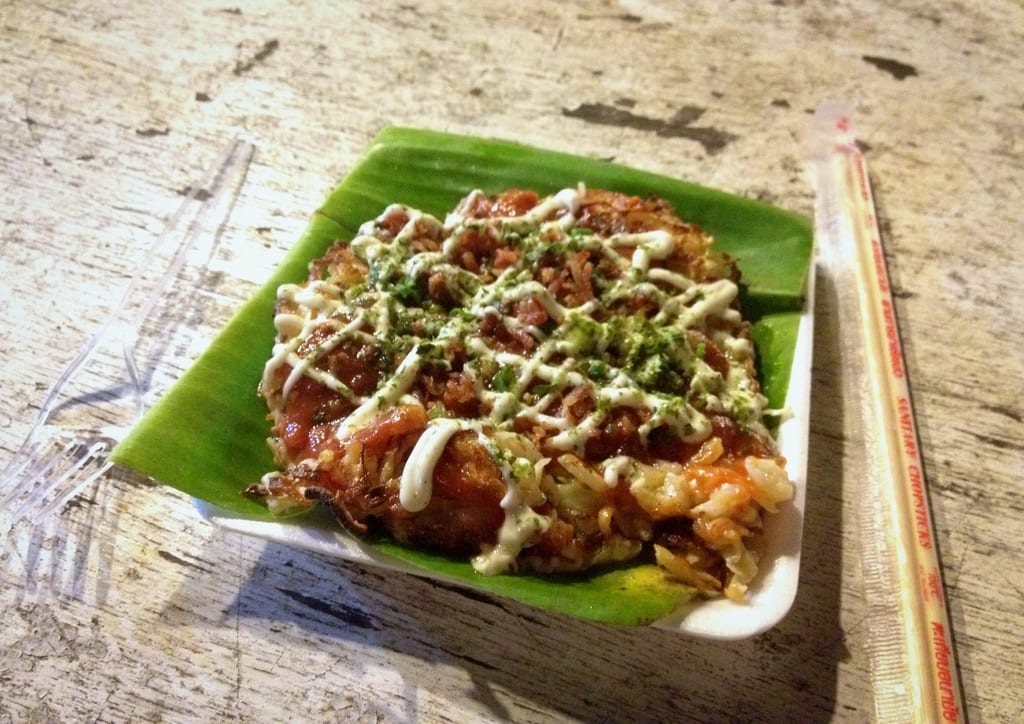 Best Thing I Ate
It sounds sacrilegious not to pick a quintessential Thai dish this month, as Thai cuisine is so outstanding – but for me, the best dish was street okonomiyaki in Pai.
Okonomiyaki, a dish originating from Osaka, Japan, is a cabbage-based pancake that can be filled with a variety of meat, seafood, and vegetables and topped with sauces. This one was so good that we went back for more two nights later — and at just 40 baht ($1.25) each, it was a perfect component to our nightly street food feasts.
Best Place I Stayed
Every now and then you come across a guesthouse that goes above and beyond. This time it was The Magic Sponge in Kampot, Cambodia. The whole guesthouse has recently been renovated, including both private rooms and a $3/night "luxury dorm," and the results are stunning.
We had a huge, spacious room with two double beds, air conditioning, a bathroom with hot water, and in-room wifi. The price? $12 per night.
Additionally, this guesthouse has delicious food, including an Indian menu, and enormous portions. There's a pool table and a mini-golf course outside, and a selection of movies is always playing indoors. William, the Alaskan owner, is very friendly and always up for a chat.
We had actually spent the first night at my old Kampot guesthouse, Blissful Guesthouse, with a $5 ensuite room that was basically disgusting and falling apart, and we ended up crawling here the next day. Upgrading to $12 a night made a huge difference.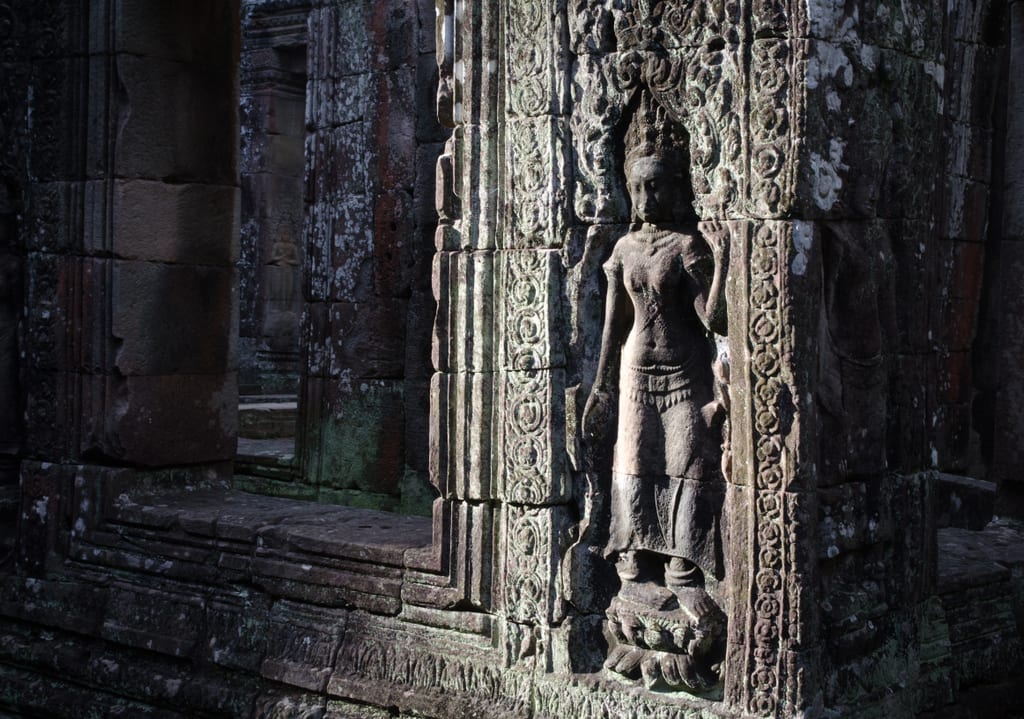 Challenges
Well, if you read my recent Cambodia post, you know about some of it already. This month Cambodia went from one of my favorite countries to a place where I have zero desire to return.
The worst part for me personally was getting extorted by a Cambodian man to get my own phone back — it fell out of my tuk-tuk (stupidly, yes, I know) and the man who picked it up wouldn't give it back to me unless I paid him $200.
Cambodia is a mentally (and often physically) challenging destination — the heartbreaking poverty, trash, smells, lack of sidewalks, kids who work all night selling things to tourists, and signs warning about the child sex trade are all difficult to handle on your best day. Being in a positive mindset is vital, or else the negative aspects of Cambodia will swallow you up. On this trip, my positive mindset left rather quickly, and from that point, it didn't recover.
Also, I got food poisoning for the first time in three years of full-time travel. I think the culprit was a few sips of water in Siem Reap that tasted grainy and weird.
Most Popular Photo on Instagram
This photo of Ta Prohm temple at Angkor is my third most popular photo ever with 216 likes. I am loving the new HDR Scape filter on Snapseed. I'm not crazy about the super-HDR look in general, but used in moderation, the filter adds JUST the right amount of dimension to scenic photos.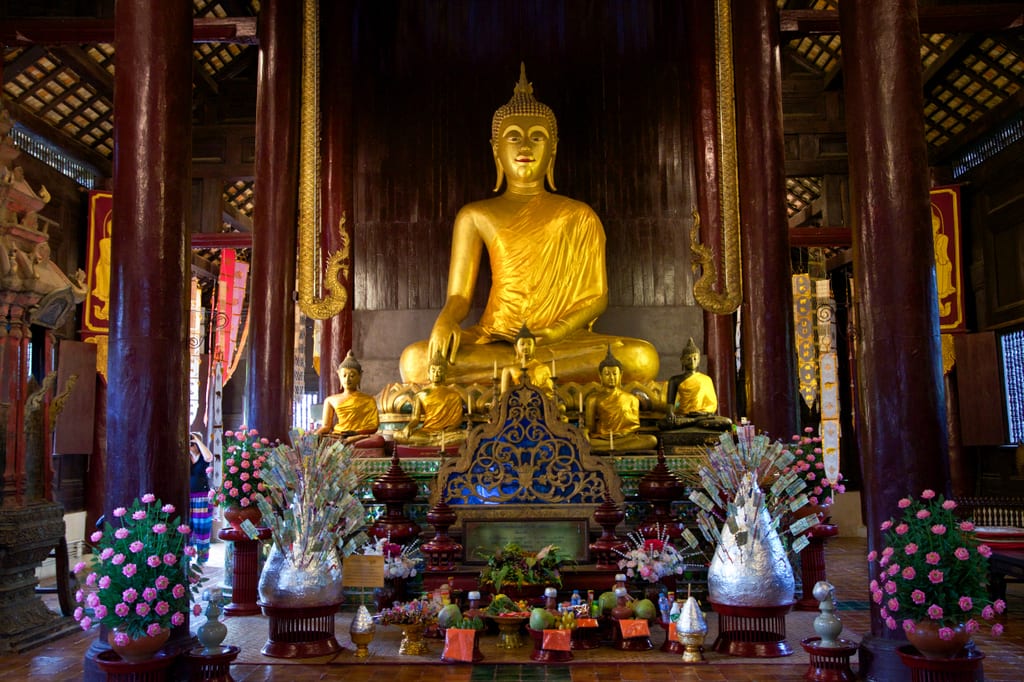 What I Read This Month
The Signature of All Things by Elizabeth Gilbert – Is there any writer more delightful than Elizabeth Gilbert? I adore her writing, and I adored this book. This is her first novel since before Eat, Pray, Love and Committed, and it's a wonderful historical tale of the life of Alma Whittaker, a brilliant botanist born in Philadelphia in 1800.
Interestingly, prior to her incredibly successful memoir, Eat, Pray, Love, Gilbert was best known for writing fiction about "manly men doing manly things," she wrote in Committed. The parts of The Signature of All Things she wrote about Alma's father, an intelligent but wily child grown into a sailor and enormously successful businessman, were some of the most joyful and colorful parts of the book.
Not a Drop to Drink by Mindy McGinness – I'm split on this one, yet another young adult dystopian novel. I loved the premise – most of the world's fresh water is gone and a teenage girl and her mother survive off their pond, shooting anyone who comes near it. It was like a milder, less bleak version of The Road. (And yes, considering that a book about shooting desperate people dying of thirst is the "less bleak" option, that tells you just how dark The Road gets.)
While the premise was good, I found the main character's actions to be completely unrealistic. She has spent her whole life interacting with only one human — her fierce mother — and when she meets new people, she interacts with them not only normally but with wit and sarcasm. I found it unnatural, and it took me out of the book.
Coming Up in Month Seven
Month Six ended in Pai, and we then headed back to Bangkok. I started writing this post on the island of Koh Phayam, Thailand, and I'm finishing it now in Khao Sok National Park. After this, we're heading to my beloved Koh Lanta and staying there for awhile — hopefully two weeks or longer.
I plan to take off the week from Christmas Eve to New Year's Day – my first vacation in a year and a half! That will be so lovely. I've been craving a break since July and this is the first chance I've had to do it.
Any suggestions for Month Seven? Let me know!
Get email updates from Kate
Never miss a post. Unsubscribe anytime!