Adventurous Kate contains affiliate links. If you make a purchase through these links, I will earn a commission at no extra cost to you. Thanks!
France has the Eiffel Tower. Egypt has the pyramids. China has the Great Wall.
Three different countries, but they have something in common: there is a monument that epitomizes or even defines the country to outsiders. And even though the Eiffel Tower doesn't represent all of France, it's one of the first things that come to mind when you think about the country.
Sri Lanka has a monument of its own. While not as famous as the Pyramids, it's still a sight to behold: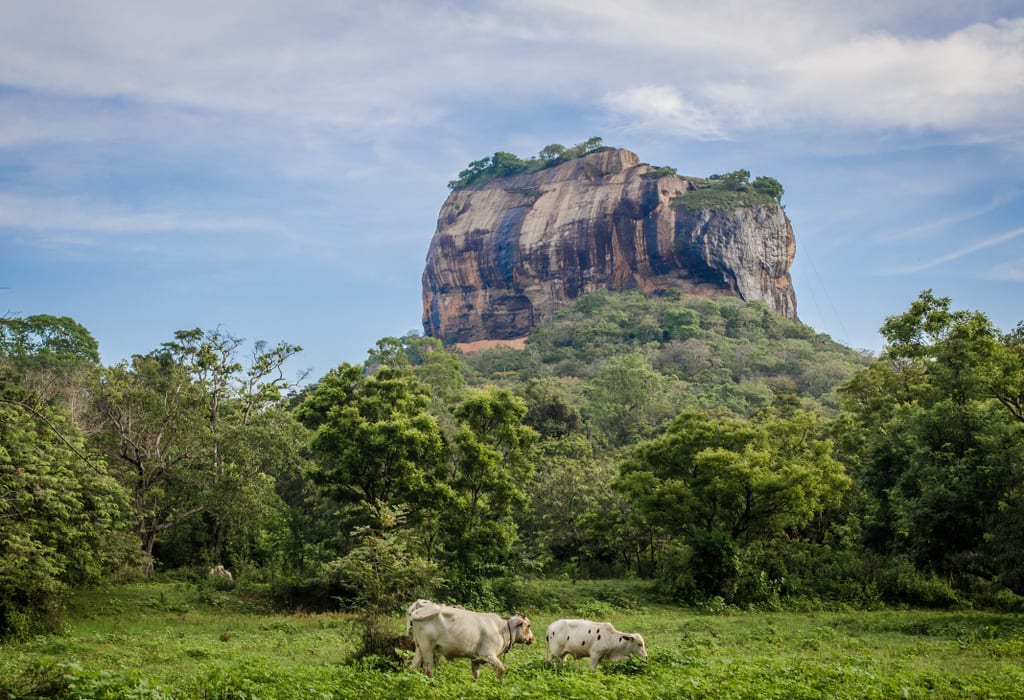 Sigiriya.
This ancient city surrounding a rock-topped palace is a UNESCO World Heritage Site and the most visited historical site in Sri Lanka.
Sigiriya was founded in the fifth century by King Kassapa I. It was the regional capital and a major stronghold. In its time, Sigiriya was one of the most important urban centers in a region. The crowning jewel was the fortified palace, said to be impregnable and perched atop the giant rock, its smooth sides denying access to invaders.
The mysteries of Sigiriya reminded me of Angkor Wat. It was so important at its peak, yet we know so little about its inhabitants today, and most of the city has been destroyed. Only the stone parts, the "bones" of the city, remain in the 21st century.
So what spelled Sigiriya's doom, anyway?
"Kassapa had a fortified palace built on the rock of Sigiriya which was reputed to be impregnable. However, it was there that he was defeated after a short but cruel battle in 495, following which he cut his throat. After the death of Kassapa, Moggallana returned the site of Sigiriya to the monks, thus condemning it to progressive abandonment. During the eleven years that Kassapa resided in Sigiriya, he created a residence of exceptional splendour and founded his capital there, impressive vestiges of which are still extant."
And I was going to climb to the top of that rock.
Part of me dreaded it, though. I've been out of shape for a long time. The lifestyle of a travel blogger is characterized by long sedentary periods followed by mostly sedentary periods mixed with anaerobic bursts of activity. No, it's not good, and it needs to change, but there's always so much more that we should be doing, leading to even more hours behind the computer.
Even though I know they have the same struggles I do, I wouldn't let my fellow bloggers see how out of shape I was. I'd push on up, pretending everything was fine, keeping a smile on my gradually reddening face as my legs ached. If it really got bad, I'd nonchalantly stop and photograph the scenery.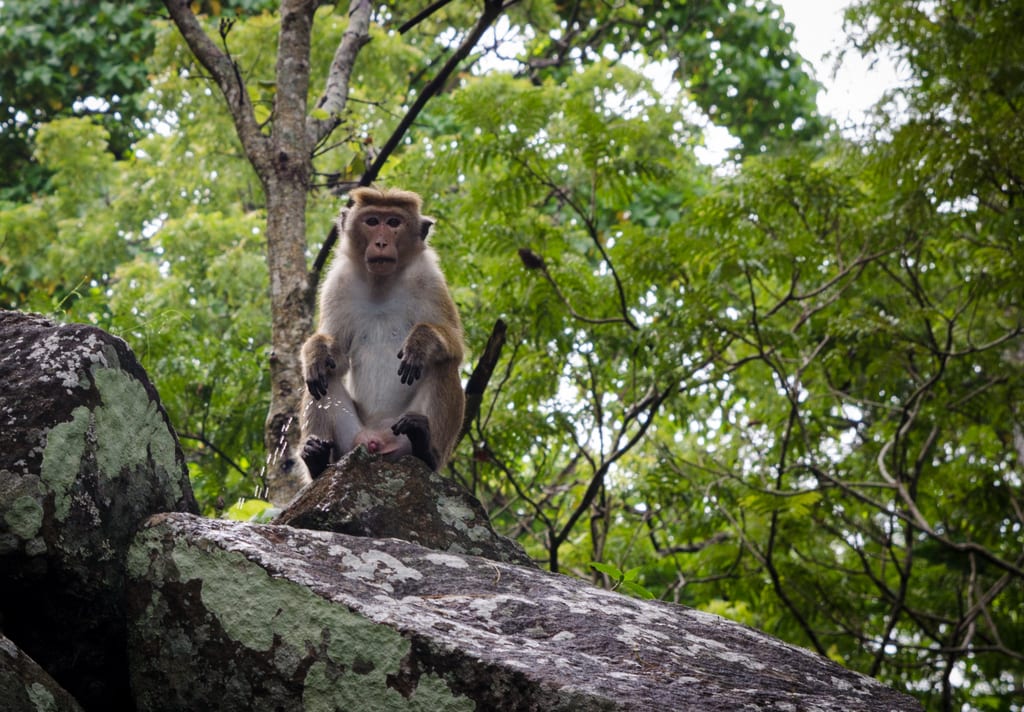 Like this peeing monkey.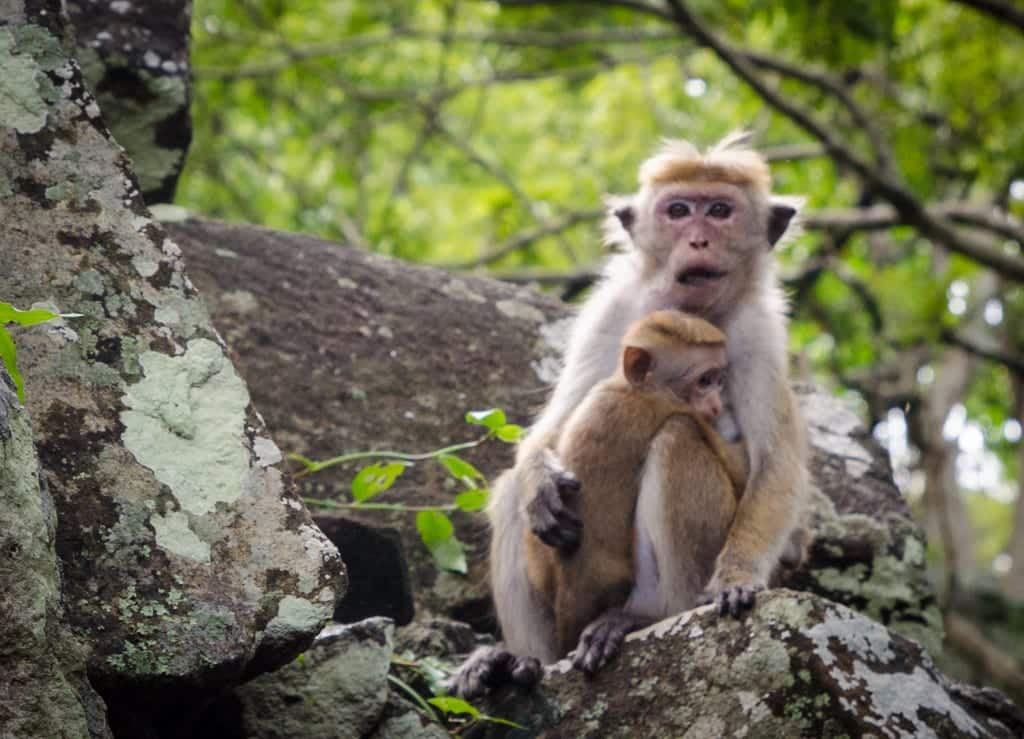 And this mommy and baby monkey.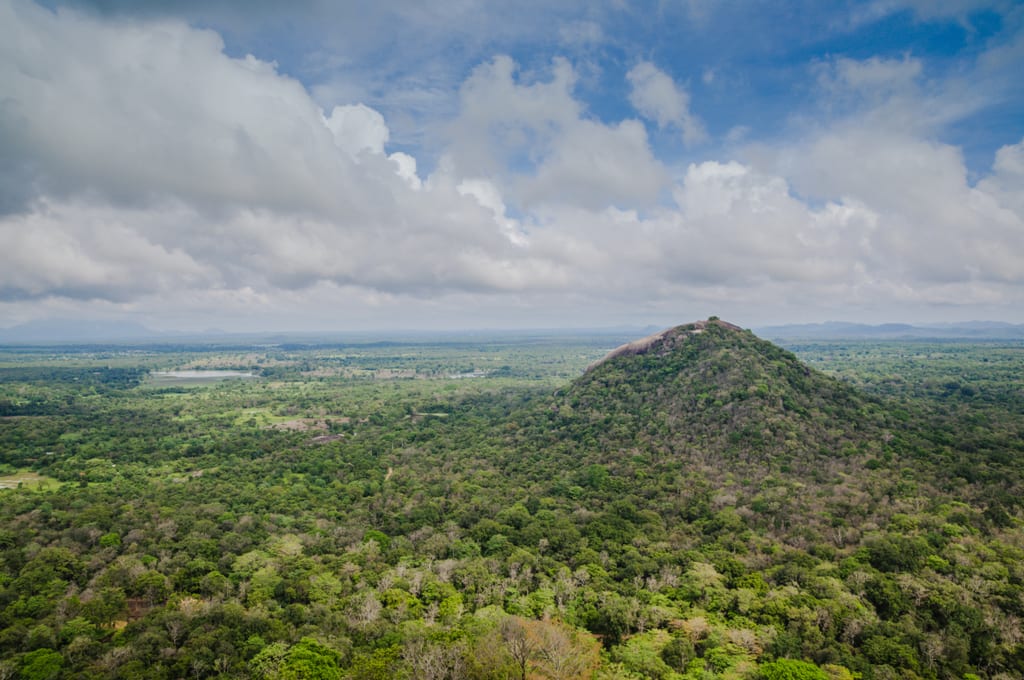 And these views over the countryside.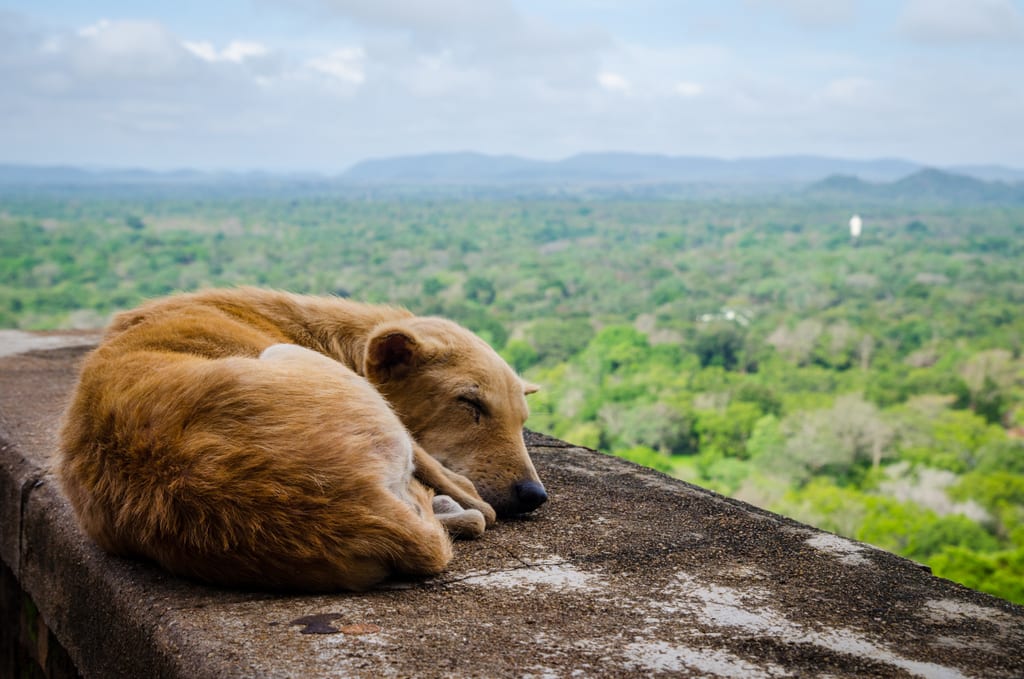 And this puppy with a view.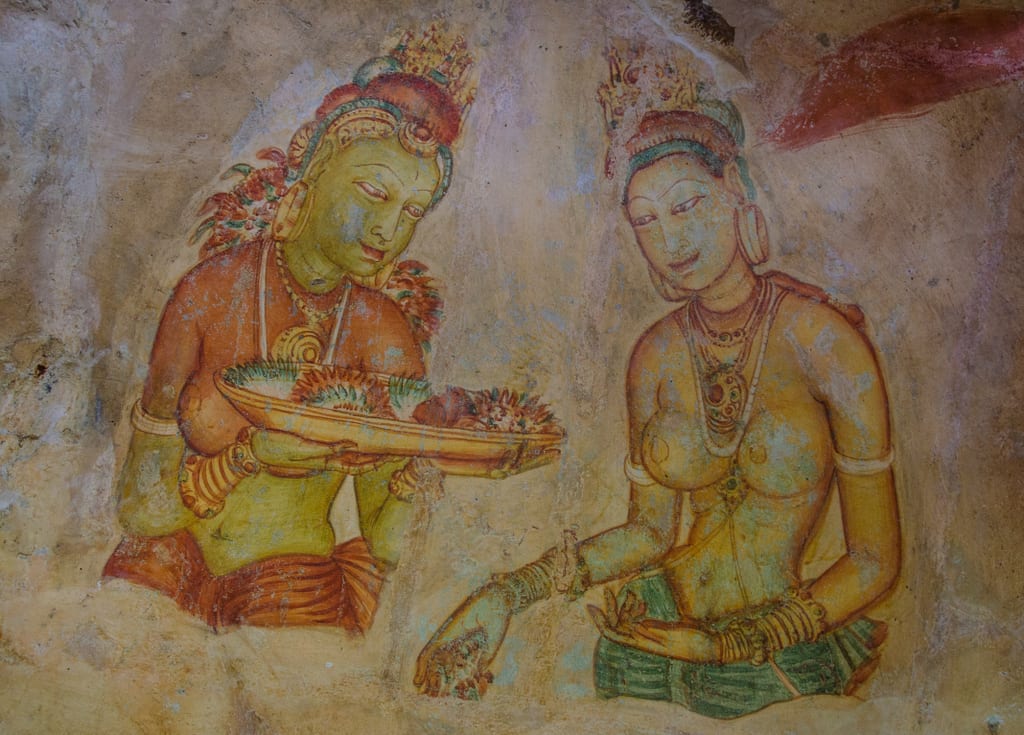 Halfway up the rock is a cave filled with frescoes of 21 women. They call them "The Maidens of the Clouds." Nobody is sure exactly who these women are, but with their carefully constructed features, it's fair to suspect that these were modeled on actual women — perhaps Kassapa's concubines.
It wasn't a strenuous climb up to the rock — it was just stairs. But there were a lot of them, and the first part of the ascent took about an hour.
Once you reach the base of the rock itself, the ancient stairs disappear. Sigiriya the city emerges into a hill surrounding the rock itself, and at that point the ascent becomes nearly vertical. Modern scaffolding has since been built into the rock.
After a short break to catch my breath and drink some water near the base, I made the final journey up the flat side of the rock face.
Here's what was waiting for me at the top.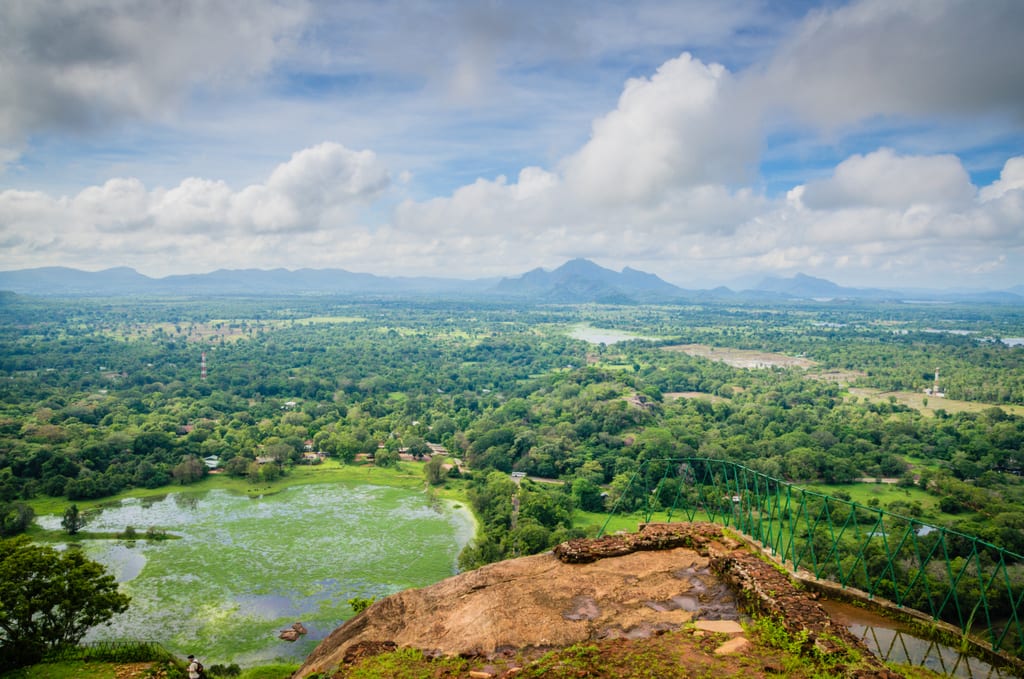 The view over the landscape from the top of Sigiriya.
Kassapa's ancient palace.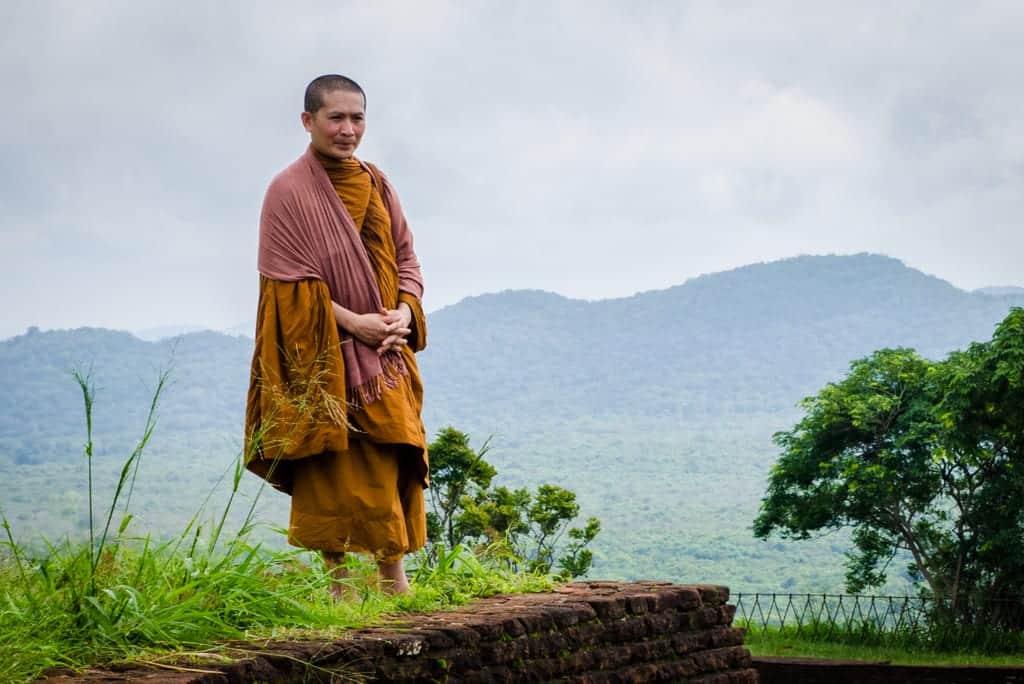 A Buddhist monk taking in the countryside.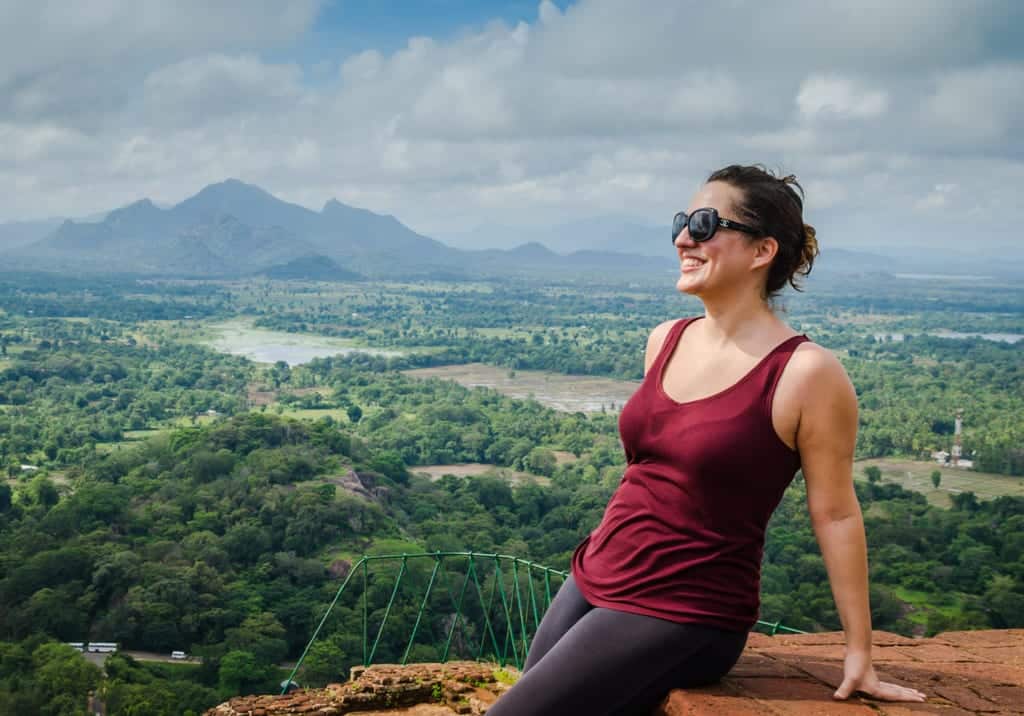 With burning lungs and sweat-drenched hair, I sat on the edge, a big grin upon my face.
Climbing Sigiriya was so worth it. And this won't be the last thing to climb. I've got volcanoes on my list in Central America this winter.
Essential Info: My biggest advice for Sigiriya is to climb it as early in the morning as possible: while it will always be hot, the weather will be the coolest at this time of day, and it will also be the least crowded. We climbed at about 7:30 AM. I recommend allowing three hours to explore the grounds and climb to the top of Lion's Rock.

Visiting Sigiriya costs $30 USD (3900 rupees). While Sri Lanka is very cheap overall, tourist sites are really expensive, especially the World Heritage Sites.

I stayed at Cinnamon Hotels' Chaaya Lodge Habarana, which I really enjoyed and was in the perfect location: right on the train line from Colombo with easy access to Sigiriya, Polonnaruwa, Dambulla, and Kaudalla National Park. The pool was heavenly after this climb. Rates start at $97 USD. You can find the best rates on other accommodation here.

Make sure to get travel insurance before visiting Sri Lanka! It will protect you financially if something goes wrong, like tripping or falling during a hike. I never travel without it and use World Nomads.
I visited Sri Lanka for TBCAsia, hosted by Cinnamon Hotels. Thanks also to Sri Lankan Airlines for flying me there from London, CVisit Sri Lanka for carting me around, and Mobitel for furnishing me with a SIM card. All opinions, as always, are my own.
Get email updates from Kate
Never miss a post. Unsubscribe anytime!