Adventurous Kate contains affiliate links. If you make a purchase through these links, I will earn a commission at no extra cost to you. Thanks!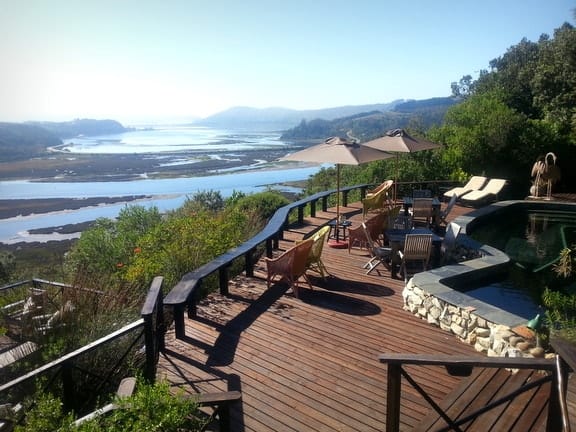 After two weeks of intense travel in South Africa, from safaris to townships and city visits — not to mention slicing up my knee in a Blokart crash — what I needed was a place where I could crash for a few days, taking time to enjoy South Africa's rural beauty in the process.
I knew that ahead of time, so I searched in advance.  With a bit of Google research, I discovered Phantom Forest Ecolodge in Knysna, in the heart of the Garden Route.  I had wanted to visit the Garden Route for so long and heard particularly good things about the lagoon-adjacent town of Knysna.
From the moment I arrived, from the first scent of the fresh air, I was swept into the magical atmosphere of the forest and of Knysna.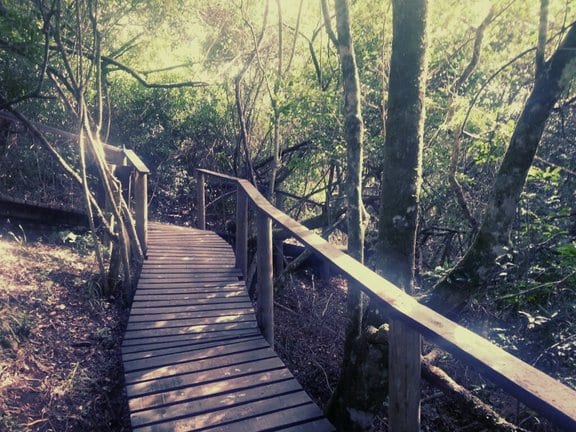 And in a lot of ways, it brought me back.  From ages 11 to 13, I attended summer camp in Western Massachusetts.  At Camp Nawaka, I honed my archery skills, canoed across the lake, and competed barbarically for the White Team in Color War.
At Phantom Forest, you spend your days the same way — in the heart of nature.  I hiked from the top of the forest to the bottom of the lagoon.  Knysna is a cool little town, and you can rent mountain bikes and explore the trails.  You can also borrow a canoe to explore the lagoon more extensively.  And that doesn't include all that you can do in the area, from boat cruises to skydiving!
Best of all?  You get to do all of these activities on your own, as you please, without having the annoying camp together-ness.  As an introvert, I appreciate that so much.
Breakfast is scheduled for each morning, and missing it isn't a good idea when it's this good.
The days are spent out enjoying the forest or the lagoon.  When you get back, your muscles sore, there are PLENTY of massage options available at the Body Boma.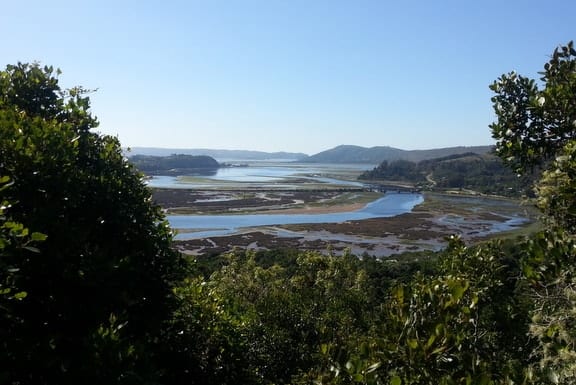 And yes, thankfully, THERE IS WIFI.  The Wifi is in the Eyrie lounge, which promptly became one of my favorite offices of the past year.
Whenever I wasn't out exploring the forest, I was in the Eyrie.  Throughout the day, I Instagrammed photos of Knysna with my Galaxy SIII as part of the #galaxytraveler campaign with Samsung.  (Want more?  Check it out for Costa Rica pics from Cailin, Hawaii pics from Sherry, Wisconsin pics from Dalene and Pete, South Tyrol pics from Michael, and more!)
By the way, do you like these photos?  Each photo in this post was taken with the Galaxy SIII.
Dinner at Phantom Forest is as much of an event as breakfast.  The guests gather in the Eyrie for a few drinks before moving into the dining area.  Simple fare?  Nope.  Dinner is a SIX-COURSE AFFAIR every single night.
One night's menu:
Course One: Pear and Potato Soup

Course Two: Gorgonzola Souffle with Celery Salad

Course Three: Ginger Sorbet

Course Four: Blessbok filet with Potatoes and Baby Corn

Course Five: Huguenot Cheese

Course Six: Spiced Panna Cotta with Chili-Dusted Grapefruit
They pull out EVERY stop here.
Africa's Greenest Hotel
Phantom Forest has won a LOT of awards for its ecological responsibility, including being awarded Africa's Leading Green Hotel at the World Travel Awards for the past three years running.  Considering that Samsung has done a lot of work for the environment in South Africa, staying at a place like this was a natural fit.
You can this as soon as you arrive.  The resort, built on 137 hectares of nature reserve, was built in harmony with nature.  In restoring the land, they removed alien vegetation and used it to construct the buildings.  All plants removed for construction were re-planted.  Water is recycled here.
The green construction methods used here have been sent out into the local community in Knysna and beyond.  South Africa hasn't suffered as much as some of its neighboring nations, but this is still an enormous step for the Garden Route.
And yes, as you would expect, there are many animals here — including a family of vervet monkeys!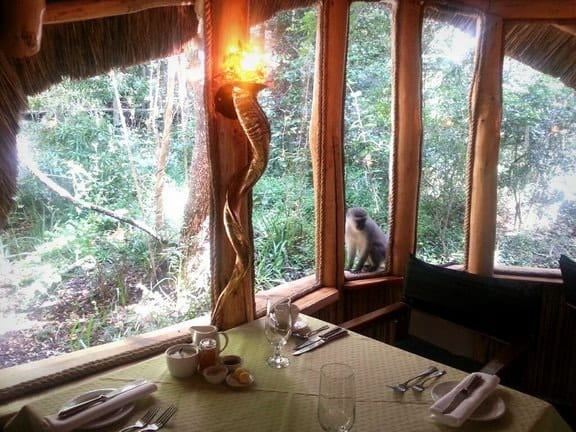 While this unexpected breakfast guest got a little too close to my Galaxy SIII, the animals are generally fine.  Unlike many nature reserves in Africa, it's perfectly safe to walk alone at night.
Luxury in the Upper Tree Camp
There are three tiers of lodging at Phantom Forest — the Classic Tree Suites, the Moroccan Tree Suites, and finally the Upper Tree Camp.
Hearing that each Upper Tree Camp suite had outdoor jacuzzi tubs was enough for me.
The suite?  Incredibly romantic.  (As much of a solo traveler as I am, I couldn't help but marvel at what a perfect place for a honeymoon this would be.)
The other half of the suite — a sitting room, and a giant, two-room bathroom complete with a glass-walled shower with two shower heads.
The indoor bathroom was nice and deep.  I spent one night soaking in it while watching Casino Royale on my laptop.  Daniel Craig and a bathtub — THAT is happiness.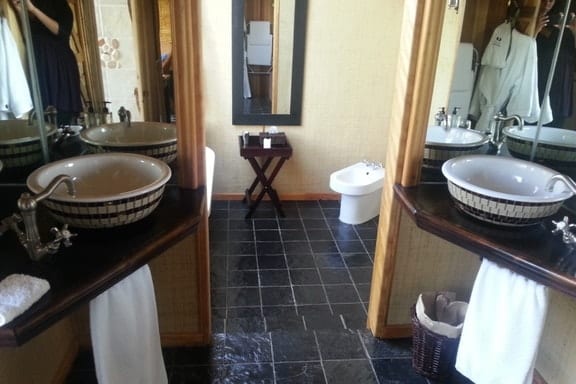 The rest of the bathroom was extensive.
Outdoor jacuzzi tub?  Not bad at all.
The suite also had quite the view:
Did I ever dream of going back of going to summer camp?  Not for the songs, the early wakeup calls, or the questionable food.
But the Phantom Forest was like summer camp for adults — introverted, upscale, nature-loving adults who love to breathe in the fresh air of the mountains, hike the trains, and finish the day off with a massage.  It's hard to imagine a better way to enjoy the forests of South Africa.
Essential info: Rates at Phantom Forest start at 1875 rand ($211) per night on a sharing basis — there is a single supplement of 500 rand ($56) per night and the six-course dinner costs 350 rand ($39).  I stayed in the Upper Tree Camp, which starts at 2225 rand ($250) per night.  Breakfast is included.

Knysna is an hourlong drive from George Airport, but I took the very comfortable Intercape bus from Cape Town, which took 8.5 hours and cost 261 rand ($29) each way.  Phantom Forest is a 15-minute drive outside Knysna and cab fares should cost about 120 rand ($13.50) each way.
My trip to Phantom Forest was sponsored by Samsung, who also gifted me a Galaxy SIII.  All photos in this post were taken with the Galaxy SIII.  All opinions, as always, are my own.
Get email updates from Kate
Never miss a post. Unsubscribe anytime!