Adventurous Kate contains affiliate links. If you make a purchase through these links, I will earn a commission at no extra cost to you. Thanks!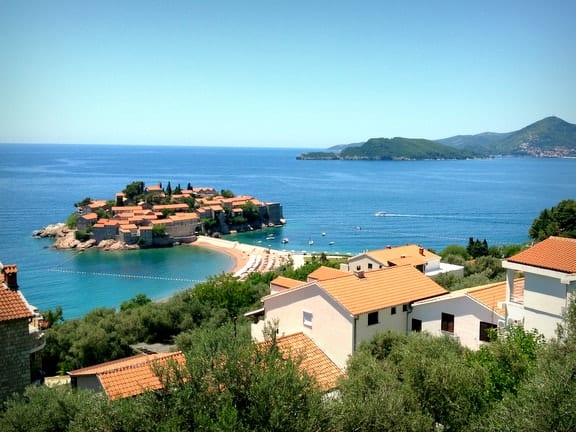 It was several years ago when I first began reading about the Balkans.  I immediately became a Balkans junkie, dreaming of sailing Croatia's islands, hiking Slovenia's Julian Alps, partying on Belgrade's river barges.
But the place that captured my imagination the most was a little island off the coast of Montenegro called Sveti Stefan.
Look at that island.  How could you not be captivated by it?  But it was also its history that charmed me — it had been a chi-chi resort from the 1950s through the 80s, hosting stars like Elizabeth Taylor.  But like many other places in the Balkans, it fell into disrepair during the war and remained shuttered for a very long time.
I dreamed of visiting Sveti Stefan for years, and it had always been lurking in the corner of my mind of the places in the world I wanted to visit the most.  When Dave and I added Montenegro to our Balkans itinerary, I hoped that we would make it there after all.
And on our final full day in Montenegro, we did!
It's easy enough to get there from Kotor or anywhere else on the coast — Sveti Stefan is technically the name of the town, not the island — and the hourlong bus journey cost us 4 euros each. The bus left us perched on the top of a hill overlooking the town and the island.
Sveti Stefan is a tiny, sleepy town.  There are lots of condos and hotels, but it doesn't have a busy, touristy feel to it.  There are a few stores and most of the beaches are open to all.
Finally, we landed on the beach, the island in sight.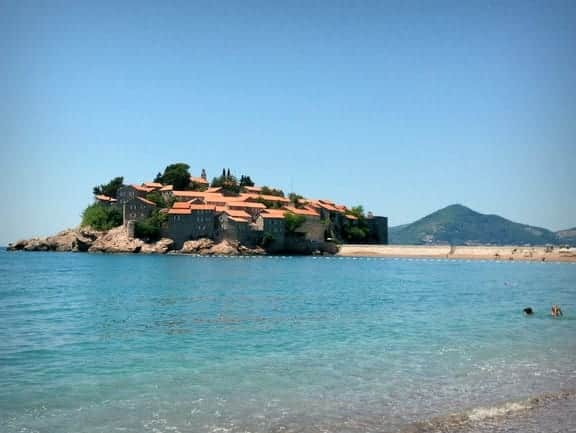 Today, the island is home to the Aman Sveti Stefan luxury resort.  This place is exclusive — so exclusive that only hotel guests, or guests of its super-expensive restaurant, are permitted on the island itself.
And so I decided to talk our way onto the island.
For the record, this isn't a good idea, and this isn't how I usually do business.  If I want press access or any kind of comp, I always get in touch at least a few days beforehand.
But since this trip was an intentional vacation from work, and our trip to Sveti Stefan was a spontaneous decision, I hadn't really planned anything, and figured, "Why not?  We're here."
And so I walked up to the gate with a big smile, business cards in hand, ready with a handshake, my photographer next to me with his DSLR slung across his shoulder.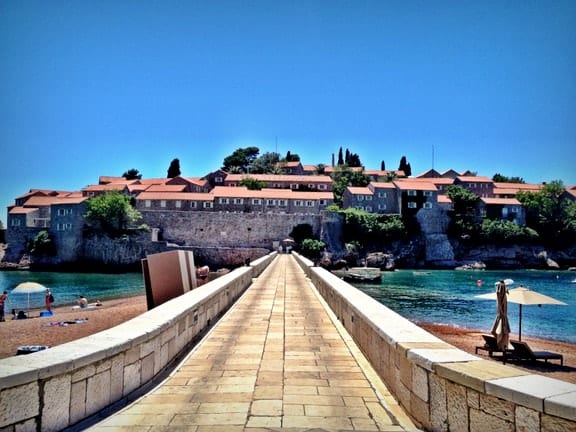 I'll spare you the details, as they're not interesting, but the general gist is that I talked to several employees up and down the management and PR chain and was ultimately unable to score a visit to the island itself.  The timing was bad, with a major event taking place on the island that day.  Had I planned it in advance and chosen another day, things would have been different.
But you know what?  I'm fine with the outcome.  Just seeing the island made me so happy.  Also, press are prohibited from taking photos on the island, and I couldn't imagine visiting such a beautiful place without my camera!
Instead, we did the next best thing: we had lunch with a view of the island.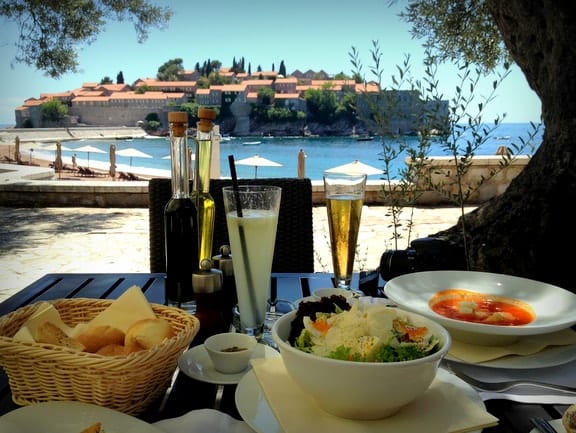 This was SO NICE.  We ate at The Olive Tree, the Aman's restaurant on the mainland.  Dave and I sat beneath an umbrella ensconced by olive trees and enjoyed the warm breezes from the sea as we sipped our lemonade (me) and beer (him) in fancy glasses, the island in our sight at all times.
This is the Aman's casual dining restaurant, but even the casual restaurant is on the pricey side, especially for a country as cheap as Montenegro.  Everyone around us looked very, very rich.  But it was so worth it — we shared some spinach pie, one of the best Caesar salads I have ever had in my life, and the absolute best tomato-based fish chowder I have ever tasted.  The ingredients are local, too.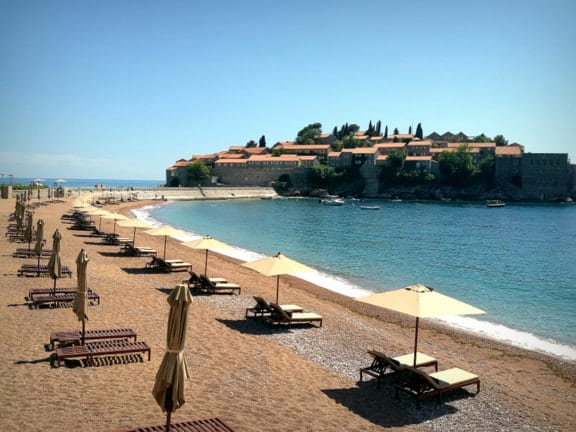 All in all, The Olive Tree is the best way to enjoy Sveti Stefan if you're not a gazillionaire.  You can certainly rent a chair on the beach if you're not a guest of the resort, but that will set you back a staggering 50 euros.
This day made me so happy.  Sveti Stefan had been a dream of mine for so long — and on this day, at the age of 27, I finally got to achieve that dream.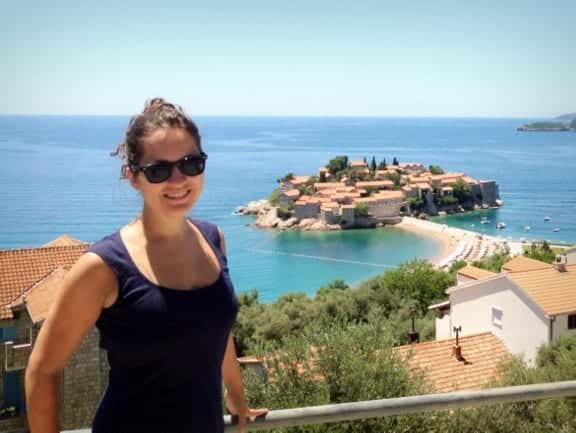 What's the place you've always dreamed of visiting?
Get email updates from Kate
Never miss a post. Unsubscribe anytime!