Adventurous Kate contains affiliate links. If you make a purchase through these links, I will earn a commission at no extra cost to you. Thanks!
When I announced my plan to spend seven months in Southeast Asia, most people questioned why I'd want to spend so much time there.  Honestly, there is so much that I want to see in Southeast Asia that I could stay for years!
Here are the regions that I hope to visit on the Asia Jaunt:
Part I: Bangkok
Image: Rene Erhardt
I'll probably stay in Bangkok for about a week after I arrive, adjusting to new rhythms and enjoying the city.
Part II: Northern Thailand
Image: fullmoon@midnight
I plan to spend a day in ancient capital Ayuthaya, then visit the northern Thai city of Chiang Mai (pictured above during the Yi Peng festival), where I hope to meet up with some travel bloggers!  Using Chiang Mai as a base, I'd like to venture to smaller towns like Pai, possibly Mae Hong Son, and Chiang Rai.
Part III: Northern Laos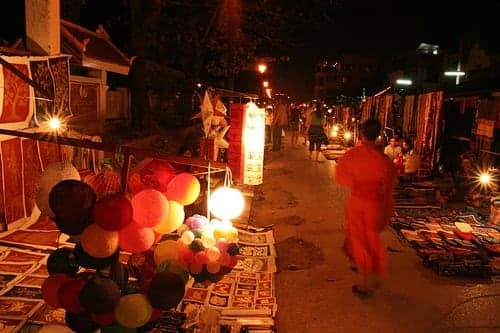 Image: Joffley
I'm very excited about Laos.  Though I'm likely canceling the Gibbon Experience in Bokeo Province, I might do some trekking out of Luang Prabang (pictured above).  I cannot wait to go tubing in Vang Vieng (and considering that the town is full of cafes playing Friends and Family Guy nonstop, I think I'll stay longer than planned)!  Next is capital Vientiene.
Part IV: Southern Laos
Image: -=KuBa=-
Southern Laos isn't nearly as touristed as Northern Laos, which is part of what attracts me to it.  I would love to visit small villages where foreigners are a rarity.  I really hope to visit Savannakhet, then use Pakse as a base to trek out to the Bolaven Plateau (pictured above) and Tat Lo, then making my way down to Si Phan Don (Four Thousand Islands).
Part V: Cambodia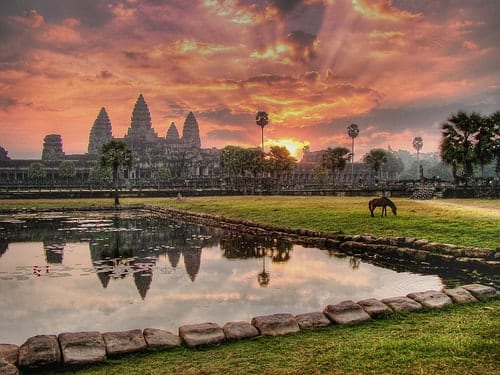 Image: Garion88
Like in Southern Laos, I hope to see much far off the beaten path.  I'd particularly like to visit Ratanakiri Province in the far northeast, then make my way down to Kratie and Kompong Cham.  I'd also love to visit the beaches of Sihanoukville, Kep and Kampot.
No matter what, I'll be visiting Phnom Penh, Battambang and Siep Reap, seeing the temples of Angkor (pictured above)!
After Cambodia, I'm returning to Bangkok to meet up with several of my travel blogger friends around New Year's!
Part VI: Northern and Central Vietnam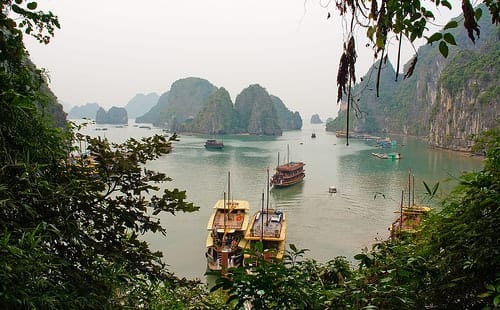 Image: mr clearview
After getting a cheap flight from Bangkok to Hanoi, I plan to take trips to Halong Bay (pictured above) and Sapa, home to hill tribes.  After returning to Hanoi, I set off to central Vietnam cities Hue and Hoi An.
Part VII: Southern Vietnam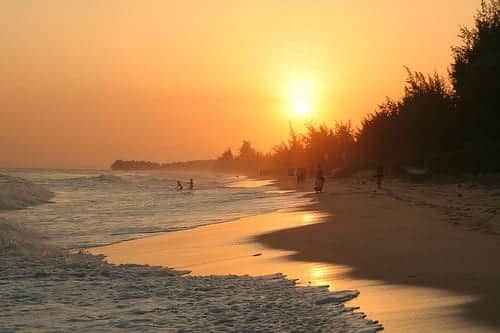 Image: mr clearview
In the South, I will visit beach party town Nha Trang, inland nature paradise Da Lat, and the lesser-known beaches of Mui Ne (pictured above), ending in Ho Chi Minh City.
Part VIII: Southern Thailand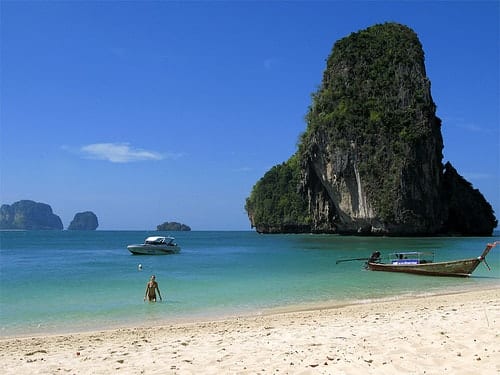 Image: flydime
The Full Moon Party is the one event I will not allow myself to miss!  I'll be on Ko Phangan around that time.  It will be the low season on that side of the peninsula, so I'll then make my way to the Andaman Coast, where I hope to sail around Ko Phi Phi and other islands, spending more time at Krabi (pictured above) or on Ko Lanta.
Below, check out the Full Moon Party:
Part IX: Malaysia
Image: khairilfz
Straight from the beaches of Thailand, I'll make my way to the exotic island of Penang (pictured above), then head for the hills and tea plantations in the Cameron Highlands.  The great city of Kuala Lumpur is next.
Kuala Lumpur is the main hub for discount airline Air Asia, so I plan to use it as a base.  During one of my visits to KL, I'll visit Melaka as well.
Part X: Sri Lanka
Image: robysaltori
Sri Lanka has captivated me for so long, and I'm so glad to finally visit!  After arriving in Colombo — or, more likely, Negombo — I'll visit Anaradhapura and Polonnaruwa in the Cultural Triangle, then the hill town of Kandy.  I may drop by Adam's Peak and Ella, then hit the south: Galle and the beaches of Unawatuna (pictured above), then returning to Colombo.
Part XI: The Philippines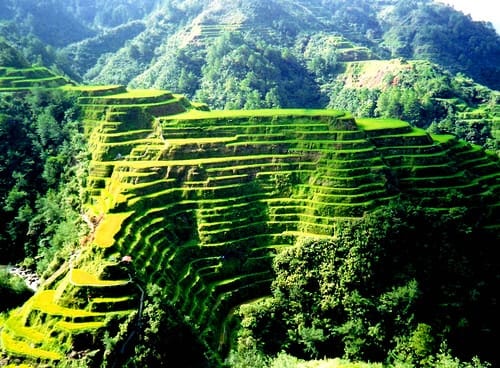 Image: Storm Crypt
The Philippines has three parts for me: city, mountains, and beach.  The city is Manila, then I'll leave to visit the Cordillera in the far north: the rice terraces of Banaue (pictured above) as well as the chilled out town of Sagada.  After returning to Manila, I'll hit legendary party island Boracay.  After seeing pictures of it, I knew I had to go!  With visa restrictions, I'm limited to three weeks in the country.
Part XII: Singapore
Image: williamcho
Singapore will probably be limited to just a few days, since it's pricier than anywhere else I'm visiting.  But who knows?  Maybe the city-state will enchant me into staying longer!
Part XIII: Bali
Image: apla kai omorfa
Ah, Bali.  Of course, I have to visit the most touristed areas of Kuta, Legian and/or Seminyak, and the inland town of Ubud as well.  I'd like to see Lovina on the north coast if I have time.  And Lombok, the island east of Bali, has much I'd like to see as well: particularly Senggigi and the Gili Islands.
Next, I return to Bangkok once again to catch my flight home, and likely buy souvenirs for family and friends.
Part XIV: Korea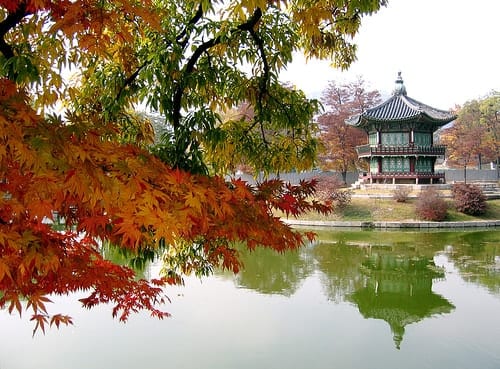 Image: bryanh
I'm flying KoreanAir, so why not build in a five-day layover?  I'll visit Seoul, the DMZ, and possibly Busan.
From Seoul I return to New York…just in time to hit Vegas with my girlfriends!
The one thing of which I am certain?  This itinerary will change.  A lot.
One of the following will likely happen:
This pace may turn out to be too fast for me.
I might fall in love with a destination and want to stay longer.
I might get a cool job or volunteering opportunity.
I might meet some fun people I want to join…or a guy.  (This freaks me out.)
Of all the legs, I'm probably most likely to cut the Philippines, but we'll see what happens.
So…if my itinerary is insane, now is the time to tell me so, readers!  What do you think?
Get email updates from Kate
Never miss a post. Unsubscribe anytime!