Adventurous Kate contains affiliate links. If you make a purchase through these links, I will earn a commission at no extra cost to you. Thanks!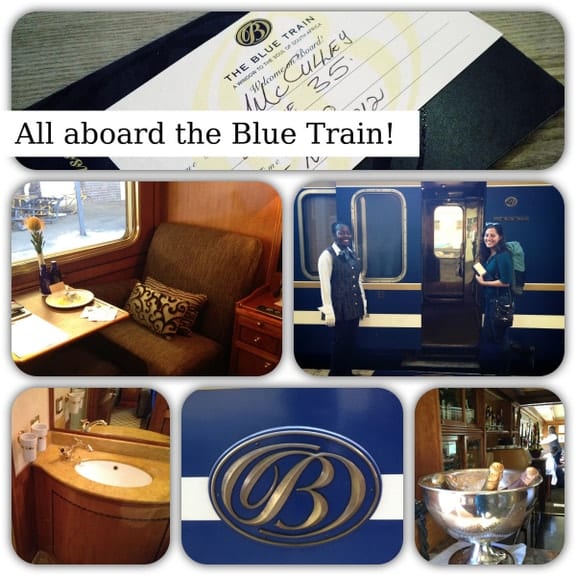 Of all overland journeys, I'm not sure anything can top my experience in South Africa: riding from Pretoria to Cape Town on the Blue Train.
The Blue Train, you see, is a FANCY TRAIN.  The kind of train that requires men to wear jackets and ties and ladies to don elegant eveningwear.  The kind of train that has its own jewelry shop and tens of thousands of dollars worth of merchandise.  The kind of train where champagne comes with everything, from brunch to afternoon tea to late night in the cigar lounge.
I've never done anything like this before, and this train journey was one of my favorite parts of the trip.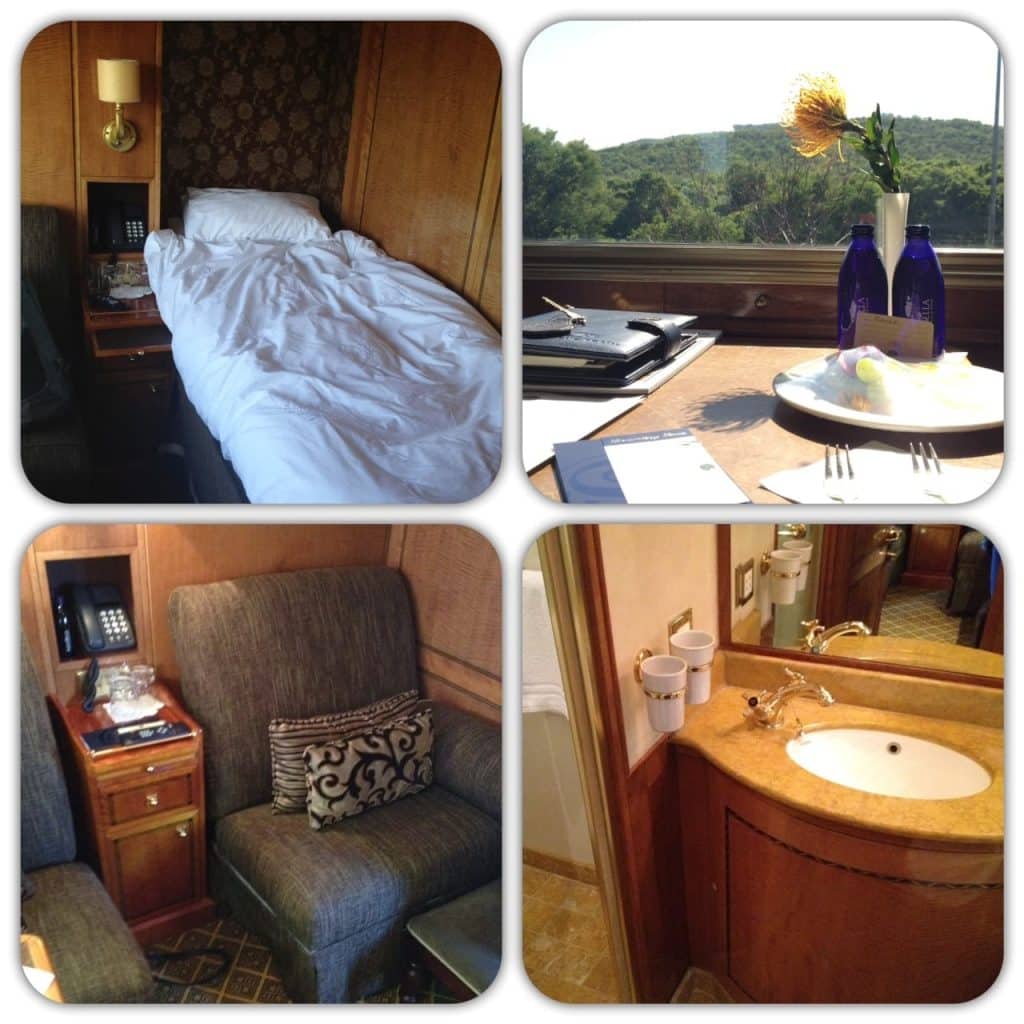 The Cabins
I couldn't help but think of the Sex and the City episode when Carrie and Samantha decide to cross America on a train in a deluxe suite — then find out the experience is far from glamourous.
Crossing South Africa, though?  Totally glamorous.
My suite had two upholstered chairs with matching pillows, set in front of a table with a flower in a vase.  A perfect way to watch the world go by.  Though if I wanted to, I could watch the TV, which broadcast video from the front of the train.
In the bathroom, the countertops were marble and the fixtures were gold.  In the evening, a twin bed folded down (there were two, but I was in here by myself).  There are also cabins with double beds.  Oh, and I had my very own butler!
Getting into Train Life
The beauty of taking a 28-hour journey cut off from the rest of the world means that you have time to just slow down and enjoy the experience.  We read, edited photos, played card games, and enjoyed an array of complimentary beverages.
Cailin and I both had to get work done.  Though the train had no WiFi and we weren't able to get signal on our MiFi for most of the train ride, we settled in to do a bit of writing — with the train's signature bright blue cocktails, of course!
The Food
The food was fabulous.  Meals were multi-course affairs, and since the drinks were unlimited, the champagne was flowing with every meal!
My brunch on the first day: salmon tartare wrapped in smoked salmon radishes with wasabi mayo, soya and honey; roasted tomato basil soup with croutons; grilled kinglip with potatoes in lemon butter; and spicy poached pears in a port reduction.
We also had a lovely afternoon tea with lots of desserts, including a giant chocolate cake that we collectively eyed for about 30 minutes before taking the plunge and grabbing a slice.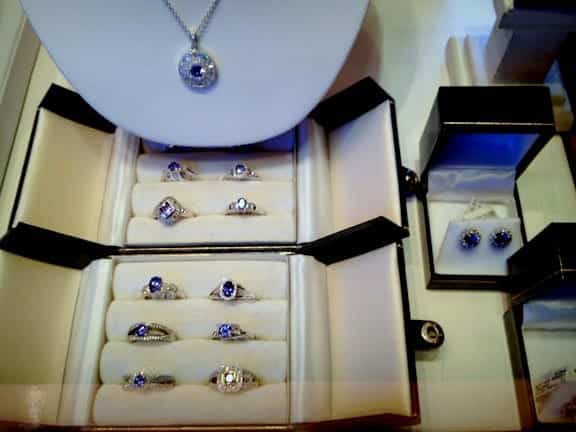 The Jewelry Store
Yes, the Blue Train has its own jewelry store!  It's tiny and you have to make an appointment to view all of the pieces, most of which are either diamond or tanzanite showstoppers.  There are also several cubic zirconia pieces that look fairly close to the real thing.
Cailin and I giggled and tried on just about every piece in the store.  As I slipped a gorgeous $10,000 tanzanite ring on my finger, I felt my gaze drift toward the window.  We were winding past dilapidated townships without electricity and running water.
How did that make me feel?
Awful.
The economic disparity in South Africa is much more pronounced than other places I've visited.  And while I get that there will always be people at both ends of the economic spectrum, and I'm incredibly fortunate to have the life that I do, it felt like we were rubbing extravagant wealth in the faces of South Africa's poorest.
How do they feel about having to watch that train pass, watching people spend more money in 28 hours than they can ever hope to have at any given time?
I tucked that thought away — but it would resurface later.
The Fancy Evening
The evening meal on the Blue Train is a dress-up occasion.  Before the trip, David reminded us again and again to BRING FORMALWEAR BECAUSE YOU WON'T BE EATING IF YOU DON'T HAVE IT!
We enjoyed our fancy dinner.  The guys wore suits; Cailin and I wore little black dresses.
But the real fun began later in the evening when we retired to the cigar lounge at the front of the train.  Upon entry, we were offered our choice of Cuban cigars — all complimentary — and began swirling our own glasses of Remy Martin as we continued to wind through the countryside.
That is the closest I have ever been to being in a rap video.
The remainder of the evening?  Um, let's just say that we were up very late, and at one point the bartenders had to go search for Red Bull.
Disaster Strikes
The next morning, I was in the shower when I heard a series of loud booms, one after the other.  I assumed the staff was putting my bed back up, but I came out of the bathroom and it was still down.  Then an announcement came on the speakers.
We had been attacked.
Farmers had been striking on the vineyards.  The reason?  Their wages were only 72 rand per day — $8.31 USD.  Per DAY.  How can anyone live on that, even in South Africa?  They had attacked the train, throwing rocks at it.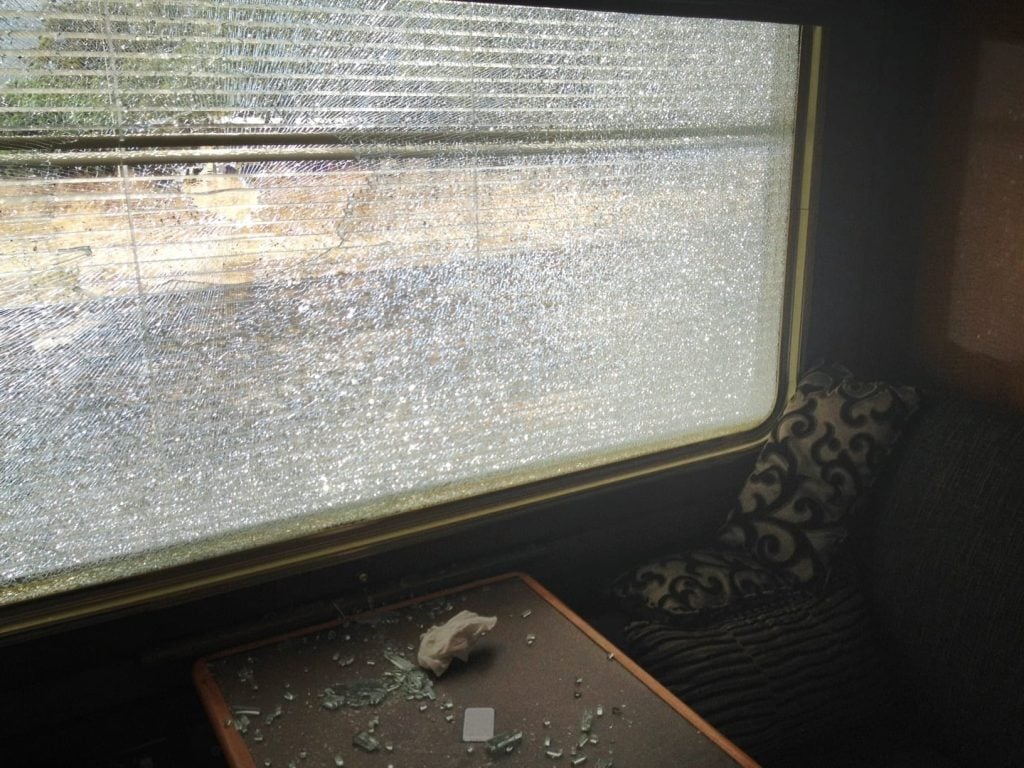 I was fine, but J.D. was in the next room, and a rock had gone through his window.  Thankfully, he was standing out of harm's way and avoided getting hit by any glass.
The Captain spoke to each of us, offering counseling (which we all declined).  While this is a very rare occurrence, they didn't seem quite as shocked as I'd expect them to be.
Our reeling over, we returned to normalcy at breakfast.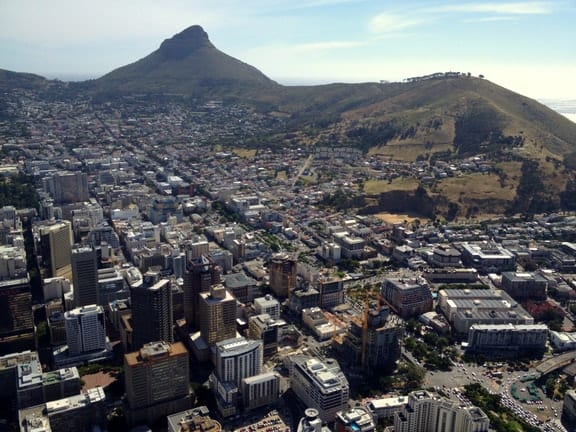 Cape Town
After our 28-hour journey, we arrived in Cape Town, one of the most beautiful cities in the world.  From there it was time to say goodbye, and on to see more of this inimitable city.
Even with the troubles we experienced on our Blue Train, I will always look back at this train trip as one of my favorite journeys.
Essential Info: The Blue Train is a top-level luxury experience, and prices reflect that.  Low season rates range from 11,583 to 19,900 rand ($1,335-2,294), while high season rates range from 14,295-24,530 rand ($1,644-$2,822).  All food, beverages, and excursions are included.
Many thanks to Visit South Africa for hosting me on the Blue Train.  All opinions, as always, are my own.
Get email updates from Kate
Never miss a post. Unsubscribe anytime!