Adventurous Kate contains affiliate links. If you make a purchase through these links, I will earn a commission at no extra cost to you. Thanks!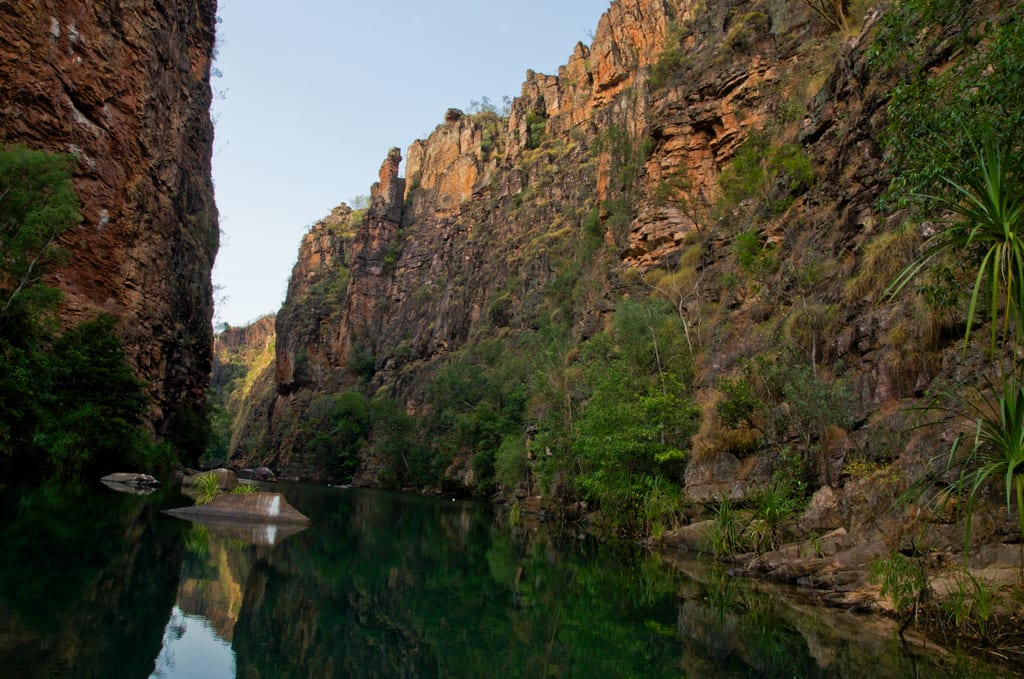 Ever since I've started visiting UNESCO World Heritage Sites more conscientiously, I've discovered that there's something that makes these destinations special: they might not be the best known attractions in the world, but once you learn a bit about them, they are incredibly impressive.
I didn't know much about Kakadu beyond that it was one of the top sites of Australia's Northern Territory. I left absolutely breathless. This is one of the most impressive natural sites I've ever seen. At just under 20,000 square kilometers, this enormous park is home to thousands of unique species that you won't find elsewhere in Australia, including more than 10,000 species of insects alone.
That — and the fact that it looks like Jurassic Park. I half expected a velociraptor to come screeching around the corner at any moment! If Kakadu had the infrastructure to sustain a major film crew, this would be the place to set the next movie.
As part of being hosted by Northern Territory Tourism, Flight Centre invited me on Adventure Tours Australia's 3D 4WD Kakadu Unleashed tour. The first day of the tour was spent in Litchfield National Park and the Mary River Wetlands; the second and third day were spent in Kakadu itself.
Here are my favorite images from Kakadu National Park: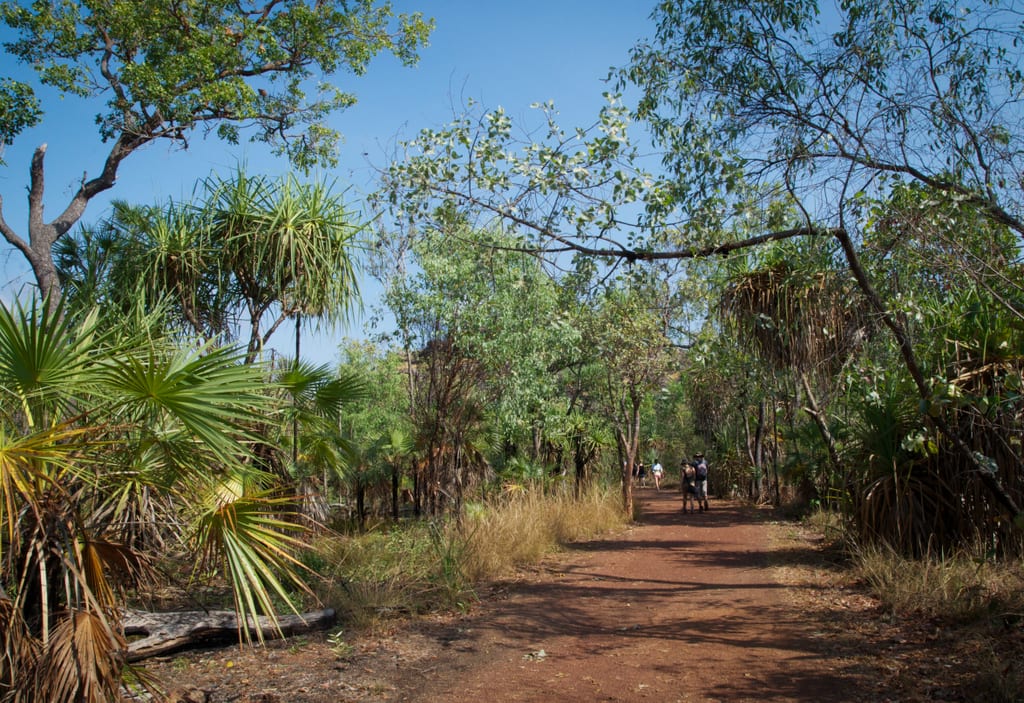 Kakadu is a mixture of jungle, desert, jagged rocks and gushing rivers. If you come here in the wet season (October to April), you'll see the waterfalls in their lush glory.
Considering the harsh sun and heat on top of the deadly wildlife, it blows my mind that people are able to survive in this harsh environment. While there are lots of methods in place to protect the indigenous species, the Aboriginals who live here are permitted to hunt on their own land.
Kakadu is home to some of the best-preserved rock art in the world — which earned it its cultural UNESCO designation in addition to its natural designation. There are whole rocks that tell stories.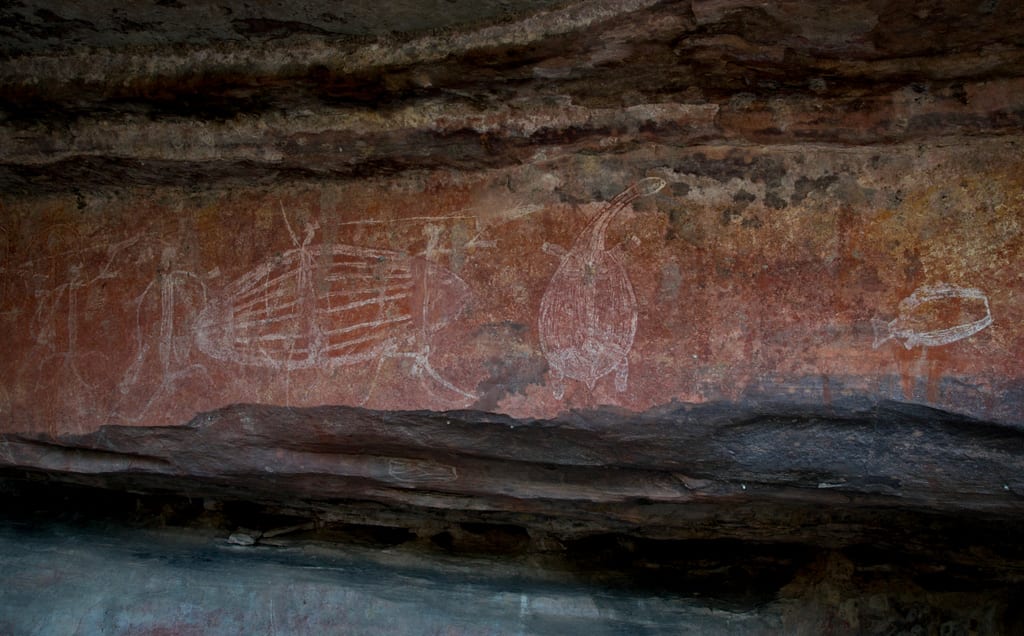 The act of painting was considered more important than the existence of the painting itself. They would often paint for things they wanted to happen — in this case, it was the animals they hoped to catch on a hunt.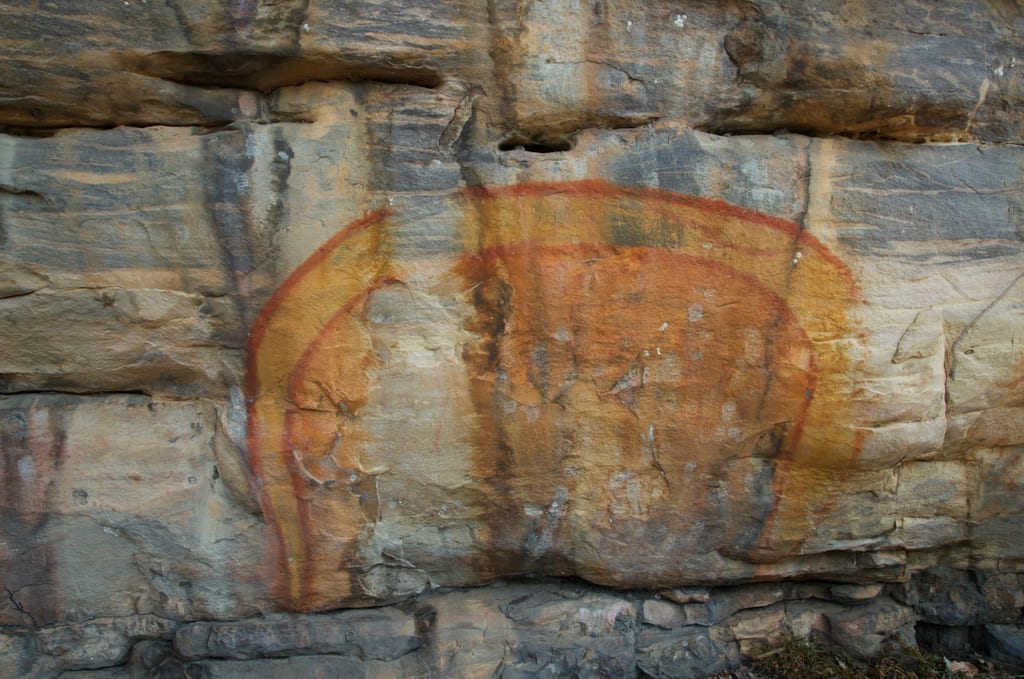 This is the rainbow serpent, one of the creator beings worshiped by various Aboriginal tribes throughout Australia. When a rainbow is seen in the sky, it is believed to be the rainbow serpent finding another waterhole.
The rainbow serpent is related to rain and weather, fertility, blood, and more. In some stories, it's known to eat children who don't stop crying — and to this day, you rarely see Aboriginal children crying for long without being soothed by their parents.
Just past the rock art is a viewpoint where you can see over the tidal flats.
There's no question that Kakadu is beautiful and fascinating — but it's also very rough.
Kakadu isn't as developed as other national parks, and as a result, navigating it is a challenge in itself — while you could drive a regular car if you wanted to, many of the tracks are 4WD-only, and the hikes themselves include lengthy climbs over rocks. If you have mobility limitations, head to Uluru instead — Kakadu is just too challenging.
And then there's the wildlife. I didn't run into horses in the middle of the night like Amy and Kieron did, but step into a saltwater croc's territory and you could be gone in seconds.
And then there were the flies. In many locations, flies were prevalent and irritating — but they were the absolute worst in Maguk (Barramundi Gorge). In Maguk, I would feel relief if I went about five seconds without a fly buzzing in my ear. FIVE SECONDS. They surrounded my head more or less constantly.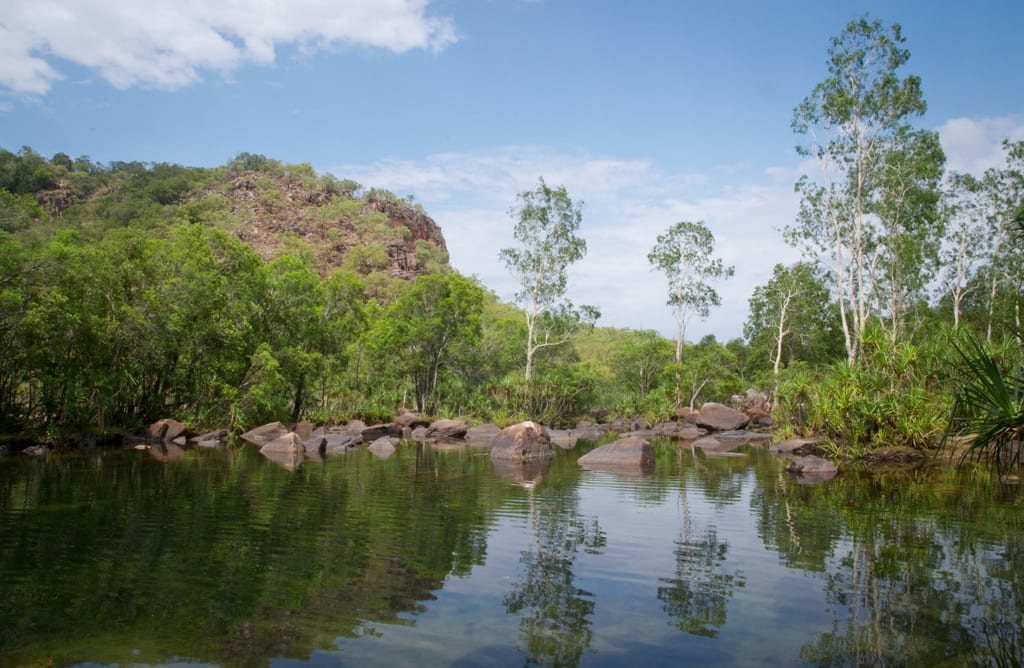 And then there are the crocs — both saltwater and freshwater species. The salties in particular are the more dangerous ones, and they lurk all over the park. If you visit Kakadu alone, stay away from the water unless you know it's safe!
In the area by Twin Falls, pictured above, I saw several croc traps in place.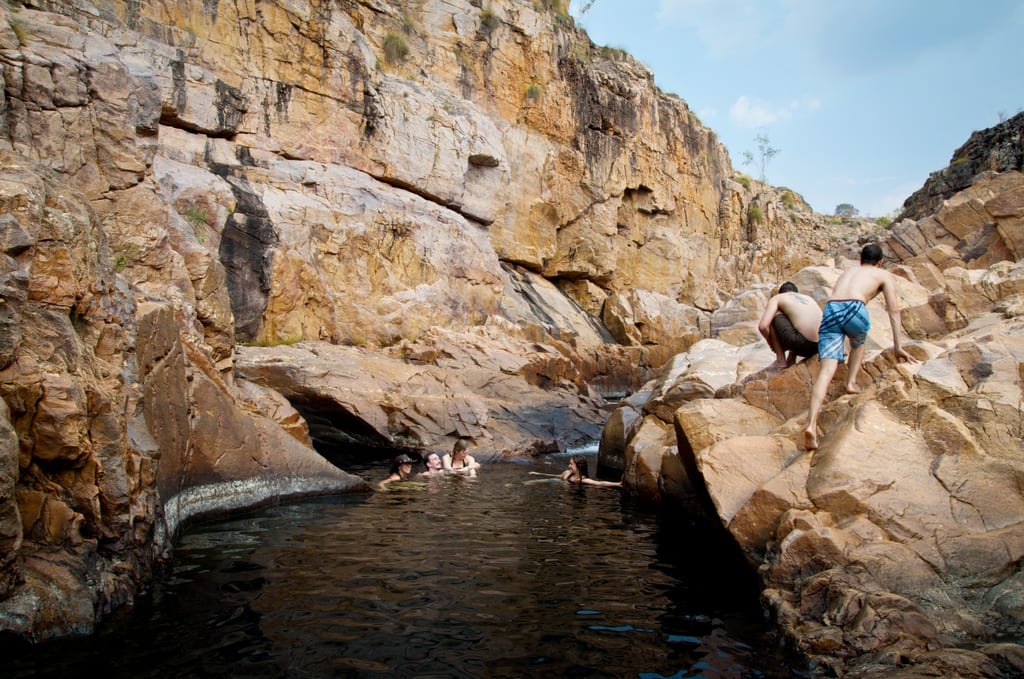 Swimming in rockholes was my absolute favorite thing I did in Kakadu (and in the entire Top End)! The feeling of finishing a long and difficult hike in sweltering heat and slipping into cool water is one of pure, unadulterated bliss.
Swimming was a part of all three days of my trip — though my favorite swimming spot of all was Buley Rockhole in Litchfield National Park on my first day.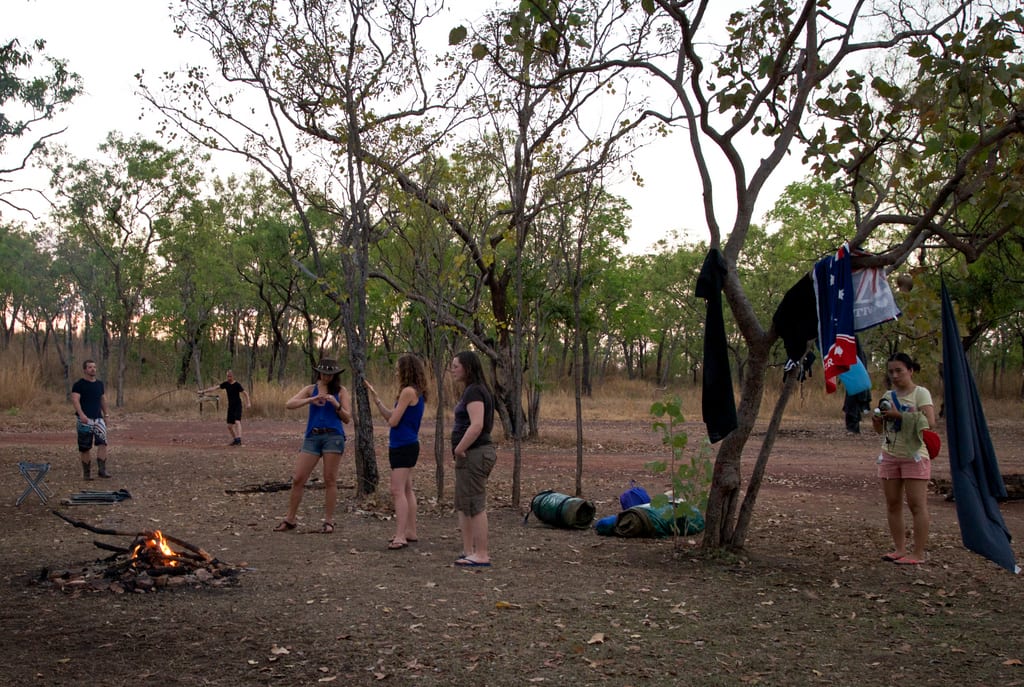 Camping in Kakadu
You can visit Kakadu on your own, or you can go with a tour group. I'm glad I went on a tour because not only was it the most affordable option that I would recommend to my readers, but because we did things that I never would have been able to do on my own, like camping (there's no way I would have bought equipment for just two nights on a yearlong trip) and exploring areas only accessible by 4WD vehicle.
Adventure Tours Australia has three tour levels, and the "Unleashed" tours are their bare-bones budget tours: in this case, that means camping under the stars in a swag (Aussie bedroll); campgrounds with real bathrooms and good facilities; simple meals like sandwiches for lunch and barbecued kangaroo with veggies for dinner.
My guide, Jarred, was enthusiastic, helpful, and safety-conscious — everything you'd want from a guide in the bush. The passengers in my group were mostly Europeans in their late twenties and early thirties. We had one Australian on the tour, a Perth native who wore a croc hat at all times, even while swimming, and taught us how to crack a whip.
It was a lot of fun, from our impromptu swims to trivia night in the wilderness to hungrily eyeing the pots cooking on the fire to squealing at croc sightings, and we had a lot of fun getting to know each other.
That said, it was all very rushed. As great a guide as Jarred was, he constantly urged us to hurry, hurry, hurry, because we had a crazy schedule and needed to make it to our campsite while there was still light. We were going so fast, we had no chance to stop and take pictures while driving, even when the sunrise streaked beautifully across the sky and the cliffs turned bright red. This was on top of 5:30 AM wakeups.
I completely understand why — seeing as many sights as possible on a budget was the priority for everyone in our group. But to be completely honest, it stressed me out — I was constantly worried that we were going to be late!
But at one point, I landed hard on my ankle while climbing and decided to forgo the rest of the hike to Twin Falls and just sit still for a few minutes. That turned out to be one of the best decisions of the trip — because we were here.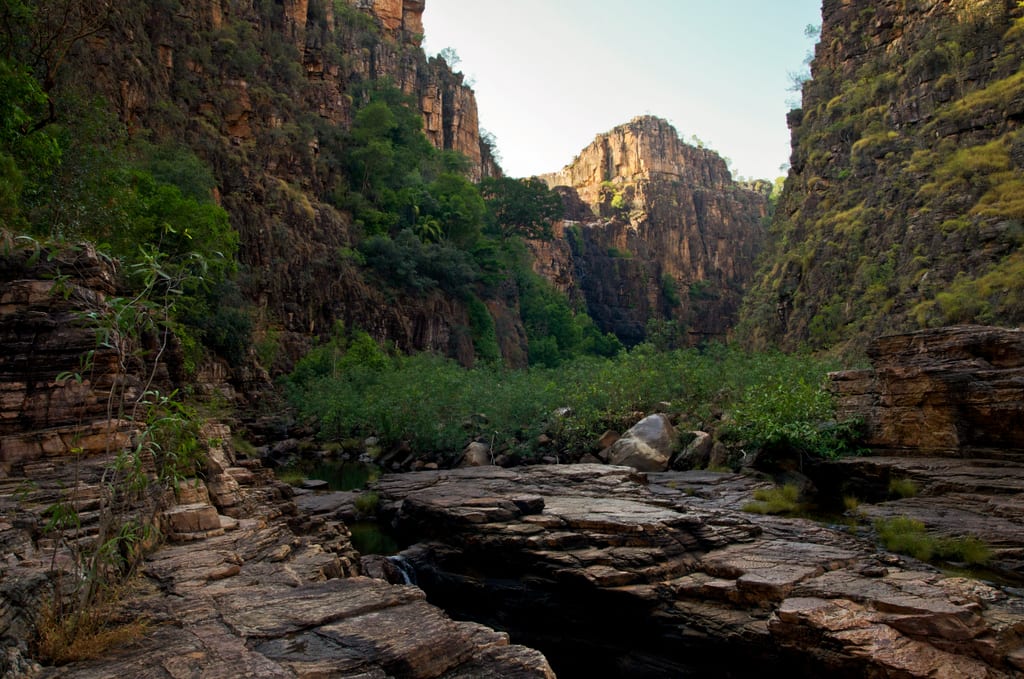 I sat on the rocks, stunned into the silence at the natural beauty that lay before me. Having those few minutes of peace to take in Kakadu in a deeper way than rushing from place to place gave me such a deeper appreciation of this formidable part of the world.
If you're into simple camping and want to see as much as possible within a short time, this tour is a great way to see Kakadu National Park, as well as Litchfield National Park and the Mary River Wetlands (into which I'll delve in a future post). If you're a photographer or plan on using a tripod at all, you won't have the time to get the shots you need.
Overall, I recommend this trip and I'd do it again — though I don't think I could travel like this for more than a few days at a time!
After three weeks in Australia, it's still Kakadu National Park that has humbled me more than anything else. This place is one of the most impressive places in the wild and remote country that is Australia.
Essential Info: The cost of the 3D 4WD Kakadu Unleashed tour starts at $705 USD and includes two nights' bush camping accommodation, along with three full days of activities, transportation, entry fees, and all meals.

If you want to visit Kakadu on your own, the entry fee is $25 AUD ($24 USD) for 14 days. There is no phone signal in the park apart from the town of Jabiru. If you're media or a blogger, you'll need to secure a photo permit through the park itself.

Be sure to get travel insurance before a trip to Australia. It will protect you financially in case something goes wrong, whether that's missing luggage or getting hurt. If my ankle had been hurt worse, it would have helped cover a visit to the doctor. I use and recommend World Nomads.
Many thanks to Northern Territory Tourism for their generous support of the SOTM Tour, and to Flight Centre for providing us with a complimentary 3D 4WD Kakadu Unleashed tour by Adventure Tours Australia.
Get email updates from Kate
Never miss a post. Unsubscribe anytime!