Adventurous Kate contains affiliate links. If you make a purchase through these links, I will earn a commission at no extra cost to you. Thanks!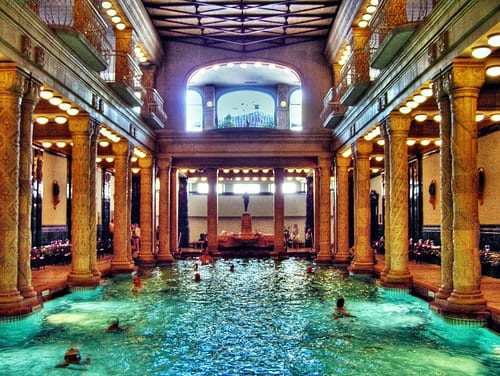 Image: chop1n
One of the nice surprises about Budapest is that you'll find thermal baths all over the city!  The baths are built around natural hot springs, and because there are so many establishments throughout the city, most of them are a bargain to visit.
My friends and I knew that we had to go.  We chose the Gellert Baths, part of Budapest's luxurious Gellert Hotel.
If you really want to assimilate into a city, there are few better ways than public bathing!  In many cultures, bathing together is a fun and social activity, free from the shame you'd feel in America.
Soon I was in the hottest of the series of saunas, chatting with an American woman who fell in love with an Austrian man and moved on a whim to be with him.  They had since married and settled in Vienna, and they were in Budapest for a romantic weekend away.
The hottest sauna was the end of a four-room maze, and it must have been at least 120 degrees.  Sitting on the wooden chairs was a whole new level of pain!  There's no way this would be legal in the United States.
Image: SpirosK
The Gellert baths also feature thermal baths of varying sizes and temperatures, private spa facilities, a full salon, and a large pool in a gorgeous, opulent room.  All but the pool and salon are segregated by sex.
But most memorable part of Gellert, for me, was the massage.
15-minute massages cost under 10 Euro.  Today, the price hasn't increased much!
If you get a massage at the Gellert Baths in Budapest, know this:
1. You have to go topless.  They prefer full nudity, but toplessness is the bare minimum.  And there is no sheet — it's you, naked on a table, in front of everybody.

2. There may be a language barrier. Whenever Helga wanted me to scoot down, she would tap my arm and say, "Downstairs, downstairs."

3. No body part is off-limits. Have I mentioned that the massage is done in front of the entire room?
After my massage, I rejoined my friends, who were relaxing in a warm bath the size of a swimming pool.
"Wow, she really doesn't shy away from your chest, huh?"  I joked.
They stared blankly.  "Huh?"
Oh, Helga!  You're saucy.
Between the massage and my entrance fee, I spent less than 20 Euro that day.  Thanks to the great price, the relaxation, and the cultural experience, this is the one activity that I will always enjoy in Budapest!
Get email updates from Kate
Never miss a post. Unsubscribe anytime!