Adventurous Kate contains affiliate links. If you make a purchase through these links, I will earn a commission at no extra cost to you. Thanks!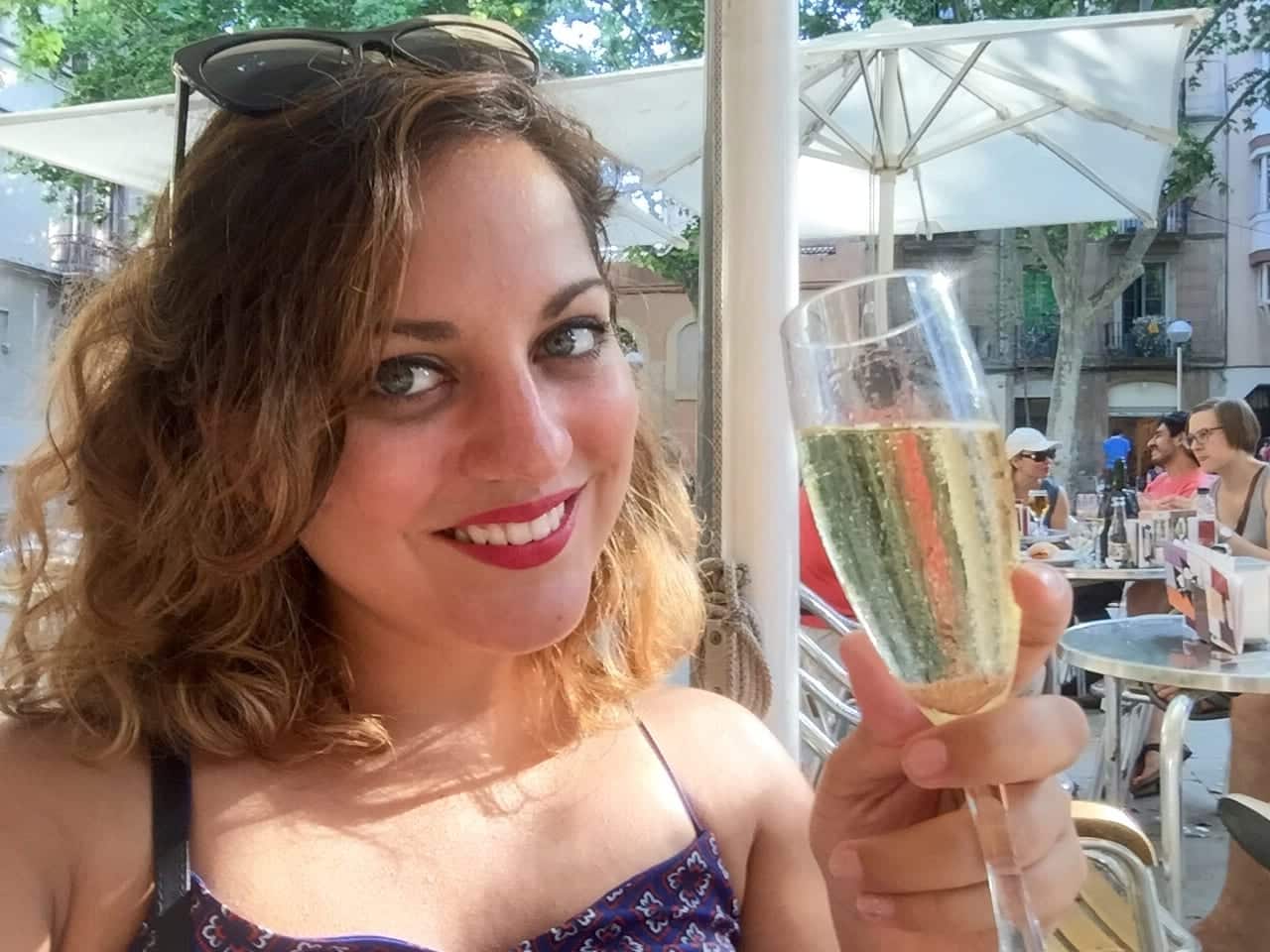 The older I get, the more I realize that nobody has a clue what they're doing. We're all just winging it, hoping for the best.
And that goes for me with my solo travels. After nearly five years of constant travel, most of it solo, I'd like to think I've gotten a bit better at it. But while I have no problem going to the movies alone, or visiting a museum alone, I still feel a little bit of anxiety and nervousness when I go out to eat alone, or when I go somewhere when I'm surrounded by couples and groups.
It's not that bad — no panic attacks or anything — I just feel a bit uncomfortable and like I don't belong. I worry about how I look, how I act, and what other people are thinking about me. I micromanage every move I make, and I don't like feeling this way.
Then I stumbled upon a stunningly simple answer to this problem: drink champagne.
It doesn't have to be strictly champagne. Prosecco will do, as will any other sparkling wine. It's about the image it conveys more than anything else.
Champagne immediately turns you into the most mysterious person in the room. Who is the kind of woman who goes and orders a glass of champagne for herself, on her own, assuming it's not a wedding or New Year's? A confident woman. A chic woman. A woman who enjoys the finer things in life. A woman who deems any day a reason to celebrate.
And champagne helps me believe that I am this woman.
I first noticed it in Barcelona a few weeks ago. It was late in the afternoon in Gracia. Sunlight was falling across the plaza, couples and families strolled down the streets together, children kicked footballs around, and I was exhausted from a day of walking all over the city.
So I sat down at an outdoor cafe and ordered a glass of cava.
And something magical happened.
I expected to do my usual thing: turn on my Kindle and read, or maybe ask for the wifi password and catch up on Snapchat. But instead, I didn't want to do either of these things: I was here in the moment to enjoy.
I sat up a bit straighter. I may not speak this language, but I belong here in this city.
And so I did it again.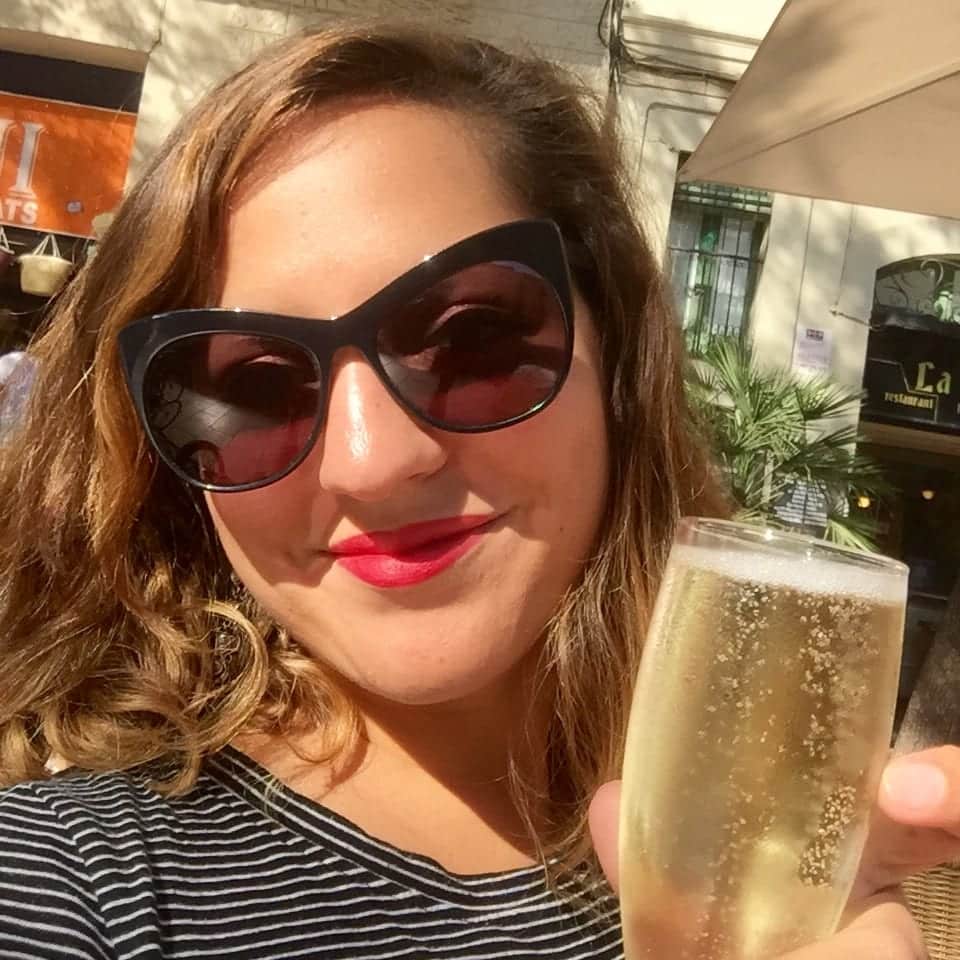 It was all cava, all the time, for the rest of my time in Barcelona. I paired this one with a tortilla española — the perfect late afternoon snack.
I think the cat's eye sunglasses (Elizabeth and James in Lafaytette) and red lips (Kat von D in Bachelorette) added to the glamour factor!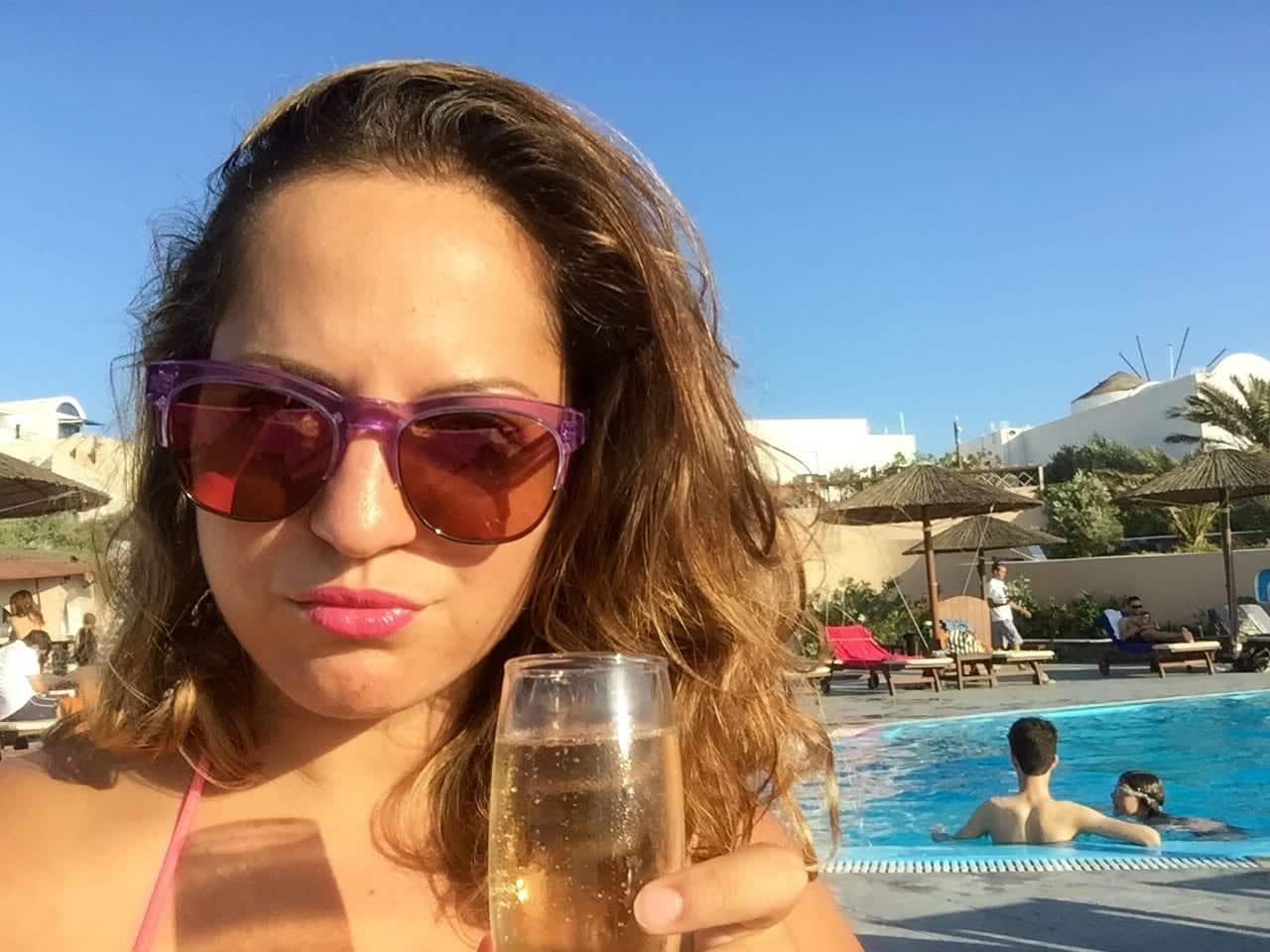 In Santorini, not only was I surrounded by loved-up couples, but all the couples started to befriend each other. It made me feel a bit left out as they traded their life stories. No worries — I had champagne to drink, and it gave me a smile along with an extra boost of confidence.
(Until the children arrived and started cannonballing right behind me. Seriously, you'd think having the word "bar" in your establishment's name would keep the families away…)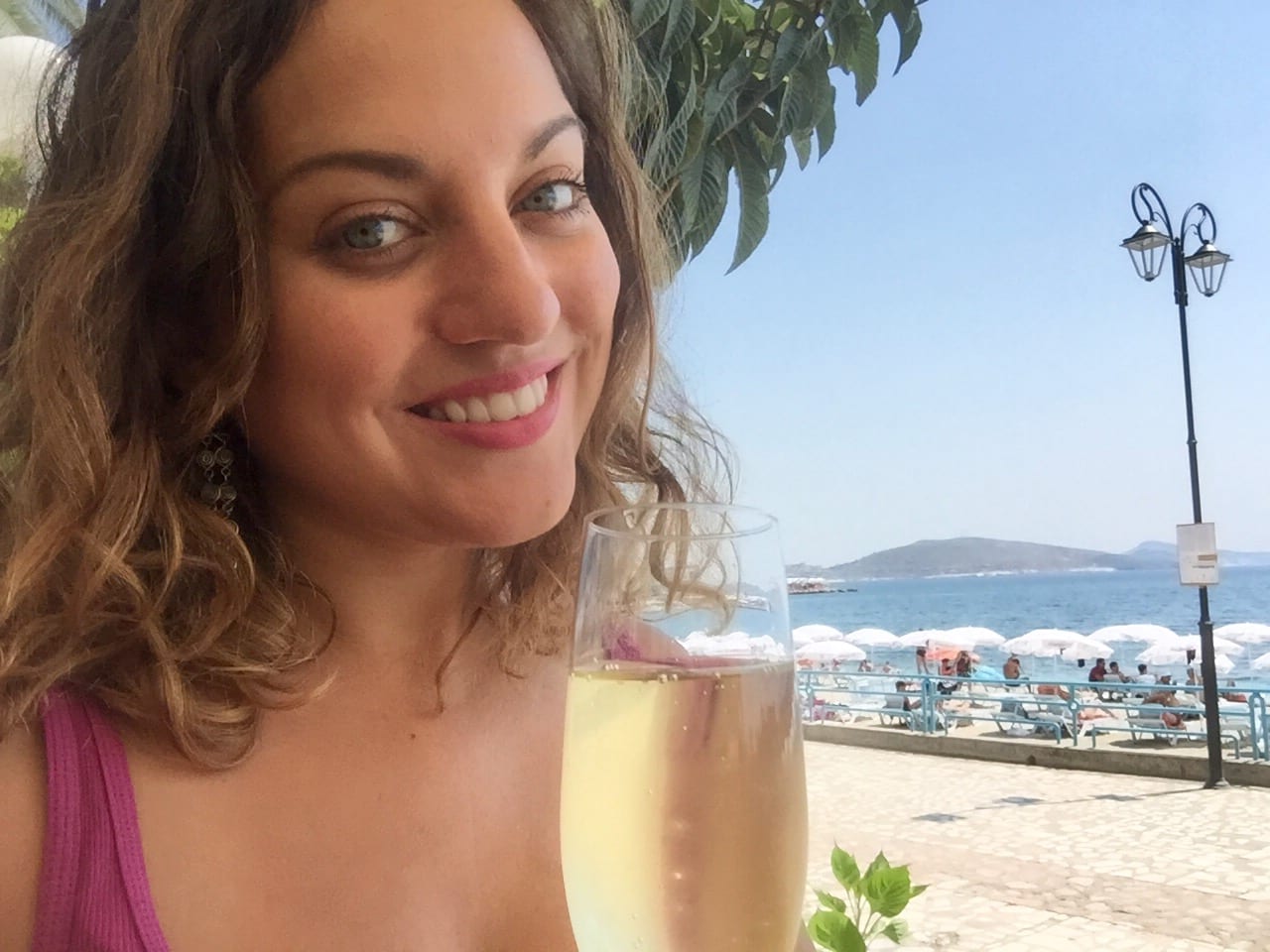 In Saranda, Albania, I had my first meal by the water and accidentally ordered too much food: the country salad (Albania's answer to the Greek salad) was enormous; the shellfish platter featured enough plump mussels, octopus, squid, and shrimp to feed a small army.
Normally that would make me feel a bit embarrassed or sheepish, but having the glass of champagne sent a message: "Don't mind me. I know exactly what I'm doing."
And by the time I got to Tirana, Albania's capital, I knew exactly what to order as I took in the sunset from the top of the Sky Tower. And at just $3 for a glass, you can't argue with that price!
Yep — I'm a champagne drinker now. And this random little solo travel tip has given me more confidence than I could imagine.
Are you a champagne drinker? How do you feel more confident when you're alone?
Get email updates from Kate
Never miss a post. Unsubscribe anytime!