Adventurous Kate contains affiliate links. If you make a purchase through these links, I will earn a commission at no extra cost to you. Thanks!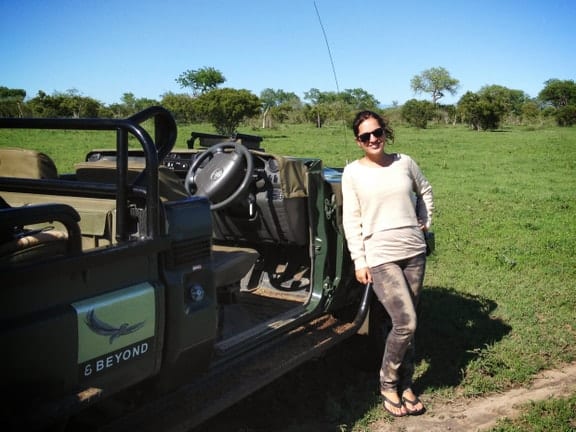 My African safari in Kruger National Park was one of my absolute favorite travel experiences of recent memory.  A safari, in and of itself, is amazing.  But this one went so far beyond my expectations, it left me reeling.
What made it beyond amazing?  Staying at the Ngala Tented Camp of &Beyond Safaris, in the heart of Ngala Private Game Reserve.
To start our adventure, we jumped on a charter flight at Johannesburg, making the two-hour flight directly to Ngala.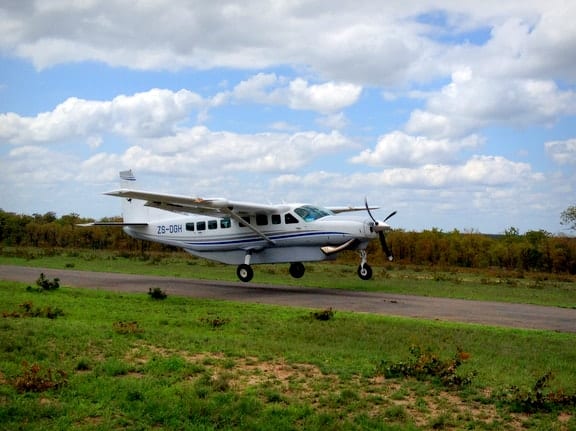 The views over South Africa weren't bad, either.

Soon, we touched down at Ngala — and were welcomed to Ngala Tented Camp, our incredible oasis in the middle of the bush.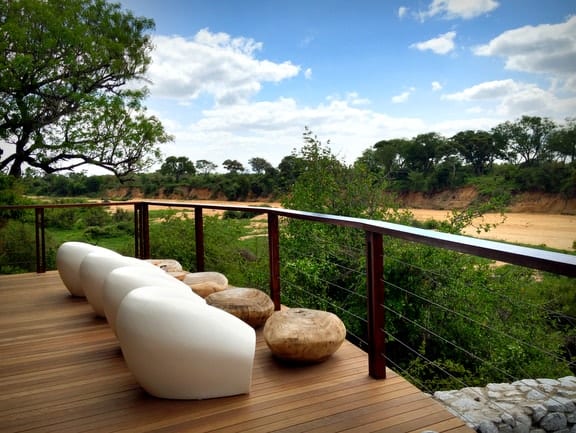 Luxury in Africa
Before arriving, I knew that we would be camping in luxury tents.  As I've mentioned here a few times, I'm a lifelong camper from a camping family.  I first went camping at twelve days old.  I took my first steps in a tent.
So continuing to camp around the world has been special to me, especially when I get to do it in unusual tents in unusual places like Wadi Rum.
But nothing — absolutely NOTHING — could possibly top the Ngala Tented Camp.
Meet my tent: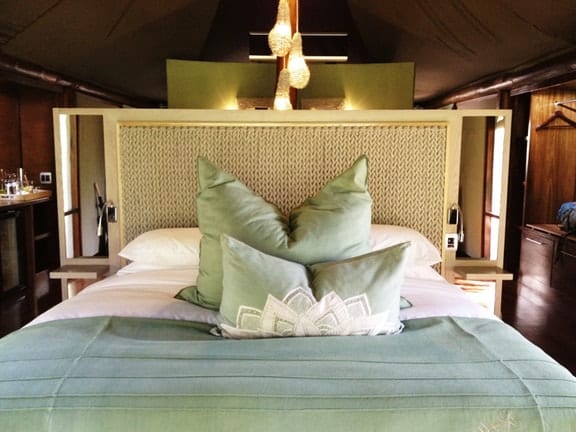 Why, yes.  That's my enormous bed, my many pillows, and just one part of this incredible tent.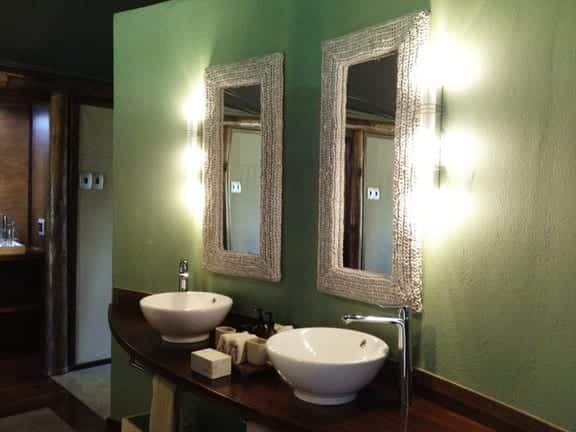 Your typical tent bathroom?  Not at all.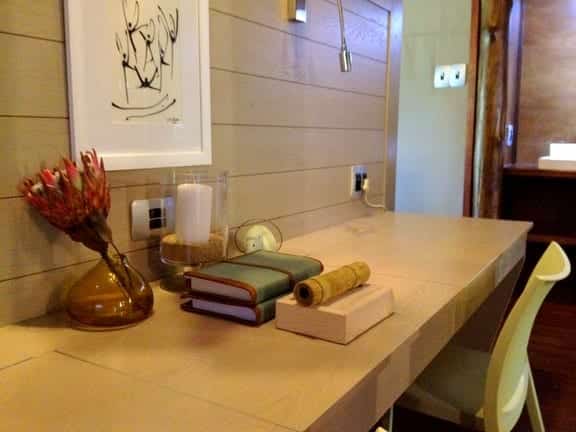 A beautiful writing desk sits behind the bed, complete with leather-bound wildlife guides and a beautiful suede backgammon set.
Washing up?  Choose between a giant bathtub and an outdoor shower.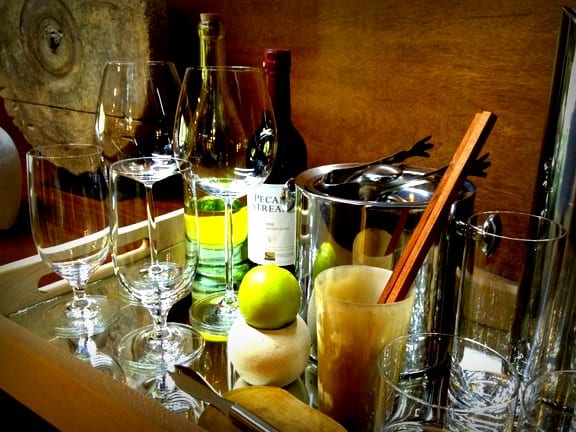 And because it's an all-inclusive, everything is free.  The multiple bottles of wine in your tent?  Drink them as you will.  That goes for the many bottles of spirits in the refrigerator as well.
(This is one thing I can't quite get used to.  I'm the kind of girl who will tear the room apart looking for her half-finished bottle of water rather than open a complimentary new one.)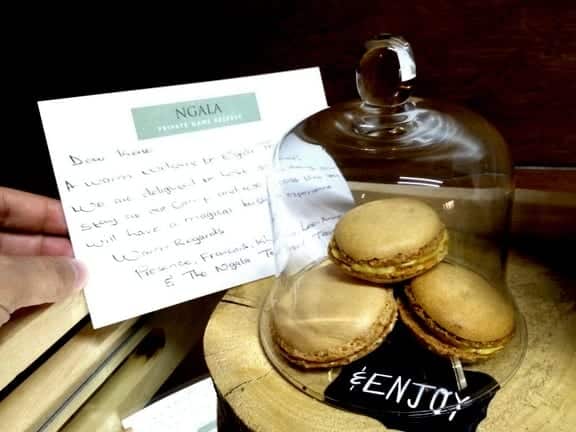 My favorite touch?  Macarons and a sweet welcome note!
Best of all?  THE TENTS HAVE FREE WIFI.  I was ready to move in full-time.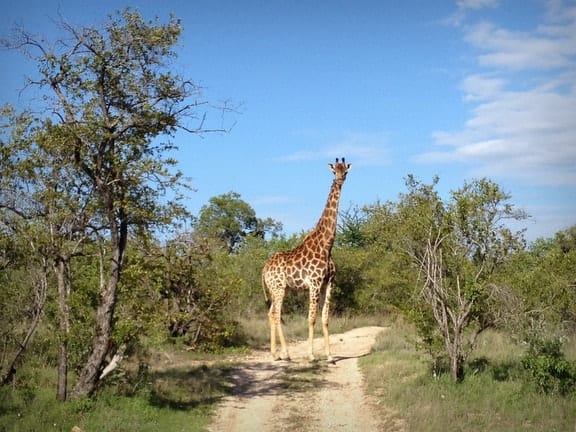 The Safari Experience
We would go on two game drives each day — one at dawn and one at dusk.  Our guides, Lee-Anne and JP, were outstanding, as were our trackers — we were able to see absolutely incredible animals, including an extremely rare cheetah with its fresh kill; a few leopards; some adorable baby elephants; many pregnant zebra, including one where I could see the baby kicking from the inside; and the ever-elusive honeybadger.
One thing people wonder is why the animals never attack people, even though the vehicles have no barriers.  Well, the animals see the vehicle as a giant creature, people and all.  If you get OUT of the car, it's a different story.  The animals will have no qualms about eating you then.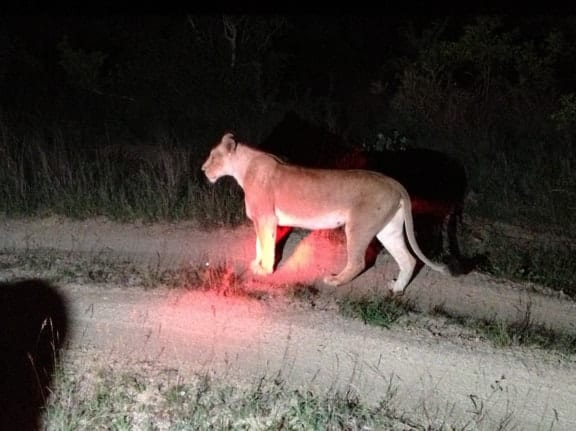 One night, we followed a lioness for a good 30 minutes.  She was moaning along the way, possibly calling out for her cubs.  Incredible.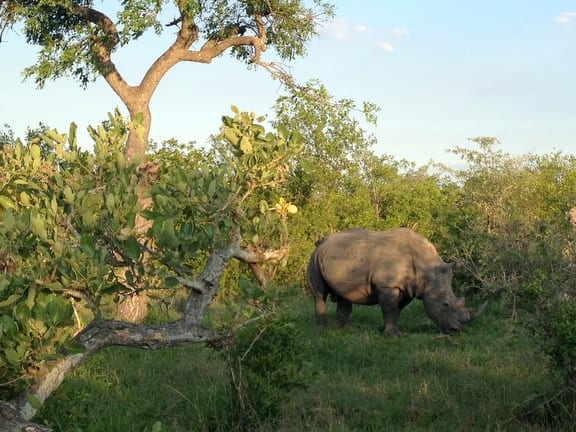 I loved seeing the families of animals and how they interacted with each other.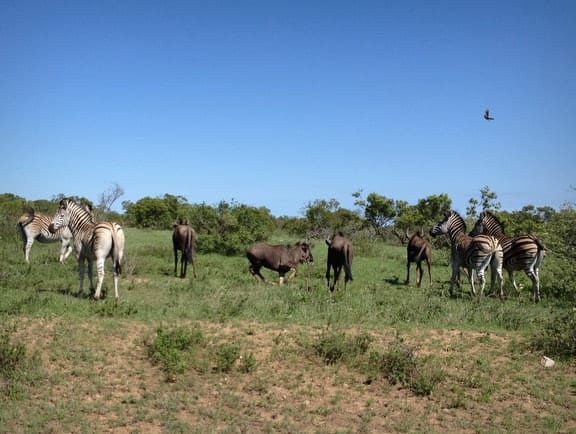 Seeing animals on safari in Africa is an incredibly moving experience, so much that I can't adequately describe it here.  It feels intimate to see these legendary animals in their habitat, living their lives with each other, and this alone is the reason why a safari is an absolute must for an avid traveler.
At the end of each morning drive, we would drive to an area and relax with the safari special: coffee, hot chocolate, and Amarula liqueur!  We finished our evening drives with a round of drinks and appetizers.
A Halloween Surprise
When I saw that I would be in South Africa on Halloween, I was a little bit disappointed that I wouldn't get to celebrate my favorite holiday this year.  Halloween isn't big in South Africa.
Oh, but I needn't have worried — we DID celebrate!  Cailin planned ahead for us and brought some impromptu costumes!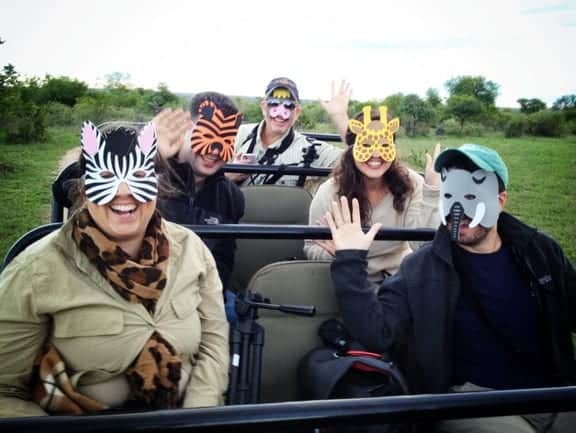 But at the end of our evening game drive on Halloween night, we were brought to the ultimate surprise: a Halloween Braai!  
The staff at the Ngala Tented Camp had set up a Halloween-themed braii (a South African barbecue) in the brush, complete with decorations, candy, booze, and tons of barbecued baby chicken, boerewors, and kudu.
I mean, they actually CARVED JACK-O-LANTERNS and MADE GHOSTS OUT OF SHEETS — in a country where Halloween is barely celebrated.  It was an incredibly wonderful thing for the team at Ngala to do for us, and I will always look back on this as one of my favorite Halloween celebrations ever.
The whole evening was surreal, amazing, incredibly fun.  And a lone hyena kept trying to crash our party!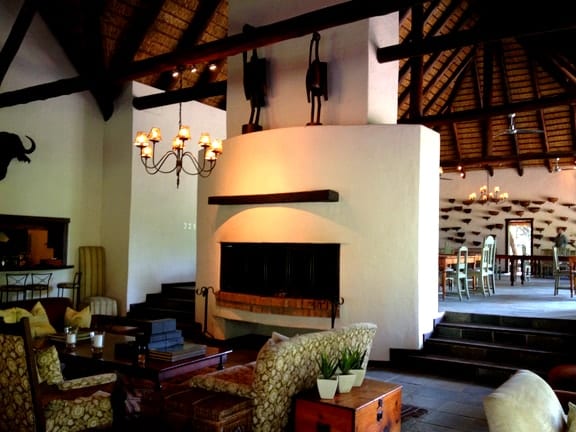 Into the Safari Lodge
After two nights at the Tented Camp, we moved to the nearby Safari Lodge — while not quite as stunning as the Ngala Tented Camp, it was the perfect place to spend our final luxurious night on safari.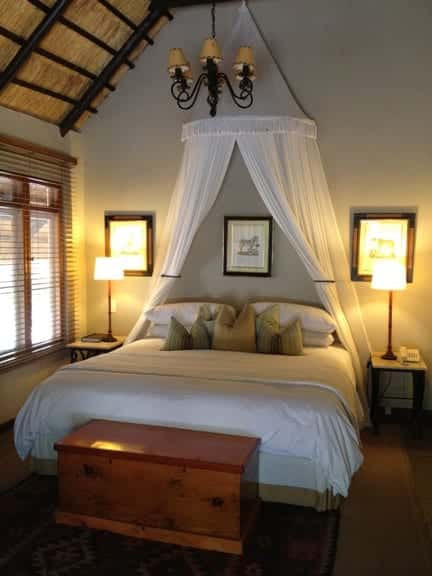 From here we went on our final game drives.  The piece de resistance?  A leopard in a tree feasting on its fresh kill, as its mother dozed in the shade.  Leopards are unbelievably, unbelievably beautiful.
Going on safari?  Go luxury.
A safari is a once-in-a-lifetime experience — or maybe more than once, if you're lucky.  My advice?  Do it right, and do it up.  It's so easy to throw your money away on a sub-par safari.  Spend money on the all-around experience.
Do your research — MUCH more research than you would do for an ordinary trip.  Research the lodges and tour companies — but also the game drives and vehicles, the group sizes, the regions, the wildlife they have on hand, and the time of year as well.  (Believe me, you don't want to end up like the lady who thought she had booked her dream tiger safari — and didn't know until her first game drive that there are no tigers in Africa.)
Ngala is a place that I can recommend wholeheartedly.  You will have such a great time here.
Essential Info: Fully inclusive rates per person per night start at 3,995-7,495 rand (app. $451-847) for the Ngala Safari Lodge and 4,595-7,495 rand (app. $519-847) for the Ngala Tented Camp.  Food, beverages, entertainment, and two daily game drives are included.
Many thanks to &Beyond and Visit South Africa for hosting me on this unforgettable adventure.  All opinions, as always, are my own.
Get email updates from Kate
Never miss a post. Unsubscribe anytime!