Adventurous Kate contains affiliate links. If you make a purchase through these links, I will earn a commission at no extra cost to you. Thanks!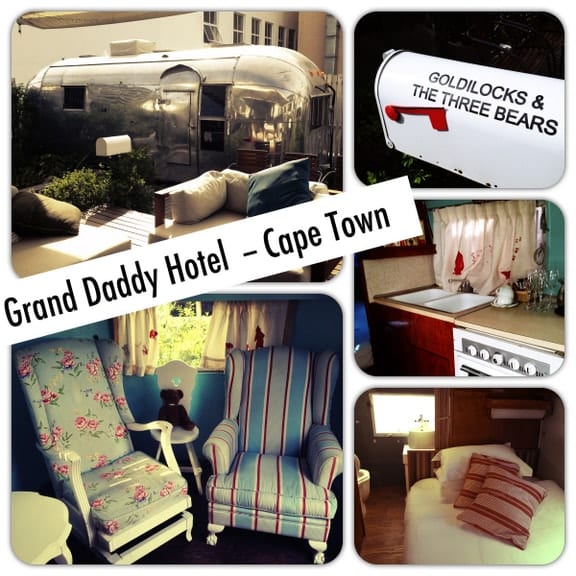 Is there such a thing as a sexy trailer park?  Oh yes, there is.  I can assure you that the Grand Daddy Hotel Airstream Rooftop Trailer Park has the market cornered.
We stayed here for our first night in Cape Town — and it's probably the most unusual place I've ever laid my head for a night.
Yes, in the middle of downtown Cape Town, this hotel is covered with authentic American airstreams.  You have never seen a trailer park quite like this!
Best of all — each of the Airstreams has a theme designed by a local artist.
Cailin had my favorite trailer, For the Love of Lace — all decked out in hot pink lingerie and chandeliers!  It was the kind of place where Austin Powers would stay.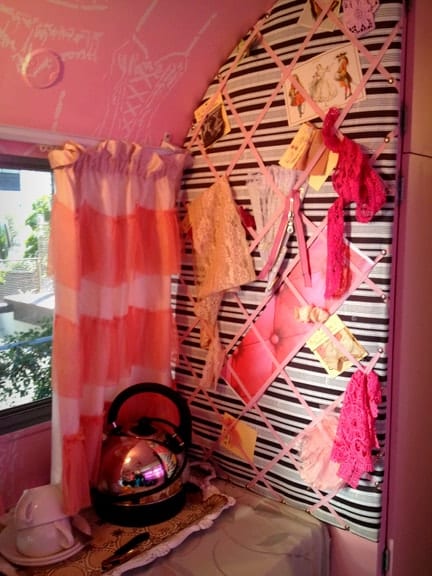 JD was in Dorothy — all blue and white polka dots with a pair of ruby slippers hiding beneath the sink!
Mike was in The Ballad of John and Yoko, complete with musical instruments and a "Peace Wall" for leaving messages.  David stayed in Afro-Funk, with wild African patterns and Nelson Mandela pillows.
Now…which one did I get to stay in?
Goldilocks and the Three Bears!
I absolutely LOVED my trailer!  They really went to town on the theme!
Pale red, white, and robin's egg blue were the colors, and the Airstream had a mismatch of fabrics that complemented each other so well.  Little stuffed bears and storybooks filled the trailer.
The kitchen area featured a working sink and a not-really-working oven.
My comfy bed wasn't too hard or too soft — it was just right!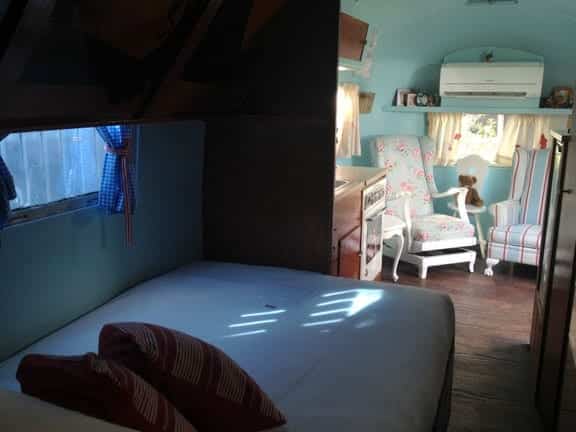 Most importantly, all of the Airstreams came equipped with their own flatscreen TVs and CNN — critically important, as we stayed there on Election Night.  The next morning, all of us — including Cailin, our resident Canadian — woke up early to watch Obama being projected the winner!
It was a great day.
My only regret was that I forgot to get a picture from inside the bathroom — there were framed pictures of cartoon stuffed animals doing….um….inappropriate things with gorgeous supermodels.
Sadly, we only had one day at this funky abode.  But at least we got to enjoy that trailer park during the evening, as a beautiful sunset illuminated the city.  There's a rooftop bar up there, and it's definitely one of the coolest spots in Cape Town.  Whether or not you actually stay at the Grand Daddy, you should come up to experience the atmosphere.
And a few days later, after my blog friends had left, the Grand Daddy invited me back and I got to see that their hotel rooms were just as cool as the trailer park upstairs:
I love the monochromatic look — it all pulls together so well.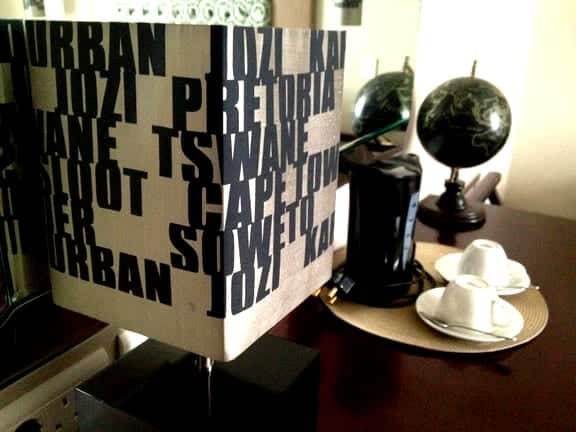 And I especially love these lampshades.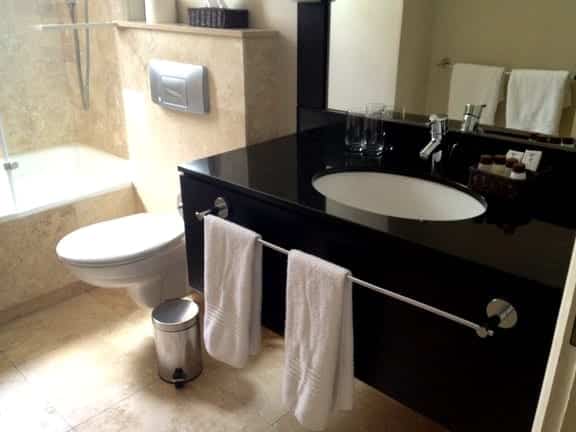 Essential Info: The Grand Daddy's Airstream rates are 1880 ($221) rand in low season, 2350 rand ($277) in high season.  Room rates range from 1800-2900 rand ($212-341).  You can also experience the Airstream Trailer Park for free by heading up to the rooftop bar!
Many thanks to the Grand Daddy Hotel and Visit South Africa for hosting my stay in Cape Town.  All opinions, as always, are my own.
Get email updates from Kate
Never miss a post. Unsubscribe anytime!