Adventurous Kate contains affiliate links. If you make a purchase through these links, I will earn a commission at no extra cost to you. Thanks!
I'm happy to announce a new feature on Adventurous Kate — the Viewpoints column! This interview series will focus on independent female travelers around the world with interesting stories to tell.
As much as I want to represent all independent female travelers, as a white, straight, able-bodied, educated, middle-class American, I carry an enormous amount of privilege that affects my travels and my life. It's a lot easier for me than it is for others, and I never forget that. For that reason, I've decided to explore privilege and travel in several upcoming posts.
First up is this interview with Maya Bhardwaj, whom I met in Ometepe, Nicaragua (and ran into subsequently in El Tunco, El Salvador, and San Pedro, Guatemala!). Maya is a community organizer in Detroit, a frequent expat, an avid hiker, and she has traveled extensively throughout the world.
As an Indian-American, she's dealt with issues relating to race that white travelers never think about, and she was eager to discuss her experiences with Adventurous Kate readers. I'm very impressed by Maya, and I'm sure you'll feel the same way after reading this interview.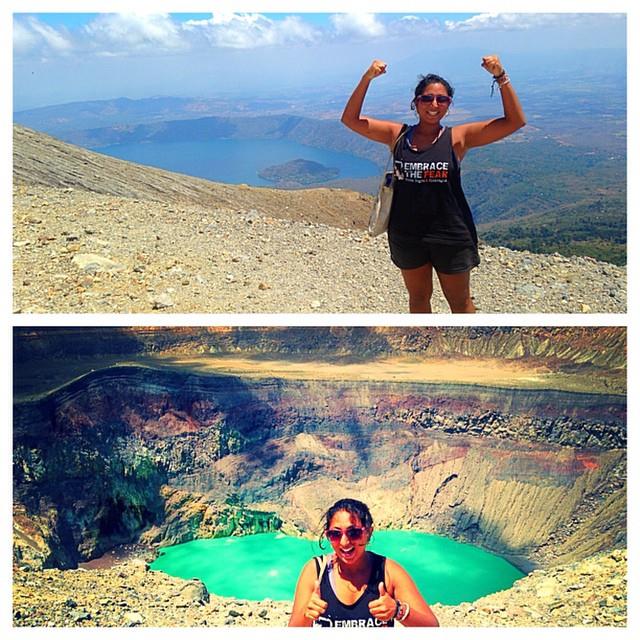 Maya hiking volcanoes in El Salvador.
AK: What brought you to Central America this winter?
MB: It's a delightfully garbled story. I had always had this idea in my head of backpacking alone through Central America (ideally with a motorcycle, a la Che, but I'm a pretty bad driver so that part was abandoned).
I speak Spanish, have previously lived in Argentina, and I wanted to continue to brush up my skills. And after I finished a job in late November working on the 2014 electoral cycle in the US, I had plans to travel to Jamaica with a friend. We spent a month there, and then he ended up taking a job in Costa Rica – and given that I had no other obligations, I tagged along!
After about a week in Costa Rica and a week spent interviewing in Rwanda for an organization there, my wanderlust kicked in full throttle and I decided I wanted to keep traveling. So I postponed the job hunt and went for it!
I pushed my flight back from February to March – and then to mid-April – and made my way from Costa Rica to Nicaragua, Honduras, El Salvador, Guatemala, and Belize.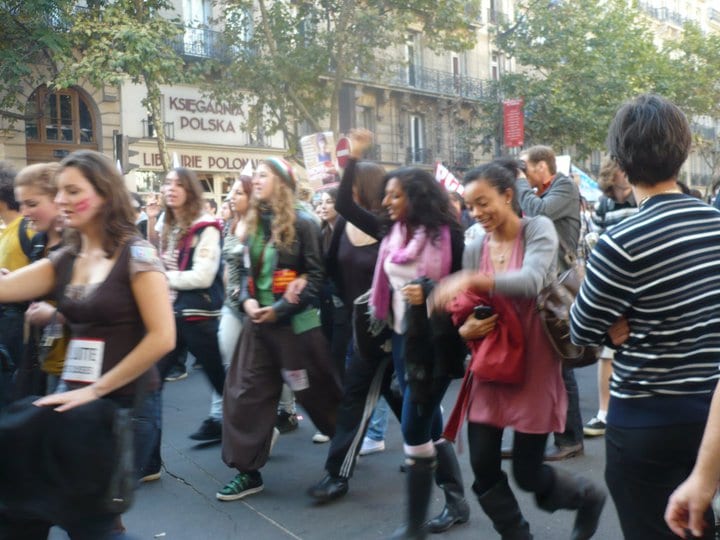 Maya marching to protect social security benefits in France.
How has your work as a community organizer affected your travels?
Organizing at its heart is about fighting for justice by attacking the systemic inequality that shapes our American system – inequality often along racial and class lines. So I have a very strong lens of race and class on everything that I observe.
Coming from metro Detroit and being a woman of color myself, I've grown up in and organized in primarily in low-income and immigrant communities – which, in the US, often tend to intersect with communities of color.
Central America has hosted some of the brightest – and most tumultuous, no thanks to the US – people's movements in the world, so that was a big draw to me. I was continually inspired by the indigena women who played such a large part in each nation's struggle for freedom, and learned so much from the organizers I met in each country, from students resisting corporatist greed to tour guides trying to form a union to farm workers still organizing for just wages and fair trade.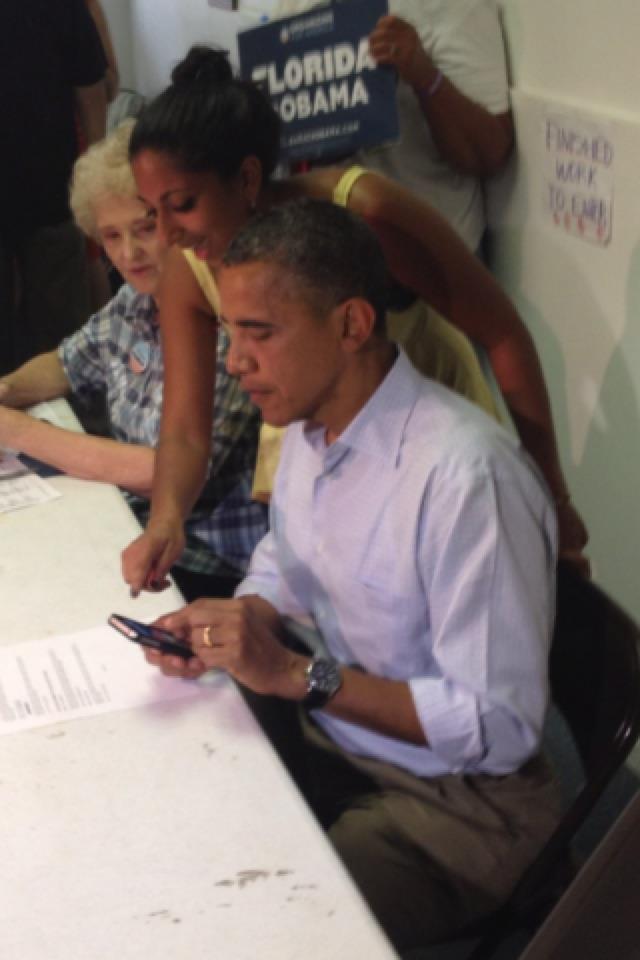 All that and Maya taught President Obama how to use an iPhone!
But organizing also means that I'm always aware of imbalances, classism, racism, colorism, and more. It's impossible for me to "turn off" and float through my day – and it also means that I've maybe been more on edge in expat or traveler communities who think they know all the answers to solve problems in foreign countries.
Bottom line: we don't. There's so much left to learn.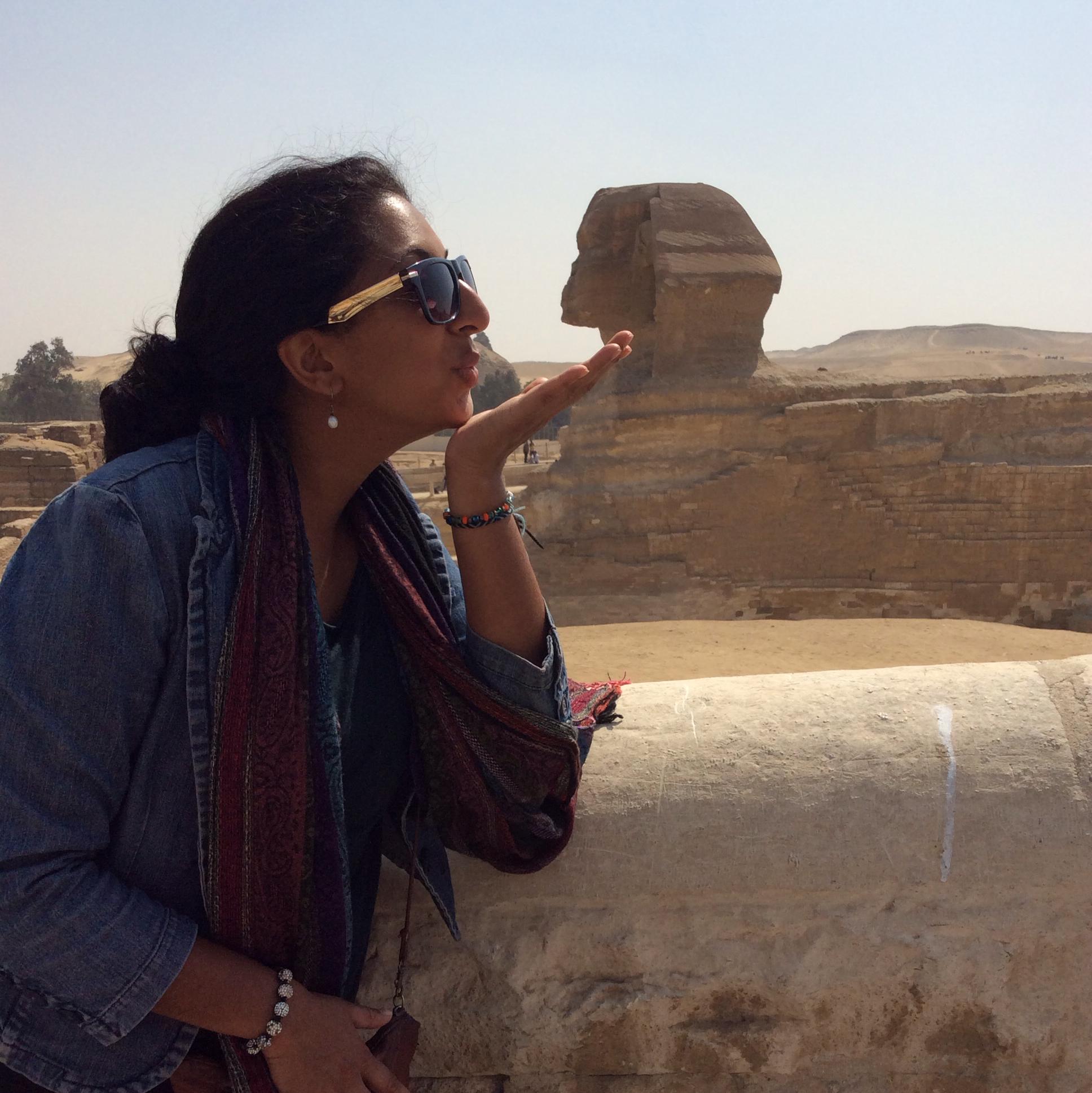 Maya smooching the Sphinx in Egypt.
What issues have you faced as a solo traveling woman of color?
I think the biggest thing is the question of difference. Honestly, backpacking is a very privileged space – and often a very white space. Most backpackers come from countries where we have the opportunities to take time off or quit our jobs, and still be able to survive. There are certainly people who break this mold, but it is the norm.
Often we in the backpacking community do not recognize, or question, the presence of skin privilege in the traveling community, and in the countries that we visit.
Traveling in countries where I look more like the locals than the travelers brings up lots of questions – for me, and for the people in the countries where I am! Although I am American, I think I perhaps feel more uneasy in spaces like hostels where all the clientele – and often all of the staff, frequently excluding only the cleaning/kitchen staff – are white. I've found this to be especially true in countries where I speak the language.
It's a very different experience when you look more like, or even identify more with, the locals than your fellow travelers. I've been treated differently, and I've certainly felt out of the norm.
In some countries, it's meant a lot of questioning of my nationality, and my "belonging" to wherever I might be. I traveled to Egypt to visit a Chinese-American friend and we were frequently told that we couldn't be American, for example – humorously, and then not so humorously.
I think it means I've also been more sensitive to racial divisions between the backpacker community and locals, or even divisions within people of the country. When I lived in France, I found the racial disparities between the often Arab and/or African immigrants and the white French to strike me in a way that it didn't seem to strike my white peers – and I found the way I was even treated varied greatly by whether I was assumed to be North African myself or foreign.
Whether these are issues, I'm not sure – but they certainly are vast differences, and have strongly colored my travel experiences.
Maya jumping for joy at Tikal, Guatemala.
Indian families are famously conservative. What do your parents think of your travels?
You're absolutely right that Indian families are famously conservative. Luckily for me, mine isn't one of those! My parents are avid wanderers themselves, and some of my earliest memories are traveling with them.
They've always supported my desires to work, live, and visit other countries because they have the same desires themselves. And they're always cooking up travel plans like me, though they aren't really the backpacking type anymore. I even think they're a little jealous!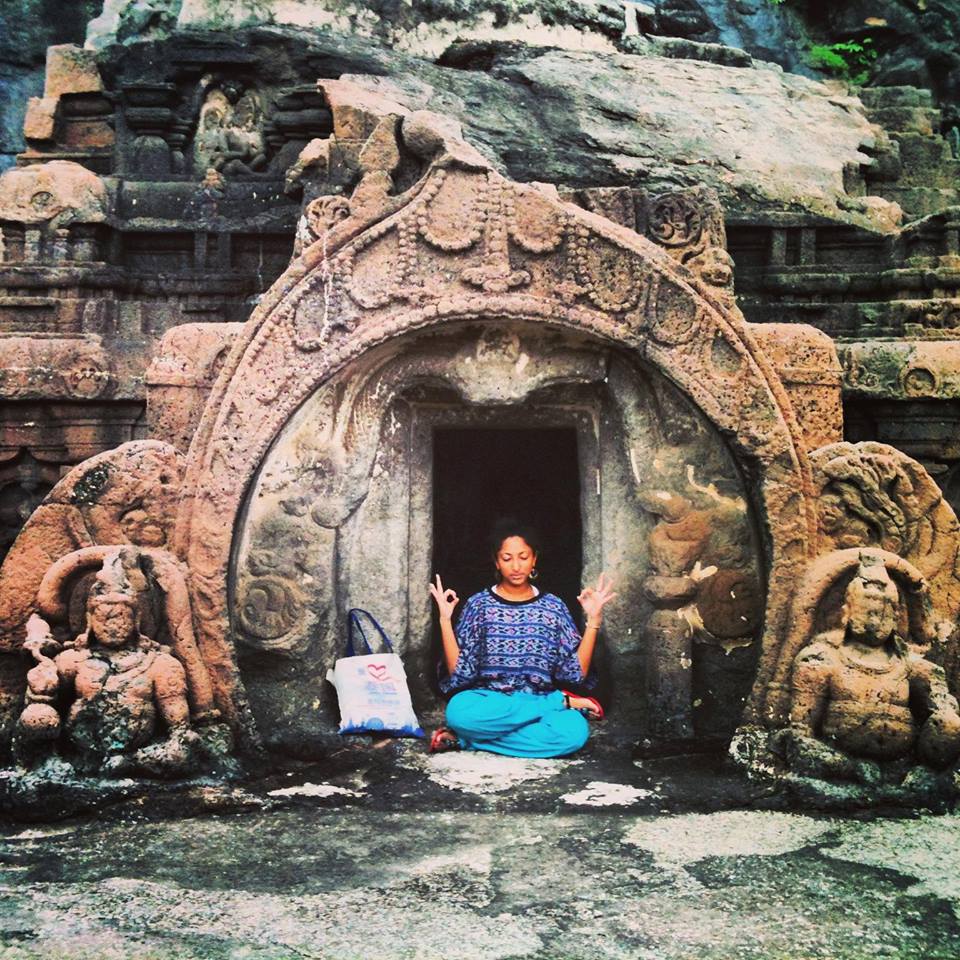 Maya taking a moment in Ellora, India.
What's it like to visit India as an Indian-American?
Well, I first went to India when I was three months old, so visiting has always felt like going back to another home. However, when I used to visit with family, I would essentially just spend the time visiting various family members and sitting in their houses. There wasn't much exploring involved.
The biggest change for me was living in India as an Indian-American. People knew instantly that I was foreign, even before I spoke.
It's funny because in America I'm always hyphenated, like I'm always American AND a person of color, AND a child of immigrants, BUT Indian – I've never been just "American." But as my friend group, language skills, and work and personal lives developed in India, I really had to come to terms with how American I am.
I came to India thinking I would dive deeper into my Indian identity – and I found myself feeling more American than I had in any other country, and exploring that part of my identity as well.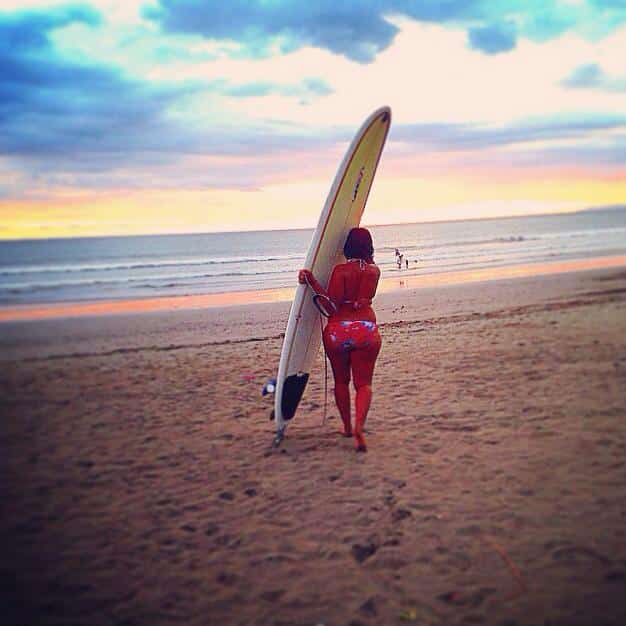 Maya hits the surf at sunset.
Cultural appropriation is particularly prevalent with Indian culture. In San Marcos, Guatemala, you saw some extreme cultural appropriation. What was that like?
You're right. To clarify, in the instance you're speaking about, I happened upon a gathering of people, mostly hippie/new-age identifying folks, who were singing and dancing to what I think they believed were Hindu religious songs (called bhajans). I am culturally Hindu, and the words they were singing were total nonsense – they didn't make any sense.
And many were wearing bindis, which are a very culturally and religiously steeped item of clothing (the powder or sticky adornment that Indian women – excluding widows – wear between their eyebrows to signify that they have a male protector), and lots of other Indian clothing. And there was not an Indian person in sight.
It was a very cognitively dissonant experience, being the one Indian person in a room of people who thought they were being spiritual and sensitive and whatnot, but were in fact doing something incredibly disrespectful and frankly, painful for me to watch.
I don't want to understate the trauma of cultural appropriation. It is hugely impactful. It happens often in Indian culture – from all-white yoga studios to "chai tea lattes" (which basically means "tea tea milk") to the recent inclusion of bindis into Coachella wear – but we're certainly not the only ones subjected.
Basically, what it signifies is that our cultures are not acceptable, are not cool enough, when practiced by us – that they're only worthy of recognition when adopted by white people (or whoever represents the mainstream culture). It's a continuation of the looting and pillaging of our people from colonial days onwards. And it's even more traumatic when done by people who are constantly emphasizing how in-tune they are with their surroundings, and how enlightened they are – when they're replicating the same oppressions that they are trying to run from.
When I'm incorporating elements from other cultures into my attire, or everyday life, I pay close attention to where these elements are coming from. I bought a pair of boots with huipil fabric on them. But I took time to talk to the shopkeeper about what it meant to her for me, a non-Indigena non-Guatemalan person, to wear them.
It's really not that hard to show respect for the cultures whose customs you are practicing, and to ensure that your spaces are actually including people from those cultures.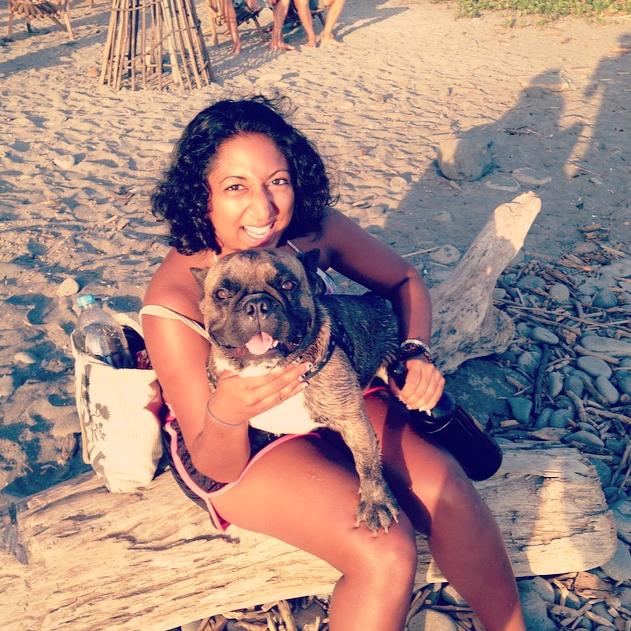 Maya made a puppy friend in El Tunco.
What types of destinations inspire you as a traveler?
While I really love places that are naturally beautiful or inspiring because of their ruins or scenery or wildlife, I'm a people person at heart. The places I love most are places where I can get lost and imagine I live there as well.
I am inspired when I can see how the locals live, and learn from them in a way that seems natural, not forced or catered around tourism.
I've found this in tiny towns in the countryside in Argentina, in tiny beach towns in Jamaica and Belize, in the revolutionary cafes of Leon, Nicaragua, and Cairo, Egypt, and in the megacities of Bombay and Barcelona.
It doesn't really matter what the place looks like, or how big it is. For me, if I can slip into the rhythms of life there, I'm inspired.
Maya and me with our friends Morgan and Jay in Ometepe, watching the sunset at Hacienda Merida.
Which destinations rank among your favorites?
It is so hard to choose! Kate, we met in Ometepe, and like you, that was one of my favorite places on my whole Central America trip – in large part for the reasons I stated above! I really felt like I could have lived there.
I adore Bombay – it is a second home, and underrated on the "incredible India" tour that many foreigners take. Also in India, the ruins in Ajanta and Ellora are breathtaking.
I couldn't forget the parties of El Tunco, and the diving in Utila – while I'm not always a party girl, I loved both places dearly.
I had a whirlwind trip to Rwanda this winter, and while I didn't see as much as I wanted, I've never seen more fertile and verdant land.
I loved everywhere I went in Morocco when I visited in 2010.
As far as big cities go, I've loved Buenos Aires, Paris (another second home), Phnom Penh, and Prague. And on the other side of the world, I fell in love with Luang Prabang in Laos, and only dug myself out because I got a job offer in Bombay.
Okay, I'll make myself stop there!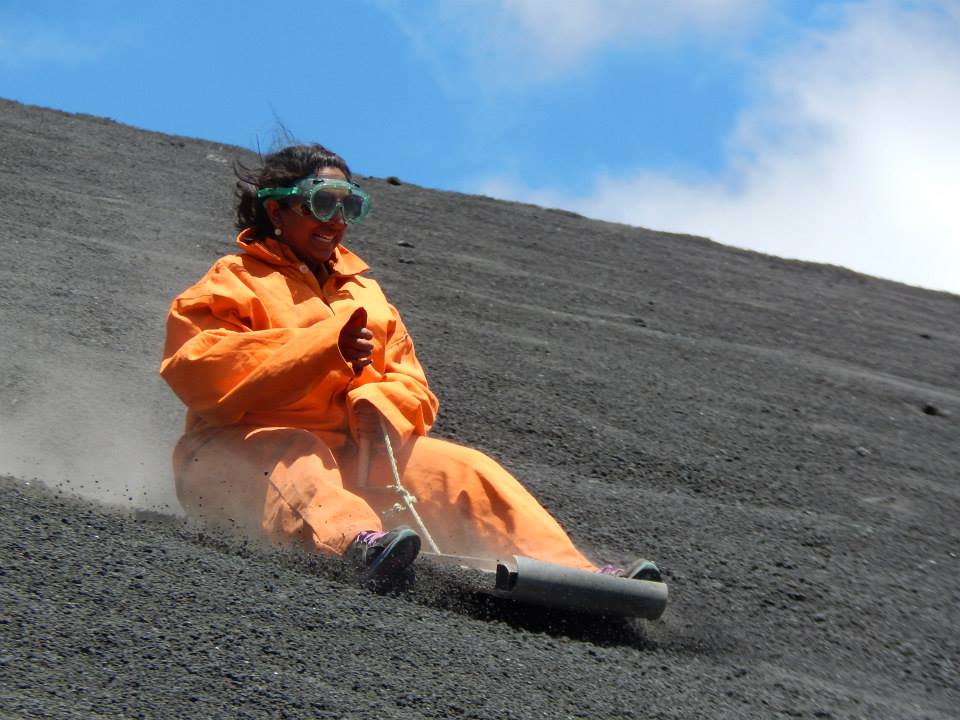 It might look dangerous, but Maya safely volcano boarded in Nicaragua!
What is your favorite safety tip to pass on to fellow female travelers?
This is a weird but a good one. So, in March, I got robbed in (a tiny, adorable, totally safe-feeling) mountain town in El Salvador by a guy with a machete. He took my phone, and my day bag with various other random stuff in it.
But, I never take my wallet out with me when I'm walking around. Instead, I keep my money (and an ID and/or debit card, if I need to withdraw money) in my birth control case. It's exactly the size of a credit card, and snaps shut, and is totally discreet.
When the guy took my bag, I grabbed my birth control out of it and told him that I would get really sick without my medicine. I guess he had a heart, because he let me keep it.
So my tip is, beyond leaving valuables at home, keep your money and cards in your birth control case if you have one!
Thank you, Maya!
Do you know an independent female traveler with a unique story to share? Email me with the subject "Viewpoints." 
Get email updates from Kate
Never miss a post. Unsubscribe anytime!