Adventurous Kate contains affiliate links. If you make a purchase through these links, I will earn a commission at no extra cost to you. Thanks!
I had been warned about the difficulties of crossing into Cambodia. Corruption is rampant, particularly at the Aranya Prathet-Poipet border, lying halfway between Bangkok and Siem Reap.  Many people there are routed to a fake embassy and charged extra before being taken to the actual border.
Thankfully, coming from Laos, we were at a different crossing.  Si Phan Don is very close to the Cambodian border, and the journey didn't take long.
It hadn't been an ideal day for me from the very beginning. Apparently my guesthouse booked my ticket to Phnom Penh via a strange bus.  It took a level of cajoling with the boatmen to get me from Don Det back to the mainland and as soon as I settled on the bus, I had been herded off and onto another, transferred via overbooked, overstuffed, van that had no place for my right butt cheek to go.
So I wasn't in the greatest of spirits to begin with.
A second backpacker-filled bus was ahead of us at the border.  In front of the Lao departure office were more than two dozen angry backpackers yelling and shaking fists in the faces of the immigration officials.
We're kept separate from them.  Turns out that there's some kind of issue with payment, and their bus is threatening to turn and go back to Laos if they don't cooperate.
For hours, we have no idea what is going on — and we pass the time by sitting in the sun in that tiny border town, eating tiny bunches of bananas, drinking the occasional Fanta.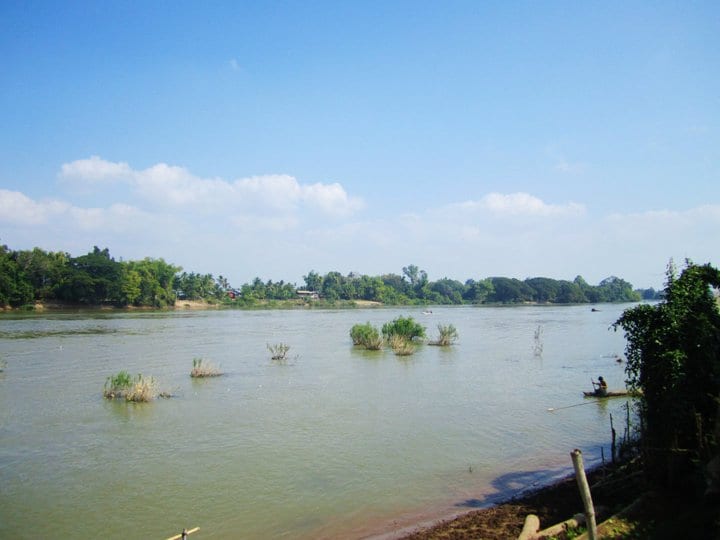 What should fewer than thirty minutes takes us closer to four hours. I breathe an enormous sigh of relief when my passport is returned to me emblazoned with a new Cambodian visa.  By then, the group of angry backpackers has made it through to the Cambodian side as well.
And I recognize one of them: a guy I had met in Pakse.  Incidentally, he was the only other American I had met in Laos.
"What's going on?" I ask him.
"They were charging us an extra two dollars more than Lonely Planet says we should have paid."
You have got to be KIDDING.
"Are you serious?!"
"Of course!"
"It's two dollars," I point out exasperatedly.
"It's corruption!" he roars.
And that's what pushes me over the edge.  I'm absolutely furious.
"Corruption is everywhere in Southeast Asia," I snap.  "You are not going to resolve it by refusing to pay an extra two dollars at the border."
"It's the principle!" he continues.
"Funny how all of a sudden corruption here wasn't a big deal to you until you were personally cheated by a small amount of money."
"That's not it."
"Did you even succeed?"
"No, but that's not the point."
"Oh my GOD."
My friends are waving me onto the bus.  The last thing I want is to end up stuck in this Cambodian border town.
"You realize that you delayed not only yourselves but all of us behind you," I told him.  "Thanks a lot.  I can't wait to look for a guesthouse at midnight tonight."
What infuriated me about this incident was the absolute arrogance of the backpackers holding up everyone at the border. Backpackers look bad enough already: many drinking to excess every night, many refusing to speak the local language, many eating nothing but pancakes and sub-par Western food.
And to be doing all of those things while flashing more money than the local people will see in their lifetimes…and topping it off by refusing to pay a measly extra $2?!
Don't get me wrong.  I know the $2 doesn't go toward helping the people who really need it.  Far from it.  But that's how this part of the world works.
Surely you can f*cking let it go, pay the two dollars, and let us cross the border already.
Get email updates from Kate
Never miss a post. Unsubscribe anytime!