Adventurous Kate contains affiliate links. If you make a purchase through these links, I will earn a commission at no extra cost to you. Thanks!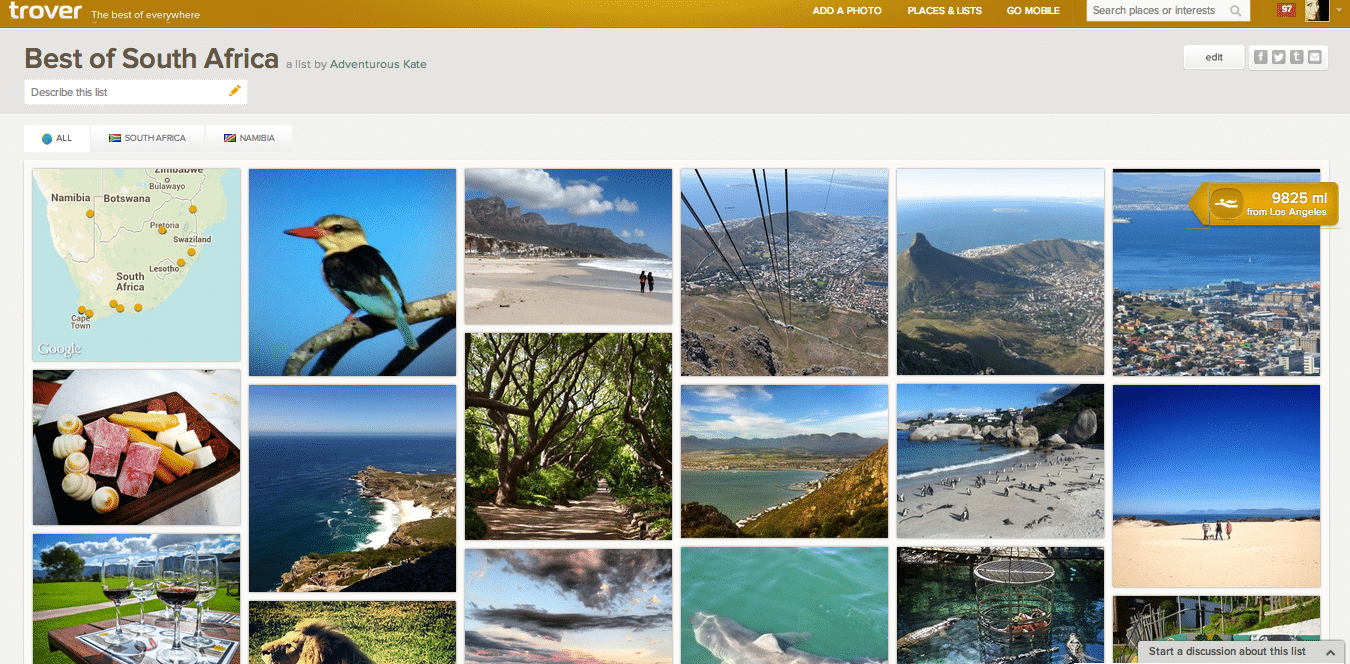 The following branded content post is brought to you by Trover. I fell in love with this app immediately and was delighted to take part in promoting such a great product. All opinions, as always, are my own.
For the longest time, I thought I just didn't get Pinterest.
I mean, I kind of got it — I liked saving it for food, fashion, design, and wedding stuff. But when using Pinterest for travel, it didn't seem to function beyond showcasing pretty pictures. But the pretty pictures had an ugly side — a large number of them were pinned from Google image search results or Tumblr, leading me to useless pages without any real information.
Outside of pinners within the travel industry, most of the travel pins led to dead ends. For that reason, Pinterest was prettiness without functionality — and for that reason, useless to me.
But then I discovered Trover, the app that filled in that cavernous gap with aplomb. Trover allowed me to find and share pretty pictures — in addition to functional tips, geographic details, and information that I could actually use and were attached to the photo itself.
In short, Trover combines the beauty of Pinterest with the functionality of Foursquare, all shared in a simple Instagram-like interface.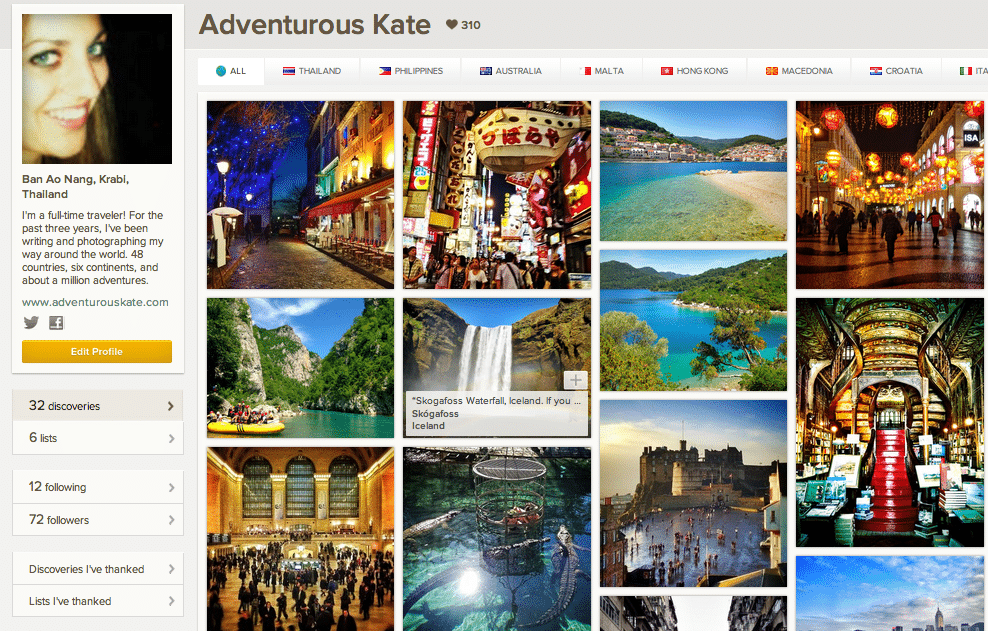 Meet Trover
On Trover, you share "discoveries" by uploading a photo, tagging the location, and offering a tip, whether it's "try the carnitas tacos" or "go to the top of the church for the best view of the sunset." A tip can be anything in the world as long as it helps the user have a more interesting, delicious, beautiful, or overall better experience.
If you want to look for things to do close by, the app will show you the nearest attractions, sorted by distance as you scroll down. I like how the numbers change as you scroll — Trover tells you exactly how far away you are on the home screen.
Trover users can also put together lists. I've even used some of the lists to plan my upcoming travels, like San Francisco in Two Days by Julia and New Orleans by Zach Myrow. Other lists are more whimsical, like Desert Dessert by Jason Zite, and are similar to the boards people put together on Pinterest.
I'm generally of the "We really don't need another travel social network" school, but Trover is different — it has already made a big difference in my travels.
Here are some sample discoveries, as seen on my iPhone screen (and yes, my battery really is depleting that quickly lately):
What I Like
The Trover app has a similar interface to Instagram — it's simple and clean. That said, it also lets you do everything on your computer that you could do on your phone, including geotagging, which is more than can be said for other popular apps.
Having a map of your Trover discoveries displayed on your profile has honestly motivated me to share tips from as many locations as possible! I'm now wishing I had taken better photos back in Buenos Aires years ago so I could put South America on the map.
Additionally, I didn't notice at first, but I soon realized that the quality photo content on Trover gives you great ideas for places to take photos. I started adding some of my favorite photo spot secrets, like shooting Edinburgh Castle from the top of the Camera Obscura museum.
Finally, I love that on the desktop app you can search for, say, "Boston" — and it gives you the option of searching by location (discoveries near Boston), keywords (anything mentioning Boston), or lists (Boston-specific lists).
What I Don't Like
My main drawback is that Trover has limitations on the size of photos you can upload — photos must be at least 612 pixels wide but may not exceed 10 MB.
That annoyed me a bit — I downloaded several pictures from my blog in summer 2012 (Balkans and Iceland) to share, and during that time I was only uploading pictures 576 pixels wide, so it didn't accept them. And most of my original photos are larger than 10 MB each, so I had to resize each of them.
If you're primarily uploading from your phone, though, you should have no problem.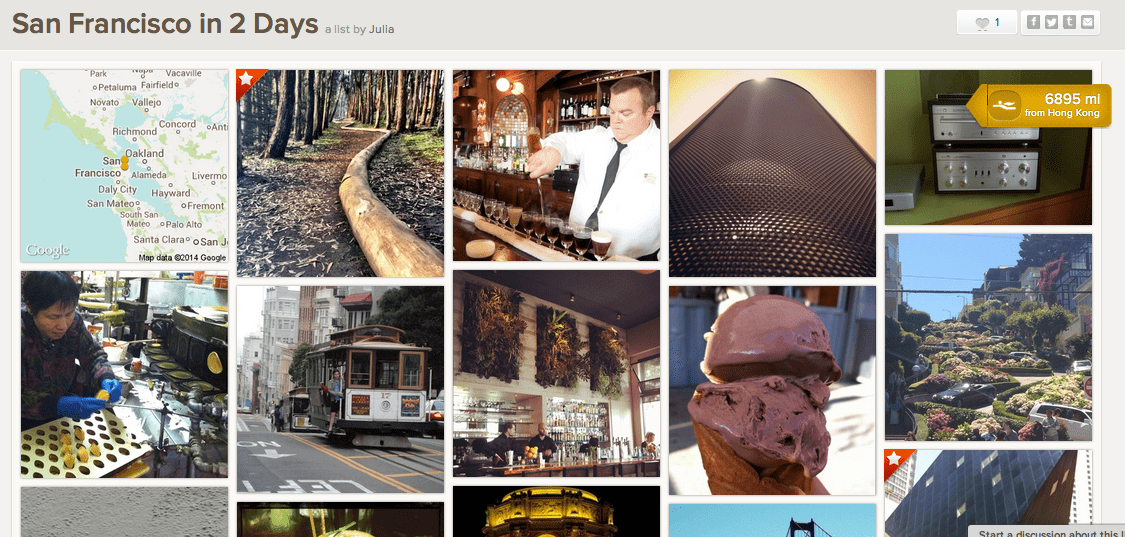 The Takeaway
I love this app, and it has been a delight to use — but only you can decide if it's for you as well. My suggestion? Give it a try and see how you like it. It's free and you can download it from the App store here.
The app is only available for the iPhone at this time, but they are currently developing an Android version that should be out soon. You can find out when it's ready here.
The thing to keep in mind is that Trover will only be as strong as its user base. Instagram is wildly popular, and that can be good in many ways, but as a result, most of the hashtags aren't helpful unless you're looking up something more obscure and less likely to be hacked by hashtag spammers.
Trover at this point is quite good — discoveries containing useful information or tips outnumber useless pictures. In that sense, it tends to mirror Foursquare rather than Instagram, and I hope that it stays this way going forward. People are certainly incentivized to share their best work, as Trover periodically curates the best content for their What's Hot list.
If this continues to be the case, I look forward to using Trover throughout my travels, whether I'm looking for a new place to eat in London or a pretty place to photograph in Prague.
If you do join, be sure to follow me here. I'll see you there!
Take a look at Trover and let me know what you think!
Get email updates from Kate
Never miss a post. Unsubscribe anytime!