Adventurous Kate contains affiliate links. If you make a purchase through these links, I will earn a commission at no extra cost to you. Thanks!
While the fire-filled festivities of Up Helly Aa take place in the evening, the festivities begin with parades during the day.
Shortly after we arrived off the ferry in Shetland the day before, our Haggis Adventures guides Tony and Dougie took us to see the galley being built for Up Helly Aa 2012.  It would make its public debut in the parades.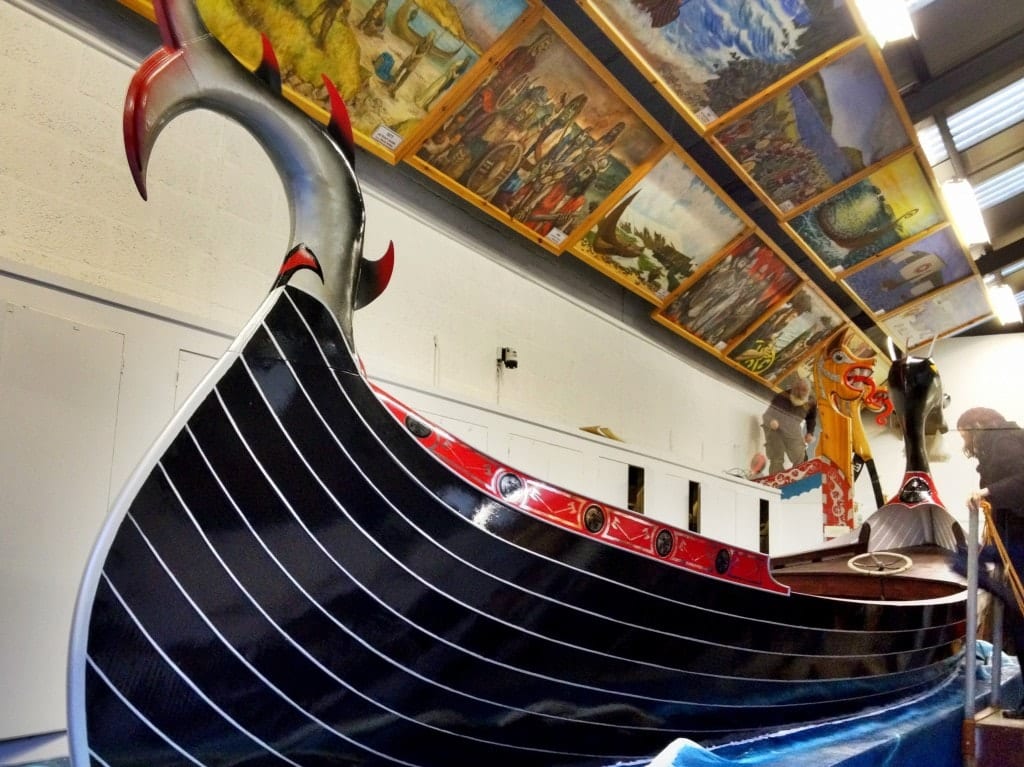 Up Helly Aa is serious business in Shetland, and the galley makers spend a full year building this beautiful boat.  This year, they were led by Mark, a jovial Shetlander with an almost incomprehensible accent.  He proudly showed off the galley and the handmade Viking costumes.
Of course, it didn't take long for US to get into the galley!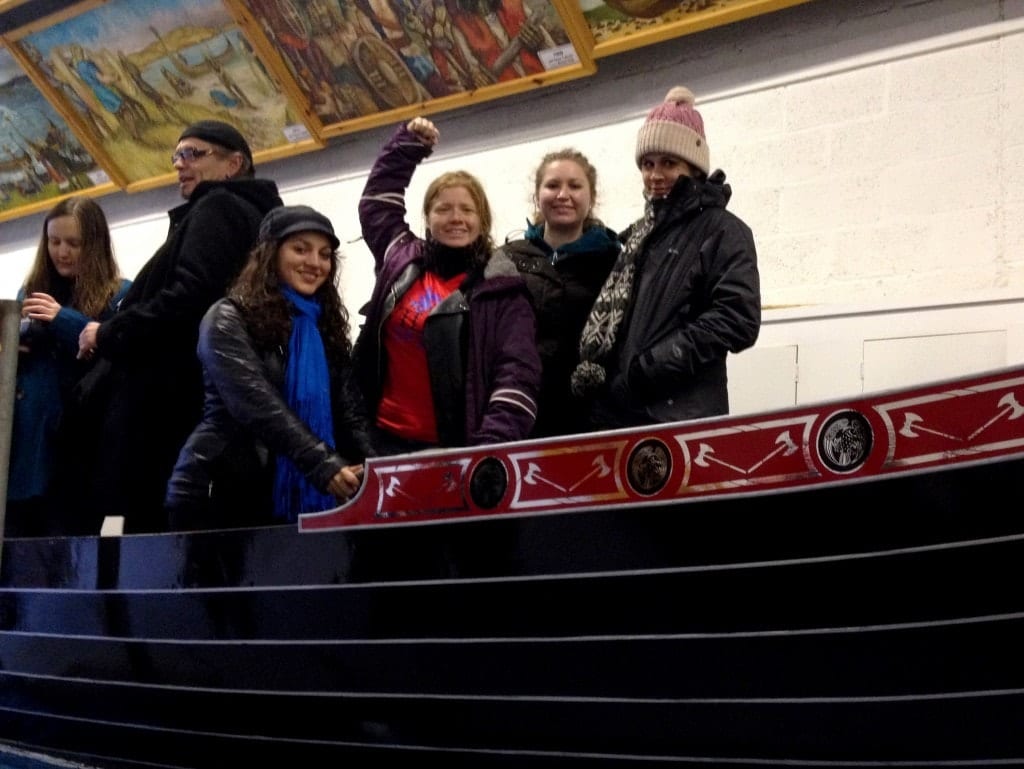 After we left, Tony was in disbelief.  "Some years we come by and they say to us, 'No, you can't come in!'  Other times they say, 'Yes, you can look, but only from the outside.'"  He shook his head.  "And sometimes they let you CLIMB INTO THE GALLEY!"
Much like the time I ended up inside the Treasury at Petra in Jordan, I didn't realize what a huge deal it was until after it was over.
The festivities began the next day shortly after breakfast with a Viking parade through town.
Wonder if Vikings literally say "YARR!" to each other?  Well, check out the video below:  they yell "YARR!" more or less constantly.
To our great delight, there were "Baby Vikings" in our midst!  Each year, several young boys dressed as Vikings join them on the boat.  Yes, this includes the night procession, when everything's on fire.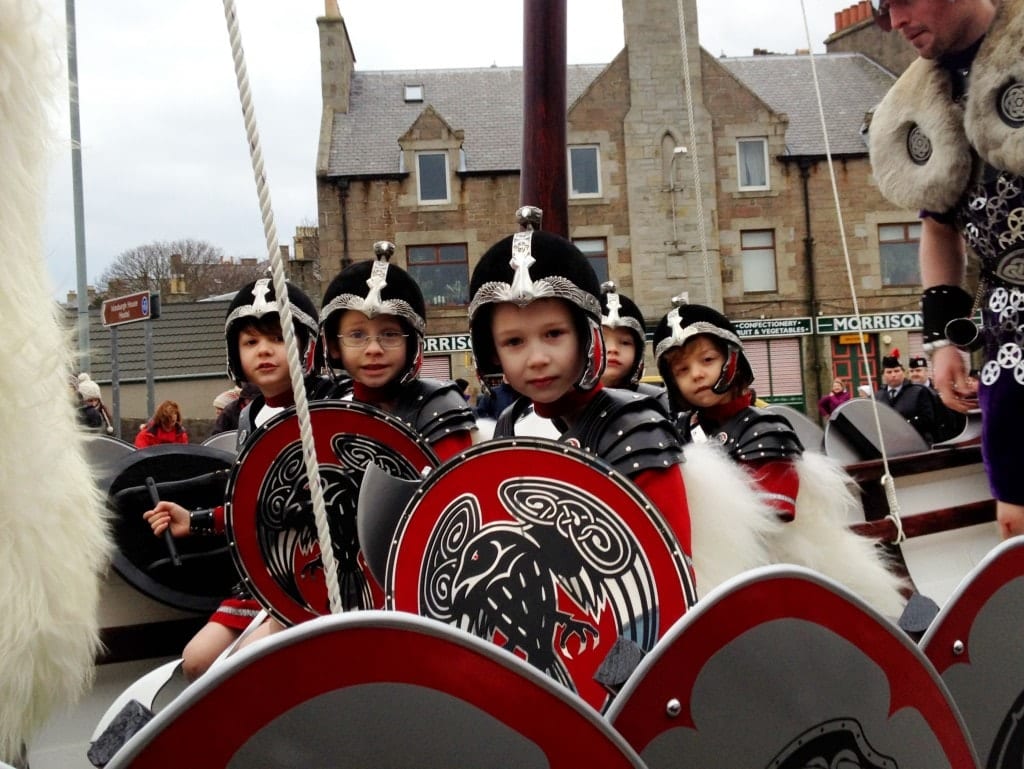 How cute are these little boys?  I think most of the girls in the group wanted to take one home!
The parade wound throughout the town (in a town as small as Lerwick, it doesn't take TOO long), as bagpipers and drummers played.  Soon, the Vikings finished and posed for photos in formation, keeping up their "YARR!"s.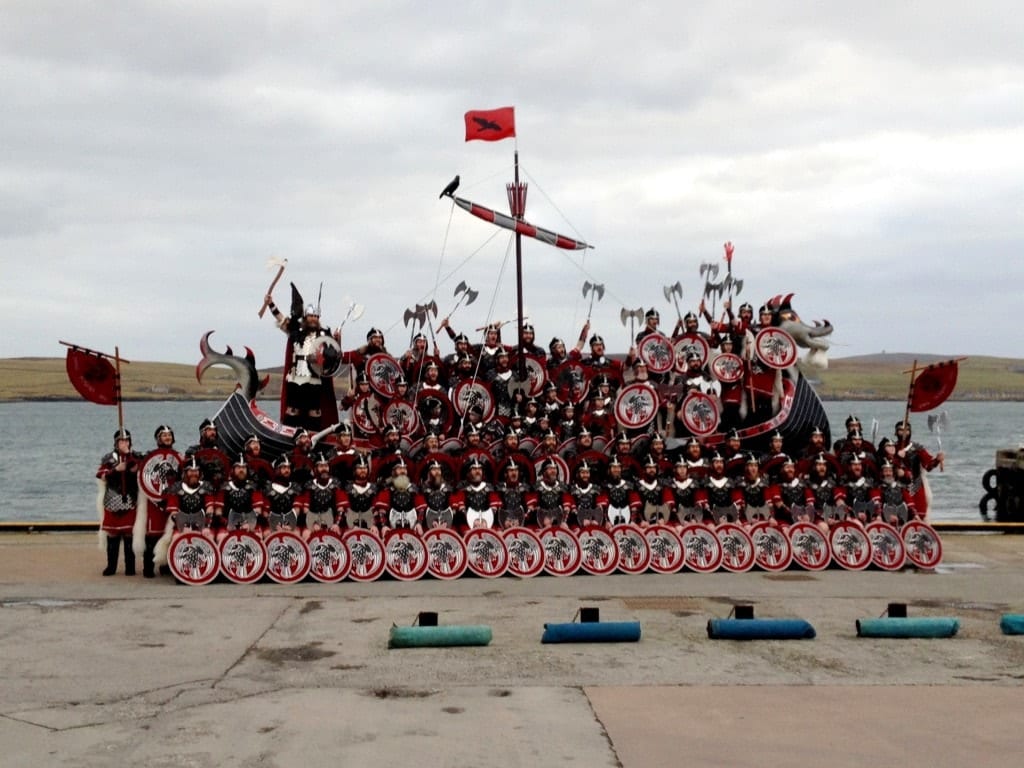 And then was the first time that we came across "Enjoy Yourself."  This song was most famously sung by Guy Lombardo, of all people, but the Vikings have adopted it as their own.  They sang it throughout the festivities and our group picked it up as well!
Enjoy Yourself — with some light choreography!
And we did enjoy ourselves.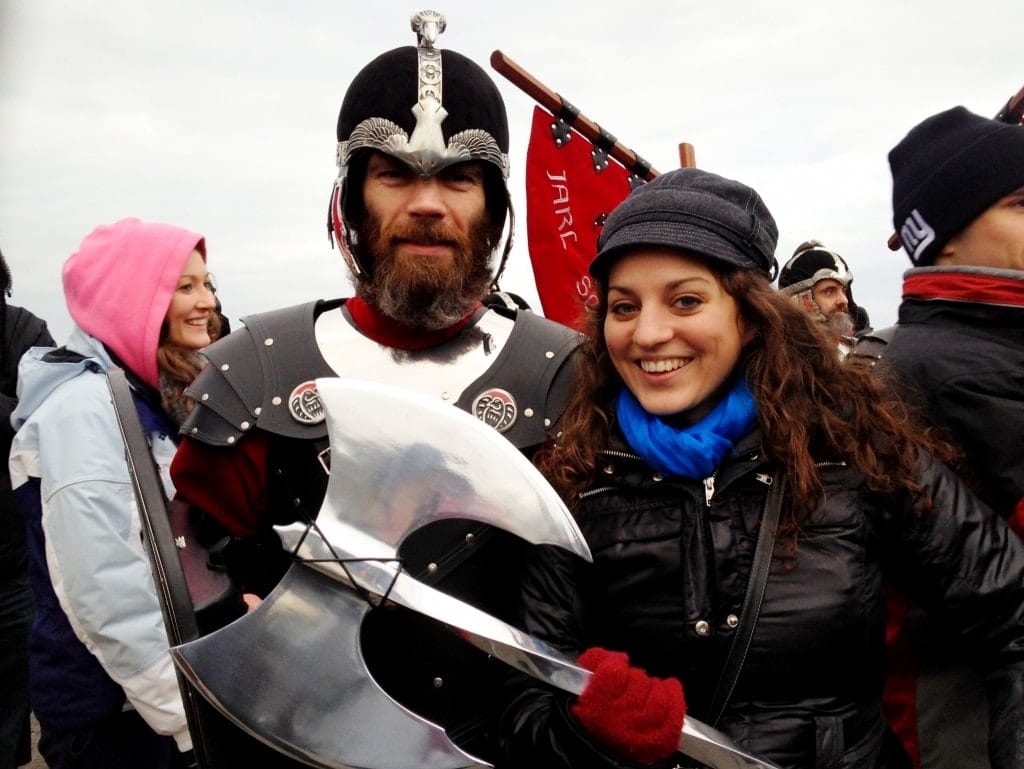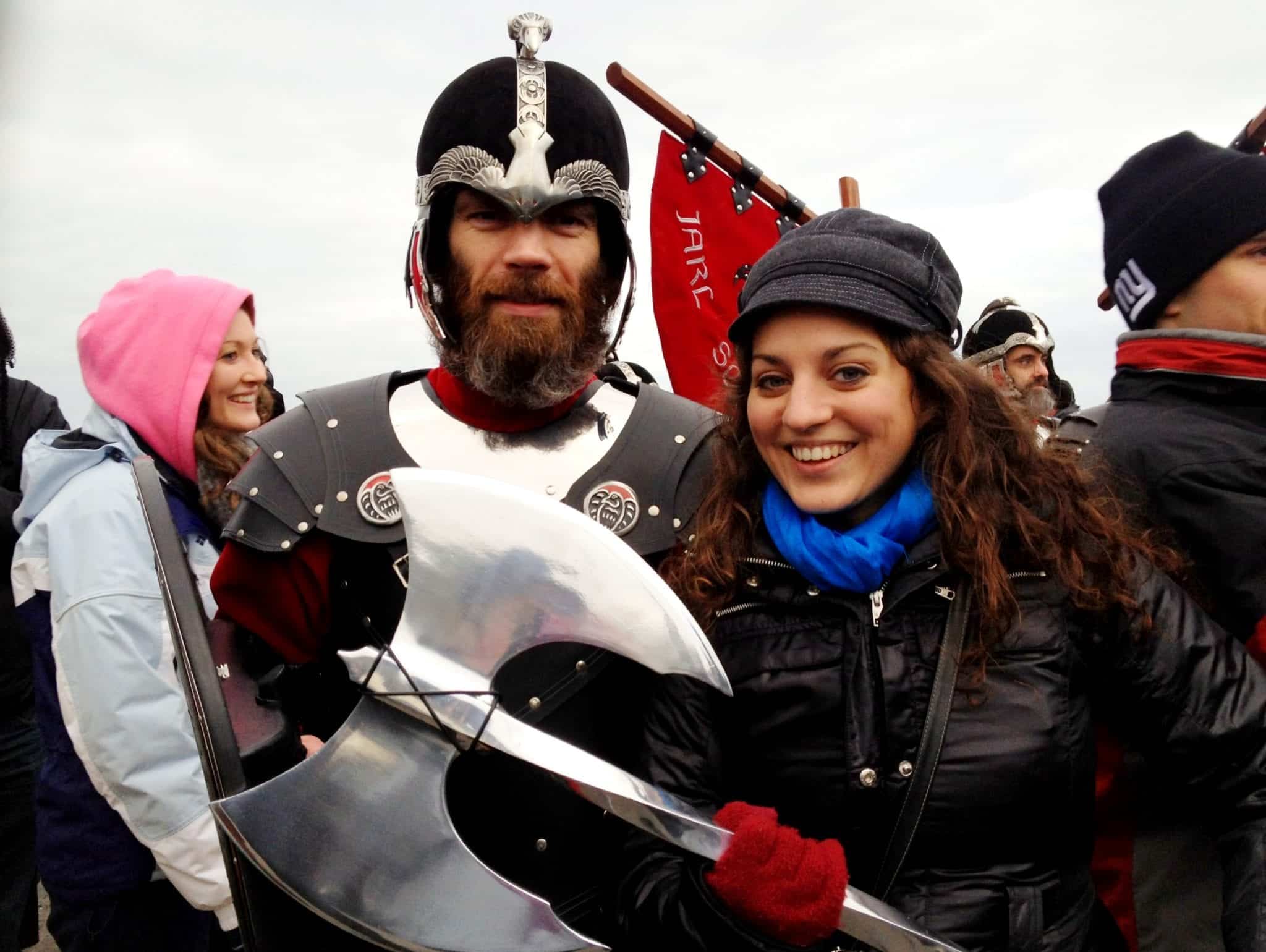 After the parade, I found myself doing something that I surprisingly had not done before: waiting outside for a bar to open.  The doors to The Lounge, one of Lerwick's most popular bars, opened at 11:00 AM, and Tony and Dougie knew that this was the place to be.  Sure enough, the upstairs got into swing with music, singing, and cavorting with the Shetlanders.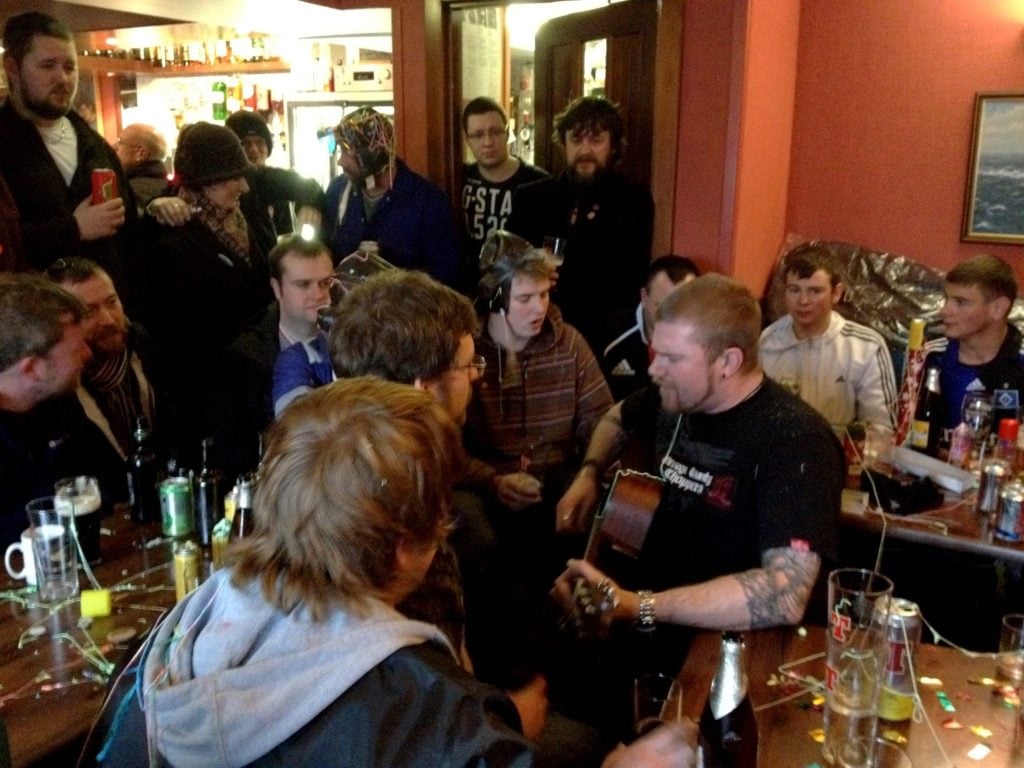 Including one hilarious song with a dirty double meaning. WARNING: THE LYRICS OF THIS SONG ARE NOT SAFE FOR WORK.  Watch it at home.
Fun fact: the guy with the goofy glasses in the background is Mark, the crazy galley builder.
Later in the afternoon, we made it to a traditional music concert.  What I love about Up Helly Aa is that it is, at its heart, a small, local celebration.  So the concert featured high school students — very talented high school students.
Up Helly Aa, as crazy and fun and unique as it is, will never become an Oktoberfest.  Shetland is just too isolated and hard to get to for it to become overrun with tourists.  If Up Helly Aa were on par with Oktoberfest, could you imagine the number of bands clamoring to play in the official concert?
But for now, the concert features very talented high school students who embrace their roots and play wonderful traditional Shetland music.  I loved that.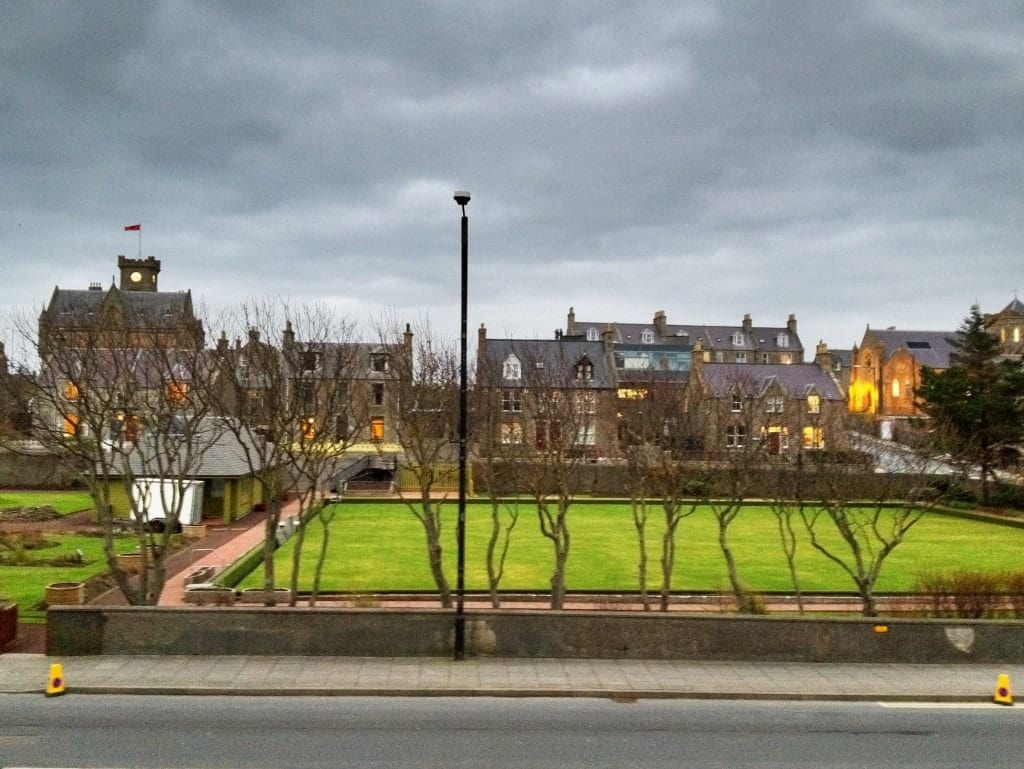 Soon after the concert, the day festivities concluded, the sky went dark — and it was time to get out the flaming torches.  Stay tuned.
Many thanks to Haggis Adventures for a truly fantastic time on the Up Helly Aa trip.  All opinions, as always, are my own.
Get email updates from Kate
Never miss a post. Unsubscribe anytime!