Adventurous Kate contains affiliate links. If you make a purchase through these links, I will earn a commission at no extra cost to you. Thanks!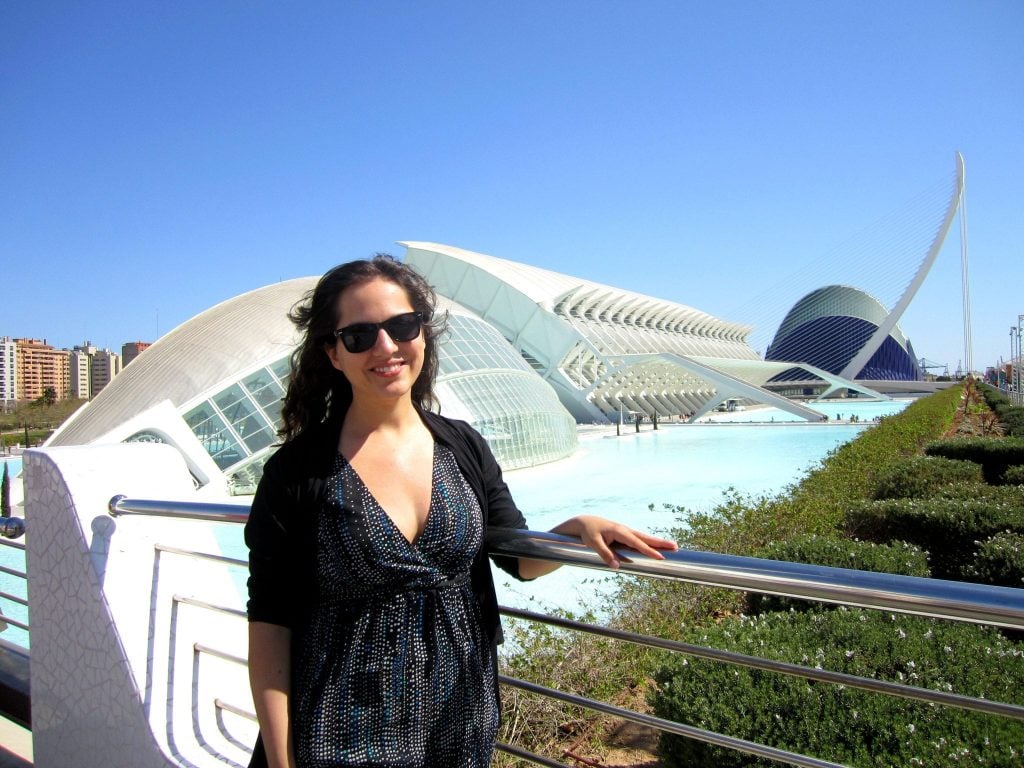 During Las Fallas, Valencia is a heaving mass of people in costume, bands playing, and firecrackers exploding every minute.  And that's honestly not an exaggeration at all.
Want to see how insane it was?  Check out the view from our balcony at Purple Nest Hostel:
Seriously.  Imagine that, nonstop, all day and all night.
After a few days, I had to excape, and my Busabout tour mates agreed.  Our four-day Las Fallas tour gave us plenty of time to explore the city, either in a group or on our own, and we soon discovered that the commotion dies down once you leave the city center of Valencia.
And Valencia has so much to offer.  The city is sunny and warm throughout the year, it has an easy public transportation system, and it's a short hop from Madrid, Barcelona, or even Andalusia.
Here are my favorite highlights of the city: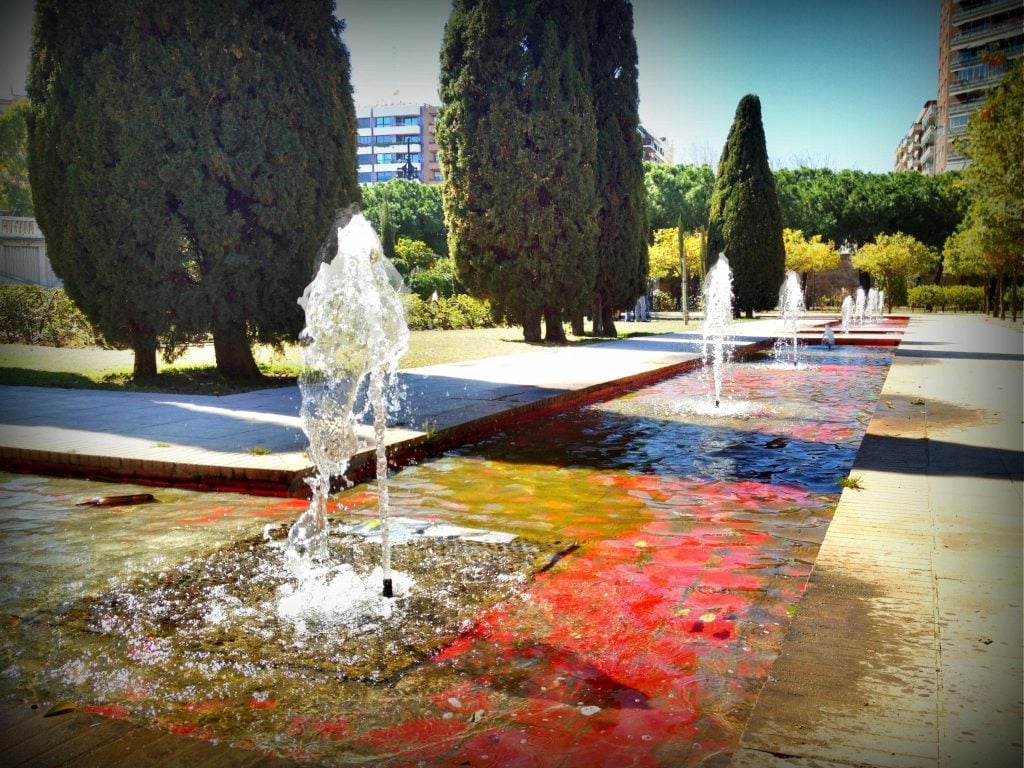 Jardin del Turia
Back in the day, Valencia was situated on the river Turia, and from time to time, it flooded.  But in 1957, the flooding this time was so devastating that the Valencians decided to divert the river.
At first, they paved it and planned to turn it into a highway.  But the Valencians protested, demanding something better.
The result?  They turned it into a garden!  What a fantastic idea.  The garden is a wonderful place to stroll and shows how a simple idea can make a city even better.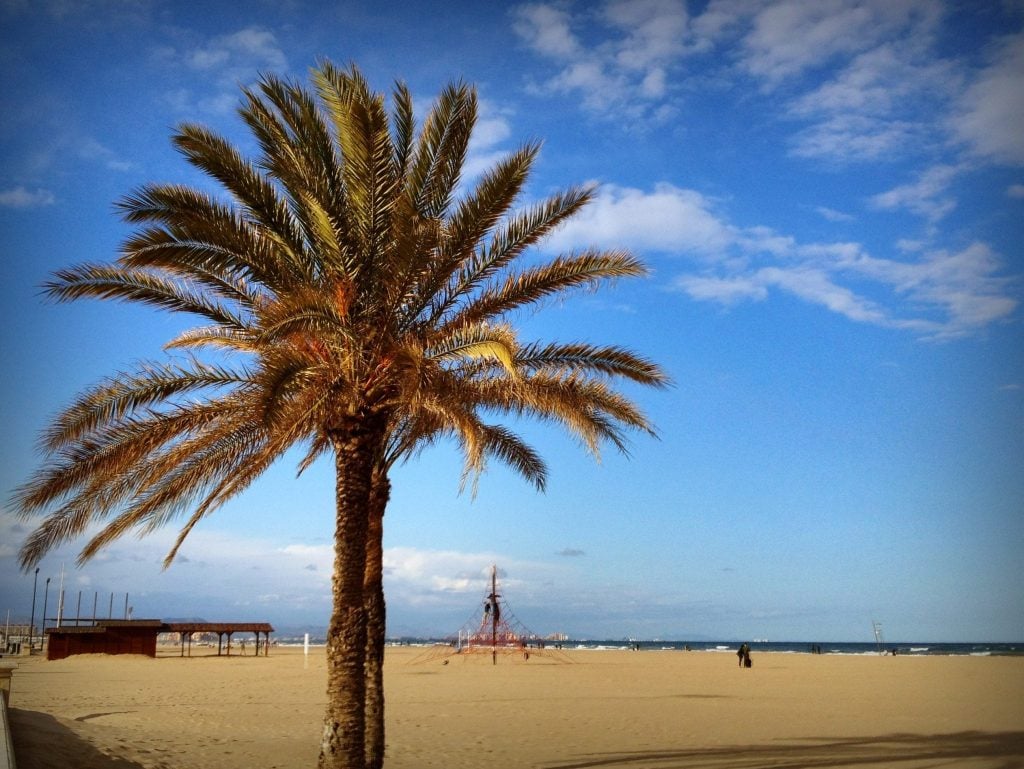 The Beach
Valencia has one of the nicest stretches of beach I've seen in Europe.  It's sandy, it's white, and it's huge — large enough to accommodate tens or even hundreds of thousands of avid sunbathers.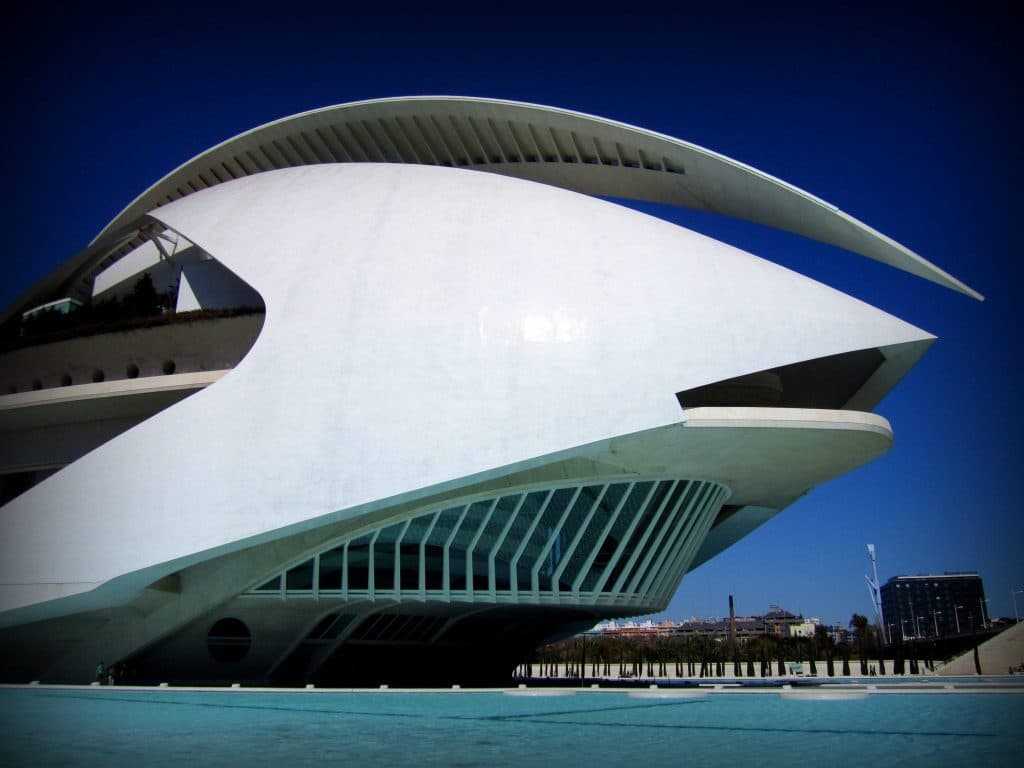 City of Arts and Sciences
This is one of the most fascinating sights in all of Spain.  The City of Arts and Sciences was built in the late 1990s and looks like a sci-fi fantasy land!
The buildings here include a science museum, an opera house, and an aquarium, just to start.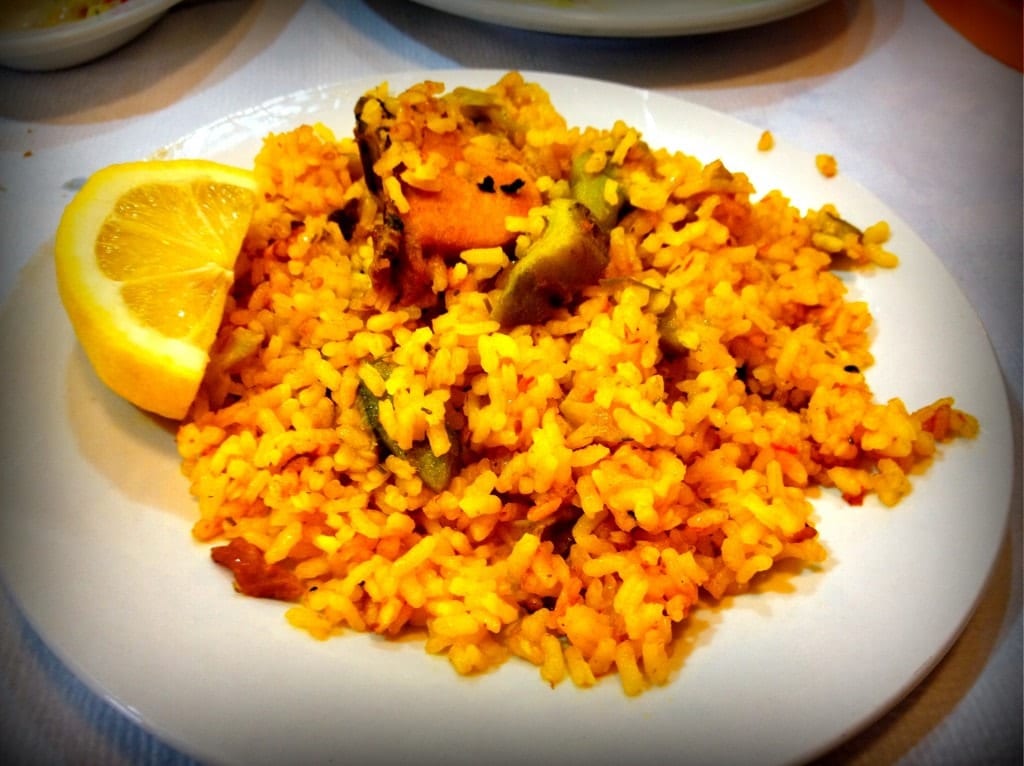 Paella
Paella is one of the most famous dishes in Spain, and it originated in Valencia.  Unlike most forms of paella that you see, traditional paella valenciana doesn't include seafood, but rabbit and snails!
And I loved it this way!  In the past, I thought paella was decent, but nothing special.  It turns out that I'm not a fan of seafood paella, but I actually love meat and vegetarian paella.
Busabout welcomed us with a paella valenciana dinner on our first night, complete with snails in their little shells.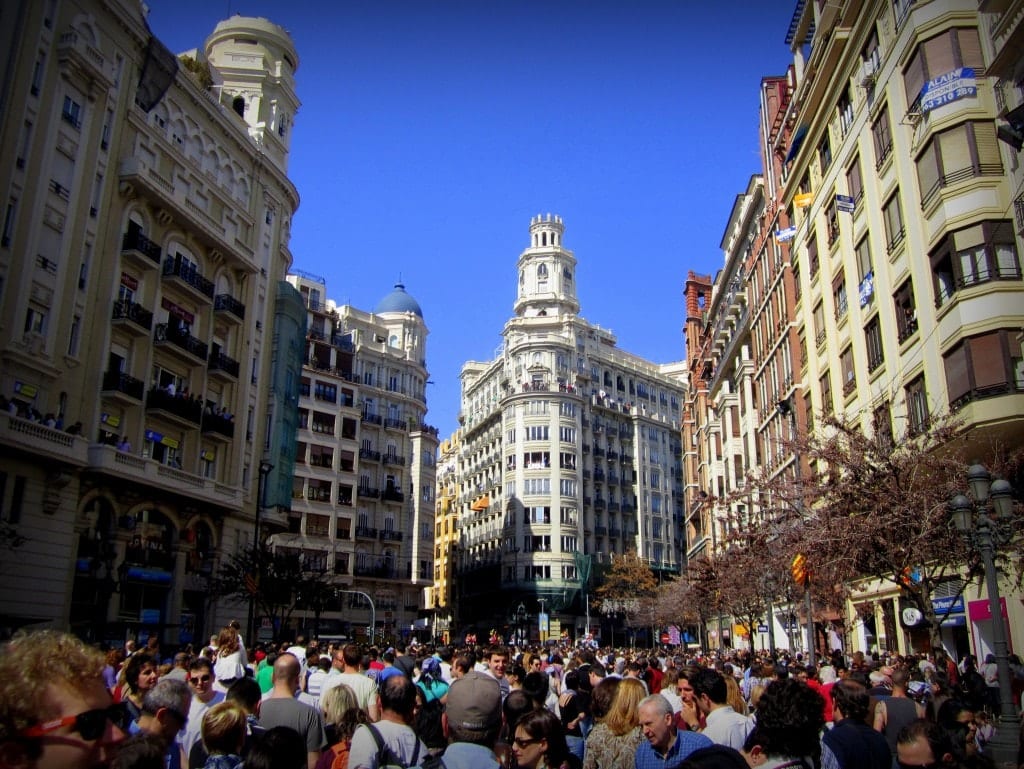 Central Valencia
Heading back to central Valencia?  You'll find cathedrals and plazas, just like in other Spanish cities.  Valencia is one of the largest cities in Spain, and it has the urban feel of Madrid and Barcelona, but I liked it better than either of them.  Valencia has a brightness and cleanness to it that I liked very much, along with quite a bit of modern flair.
But as modern as it is, you can find touches of classic Spain — one night, we all headed out to a flamenco show!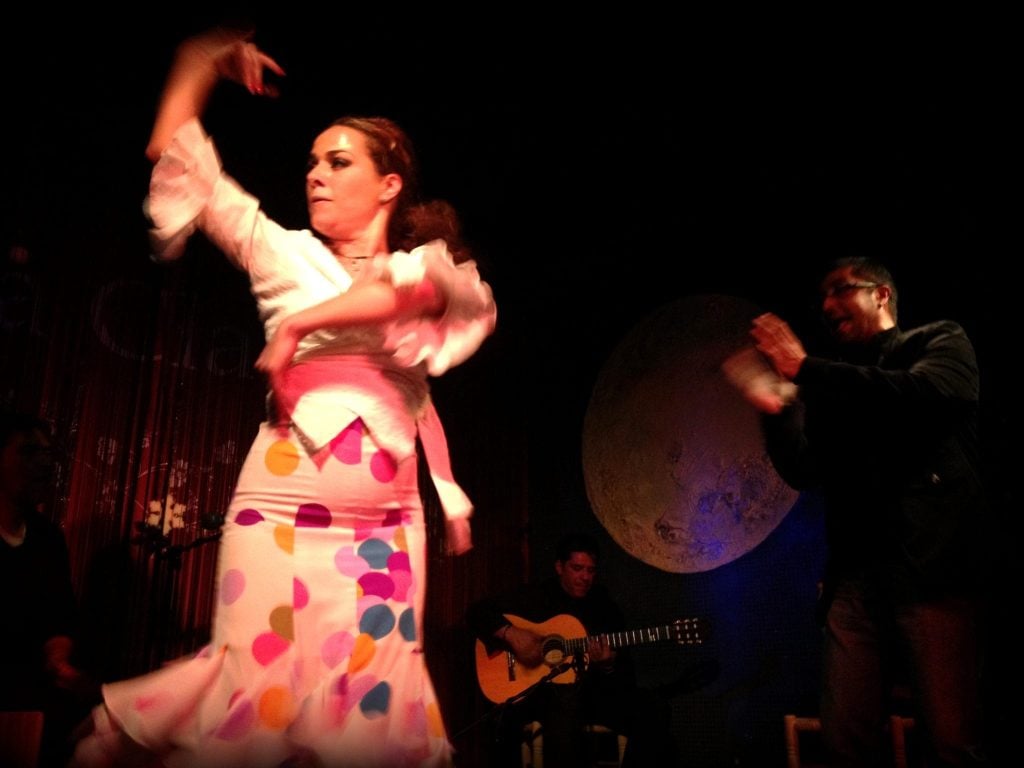 Of course, Valencia is at its most exciting when little kids are throwing firecrackers all around you…but I wouldn't mind coming back during the summer to enjoy that gorgeous beach!
Many thanks to Busabout for hosting me on their Las Fallas trip.  All opinions, as always, are my own.
Get email updates from Kate
Never miss a post. Unsubscribe anytime!