Adventurous Kate contains affiliate links. If you make a purchase through these links, I will earn a commission at no extra cost to you. Thanks!
When the Sheraton Grand Hotel and Spa in Edinburgh, Scotland, invited me to check out their newly refurbished hotel for their #meetyouthere campaign, I had no idea what to expect.
I've never stayed at a Sheraton in my life — though I did have my junior prom at a Sheraton back in 2001!  In short, I had always believed Sheratons to be upscale business-oriented hotels — not really the kind of place I would look to stay in.
But after coming to Edinburgh and spending 24 hours experiencing the Sheraton for myself, I was absolutely blown away.
It started by entering my club room and seeing what they had left out for me:
How could a blogger NOT love a nearly entirely edible social media cake?  (For the record, I struggled with whether or not to eat it, and later found out that everything was edible except for the bird.  It was tasty.)
I was one of several bloggers in attendance, along with Mike of Fevered Mutterings (on behalf of Travelllll), Cole and Adela of Four Jandals, Simon of Wild About Travel, Ian  of Hotels.tv Edinburgh, Rebecca of Sharing Travel Experiences, Lisa iTravelBritain, Ross of Travel Ideas, and Chris of Pure Travel Style.  Old friends, new friends, and first-time-meeting-in-real-life friends.
Sheraton has been tracking shares across social media platforms under the hashtag #meetyouthere.  The reason for this tag?  Sheraton is branding itself as the world's meeting place.
So what does that mean?  Staying at a Sheraton is like staying at a much nicer version of your home.  No matter what your group is, you can bring them here and feel comfortable, welcomed, and with all the amenities you might need.
From the stylish, contemporary Scottish decor (also known as tartan non-explosion)…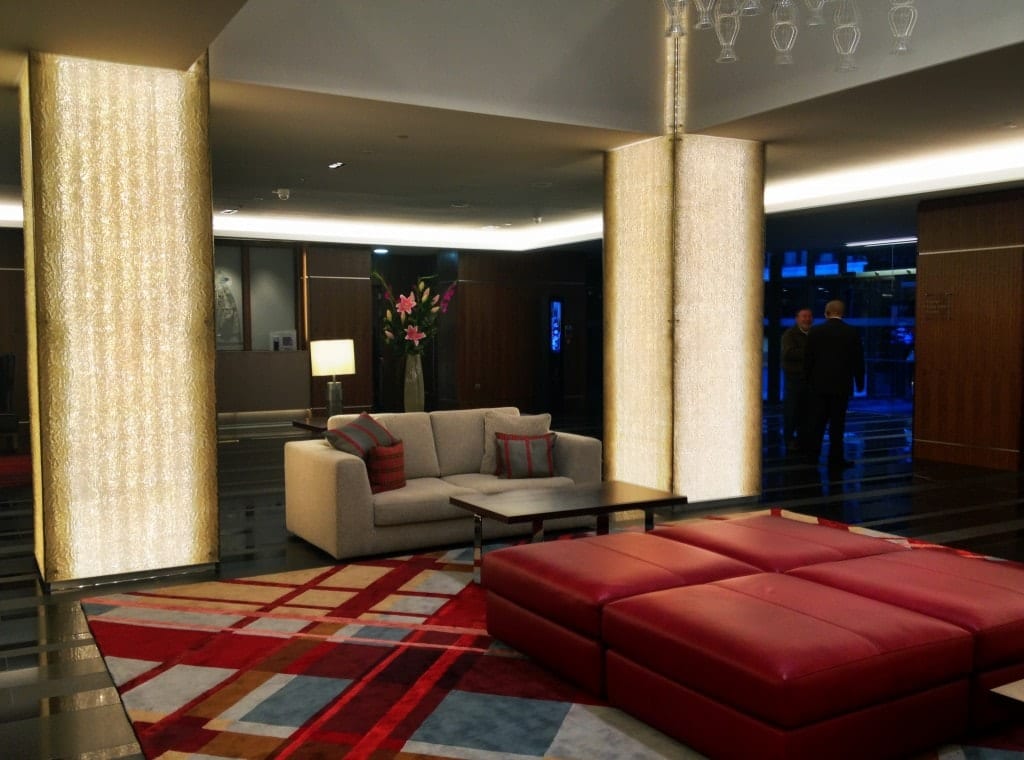 As well as Scottish stamps lining the wall…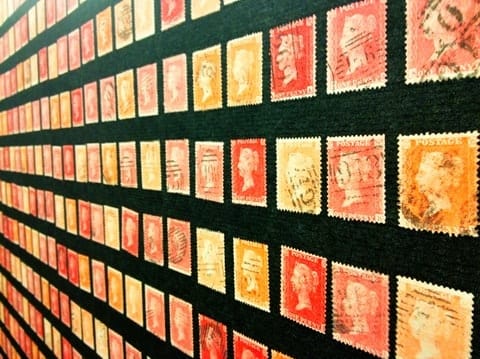 To the snacks available in the club lounge, including OYSTER BLOODY MARY SHOOTERS (why are these the first ones I've seen anywhere?)…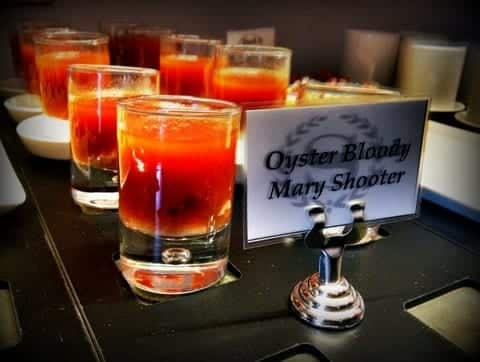 Everything you might need for your stay is readily available and easily accessible.
And furthermore, Sheraton is monitoring everything that happens with the #meetyouthere hashtag — good or bad.  Everyone is able to make their voice heard — though the voices I've seen so far have been largely filled with praise.
Was I ever impressed by the staff.  Not only did they make me feel welcome and answer any questions I had, they went above and beyond — like my Icelandic massage therapist at the One Spa, who, after hearing I was going to Iceland soon, gave me a list of Reykjavik bars she loved.
Imagine that level of service from everyone in the hotel, and you'll know what the Sheraton is like.
After exploring the spa and fitness center, the details of which you'll see further below, we were invited to a gin and tonic tasting session.  Yes, gin and tonic tasting!
Think there's not much to gin and tonics?  Oh, how wrong I was.  Spend time in this bar, get to know the staff, and you'll get to try an amazing variety of gin and tonics.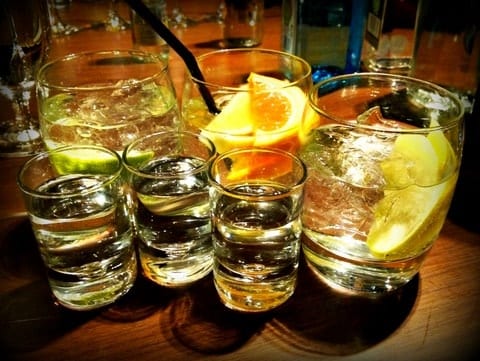 It's amazing just how different a gin and tonic can be with a slightly different brand of tonic and fruit garnish.  My favorite?  1724 tonic.  I could drink that stuff on its own.  It's like lemonade.
Before this trip, I thought the only people who would drink tonic on its own were card counters trying to fool the casino cameras.
Next up?  Wine tasting.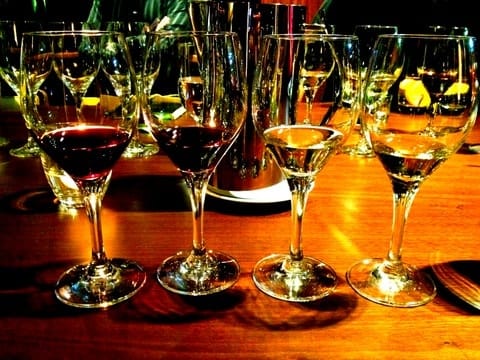 You don't expect hotel bars and restaurants to be famed for their wine selection — but at the Sheraton, you get that selection, along with a knowledgeable sommelier who can guide you toward selecting the perfect wine.
After the drinks, it was only natural that we progressed to the restaurant kitchen and a session with the chef.  He showed off his high-tech burners with pride and cooked up some langoustines for us to sample.
The cuisine at the hotel is much like the decor: Scottish-influenced, but not obnoxiously so.  You don't come here for endless piles of haggis — you come here for nuanced cuisine, like an unbelievably tender beef cheek that I had later.
For now, those langoustines were fantastic.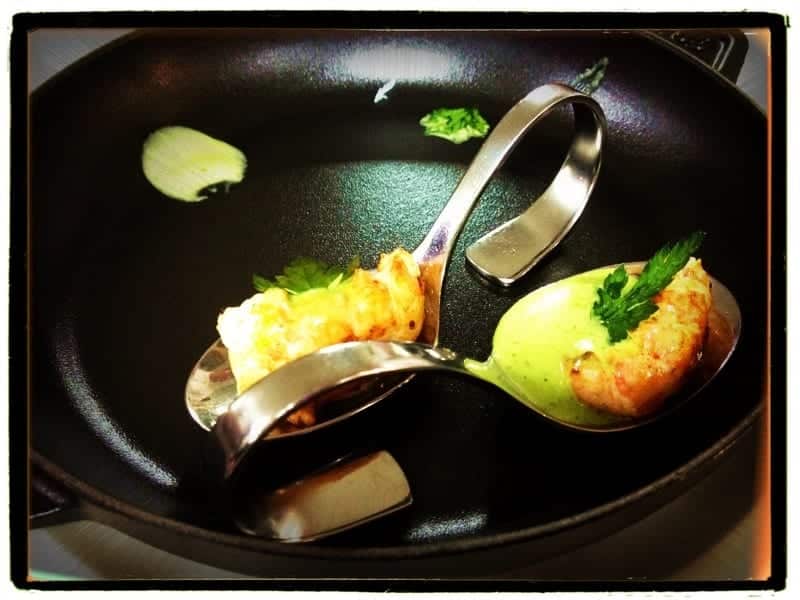 As we sat down to dinner at the One Square restaurant, the Sheraton staff left us to have a meeting of our own: a meeting of travel bloggers.  Any time we get to spend together is valued greatly, especially when we get to throw back and forth new business ideas.
Of course, the kitchen staff did leave us with one final surprise between courses: gin and tonic sorbet!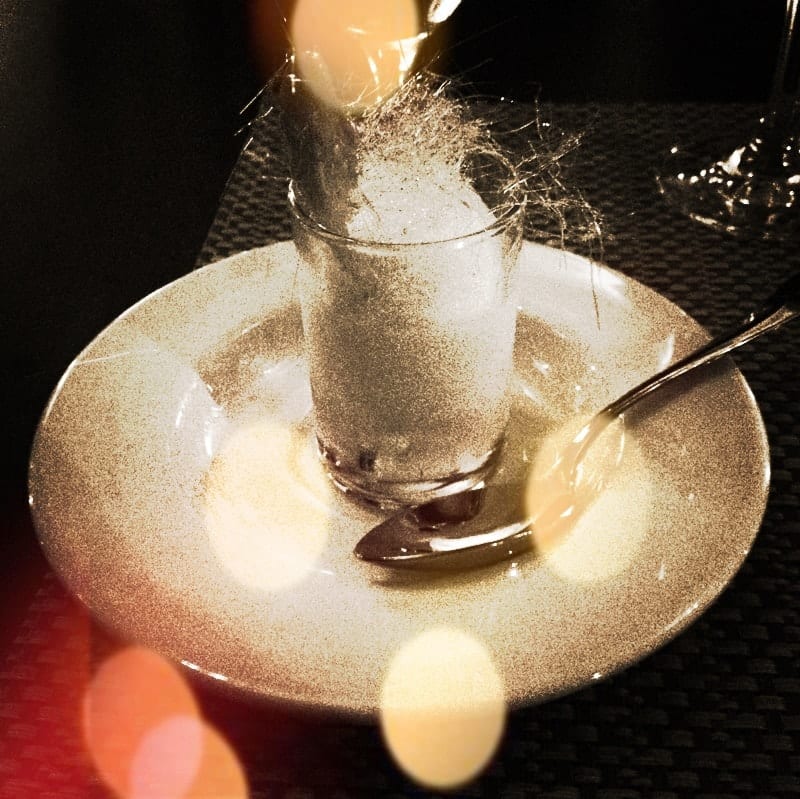 Here are the main takeaways I took from the Sheraton that evening:
The people here love their jobs.
Every single person I met working at the Sheraton was not only kind, welcoming, and polite, but went above and beyond in making sure we had everything we needed to have a good stay.  Each staff member served as an expert in his or her field and took pride in his or her work.
#Meetyouthere WORKS because the Sheraton is a great place to meet.
No matter what you need for amenities, Sheraton provides a comfortable, fun, and relaxing place that provides you with all the amenities you may require, as well as leaving you to do what you do best.
It could be the restaurant, or the bar, or the club lounge, or the lobby lounge, or the Link @ Sheraton internet center downstairs.  (For the record, you get 30 minutes of free internet each day at the Link @ center, which would probably be enough for me if I were on vacation and not a blogger.)
Sometimes, it pays to feel like you're at home.
When you stay in $3-a-night Cambodian guesthouses for months on end, you kind of forget the value of comfort.  At the Sheraton, I could flop onto any sofa in the hotel and feel like I belonged.  You don't feel that way often at a hotel of this caliber.
Or I could bring in friends or blogger colleagues and have the total confidence that this was a place that would take care of us and make every effort to let us do everything we needed to do.
(And also: their beds are so famously comfortable, you can actually buy them!)
In short, none of us wanted to leave.  It was that good.
The next morning, I met up with my blogger buds for breakfast in the restaurant.  The guys went for the full Scottish; I went for the full girly breakfast.  If you stay in the Sheraton, you MUST make use of that Belgian waffle iron and the selection of mixed berries!
My train back to Chester wasn't scheduled until 2:50 PM, so I had some time to relax in the hotel.  And I knew exactly where that would be — the spa!
The One Spa is the single most impressive urban hotel spa I've ever seen.  Who knew that in Edinburgh, of all the cities in the world, I'd be swimming in an outdoor hydropool as the sun warmed my face?  The hydropool alone makes this spa a must-visit.
Beyond that is the Thermal Suite — a series of steam rooms, saunas, and showers.  You're supposed to go around in order for optimal results — from relaxing in a jasmine and eucalyptus-scented steam-filled aroma room to a traditional hammam with buckets for washing yourself to dry saunas, scented showers that hit you from every direction, and finally, a curved and heated bench to relax on as you recover.  Click here for much more.
There are also beautiful treatment rooms, which we got to experience when we got our hand and foot massages the night before, as well as a fitness center.  One of the trainers showed us jet-lag-reducing exercises and pointed out how the vibrating exercise plate could help us burn more calories quicker.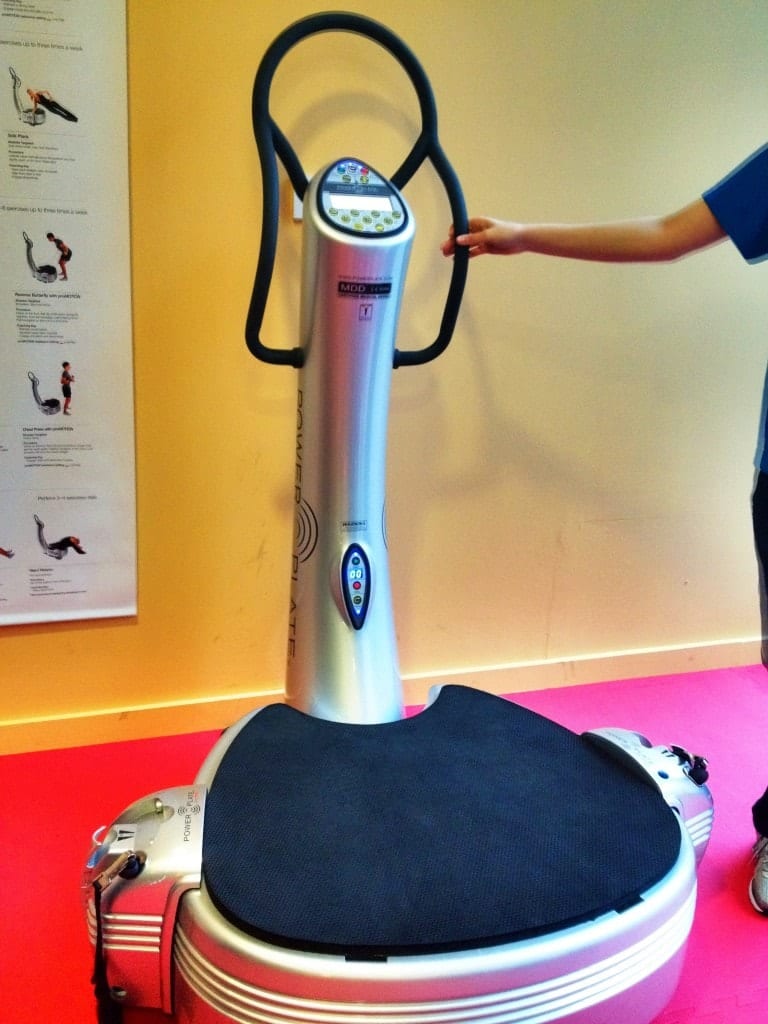 I LOVE THIS SPA.  I love the outdoor hydropool, the inside swimming pool, the thermal suite, and the fact that the gym is just as nice as the posh gym I used to belong to in Boston.  That gym actually made me psyched to exercise — I can say the same thing about this hotel.
I came in to the Sheraton with few expectations.  I left with such a rich appreciation for this hotel, their staff, and the overall message that a hotel can make you feel at home — only a much, much nicer version of home!
Many thanks to the Sheraton Grand Hotel and Spa in Edinburgh and bigmouthmedia for bringing me to this event.  All opinions, as always, are my own.
Get email updates from Kate
Never miss a post. Unsubscribe anytime!