Adventurous Kate contains affiliate links. If you make a purchase through these links, I will earn a commission at no extra cost to you. Thanks!
Visiting Russia usually requires going through a grueling visa process — but did you know you can visit visa-free if you go by ferry? You can visit Russia free as long as you arrive in St. Petersburg by ferry and stay for less than 72 hours.
I've wanted to visit Russia for a long time, but the hassle of getting a visa deterred me. But a short visa-free journey to St. Petersburg? That definitely interested me. I could go on this trip and plan a longer trip to Russia if I liked it.
This month, I bought myself a ticket and took the ferry from Helsinki to St. Petersburg and back.
UPDATE FEBRUARY 2020: I took this journey in August 2017. Recently I've been hearing from other people who have taken the journey that St. Peter Line is now forcing people to use one of their official hotels. I can't confirm this since things could have changed in the 2.5 years since my journey.

I hope this post remains a resource to show you what the St. Peter Line journey is like, where to buy your tickets, where to find the ship, and how to spend your time in St. Petersburg, but please check directly with St. Peter Line about the hotel rule.
I was shocked at how little information is out there about this ferry, even after you book your ticket!
The information on the web about the St. Peter Line ferry is scant at best. I avoid TripAdvisor as much as possible, but TripAdvisor reviews were literally the only place where I could read information about what this journey was like.
I couldn't find out through the St. Peter Line website, for example, whether I was supposed to stay on the boat overnight or in a hotel in St. Petersburg, or whether I had to book one of their official hotels, or whether I could book a different hotel that they didn't mention, or whether I had to be on a group tour the whole time. That's kind of basic information, and it took a million TripAdvisor reviews to figure out what the answers were.
It didn't get better on board, –there was no information! We weren't given schedules or any other papers upon arrival. Even upon booking, our tickets had next-to-no information on them. The only information came from rare announcements on the ship.
Because of this, most of the passengers were walking around, trying to figure out where we debarked (hint: it was on Deck 4), what time the restaurants opened (7:00 PM), even where we got our keys (our boarding cards doubled as keys). It was the complete opposite of the Carnival cruise I took earlier this year, where they were constantly giving you schedules and falling over backwards to over-inform you.
I'm glad I took this journey, but it was confusing from start to finish. And I travel for a living! I can only imagine how confusing it was for less experienced travelers. That's why I wrote this post — to help you with your trip.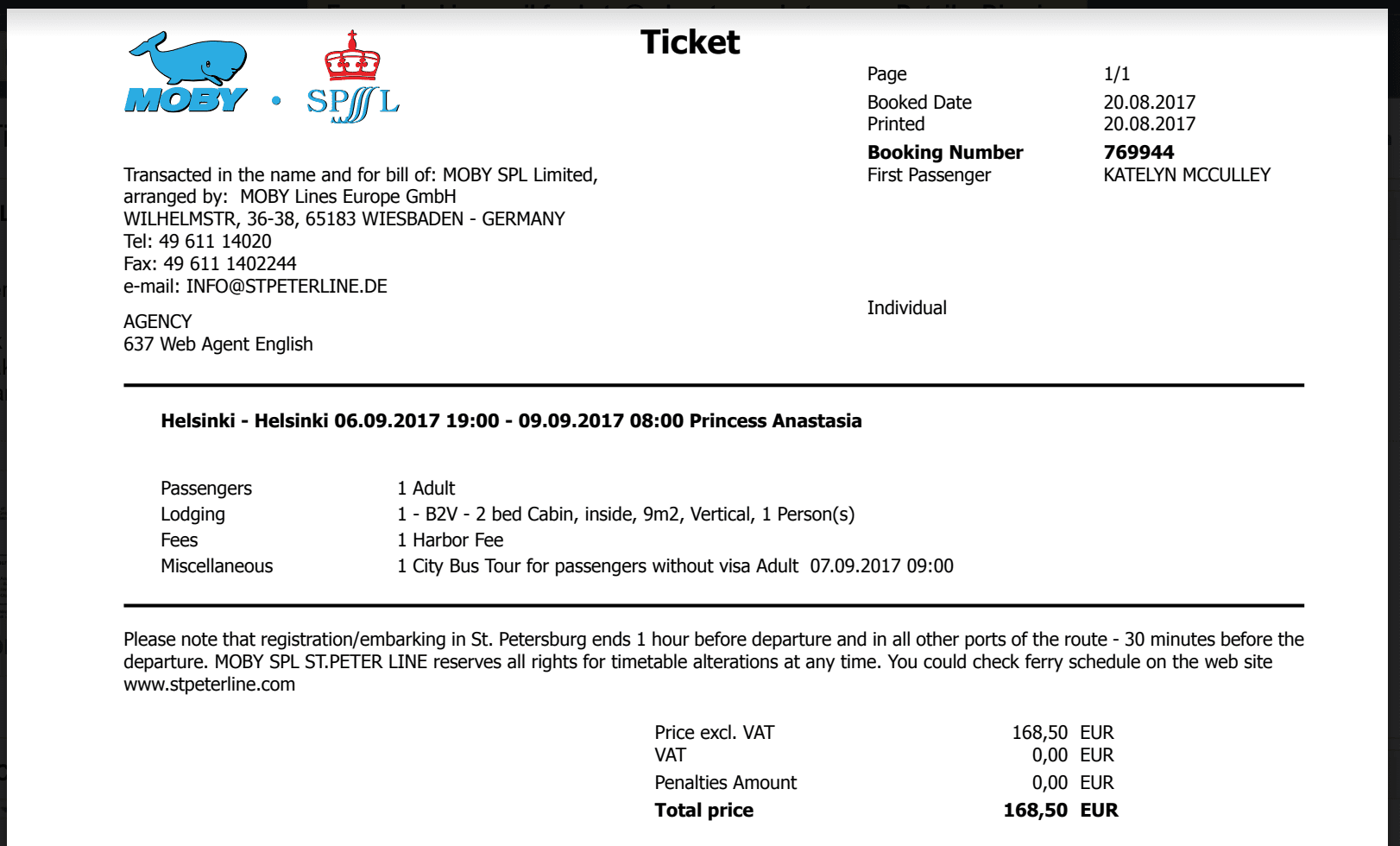 How do you book the St. Peter Line ferry?
You book it through the Moby/St. Peter Line website here.
Be forewarned — even after you book your ticket, there is hardly any information. That image above is what I received in my email — and that was literally it. No information on where to go, when to get there, or any information about the boat itself. It didn't even say where or when to embark.
This was literally the only confirmation I received prior to checking in at the terminal in Helsinki.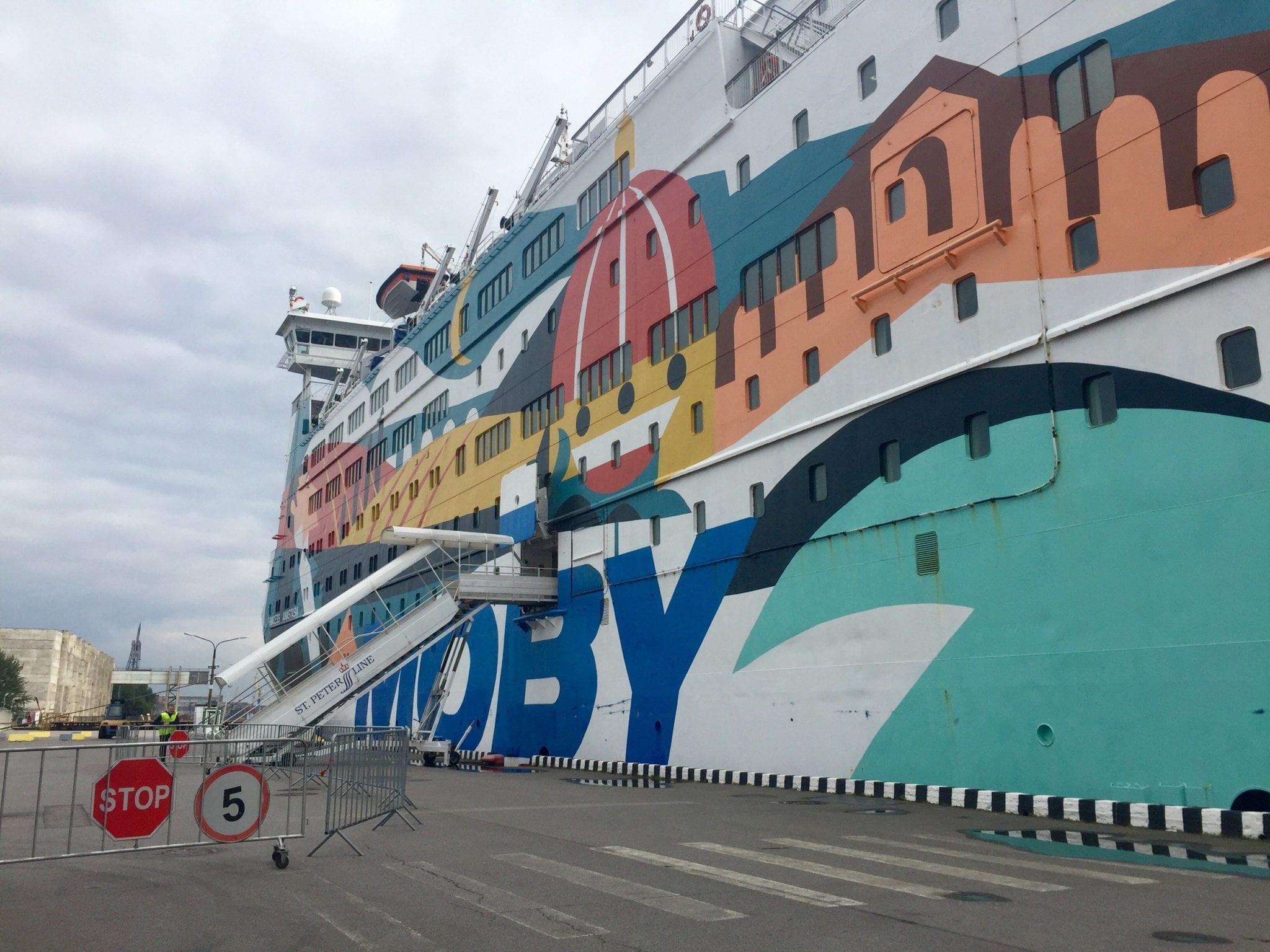 How much does the ferry cost?
I booked the three-night journey from Helsinki to St. Petersburg and back. I had the cheapest cabin class — B2V — which was a private, windowless, ensuite room with two twin-sized beds, one lofted on top of the other. The cost was 168.50 EUR ($200 USD).
Prices on the website are now higher. The cheapest B2V rooms now cost 189 EUR (224 USD) for one person and 204 EUR ($242) for two people; the most expensive rooms, the LX2, cost 531 EUR ($629 USD) for one person and 546 EUR ($647 USD) for two people and include a queen-sized bed, a window, a TV, and two armchairs. Breakfast is included in this luxury room.
Extra fees: All passengers must pay an extra 25 EUR ($30) per person for the mandatory City Bus Tour, which covers the shuttle service to St Isaac's Square in St. Petersburg. There is an additional 15 EUR ($18) fee charged per person. These two fees are added on to your bill and are not negotiable.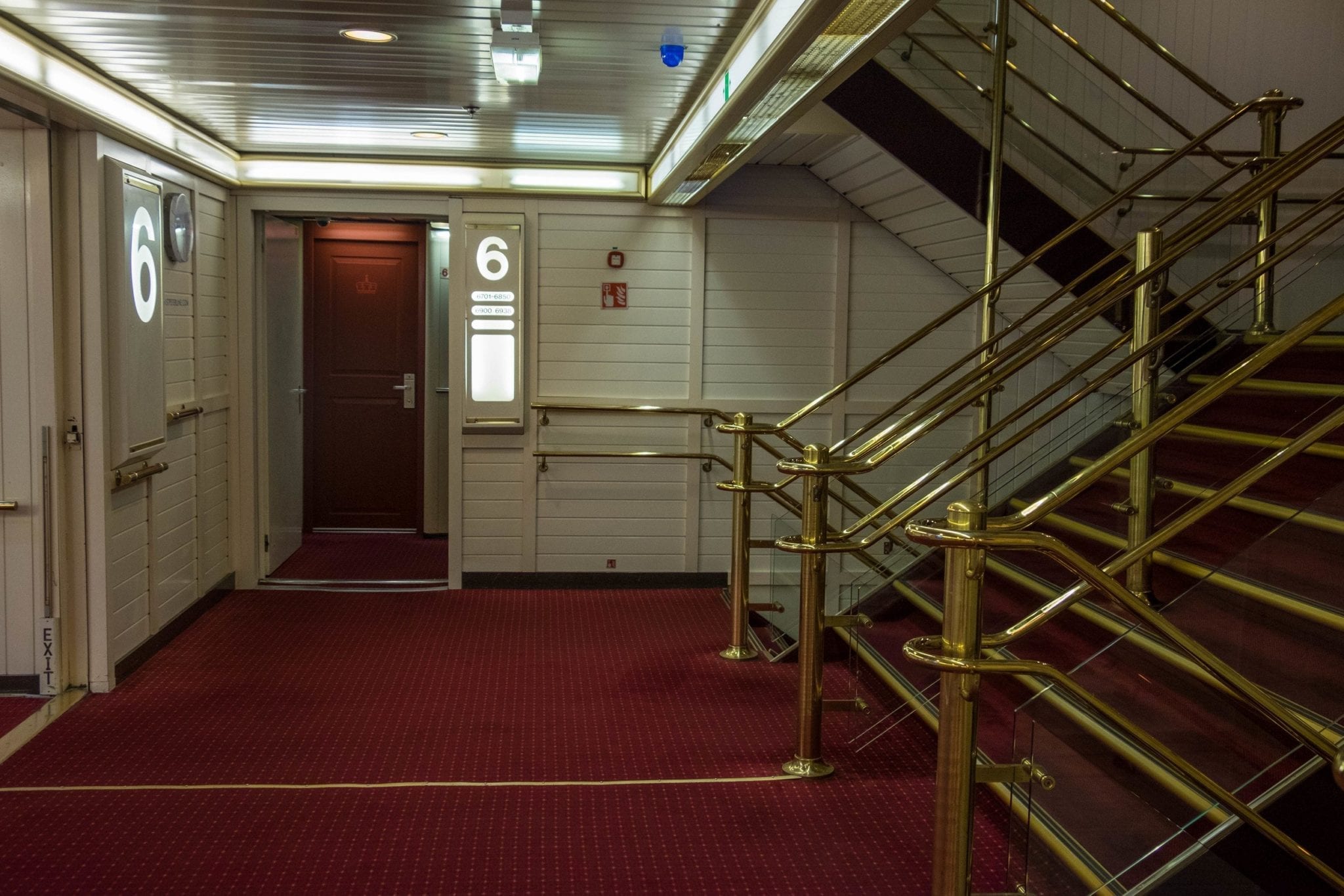 St. Peter Line Ferry Schedule, Helsinki to St. Petersburg to Helsinki:
Wednesday, 3:00 PM: Check-in begins in Helsinki.

Wednesday, 7:00 PM: Ship departs Helsinki.

Thursday, 9:00 AM: Ship arrives in St. Petersburg. Passengers with young children may begin to debark at Deck 4 at 9:00 AM; all others begin at 9:30 AM.

Thursday, 9:15 AM-10:15 PM: Shuttles run to and from St. Isaac's Square runs every 15-30 minutes.

Friday, 9:00 AM-5:45 PM: Shuttles run to and from St. Isaac's Square ever 15-30 minutes.

Friday, 7:00 PM: Ship departs St. Petersburg.

Saturday, 8:00 AM: Ship arrives in Helsinki. Passengers with young children may begin to debark at Deck 4 at 8:00 AM; all others begin at 8:30 AM.

Where does the St. Peter Line ferry leave from in Helsinki?
There are multiple ferry terminals in Helsinki. The St. Peter Line Ferry Terminal is close to the West Terminal. The address is Tyynenmerenkatu 8, and if you look for "St. Peter Line" on Google Maps, it points you to the correct spot. There is a tram stop right in front of it, Länsiterminaali T1, which goes straight to downtown Helsinki.
If you're interested, Helsinki's infamous "Bad, Bad Boy" statue is right across from the terminal.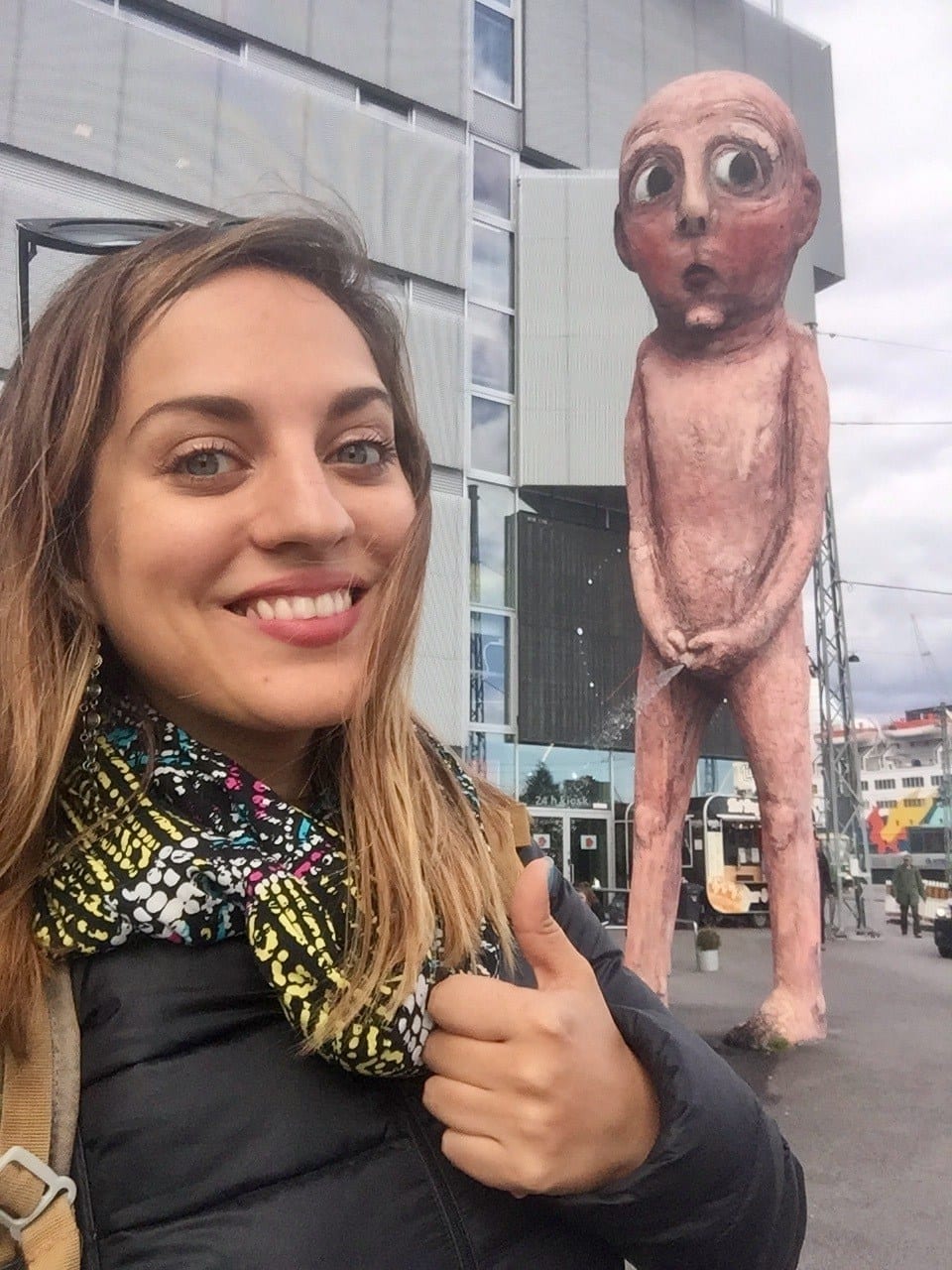 I got to the terminal early, and I was able to check in just before 3:00 PM for the 6:00 PM departure. I was given four small white cards, each the size of a credit card: my boarding card, my Russian arrival card, my Russian departure card, and a coupon for 10 EUR ($12 USD) off a 100 EUR ($118 USD) purchase at the ship's duty free shop.
Upon arrival at my cabin, I had no idea how to get in; I expected that the key would be waiting in a cubby outside my door, like the Carnival cruise, but there was no cubby. An employee demonstrated that my boarding card also served as a key. Ah.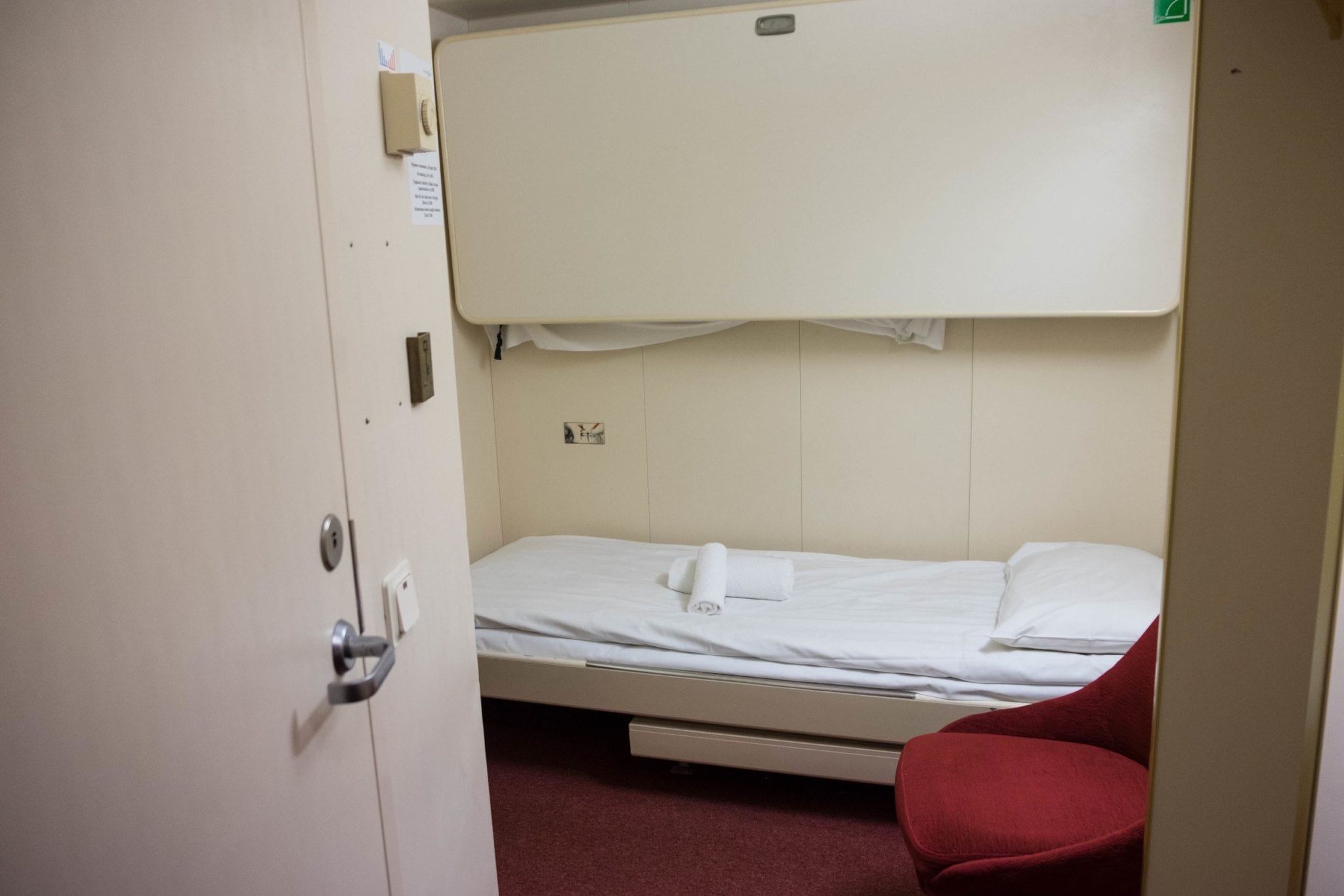 What are the rooms like on the St. Peter Line ferry?
The entire boat is dated, resembling something out of the early 90s. I found my B2V room, on the lowest price tier, to be empty and bland.
My room was very small (as is standard for any ship) and had two single beds, one on top of the other. There was a tiny desk and chair next to an outlet, which was good for working. The ensuite bathroom had a surprisingly good shower with hot water and nice water pressure.
But the fact that the boat was so old really put a damper on things. I mean, when was the last time you saw one of these?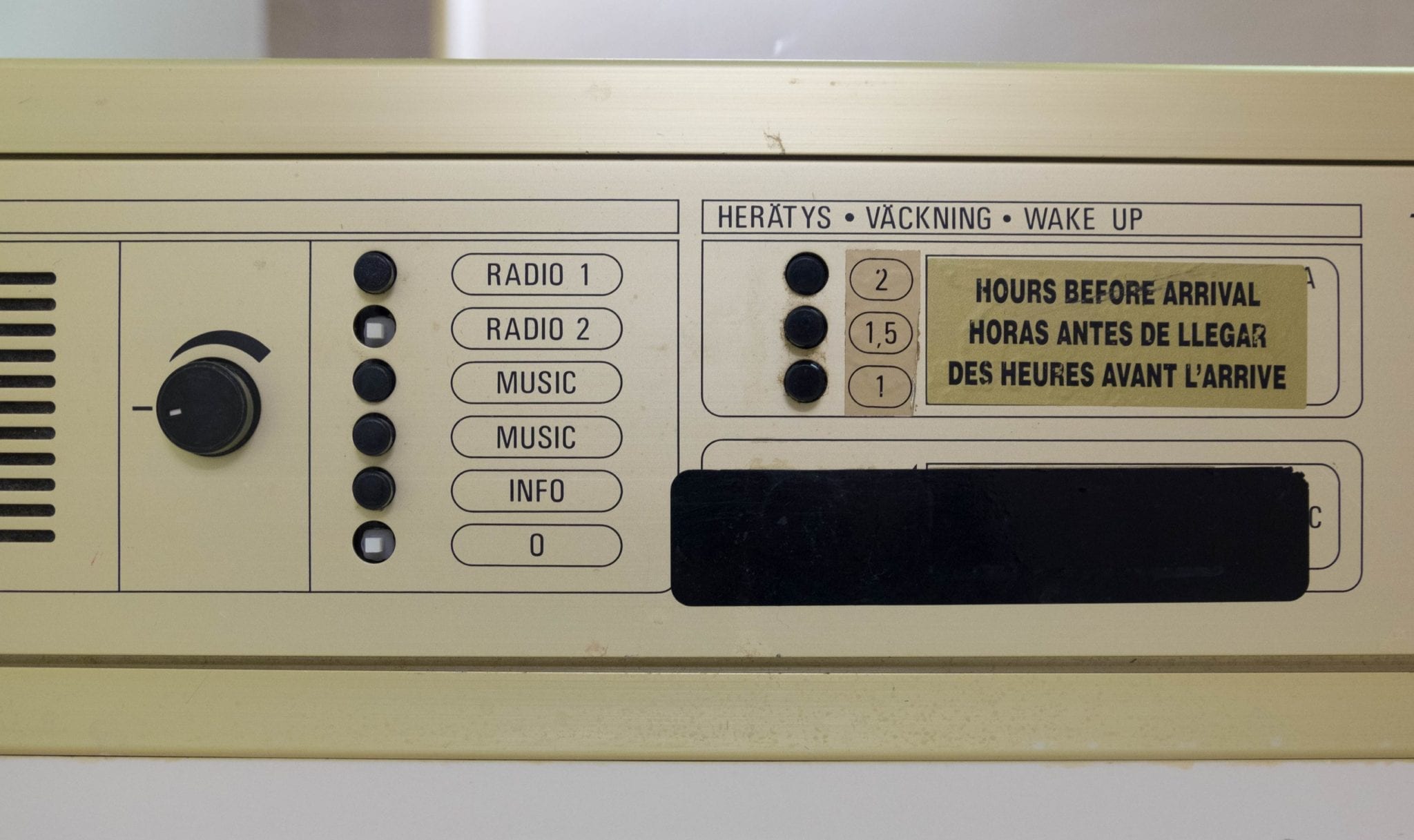 I usually sleep well on ships, but I slept terribly both nights. The mattress was uncomfortable — I could feel the springs poking into me all night. And my cabin was located on Deck Six, just beneath the nightclub. I couldn't sleep because "YMCA" was reverberating through my room. Earplugs did not help. I fell asleep sometime around 2 AM.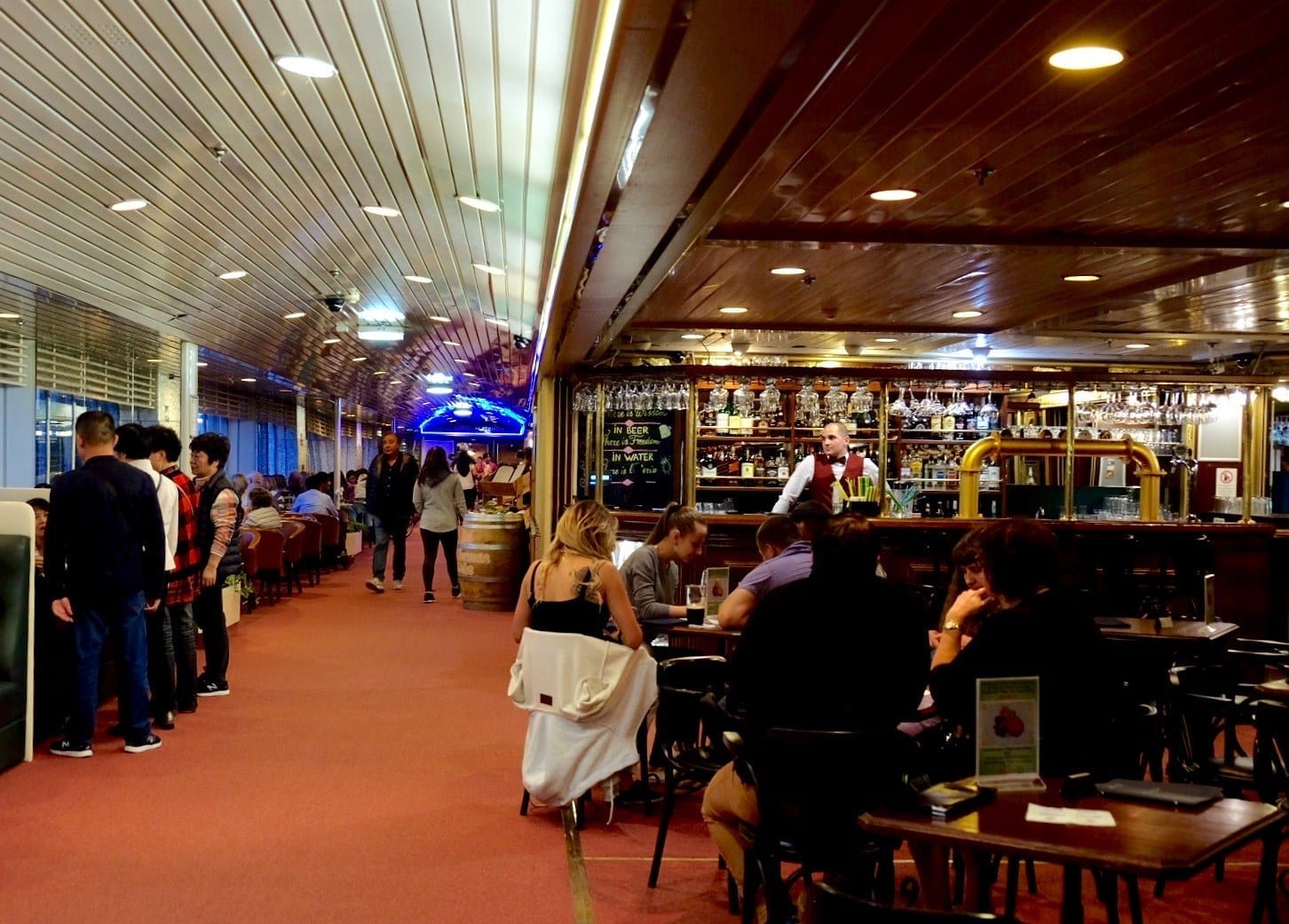 What is there to do on the St. Peter Line ferry?
This ferry is not as decked out as a regular cruise ship, but they do have some things to do. While the ferries connecting the Baltic and Northern cities are notorious for their debauchery, this cruise is far more sedate. My Eckero Line ferry from Tallinn to Helsinki felt luxurious by comparison, with multiple musical acts performing on the short two-hour crossing!
The ship, the Princess Anastasia, has several standard cruise ship offerings: a casino, several bars including a sports bar and a nightclub, a small children's area. There is a spa area with an adult pool, a children's pool, a Finnish sauna, and a jacuzzi. You need to pay to use the pools. There is a small fitness center as well.
A few musicians perform in and around the restaurants: think smooth jazz.
There are supposedly "creative classes," but the only description I could find was, "Each workshop is structured so it transmits practical secrets for beginners and all enthusiastic participants."
There is a duty free shop, an exchange office, and a medical center.
I spent most of my time in the bar drinking 5 EUR ($6 USD) glasses of prosecco and reading Al Franken, Giant of the Senate. When I came back after our time in St. Petersburg, the bartender greeted me while holding up a champagne glass. I loved that!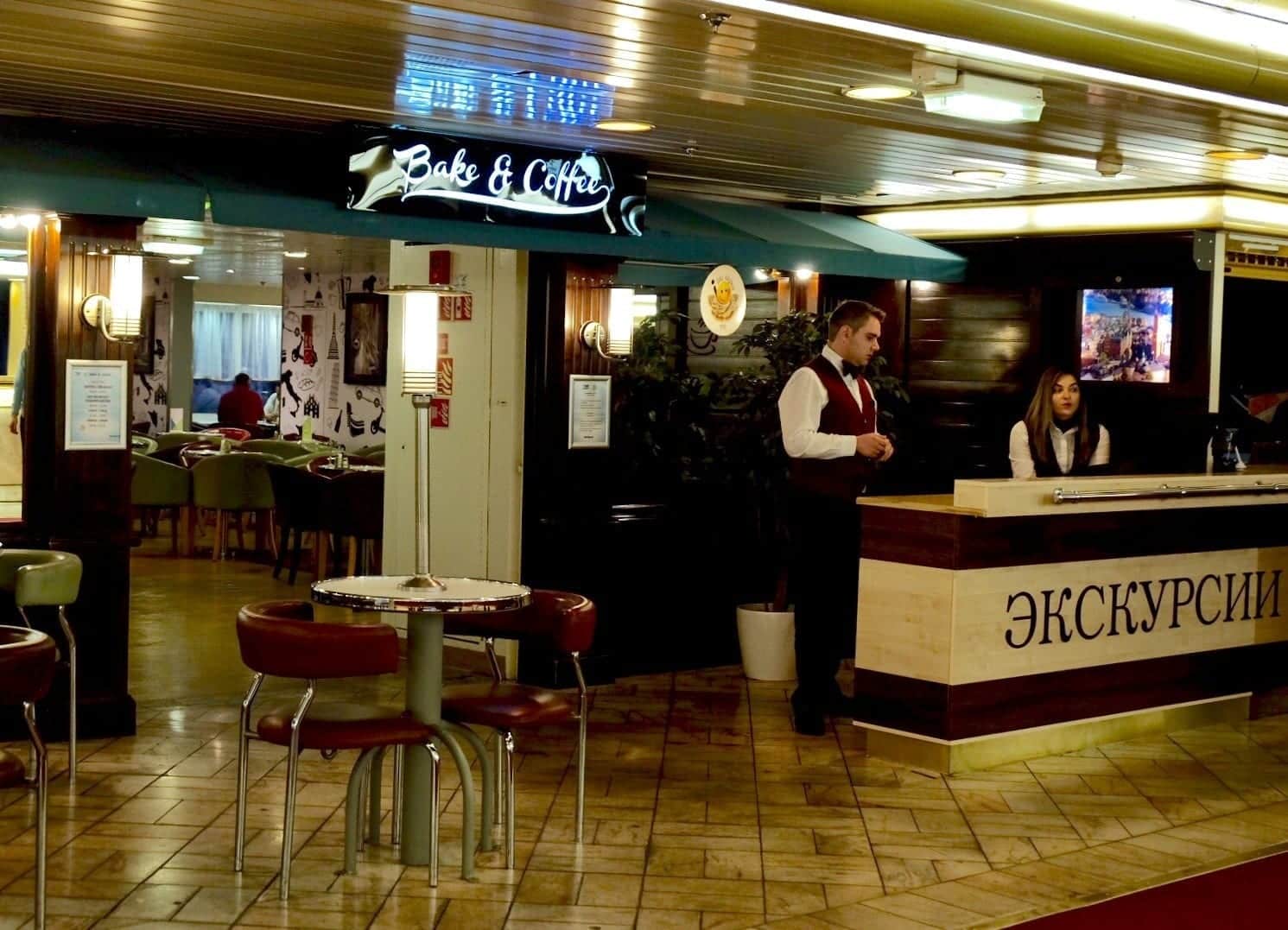 Is there wifi on the St. Peter Line ferry?
Yes, there is wifi on the ferry, but you have to pay for it. One hour costs 4.99 EUR ($6 USD); two hours costs $8.99 ($11 USD); six hours costs 13.99 EUR ($17 USD).
The wifi was frustratingly slow and would frequently stop altogether. After my initial six hours were up, I couldn't get back online; I faced difficulties getting online on the entire journey back.
My advice? Don't rely on being able to use wifi, and definitely don't plan on using wifi to get work done. Bring enough books to entertain yourself in case the wifi doesn't work.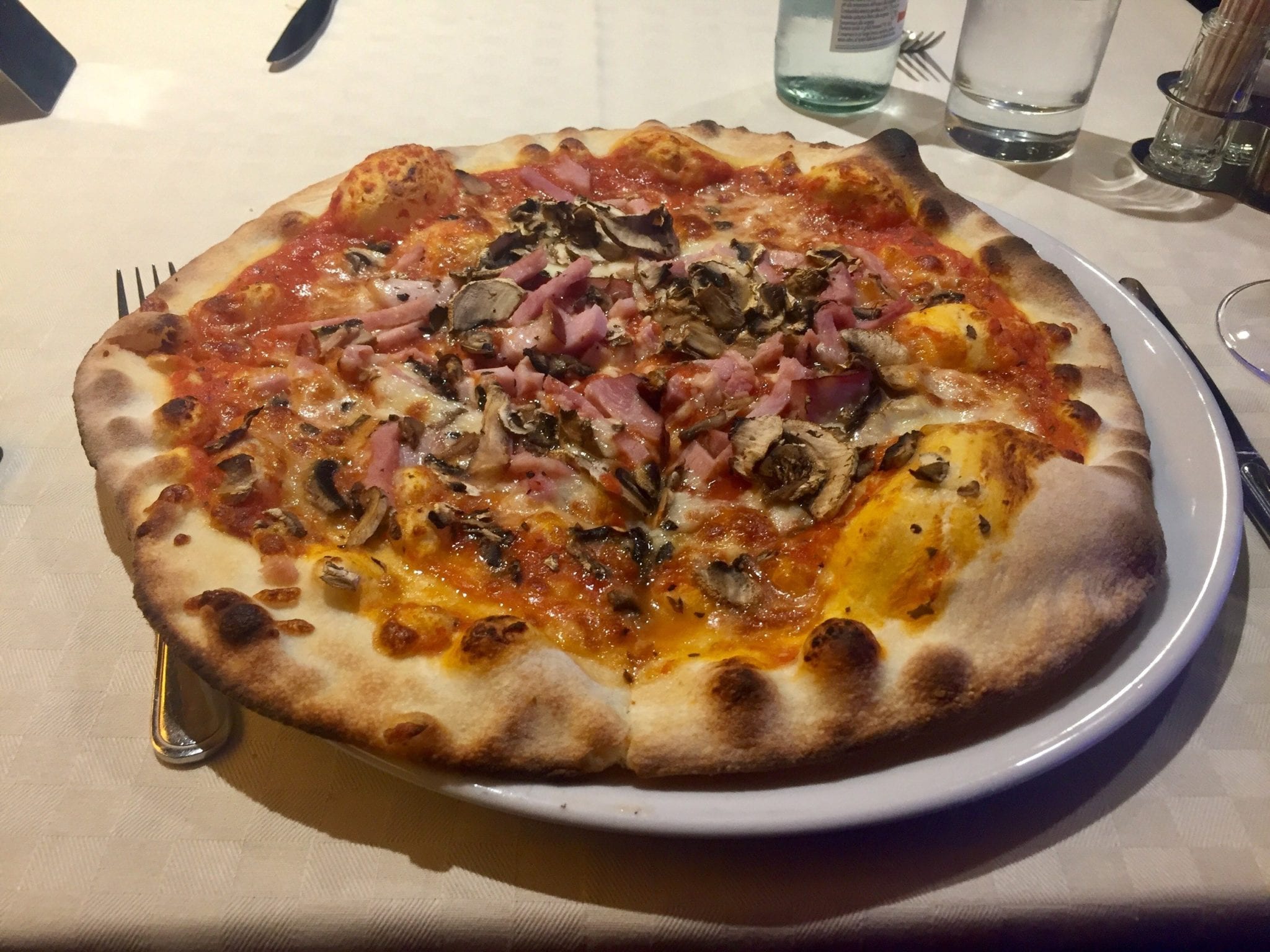 What is the food like on the St. Peter Line ferry?
There are several restaurants on board, including the high-end New York restaurant and a buffet called the Mascalzone Latino. Both nights, I got pizza at Napoli Mia, the Italian restaurant. It was decent.
For breakfast, I recommend checking out the Bake and Coffee cafe, which has hot breakfasts, coffee, beverages, and pastries for sale.
See descriptions of all the restaurants and bars on board the Anastasia here.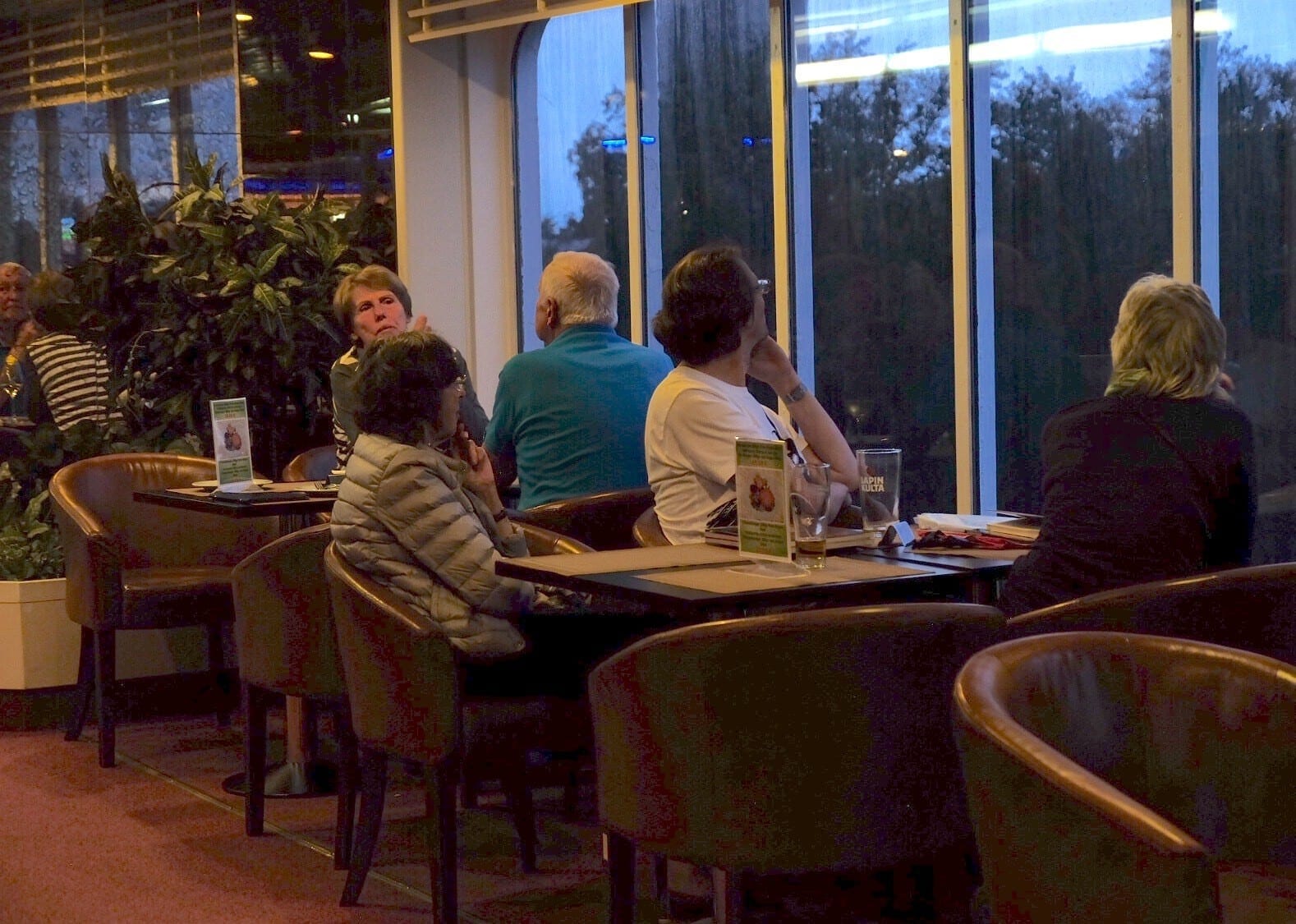 What kind of people take the St. Peter Line ferry?
Most of my fellow passengers were 50+, from Europe and China. The Chinese passengers tended to be part of organized tours; the Europeans tended to be independent travelers. There were a few Americans and Canadians; I did not notice any other nationalities.
Is the St. Peter Line ferry good for kids?
There were some children on board. The ferry has a children's play area and the restaurants have kids' menus. You can definitely survive this trip with kids, but just keep in mind that this is not a traditional cruise ship that caters to families with events around the clock.
Children age seven and up require their own bed in the cabin.
How is the crossing from Helsinki to St. Petersburg?
Smooth as glass.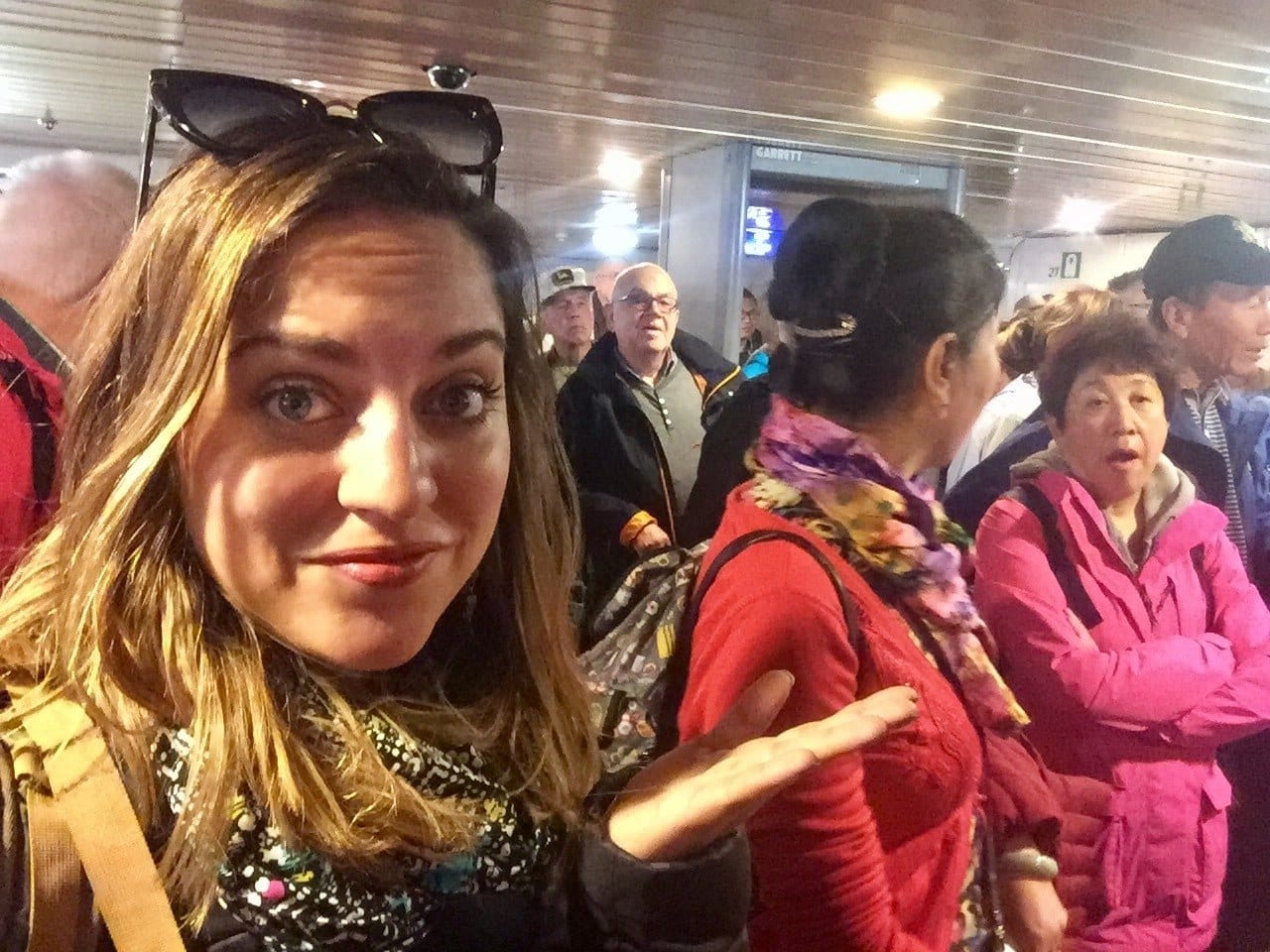 What is the debarkation and immigration process like in St. Petersburg?
Honestly, debarkation in St. Petersburg was rough — this was the worst part of the trip. First of all, nobody had any idea where we were supposed to get off — this was not announced or written anywhere. For the record, it's Deck Four. Follow the crowds. Also, keep in mind that there are lots of stairs; don't bring any luggage you can't carry yourself.
After we debarked, it was absolute chaos at Russian immigration. While several windows were open, people did not form lines — people were just a giant blob, everyone jostling each other and trying to cut each other. Some passengers were polite, but others were quite rude and I thought a fight was going to break out.
Even so, the line moved much faster than I anticipated. It took about an hour for me to get to the desk; I heard horror stories of three-hour waits from some of the TripAdvisor reviews.
I noticed that Americans spent much longer at the counter than European and Chinese passengers; they had their passports closely scrutinized as well.
My questioning took about 20 minutes, much longer than anyone else. I was questioned about the state of my passport: I was in a shipwreck in Indonesia in 2011 and my passport spent time underwater, leading to several pages being a bit blurry. Since the shipwreck I've visited more than 60 countries on this passport and while some agents ask me how it got wet, nobody has ever used it as reason not to allow me in. Russia was the only country to ever be hostile over its state.
The agent called a supervisor and I was questioned several times about the state of my passport, about why I visited the UK so many times (Um, multiple boyfriends? I just said "tourism"), what I did for a living ("I run a travel website"). I don't think the supervisor understood English well enough to know what "I run a travel website" meant. When he asked how long I was staying and I said, "Two days," he was shocked. "The boat is here two days!" I told him and showed him my hotel confirmation.
After several agonizing minutes, he stamped me in and let me go.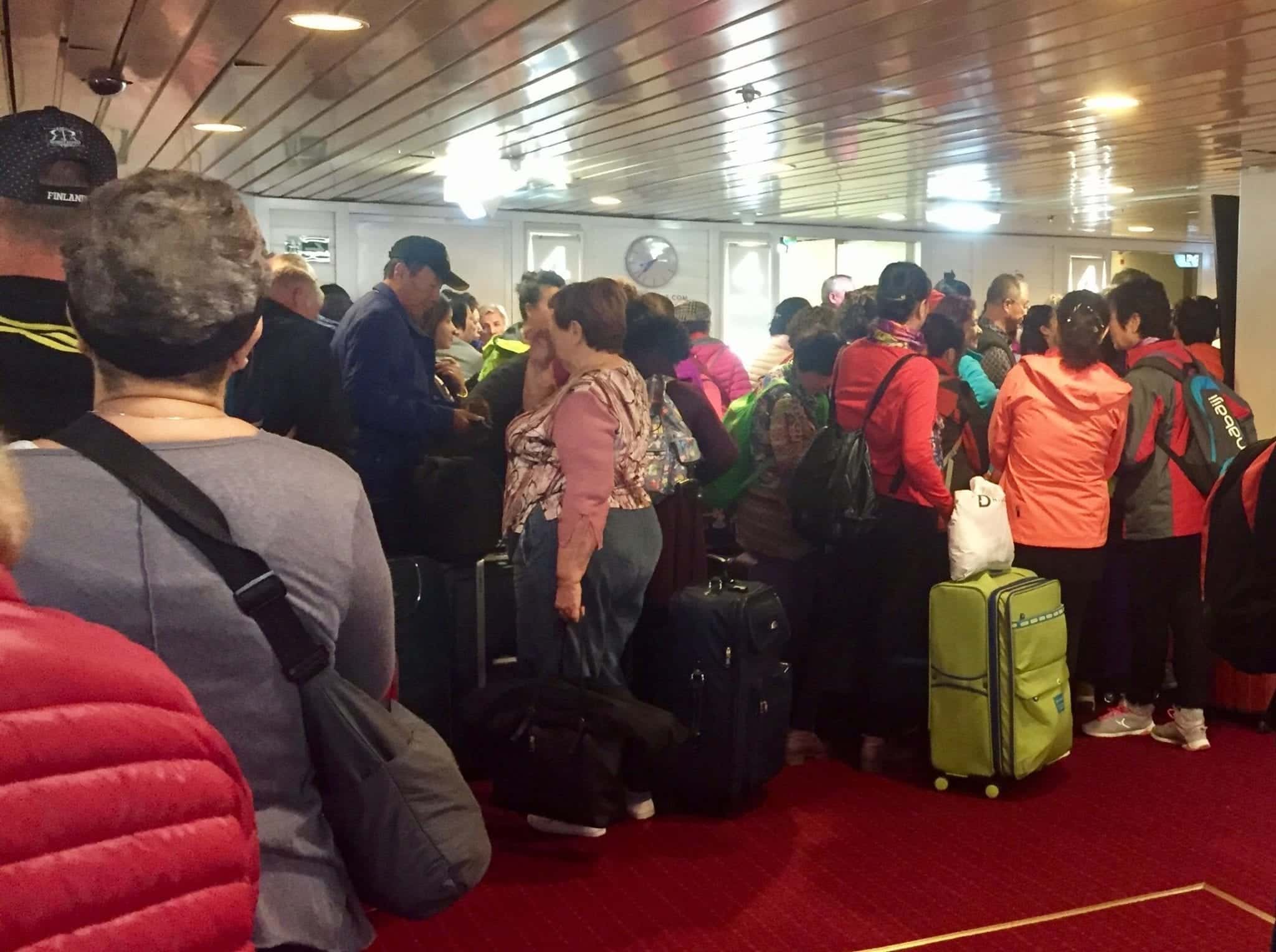 How do you get into St. Petersburg from the ferry terminal?
As a condition of the visa, passengers on the St. Peter Line are required to purchase a tour. This tour, which is simply a shuttle from the ferry terminal to St. Isaac's Square, is automatically included in your ferry ticket purchase as a separate 25 EUR ($30) charge. You don't have to book anything else on your own.
After you finish going through immigration, walk outside. You'll see several white vans with a sign in front of them that reads "MOBY — ST PETER LINE" or just "MOBY." The drivers do not speak English, but just say, "St. Isaac's Square?" and they'll nod and point you inside the van. Some shuttles stop at the official hotels en route; others go direct to the square.
You have the freedom to spend your time in St. Petersburg however you'd like — you don't even have to take the shuttle if you don't want to. This isn't like other cruise ships in Russia where you have to stick with your group. From the moment you arrive until the moment you leave, you can do whatever you feel like, whenever you feel like it.
If you'd rather book a guided excursion, you can book group tours or private tours (minimum of two people required) through the cruise. I did not take any excursions.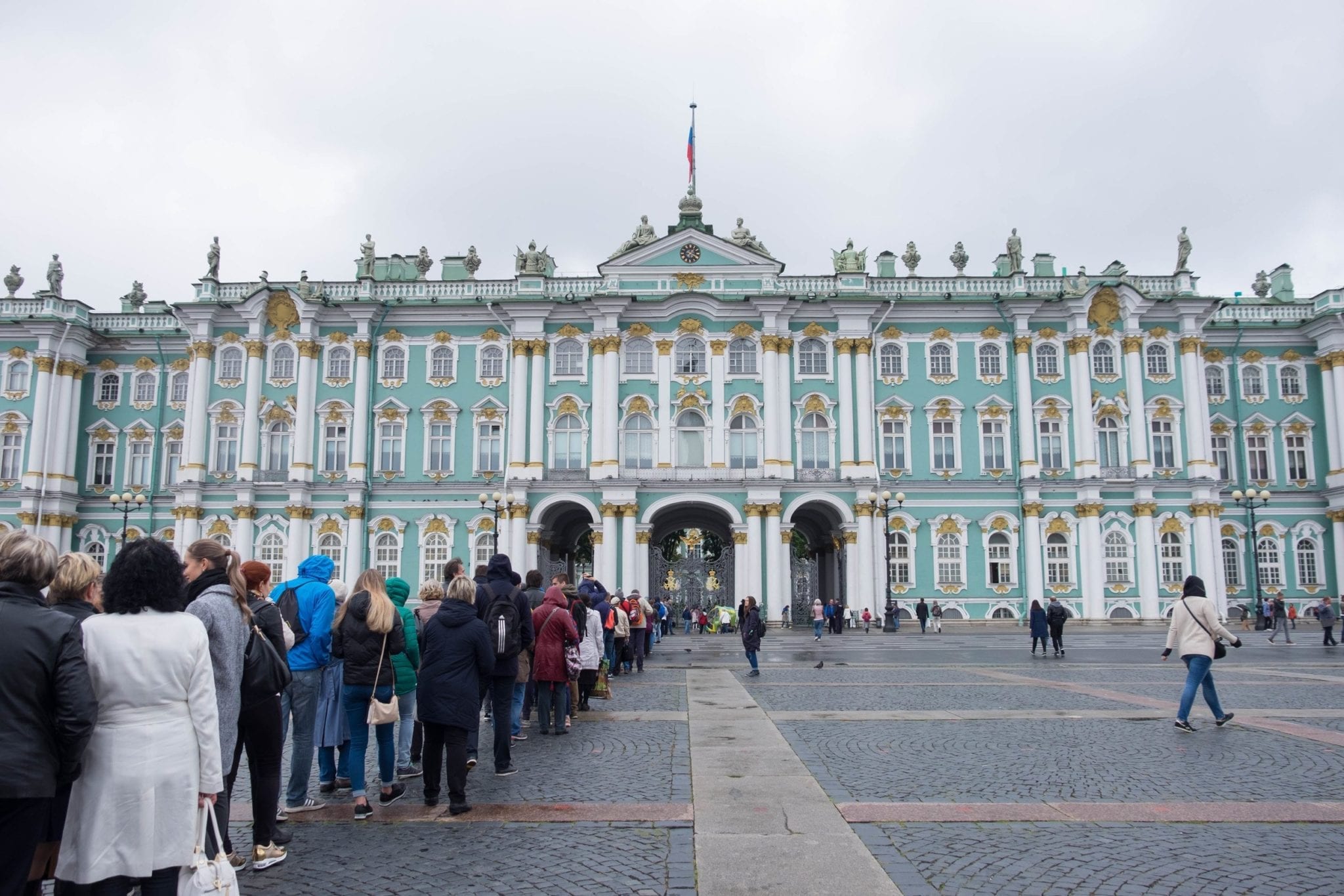 Do you stay on the ship or in a hotel in St. Petersburg?
You can come back to the boat and stay overnight or you can stay in a hotel in St. Petersburg. If you choose to stay in St. Petersburg, you can leave things in your cabin on the ship.
I highly recommend staying in a hotel in St. Petersburg. It will give you so much more time in the city if you don't have to deal with the lengthy embarkation/debarkation/immigration process both days.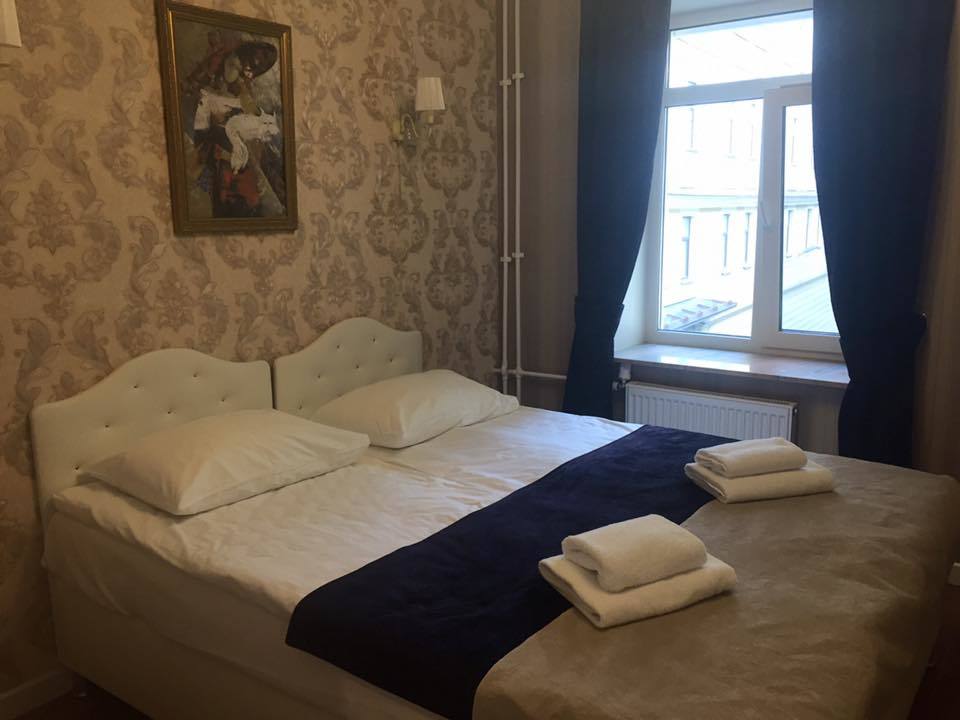 What's a good hotel to stay in St. Petersburg?
The St. Peter Line Ferry recommends two hotels, Sokos Hotel Palace Bridge and Sokos Hotel Vasilyevskiy, which are stops on the shuttle's route to St. Isaac's Square.
My recommendation: choose a hotel walking distance from St. Isaac's Square that is in your price range.
I stayed at the Art Avenue Hotel, pictured above, and highly recommend it. It was about an eight-minute walk from St. Isaac's Square, which I found to be very easy while carrying a suitcase. You will see a sign for the hotel on the street; it points you into a courtyard where you find the hotel itself.
Art Avenue is a cozy, welcoming mid-range hotel. I had a private double room with ensuite bathroom. Wifi is free and excellent. There's also access to a large kitchen where you can prepare meals if you'd like. I paid 3600 rubles, or $62.50, for one night's stay.
It's also centrally located and a 20-minute walk to either the Hermitage, the Mariinsky Ballet, or the Cathedral of Our Savior Upon Spilled Blood.
See more hotels in St. Petersburg here.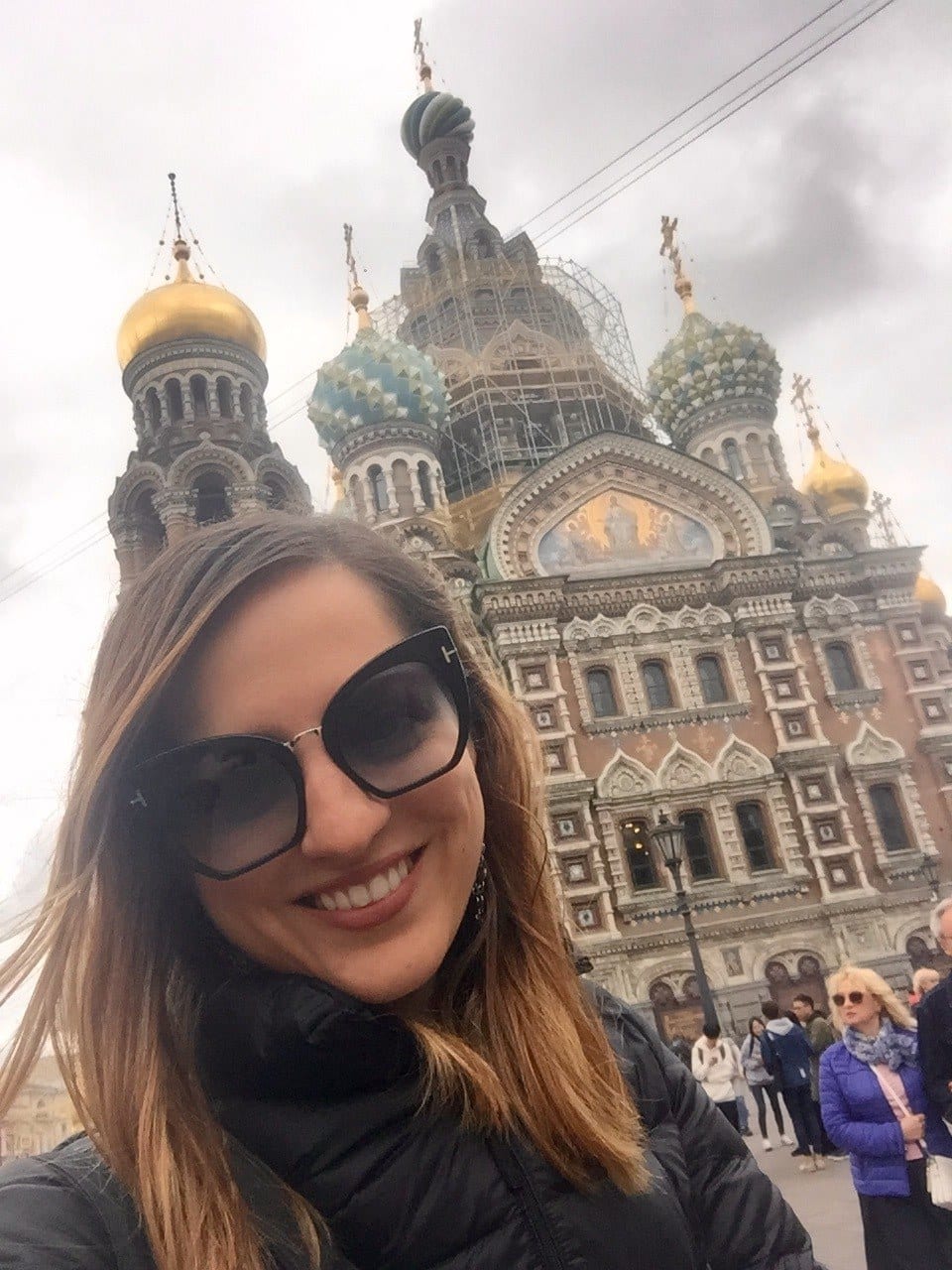 What are things to do in St. Petersburg?
I loved St. Petersburg. It is so grand and elegant and feels much more like Paris than any other European city.
I've visited every country in Europe except Cyprus, and I've enjoyed dozens of beautiful European cities. Many of these cities like to compare themselves to Paris — but St. Petersburg is the only city that measures up. It's just that majestic. Plus, the locals dress really well, especially the local women.
I was in St. Petersburg for about 30 hours total, and it was nowhere near enough. My top five things to do in St. Petersburg are 1) visit the Hermitage 2) see a ballet or opera 3) check out the Cathedral of Our Savior of Spilled Blood 4) See St. Isaac's Cathedral 5) just walk around and explore the city independently.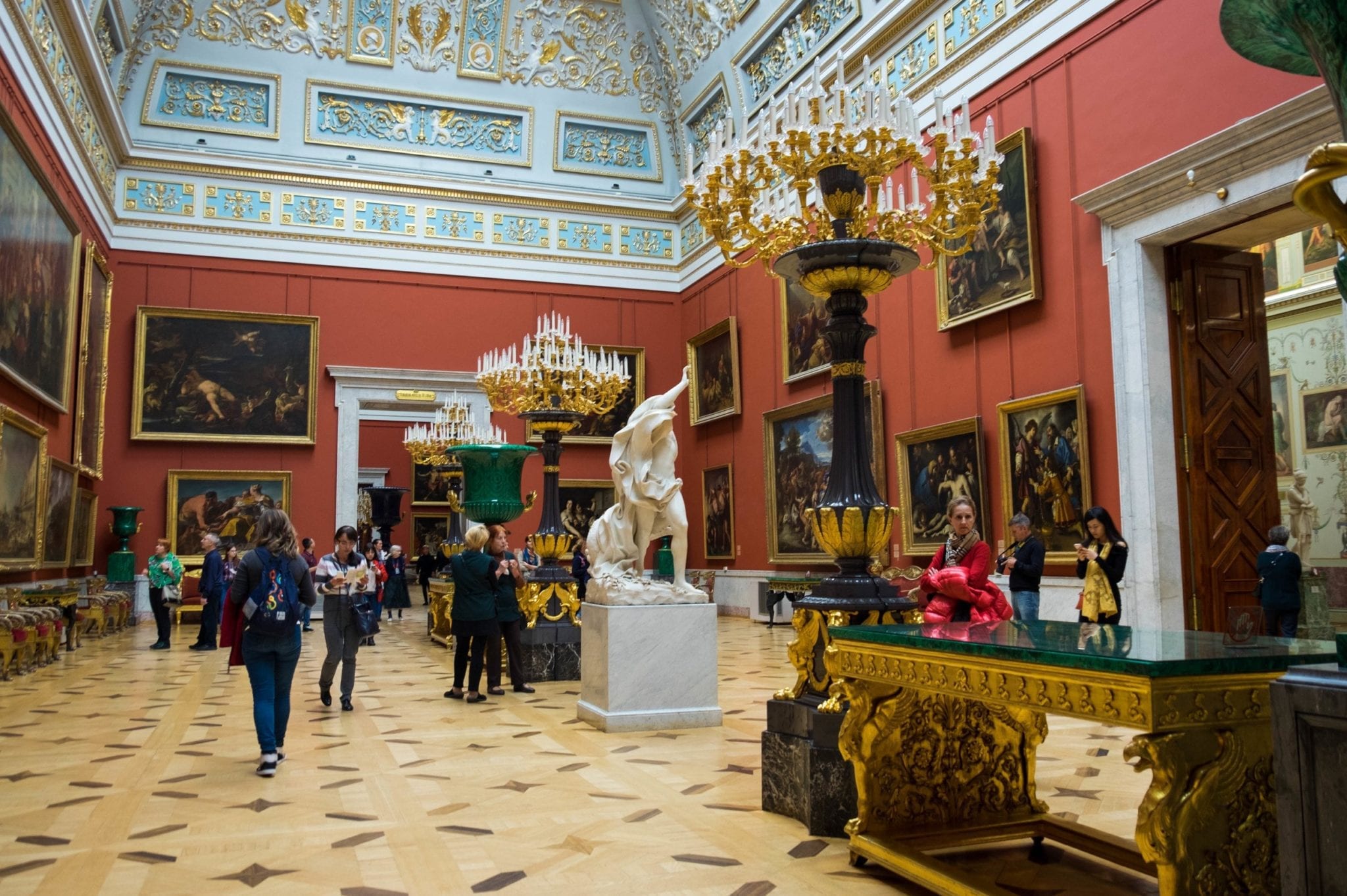 The Hermitage astonished me. Imagine if you took all the art from the Louvre and decided to put it in Versailles instead — that's the Hermitage. Every room I visited impressed me, and I soaked it all in until I could barely catch my breath.
BUY YOUR TICKET ONLINE IN ADVANCE! The line at the Hermitage was the longest I've ever seen, even longer than at the Uffizi in Florence. But if you buy an online ticket in advance, you get to skip that line and go into a different entrance.
The Hermitage offers only 15 minutes of free wifi, just barely enough to download the apps and audioguides if you haven't yet. There are audioguides for both one- and three-hour tours, among other themed tours. I really enjoyed the one-hour tour and supplemented with parts of the three-hour tour. Audioguides cost $1.99-2.99 and you pay via the iTunes Store.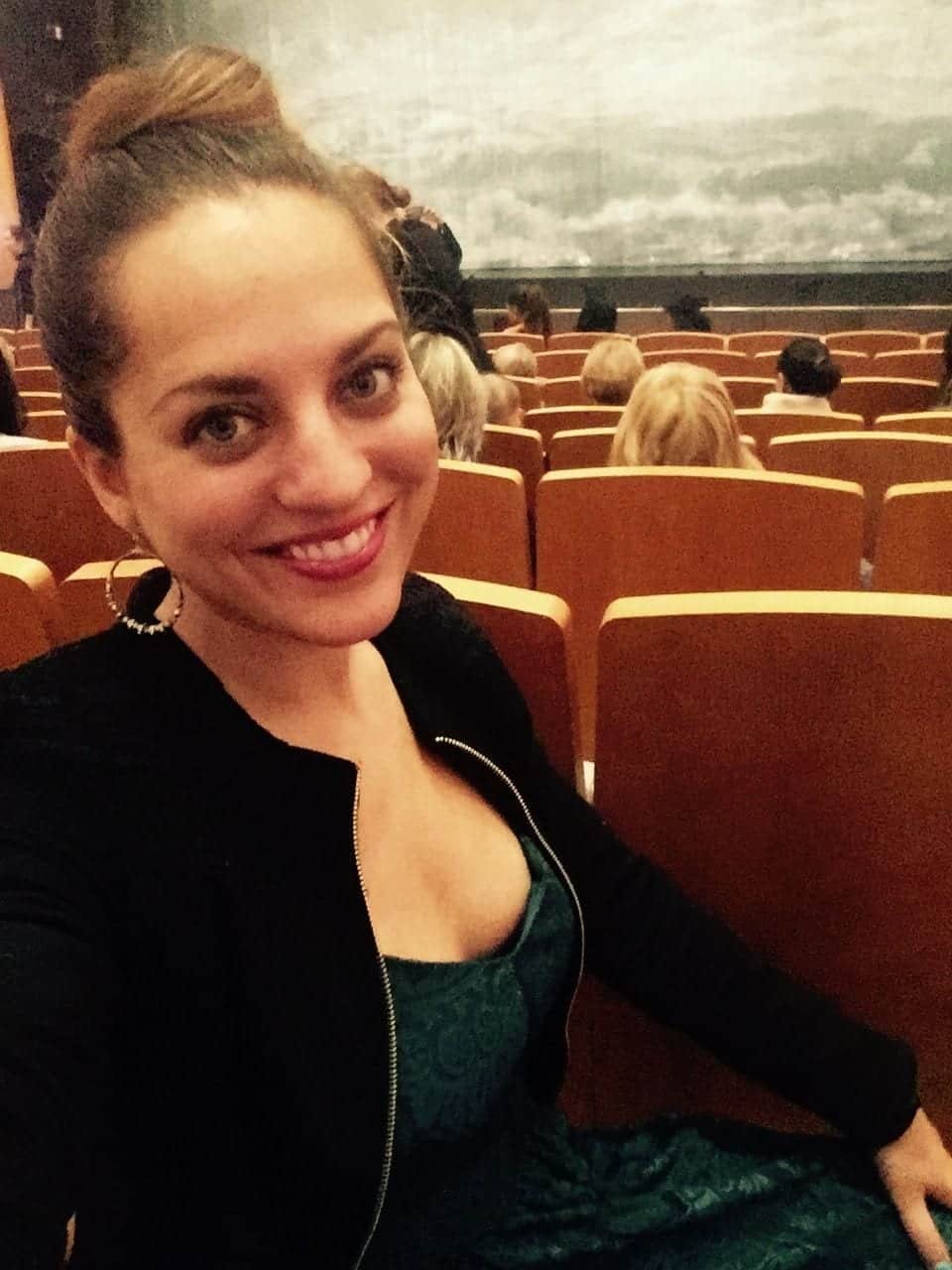 2. If you enjoy the arts, be sure to take in an opera, ballet, or philharmonic performance. I went to see Cinderella at the Mariinsky Ballet and paid about $50 for my eighth row center ticket. Which is a bargain when I paid the same price for the cheapest seat at a discounted performance of Waitress on Broadway last month! I had a lovely time at this ballet.
Note: I almost went to the wrong theater! My ticket was actually for the modern theater, which is a huge, unmissable building just behind the traditional Mariinsky Theater.
3. The Cathedral of Our Savior of Spilled Blood is so Russian. The outside is perfect for photos and selfies; the inside is a technicolor madness that you would never expect.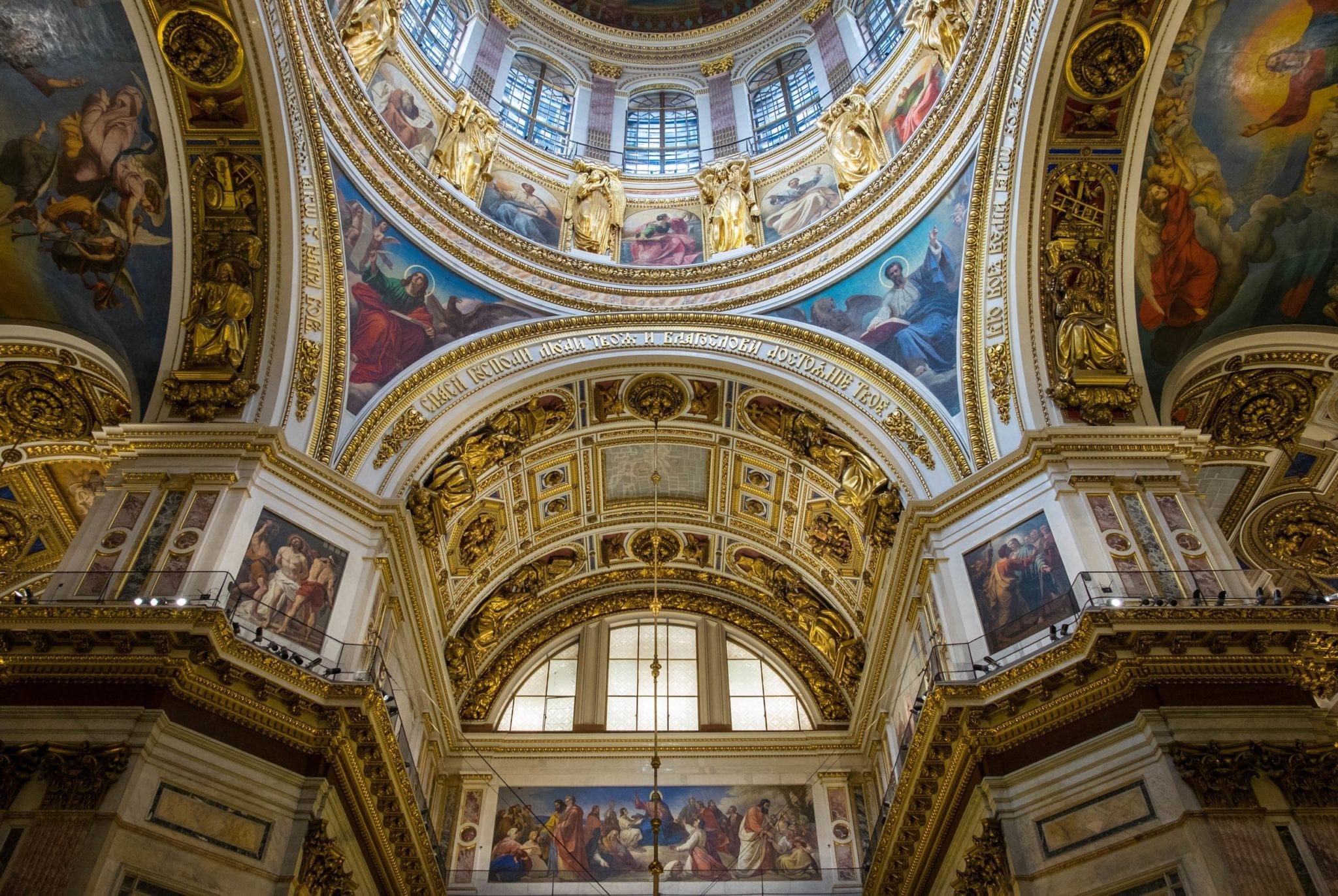 4. St. Isaac's Cathedral is worth a visit. It's not just your shuttle drop-off point, it's also an incredibly ornate church. You can also pay a bit more to visit the roof and have a panoramic view of the city; I wish I had time for this.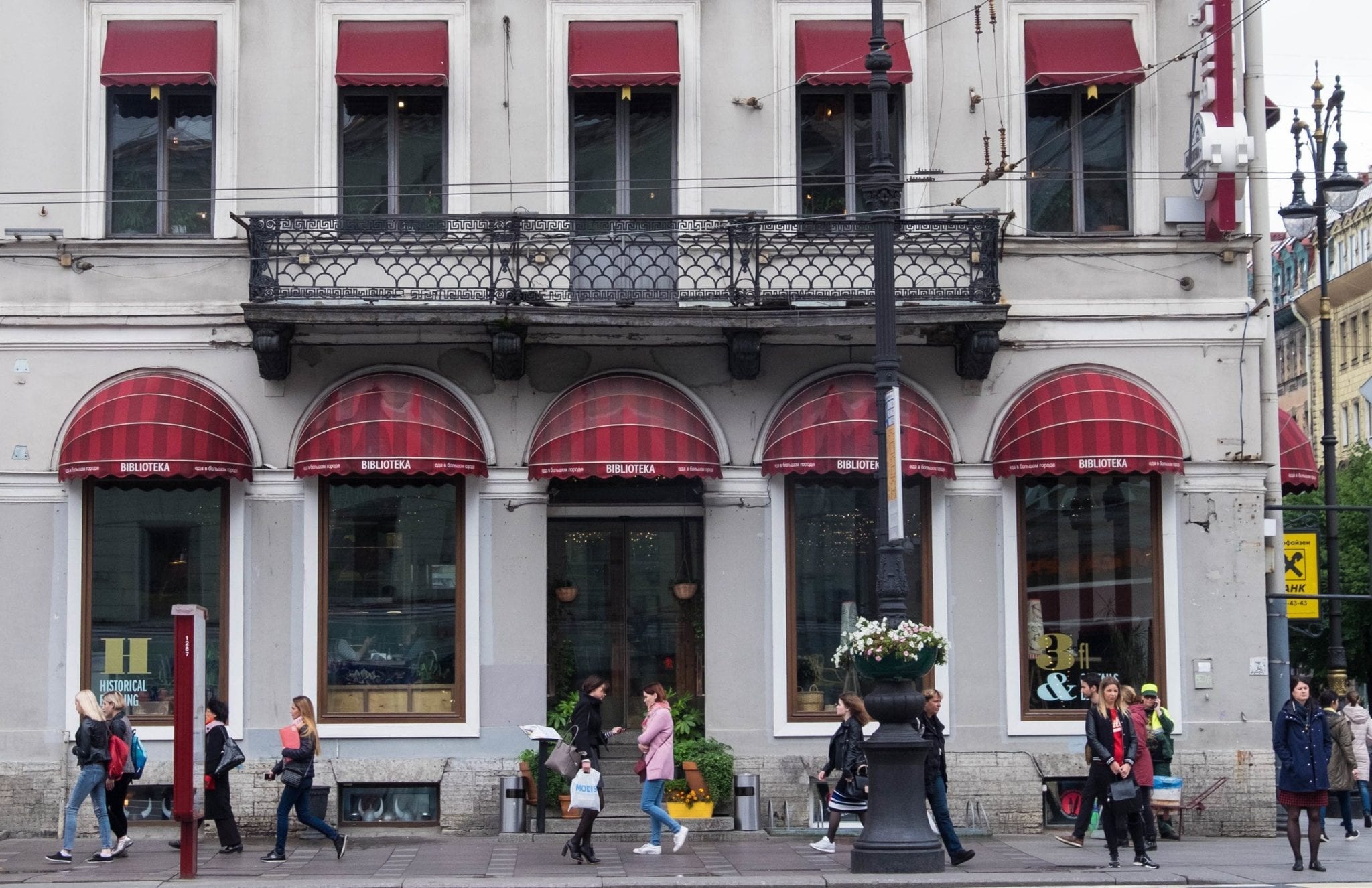 5. Just walk around and enjoy the city. There is so much grandeur and pride to St. Petersburg. Stroll along the canals, take photos, browse the shops, linger in a cute coffeeshop (pro tip: I LOVED a cafe near my hotel and the Hermitage called Bonch), and stop at anywhere that looks interesting.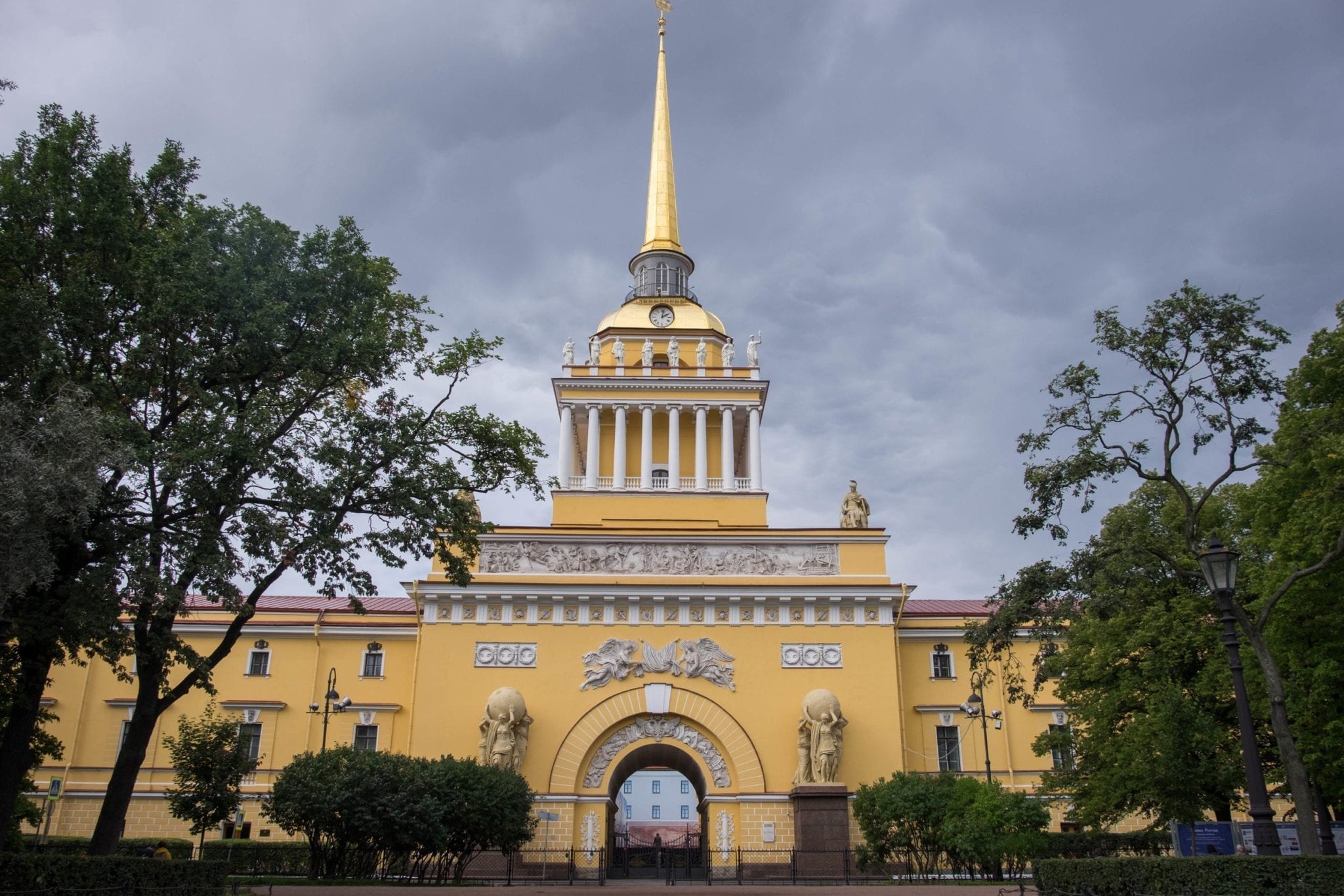 How is the Russian language barrier? Do people speak English?
It wasn't as bad as I thought it would be! St. Petersburg is a cosmopolitan city and most people who work in tourism speak at least a little bit of English. In restaurants, there would often be one server who spoke English well, and they would send her to serve me.
I do recommend learning the Cyrillic alphabet, which is pretty easy to do. It will make your life infinitely easier when you can sound out what's in front of you, as there are so many English language cognates in Russian. Cyrillic is also useful for trips to Ukraine, Belarus, Bulgaria, and Macedonia, among other countries.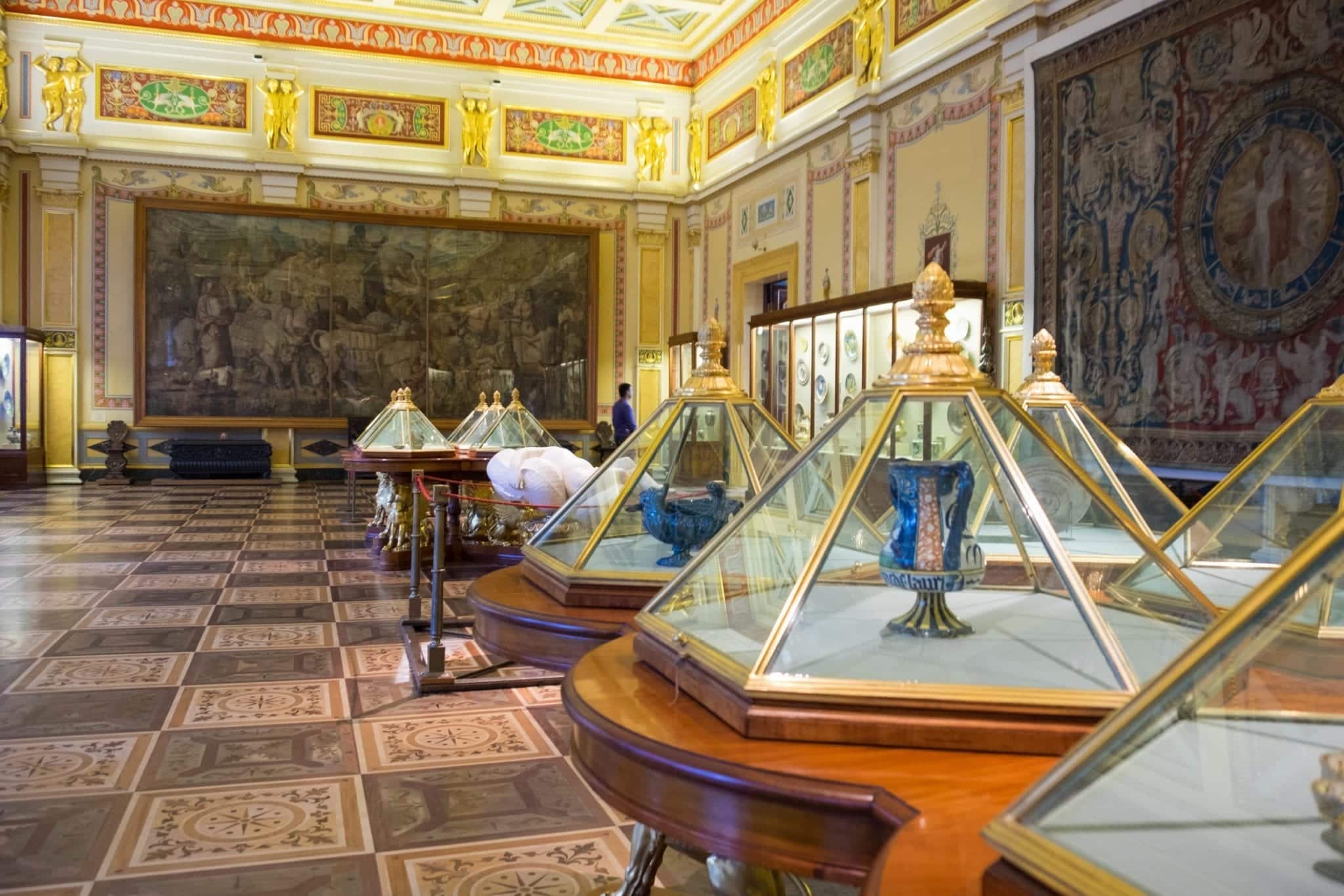 How do you get back to the ferry from St. Petersburg?
The shuttle picks you up in the same spot where it dropped you off in front of St. Isaac's Cathedral. It runs from 9:00 AM until 5:45 PM.
I arrived at 3:15 PM and got a seat on the 3:30 PM shuttle. That was earlier than necessary, but I wanted to give myself an extra cushion of time just in case anything went wrong. Everything went fine and I was back on the ship by 4:00 PM.
If I did it again, I would take the 4:30 or 5:00 PM shuttle.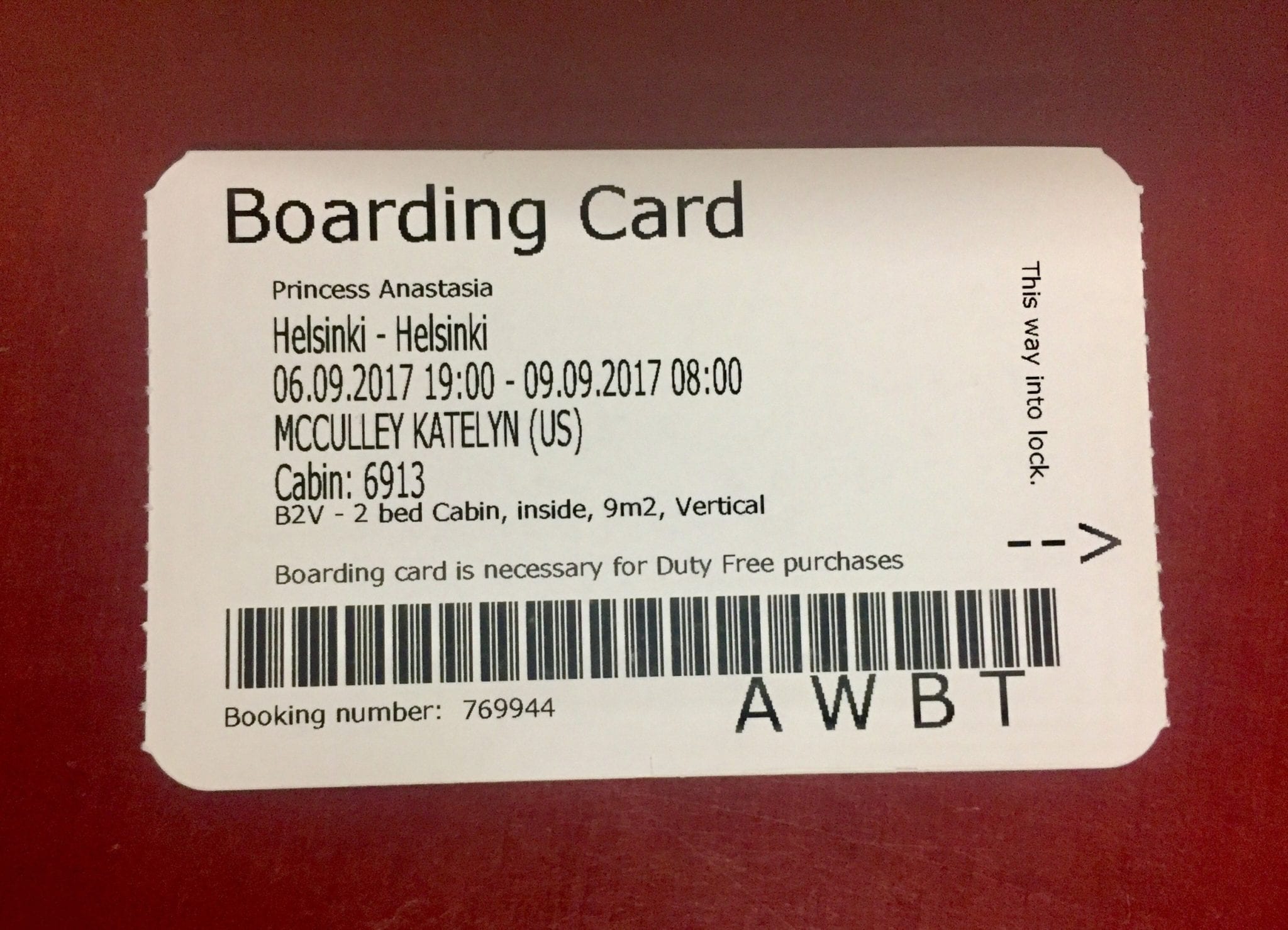 How is Russian immigration on the way back to the ferry?
Much, much easier than arriving. The shuttle drops you off at the ferry terminal, you can buy last-minute souvenirs or coffee, and then you proceed to Russian immigration where you're stamped out. Make sure you have your departure card and the piece of paper they gave you when you were stamped in.
Because of the staggered arrivals of people to the boat, there was only one person ahead of me in time.
I had a very hard time at immigration getting into Russia, but getting out only took a few minutes. They simply took a quick look at my passport and departure card and let me in.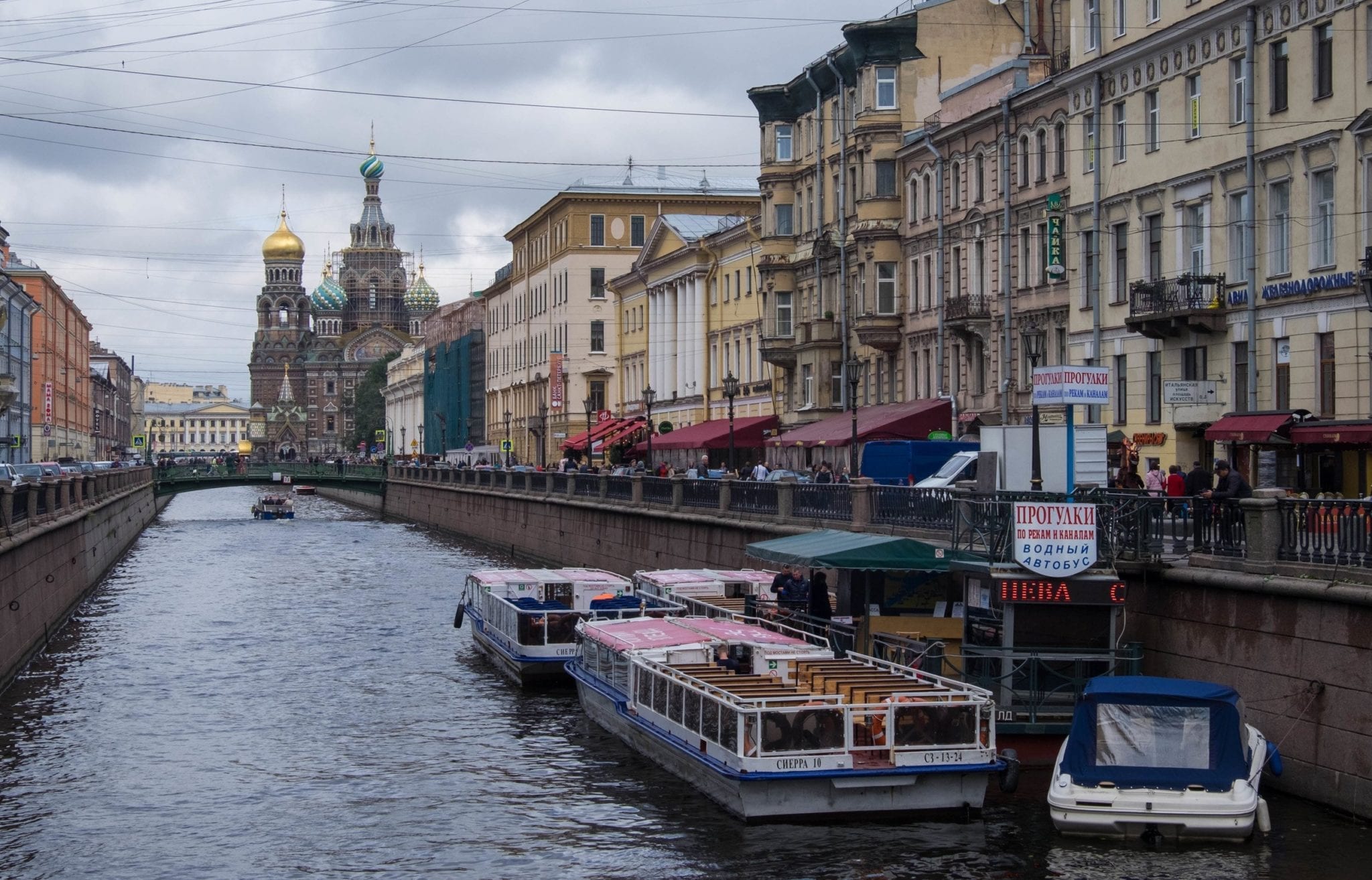 Were there any problems being an American in Russia in the age of Trump?
I did not face any issues. I took this ferry in September 2017 — this was after the US passed sanctions against Russia as punishment for their involvement in the US election, after Putin ordered US staffers to leave Russia, after Trump did the same to Russian staffers in the US, and as Robert Mueller's Russia investigation was taking place. None of this affected my ability to take this trip and see Russia.
Keep in mind that anything can change at anytime, and my personal experience may not necessarily reflect yours. However, based on what I experienced, I would not rule out visiting as an American.
If you're an American who wants to take this trip, I do recommend keeping a low profile while in Russia. Don't lie about who you are — Americans are easily identifiable based on their mannerisms and dress — but don't scream it from rooftops either. Russians tend to keep to themselves; it won't feel strange to be private.
The only time a Russian brought up Trump with me was a store employee as we laughed at Trump family nesting dolls. "I think he looks like Richie Rich," he said, holding up a tiny Barron Trump doll.
Would you take the St. Peter Line ferry again?
I'm glad I experienced this trip, but I would not do it a second time. Between the short duration in St. Petersburg and the discomfort sleeping on the boat, I see no reason to do this trip again.
Do what I did: use this trip as a teaser to see whether you'd like to take a longer trip to Russia. Now I know that I want to come back with a visa, stay for longer, and see more of St. Petersburg but also Moscow, perhaps take a river cruise or even travel the Trans-Siberian Railway to Mongolia and China! Next time I'll either fly into St. Petersburg or Russia or perhaps take the train to St. Petersburg from Helsinki.
I would not choose St. Peter Line for a longer cruise. They also offer a longer trip to Tallinn and Stockholm, but I would never do it. I could not handle living on that boat for several days. If you want to travel around the Baltic Sea, I encourage you to book ferries independently; if you want a cruise, I recommend going with a different cruise ship company.
Should you take the St. Peter Line ferry to Russia?
Only you can answer that — but I think you should! It was definitely a special journey and one I was glad to take. Exactly once.

Essential Info

The complete rules for visiting Russia on this cruise without a visa are here. Please don't violate them; you don't want to get deported. Note that these rules are for people who have permission to visit the Schengen Area, so if you're visiting the Schengen Area on a visa, you'll need a double-entry visa in order to do this trip.

I also recommend that your passport is in pristine condition and that you have a printed confirmation of your hotel stay.

Book your trip on the St. Peter Line Ferry here. You can see schedules here. The cheapest B2V rooms now cost 189 EUR (224 USD) for one person and 204 EUR ($242) for two people; the most expensive rooms, the LX2, cost 531 EUR ($629 USD). You must also pay a 25 EUR ($30) City Bus Tour fee and a 15 EUR ($18) fee.

I stayed at the Art Avenue Hotel in St. Petersburg and highly recommend it. It's a very comfortable, quiet mid-range hotel with excellent wifi, just an eight-minute walk from the shuttle drop-off at St. Isaac's Square. Rates from 3600 rubles ($62.50). It is not necessary to stay at the cruise-recommended hotels (Sokos Hotel Palace Square and Sokos Hotel Vasilyevskiy); in fact, they're located a bit far from the major sites of the city. I strongly encourage you to book a hotel near St. Isaac's Square. Find more hotels in St. Petersburg here.

If you visit the Hermitage (and you should), book your tickets online ahead of time — if not, you'll be waiting in a grotesque line for hours. Tickets are good for any one day within 180 days of purchase. Ignore the line and go to the internet tickets entrance when you arrive; it's on the right of the building.

A schedule of performances at the Mariinsky Theater can be found here. Remember — if it's not in the traditional theater, it may be in the modern theater behind it.

Visits to the Cathedral of Our Savior of Spilled Blood and St. Isaac's Cathedral each cost 250 rubles ($4). Visiting the roof at St. Isaac's costs an additional 150 rubles ($3).

Finally, be sure to have travel insurance when you visit Russia. If you fall and injure yourself at the Hermitage, if you get pickpocketed on the metro, or if you need to cancel all or part of your trip, travel insurance can save you from financial ruin should the worst happen. I used World Nomads for my trip to Russia and highly recommend them for your trip.
Have you taken the St. Peter Line ferry? Would you like to?
Get email updates from Kate
Never miss a post. Unsubscribe anytime!