Adventurous Kate contains affiliate links. If you make a purchase through these links, I will earn a commission at no extra cost to you. Thanks!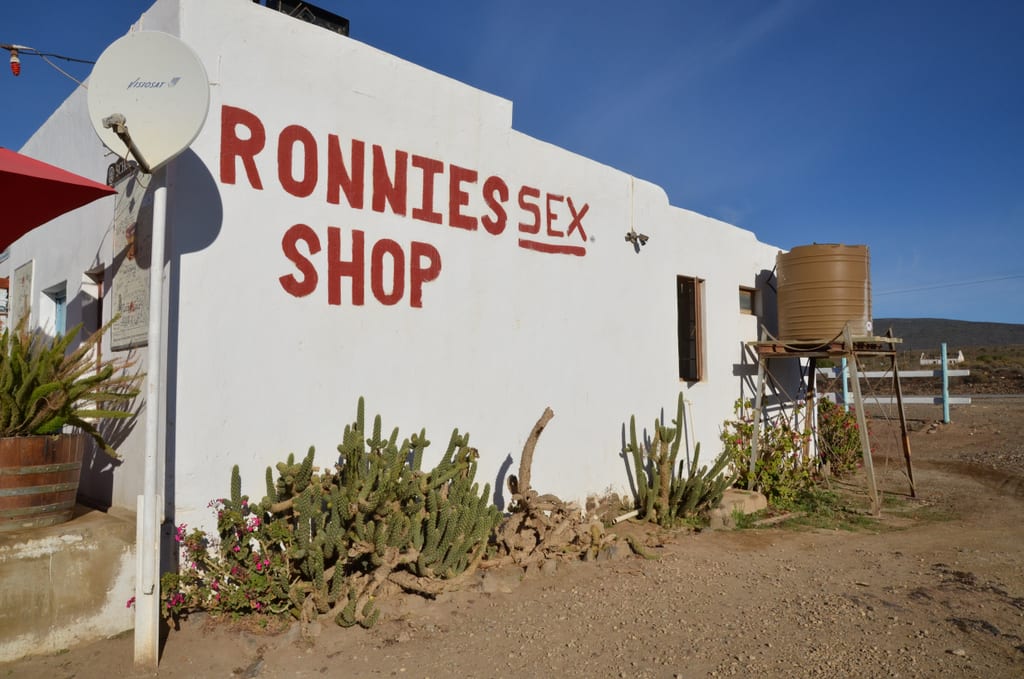 You can't have a road trip without some weird stops along the way.  On my Croatia road trip, it was Hum, "the smallest town in the world" (but probably not really); in Connecticut, it was the aptly named town of Mianus.
But one of my all-time favorite road trip stops is a little whitewashed building in the middle of South African desert emblazoned with three words: RONNIE'S SEX SHOP.
Ronnie opened his shop in the 1970s and his friends promptly pranked him by painting the word SEX between RONNIE'S and SHOP.
Well, it turns out a sex shop brings in a lot more curious road trippers than just a shop.  Ronnie turned his shop into a pub and he's never looked back.
That morning, we had left a chilly Swellendam in the mountains.  Emerging onto the Klein Karoo, the climate changed immediately to toasty sunshine and a landscape of endless sand and brush.  Soon after, we came upon our destination and piled out of the car, snapping photos of each other in various poses in front of the bright red letters.
The quirky name and photo potential alone made Ronnie's Sex Shop a great stop. Then we got inside…and, well, I think I should let these pictures speak for themselves.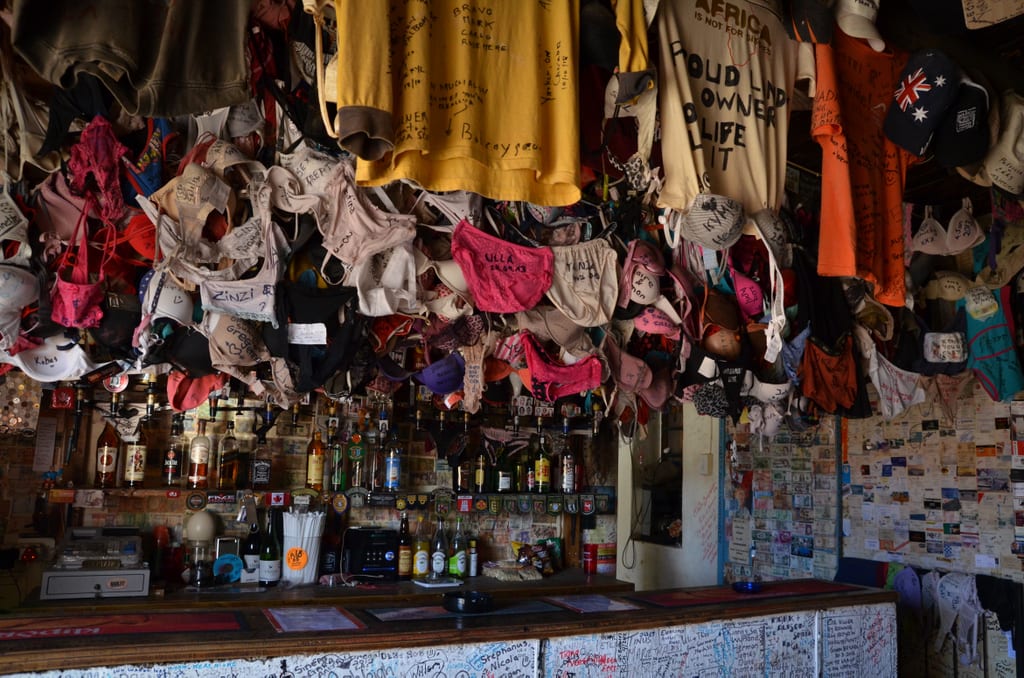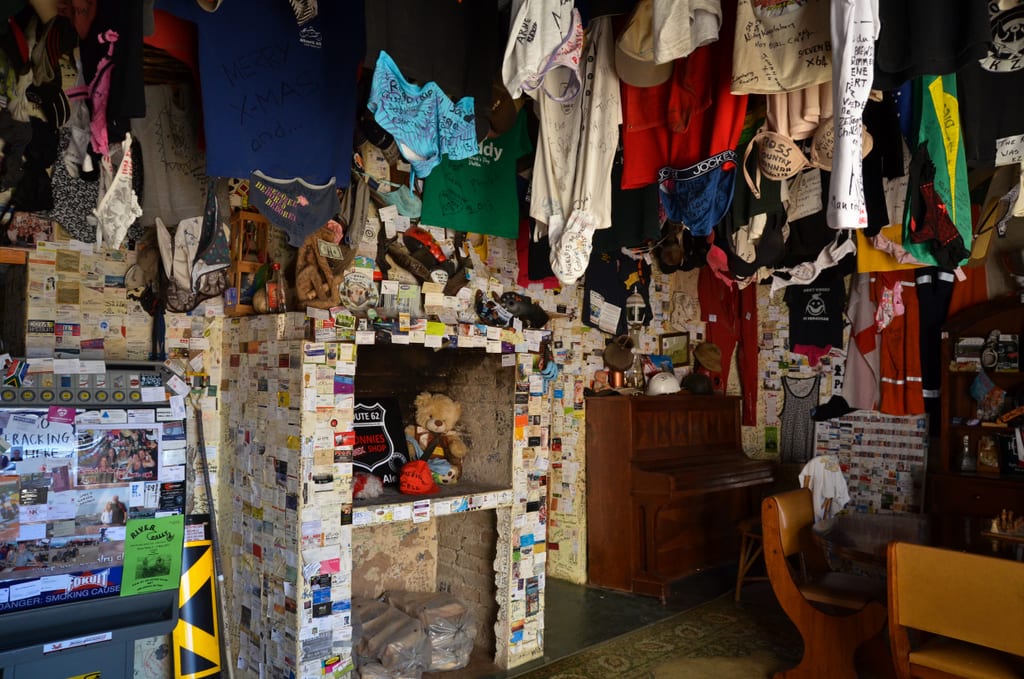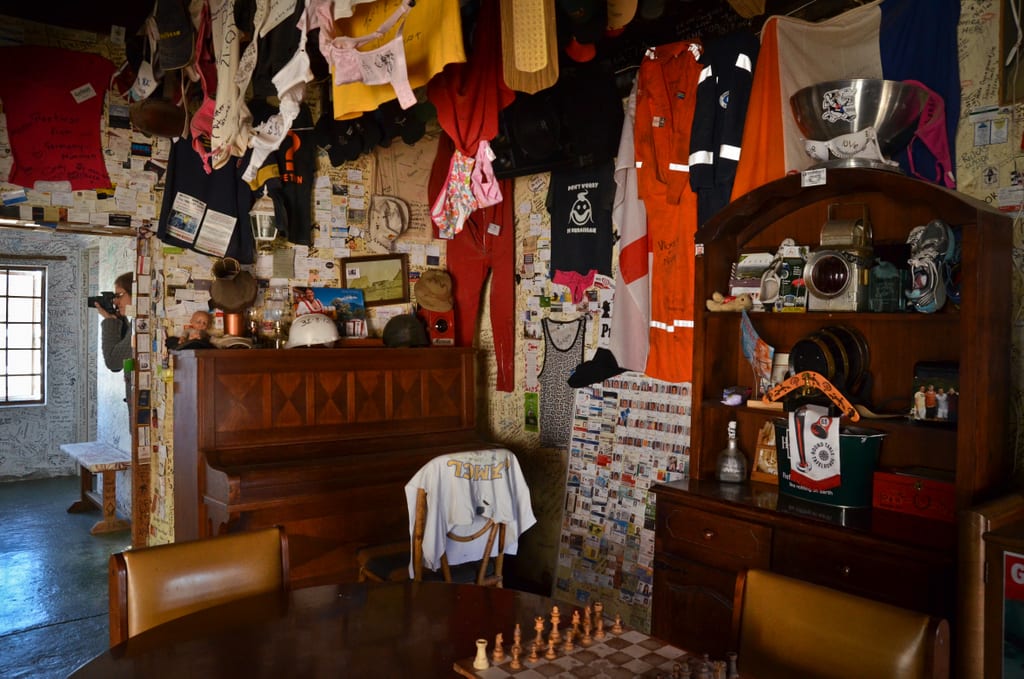 Yes, people leave their underwear at Ronnie's Sex Shop, and it gets hung up on the walls.  I have no idea how this started, and I have no idea if anything is actually washed before it goes up, but I loved it!
People also graffiti the walls — and, um, possibly do other things.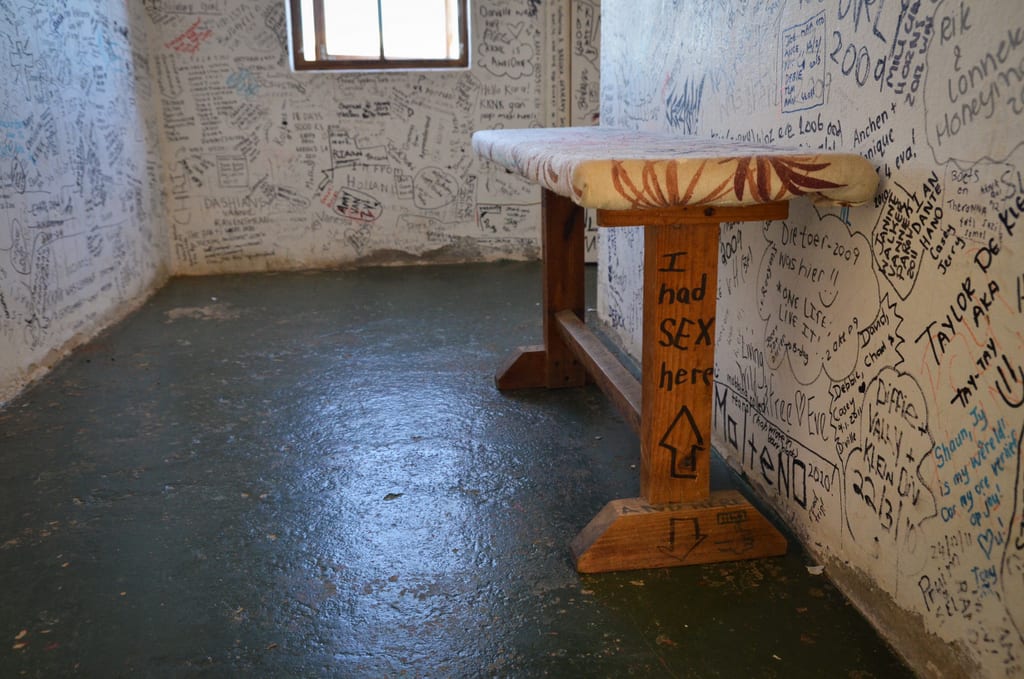 You'll also find plenty of strange objects on display, like teddy bears, clown wigs, and a freaky baby doll with dead eyes.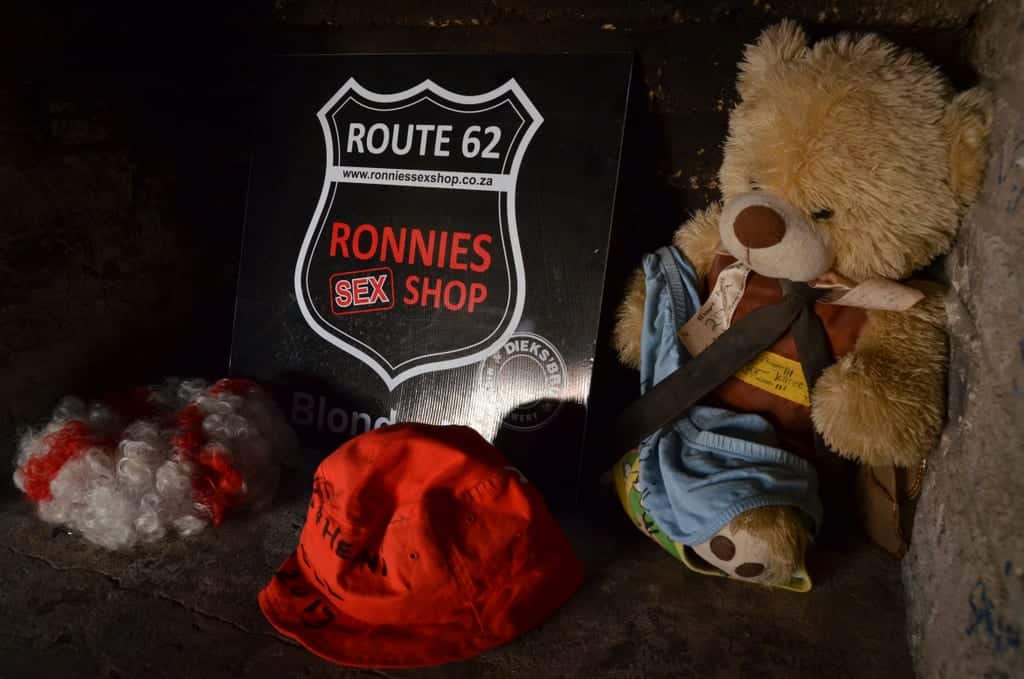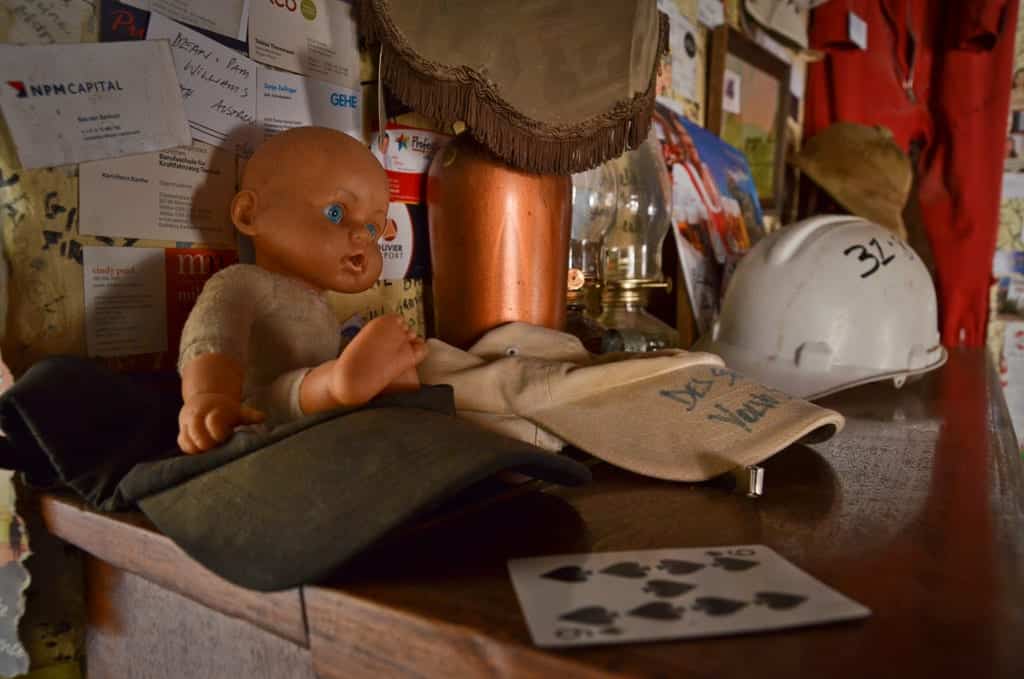 The shop, which contains an indoor pub and outdoor tables, is a great place to stop for a drink.  Being 9:30 AM, we stopped for a coffee.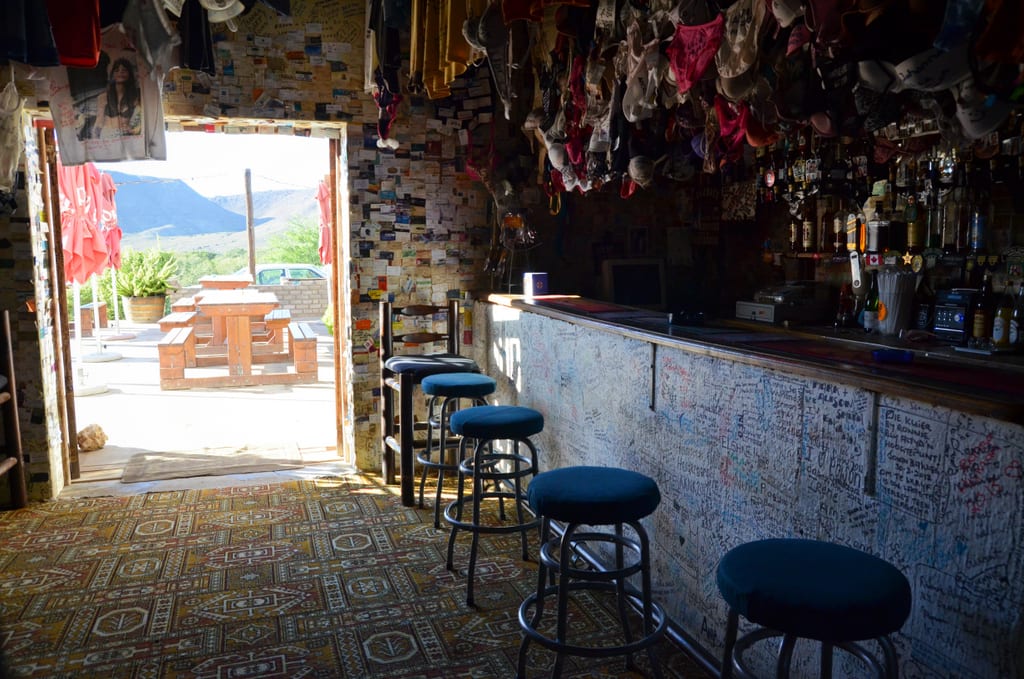 After a few minutes of sitting in the sun, the man of the hour turned up.  Ronnie looked like a cross between Willie Nelson and Santa, his long white hair tapering off into braids.
I love this portrait that Nadine took of Ronnie with Sir Paul, her traveling companion.
Soon, it was time to move on to the hot springs of Warmwaterburg and animal encounters in Oudtshoorn.  We had to get a shot with Ronnie.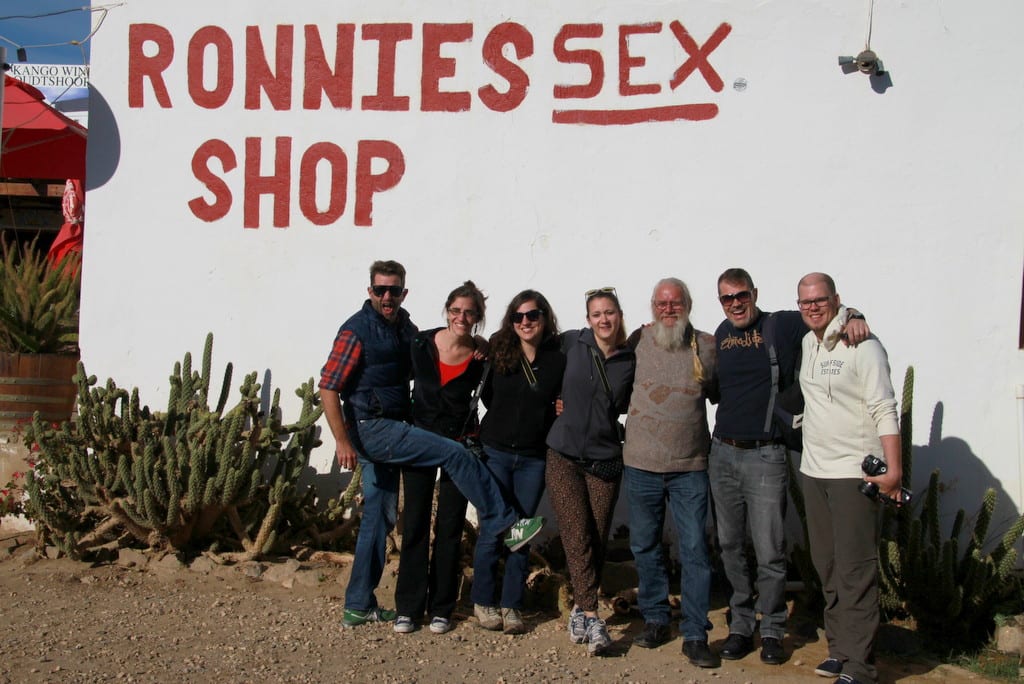 Image: Diego Pons
"Don't be good, now," Ronnie called after us.  Hours later, I hopped into a cage with crocodiles.  I think Ronnie would be proud.
If you're road tripping across South Africa's Western Cape, be sure to build in a quick stop here. You'll love it.
Essential Info: Ronnie's Sex Shop is on Route 62 in the Klein Karoo between Barrydale and Ladismith.  It's free to visit, but I recommend you get a coffee or a drink.  T-shirts are for sale as well.
This campaign is brought to you by the South African Tourism Board and is supported and managed by iambassador. Adventurous Kate maintains full editorial control of the content published on this site.
Get email updates from Kate
Never miss a post. Unsubscribe anytime!