Adventurous Kate contains affiliate links. If you make a purchase through these links, I will earn a commission at no extra cost to you. Thanks!
Jerusalem, Beirut, Dubai, Damascus — these cities of the Middle East are wild and vibrant, and probably sit closely on your radar.
As for Amman, Jordan?  Not so much.
But being one of the lesser-visited cities in the Middle East doesn't mean that it's boring.  Amman was my introduction to Jordan — as well as the Middle East — and I quickly learned that it has a LOT going on!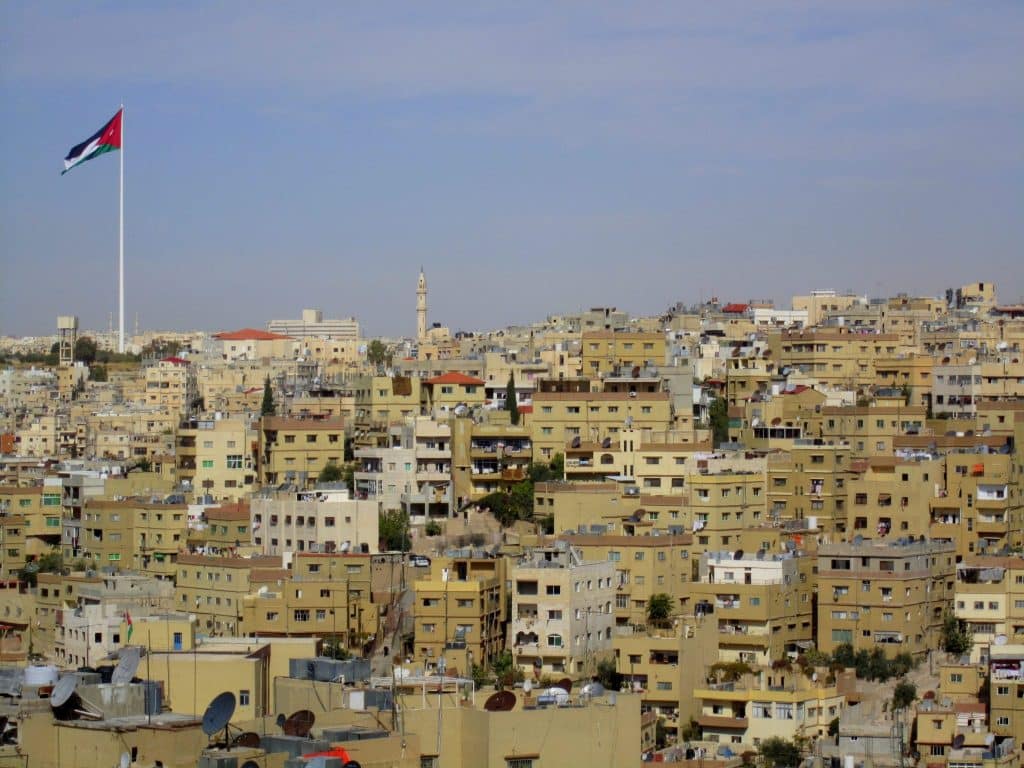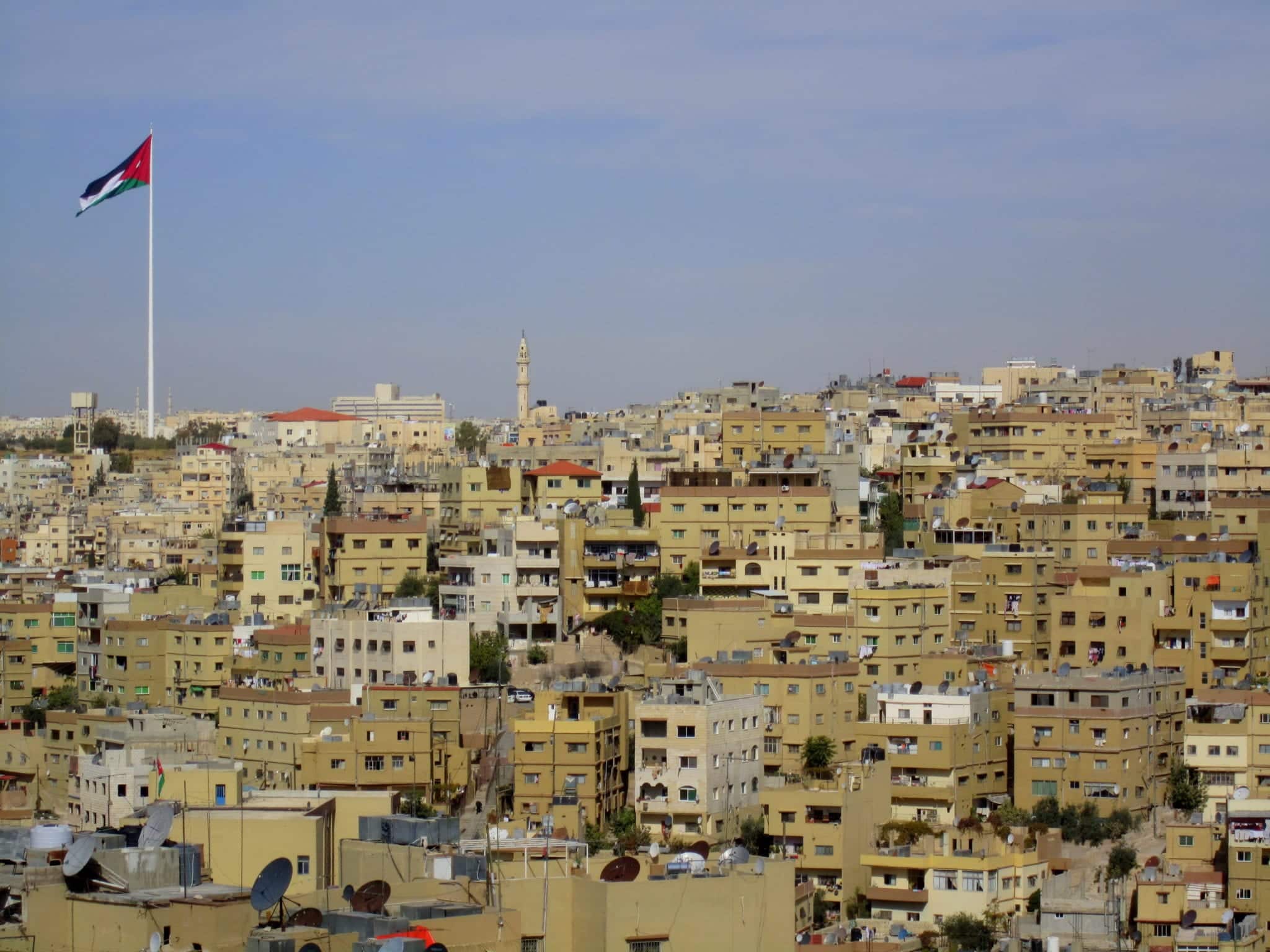 I have NEVER seen a city that looks like this.  This is the eastern part of Amman, the older part.  That is the tallest flagpole in the world and the third largest flag in the world.
Fun fact: Red, black, green and white are the colors of the Great Arab Revolt banner — which is why you see them on the flags of so many Middle Eastern countries!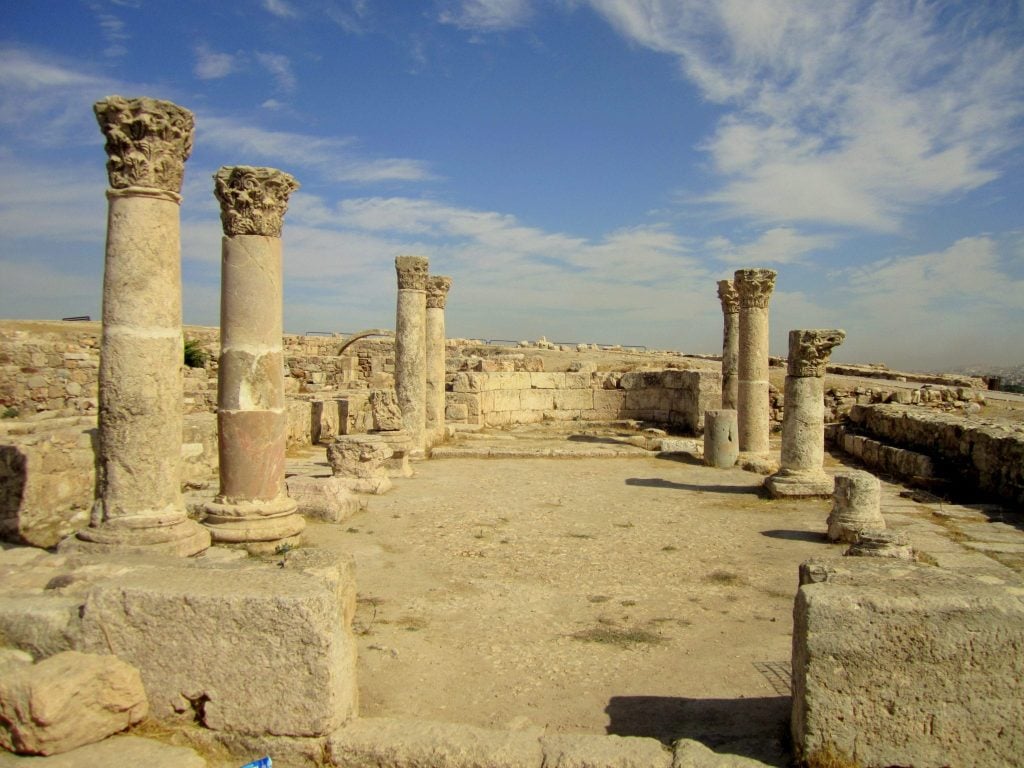 When visiting Amman, you'll want to start at the Citadel.  This is home to the ruins of Amman — and since it's on one of the city's 56 mountains, you'll have amazing panoramic views.
Check it out:
Downtown Amman: THIS is the Middle East
I must admit that I'm apprehensive before arriving in downtown Amman.  It's the most traditional part of the city, and it's overwhelming.  While walking down, my guide, Ibrahim, and I, have conversations like these:
Me: "What's that?"  (Points to dark spot on ground.)
Ibrahim: "Blood."
Me: "From WHAT?!"
Ibrahim: "Chicken, probably."
So that's that.
I worry if I'll be leered at by the men; I worry that I'm not covered up enough.  I worry that I'll be completely unwelcome in this part of the city.
But my fears are completely unfounded.
I receive no more attention than in other countries — and not even as much as in Italy or Argentina!  Of course, there are a few stares.  ("It's only the Iraqis.  Iraqis stare.  They're just curious," Ibrahim tells me.)  And while most of the women in downtown Amman are wearing the hijab, Western women are not expected to cover up at the same level.
(My whole week in Jordan, excluding time spent at beach resorts filled with Westerners, I cover up to my wrists, neck and ankles.  Later, Ibrahim thanks me for dressing this way, saying that this is what Western women should do.)
My fears unfounded, I get to enjoy the chaos of Amman.
I marvel at the piles of clothing for sale.
I gape at the giant lettuces (which are actually cabbages) in the market.
I have a coffee on a balcony and spend an hour watching the world go by.
It's a great reminder that when you're heading into a different culture, spending time with a local can make all the difference in the world — and not just for the language translation services.  I highly recommend spending time with a local, no matter where in the world you're going.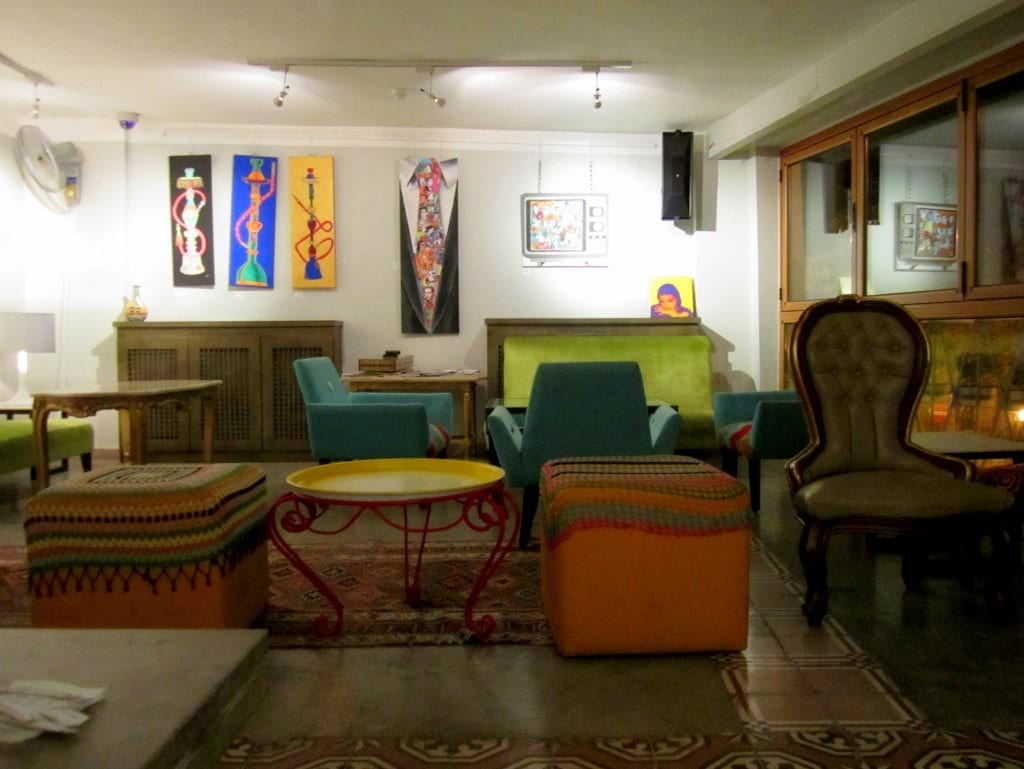 Over to Rainbow Street
And I thought that was all there was to the city…until my final night in Amman, when I went to Rainbow Street.
Now, THIS was different from the Amman I had seen so far!  Modern, trendy, and very Westernized — it reminded me of the Nimmanhaemin neighborhood of Chiang Mai, Thailand, more than anywhere else I've been.
There were even bars.  But most popular were tea houses — like the one above, Cafe des Artistes, filled with funky local art.  Everyone in this neighborhood is dressed Western-style, and it shows that Amman is a constantly evolving city.
Many people skip Amman as soon as they arrive for their Jordan trip — but I think you should stay long enough to see the Citadel and the downtown, visit the cafes on Rainbow Street, and perhaps take a cooking class, like I did at Beit Sitti.  More on that later.
A lot of people skip Amman — be sure you're not one of them!
Many thanks to the Jordan Tourism Board for hosting me on my trip to Jordan.  All opinions, as always, are my own.
Get email updates from Kate
Never miss a post. Unsubscribe anytime!