Adventurous Kate contains affiliate links. If you make a purchase through these links, I will earn a commission at no extra cost to you. Thanks!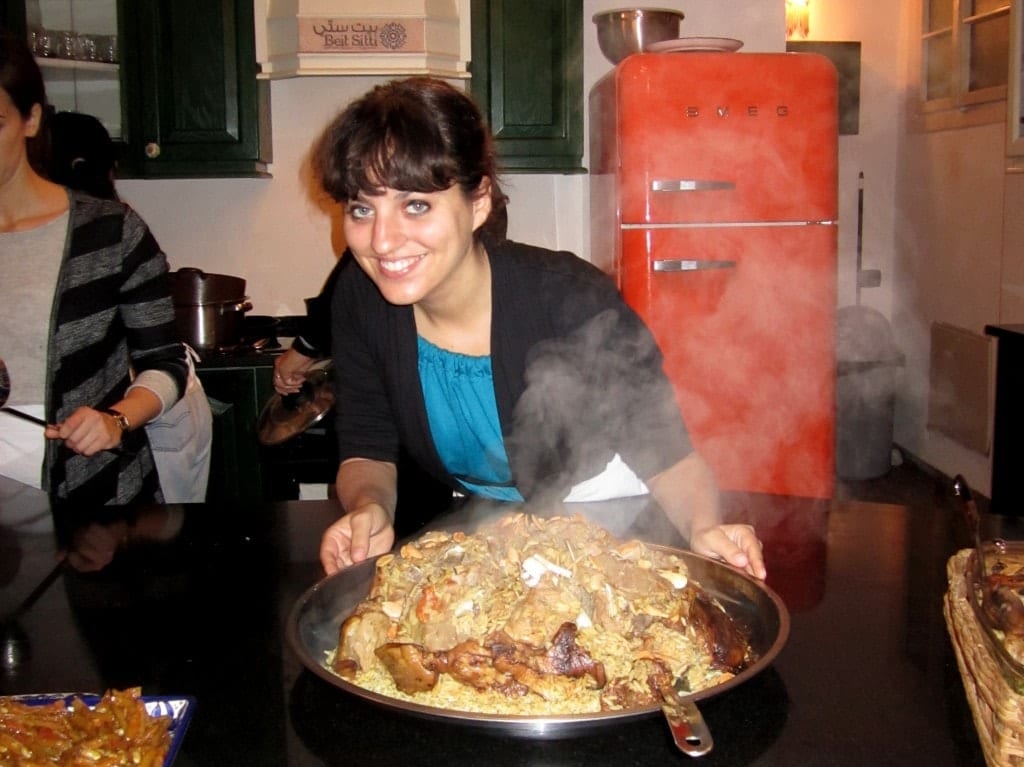 What should a woman wear when visiting Jordan?  As this was my first time in the Middle East, I didn't want to make any missteps, so I erred on the side of caution and dressed somewhat conservatively.  Since it was November and cool, it made it easier.
Unlike Iran and Saudi Arabia, women in Jordan are not required to wear hijabs or cover up otherwise.  Jordan is quite liberal compared to some of its neighbors, and in parts of Amman, nearly everyone is dressed Western-style.  Beyond that, Western women are held to different standards than locals.
That being said — Jordan is still a Middle Eastern country, and you should respect the local culture.
I tried to emulate the conservative but insanely fashionable Muslim women I've seen around the world — cover to your wrists, ankles and at least halfway to your neck, but anything else is game.
Here are some examples of what I wore in Jordan: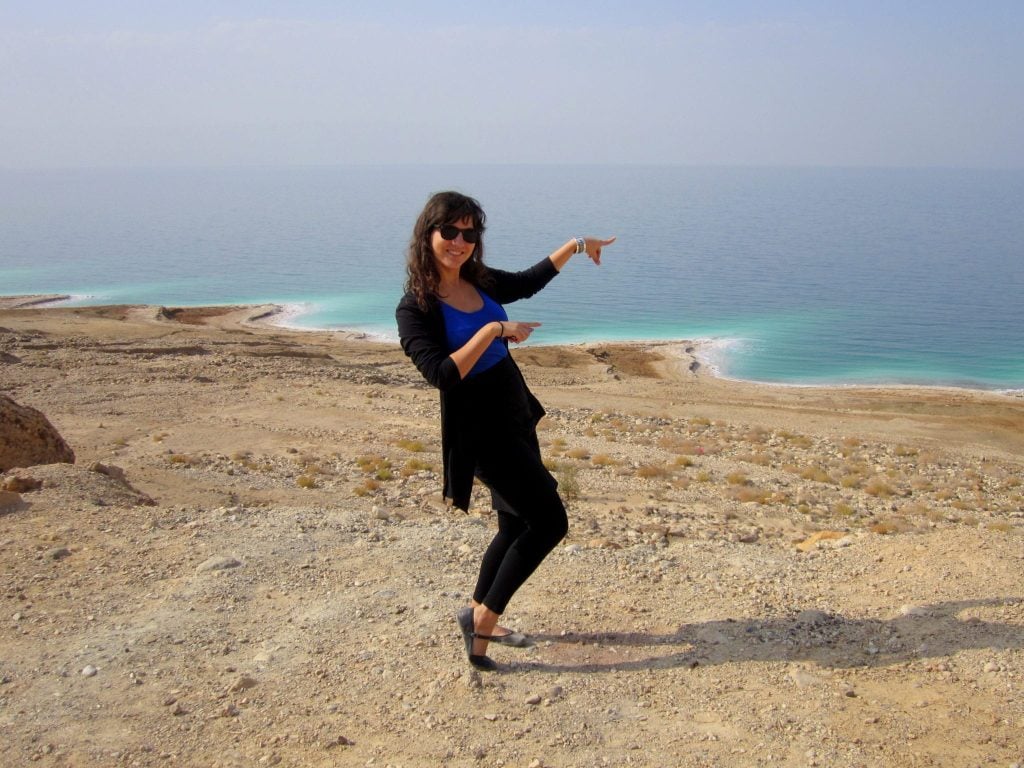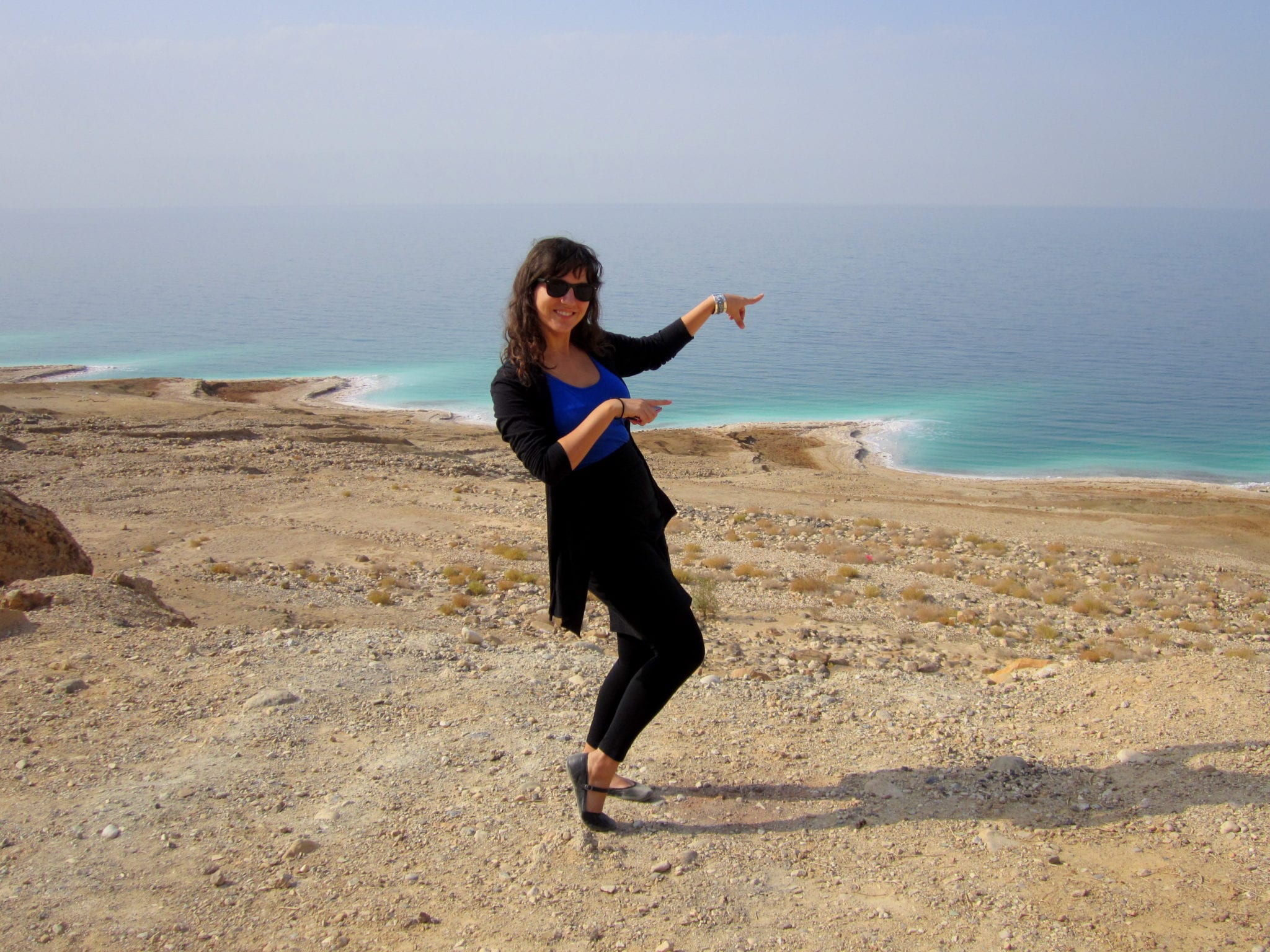 While driving from Ma'in to Petra and stopping at the Dead Sea, I wore a long-sleeved cardigan over a tank top and a pencil skirt over leggings and flats.  I usually wore socks; I didn't here.
Jordan Travel Tip: Tightness does not have the same taboo as showing skin.  I saw many Jordanian women in tight dresses and skirts worn over leggings.  Don't think that you need to wear flowing hippie pants with everything.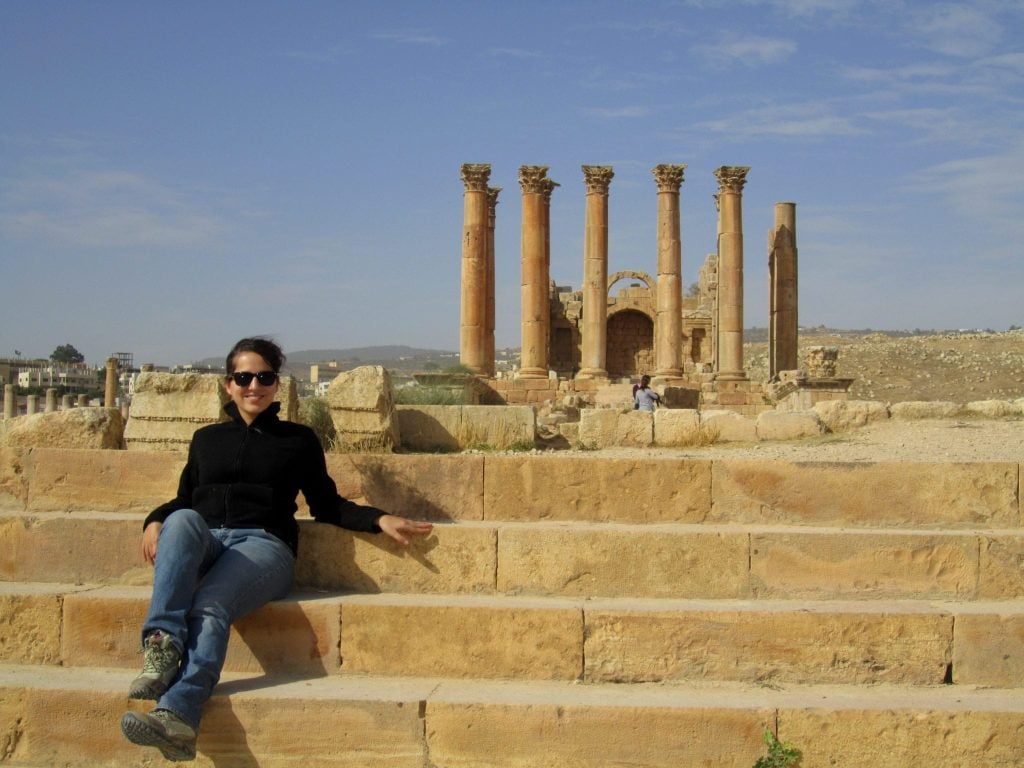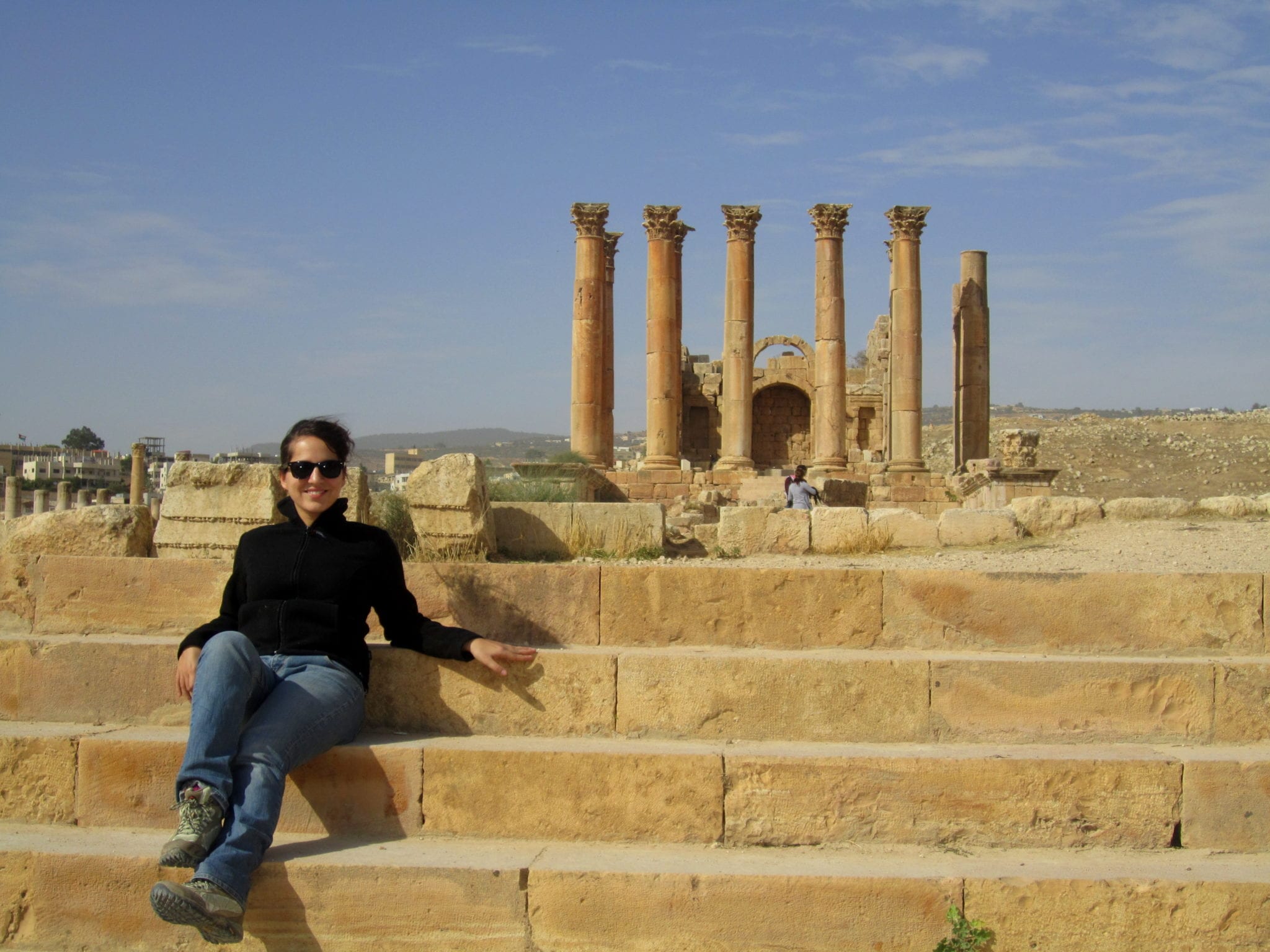 In Jerash, I wore a fleece over a t-shirt, jeans, and hiking boots.
Jordan Travel Tip: Pack your hiking boots.  They're mandatory for exploring Petra and Wadi Rum properly, and they're also great for anywhere you do a lot of walking, like Jerash or Ajloun.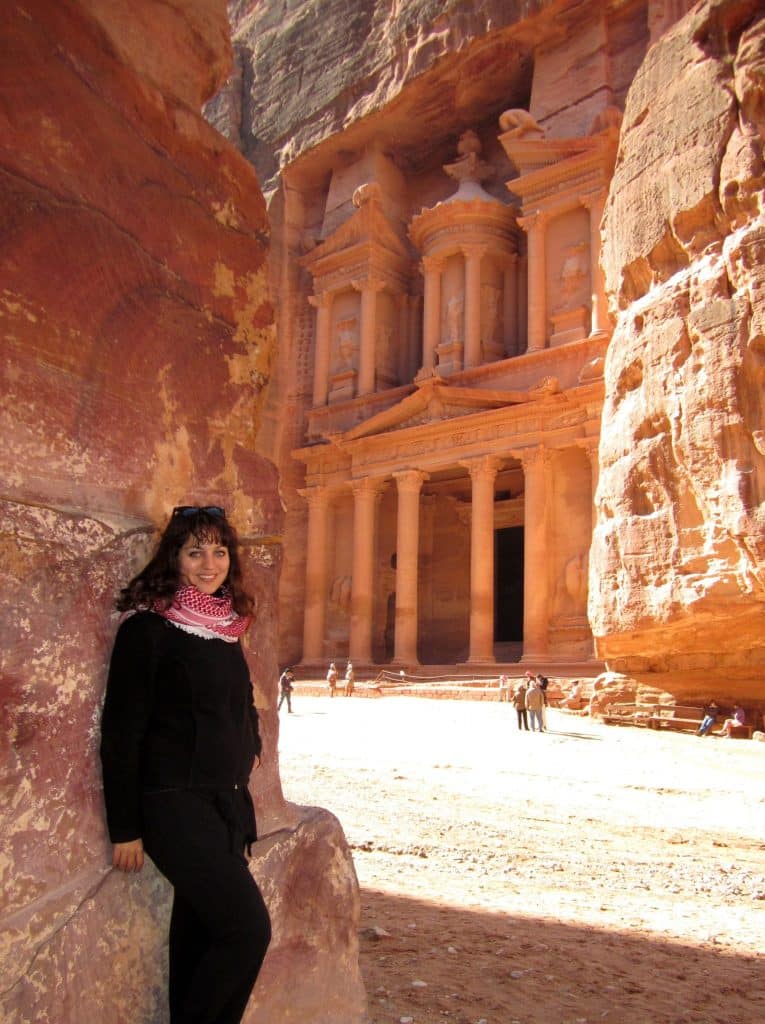 In Petra, I wore my fleece over a t-shirt, yoga pants, and hiking boots — and added an awesome scarf.
Jordan Travel Tip: Wear lots of layers to Petra.  It can go from very hot to very cold in seconds, depending on how much sun the area gets.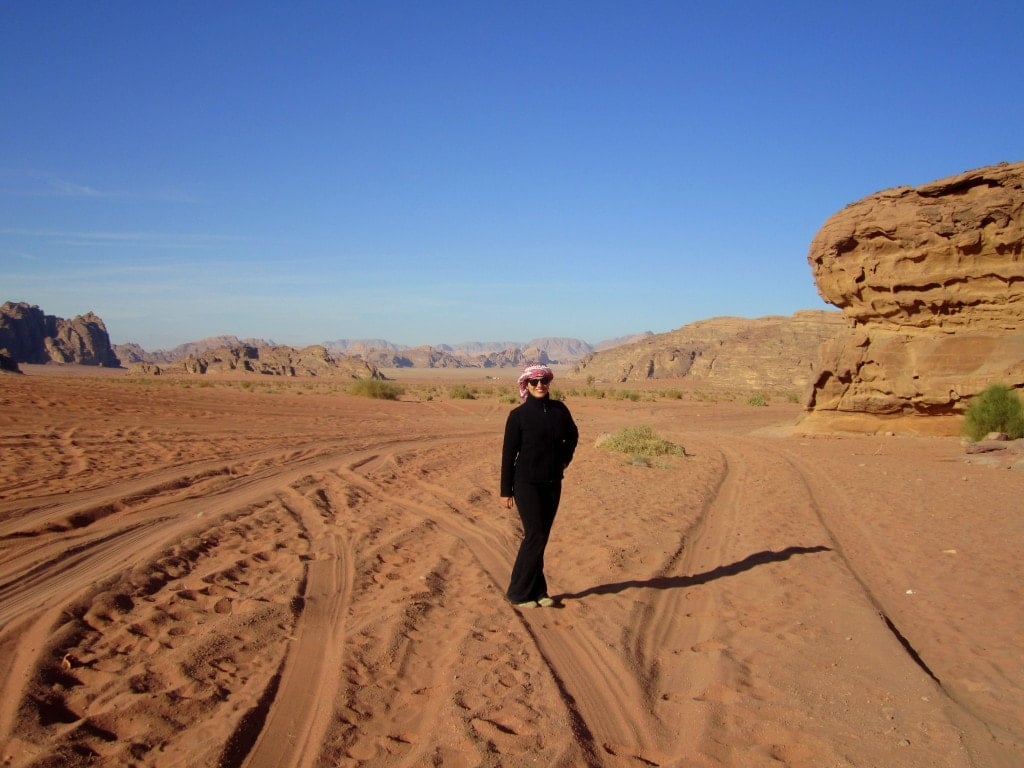 In Wadi Rum, I wore the same outfit, but shielded my head from the sun with my scarf.
Jordan Travel Tip: Even if it's cold and windy, it's still easy to burn in places like Petra and Wadi Rum.  Bring sunscreen.  You'll see these red and white scarves everywhere, and they're perfect for shielding yourself from the sun.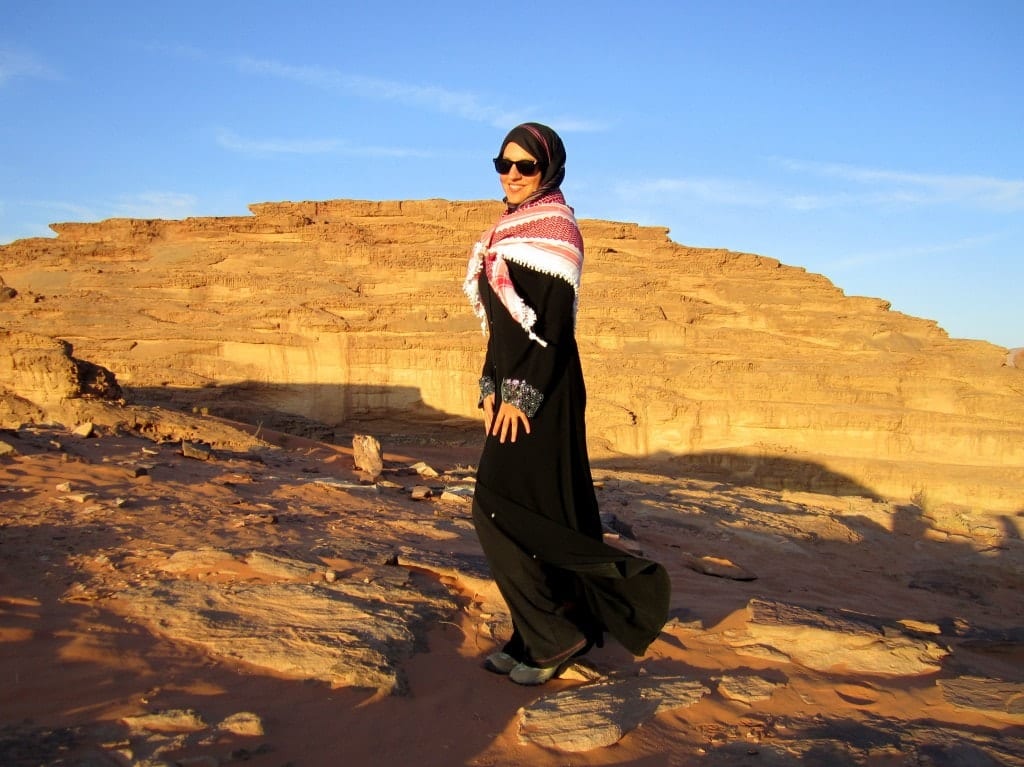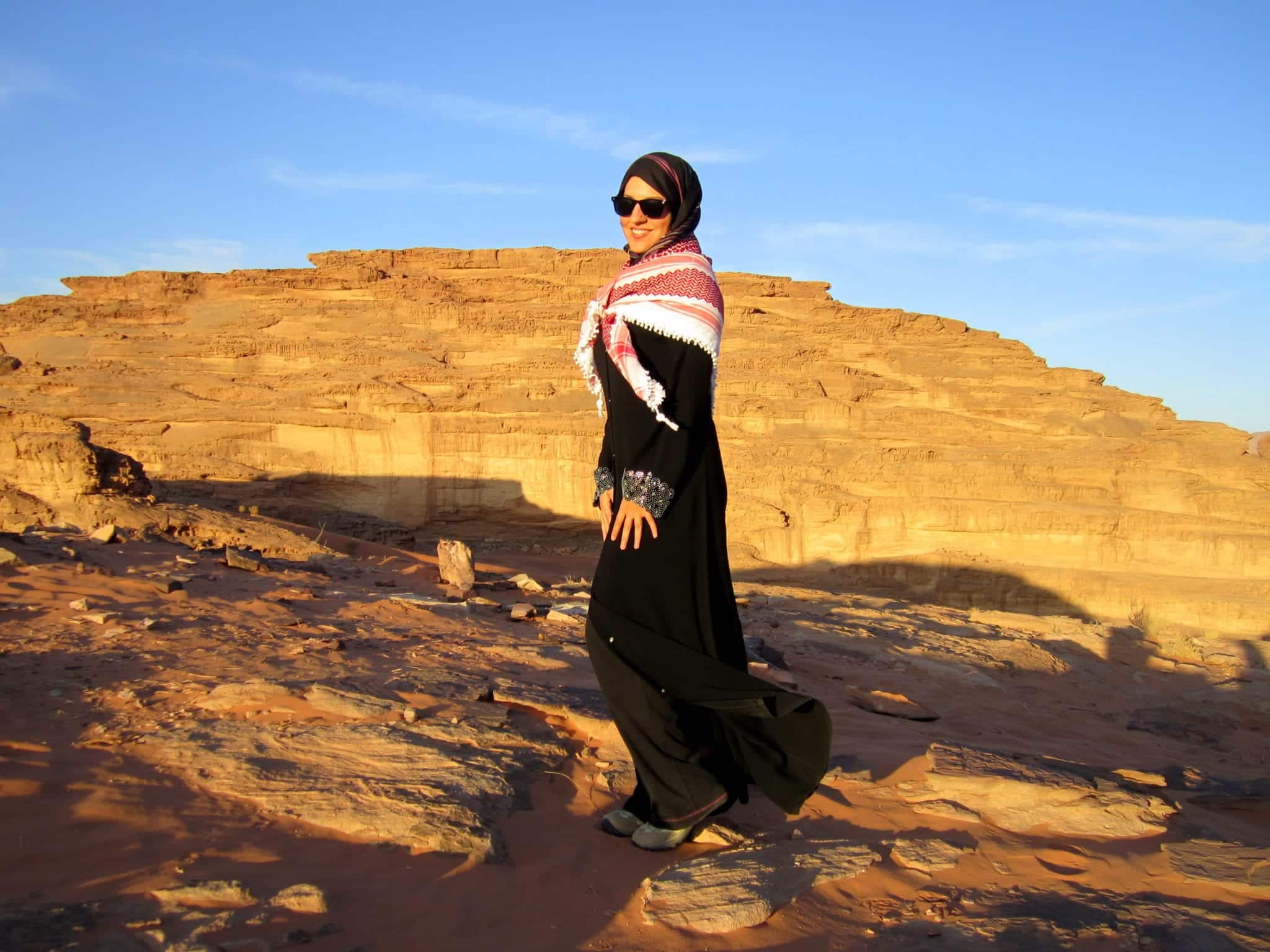 Later in Wadi Rum, the Bedouins dressed me up — and they even let me keep this beautiful outfit!  (Yes, those are sequins on the sleeves!)
Jordan Travel Tip: Learn how to tie a headscarf properly.  They're only required if you go into a mosque, and many mosques provide them.  But if you wear your own scarf instead, it's not enough just to cover your head — make sure to cover underneath your chin, and don't let any hair, including bangs, peek out.
Of course, there are exceptions to the dress code.  I stayed at the Kempinski Ishtar at the Dead Sea, and the surrounding beaches are filled with Westerners in bathing suits.  I joined in.  Keep in mind that this is okay at resort beaches, but not at public beaches.
Jordan Travel Tip: Wear bathing suits at the beach, but don't walk around in them.  It's not a Hawaii vacation, and the Dead Sea isn't Maui.  I stayed in my bathing suit at the beach or pool, then covered up before walking anywhere else.
Of all my Jordan travel tips, this is the most important:
Hide your cleavage.  Hide your cleavage.  Hide your cleavage.
You don't even see a hint of cleavage in Jordan — showing your chest is a major taboo in this country.  Keep it under wraps at all times.
Overall, don't stress too much about your wardrobe.  It's really not that difficult, and I didn't consider it a sacrifice at all.  And while Jordanians are incredibly kind and welcoming, they're even happier when you respect the local culture.
Many thanks to the Jordan Tourism Board for hosting me in Jordan.  All opinions, as always, are my own.
Get email updates from Kate
Never miss a post. Unsubscribe anytime!