Adventurous Kate contains affiliate links. If you make a purchase through these links, I will earn a commission at no extra cost to you. Thanks!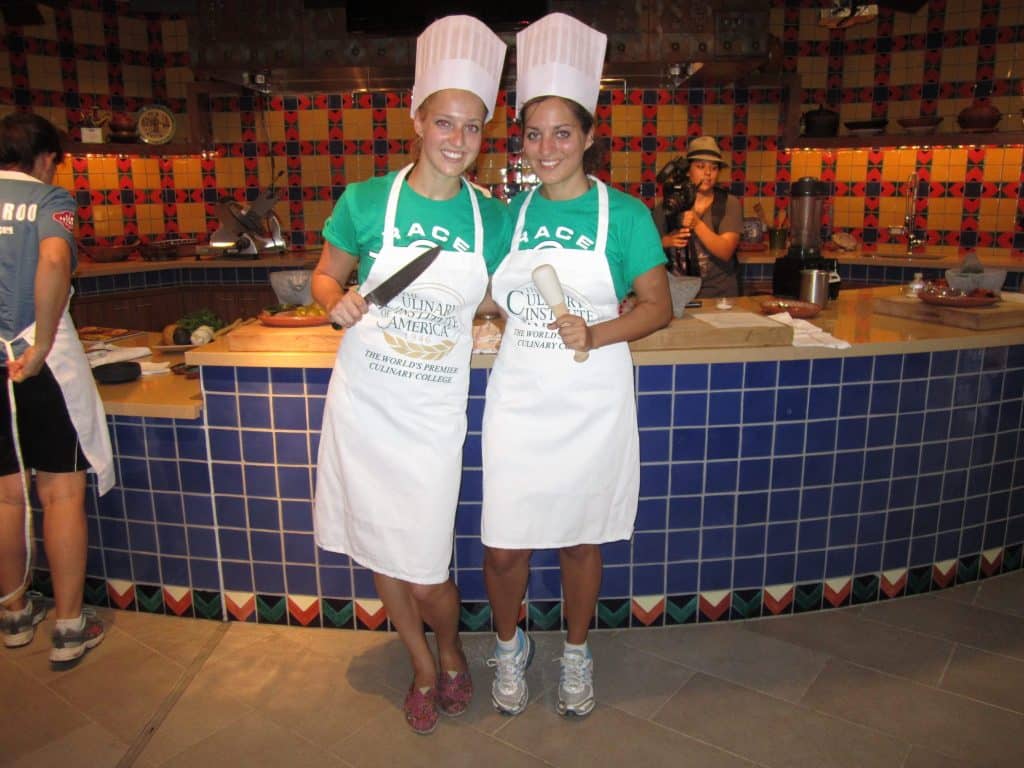 One thing's for sure:
If you find yourself in San Antonio, you will be eating a LOT of Tex-Mex.  It's everywhere, and because of that, the quality varies from fantastic to forgettable and anything in between.
During my time in San Antonio, I got to sample a number of restaurants in the area.  And once you get away from the more generic Tex-Mex, you get to enjoy some standout cuisine.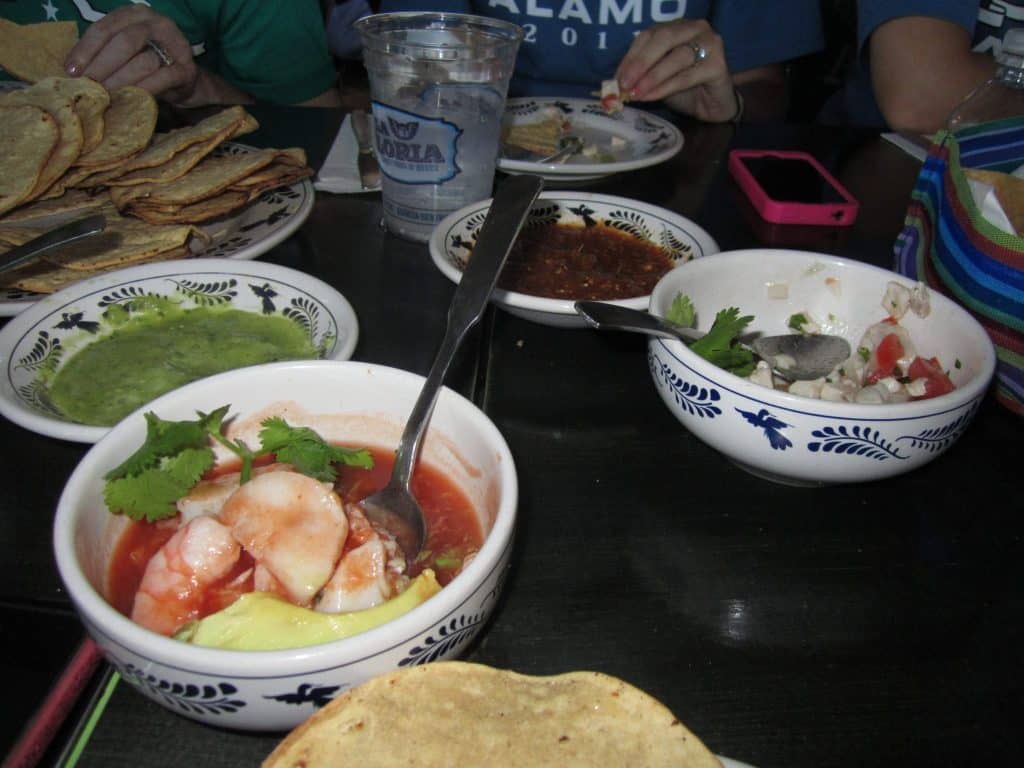 For good Mexican — La Gloria
Of all the Tex-Mex and Mexican food we ate in San Antonio, La Gloria was the best.  Come on — the restaurant's motto is "You don't have to die to go to heaven!"
Chef Johnny Hernandez is a graduate of the Culinary Institute of America, and his restaurant focuses on Mexican street food.  We ate bowl after bowl of ceviche, tacos, a variety of salsas, skillets filled with bubbling cheese, and every bite was memorable.  Definitely hit this place up.
For Texan classics — Lulu's Bakery and Cafe
Before this trip, I had never had a chicken-fried steak before — a steak breaded and fried, then topped with chicken gravy.  Lulu's is said to have the best chicken-fried steak in San Antonio.  So do you think we really deliberated over whether to go?  Of course we went there!
And despite (or perhaps because) a chicken-fried steak is essentially fat on top of fat on top of fat, it is gloriously delicious.  (Get the gravy on the side, like we did, if you don't want to be completely decadent.)  Lulu's has lots of diner classics, including, well, chicken-fried chicken as well.
And Lulu's also has the three-pound cinnamon bun — but that's a whole other post!
For something different — Bar Rojo
After eating Tex-Mex and heavy food for a few days, you'll be craving something lighter — so go for sushi!  Bar Rojo is one of the establishments at the spectacularly decorated Grand Hyatt.  While it's more of a bar than a restaurant, they have some small plates.
The sushi at Bar Rojo has a southwestern flair, including jalapenos, chiles and other regional ingredients.  Go for the Bar Rojo roll — a twist on the spicy tuna roll with roe and wasabi.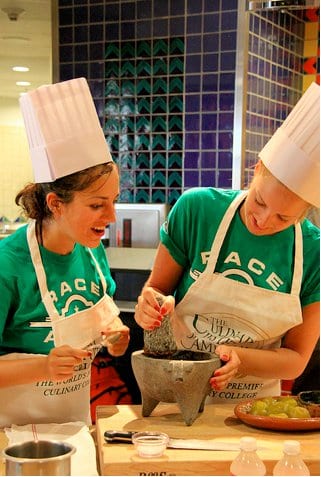 And now: a GIVEAWAY!
For this culinary post, it's a culinary giveaway — I'm giving away a molcajete, a Mexican mortar and pestle!
Sarah and I used this to make our salsa at the Culinary Institute of America.  (It looks just like the one pictured above, but darker.)  Whether you love to cook or love to entertain, a molcajete is a great item to have in your kitchen.
To enter the giveaway, you must do the following:
Leave a comment on this post.
Have a mailing address in the US, Canada or the UK, or you can pick it up in person in Munich or Innsbruck August 23-31.  (My apologies to my other readers — the molcajete weighs a ton and I don't want to spend a fortune mailing it.)
Deadline: August 14, 2011, at 5:00 PM ET.
I hope you enter — and I especially hope you vote for Team Adventurous Kate to win the Race to the Alamo!  Remember, you can vote once per day through August 31, and each vote gets you closer to winning a dream trip to San Antonio!
My trip to San Antonio was sponsored by the San Antonio Convention and Visitors Bureau.  All opinions, as always, are my own.
Get email updates from Kate
Never miss a post. Unsubscribe anytime!