Adventurous Kate contains affiliate links. If you make a purchase through these links, I will earn a commission at no extra cost to you. Thanks!
My first job out of college wasn't a typical one.
After weeks of interviews, I was ecstatic to get a job at a marketing firm that had a beautiful office, a great location in Fort Point, Boston, and an interviewer who coyly hinted at their list of celebrity clients. I accepted the job and couldn't wait to get started.
Soon I learned that this "marketing firm" was actually a call center.
Thankfully, I wasn't taking calls. My job as a research assistant for the concierge department of an elite credit card was to take on the complicated tasks passed on from those who took the calls. Not simple things like making dining reservations or ordering flowers, but things like planning marriage proposals and securing sold-out Superbowl tickets sold at sky-high rates. I acquired an encyclopedic knowledge of New York restaurants and Las Vegas nightclubs in the process.
My weirdest task? Tracking down a puppy born in rural Japan with a heart-shaped spot on its butt for a Los Angeles-based socialite who yearned to be in tabloids. She wouldn't rest until I had her, the Japanese pet store, and a translator on the line simultaneously as the owners told her, "It's OUR puppy and we are raising it OURSELVES!"
I knew it wasn't a forever job for me — but it was fun. And my coworkers were fantastic. There were dozens of us in our early twenties, and the social aspects couldn't be better. We'd head out for post-work drinks several times a week.
One of the places we frequented? The Intercontinental.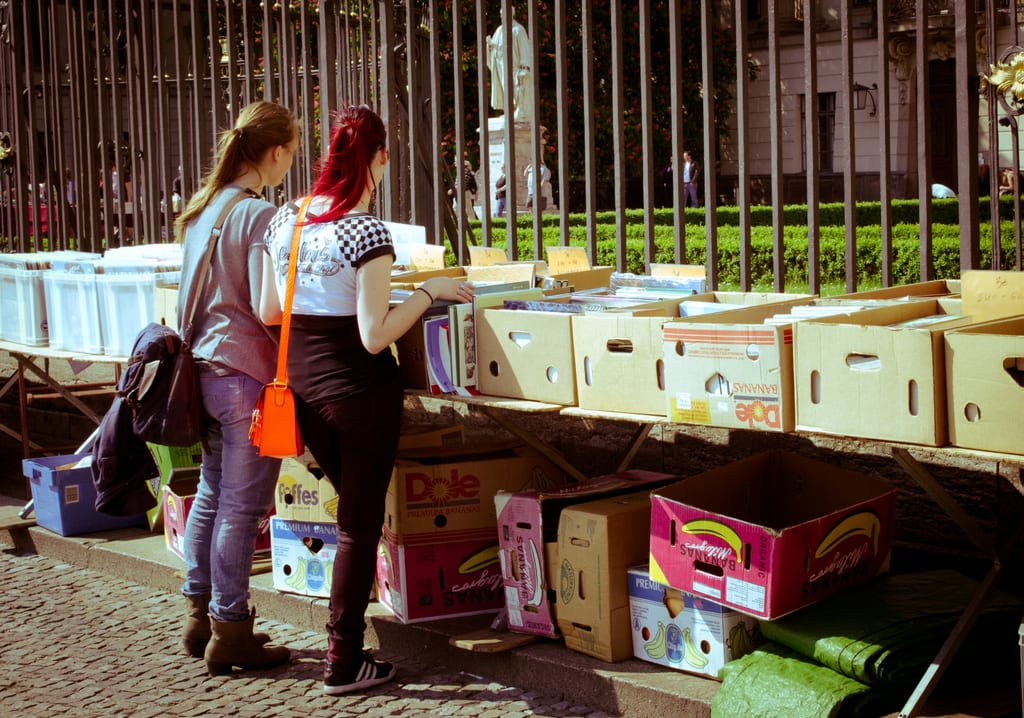 Just across the channel, the Intercontinental Boston was where we went to commiserate, to celebrate, to feel important. And because they had a 24-hour French bistro (that has sadly since closed), it was the only way those of us working the 2-10:30 PM shift could actually indulge in Restaurant Week.
We weren't the wealthy business travelers that filled the hotel — thanks to our company's lax dress code, we looked like hobos by comparison. (More often than not, I showed up in my favorite t-shirt that read SILF and had a picture of a sandwich on it.)
But that didn't matter to the staff at the Intercontinental. We were treated with outstanding service by every employee that crossed our path, and even though a bunch of 22-year-olds earning $14.00 an hour had no business being in a luxury hotel, they made us feel like we belonged.
That was especially welcoming on the rough days, like the day the company's most vitriol-filled client told me that his mother was close to death, but he was off to cheat on his wife in Chicago over the weekend, so if she died in the next few days, could we put her on ice? (I am 100% serious. This man was awful. And I had to act like he was hilarious because I was the one person at the company he could stand.)
On days when we felt worthless, at the Intercontinental, we were treated like we deserved to be there.
Those post-work nights at the Intercontinental made me a fan of the brand for life, and when I booked my trip to Cancun shortly after leaving that job, I chose the Intercontinental. A few years later, I got to enjoy the Intercontinental Amman on my trip to Jordan. While these three hotels couldn't be more different, I was treated just as I was in Boston — like I was the most important person who could possibly grace their lobby.
I loved that.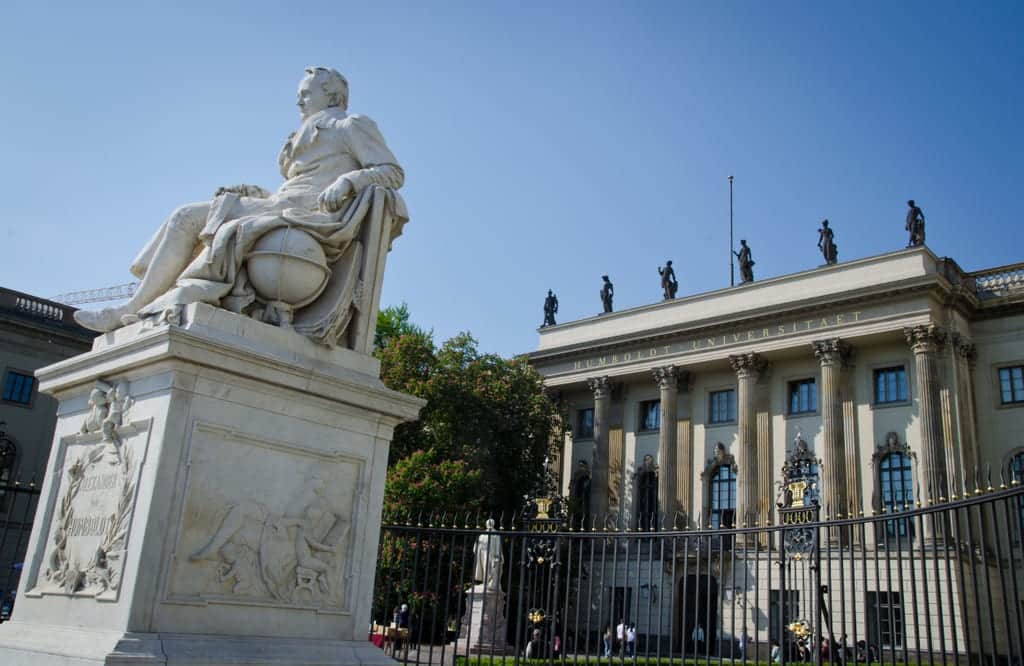 And then, to my delight, the Intercontinental Berlin emailed me and invited me to experience them for myself.
Berlin is one of my favorite cities — I consider it my "spiritual city." It's artsy, it's cheap, and it's always been a haven to people who have trouble fitting in. On a perfect spring day with puffy white clouds streaking across a bright blue sky, you'll be convinced that there's no better city on the planet.
The Intercontinental Berlin is located right by the Tiergarten and a 10-minute walk from the Zoolischer Garten stop, which gives you easy access all over the city via public transportation, including direct buses to Tegel Airport. A cab from the Hauptbahnhof cost me about 10 EUR ($14 USD).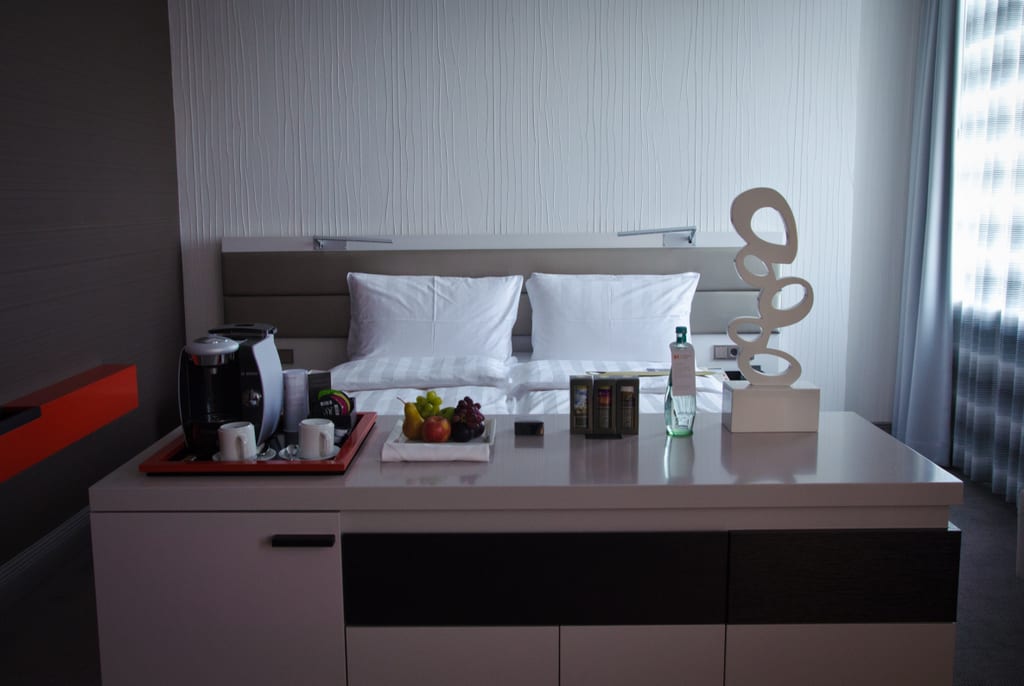 My modern suite in the building's recently redone wing was decorated in white, pearl gray, and red — a combination I really enjoyed. The bed couldn't have been more comfortable, and in German style, there were two separate duvets on a king-sized bed and multiple pillows.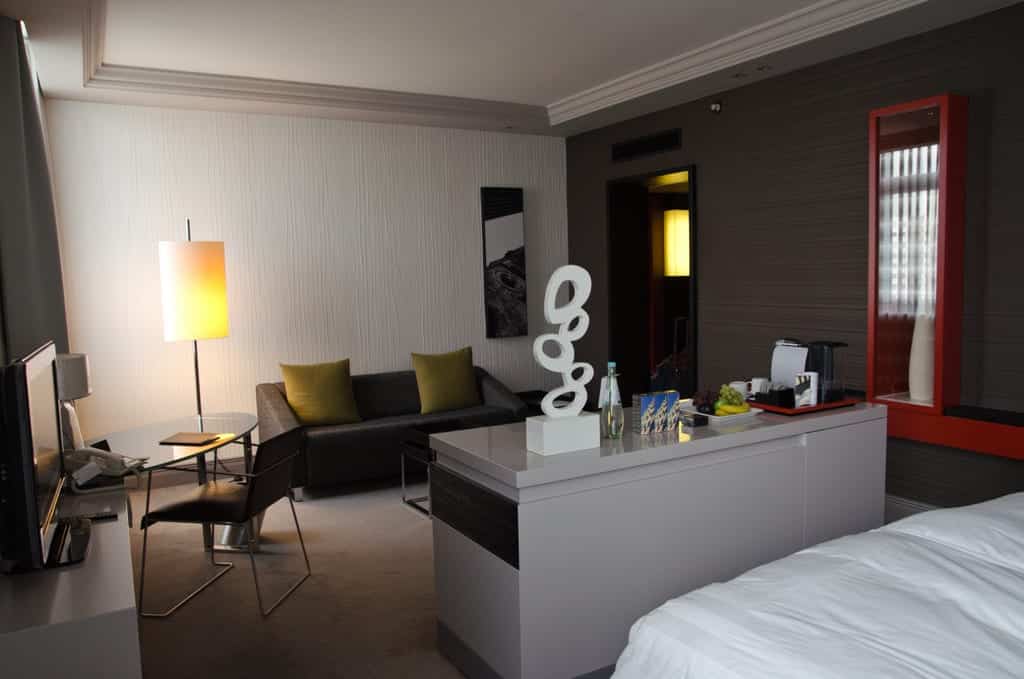 One of my favorite hotel amenities is so simple — a couch. It's so much better to do work while sitting down, and after not having a couch for nearly a year, it was absolutely brilliant getting to sit down on one, stretching out and reading!
The bathroom was enormous, and went on further back to include a closet and dressing space. Note that the clear doors means either you and your roommate have to either take turns or you should have no shame whatsoever!
I didn't like the fact that the only free internet available in the room was slow internet, and high-speed internet costs an extra 20 EUR ($27 USD) per day. I find it ridiculous that even in this day and age, many luxury hotels charge exorbitant rates for internet when the vast majority of hostels provide it for free without a second thought. It's something that I hope changes soon.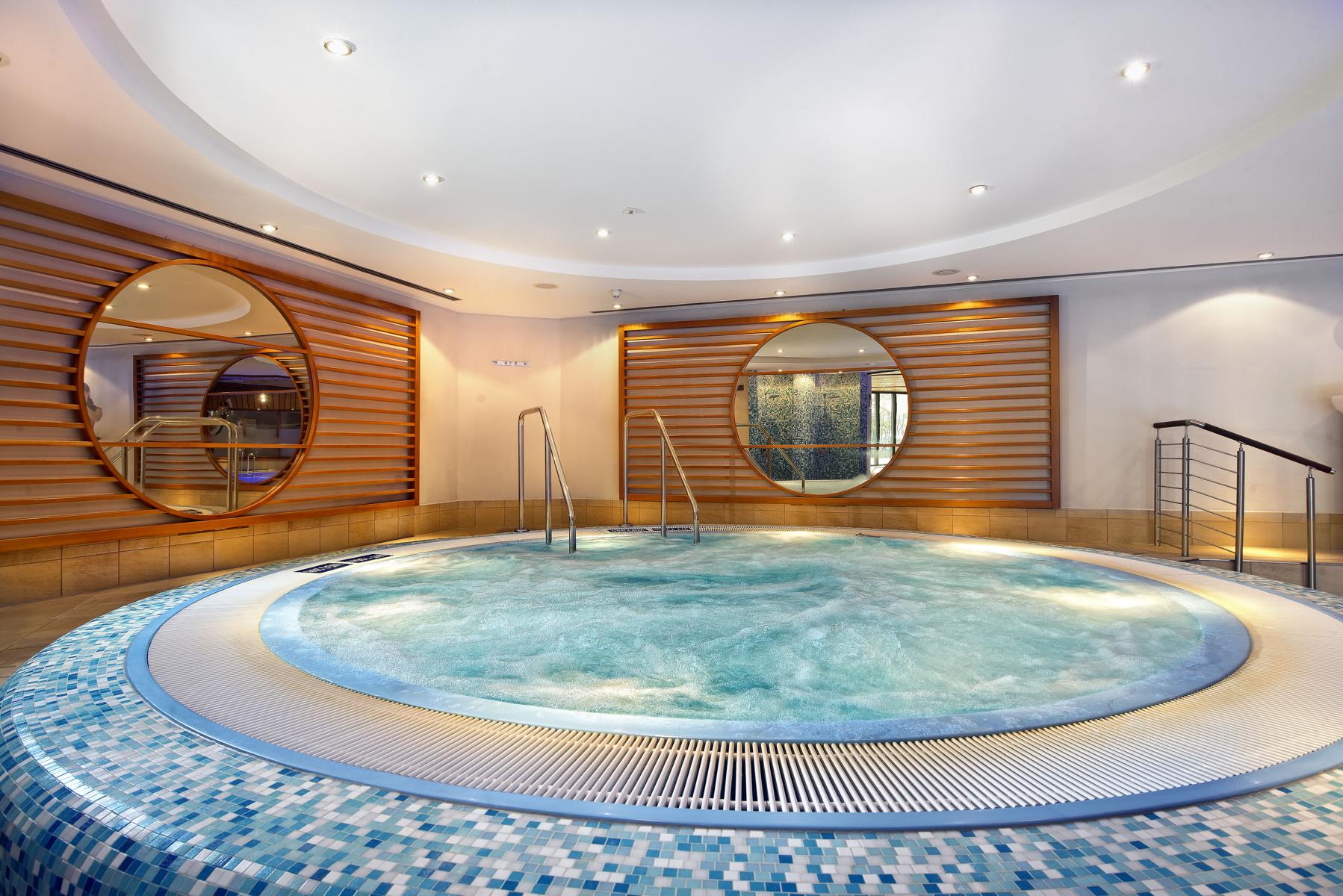 The spa was perfect after a long day of walking all over the city. If you haven't been to a German spa before, know that coed naked saunas are the norm. At the Intercontinental Berlin, the spa itself — which includes saunas, a hammam-style steam room, and a Finnish sauna with ice, as well as showers of varying strengths and temperatures, is naked and coed.
This whirlpool was strong enough to spin you around. I may have had a bit too much fun in there.
Outside at the pool and whirlpool, though, bathing suits are required. I loved how the pool lit up in bright cerulean and indigo — two of my favorite colors.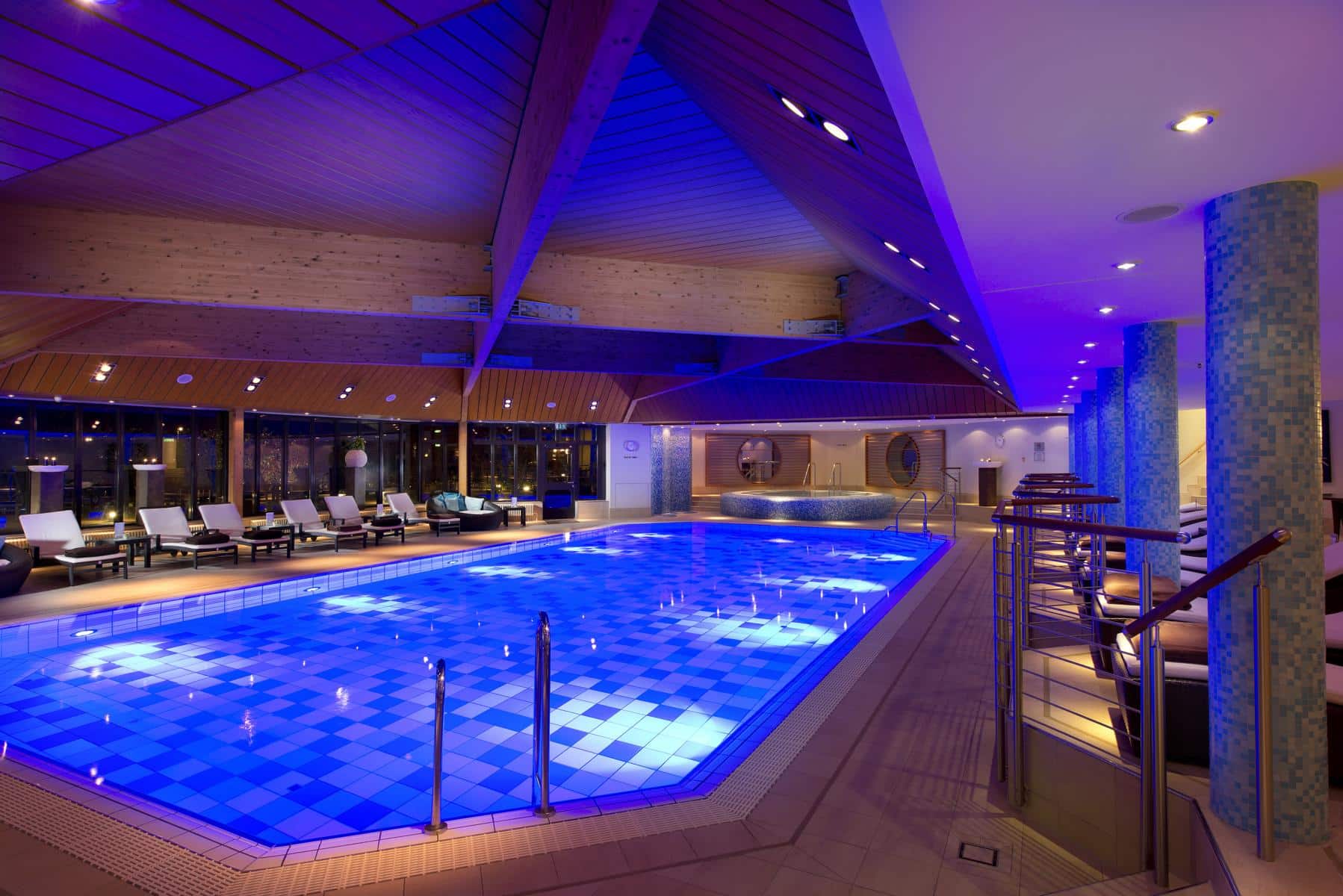 And my single favorite thing at the hotel? The breakfast buffet.
While plenty of Europeans don't do much for breakfast (see the French, Italians, Spaniards, etc.), Germans are the opposite. Breakfast is a serious affair here with meats, breads and cheeses taking center stage — and the Intercontinental Berlin had one of the largest breakfast buffets I've ever seen.
Every morning, I'd load up on cured salmon with extra horseradish sauce, custom omelets, plain yogurt with pureed strawberries, and the crispiest, most candy-like bacon I've had in my life. I'm still pining for that fabulous bacon.
But what struck me most about the Intercontinental Berlin is what struck me all those years ago as a 22-year-old concierge: here, every move the staff made was to provide me with the most comfortable stay possible. A certain head of state was also staying at the Intercontinental Berlin during my visit — while I won't give it away, I'll say it's a country that has very high expectations for luxury travel — and I'm sure that's why they came to trust the Intercontinental as well.
I felt like a million bucks walking through this hotel, and that feeling is priceless.
Essential Info: Rates at the Intercontinental Berlin start at 153 EUR ($207 USD). High-speed internet is an extra 20 EUR ($27 USD) per day.

Indoor smoking is common in Berlin and throughout Germany, so be sure to request a nonsmoking room.

There's a great Greek restaurant across the street from the Intercontinental called JA! Niko! JA! I definitely recommend hitting it up.
Many thanks to the Intercontinental Berlin for hosting me for five nights. All opinions, as always, are my own. Pool and whirlpool photos are courtesy of the hotel.
Get email updates from Kate
Never miss a post. Unsubscribe anytime!