Adventurous Kate contains affiliate links. If you make a purchase through these links, I will earn a commission at no extra cost to you. Thanks!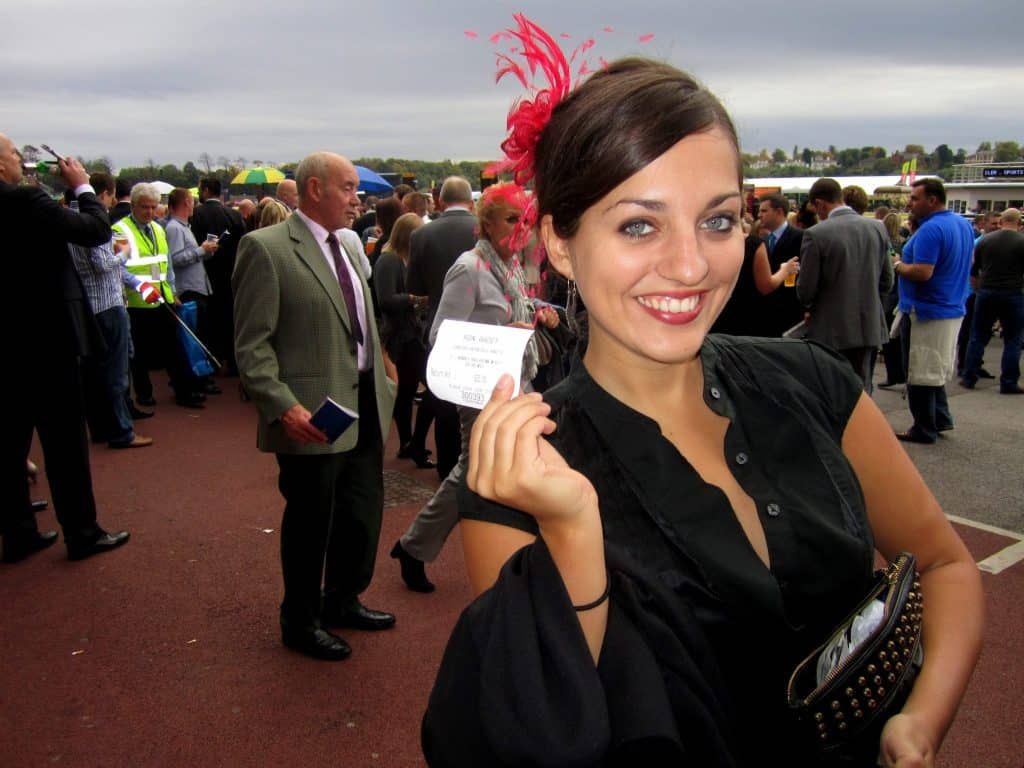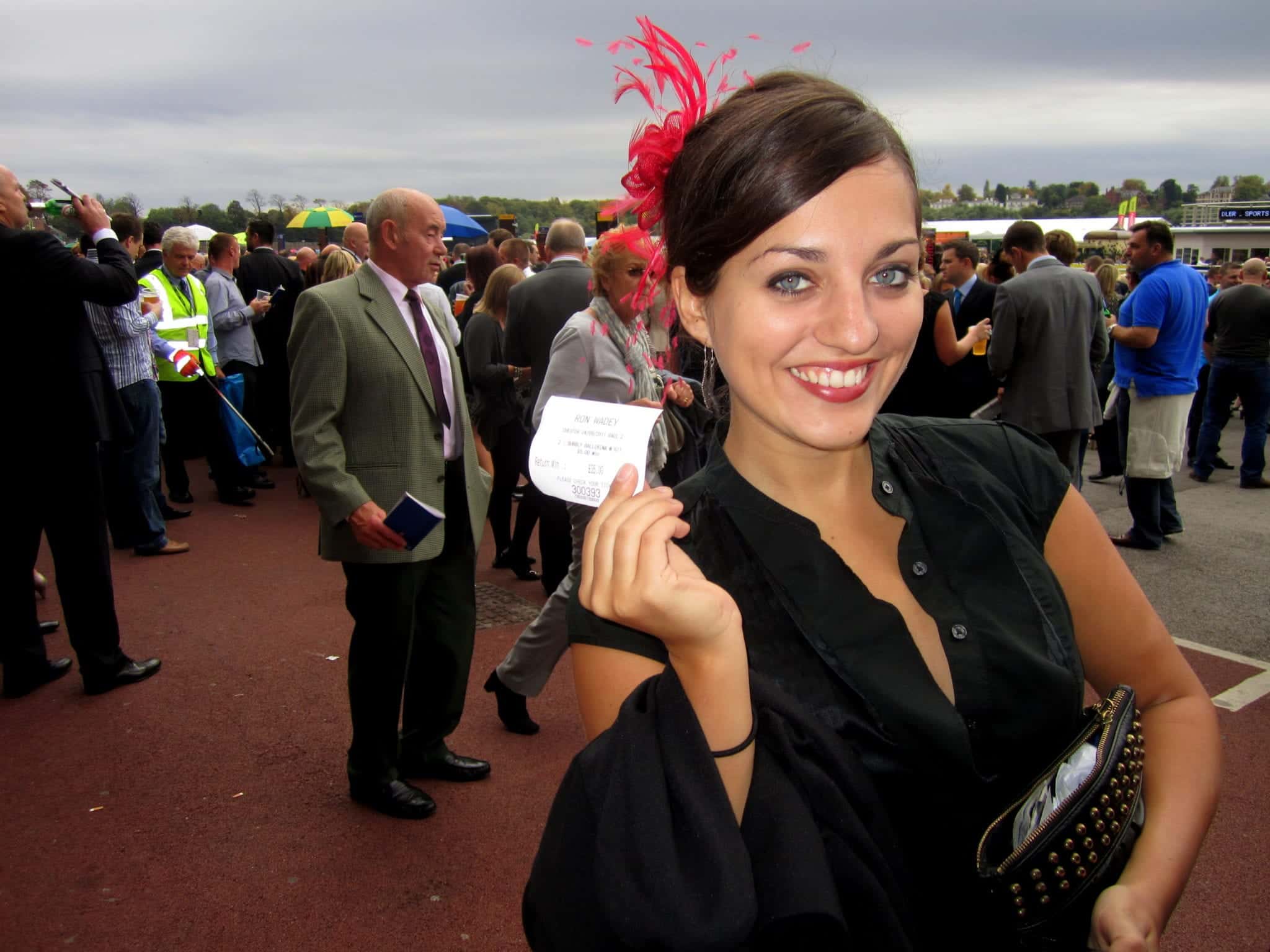 In my quest to immerse myself in all things English, I found myself enjoying a quintessential English activity – betting on the horses at the Chester Races!
The city of Chester is perhaps best known for the Chester Races.  The Chester Racecourse is the oldest racecourse in Britain, dating back to the 1600s!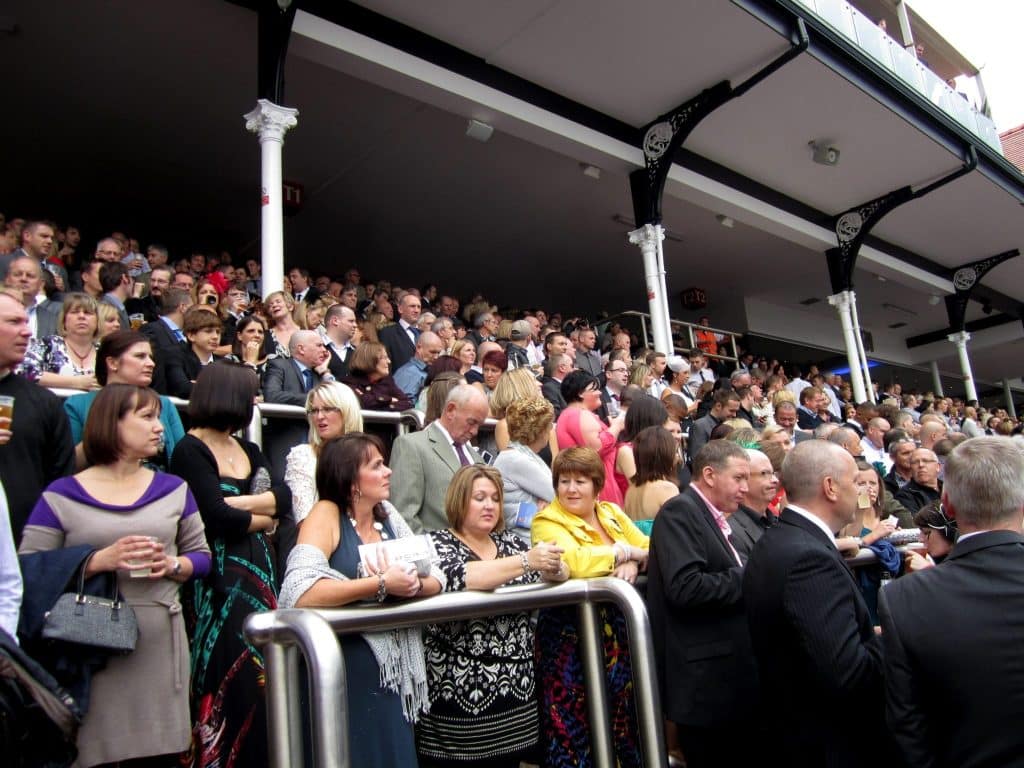 And while the races themselves are great, what I loved most was the dressing up.  Not every race is a dress-up occasion, but some days, like Ladies' Day and the finale, the latter of which we attended, most certainly are.
If ANYTHING is a dress-up activity, there is a pretty good chance that I'll love it.
Especially in Britain, where "dressing up" pretty much means "you need a fascinator."
I wore my bright red fascinator, and Dave wore his custom-made pimp suit from Vietnam.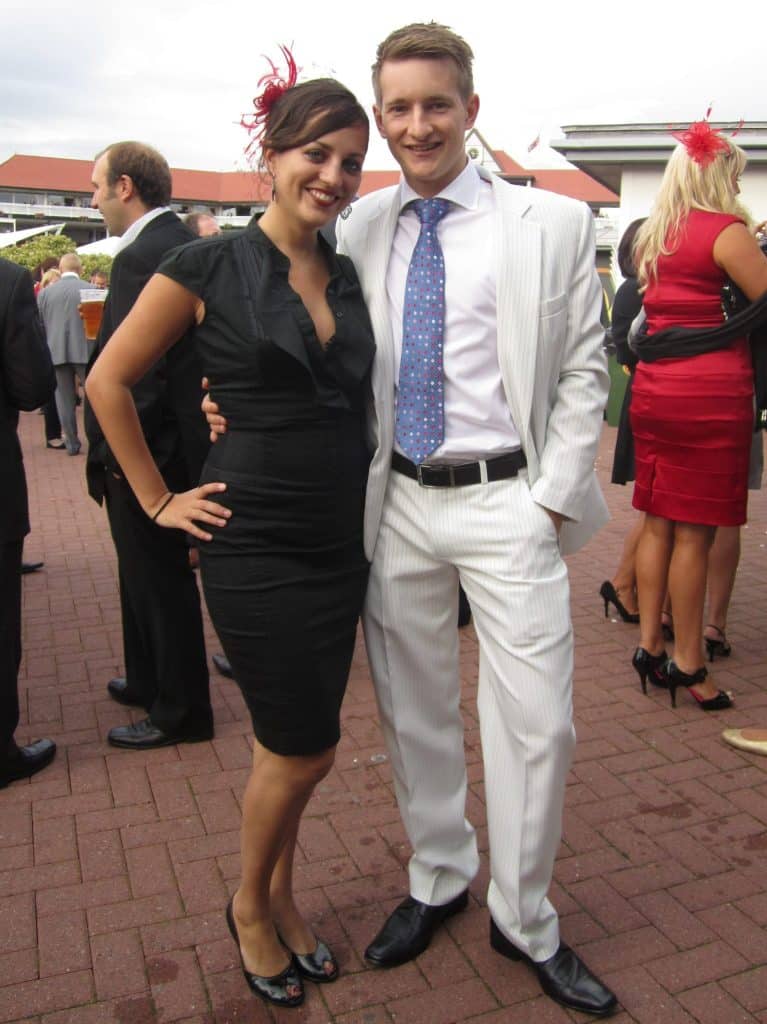 Snazzified, we hit up the races with our great group — me and Dave, Dave's brothers Chris and Neil, and Neil's girlfriend Felicity.
Despite all my trips to Vegas, I've never been much of a gambler.  I'll play a little bit of Blackjack, but that's about it.  So horse racing was an entirely new concept to me.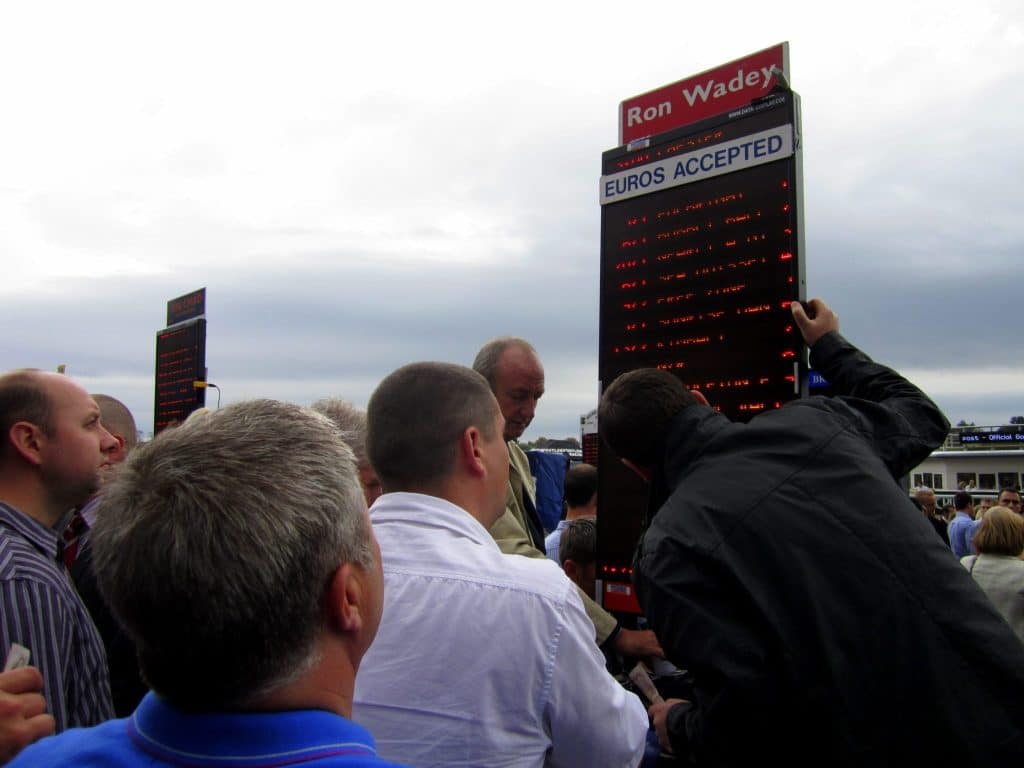 Luckily, it was easy to learn.  You're given a booklet with information on the horses, including how they've performed recently, and different bookies have odds displayed.  You choose a bookie and bet a minimum of £2-2.50, either for the horse to win, or to place.
I was ready to win big!  I placed my first bet, hoped for the best, and cheered on my first horse, Bubbly Ballerina…only to walk away with a loss.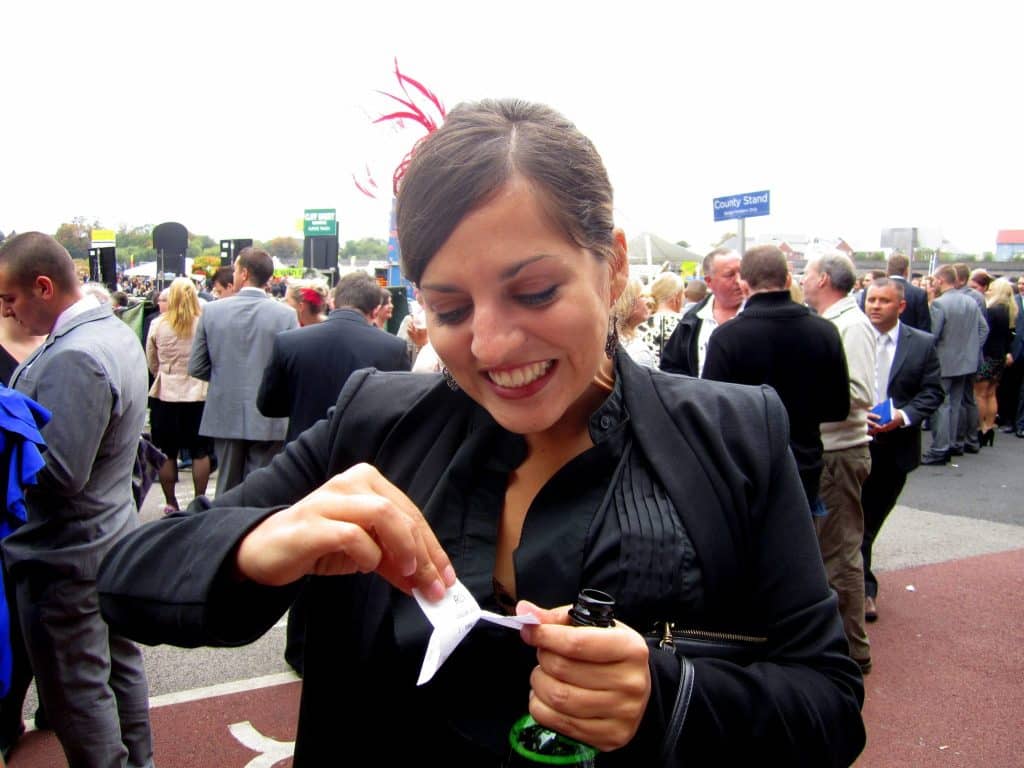 We lost the next race, too.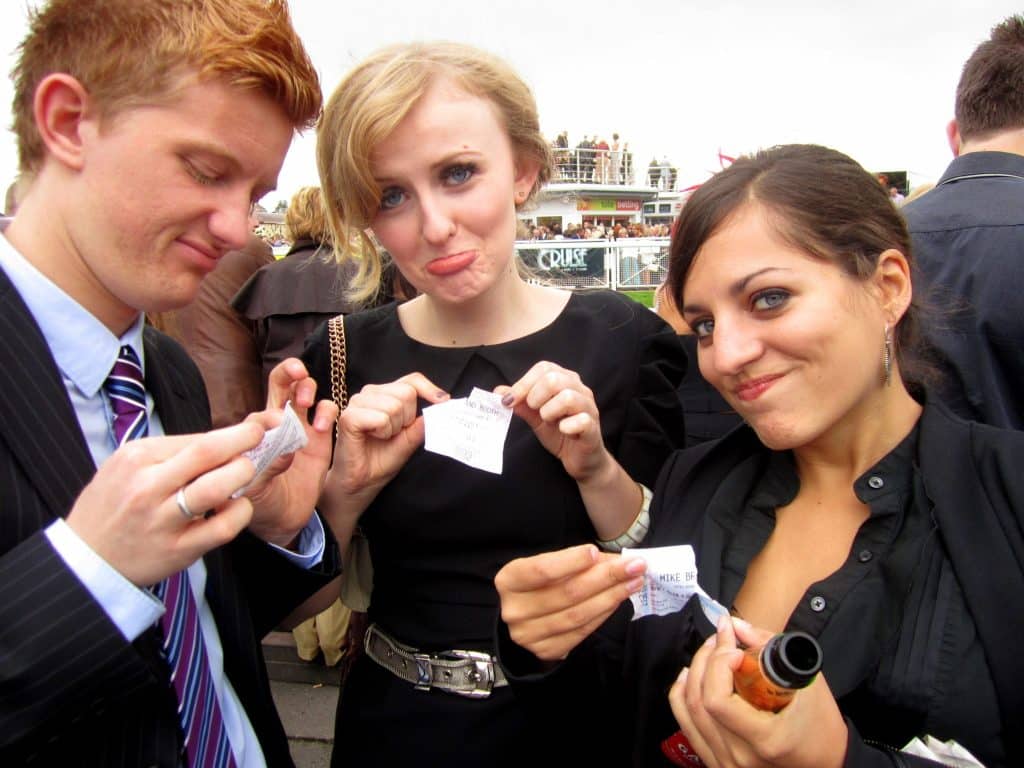 Some of us took it better than others.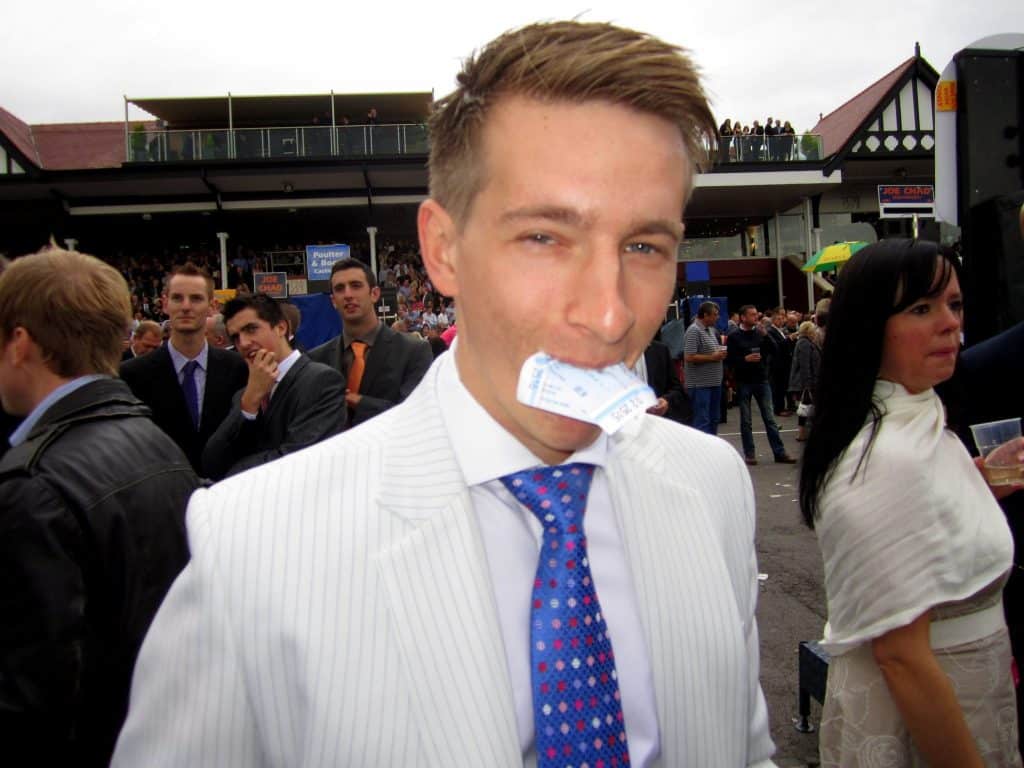 Then, finally, we won a race!  Neil and I bet on a horse named Belle Royale (or Belle Royale with Cheese, as I referred to her), and with 6:1 odds, she finished first!  My robust £2.50 bet translated into a £17.50 payoff.
What I love about the Chester Races is that they're a fun-filled social occasion!  You grab a group of your friends, dress up in your finest duds, and spend the day betting, drinking cocktails, triumphing, commiserating, and having a blast.
There were a number of hen parties, some of which asked if they could get pictures with Dave in his pimp suit!  (He got a lot of compliments from guys, too – "You have the best suit here!")  Have I mentioned that his suit is lined in fuchsia silk?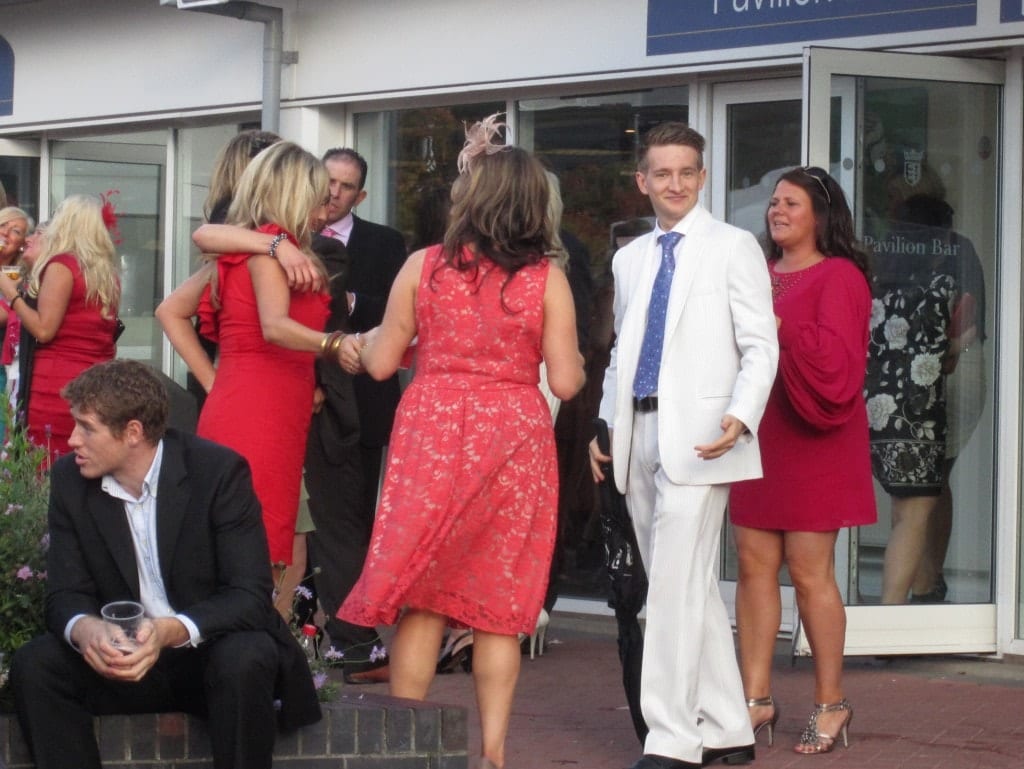 It was a great day filled with excitement.  In the end, I finished in the negative, but I only lost £7.50 overall.
But after the races finish, the event is far from over — everyone goes out in Chester!  It's a great time to enjoy the bars and clubs, especially if you're dressed up, but make sure you have a dining reservation.  It's crazy busy in Chester during race times.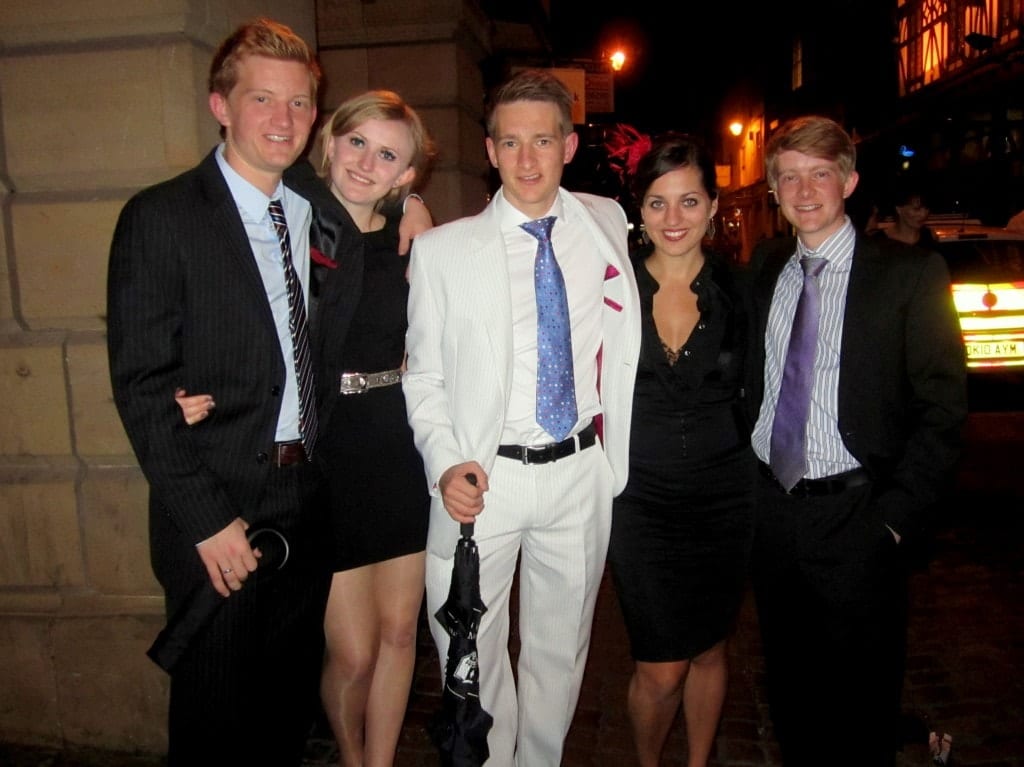 The Chester Races happen several times during the year.  If you're going to be in Northwest England during race times, I highly recommend you come and enjoy this very English activity – especially on one of the dress-up days!
Get email updates from Kate
Never miss a post. Unsubscribe anytime!