Adventurous Kate contains affiliate links. If you make a purchase through these links, I will earn a commission at no extra cost to you. Thanks!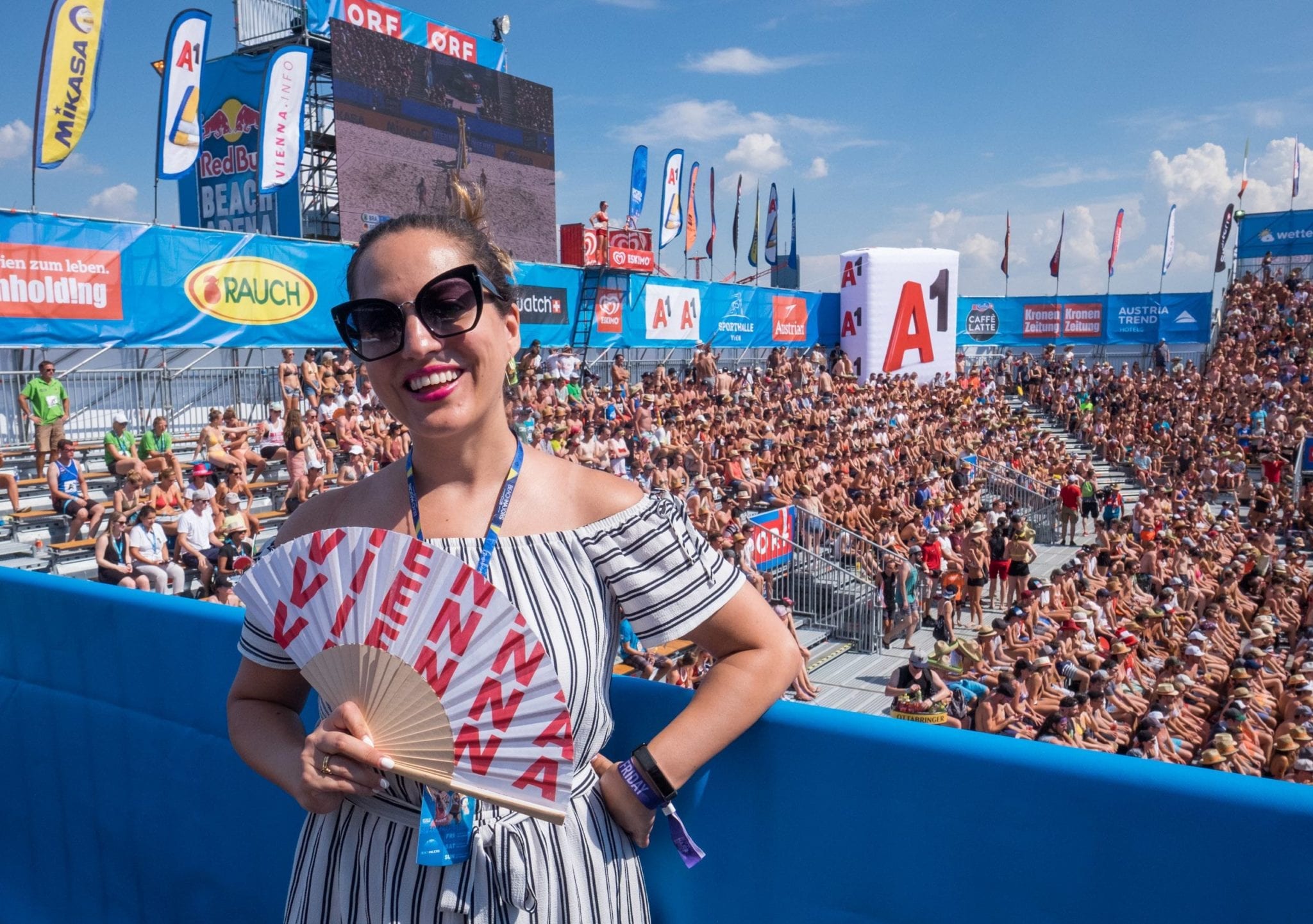 If you had asked me two months ago if I would be writing about spending my birthday at a beach volleyball tournament in Vienna, of all places, I wouldn't have believed you.
I mean, when I think about Vienna, I think about opera and classical music and art. I think about three-layered lattes and chocolate cakes laced with apricot jam. Sports don't even enter my mind — or if it does, it's hiking and skiing — and besides, Austria is a landlocked country! What beach is this, anyway?!
And that's where I learned I was wrong. Austrians, it turns out, are fiends for beach volleyball. In fact, the Beach Major Series comes to Vienna each summer!
Austrian Airlines is a sponsor of the Beach Major Series's tournament in Vienna and they invited me to attend the event, spend time in the city, and fly both ways on their airline, once in business class, once in premium economy. I invited my frequent travel buddy Cailin to join me and we were off to Vienna!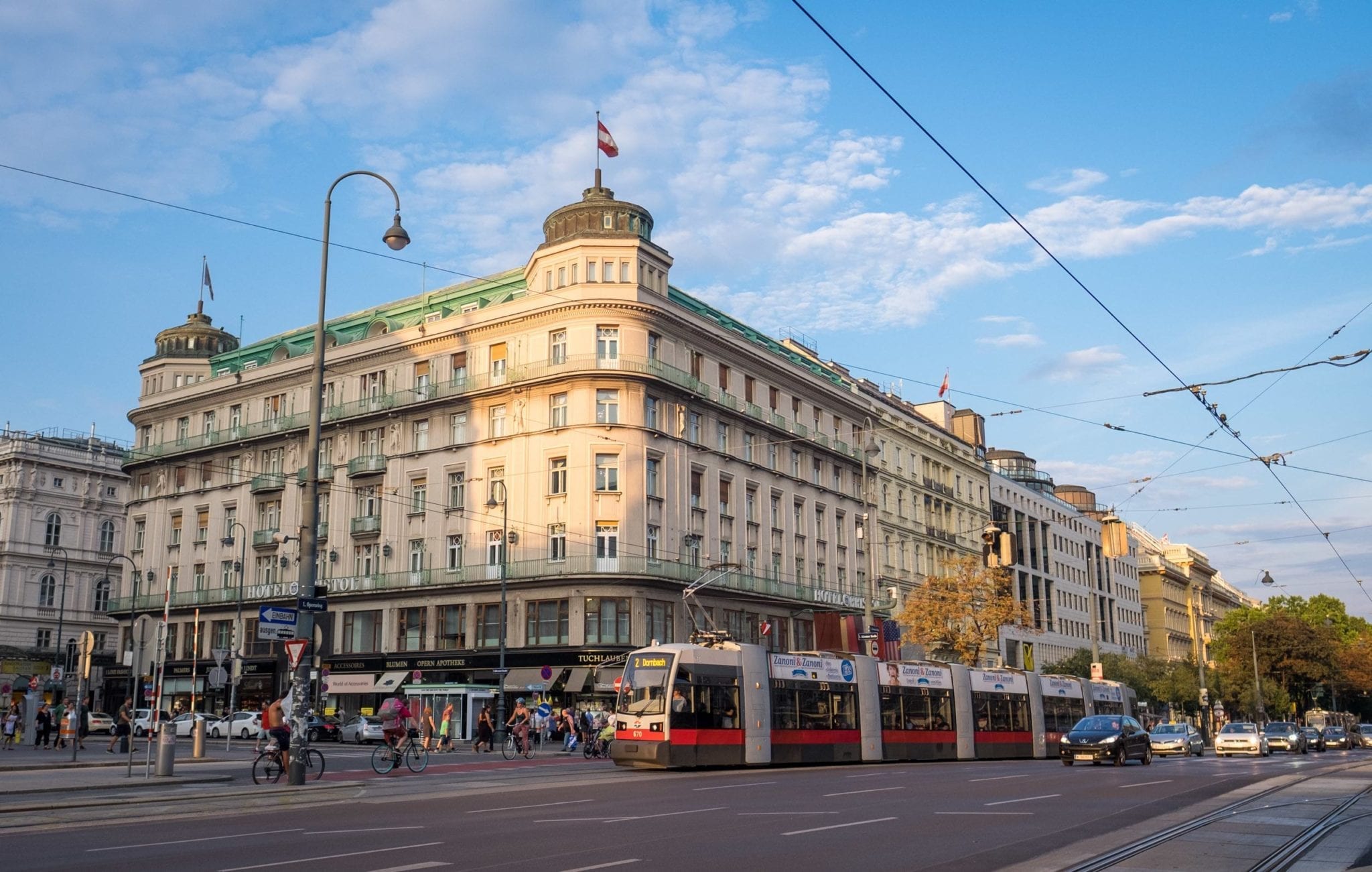 Vienna is Always a Good Decision
I've been to Vienna twice before this trip, and I always enjoy visiting. Vienna has an elegance and grandeur to its buildings, and I adore the Viennese coffeehouse tradition.
Cailin has been to Vienna before, too, so we didn't feel the pressure to go hardcore sightseeing. And it's just as well — Vienna is a wonderful place to wander.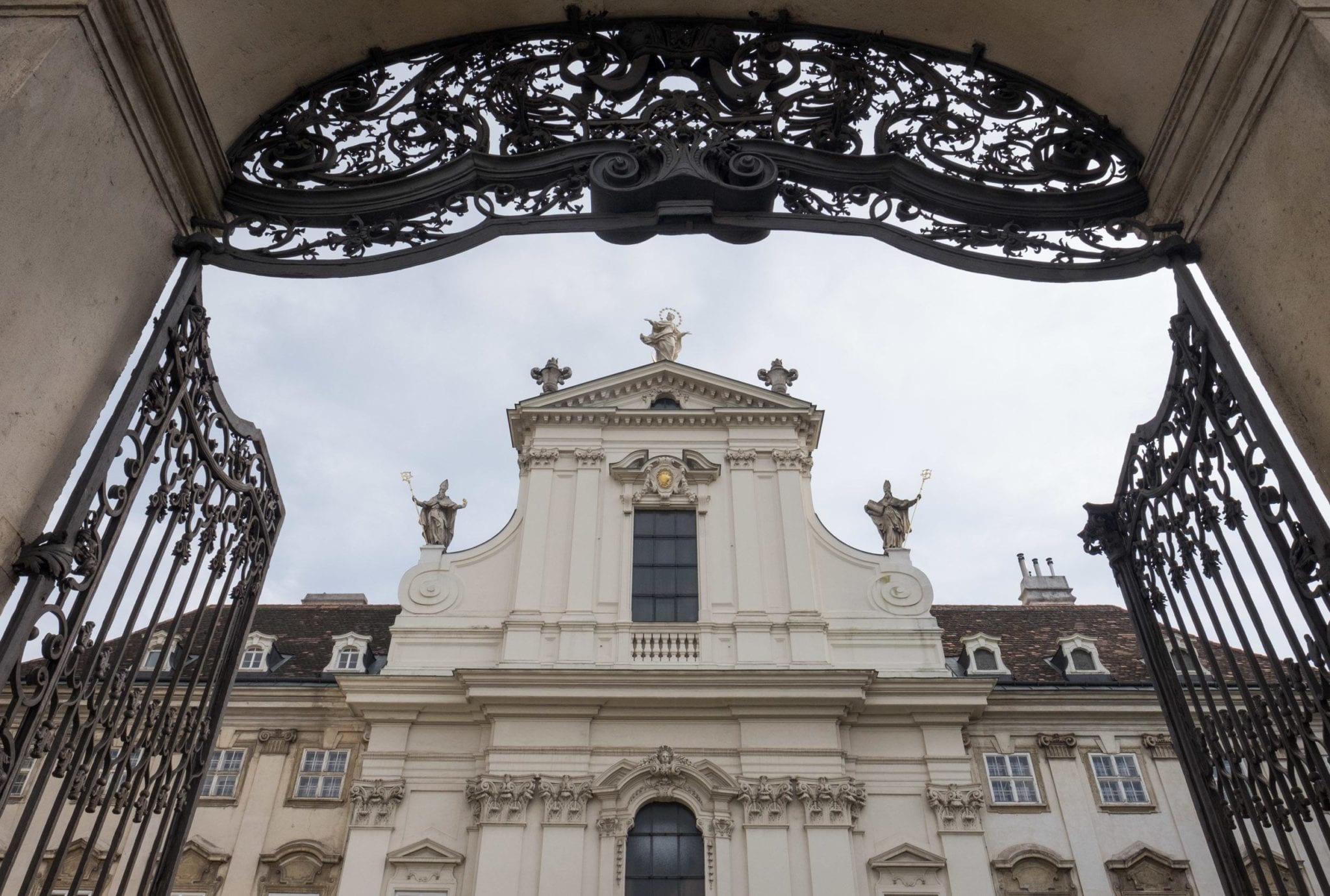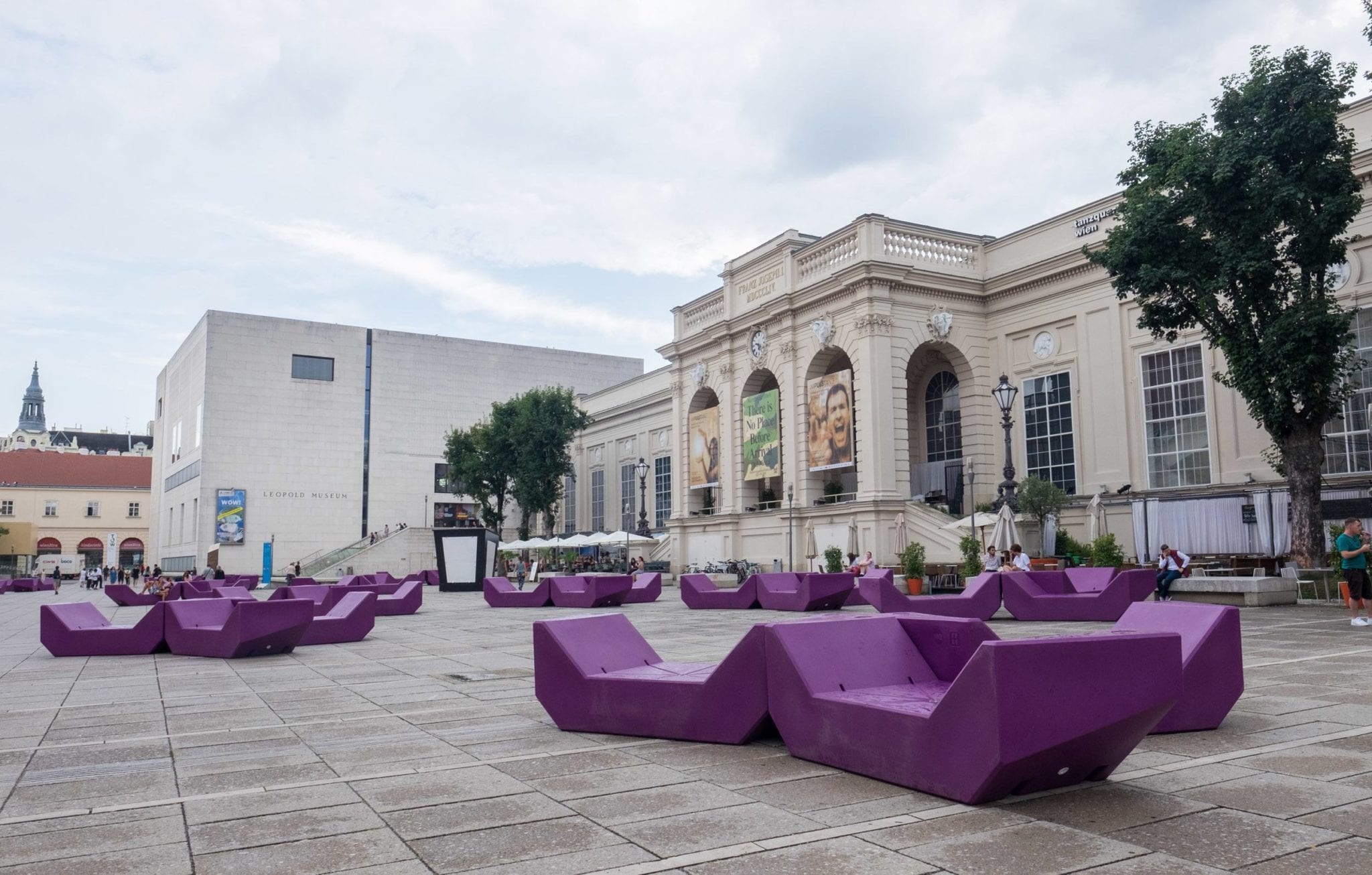 And as someone who lives for her daily coffee break, I couldn't resist diving into Vienna's legendary cafes!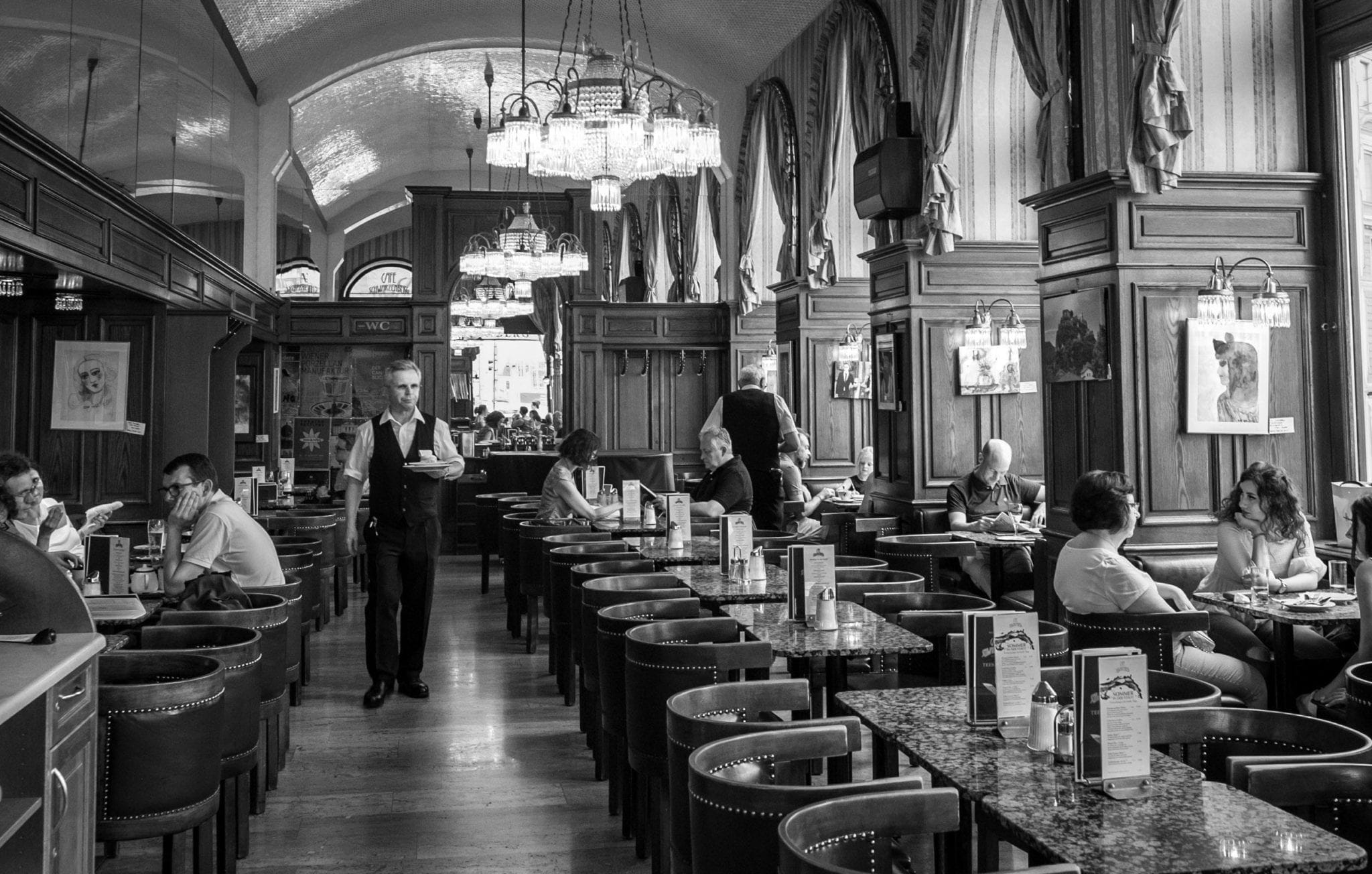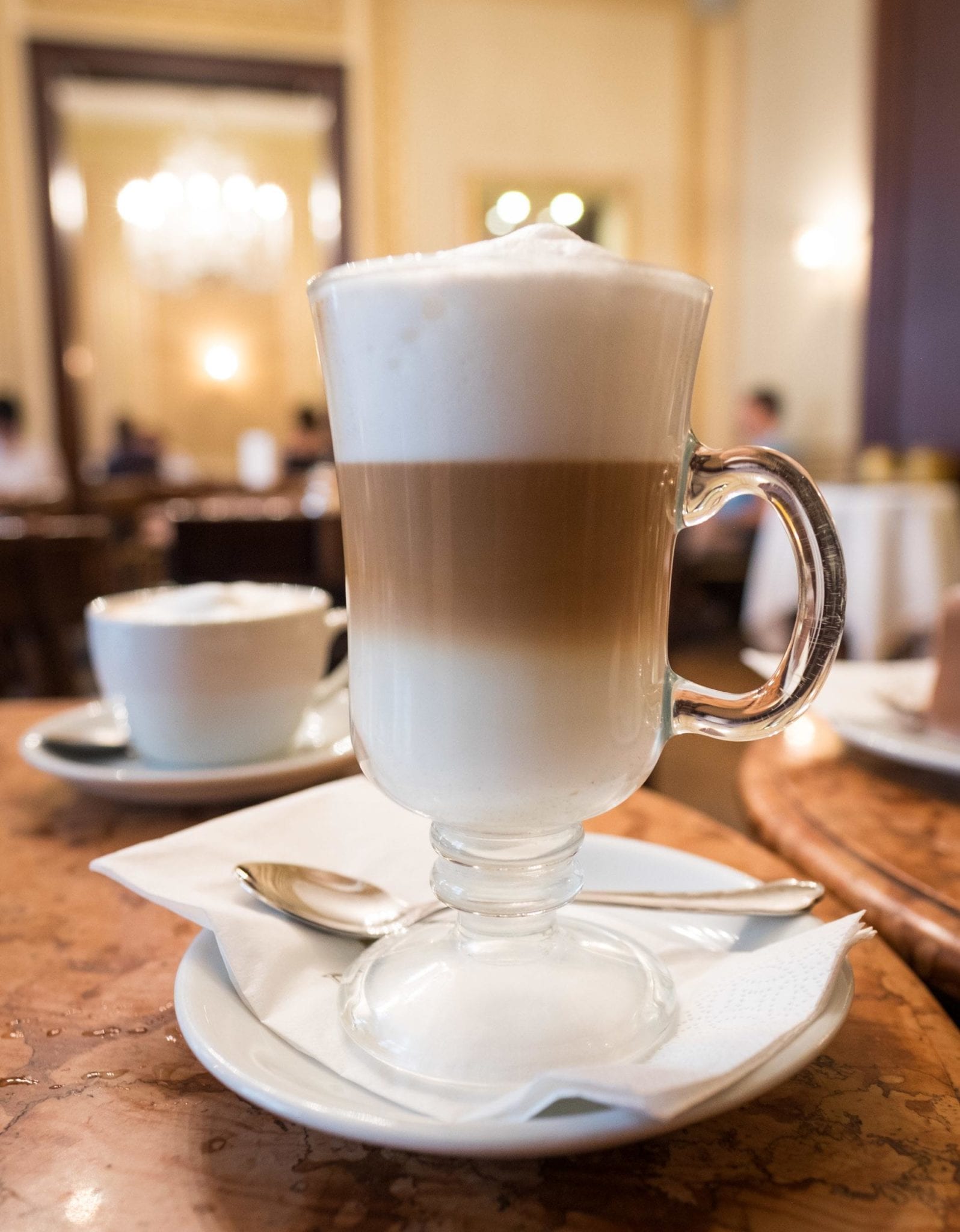 If there's any one cafe that you want to visit, make it Demel — it's super-popular and touristy, but the cakes are stupendous. To my surprise, my favorite was the fruit tart. Juicy berries on top of sweet custard in a flaky crust.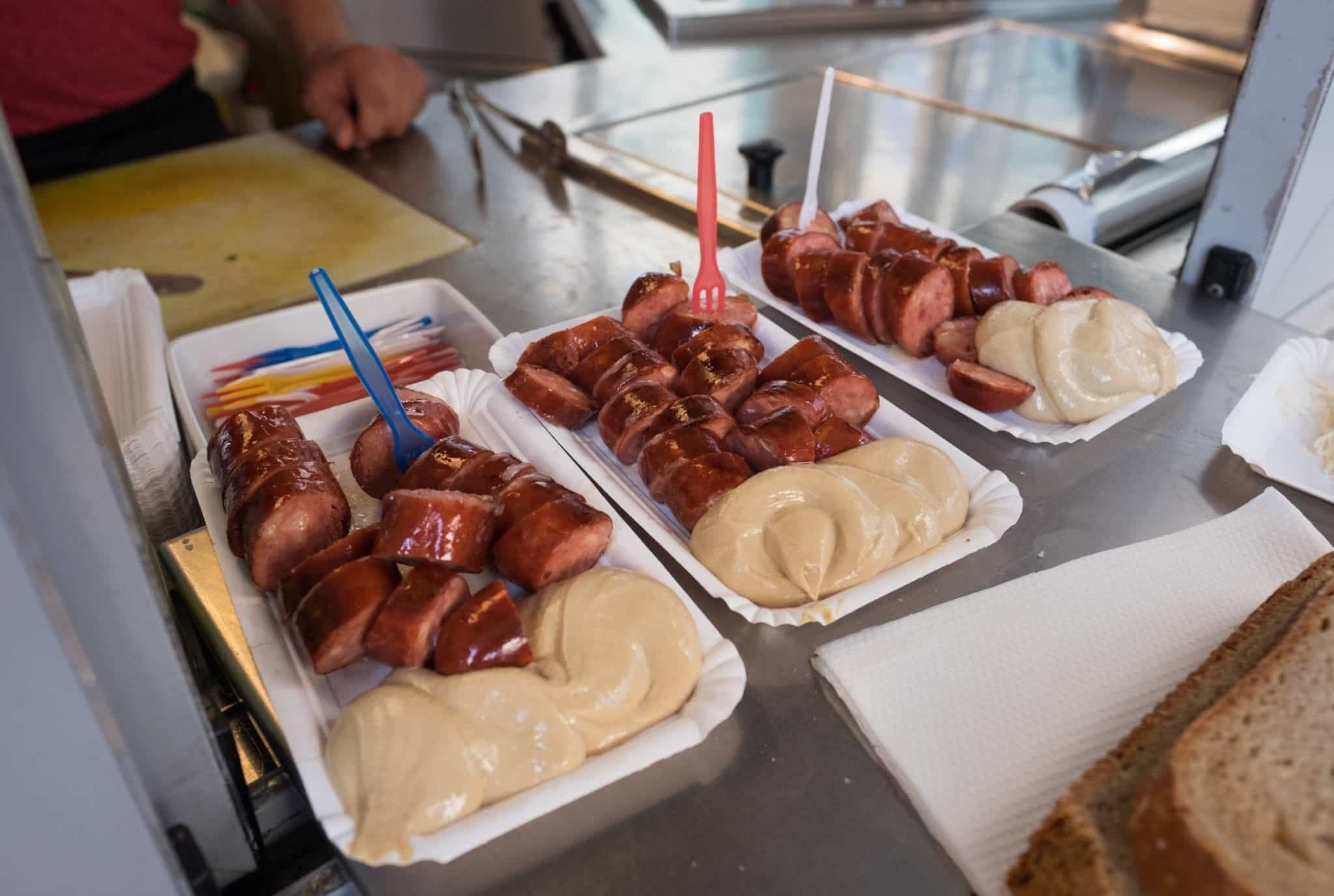 But if your tastes tend to be more savory than sweet, be sure to try the most Viennese snack of all — käsekrainer. It's a sausage with cheese running through it, served with lots of mustard and shaved horseradish.
While my Austrian friends joke that it's what they eat during a long night of drinking, I would have it any time of day!
And if you've been to a city a few times already, it's always nice to check out some new spots. This time we went to Grinzing, a magnificent neighborhood on the northwest outskirts of the city. It's so different from the white-and-gray city center — it looks and feels like a village!
As a result, Grinzing is one of the most expensive neighborhoods in Vienna. As we drove into the hills, we marveled at the mix of traditional Alpine-style architecture mixed with modern glass abodes.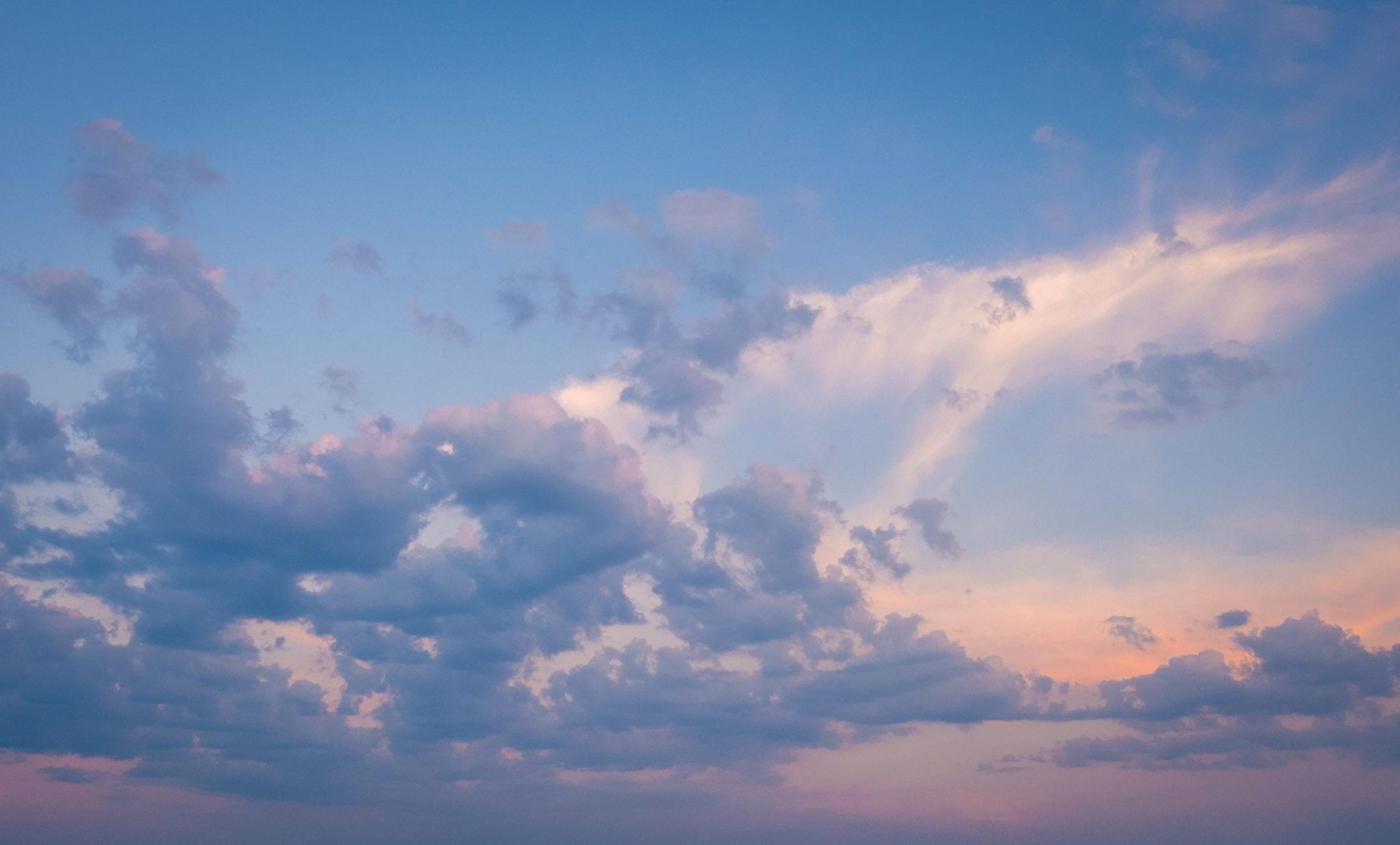 Just up the road from Grinzing is an overlook. You can watch the colors change over the city as electronic music blares from the cafes.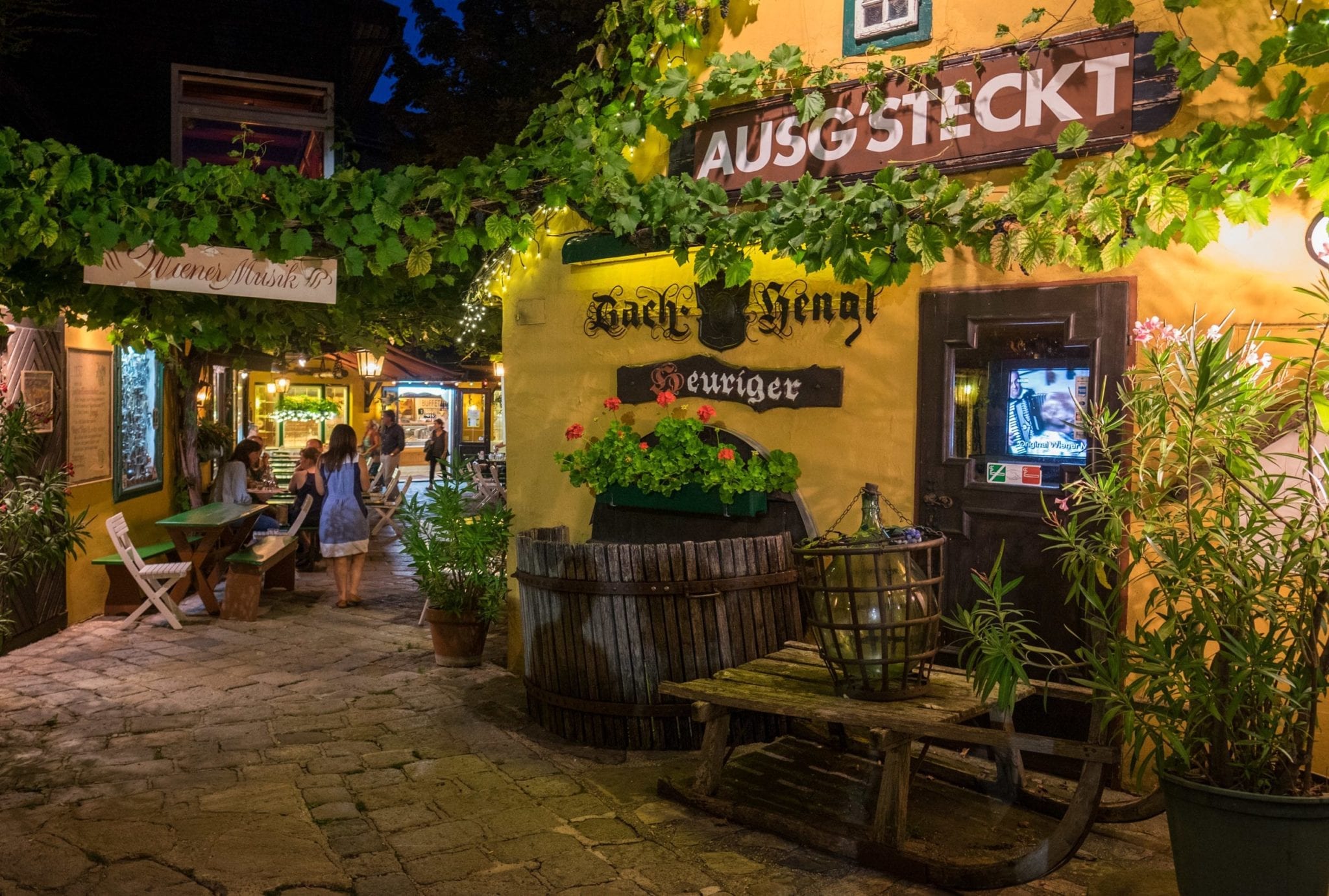 Once the sun set, we went back to Grinzing and had a traditional dinner at Alter Bach-Hengl. It was perfect — traditional Austrian food served cafeteria-style with a quiet, leafy garden, and plenty of jugs of white wine and sparkling water to make spritzes. (White wine spritzes are pretty much the only thing I drink in Austria!)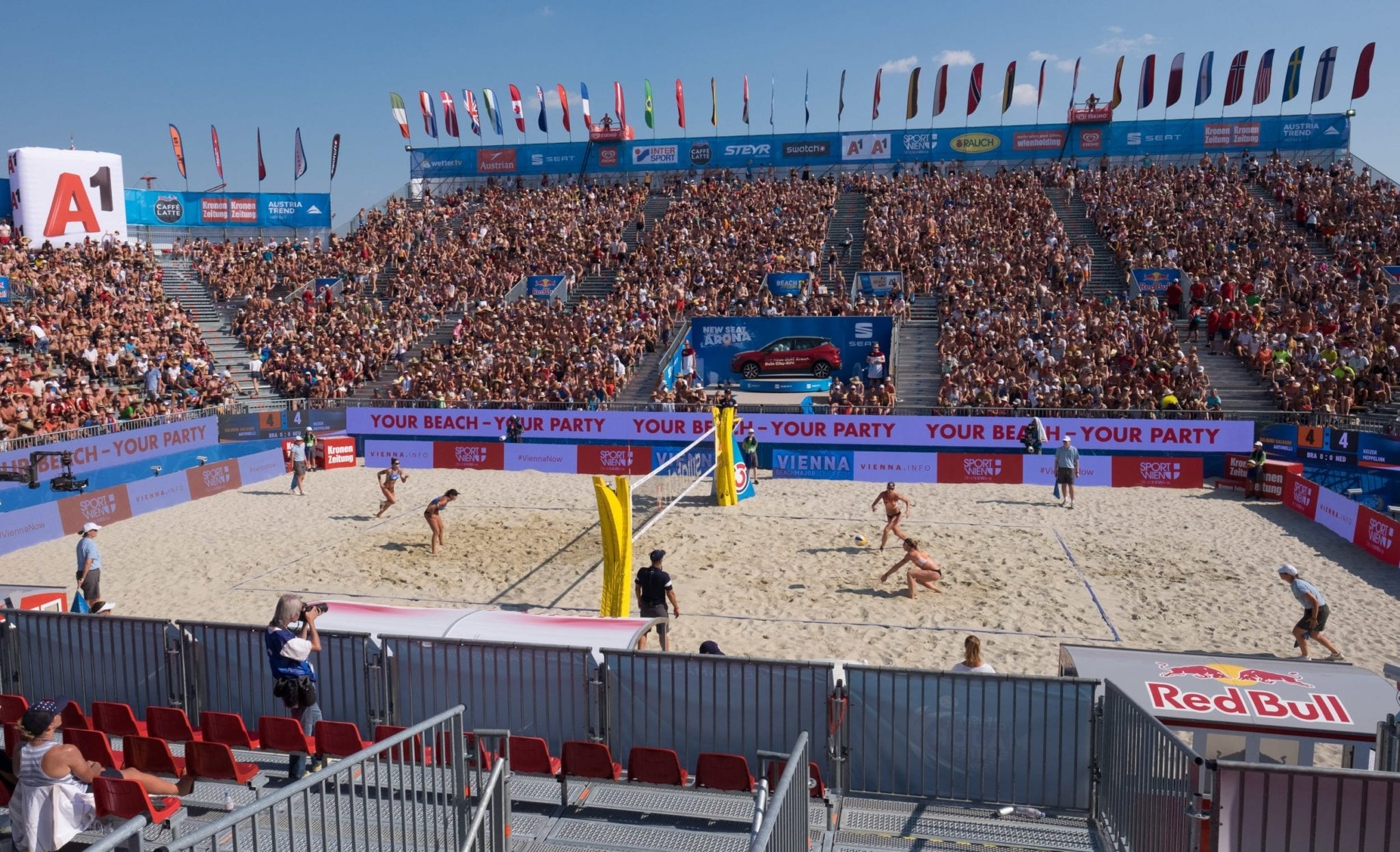 The Beach Major Series
But the main reason I was in Vienna was for the beach volleyball! Each year, 32 teams from around the world compete in the Vienna Major, one of the biggest tournaments in the series. It's a four-day event of volleyball, parties, and a carnival atmosphere, taking place on an island in the Danube.
I often describe myself as "not a sports person." But the more I think about it, I think I'm more of a "not an American professional sports person." One of the reasons why I left Boston was because it was too sports-crazy — literally everywhere you go, sports dominate the conversation. At work? People talk about sports. At a bar? Better let the game finish before you start a conversation with that dude! If you're not hardcore into the Red Sox and Patriots at the very least, you're the odd one out. That, and I detest American football and the NFL.
But I've always enjoyed the cultural aspect of watching sports. Bonding with strangers over a shared event, cheering and groaning with every move, taking part in the unusual traditions. And this event brought the culture HARDCORE.
Did you know that there are all kinds of chants and dances for volleyball? Here everyone's chanting, "Major block, major block, major major major block!"
It was extremely hot during the tournament — I was in the shaded VIP area, but I felt bad for everyone who was in the sun all day! Luckily, they got sprayed down by firefighters every 15 minutes or so. Pretty much everyone in the main audience was in bathing suits.
Dancers performed whenever there was an extended break. I loved that there were male cheerleaders, too!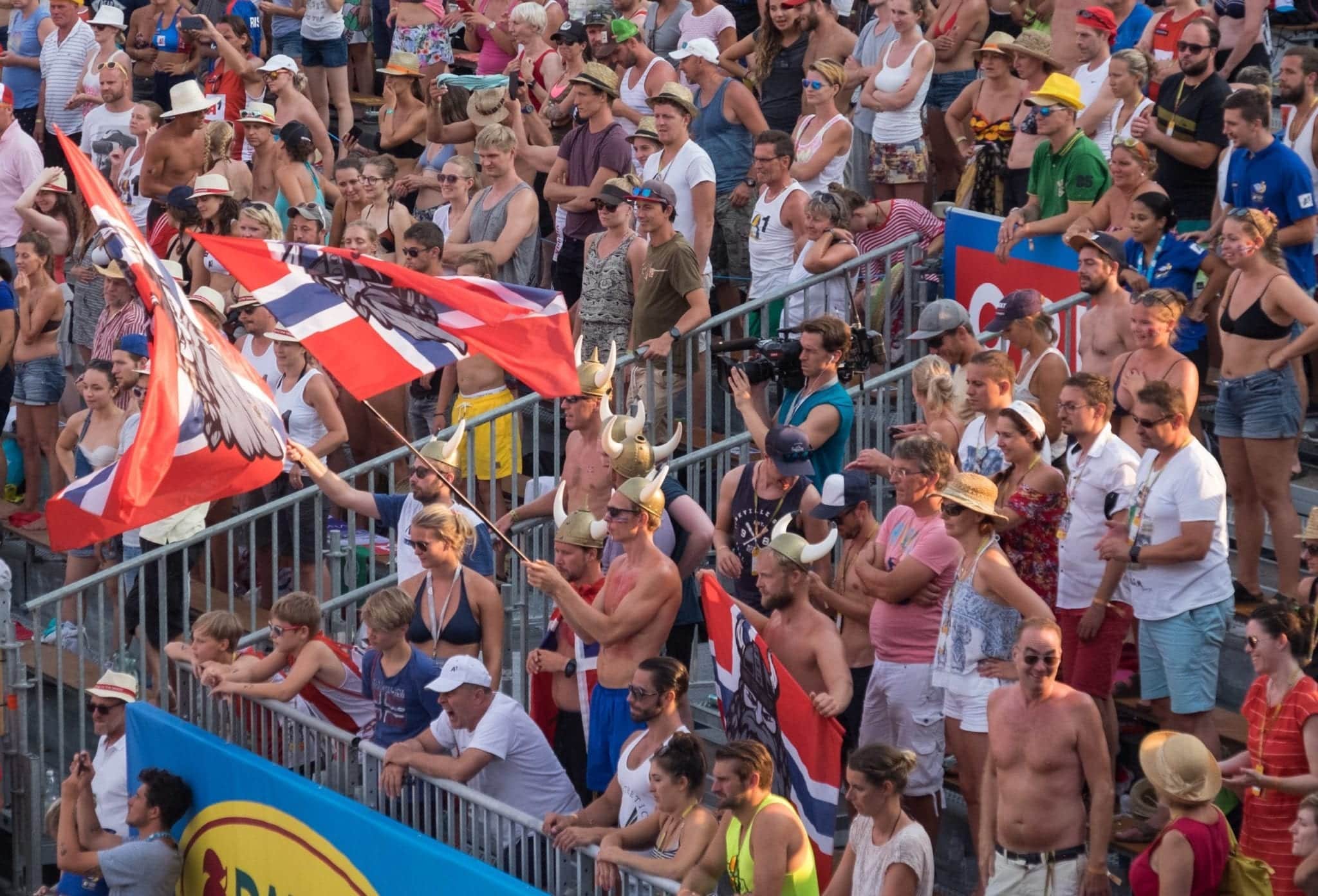 The Norwegian fans brought all their Viking gear!
Those Viking hats did the trick — the Norwegians ended up bringing home the gold!
Now, these tournaments were going on all day, and I doubt that anyone went to all of them. That gave you plenty of time to explore the grounds and have fun.
The VIP area was so nice, and a welcome retreat from the stadium. While it wasn't air-conditioned, it had a crazy high-end food selection and really nice bathrooms. Plus, the VIP section of the stadium is the only part in the shade.
If you have the money to spend on the VIP section, get it. It's worth it.
This was one of the dishes — a steak, avocado, and roasted vegetable salad. Cailin and I dove into the gazpacho and ceviche. There were plenty of sausages on hand — this is Austria, after all! — as well as freezers full of unlimited ice cream treats, including Ben & Jerry's ice cream sandwiches and Magnum bars.
The caterers of this event, Do&Co, are the same company that create the gorgeous business class meals on Austrian Airlines.
Oh, and it's open bar, too! Have all the drinks you'd like, but be sure to hydrate!
Outside the stadium there were plenty of carnival-style booths with games and activities.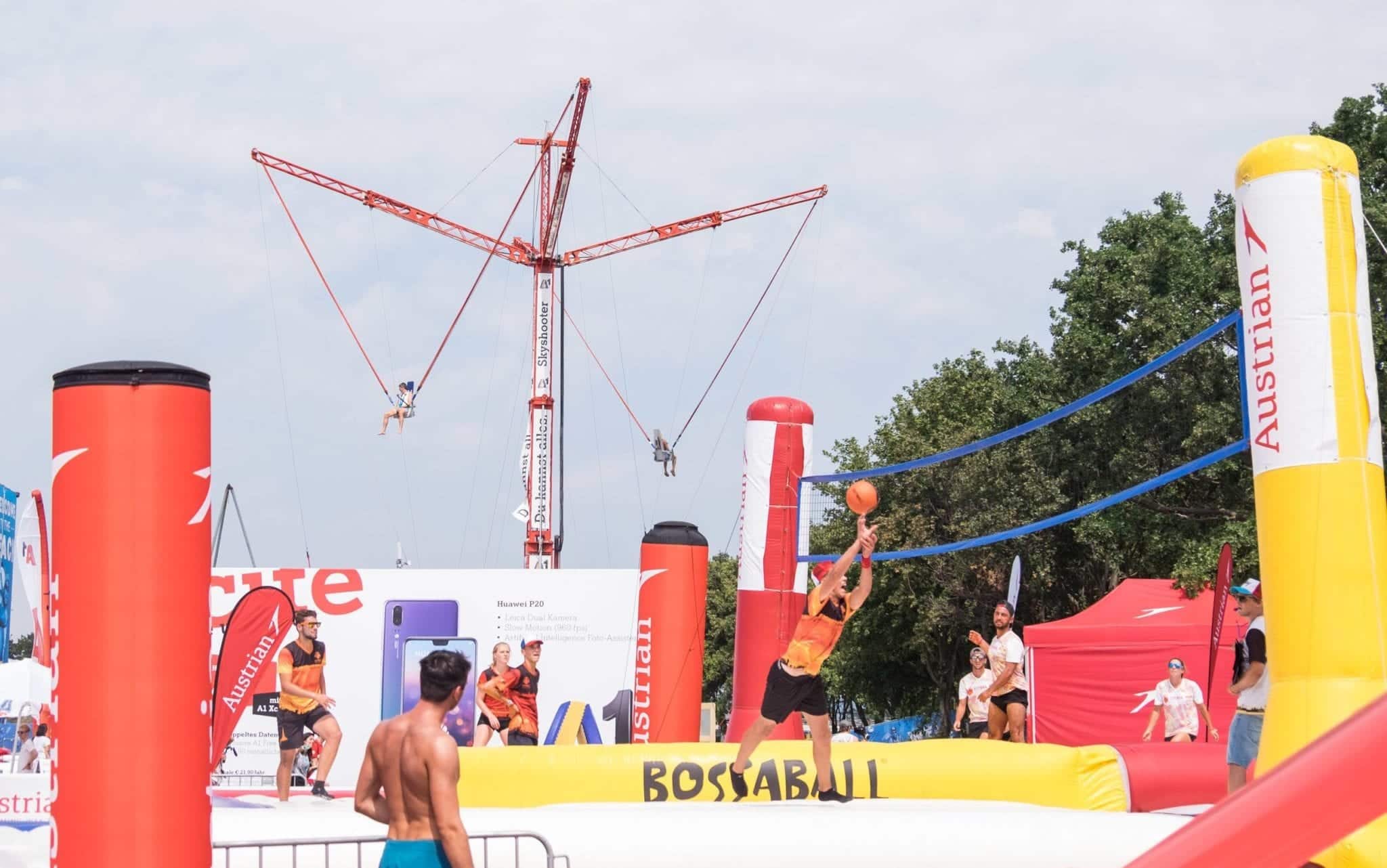 One of the crazy games was Bossaball, a form of volleyball played on an inflatable platform with lots of bouncing. Believe it or not, Bossaball is a serious game and there are pro players across Europe!
Some professionals were playing and they were insanely skilled at kicking the ball while mid-flip!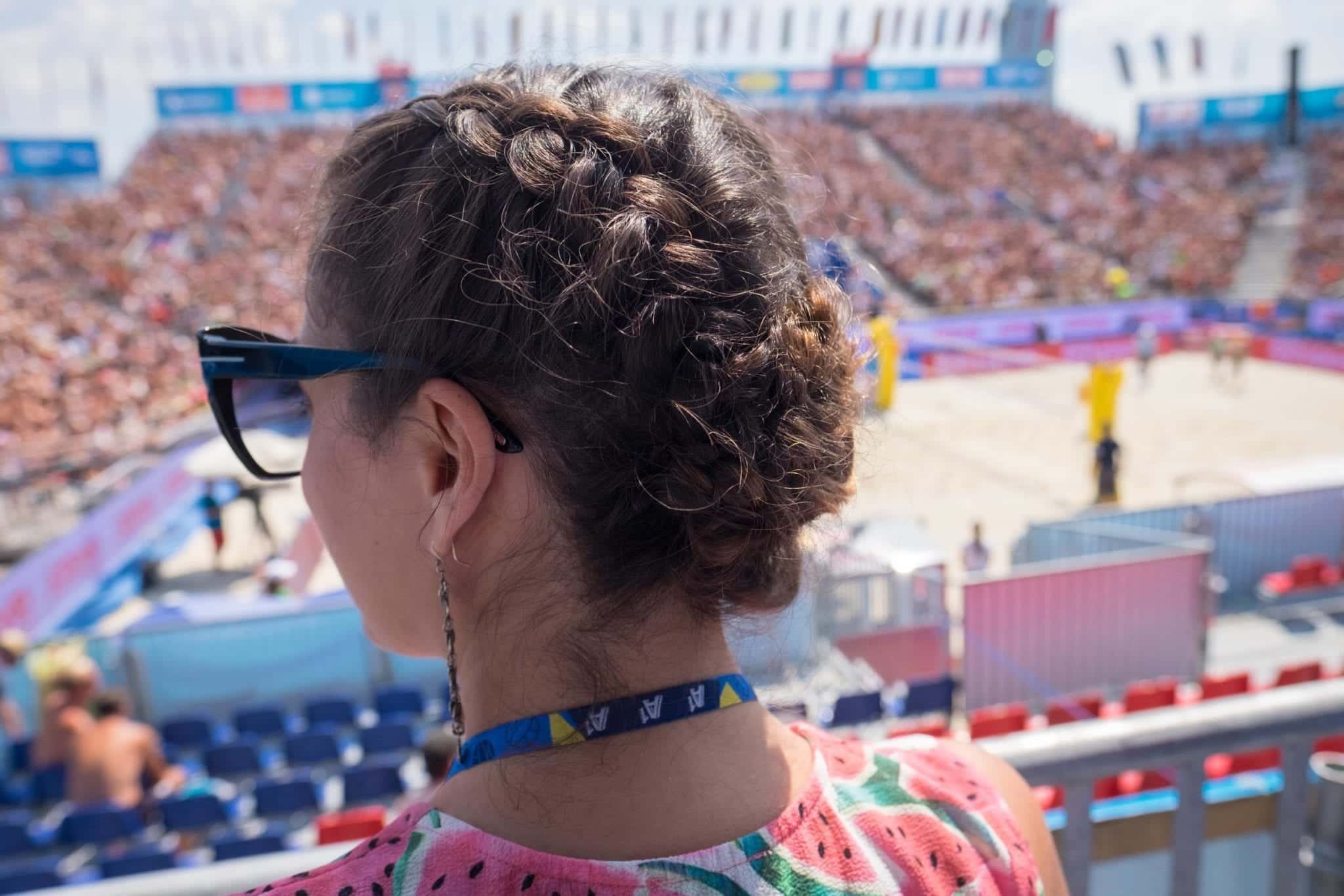 My absolute favorite was the hair-braiding station! And it was free to everyone who had a ticket! I absolutely LOVE that a sporting event thinks to add a hair-braiding station for fun! You'd never find that at a professional sporting event in the US.
Yes, I went back two days in a row.
But more than anything else, I just loved being in the stands and cheering along with everyone else! There was such an amazing community spirit. It didn't take long before I knew all the chants and dances and was on the edge of my seat with everyone else.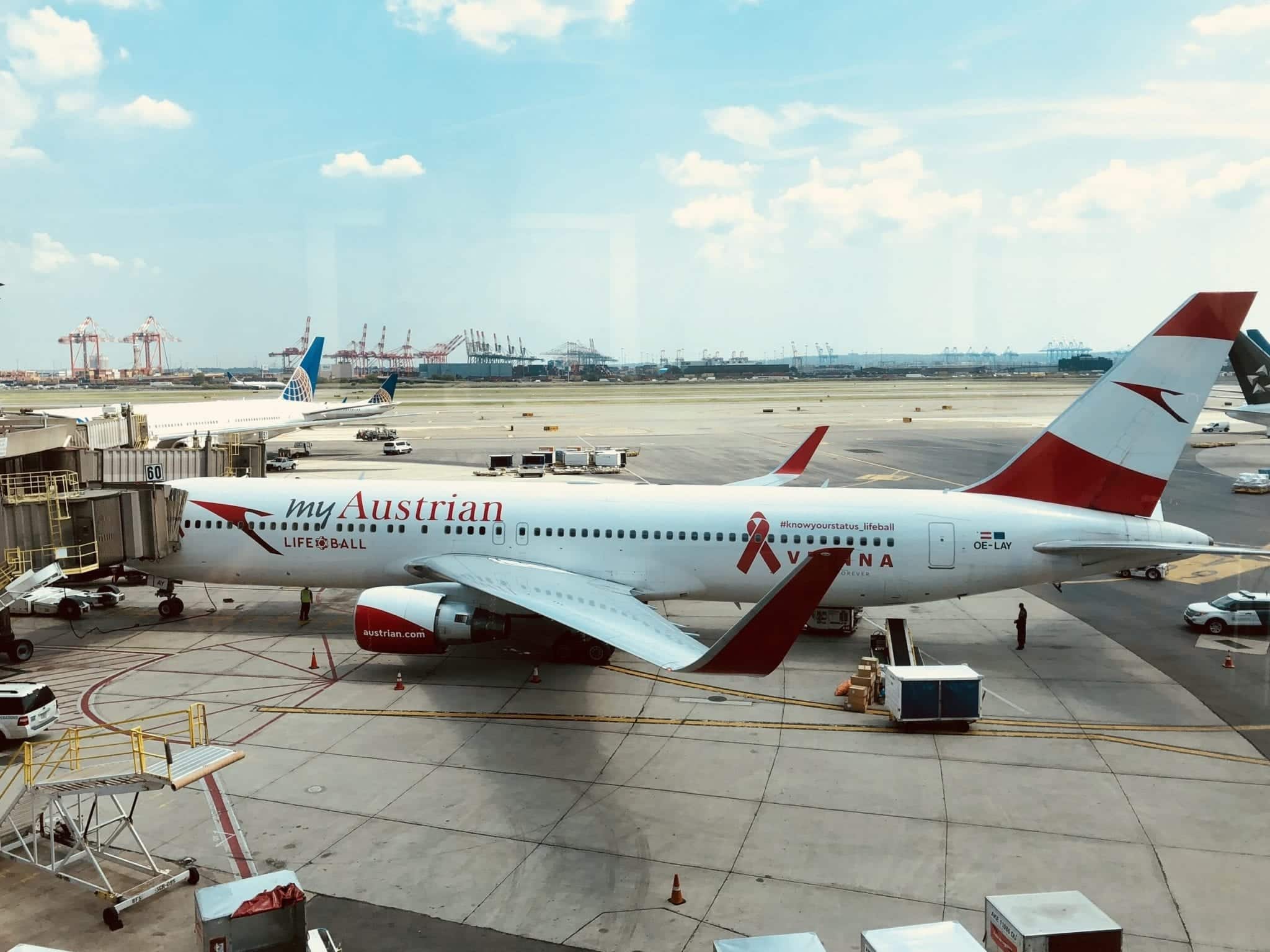 Flying Premium Economy with Austrian Airlines
In the last decade or so, premium economy has sprung up on most airlines as a way to offer more value for less money than business class. And honestly, there are no guidelines, so it can vary enormously from airline to airline. Some airlines give you an extra inch of leg room and a slightly nicer set of headphones and call it premium economy — I don't think that's sufficient.
Austrian Airlines's premium economy, however, feels like business class. It feels high-end and luxurious. And for that reason, I would be far more apt to upgrade to premium economy on Austrian Airlines than on another airline.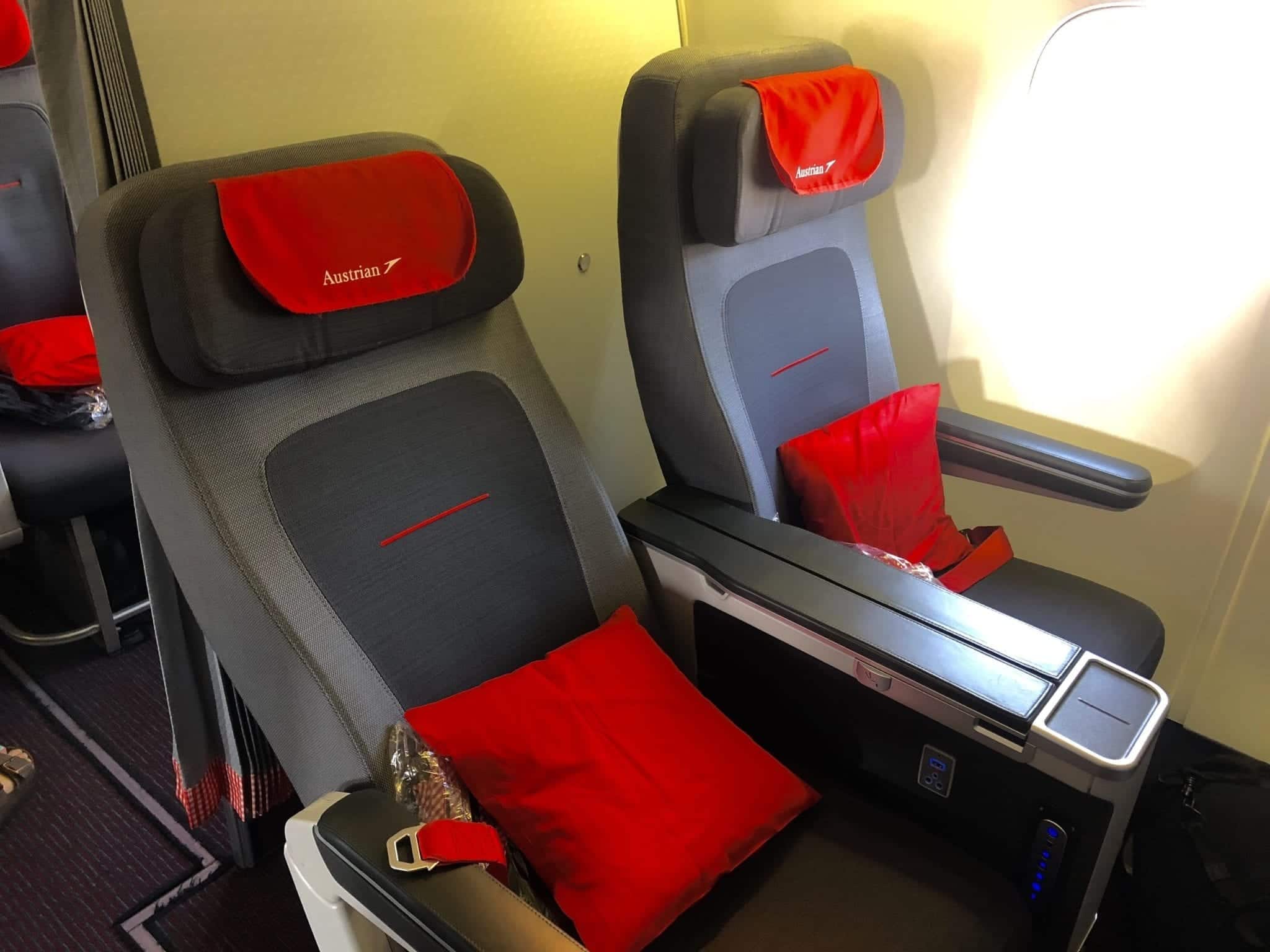 What sets premium economy apart on Austrian Airlines is that you have your own premium economy section separated from both economy and business class with floor-to-ceiling partitions on both sides.
Second, the seats are much wider and recline further back — 40 degrees, which is far more than what you would get in economy.
Third, there are sizable armrests between you and your neighbor.
Fourth, the touchscreens are excellent — perhaps the best entertainment system I've used on a plane. It felt brand new. You get noise-canceling headphones, too.
Fifth, there is an outlet and USB port available, as well as a much larger over-your-lap table, which makes it easier and more comfortable to get work done.
And sixth, you get an amenity kit that includes earplugs, socks, and other items to keep you comfortable.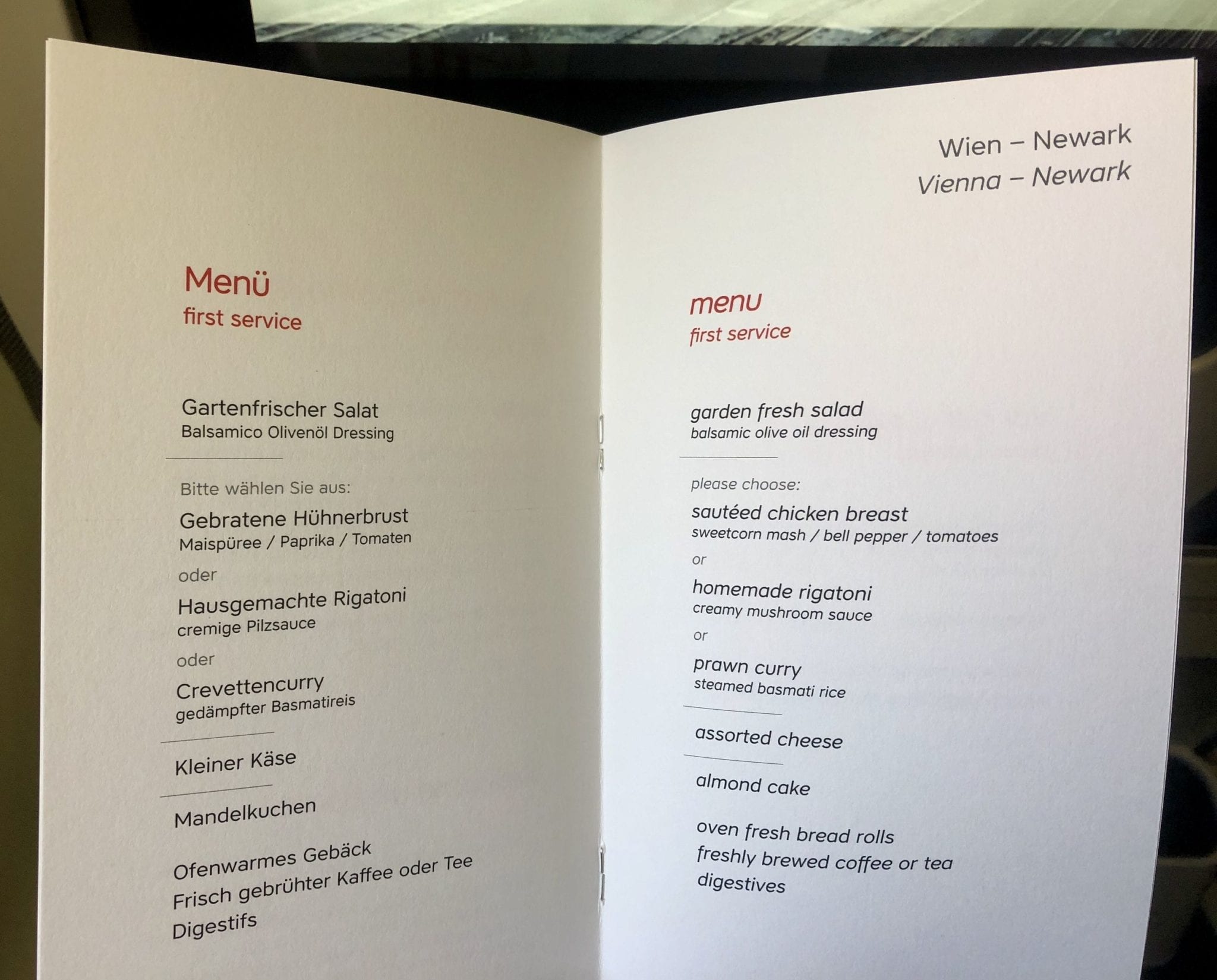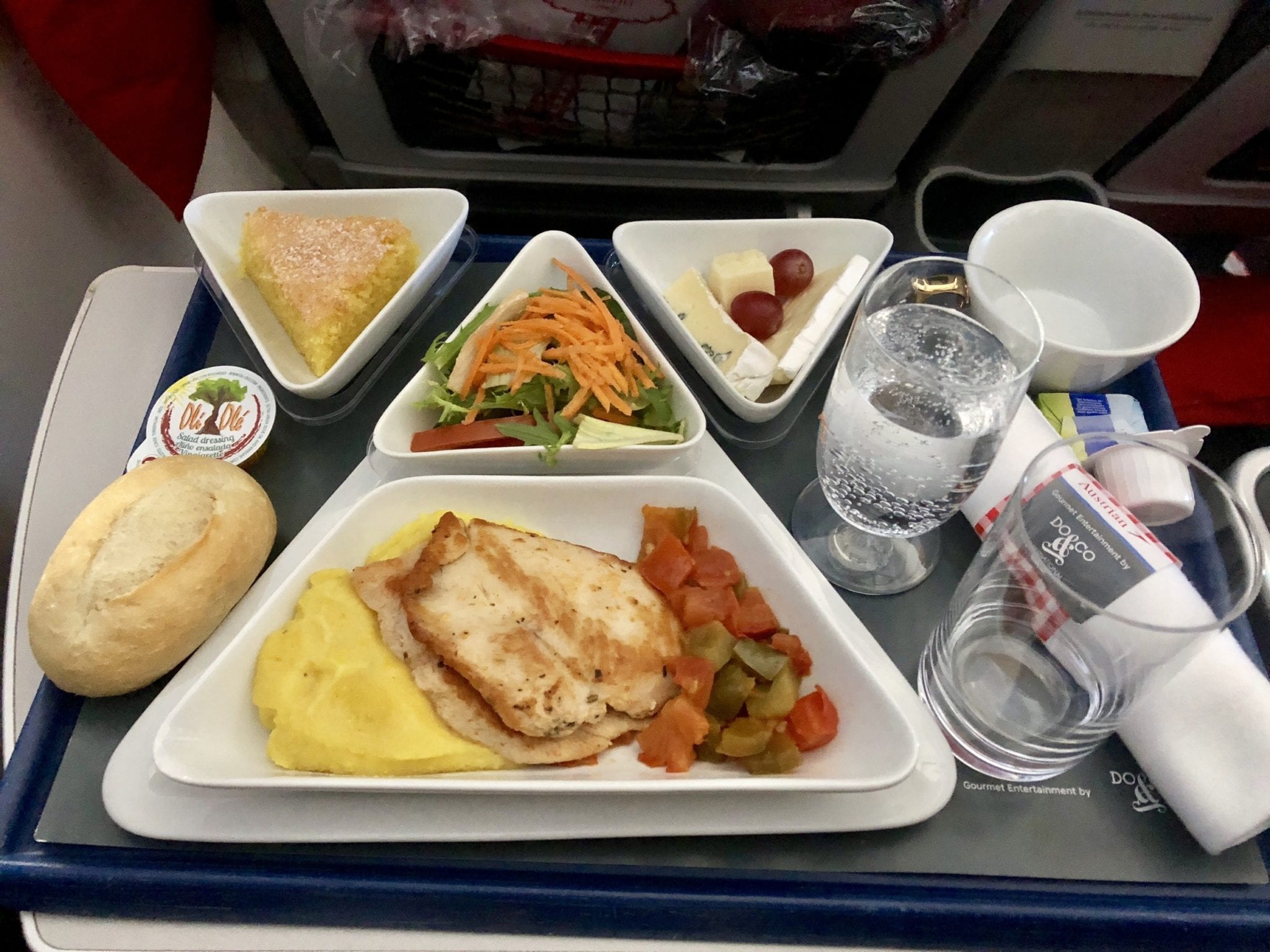 Austrian Airlines actually has a chef on board (!!), in the white hat and everything, and she cooks for premium economy as well as business class! Everything comes with real dishes, glassware, and silverware. While it's not as decadent as what you get in business class, it's very nice.
…And Flying Business Class with Austrian Airlines
I also got a chance to fly business class with Austrian on the way over, and it was fabulous. If you have the money or points to spend, you will love it.
First off, flying business class means you have access to the Austrian Airlines lounge in Vienna. It was the perfect spot for some quiet time after the craziness of the security lines.
Business class on Austrian Airlines has all of the amenities of premium economy, plus extras. For starters, you get an insane amount of room.
The pillow is extra plush and I was in love with the blanket — it was soft yet thick and felt like a quilt your grandmother made for you. All the more pleasant for snoozing under in the lie-flat bed.
Business class served up the best Western food that I've ever had an airline — and you can choose multiple dishes whenever you'd like. I dined on buffalo mozzarella salad, fish with vegetables, and ALL OF THE DESSERTS, because why not? It's business class!
The crew kindly brought me a chocolate birthday cake and some pink champagne. It's like they knew my favorites!
In true Austrian style, they then brought out the most gorgeous fancy coffee menu — and it absolutely killed me to say no! (We were flying overnight and I wanted to get some sleep.) I could have had an Einspänner, black coffee with whipped cream and powdered sugar, or a Wiener Eiskaffee, two shots of espresso over vanilla ice cream with whipped cream! Ah, I'll have to do that next time.
The next morning we were woken up with eggs, fruit, and croissants, which we had selected the evening before.
Which One is Better?
Well, obviously business class is better! But if I wanted to splurge, I think I would actually book premium economy rather than business. Premium economy on Austrian Airlines feels like business class, so you get many of the same benefits without spending as much money.
Personally, I'm a bit stingy with my miles — I once got 100,000 miles from one credit card and spent it 4,500 at a time on economy flights within Europe. While I love flying business class, it's hard for me to justify the cost, whether in cash or in miles. I'd rather have more cheap trips than fewer luxurious trips.
There's one exception, though — if it were an overnight, I would prefer business class so I could get some sleep. You can't beat snuggling up under that cozy blanket in a lie-flat bed! And if I were splurging hardcore, business is the only way to go!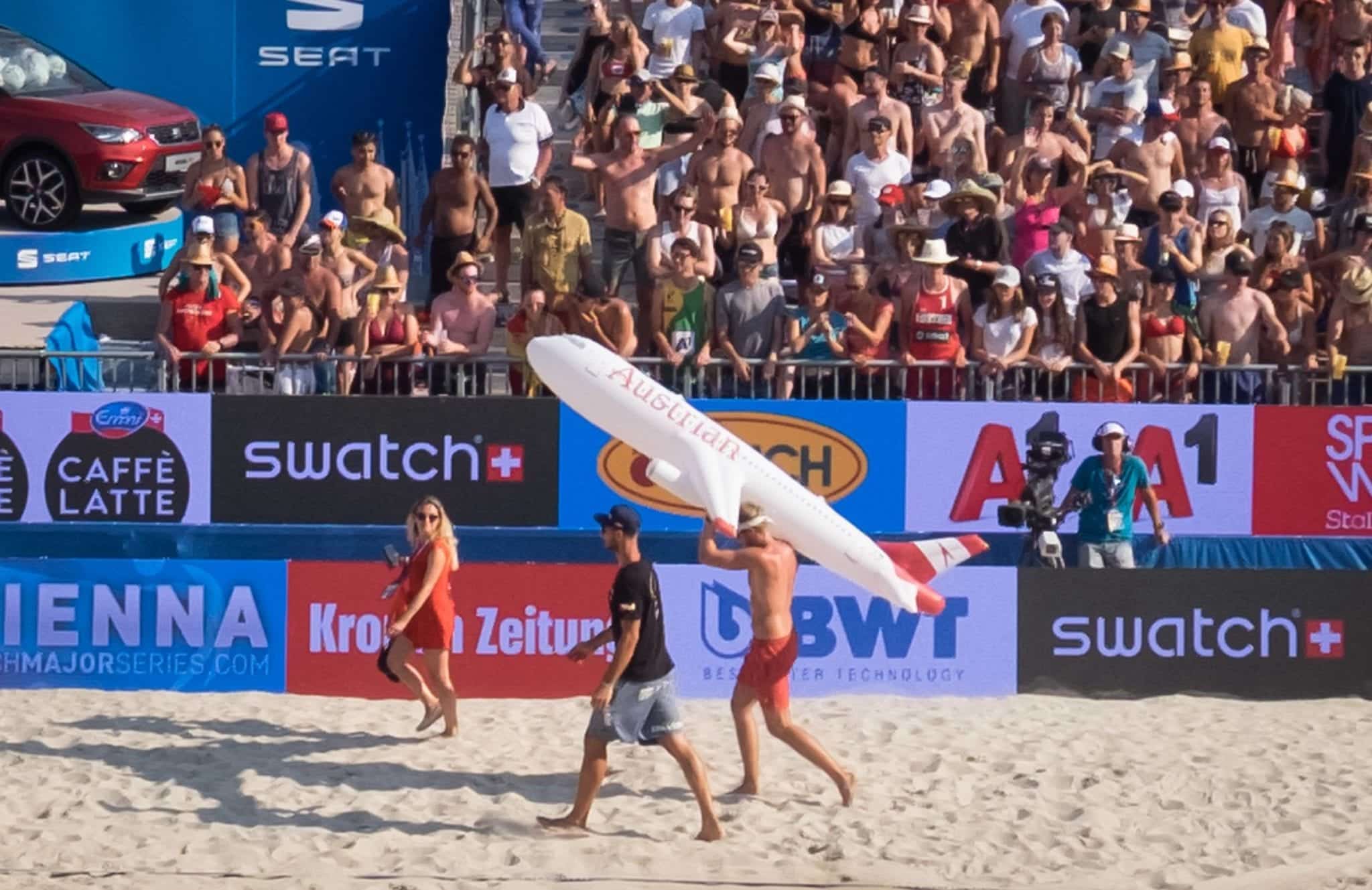 The Takeaway
Some of my happiest experiences in my travels have been when I've said yes to things I've never considered. This was one of those times. Going to a beach volleyball tournament in Vienna seemed completely out of left field for me, and it was, but I am so glad I said yes!
I grew to love a sport that is fast-paced and easy to follow but not aggressive or violent.
I got to celebrate my birthday in Austria with friends old and new — and LOTS of birthday cakes!
I learned all kinds of cheers and dances that I'll be doing in my sleep for months.
And I met some new friends I hope to cheer on in the 2020 Olympics.
That, in my opinion, makes an awesome trip.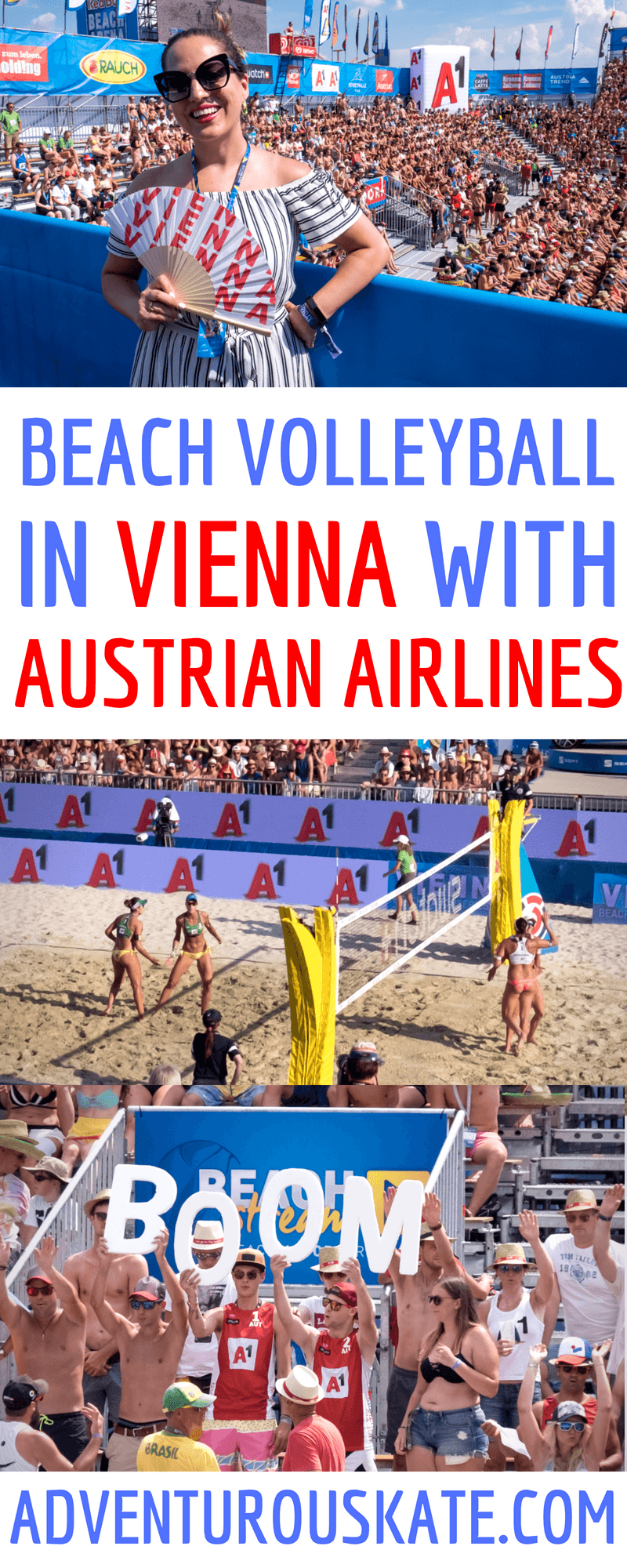 Essential Info: Check out the the Beach Major Series website for information on the tournament. At publication time, there's no ticket information for 2019, but check back there closer to the dates.

For more information on Austrian Airlines, read about Premium Economy here and long-haul Business Class here.

On this trip we stayed at the Austria Trend Hotel Sayoven, who were the official hotel for the Beach Major Series, but I would recommend staying there anytime. It's a 15-minute walk outside the ring but close to the tram and metro. Rates from $95.
This campaign is brought to you by Austrian Airlines. They covered airfare (business class one way and premium economy the other), accommodation, VIP tickets to the Beach Major Series, meals, transport, and activities in Vienna. All opinions, as always, are my own.
Have you been to Vienna? Would you go to an event like this?
Get email updates from Kate
Never miss a post. Unsubscribe anytime!