Adventurous Kate contains affiliate links. If you make a purchase through these links, I will earn a commission at no extra cost to you. Thanks!
"I don't understand the bars in Chiang Mai," Xavier told me.  "Every time I walk by, the women try to get me to come in.  Why do you think it is like that?"
"Well, it could be three things," I replied.  "First, prostitutes.  Second, ladyboys.  Third, it could be like that scandal in Budapest where a woman has a guy buy her a drink and it turns out the drink costs $2,000 and then some scary men make you pay the whole bill."
Xavier and I had met on the bus from Bangkok and discovered one of those amazing friendships that you can only have while traveling — within three hours, we had poured our hearts out and told each other our life stories!  He was from Paris and spending a month in Thailand.  Like me, he was at a major point of transition in his life and came to Thailand to heal before making some big life changes.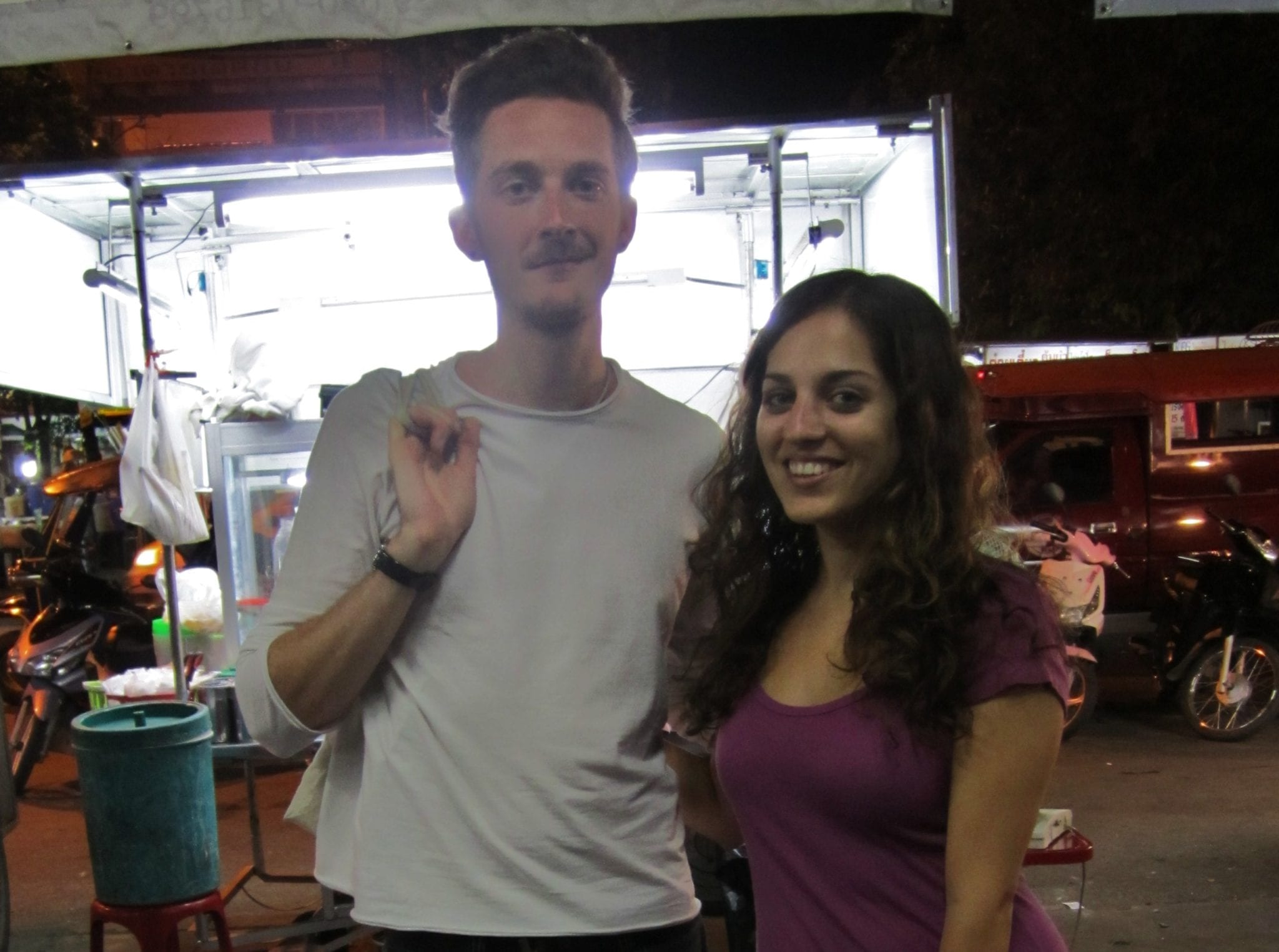 And — because so many of you have already asked — no, it was not romantic whatsoever! We were just buds, and that was perfect.
Another French friend of ours, whom I'll call T, invited us to Number One Bar that night.  This bar was in an area east of the old city, where young Thai women pair off with older Western men.  You see this throughout Thailand and quite a bit in Chiang Mai, and it can be difficult to take.
It's tough because I consider myself a sex-positive person. If two (or more) parties are happy in their arrangement, an arrangement that is both consensual and legal, I'm all for it.
For those seeking long-term relationships, I can understand completely. These men obviously don't want a Western wife or girlfriend.  They want someone young, pretty, and submissive.  The women want financial security and an easier life.  And few relationships don't involve transactions of some kind, anyway.
But seeing it first-hand creeps me out nonetheless. Especially when the men talk to them like they're children.
T was playing pool with a Thai girl, and Xavier and I joined in.  After watching the interactions throughout the bar, I think I learned quite a bit:
How to flirt with a Western man:

Wear short shorts and high heels.
Have a girly cocktail and keep ordering him big bottles of Singha.
Pretend to be horrible at pool, then be secretly awesome at it.
Giggle incessantly before and after every shot.
Fling yourself into his arms whenever pleased or embarrassed.
T was a good-looking 24-year-old guy.  In fact, his girl was a few years older than him.  I don't know why he ended up in one of these bars.  Maybe he just wanted an easy hookup.
At one point, another Thai girl joined us, I assume to put the moves on Xavier.  Which I found strange.   Although he and I weren't a couple, most people assumed we were.  Then I realized that I was the only Western woman in the bar and probably had no idea how things worked here. Yikes.
"Is she trying to seduce you?" I whispered to Xavier.
"She needs to try more hard," he replied.
After endless rounds of pool, we decided to move elsewhere.  We piled onto two motorbikes — Xavier and T on one, me and the girls on the other — and zoomed through the streets of Chiang Mai, our long hair whipping each other in the face, giggling like crazy.
We actually had a great night out, and the girls were a lot more fun than I originally thought.  That said, I could tell that the girls thought I was the fifth wheel, so I excused myself around 1 and headed back to my guesthouse.
Do I still find this older Western man/young Thai woman culture creepy?  Yes. But after seeing two twenty-something Thai girls go after two twenty-something French guys, much of it isn't any different from what you'd see in your local bar on a Friday night.
Get email updates from Kate
Never miss a post. Unsubscribe anytime!