Adventurous Kate contains affiliate links. If you make a purchase through these links, I will earn a commission at no extra cost to you. Thanks!
Thinking about planning a trip to Nova Scotia, but not sure where to go and what to do? What's the best way to plan a one week Nova Scotia itinerary? I feel like Nova Scotia is a destination that people want to visit in general, but they're not sure about where to go specifically.
I'm here to help! I love Nova Scotia, and I'm a huge fan of Atlantic Canada in general. I think it's one of the most underrated regions in North America.
In 2019, I did a wonderful Cape Breton road trip in Nova Scotia, including the world-famous Cabot Trail, one of Canada's best drives. I absolutely loved this Nova Scotia road trip, but it's not the quickest or easiest. Getting to the Cabot Trail is a 3.5-hour drive from Halifax's airport, which I know not everyone is up for after a long journey.
Instead, consider Nova Scotia's South Shore. Nova Scotia's South Shore is an incredibly beautiful region of the province — and it's easy to get to as well. You start in Halifax itself, just 30 minutes from the airport, and from there you head south, driving a little bit each day and soaking it up.
Not only that, but if you take the ferry from Maine to Nova Scotia, it drops you in Yarmouth, at the bottom of the South Shore, making the South Shore the perfect option for people traveling overland from the US.
For this trip, I partnered with Tourism Nova Scotia, and we worked together to create an itinerary that I think you will love. This post is brought to you by them. We used Tourism Nova Scotia's guide to the South Shore to plan my trip, and this site is how I discovered the Lumberjack AXEperience!
Let's dive in to another fabulous Nova Scotia road trip!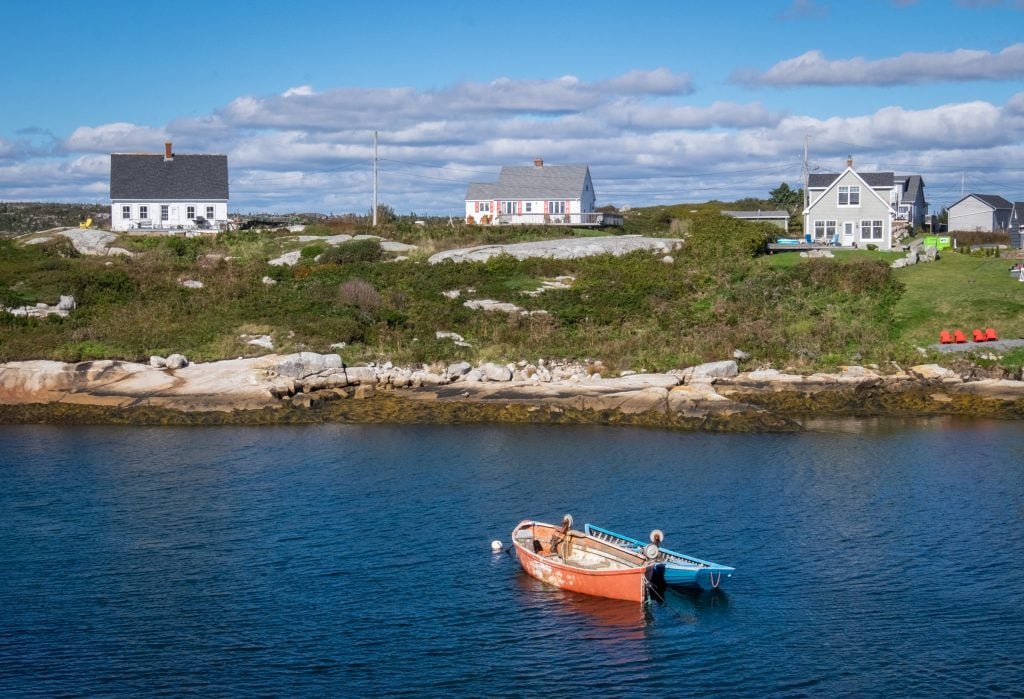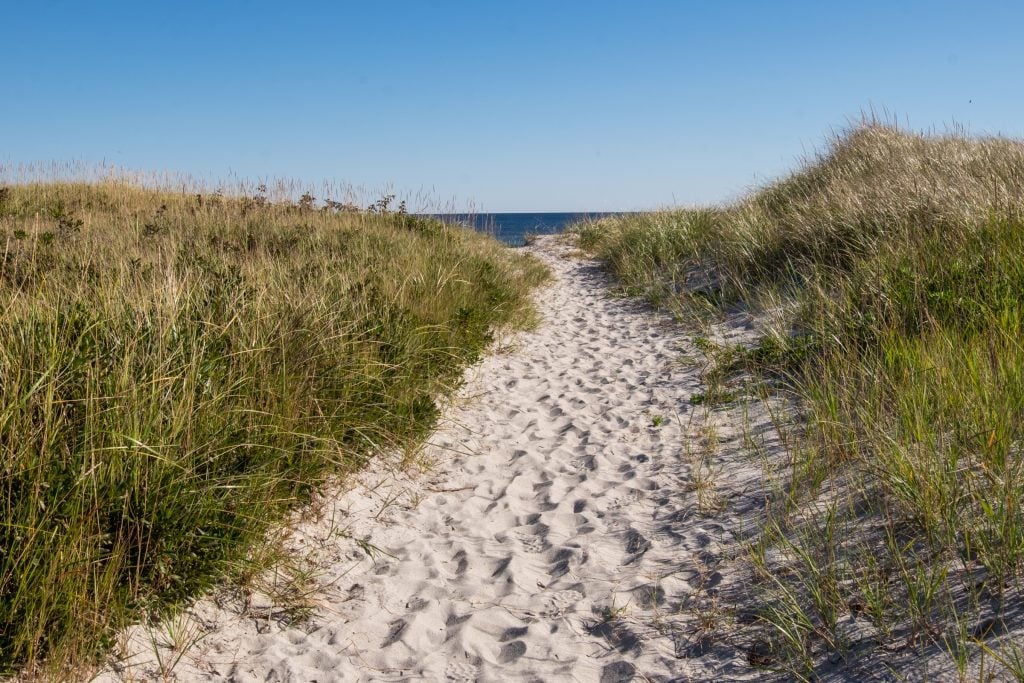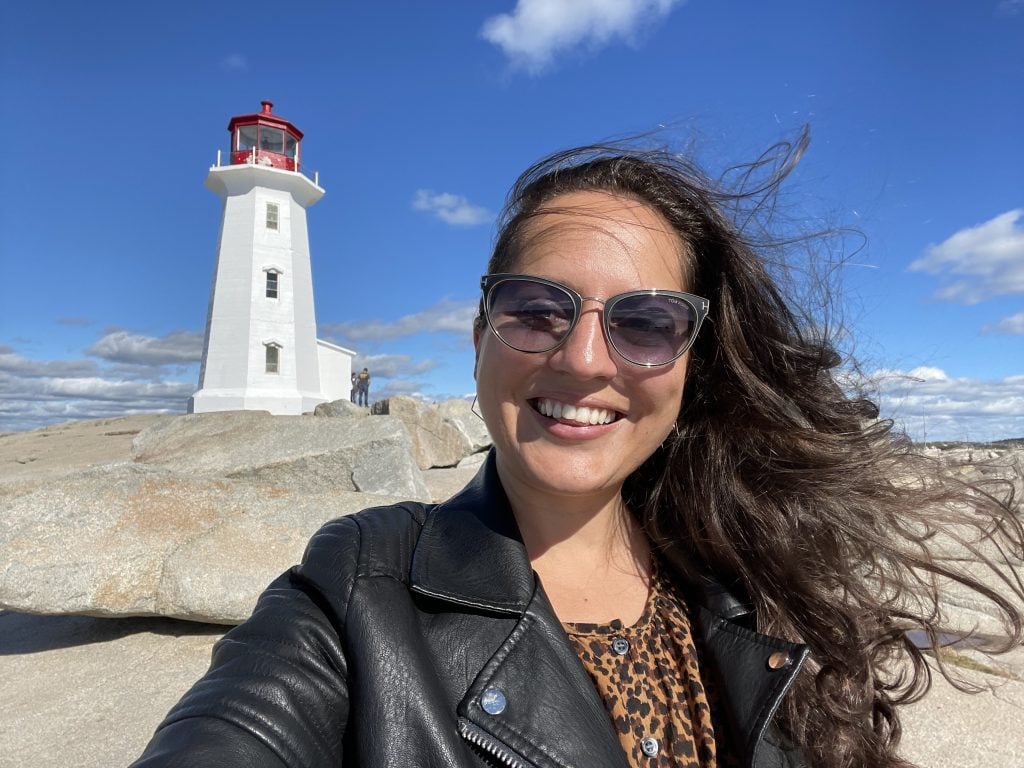 Why visit Nova Scotia's South Shore?
The South Shore is home to so much of what makes Nova Scotia great. Here are some of the top highlights:
Colorful fishing villages. Peggys Cove, Mahone Bay, and Lunenburg are some of the most photogenic towns I've seen in Eastern Canada, filled with brightly painted homes and shops along the sea.
Lobster, lobster, lobster. I thought people from Maine were lobster-crazy, then I discovered Nova Scotians are somehow even more into it! The South Shore has lobster bursting out of its ears and is home to the Lobster Crawl, with more than 100 lobster experiences taking place throughout the month of February.
Tons of outdoor activities. Whether you want to hike, take a fat tire bike ride, go canoeing or kayaking, or take a boat ride around a haunted island (yep, it's a thing), the South Shore is all about enjoying the outdoors!
White sandy beaches. The South Shore is home to some of Nova Scotia's most beautiful white sand beaches, including Summerville Beach Provincial Park, Queensland Beach Provincial Park, and the beaches of Cape Sable Island.
Quirky small businesses worth supporting. Local breweries and distilleries, tea shops, adorable bed & breakfasts, not to mention a robust artistic community.
One of Nova Scotia's six UNESCO World Heritage-listed sites: Old Town Lunenburg. This town is probably my favorite destination for architecture in all of Canada.
Nova Scotia Itinerary
On this itinerary, rather than giving a day-by-day of you-do-this-and-then-do-this, I'm going to create a section for each destination, starting in Halifax and heading south to Barrington and Cape Sable Island. From there you can customize the itinerary to your own interests.
There are two ways to go about it: you could hit up every stop all the way south to Barrington, then double back to Halifax (it's about a 2.5-hour drive), or you could visit up half of the destinations on the drive down and visit the remainder on the drive back to Halifax.
And yet another option is keeping this a one-way road trip, and hopping on the ferry to Maine in Yarmouth, or vice versa. Yarmouth is just a 45-minute drive from Barrington.
I did my trip to and from Halifax, skipping some stops on the way to Barrington and hitting them up on the way back: Halifax, Peggy's Cove, Chester, Western Shore, Mahone Bay, Lunenburg, Barrington, Cape Sable Island, Shelburne, Summerville Centre, Western Shore again, and back to Halifax.
In terms of how many days to spend, I recommend two nights each in Halifax and Lunenburg, and one night in Western Shore and Summerville Centre, with the remaining night at the destination of your choice.
If there's any activity worth building around, it's the SENSEA Nordic Spa in Chester, which tends to book out far in advance. Once you have that booked, you can build around it.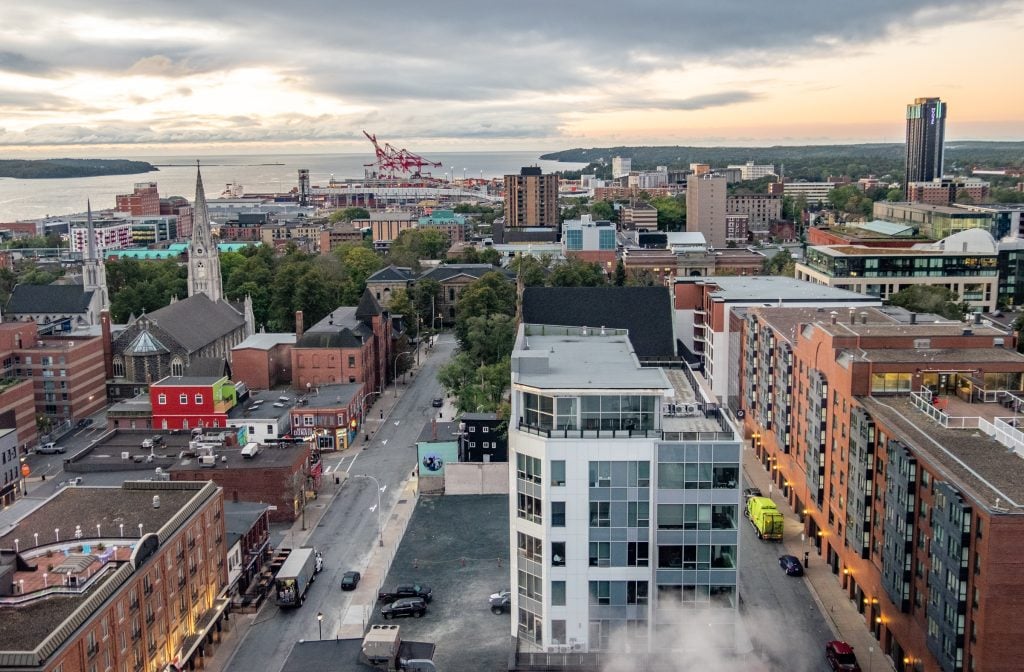 Halifax
Halifax is the capital of Nova Scotia, the province's largest city, and home to the international airport. While it's technically not part of the South Shore, it makes so much sense to spend a few days here.
Being from Boston, Halifax feels a lot like home to me. It has similar vibes. Our two cities also have a shared history — after the Halifax Explosion of 1917, Massachusetts sent a lot of people to provide aid. To this day, Nova Scotia sends Boston its Christmas tree each year to say thank you.
Whether you're in Halifax to enjoy the waterfront, visit museums, or dive deep into all things Titanic, this city has so much to offer.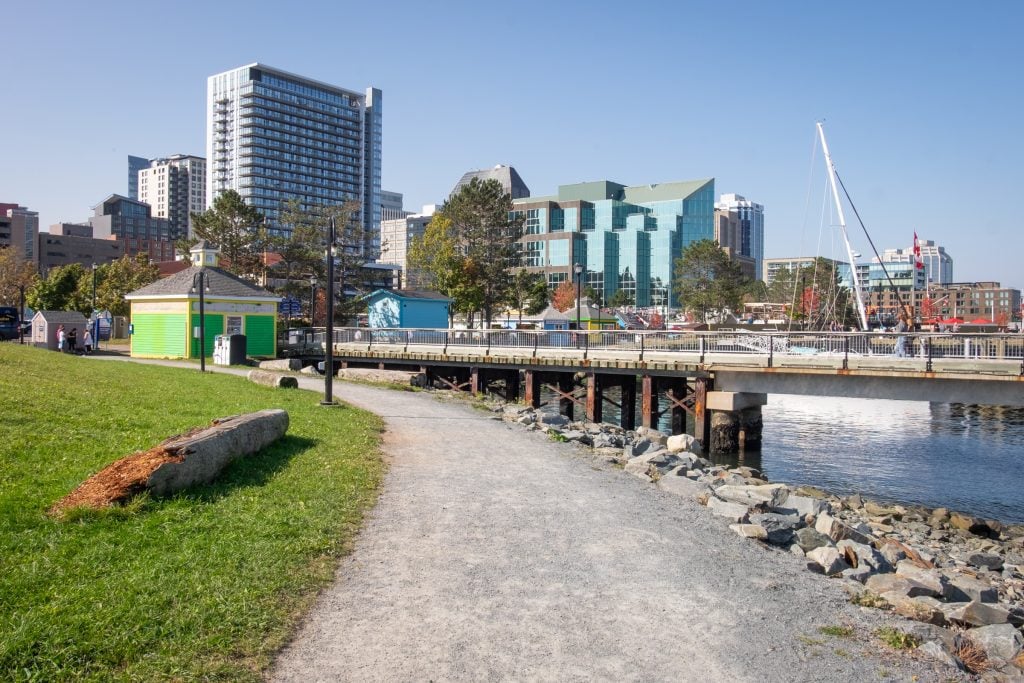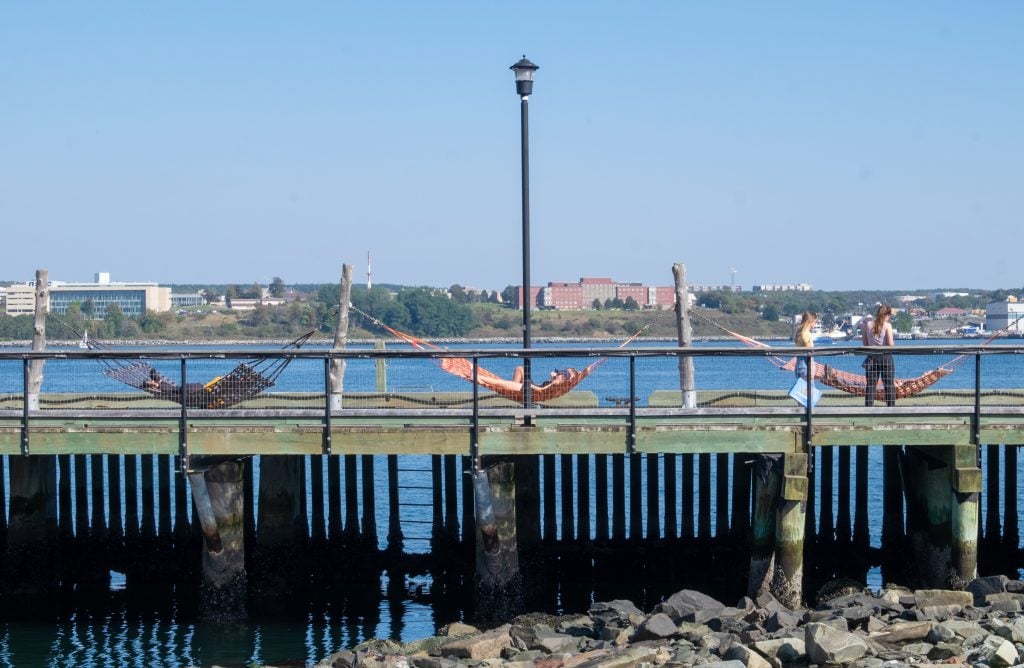 One of my favorite things about Halifax is its waterfront. There are lots of excellent shops, restaurants, and museums along the water, along with good places to sit and enjoy the weather.
And there's a new arrival on the Halifax waterfront since my last visit: Peace by Chocolate! Peace by Chocolate is a company run by Syrian refugees who settled in Nova Scotia. Last time I was in Nova Scotia, I visited their original shop in Antigonish.
Their company has become a huge success, and I'm thrilled to see they have such a nice place on the waterfront now!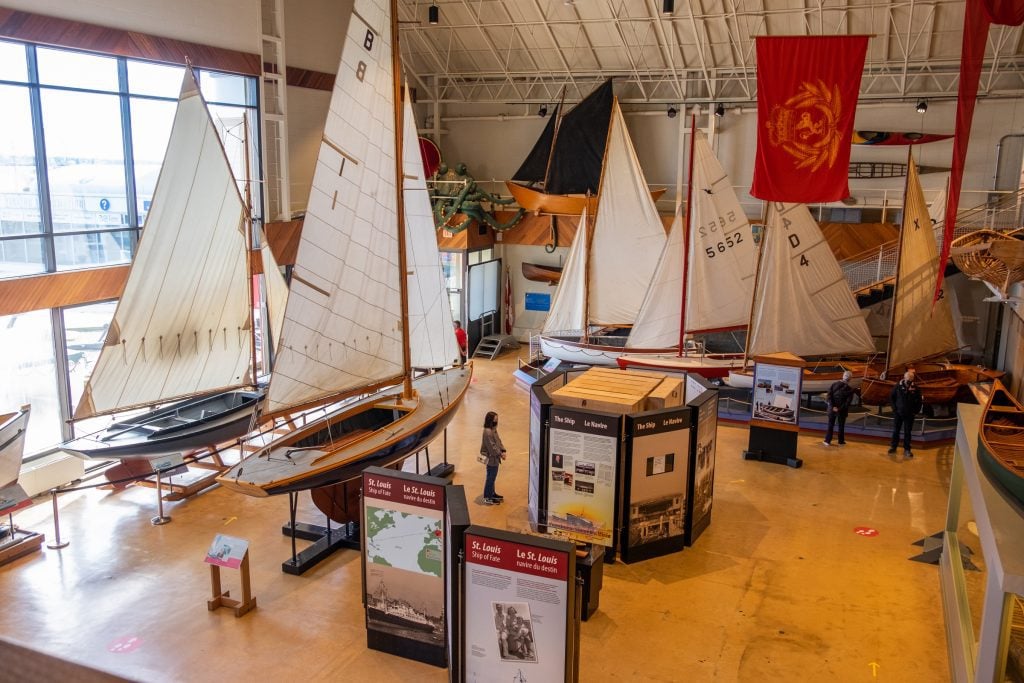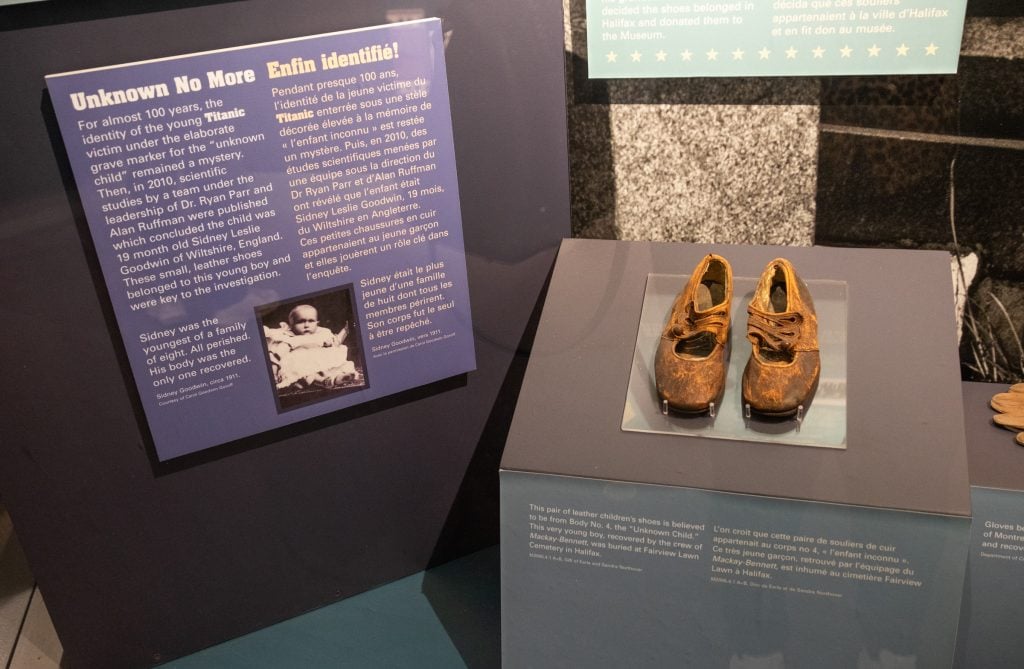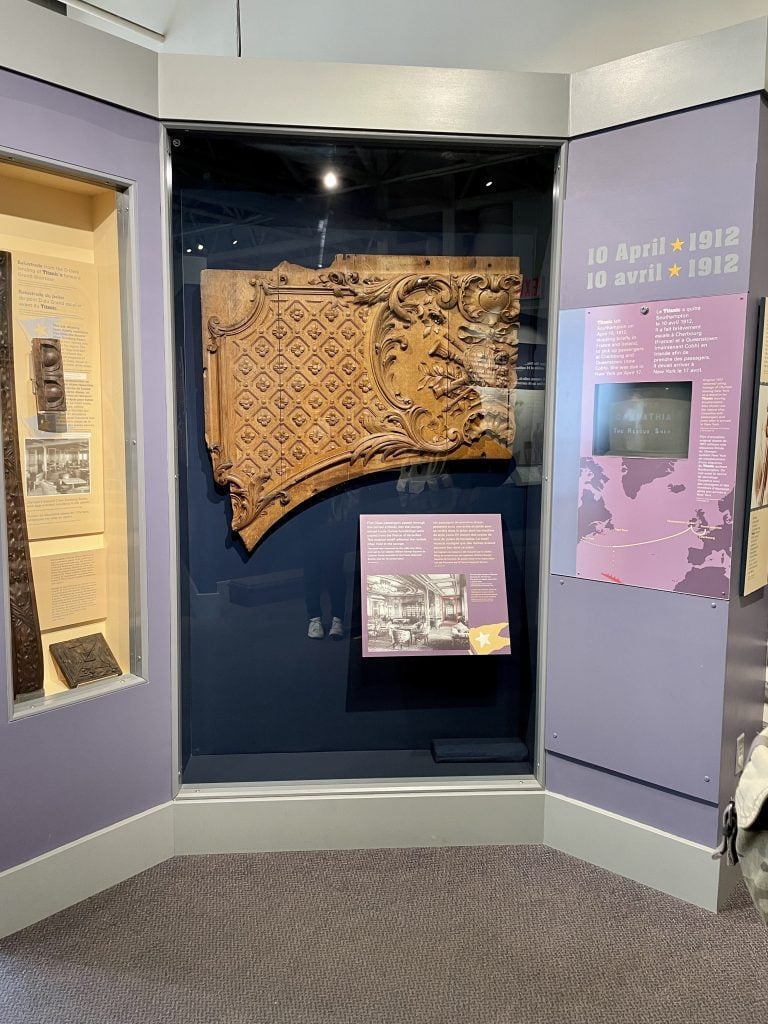 Another major highlight for me was the Maritime Museum of the Atlantic. This museum is full of all kinds of interesting seafaring displays. And if you're a Titanic fan in the least, you need to visit this museum for their permanent Titanic exhibit.
See that piece of wood above? That was on the actual Titanic, and it was used by James Cameron and his production team to design the Titanic's interior.
It was shocking to hear that after the Titanic sank, Titanic-related memorabilia was huge. In that day, it was common to turn debris from notable shipwrecks into home items like cribbage boards and picture frames.
If you're a big Titanic fan, you may also enjoy visiting Fairview Lawn Cemetery in Halifax, the final resting place of many people who died in the Titanic disaster, including a J. Dawson.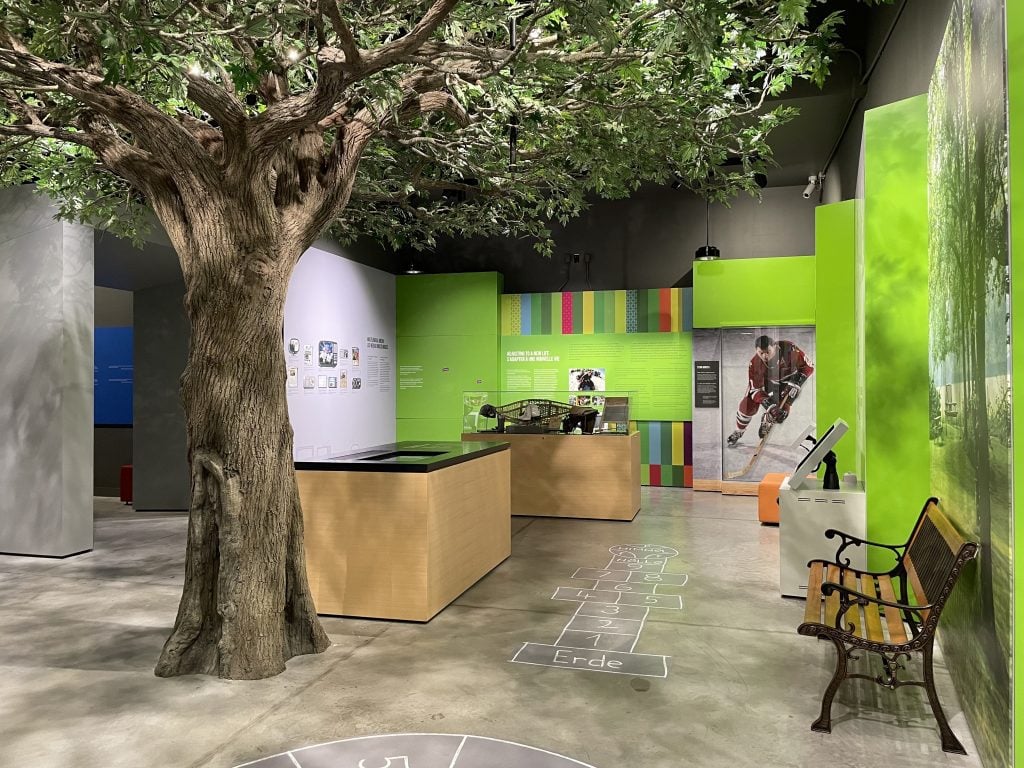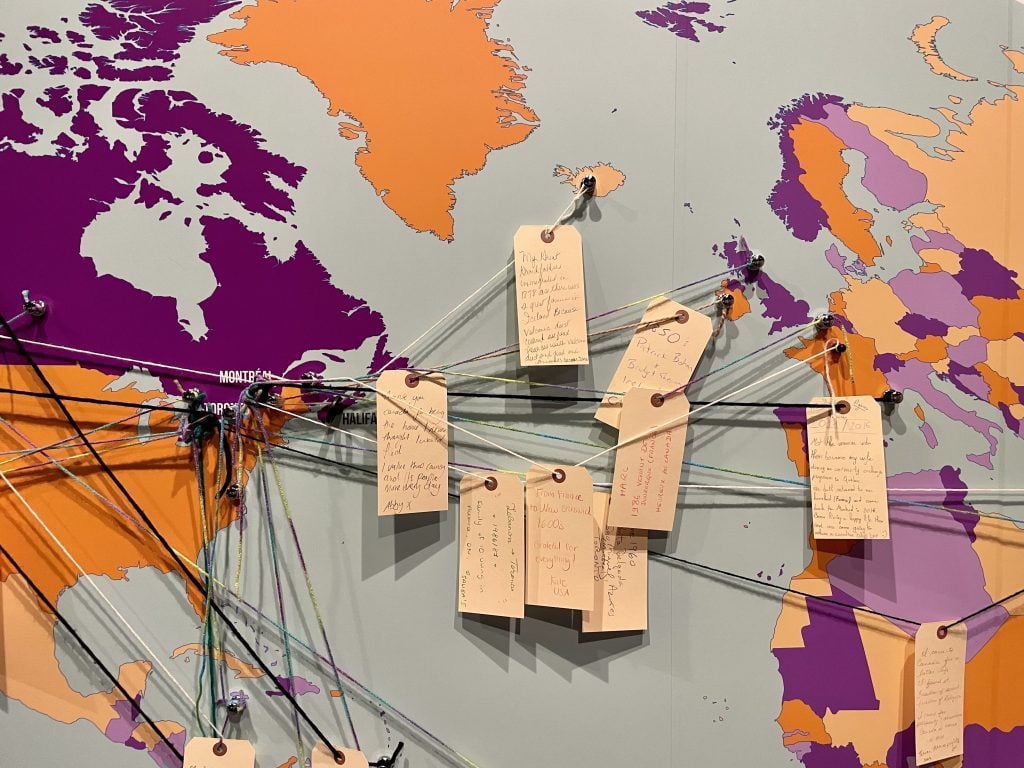 But the place I enjoyed the most was Pier 21, the Canadian Museum of Immigration. Pier 21 in Halifax used to be the primary entry for immigrants to Canada during the 20th century; today it's a museum chronicling the stories of immigrants into the present day.
What a beautiful museum — so well done.
And it meant a lot to me because 7 out of 8 of my great-grandparents, or their ancestors, came from Europe to Canada. The French to New Brunswick in the 1600s, the Irish, Scottish, and Latvians to Prince Edward Island in the late 1800s. Canada has been good to my family.
There are many interactive exhibits where you can share your family's story of immigration to Canada. I had several to tell.
This is just the beginning of the things you can do in Nova Scotia. You can also visit the Halifax Citadel, take the ferry to Dartmouth, visit the Art Gallery of Nova Scotia, and much more.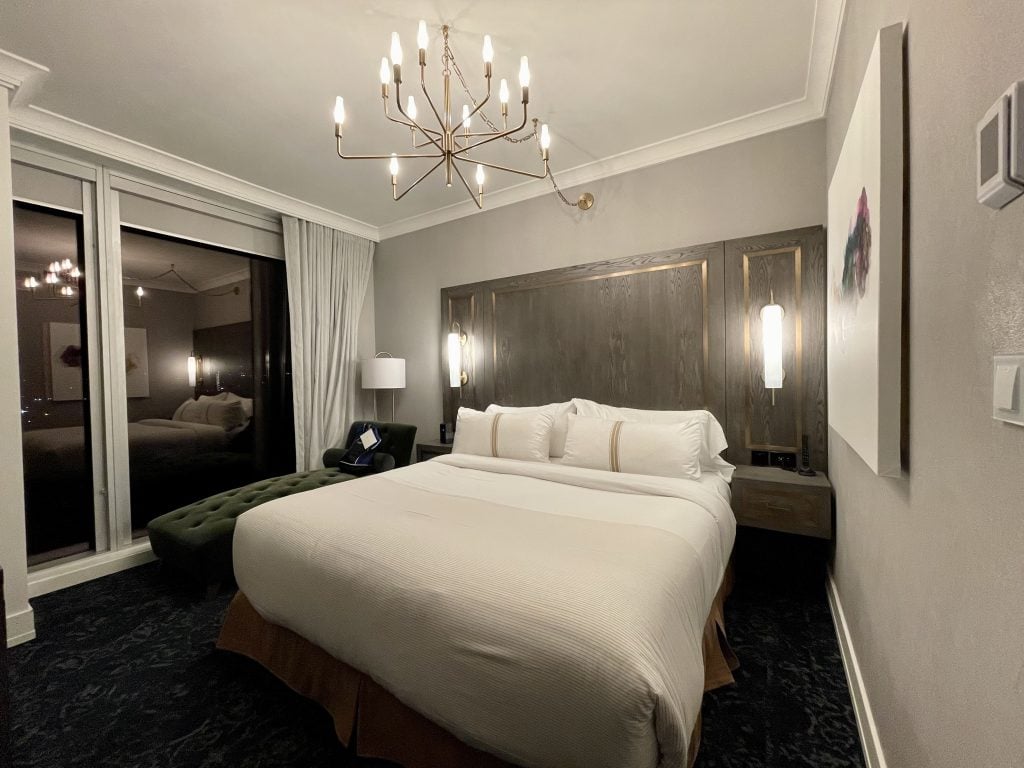 Where to Stay in Halifax: In Halifax I stayed at the Sutton Place Hotel located downtown: and WOW, what an incredible stunner this new place is. This is a luxury property with all the fixings, from thick, high quality linens to nice toiletries in the bathroom to an elegant lounge area downstairs.
If you want to be blown away, get a suite on a high floor and enjoy scintillating views over Halifax. Sunrise was the best.
How Much Time to Spend in Halifax: I think you should try to have at least two full days in Halifax if you can. But more time will give you a chance to enjoy Halifax and the surrounding area in depth.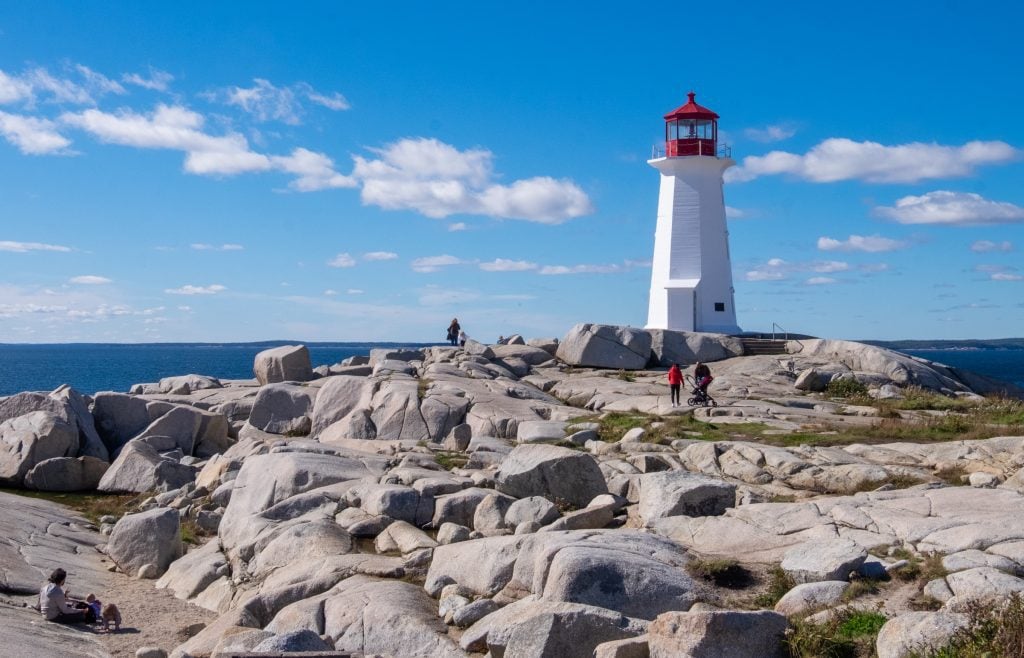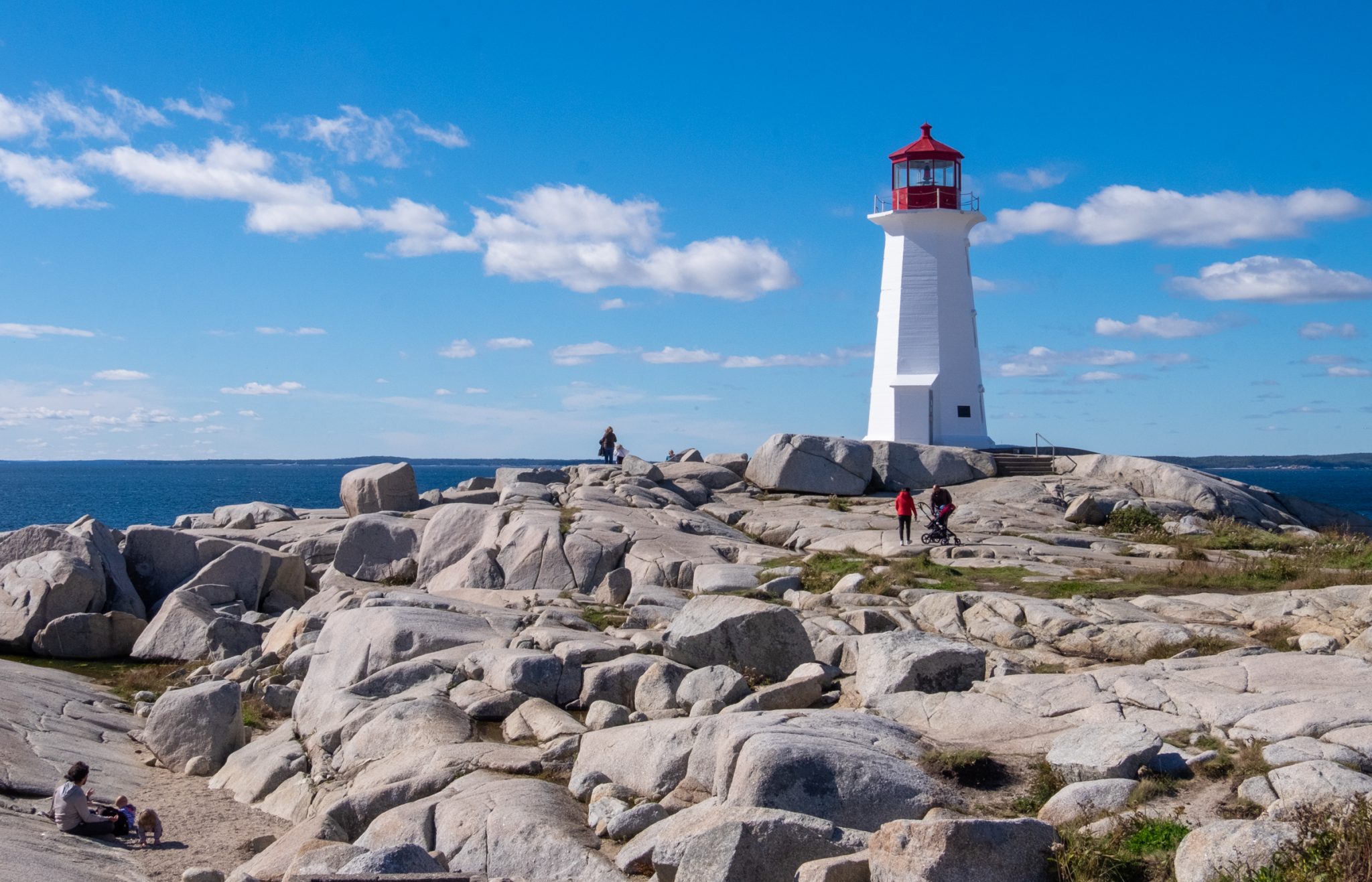 Peggy's Cove
Once you hit Peggy's Cove, you're officially on the South Shore — and in sight of perhaps the most famous lighthouse in the world. This is pretty much on every piece of tourism literature about Nova Scotia!
Just an hour from Halifax, Peggy's Cove is a popular day trip, but don't just visit the lighthouse — take time to visit the fishing village as well. Colorful and fun, it's a great place for getting those quintessential Nova Scotia shots.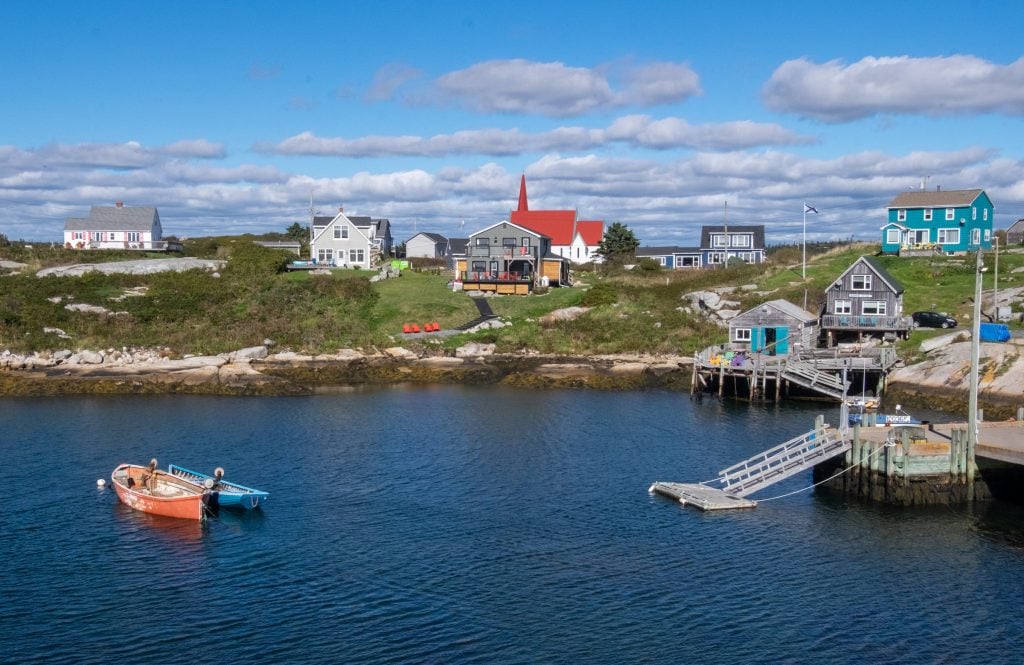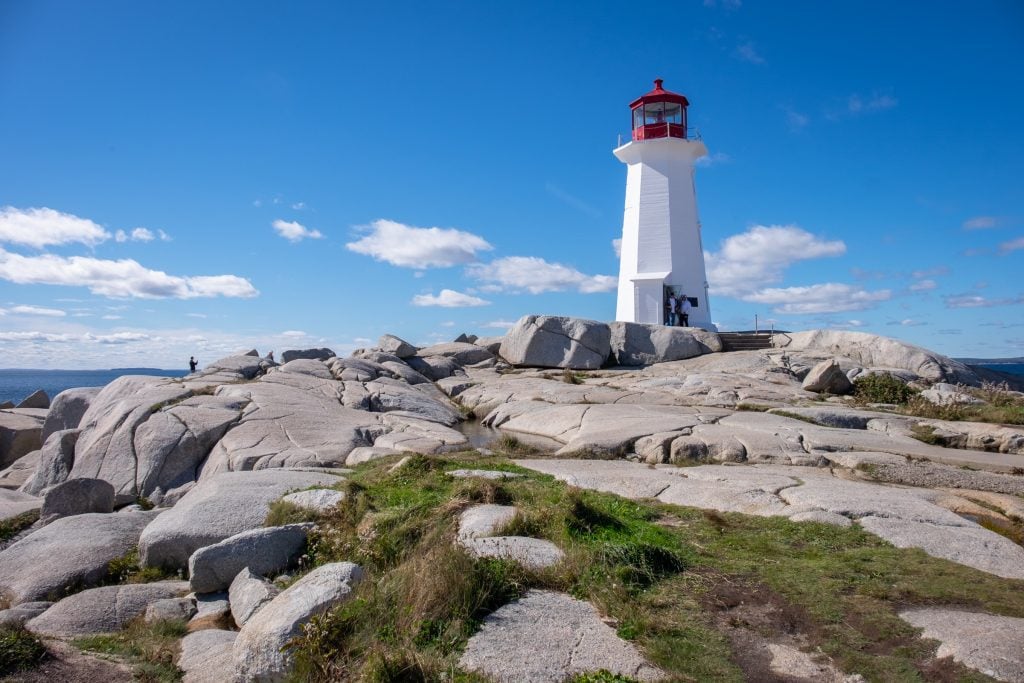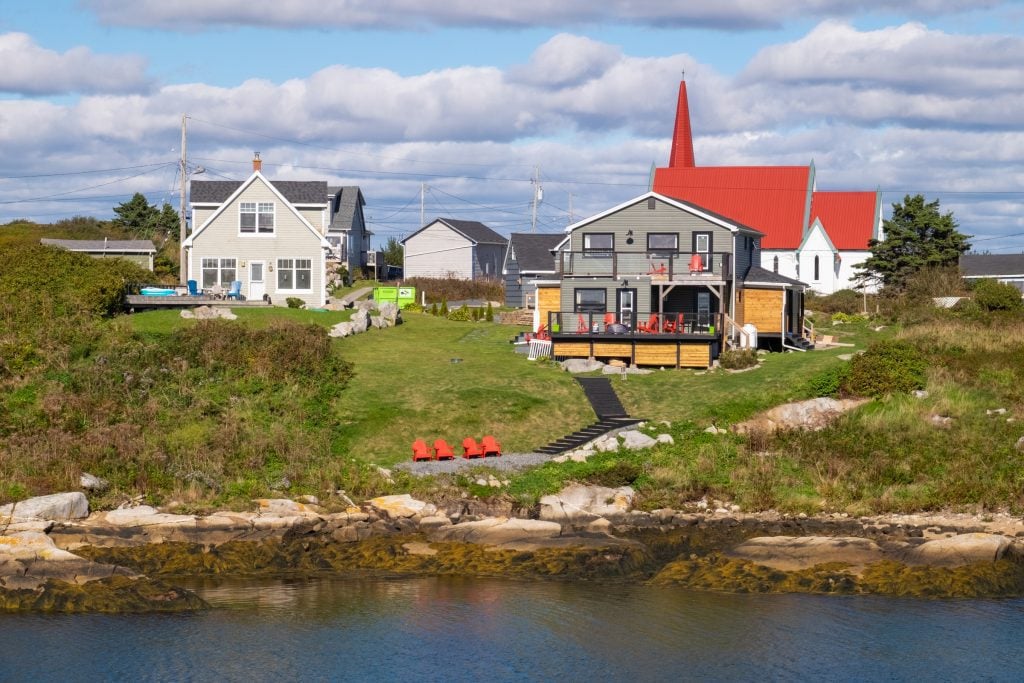 It's free to visit Peggy's Cove! There are several ice cream shops and restaurants around if you want a bite to eat.
Driving south of Peggy's Cove, you'll be on the Lighthouse Route, a spectacular drive curving along the water's edge, lighthouses dotting your path. This is a lovely scenic road to enjoy on your way further down the South Shore.
How Much Time to Spend in Peggy's Cove: Peggy's Cove is a small place, and considering its proximity to both Halifax and Lunenburg, it's best as a half-day excursion.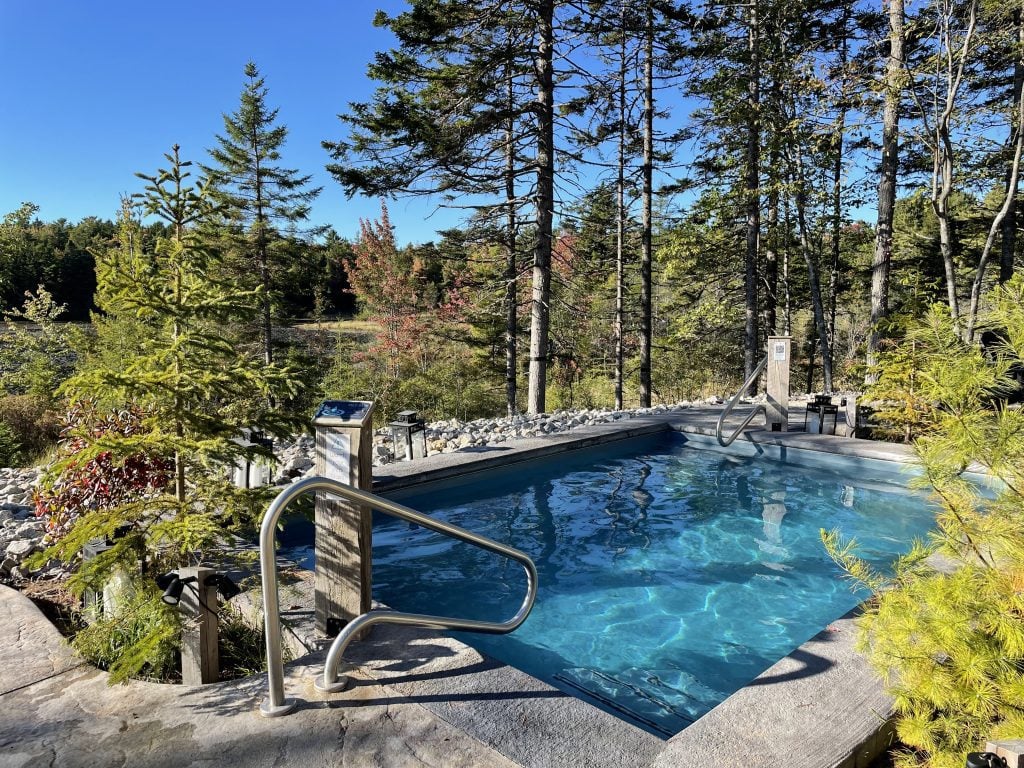 Chester
When I came to the town of Chester, it was for one thing in particular: SENSEA Nordic Spa. This Nordic-style spa opened recently and has been phenomenally popular with Nova Scotians — so popular that spa passes often sell out far in advance.
My advice? Book a spa pass as soon as possible, because this place is AMAZING.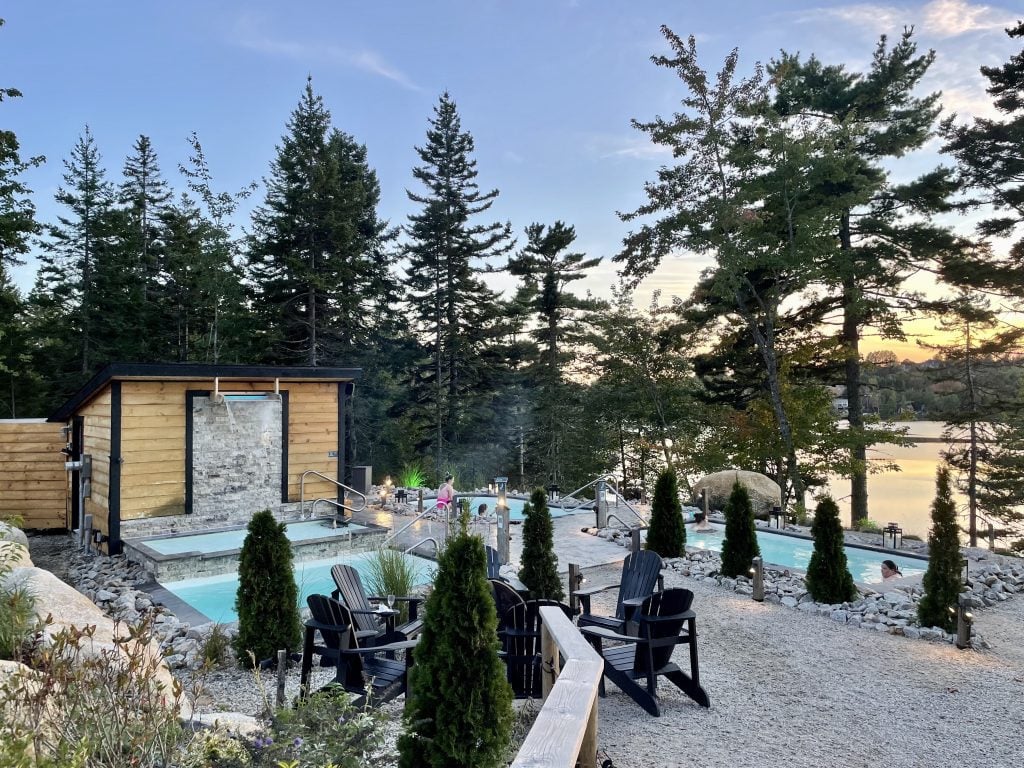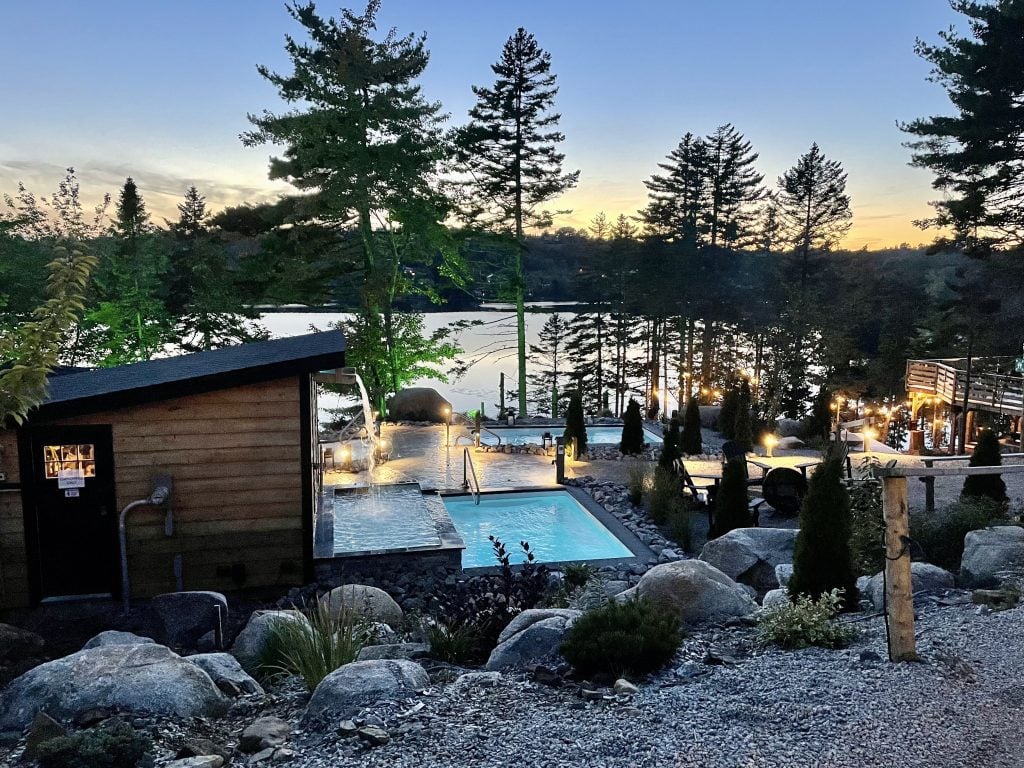 First off, the setting is magical. It's an outdoor spa set amongst tall pine trees overlooking a lake. I know that "Nordic" is often misused as a design term, but honestly, I was floored by how much the environment reminded me of Finland, down to the gentle smell of woodsmoke in the air.
Throughout the spa are pools of varying temperatures from ice cold to super hot. Their hydrotherapy recommendation is to cycle through hot baths, saunas, and hammams, then cool down with the cold plunge. They have local Nova Scotian beers, ciders, and wines to enjoy while you're in the pools.
My friend Cailin joined me for this activity and it made a fun girls' day out — especially when we enjoyed a special ceremony where the attendant uses towels to whip different strong scents around the sauna, one minute vibrant orange filling the air, cool mint the next.
Entry to the spa is $50 CAD ($40 USD) plus taxes; spa treatments are additional costs. In the future they're adding on-site accommodation which looks a bit like glamping — I would love to come back for that on my next trip!
Beyond the spa, Chester is home of Chester Race Week, Canada's largest keel racing regatta, which takes place in August and brings people from all over the world to celebrate.
How Much Time to Spend in Chester: Depends on how long you want to spend at the spa! I think an afternoon is perfect.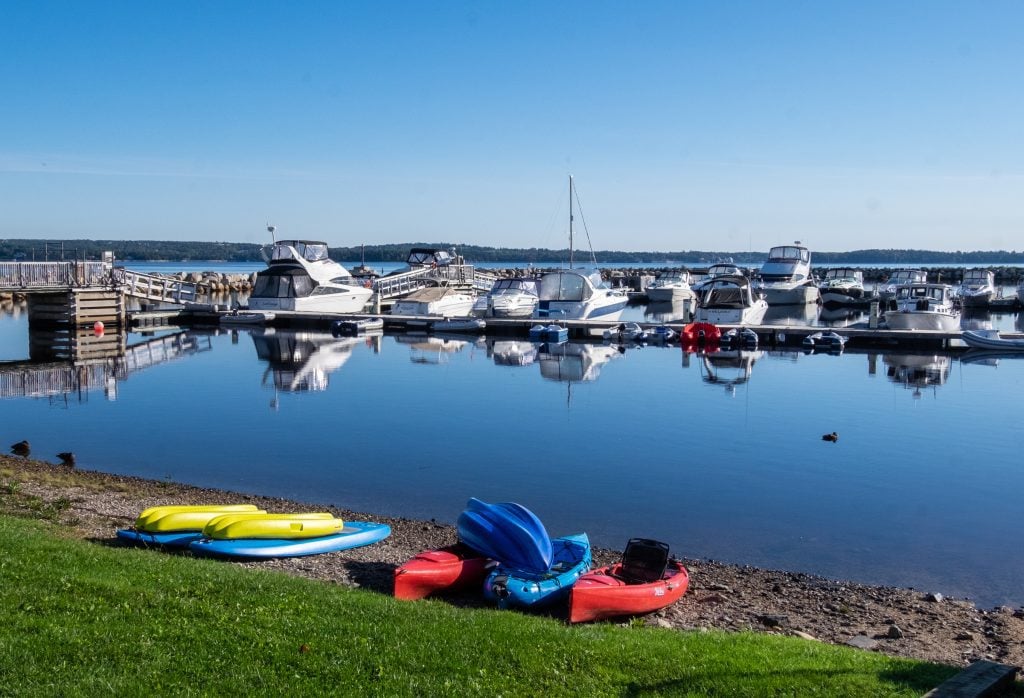 Western Shore
Western Shore is a small community on Nova Scotia's South Shore, with easy access to the outdoors. For my time here I was based at Oak Island Resort, which offers plenty of outdoor activities, including kayaking, boat rides, and fat tire biking.
As you can see, this area is gorgeous (and I had PERFECT weather).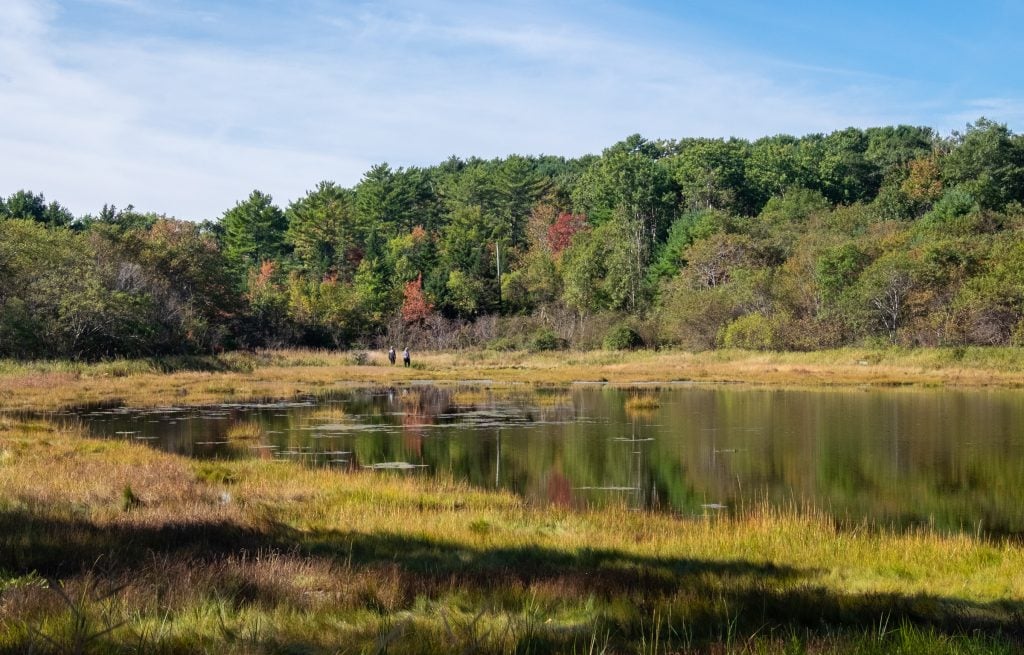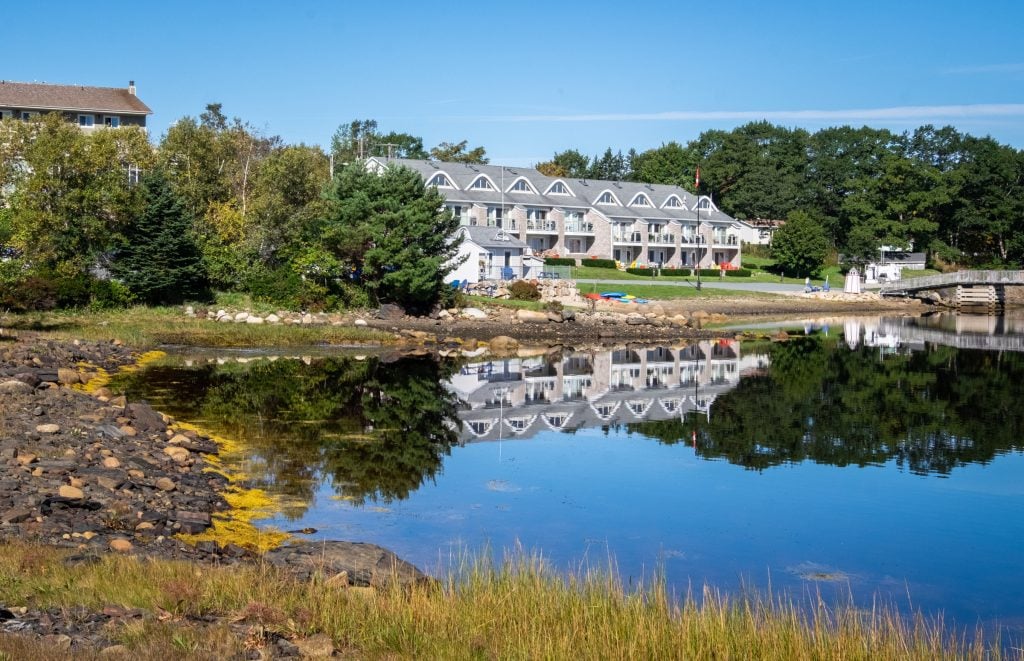 I jumped on a bike and headed out exploring the trails that surround this part of the South Shore. The trails here are in excellent condition, and you can ride to Mahone Bay and way beyond! This was my first time on a fat tire bike, and I'm a fan — they allow you to bounce!
But the most famous thing about this region is Oak Island.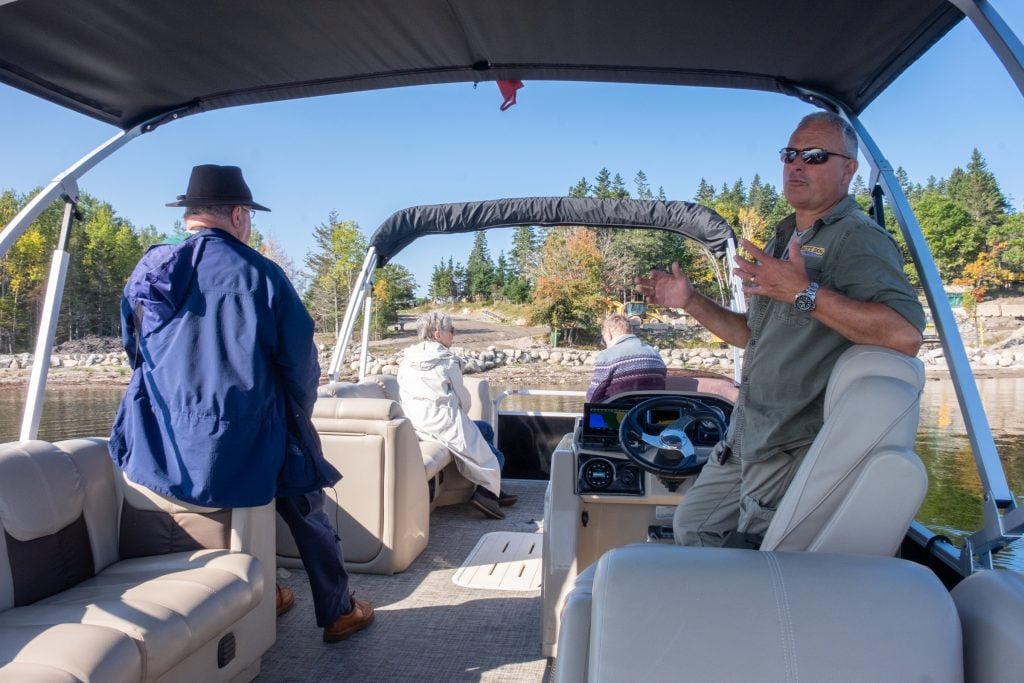 Have you heard of The Curse of Oak Island? It's apparently the most popular show on the History Channel, but I had never heard of it before. Turns out Oak Island is right here in Nova Scotia, and stacked in mysteries.
Salty Dog Tours offers boat trips around Oak Island, led by Tony, who has been both cast and crew on all seasons of The Curse of Oak Island! And boy, did he have stories, told in his English-Kiwi-Canadian accent. Some randos actually come up here looking for treasure!
This boat trip was a blast, and even though I knew nothing about the show, Tony is a character and a half and his stories will keep you entertained. And the boat was fantastic — lined with leather couches, it was the most comfortable boat tour I've ever been on. It felt luxurious.
You can book the tour here, for $60 CAD ($48 USD) for adults, $30 CAD ($24 USD) for children.
And at the end of the tour, we even got to see sea lions.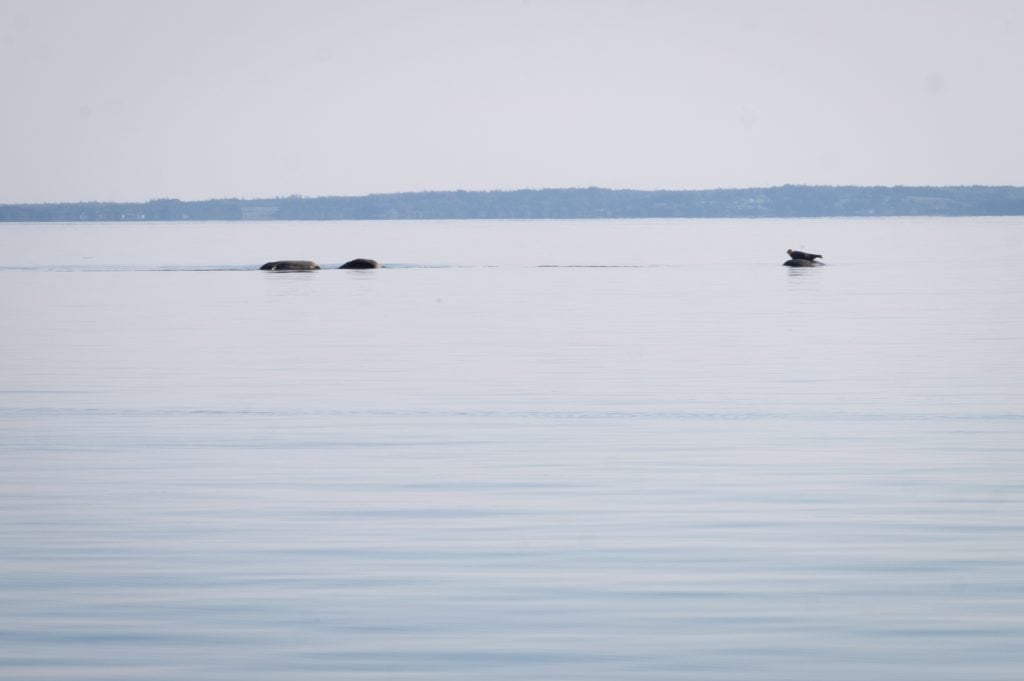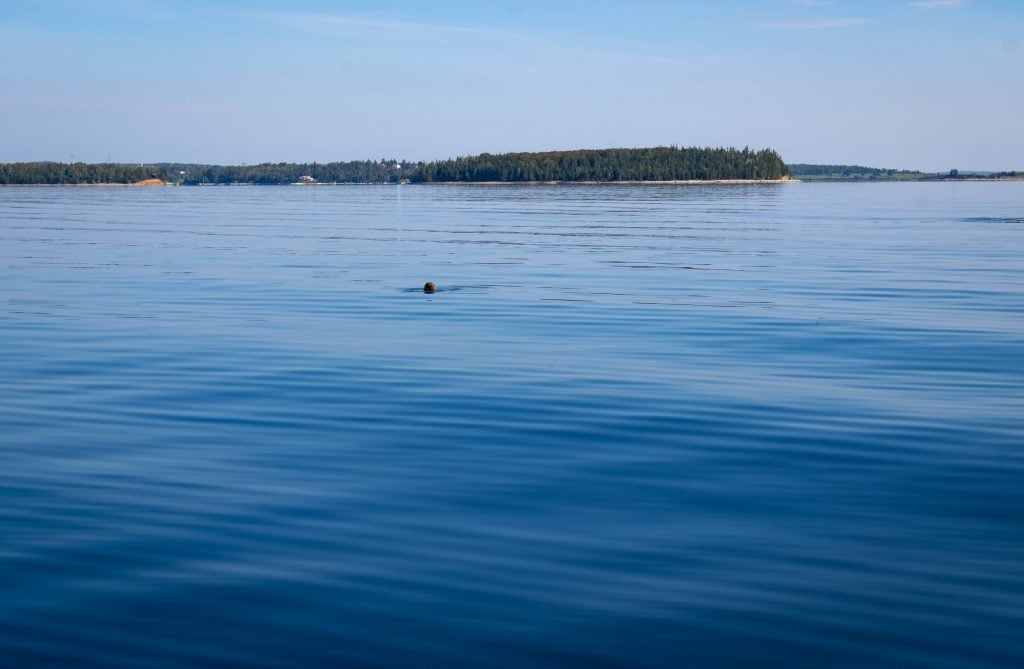 Where to Stay in Western Shore: I stayed at Oak Island Resort, which makes a great base for exploring this region. The rooms are all nautical-themes with cozy beds and linens, and I loved that my suite had an actual good-sized living room! The restaurant has good food, including a solid fish chowder, and they even have live music at night.
How Much Time to Spend Western Shore: I feel like one morning activity and one afternoon activity is enough for Western Shore, though you can also use it as a base for exploring other towns in the area.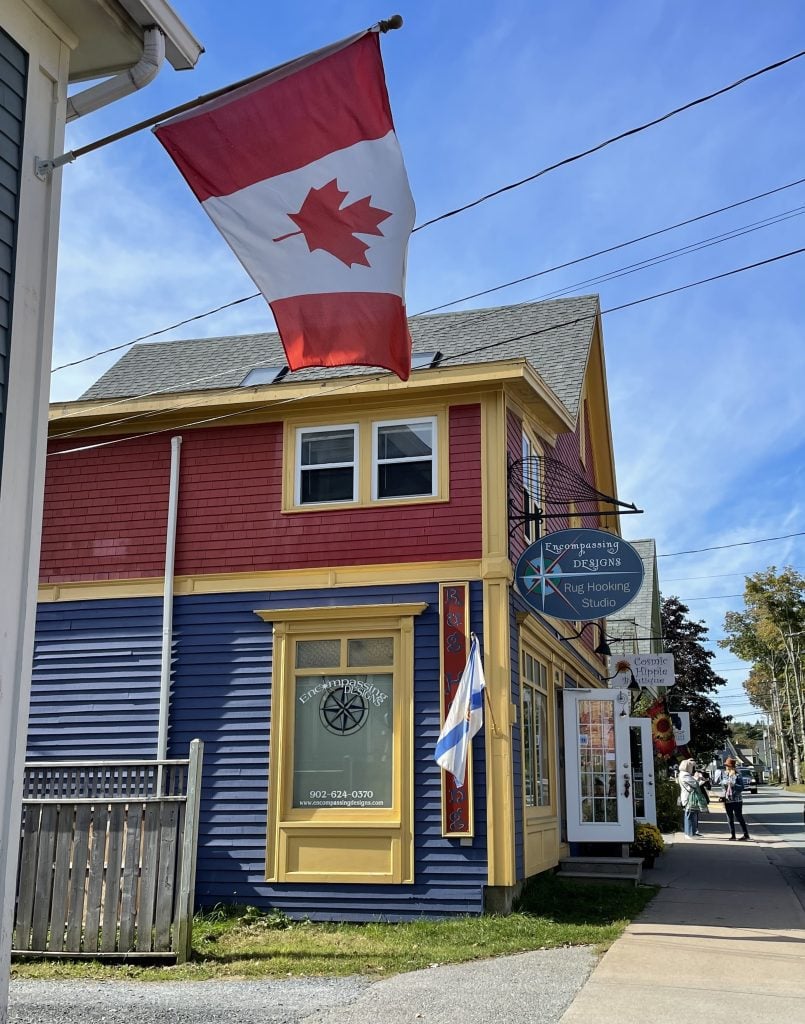 Mahone Bay
Mahone Bay is a delightful little town, often named one of Canada's best small town downtowns. Here you'll find lots of cute shops and restaurants worth exploring.
The town is famous for its three churches, which stand side by side on the waterfront. And there are lots of festivals here, including the Great Scarecrow Festival in September, the Classic Boat Festival in August, and the Father Christmas Festival in December.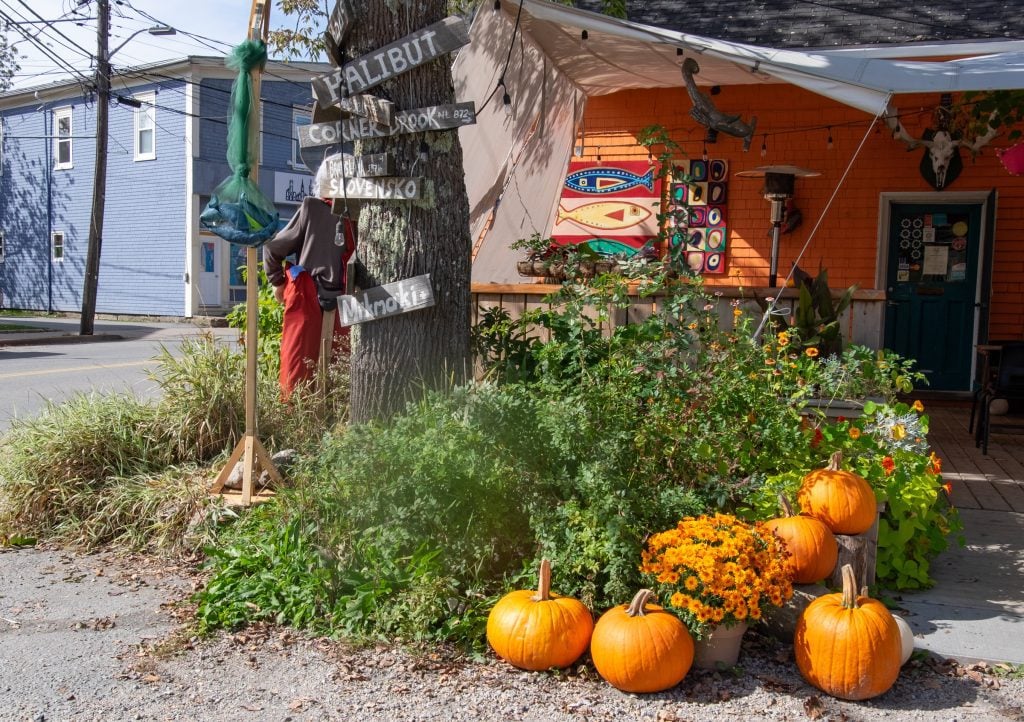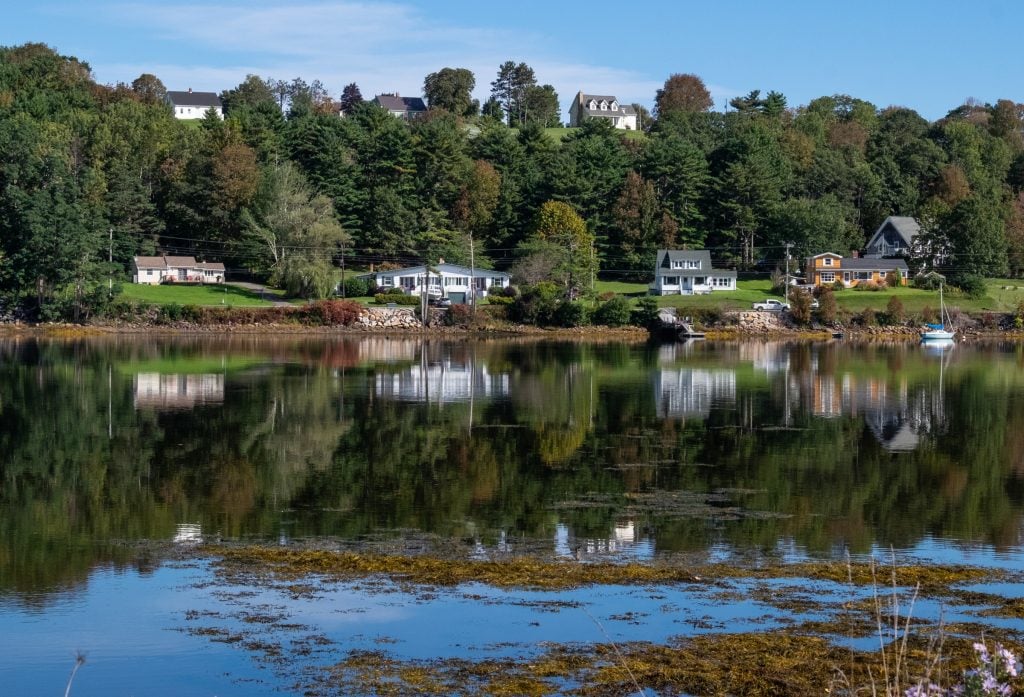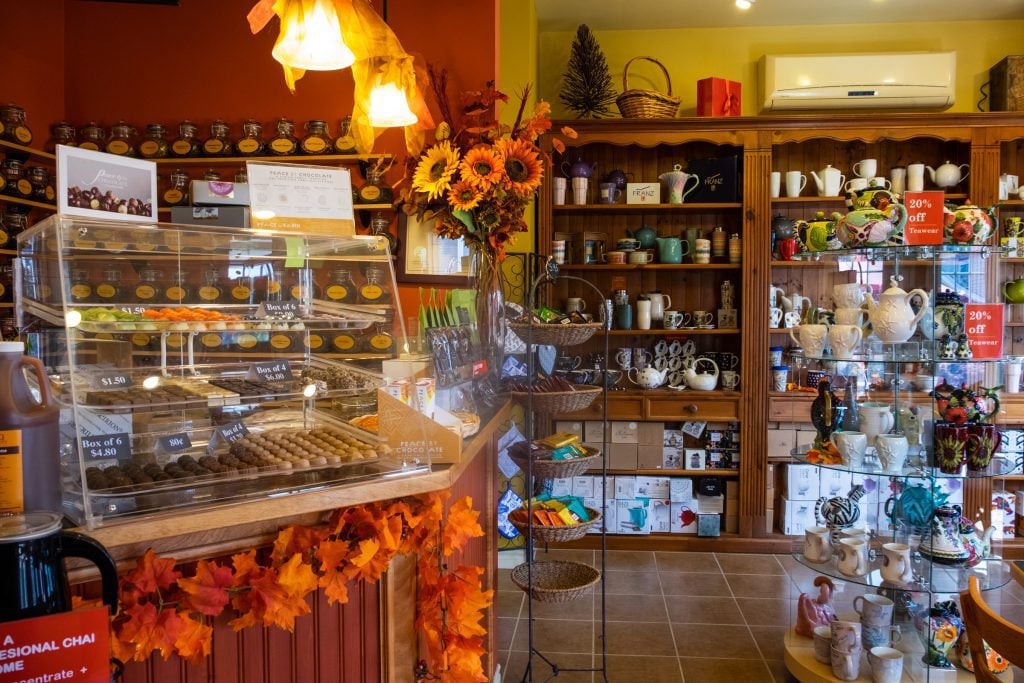 One highlight for me in Mahone Bay was the Tea Brewery — a tea shop selling all kings of tea and tea accoutrements, along with chocolates and other local food products (spot the Peace By Chocolate!). I enjoyed a delicious cranberry herbal tea.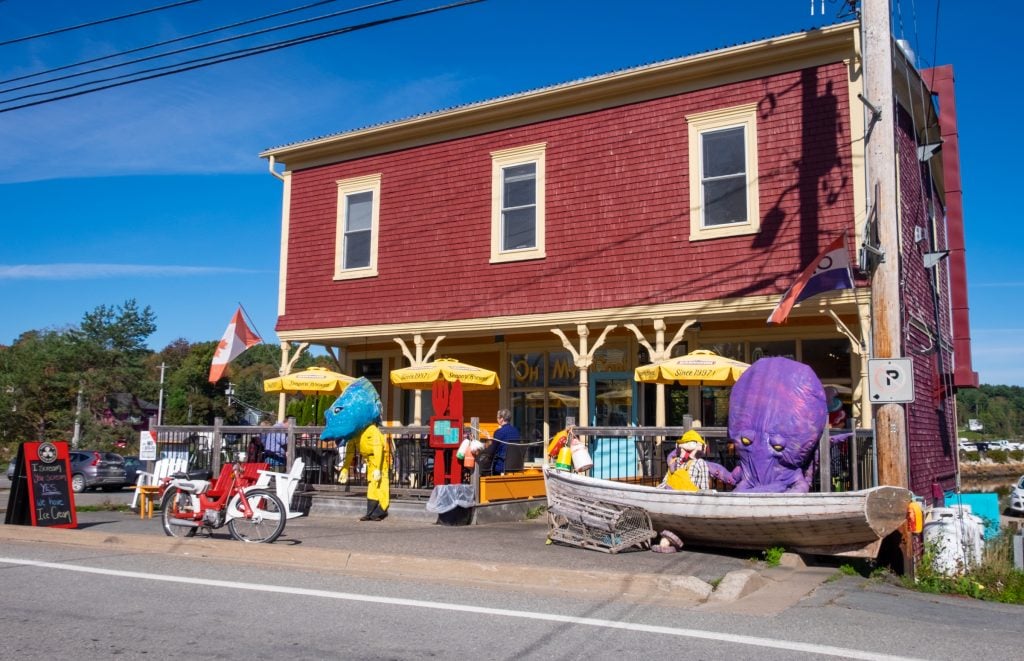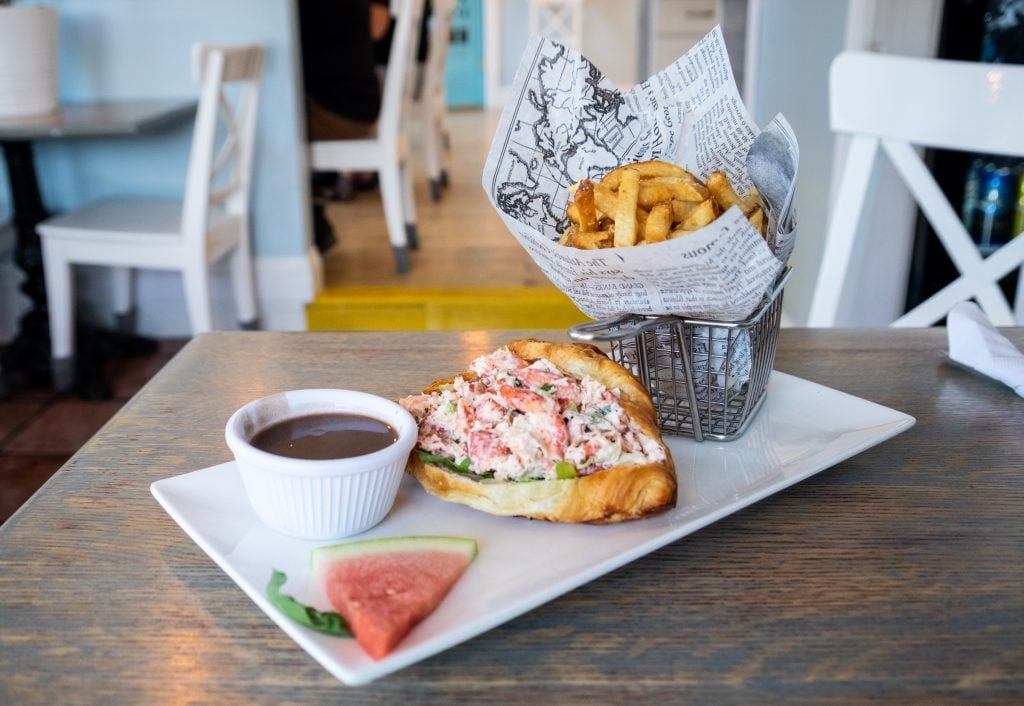 I was here for lunch, and right away I knew where I wanted to go: Oh My Cod! Not just a wittily named restaurant, this place is home to a lobster roll served in a croissant.
So did it work? Yes! It's definitely a decadent dish, and I don't think a lobster roll NEEDS to be served in a croissant, but it was a fun take on a popular Nova Scotia treat! (And yes, they offer you gravy with your fries. Canada!)
How Much Time to Spend in Mahone Bay: Mahone Bay is often a quick stopover on the way to nearby Lunenburg, but there are lots of nice restaurants and B&Bs that can make it enticing to stay longer. Nova Scotia Explorer has a post about a weekend in Mahone Bay.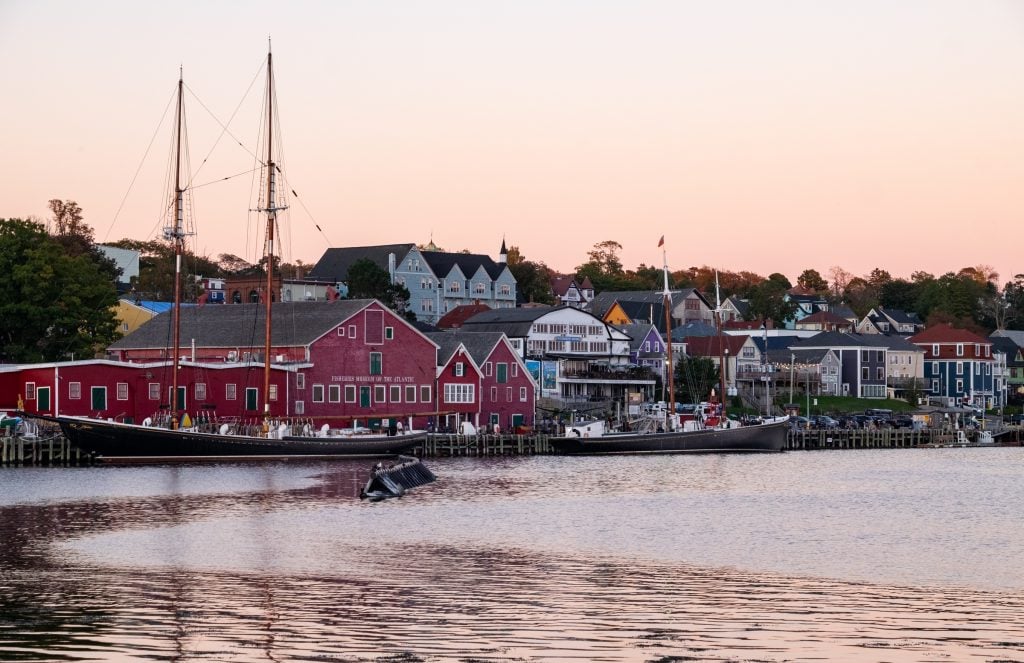 Lunenburg
Oh, Lunenburg! This beautiful town is one of my favorite places in Nova Scotia — and it also happens to be a UNESCO World Heritage Site. This is a great place to base for two nights or so, enjoying the colorful buildings, interesting architecture, the Bluenose tall ship, and narrow streets filled with cute shops, art galleries, and restaurants.
If you're spending time in Lunenburg, don't just visit the waterfront — take time to explore the town in depth.
I started my visit with the Essential Lunenburg Walking Tour, which I can't recommend highly enough. Our guide Liz began the tour began at Lunenburg Academy, on a hill far back from the waterfront, and we took an easy downhill tour through the colorful 18th century and Victorian buildings as Liz told us about their history.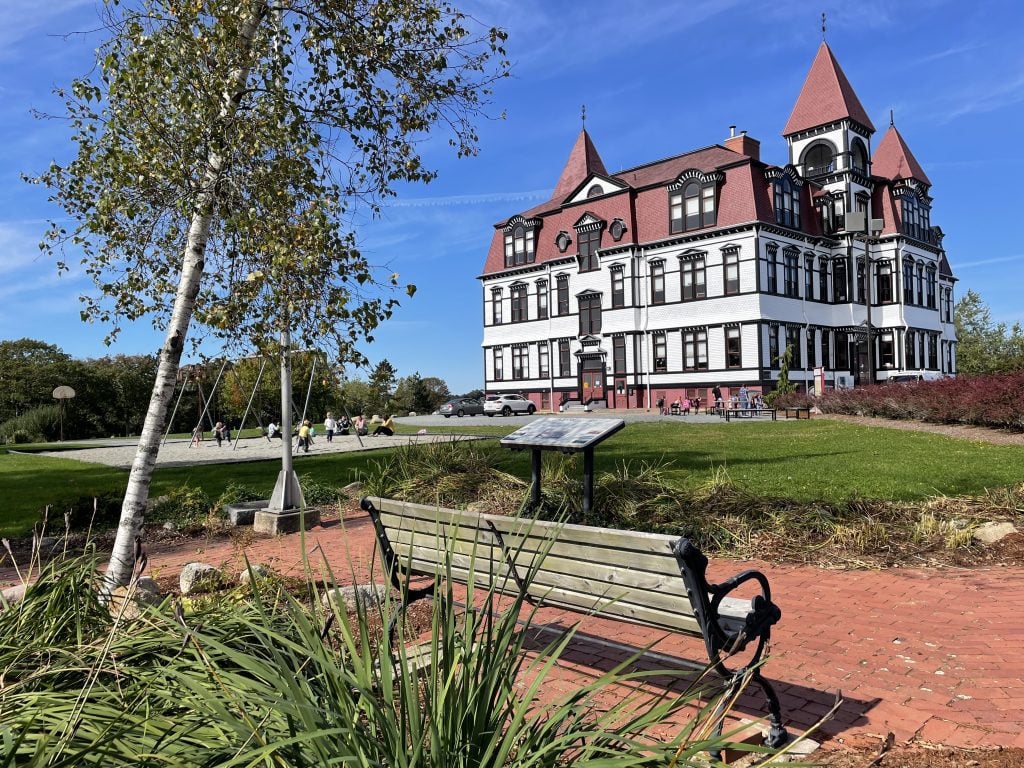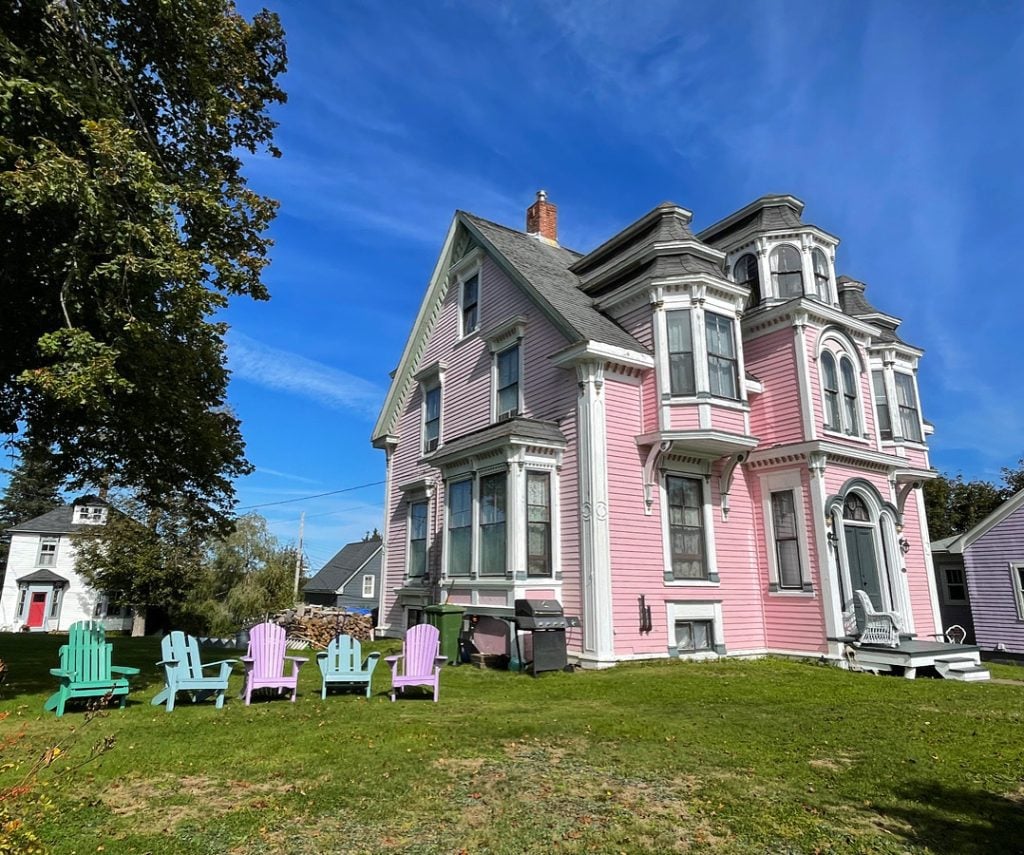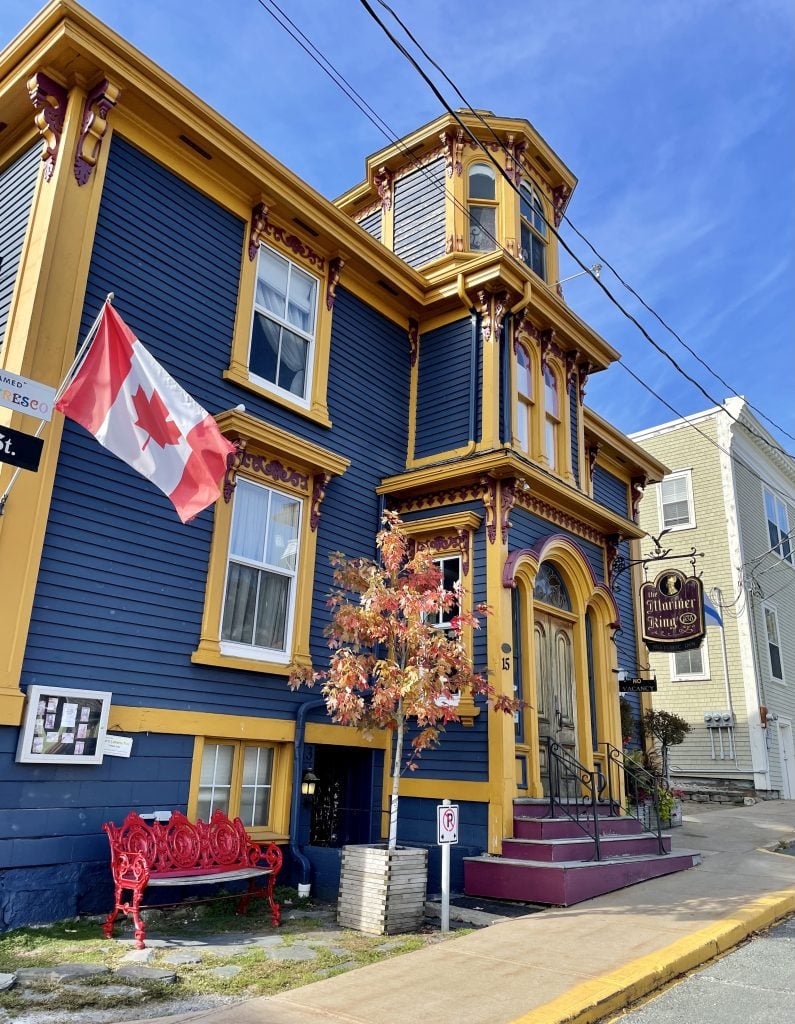 You should make the Essential Lunenburg Walking Tour a priority on your week in Nova Scotia! The tour costs $25 CAD ($20 USD) for adults, which is excellent value for money.
Lunenburg is a pleasant town for walking around and enjoying the atmosphere. I wish I had had time to visit Ironworks Distillery, which offers guided tastings of their spirits, and the Fisheries Museum of the Atlantic, which shares the history of fishing in this part of Nova Scotia, starting with the Mi'kmaq, the first fishers in Atlantic Canada.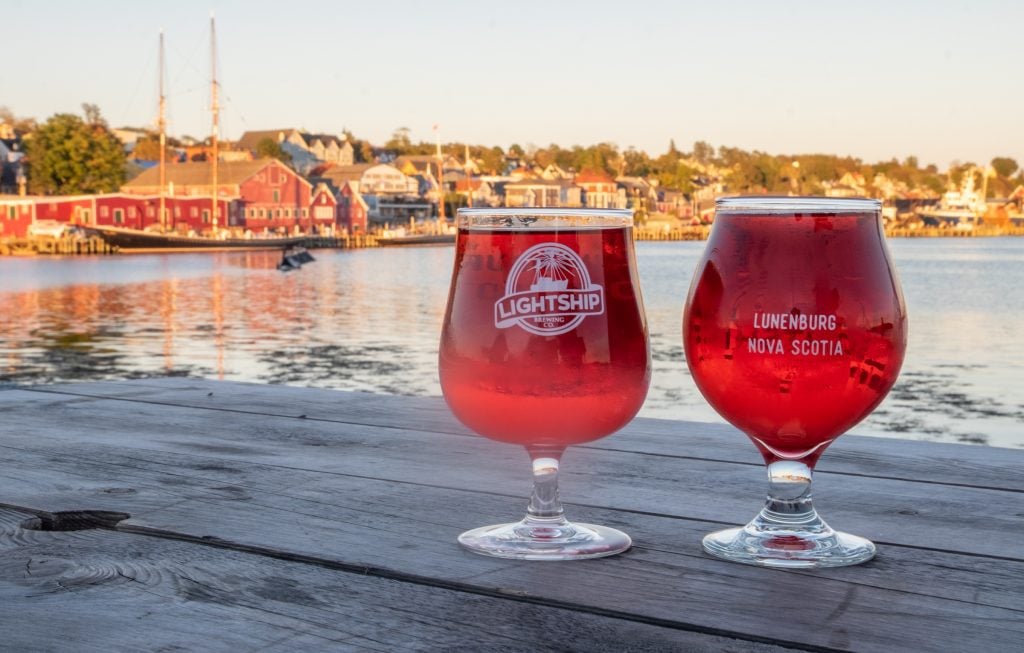 One of the best things I did in Lunenburg was enjoy the sunset at Lightship Brewery. Cailin recommended we come for sunset, and the views were outstanding, with sun-drenched views of the Lunenburg waterfront at golden hour.
And Lightship is a brewery with great vibes! The beer selection here is robust and ever-changing, with a big list of ciders, too! We enjoyed the Terra Beata cider, a cranberry-orange-apple cider that was as delicious as it looked.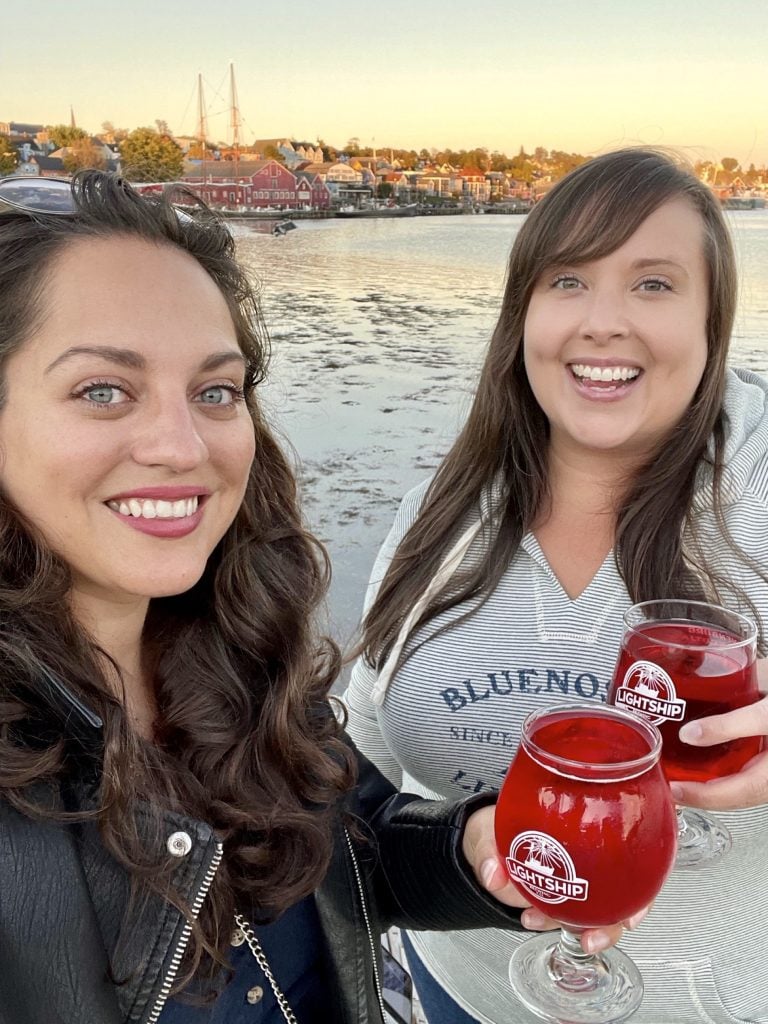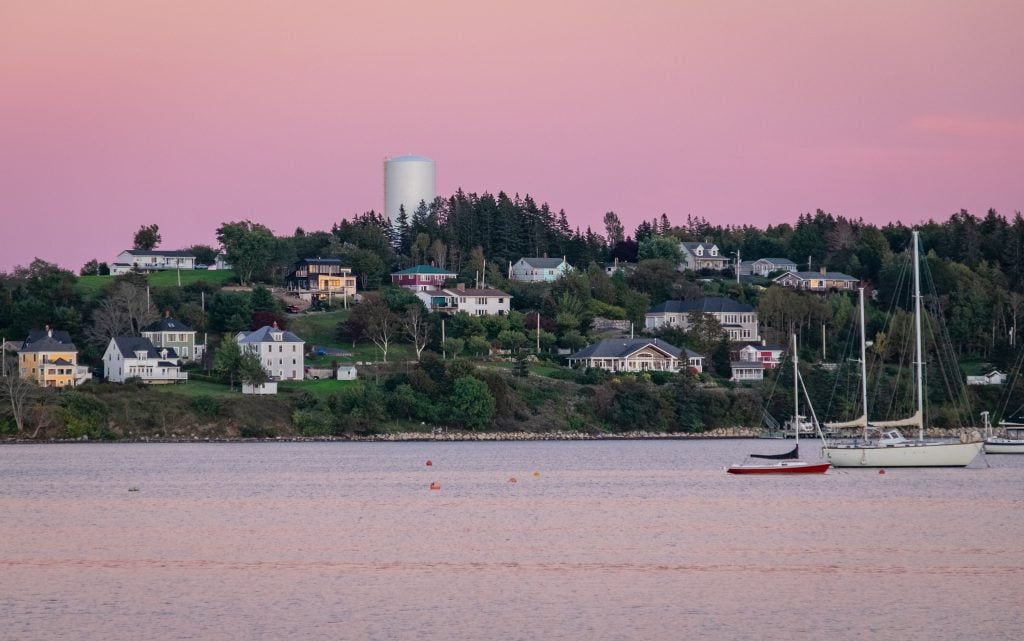 So, where should you eat in Lunenburg? Unfortunately I visited on a Tuesday, which is a popular day for Lunenburg restaurants to be closed, but we enjoyed a meal at The Knot Pub — including my introduction to fried pepperoni, a Nova Scotia delicacy! (Cailin says that The Knot uses the good local pepperoni, so if you're wondering where to try it, you should go here.)
On my list for next time is the Grand Banker, a waterfront restaurant that features the "Lunenburger" — a burger topped with smoked mozzarella, smoked bacon, spinach, and a generous serving of Nova Scotia lobster cooked in tarragon butter sauce, topped with a bun and speared with a bacon-wrapped scallop. Next visit for sure!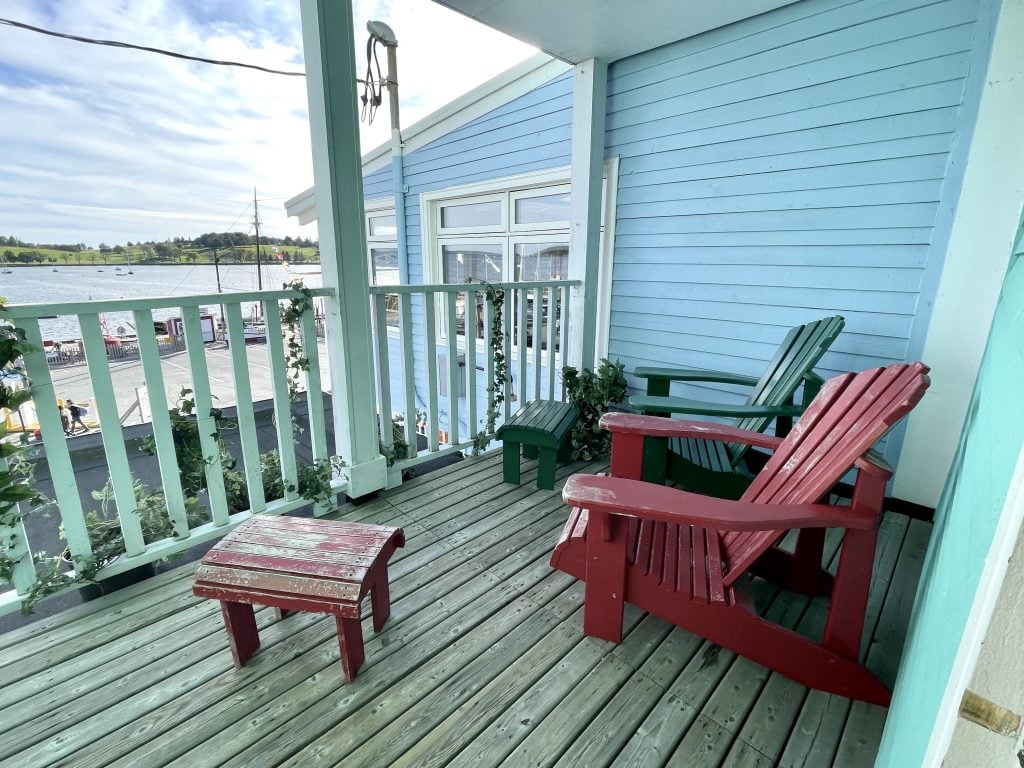 Where to Stay in Lunenburg: In Lunenburg I stayed at the Brigantine Inn, a comfortable mid-range hotel whose location could not have been more perfect, in the heart of the town with a balcony overlooking the water.
How Much Time to Spend in Lunenburg: I think you should have at least two full days in Lunenburg to enjoy it to the fullest. It also make a great base for further exploration.
Summerville Centre
Summerville Centre is on the edge of some of Nova Scotia's most beautiful beaches: Summerville Provincial Park. You can find a lot of beach cottages here, and there are marshes and habitats for piping plovers.
I didn't stay long enough to soak up the beach, but I did get to enjoy my favorite stay of the trip: the Quarterdeck Resort. Looking at this place, I couldn't believe I was in Nova Scotia. Surely this modern, boxy behemoth with ocean-view balconies belonged in California! But what a nice place it was.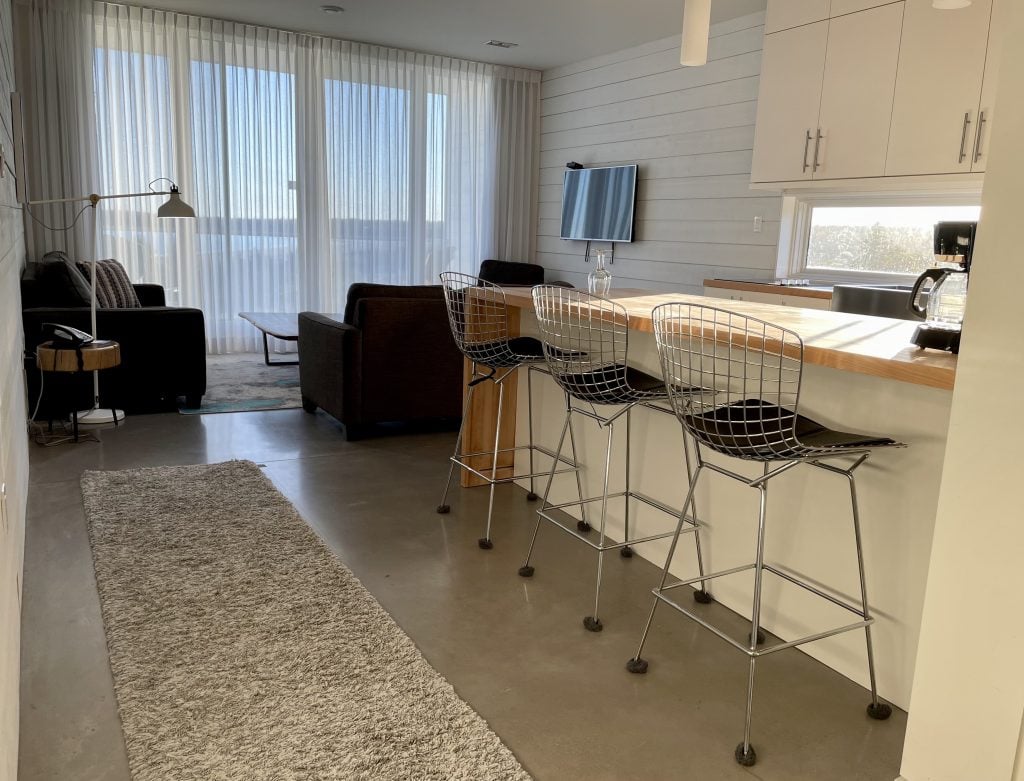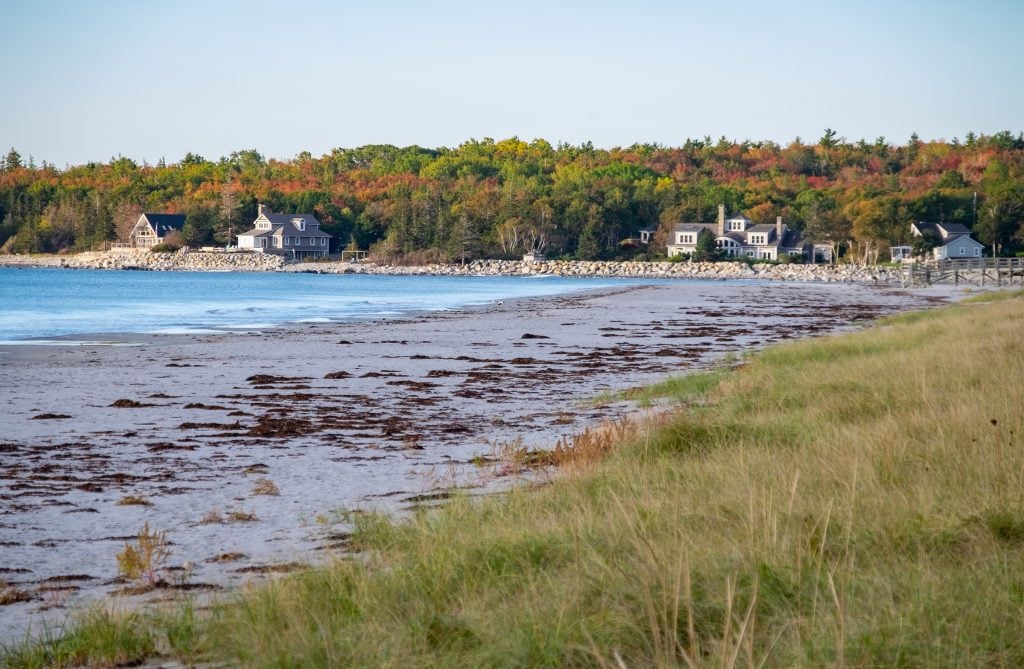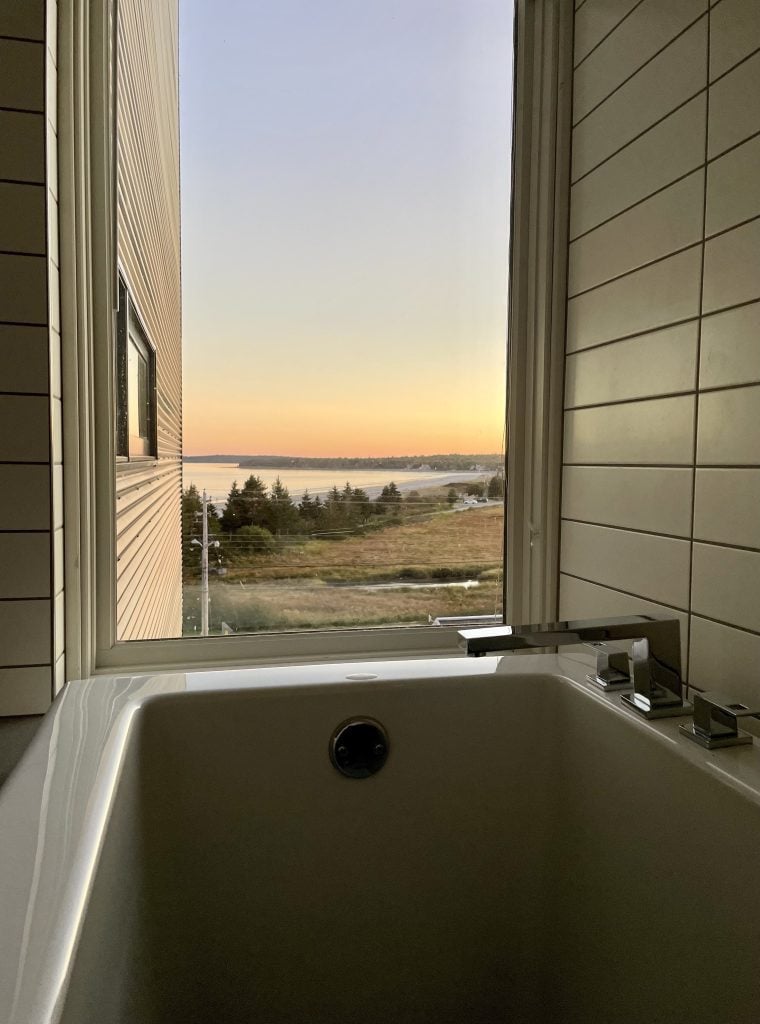 Where to Stay in Summerville Centre: The Quarterdeck Resort is the place. I wish I had a longer stay there.
How Much Time to Spend in Summerville Centre: One day is fine here, or more if you want more beach time (or, let's be honest, more Quarterdeck time).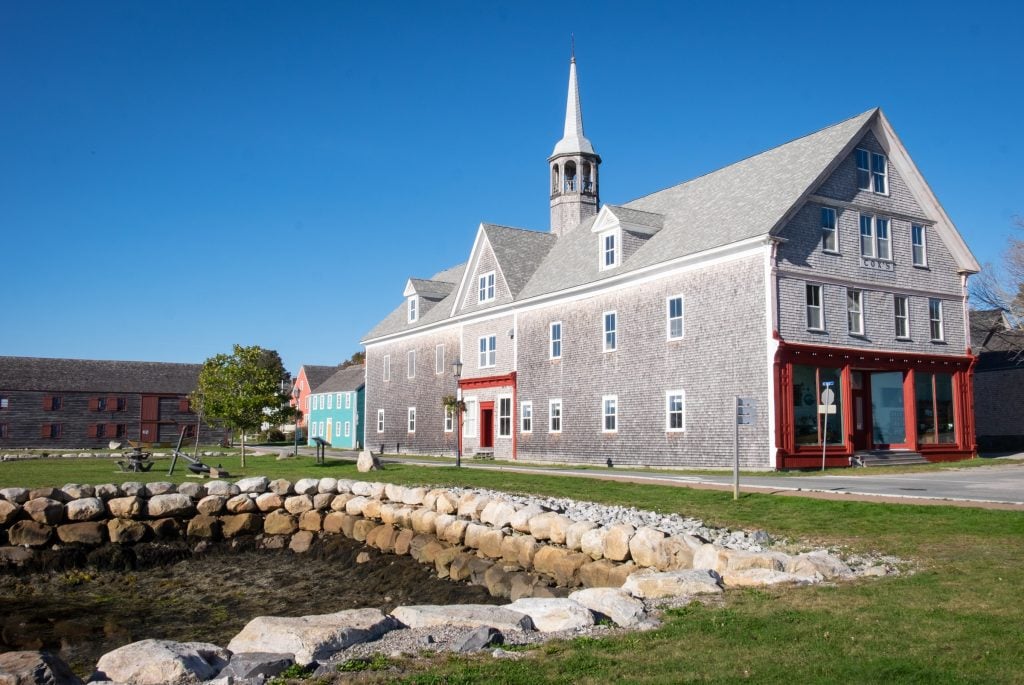 Shelburne
The town of Shelburne is a lovely and historic place that was once home to a community of British Loyalists. If you're interested in history, there are a few activities here you can enjoy — or just stroll along the water's edge.
During the American Revolution, about 3000 American Loyalists (who chose to be loyal to Britain over the colonies) arrived in Shelburne; soon, more Loyalists arrived, growing the community to more than 10,000.
Shelburne is home to Birchtown, Canada's first free Black settlement, which became the largest community of free Africans outside Africa. The Black Loyalist Heritage Centre is a great place to learn more about this history — and if your ancestors were enslaved and escaped to Canada, this is a good spot to do genealogical research.
In Shelburne you can also visit The Dory Shop Museum, where you can learn how Dory boats are made, and the Shelburne County Museum tells the stories of Shelburne's inhabitants, from the the Mi'kmaq to the Loyalist, Black Loyalist, Acadian, Planters and Welsh.
How Much Time to Spend in Shelburne: I think an afternoon is enough for Shelburne, or even a full day if you go all out with the museums.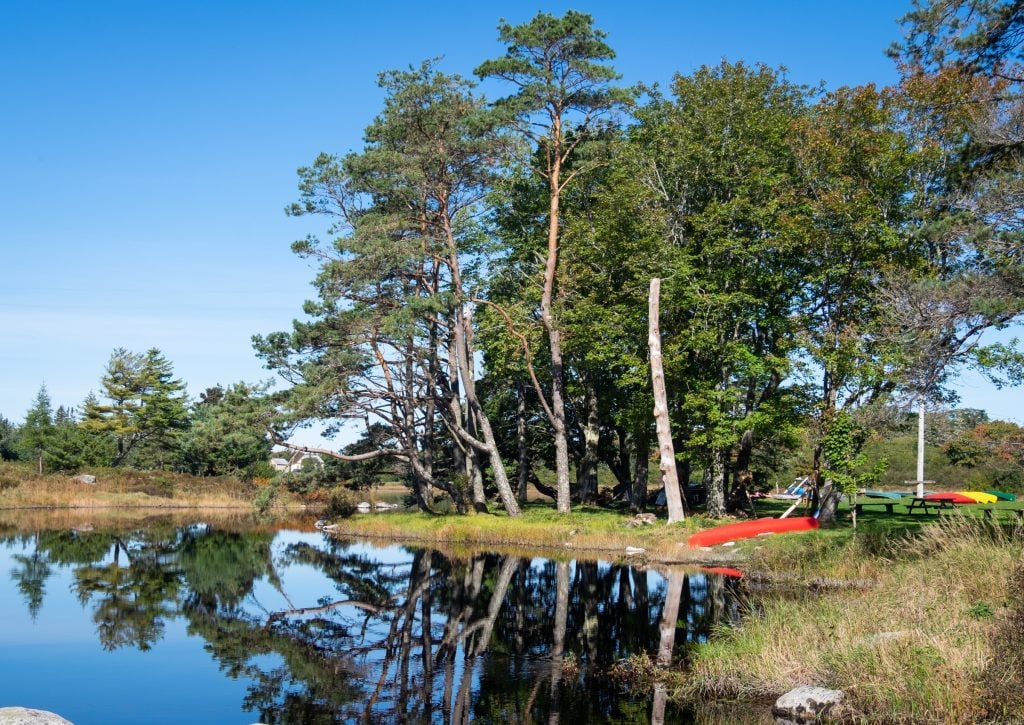 Barrington
Barrington is known as the lobster capital of Canada! Just hearing that alone should be enough to convince you!
But I came here for something special — the Lumberjack AXEperience.
When I heard you could be a lumberjack for the day in Nova Scotia, right away I knew that I HAD TO DO THIS! And this turned out to be one of the highlights of my trip.
Darren Hudson is a seven-time world champion lumberjack, and on his special stage, called the Timber Lounge, he teaches you how to saw wood by hand, how to throw axes, and even how to log roll! How amazing is this?!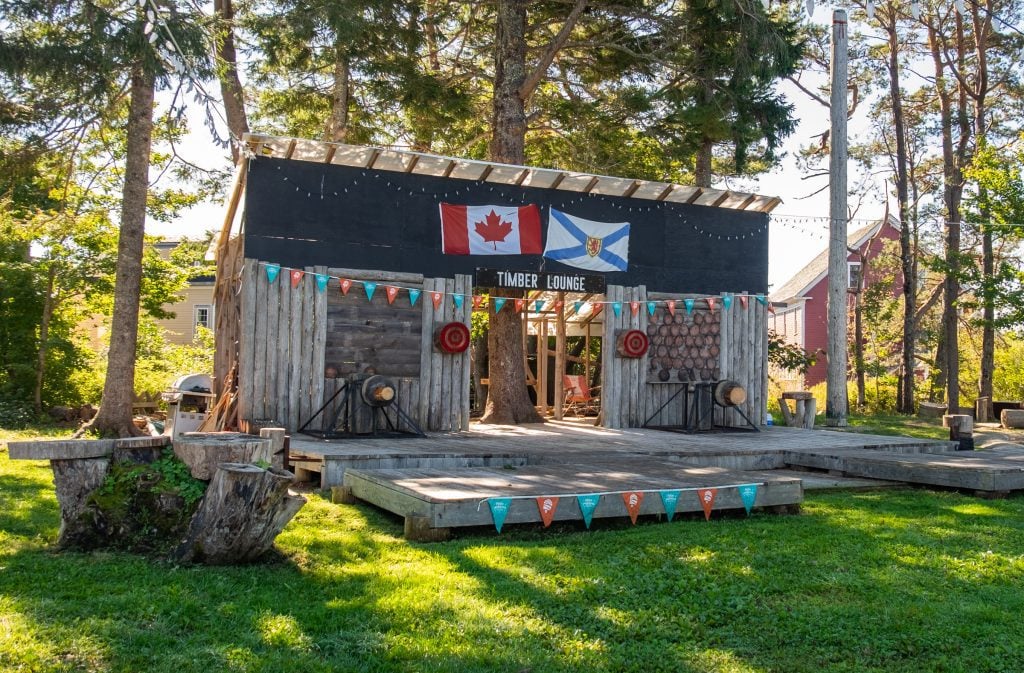 I was so ready.
There are three kinds of lumberjack experiences Darren offers, and I opted for the Wild & Wooly Experience, which includes a visit to Barrington Woolen Mill, just next door. This mill, which dates back to 1882, made yarn and was powered by a water wheel.
I got to try my hand at weaving (fun!) and wool spinning (SO HARD).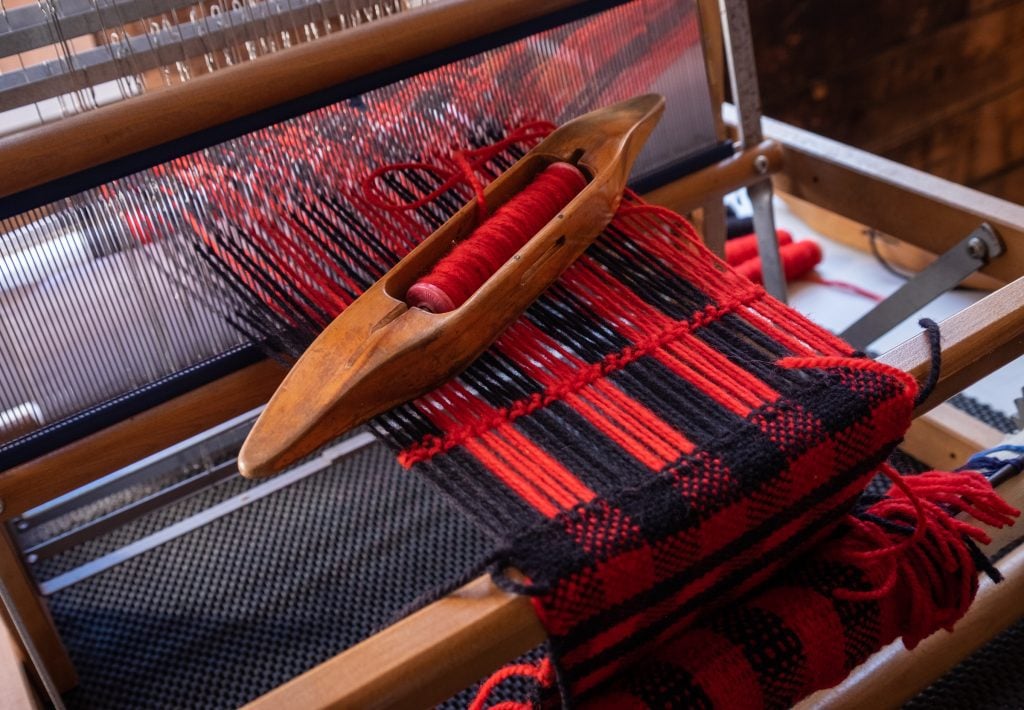 After the visit to the mill, it was time to get lumberjacky with Darren.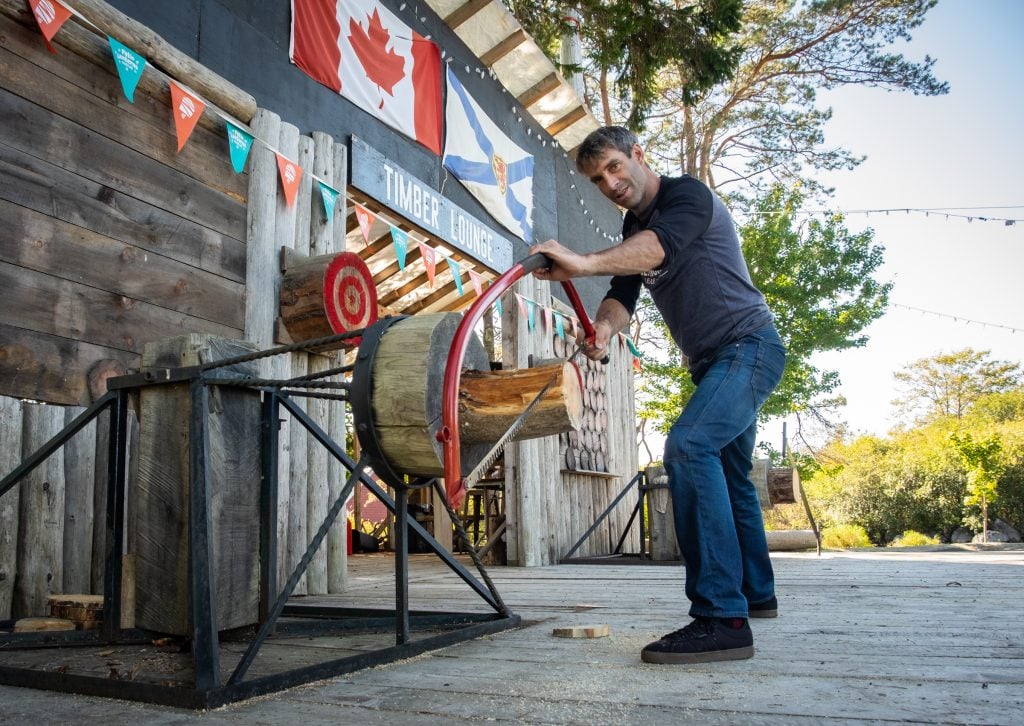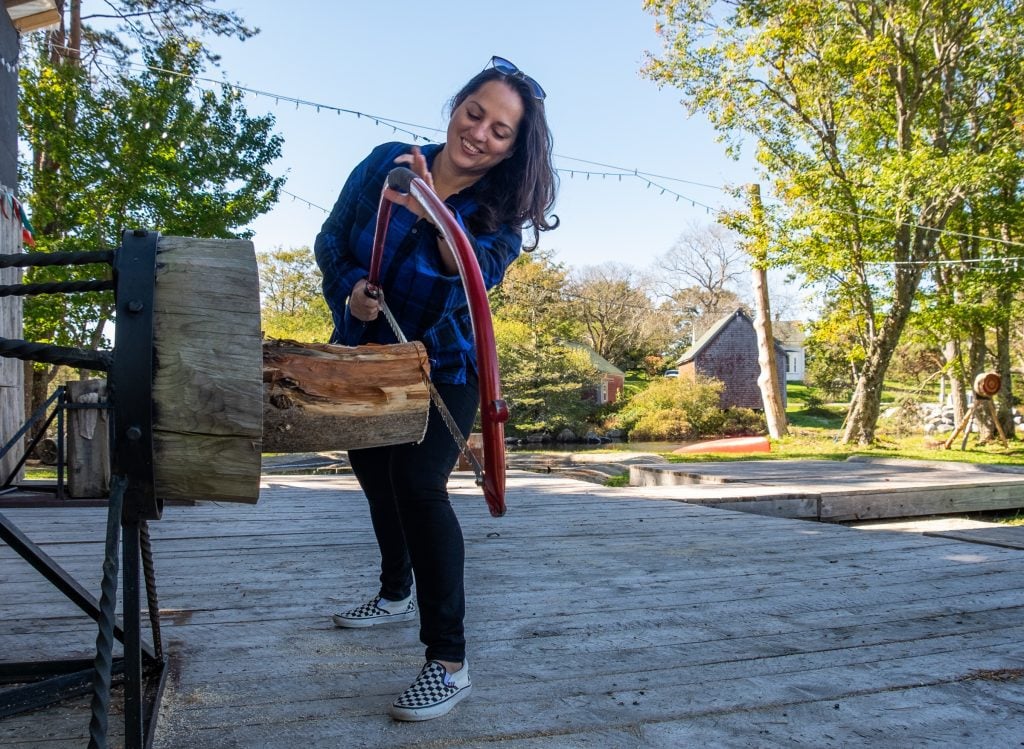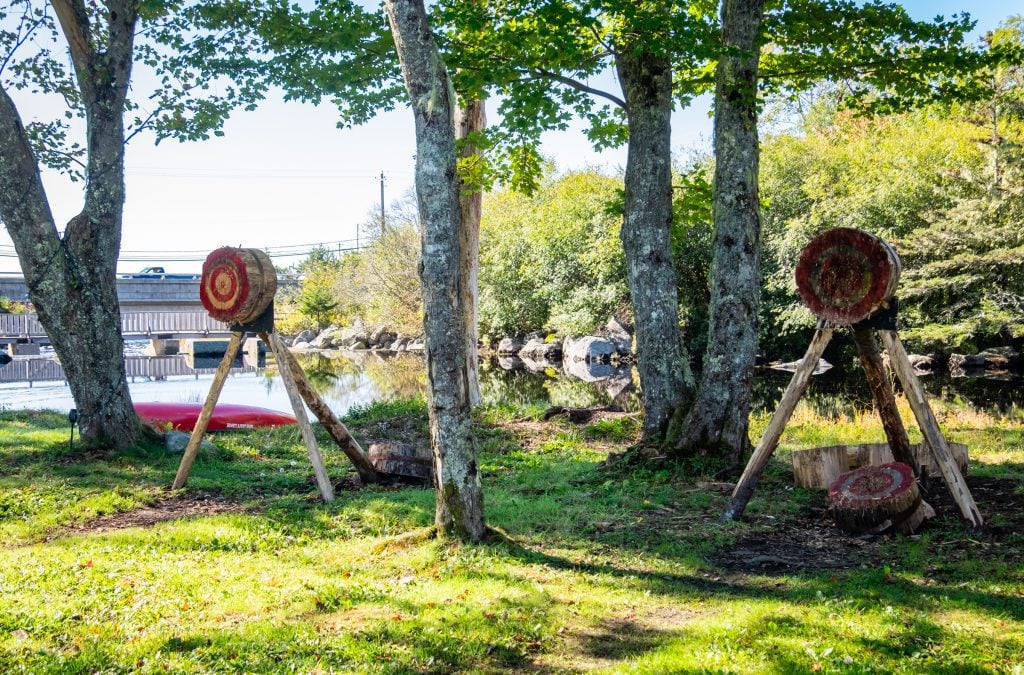 Up next was the log-rolling demonstration from Darren. Technically anyone can join in the log-rolling, but considering it was a chilly fall day…I opted to watch.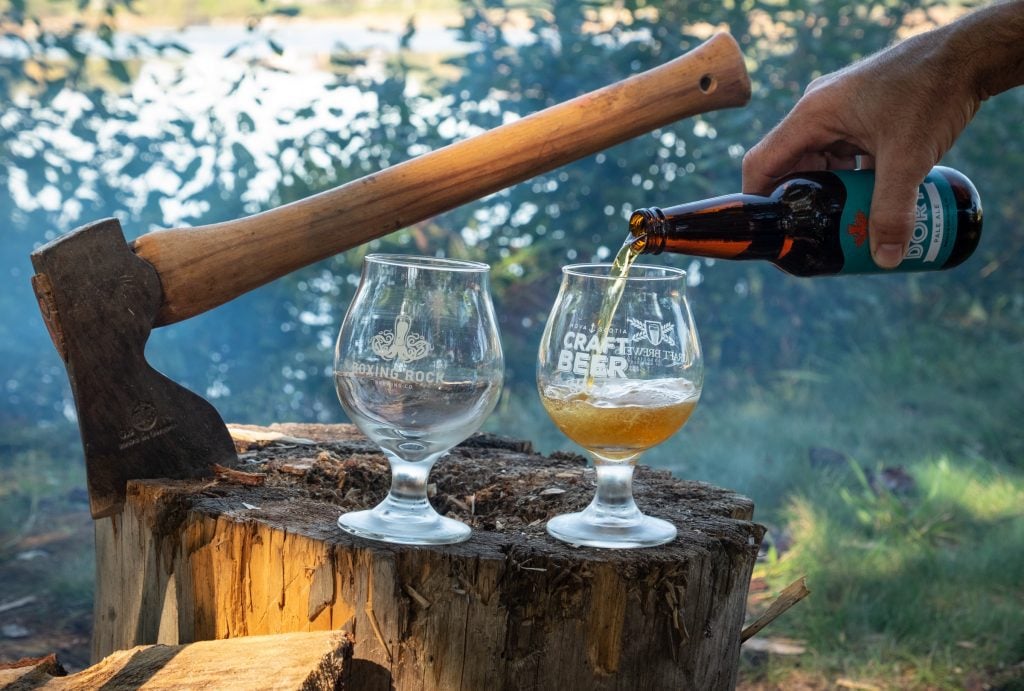 We finished the day enjoying some local Boxing Rock craft beers by the fire, as Darren told me about his plans to open a combination brewery and axe-throwing place. An idea that sounds wacky (alcohol and flying blades, really?) but if it were Darren, I would trust him!
Oh, and he told me the 2022 lumberjack championships are going to be in…Nova Scotia! I think I need to go back for that!
Overall, this lumberjack AXEperience was an incredibly fun activity and one of the biggest highlights of my time in Nova Scotia. I even put it on the list of my best travel moments of 2021! Really, this is super fun and I can't recommend it enough.
Lumberjack AXEperiences start at 90 CAD ($71 USD) for adults; my Wild and Wooly Experience was 140 CAD ($111 USD). You can see the full list here with prices.
How Much Time to Spend in Barrington: Barrington is a pretty small place. Between the lumberjack experience and grabbing some lunch, this is about a half-day destination. Which brings you to the next spot…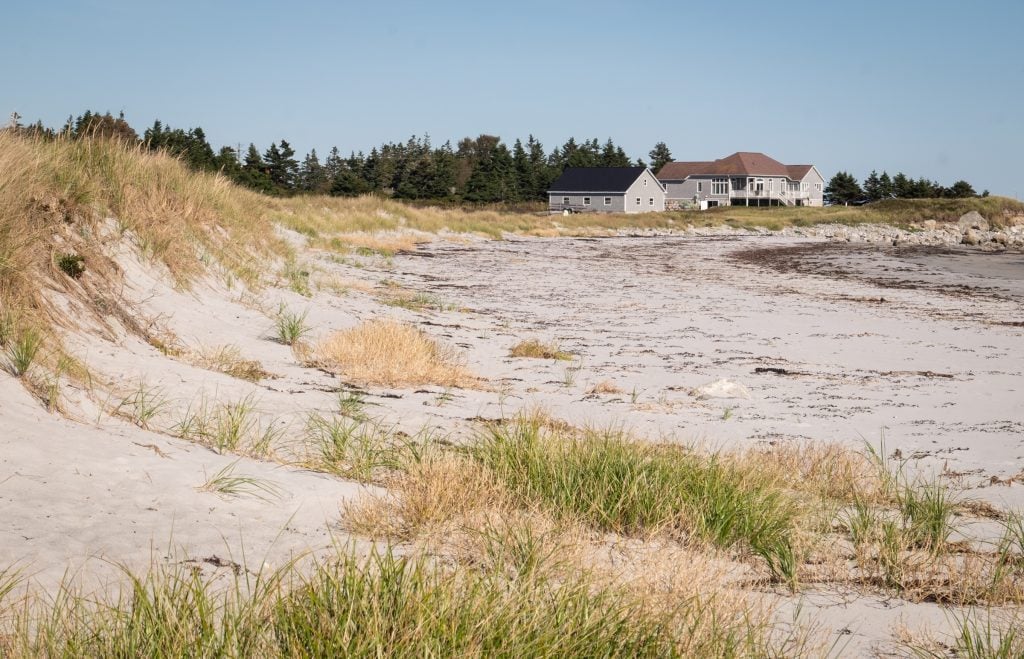 Cape Sable Island
Just south of Barrington, Cape Sable Island is the southernmost part of Nova Scotia. Cape Island, as locals call it, is home to white sand beaches, birdwatching spots, and fresh seafood. The island is connected to the mainland by a causeway.
Honestly, I popped into Cape Sable Island on a whim, without too much time to spend there — I drove around the loop, snapped some photos, and went on my way. But this would be a lovely place to spend some time in the future, especially during the summer when you need a good beach!
How Much Time to Spend in Cape Sable Island: If it's for the sights, not very long — half a day is more than enough. But if you're coming here to relax and veg out, feel free to plan a longer visit.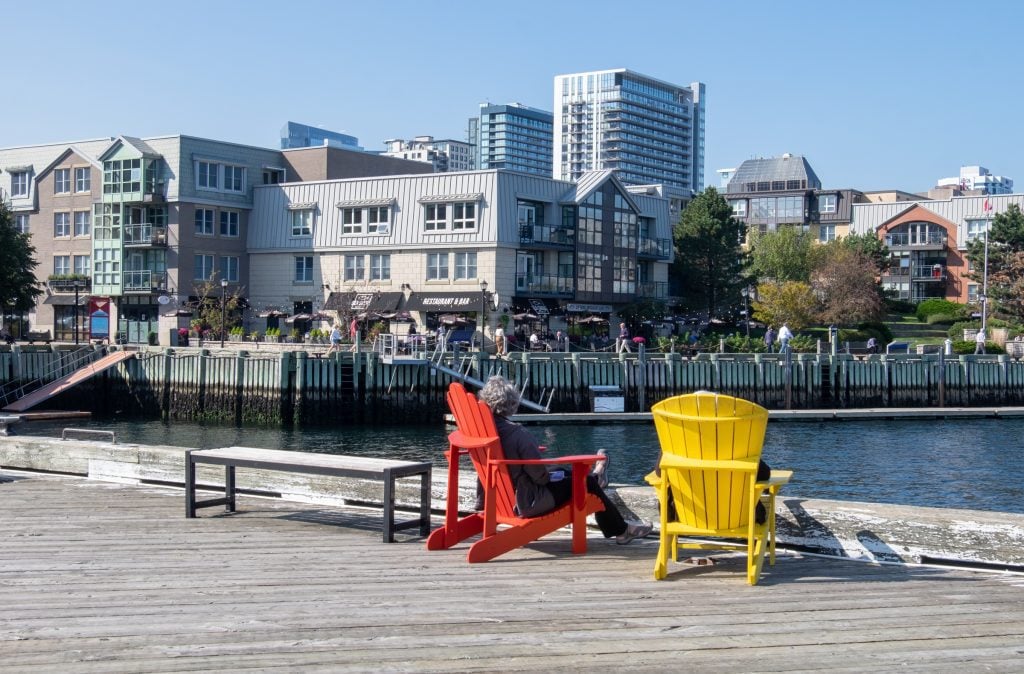 Return to Halifax
Halifax makes a nice bookend for your stay in Nova Scotia. Grab a nice meal, hit up one of the museums you missed last time, take the ferry over to explore Dartmouth, or just stroll the waterfront and soak it all in.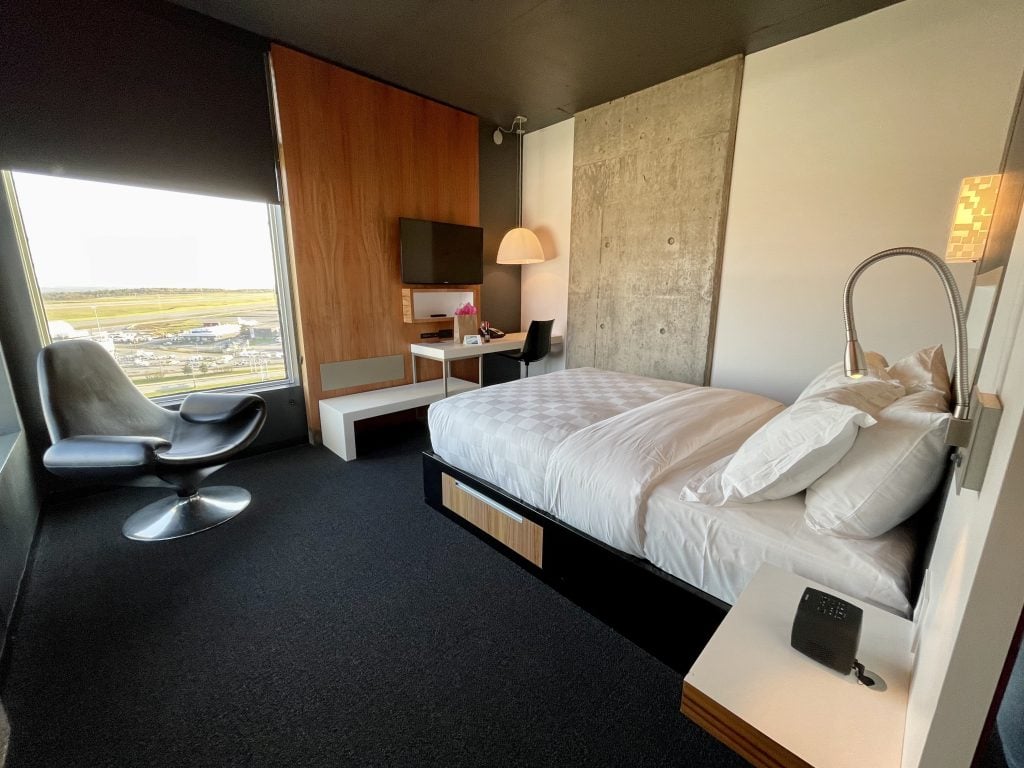 Have an early flight the next morning? Consider staying at the the ALT Hotel Halifax Airport. This was an unexpected treat for me. Airport hotels are often just a place to crash for the night, but at this one, I had a corner room on a high floor with views of planes taking off! I texted photos to all my aviation geek friends!
That, and it wasn't even loud. Great soundproofing. And because it's a smallish airport, flights were done by midnight.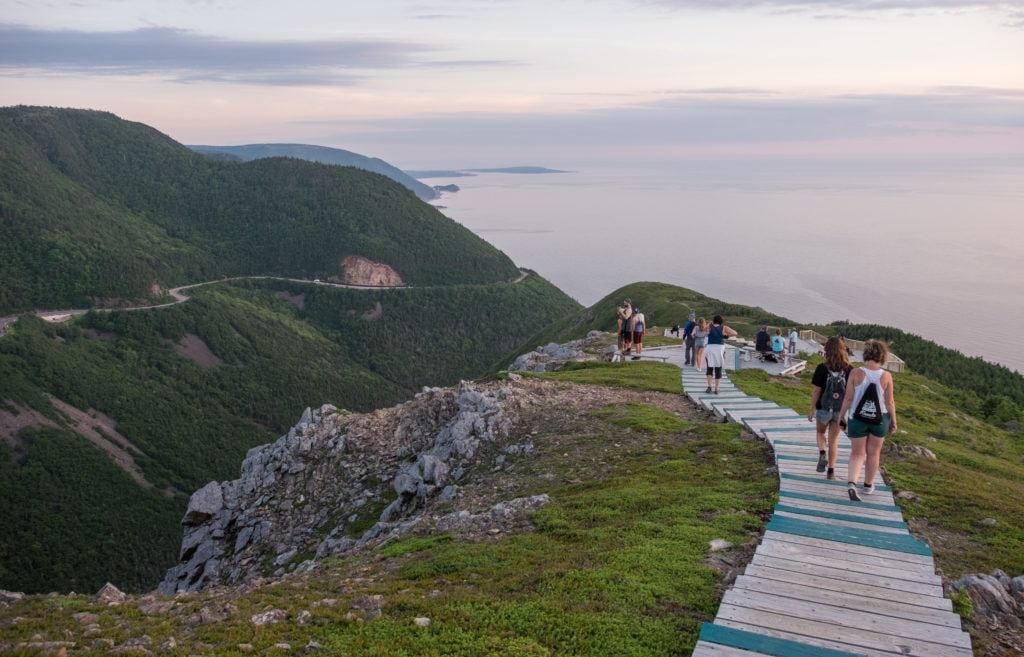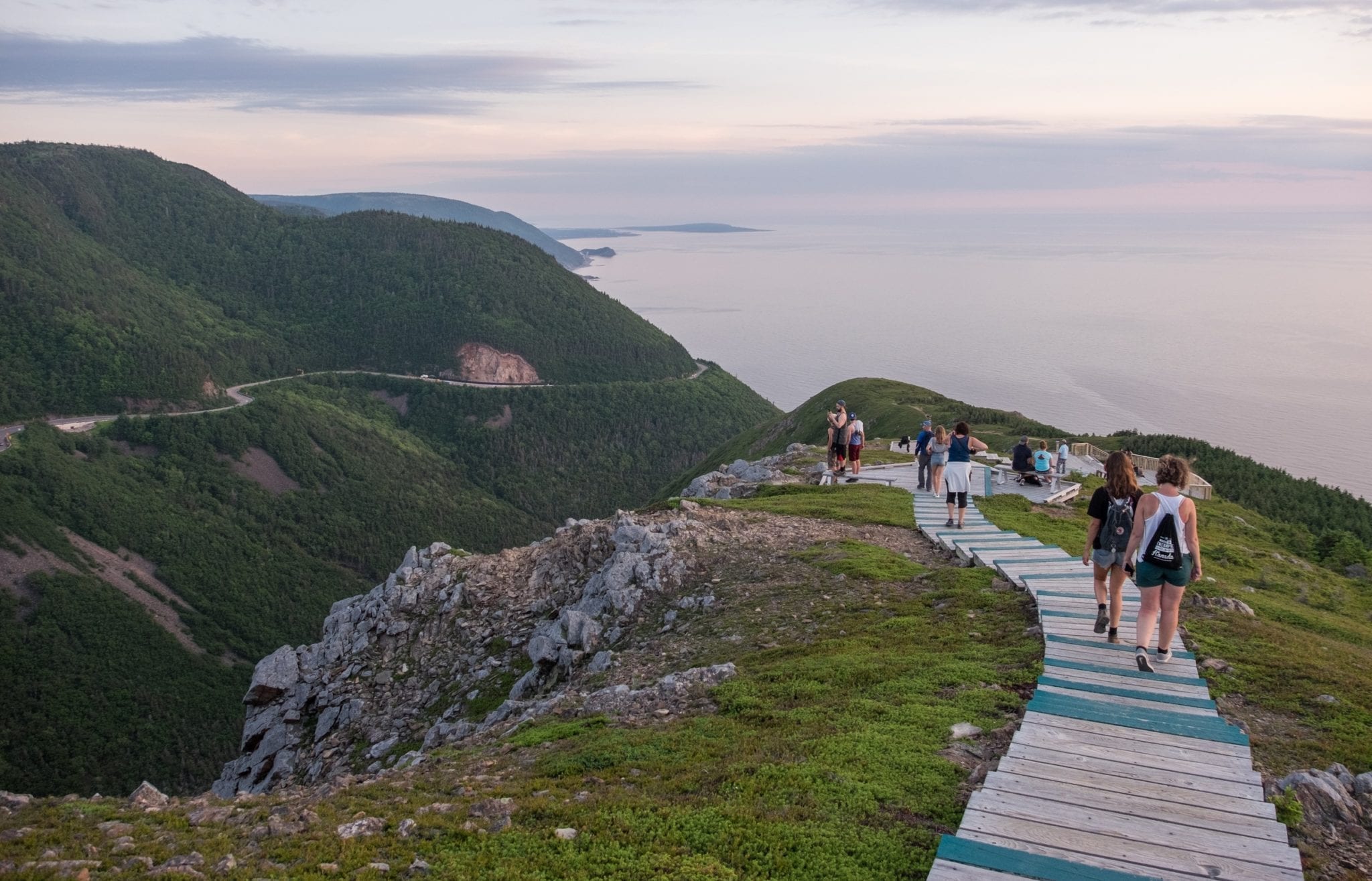 Have more time?
Got more than a week? EXCELLENT. There are so many things you can do in Nova Scotia! But one place I happen to love is Cape Breton.
Cape Breton, Nova Scotia's northern island, is another 5-7 day trip in itself and would make an excellent complement to the South Shore. Cape Breton is home to the Cabot Trail, spectacular Cape Breton Highlands National Park, and communities rich in Indigenous, Acadian, and Celtic culture. I loved every minute of this road trip.
Read More: Driving the Cabot Trail in Nova Scotia
Nova Scotia Travel Tips
Nova Scotia in general is a very easy and safe place to travel. Crime is low, roads are in great condition, and there's always a Tim Horton's close by when you need a pick-me-up.
Still, it's good to plan ahead to have the best trip. Here are some tips:
Resist the urge to "do Atlantic Canada" in a single trip. I completely understand the urge to see as many provinces as possible, but trust me, Nova Scotia IS the destination. Concentrating on just Nova Scotia will allow you to explore in depth, relax more, and save money over a multi-province journey.
Book your rental car as early as possible. Like, immediately after you book your flight. Post-COVID, there were rental car shortages in much of Canada, with very low inventory. I actually ended up with a minivan for my solo trip, which was kind of hilarious.
If you're driving from the airport into downtown Halifax, have a loony ready (a one-dollar coin). This is needed to get over the bridge; you can pay by card if you need to, but throwing a coin in saves time.
Don't get your gas get too low. In more rural parts of Nova Scotia, there can be a long distance between gas stations. Fill up when you're down to a quarter tank.
Try some Nova Scotia specialties. Of course the lobster is most famous, but Halifax knows how to rock seafood of all kinds, from chowder to scallops.
One unorthodox Nova Scotia specialty is the donair, a Halifax legend! Similar to the doner kebab, it's made of spiced beef or lamb with tomatoes and lettuce, wrapped up in a pita and topped with an unusual sweet garlic sauce.
Two pub snacks I enjoyed in Nova Scotia: thick-cut fried pepperoni and wafer-thin potato skins (think more like shavings than the US-style potato boats).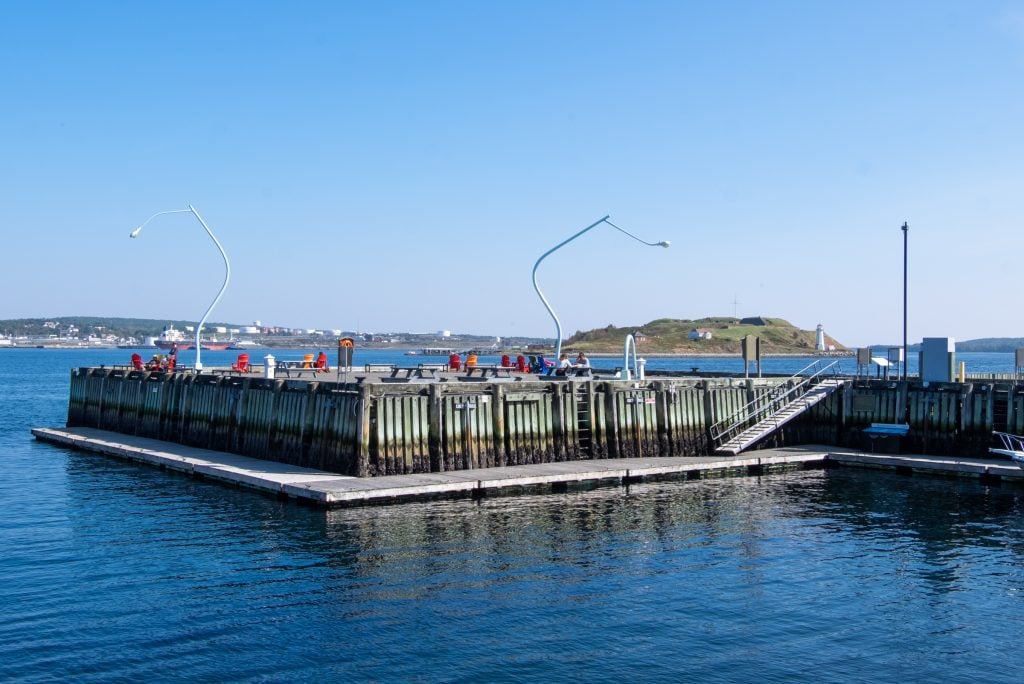 How to Get to Nova Scotia
The easiest way to get to Nova Scotia is by plane. Halifax is home to an international airport. While some nonstop routes to Halifax have been reduced since COVID began, you can easily find connections via Toronto and Montreal. I hope we see the return of nonstop flights from New York and Boston in the future.
The other option is taking the ferry from Maine in the US. The Cat, as it's called, was paused in 2020 and 2021, but will be running again in 2022.
The ferry runs several times a week between Bar Harbor, Maine, and Yarmouth, Nova Scotia: a quick 3.5-hour journey. The season runs from late May through early October. This can be a great way to get to Nova Scotia while avoiding planes; just keep in mind that Maine is a large state and Bar Harbor is far north (three hours from Portland, Maine; 4.5 hours from Boston).
Yet another option is taking the train. Via Rail, Canada's rail service, has a line from Montreal to Halifax. It's a 22-hour journey, so it's a big undertaking!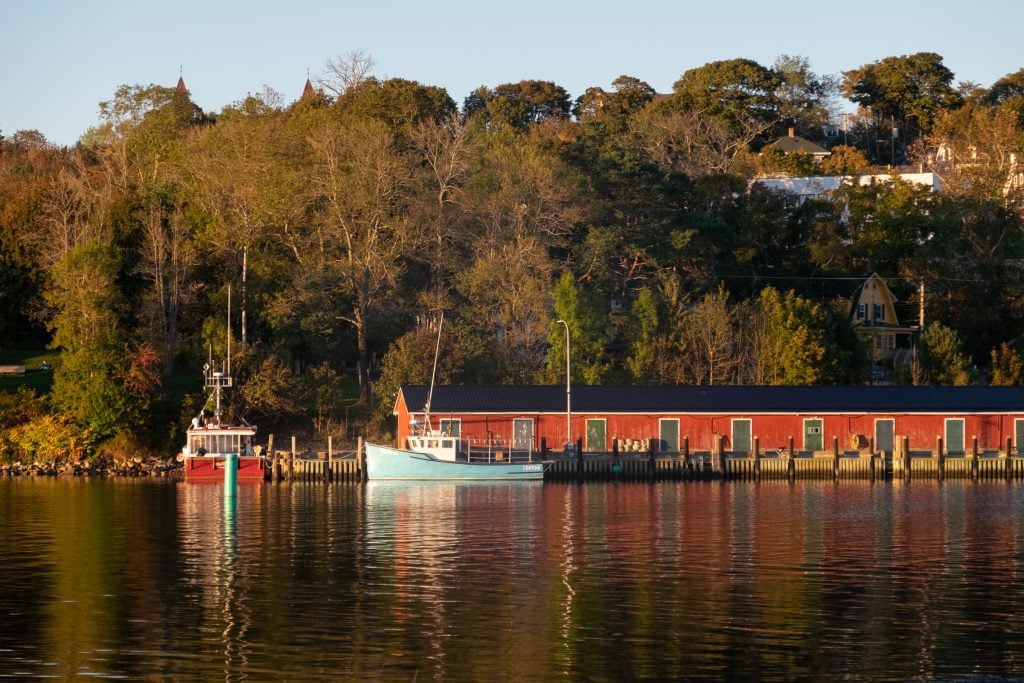 Best Time to Visit Nova Scotia
Nova Scotia is best known as a summertime destination, when you get to experience the sunshine, beaches, and being outdoors as much as you can. Atlantic Canada tends to have short, beautiful summers, so July and August are packed solid with visitors.
But on this trip I visited Nova Scotia in early October, and it was a wonderful time to visit. I was lucky to have perfect blue skies every single day! (This is unusual, locals told me; ordinarily, you should expect a few overcast days mixed in.) While it was a bit cooler, I got to enjoy the fall colors and zero crowds.
Can you visit Nova Scotia in the winter? Sure! Winter is better known as LOBSTER SEASON! And don't forget that February is home to the South Shore's Lobster Crawl!
Is Nova Scotia's South Shore Worth It?
It's so worth it! I'm so glad I ended up doing this itinerary. I saw so much of what Nova Scotia has to offer.
Now, it's all about planning the next trip, because I know I'll be back!
More on Atlantic Canada:
Driving the Cabot Trail in Nova Scotia
Why You Should Travel to Newfoundland, Canada
Exploring the Iles-de-la-Madeleine, Quebec
Visiting St. Pierre et Miquelon, a French territory near Canada
See all Canada posts here.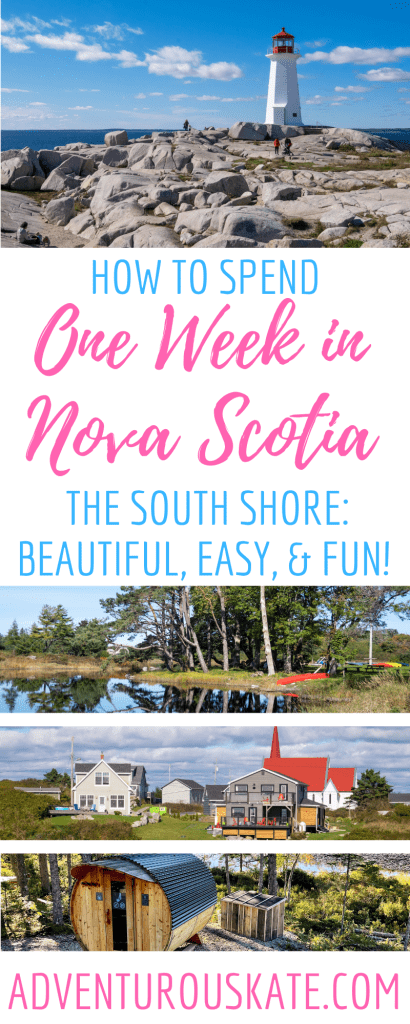 Have you been to Nova Scotia? What did you enjoy the most?