Adventurous Kate contains affiliate links. If you make a purchase through these links, I will earn a commission at no extra cost to you. Thanks!
Just a rock in the middle of the desert? No way. Uluru-Kata Tjuta National Park is so much more than that. Without a doubt, it was one of my favorite destinations in all of Australia.
You probably already know Uluru is smack dab in the middle of Australia and that the desert is scorching during the day and chilly at night, that you need to hydrate like mad and wear sunscreen and a hat. You know that you can't miss the sunrise or sunset, and that the giant rock changes colors.
But beyond that, I had no clue whatsoever about Uluru. Here are some of the things that surprised me the most — and that I think might surprise you, too.
It's not just Uluru — there's Kata Tjuta, too.
Poor Kata Tjuta. Uluru gets all the fame and glory and Kata Tjuta, the other enormous, 36-domed geological structure near Uluru also known as The Olgas, seems to be lost in the mix when presented alongside its superstar sibling.
Kata Tjuta is even more important to the Aboriginals than Uluru when it comes to sacred ceremonies, and as a result, much of it is off-limits to most of the world. When you're photographing the bright red Uluru at sunset, Kata Tjuta appears tiny, demure, and violet.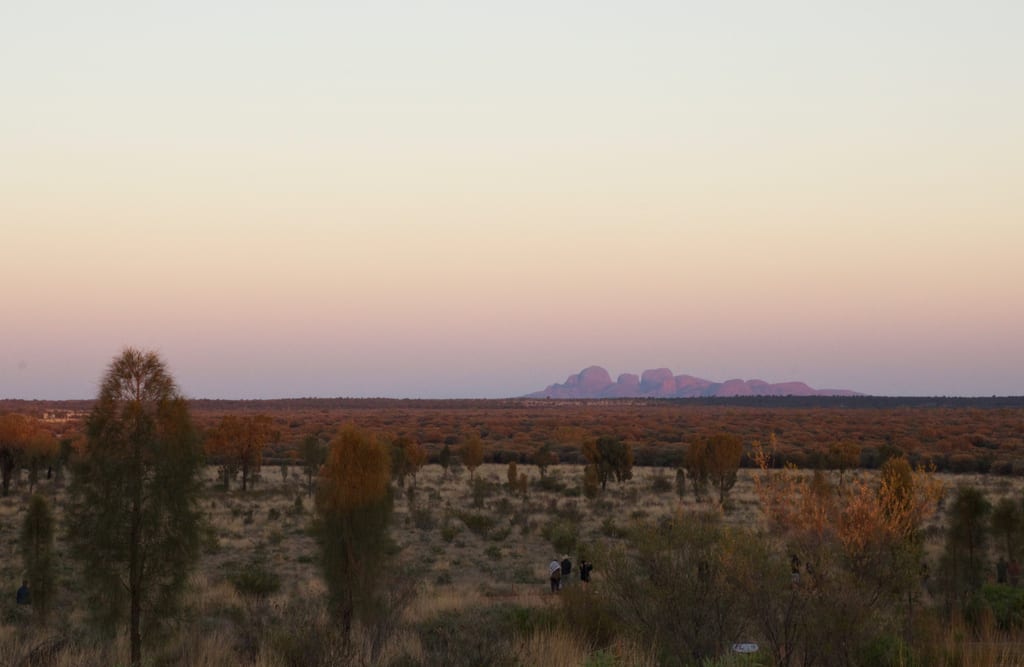 I went to see Kata Tjuta up close, with a short hike through Walpa Gorge. This was first part of the 2-day Uluru Explorer tour with AAT Kings. Just by walking into the gorge, I felt something change in the air — it was as though we were descending upon a magical place.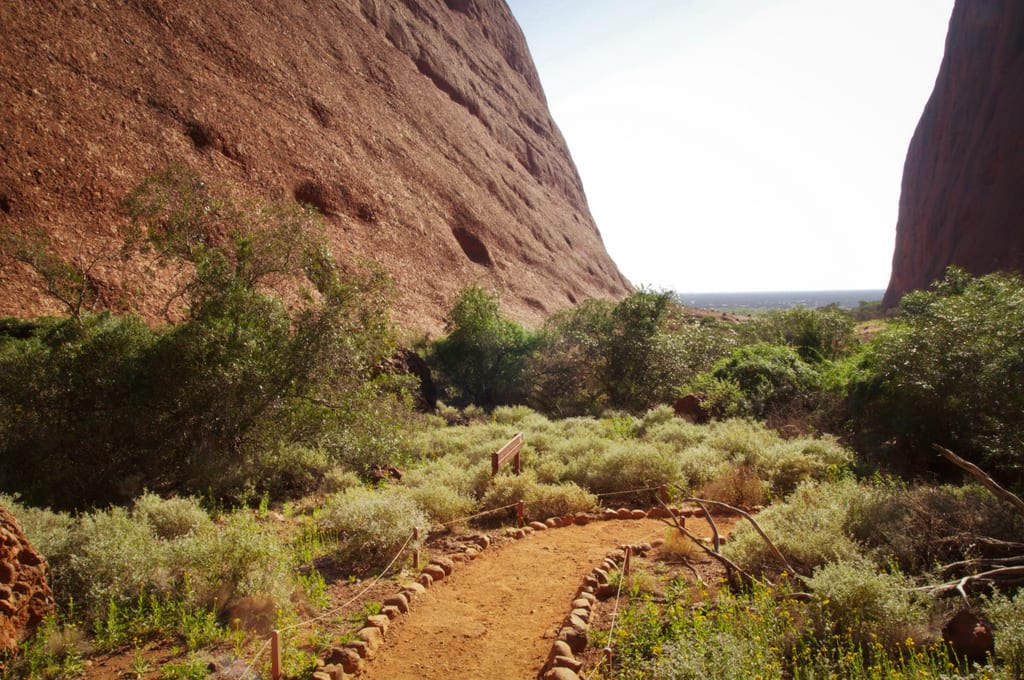 There's a lot more to Kata Tjuta than I got to experience — my buds Allan and Cameron, winners of the Best Jobs in the World Contest, both told me that the Valley of the Winds hike through Kata Tjuta was one of the highlights of their time in Australia. I'll have to save that for next time.
You can climb Uluru — but you shouldn't.
Climbing Uluru is an option — but the Anangu, the local Aboriginal people, have made it clear that they don't want people to. One reason is that they feel responsible when people die on Uluru, which happens occasionally, and they must take on the responsibility of mourning for them.
So why does climbing even happen in the first place? When the Australian government gave this land back to the Anangu, one of the conditions was that it was to remain open for tourism, including the climb. This was the best option that the Anangu could hope for, so they consented — but they put up signs urging people not to.
I made the decision not to climb.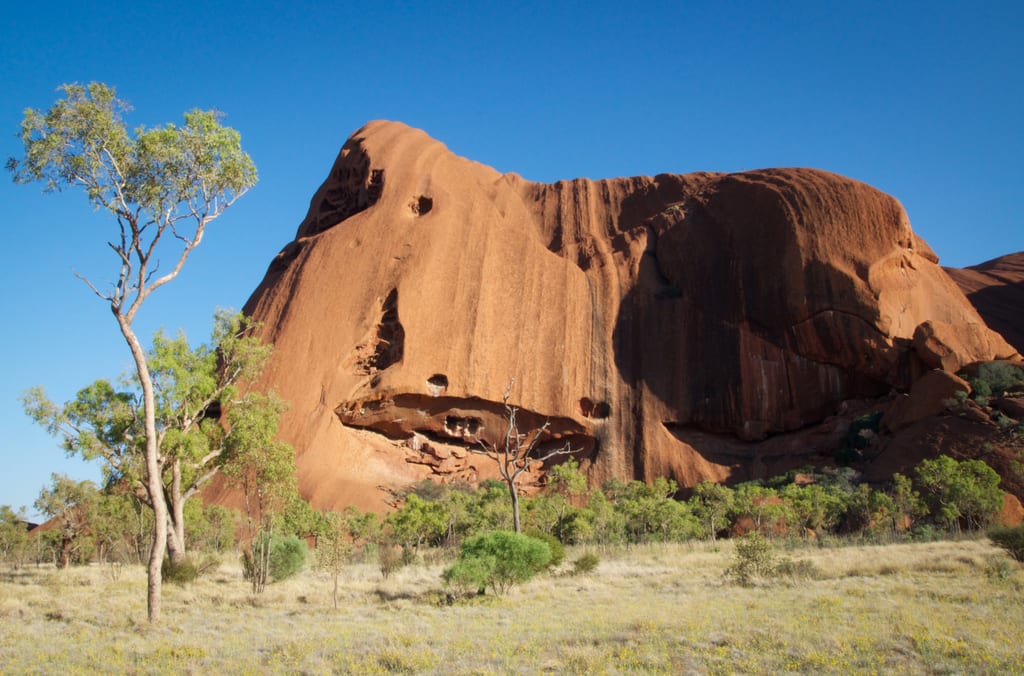 An alternative to climbing is to get up close to Uluru and explore the base. I did this as the second part of my 2-day Uluru tour with AAT Kings, a company that I noticed showed a great amount of respect for the Anangu.
While chatting with one of my guides, I asked him if the climb would ever be shut down. He told me that he personally believed that the climb would be shut down around 4-6 years from now.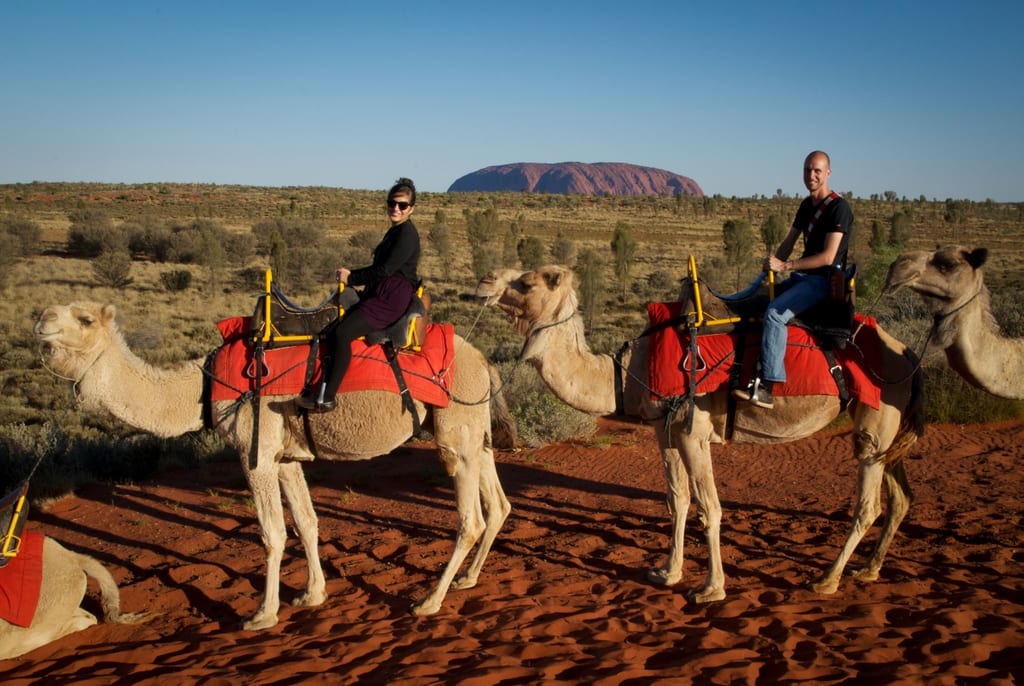 Camels live in the Outback.
When I heard that you could take a camel ride through the desert, I assumed it was a gimmick — that they brought in the camels for fun and tourist amusement. I couldn't have been more wrong — camels have a long, rich history in the Outback.
The first camels were imported in the mid-19th century. Because they need far less water than horses and oxen, they were ideal for transportation in the Outback, one of the world's most unforgiving environments.
The remnants of this camel transport means that there are approximately one million feral camels in Australia. It's not unusual to see a few camels roaming freely as you drive through the Outback.
So riding a camel through the desert, which I did through Uluru Camel Tours just before sunset, was a nice way to get up close and personal with these graceful creatures. I watched the colors change over Uluru as I climbed through the trademark russet sands of Australia's Red Centre.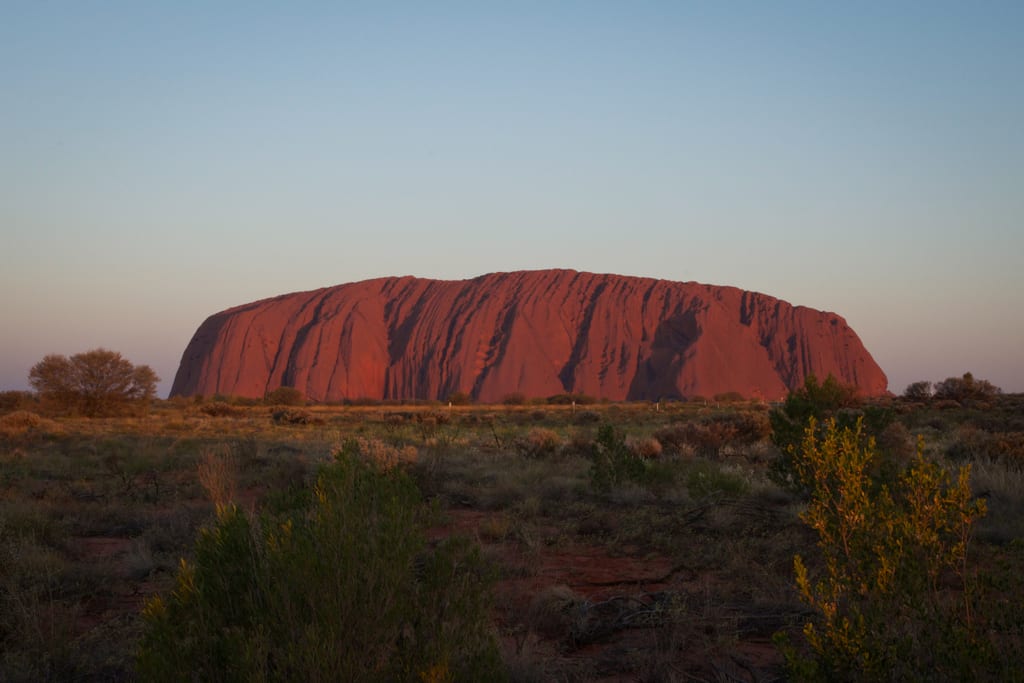 Most tourists here are older couples.
While I met people of all ages at Uluru, including kids on occasion, older couples absolutely dominate — and most of them are from Australia. Visiting Uluru is definitely seems to be a "when we're near retired and the kids are gone" kind of trip for lots of Australians.
I took my camel ride to the Sounds of Silence dinner — an Uluru sunset with champagne followed by an Australian buffet dinner with stargazing, performances, and delicious food and wine. This isn't private dining by any means — you're seated at a table of 10. It's all very dark and mysterious, but lots of fun.
Australians are fabulously good company, no matter where they're from. At my table I had people from the Gold Coast, Sydney, Tasmania, Brisbane, and Japan — plus me — and we did not stop laughing uproariously the entire night. As delicious as the food was — and I would LOVE to go back and have more of that kangaroo — the real highlight was meeting people from Australia and trading stories back and forth all night.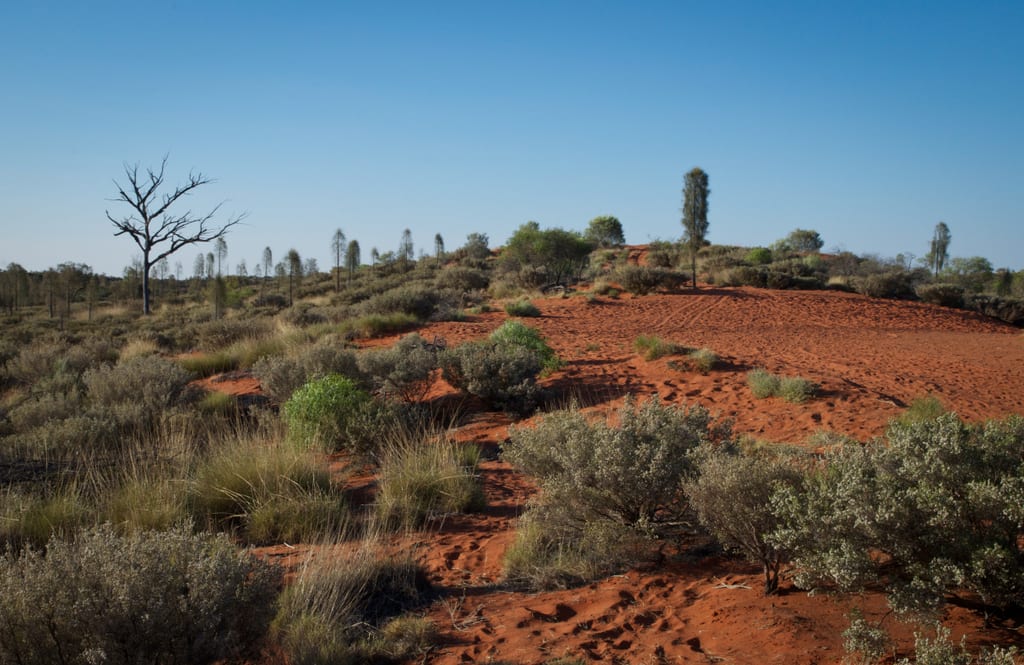 There is only one resort here.
Believe it or not, Ayers Rock Resort is the only accommodation option close to the national park. This behemoth has lodging at every tier — from campsites and cabins to simple hotels to apartments and, eventually, a "six-star" luxury hotel, Sails in the Desert. Then, off-site, is Longitude 131 — super-luxury tents, best known as the place where Oprah stayed here.
As a component to the "budget-friendly, cool activities" itinerary that Northern Territory Tourism and I designed in advance, I stayed at the Outback Pioneer, the budget hotel option. The Pioneer, a traditional 3* hotel or 2* lodge, is even affiliated with Hostelling International.
I had a quality room with a double bed as well as a twin bed, and a private bathroom. (Some of the rooms have shared bathrooms.) On the premises are a bar and grill, plus a "self-cook barbecue" (also known as the most Australian restaurant ever) where you can buy meat to grill and enjoy an all-you-can-eat salad bar.
Soon enough, I found out that the Pioneer was…the party spot. People from the other hotels were coming over to barbecue, drink, and dance to the live music!
Now, can you visit Uluru and stay off-resort? It is possible. There are campgrounds about an hour's drive from the national park entrance, and hotels further away.
However, visiting Uluru for sunrise or sunset from an hour away means spending a lot of time driving in the Outback after dark, which can be quite dangerous for lots of reasons, including wildlife that won't hesitate to jump in front of your car. If you plan to drive in the Outback after dark, please read up on Outback driving safety in advance. This post by my friend Theodora is a good place to start.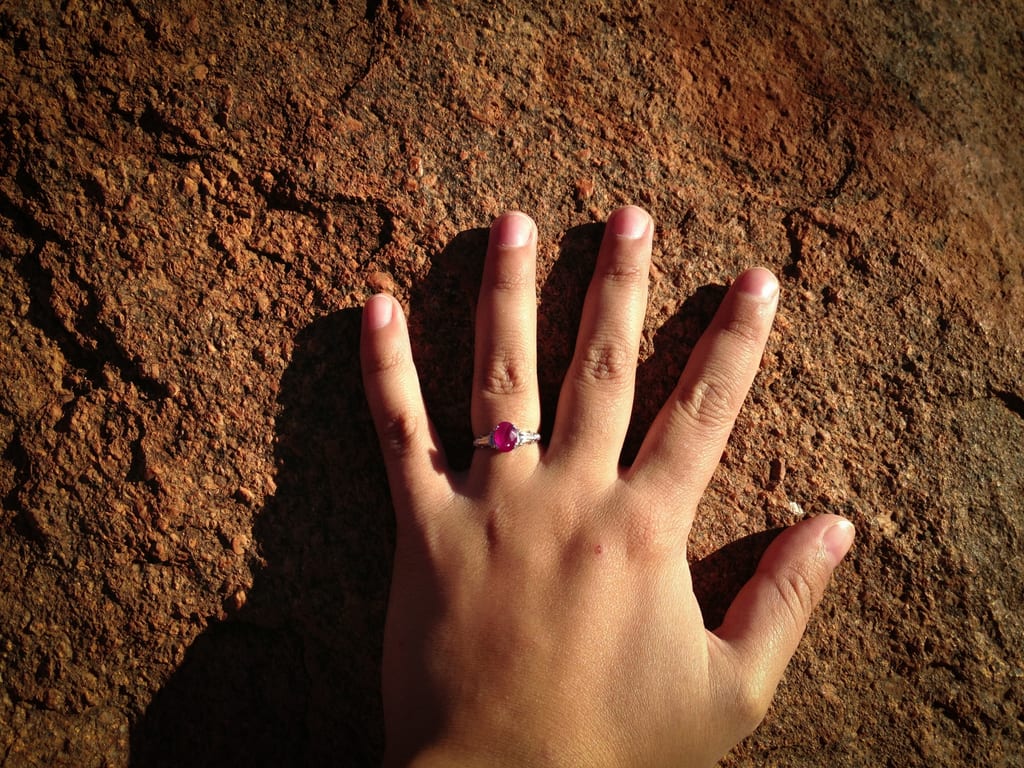 Uluru is a resort experience.
If Kakadu was all about the beauty in a rough and brutal environment, Uluru had that same beauty, only without the hardships.
While visiting Kakadu meant slogging through tough 4WD tracks and batting away incessant flies in some parts — and despite these setbacks, it was worth every minute — visiting Uluru was so easy and accessible that we even had a lady in a wheelchair touring around the base of the rock with us.
Many visitors have lots of free time in the middle of the day, between sunrise and sunset. Ayers Rock Resort has lots of free activities that take place throughout the day, including cultural performances, dance workshops, garden walks, and more. And, of course, pools that you can lounge around.
But more than that — there is a bit of a luxury element to everything at Uluru, even the budget-based resort and activities. I loved little things, like when we arrived on our camels at the Sound of Silence dinner, an attendant was waiting there with glasses of champagne.
It can be hard to get good sunrise photos.
I've been to both the sunset viewing platform and the sunrise viewing platform. The sunset viewing area is pretty straightforward — find an open spot with few obstructions and you're good to go.
At the sunrise viewing area, people get directed to the high wooden platform, but none of the spots there are ideal. My advice? Don't go anywhere near that platform — come down as far as possible until nobody is in front of you, then stake out a spot where you can view Uluru with as few obstructions as possible. Alternatively, just follow the group with the tripods.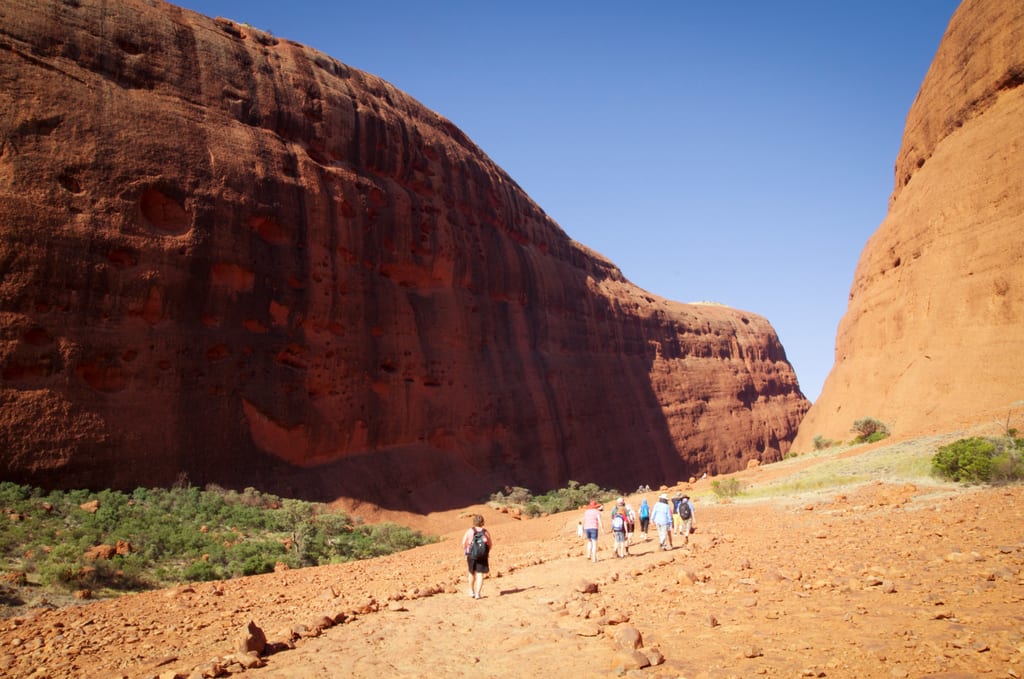 If you're a professional, your photos will need to be approved.
I've had to secure photography permits for some of my past trips, but for Uluru-Kata Tjuta National Park, I had to have their media team go through my photos and pick out the ones that I could publish. This isn't a power trip — this is out of respect for the Anangu, who do not want photos published that show their sacred areas in sunlight.
I was happy to comply with this request, but I was a bit sad that some of my favorite pictures of Uluru will never see the light of day.
While this policy made perfect sense a decade or so ago, these days everyone is a photographer and a publisher. As far as I can tell, the national park doesn't do much to educate people on where not to photograph, though some of the tour providers do inform you while on the route.
You've got to schedule your days wisely.
On most of your days at Uluru, you'll be waking up for the sunrise. Most days, I set the alarm for 4:30 AM for our 5:30 AM pickup for the 6:30 AM sunrise. This will likely throw off your schedule for the rest of the day, with early lunches and dinners.
Star-gazing is one of the newer activities at Ayers Rock Resort, and it began at 8:45 PM. As much as I enjoyed looking at brightly colored stars and planets and learning about the universe, I was struggling to keep my eyes open past 9:30 PM. Plan your early activities and late activities on opposite days!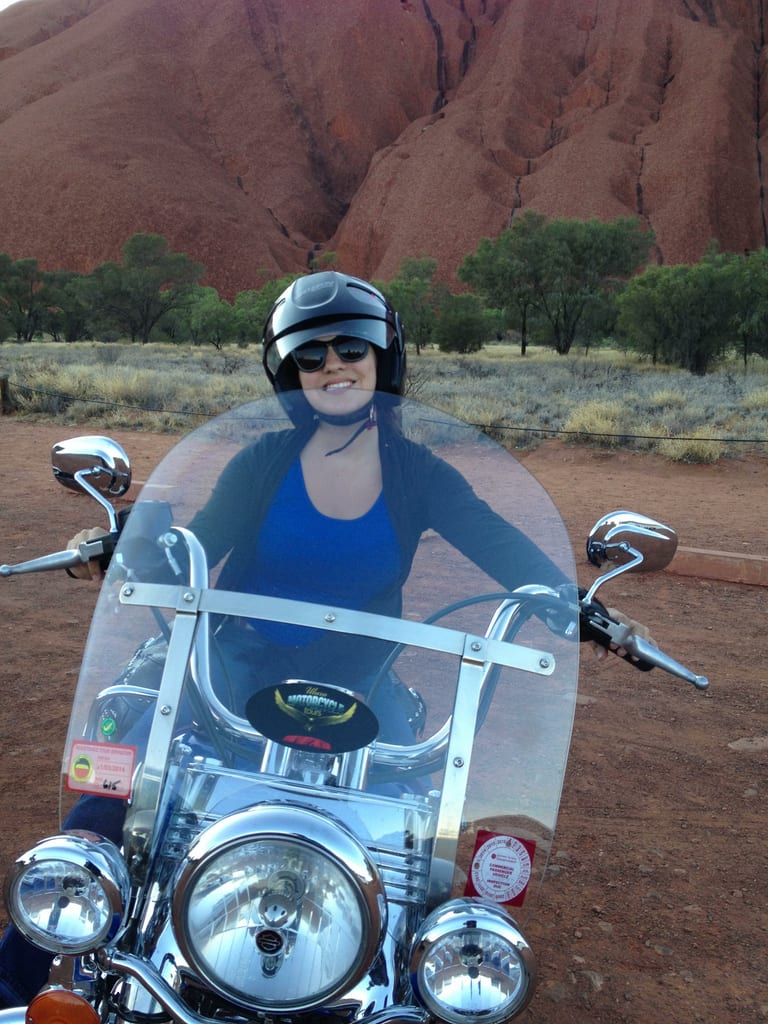 It's incredibly romantic.
Uluru is one of the most romantic places I've ever been, and I didn't expect that at all. There's something about this place — it's filled with such incredible natural beauty, yet it's so accessible, and there are so many interesting activities to try. And a glass of delicious Australian wine is never far away.
My final experience at Uluru was taking a motorcycle ride to the sunrise. I did this through Uluru Cycles, and it was so much fun — even though I wasn't technically driving the motorcycle (there would be plenty of time for that in Southeast Asia), I flew through the desert and grinned the whole time. There's nowhere better to ride motorcycles than in the desert, and I was giddy at the experience.
If you're planning a romantic trip to Australia, you can't leave Uluru off the list. Seriously — do not leave it off the list. I have friends who are considering honeymooning in Australia, and this is my not-so-subtle message to them! Do not go to Australia without seeing Uluru!
Essential Info: To get to Uluru-Kata Tjuta National Park, you can either drive, or fly to Ayers Rock Airport, which is part of Ayers Rock Resort. There are direct flights from Sydney, Cairns and Alice Springs. Uluru-Kata Tjuta National Park is separate from the resort and charges $25 AUD ($24 USD) for a three-day ticket.

Rates at the Outback Pioneer start at $198 AUD ($187 USD) per night. For the other properties of Ayers Rock Resort, please click here.

AAT Kings' 2-day Uluru Explorer tour, which includes an afternoon at Kata Tjuta followed by the Uluru sunset, then the Uluru sunrise followed by a morning at the Uluru base, includes one night's accommodation at Ayers Rock Resort and starts at $415 AUD ($393 USD).

Uluru Camel Tours offers a variety of camel tours. The Camels to the Sounds of Silence tour is priced separately — $100 AUD ($95 USD) for the camel ride and $185 AUD ($175 USD) for the Sounds of Silence dinner.

Uluru Cycles offers a variety of motorcycle and trike tours. We took the Uluru Sunrise Tour, which includes an early ride, coffee, and muffins, and costs $170 AUD ($161 USD).

I used World Nomads travel insurance for my entire Australia trip. It will protect you financially if anything goes wrong and I never travel without it.
Many thanks to Northern Territory Tourism for their generous support of the SOTM Tour and for hosting us in the Northern Territory. Many thanks also to Flight Centre and AAT Kings for their hosting and support, as well as the other vendors for providing us with a great experience. All opinions, as always, are my own.
Is Uluru your kind of place?
Get email updates from Kate
Never miss a post. Unsubscribe anytime!