Adventurous Kate contains affiliate links. If you make a purchase through these links, I will earn a commission at no extra cost to you. Thanks!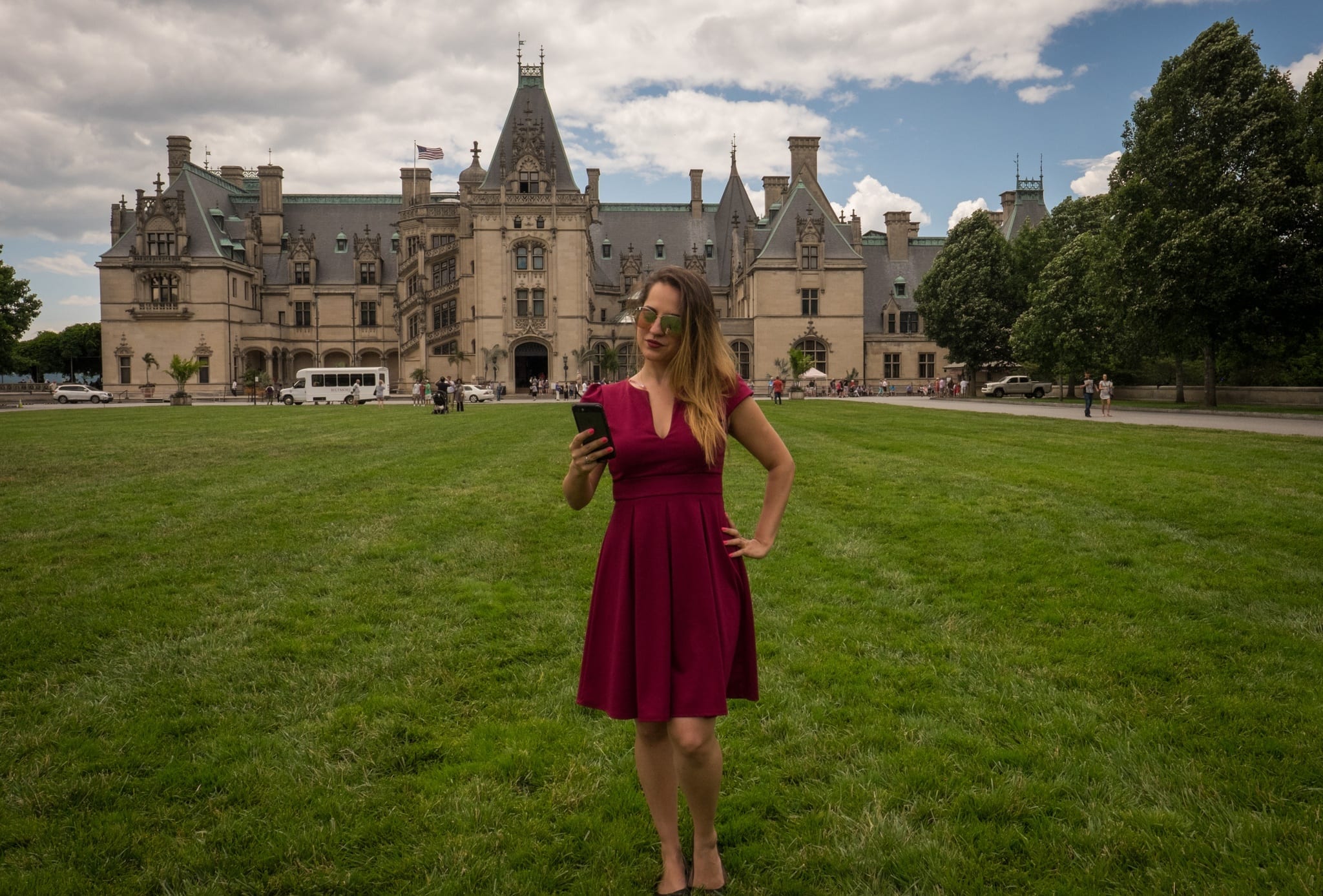 I've been wanting to go to Asheville, North Carolina, for quite a long time. I'd heard that it was a beautiful town with a cool arts scene nestled in the Blue Ridge mountains. And I'd heard that it was a little drop of blue in a sea of red — or "the blueberry in the tomato soup," as one local told me — a liberal enclave within a strongly conservative region, not unlike Austin, Texas.
The Obamas took a weekend getaway to Asheville in 2010; in 2013, President Obama said he had thought about retiring there. That further intrigued me — I had to get to this town.
Earlier this year, the team at Explore Asheville invited me to come visit for a few days and I happily accepted. When planning my itinerary, I told them I wanted it to be local, local, local. I wanted to focus on cool small businesses. I wanted to eat local food. I wanted to spend my money close to the ground. I wanted to see how nature integrated into the city.
I knew I'd have a great time — but I underestimated just how much I would enjoy this city.
Here are the reasons why I fell so hard for Asheville.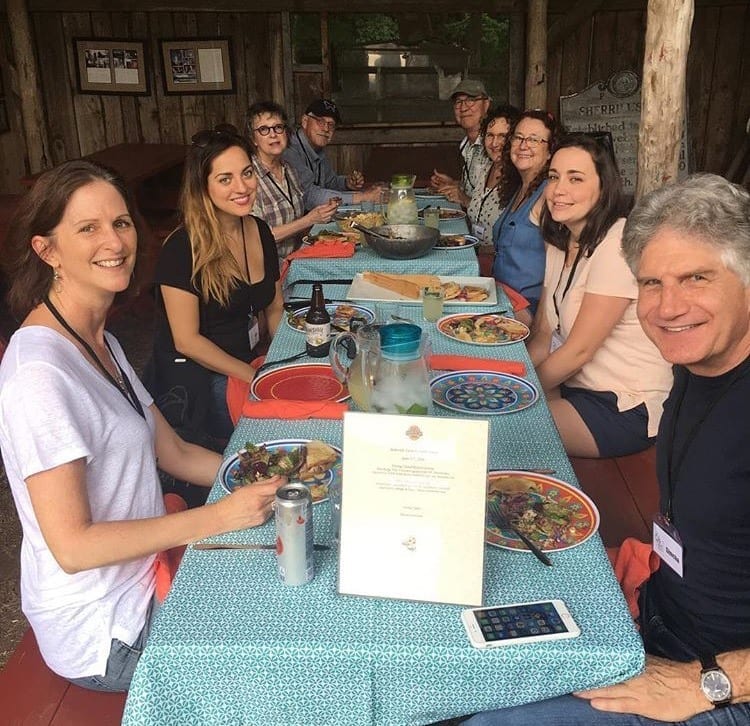 Image courtesy of Asheville Farm to Table Tours.
1. Because Asheville has the most amazing people.
I want to get that out of the way first — Asheville is home to some of the nicest people I have ever met, anywhere. And that goes for the U.S. and abroad.
These days I don't usually like to say things like that these days — even though I've written posts on that topic in the past. Truthfully, most places are filled with 98% nice people with a few jerks thrown in.
But Asheville is special. People aren't just polite or welcoming — it's a genuine, honest, open kindness on the level of which I've never seen elsewhere. And it's not necessarily southern hospitality. While I appreciate it, as a native New Englander I sometimes find southern hospitality a bit much — almost insincere.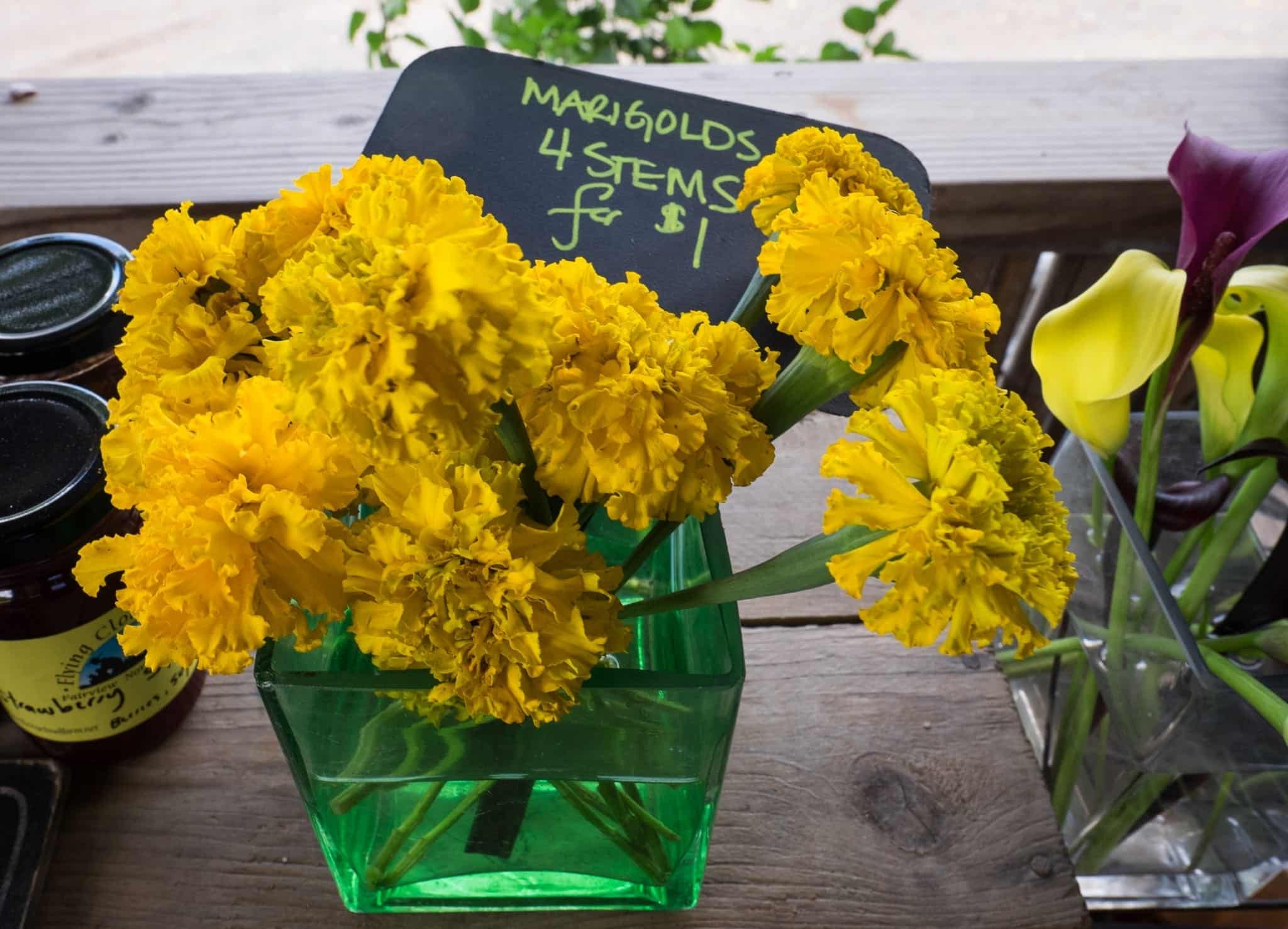 "Asheville is different — it's 'mountain south,'" a local told me. Hmm. Mountain south. All of the kindness but none of the cloying sweetness. I could definitely get on board with that.
The crazy thing is that Asheville is a city of transplants — I met people from Chicago, California, Florida, Michigan, New Orleans, elsewhere in North Carolina. And they all ended up in Asheville because they saw something special in the city.
I find it uncanny but wonderful that in a city of transplants, everyone seems to have such a sunny personality.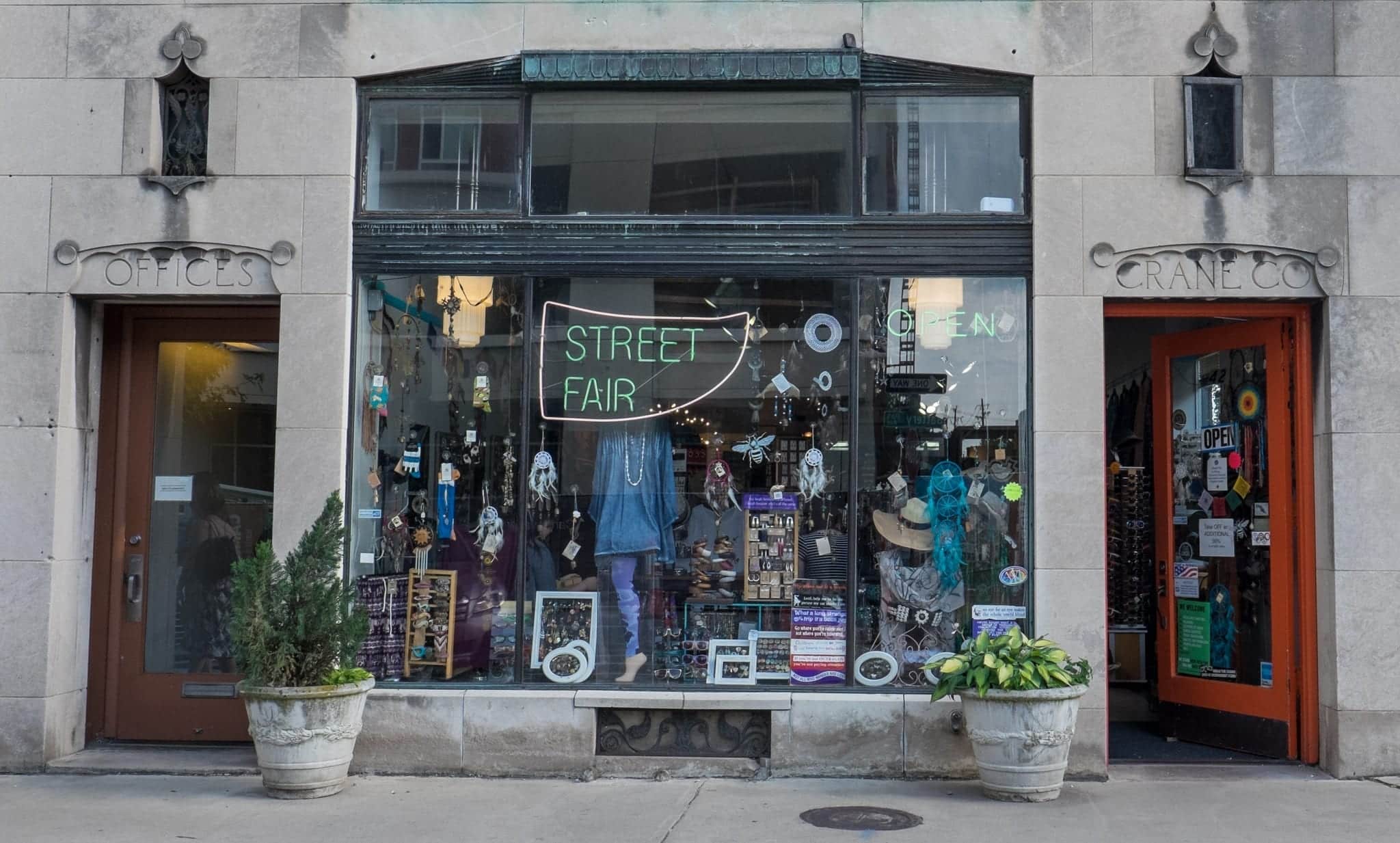 2. Because it's got quirks in all the right places.
Asheville has a population of roughly 87,000, making it more like a large town than a small city, but it runs high in the weirdness department.
On Friday nights from April through October, Asheville erupts into a drum circle. From 6:00 PM until 10:00 PM, people bang on the drums like mad as an audience dances to the beats. Feel free to join in the dancing — or even the drumming.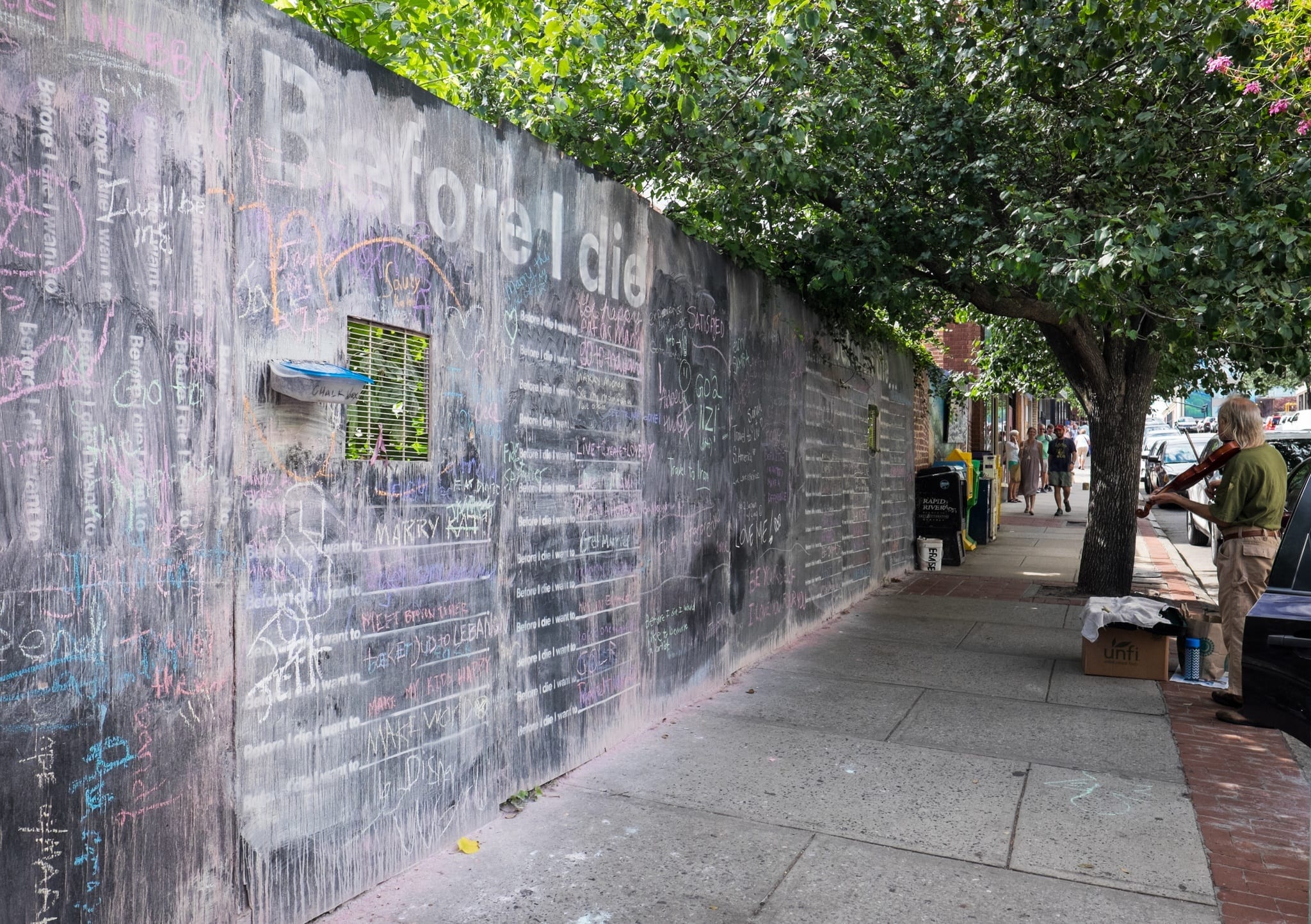 On Biltmore Street, you'll fine a "Before I Die" chalkboard with spaces to write out your life goals. It made me smile that most of them were people saying who they wanted to marry.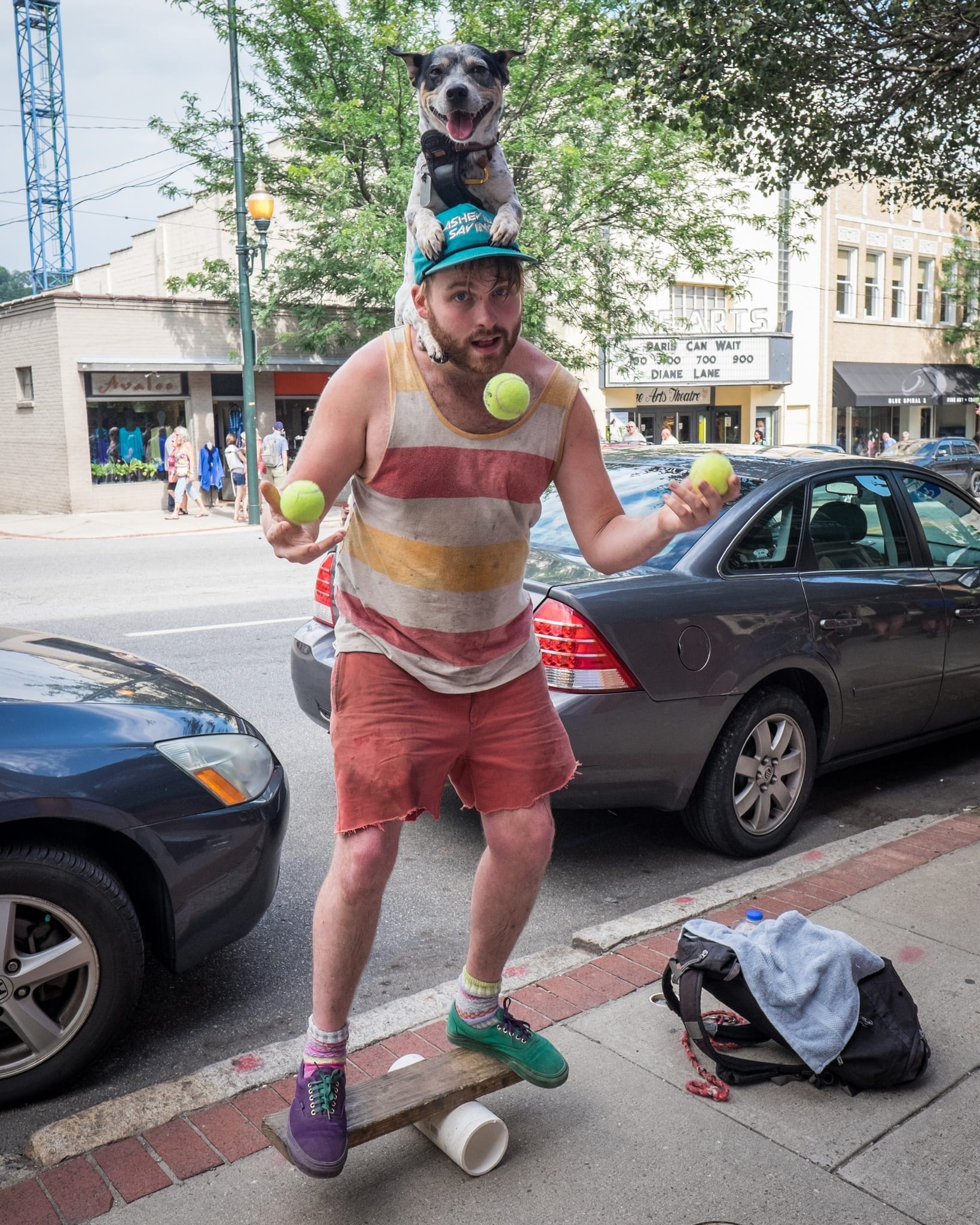 In Asheville, it's totally normal to see a dude juggling while balancing on a board, dog on his head. (Also, how great is that dog's smile?)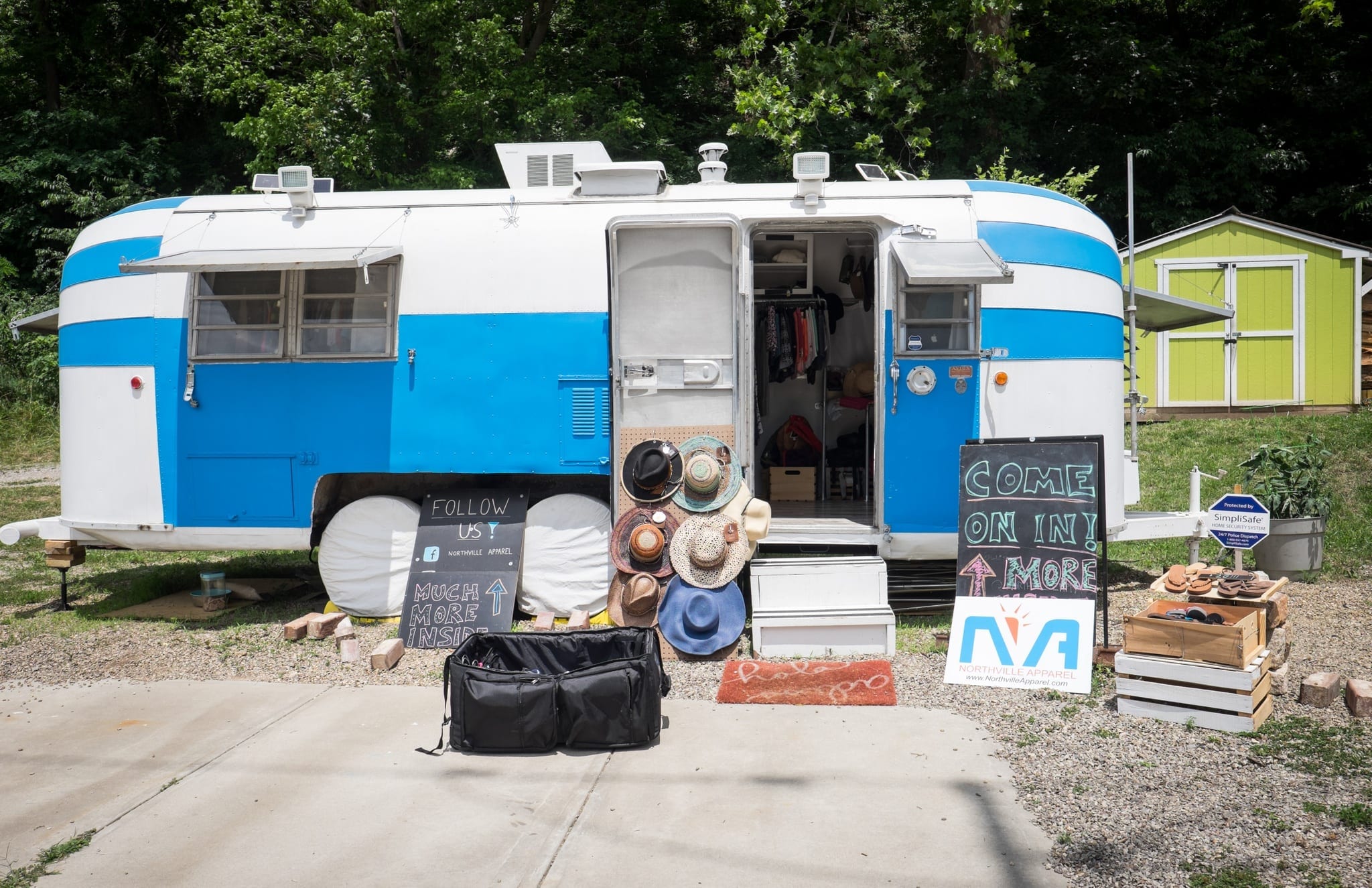 Impromptu van sales down by the River Arts District? Also totally normal.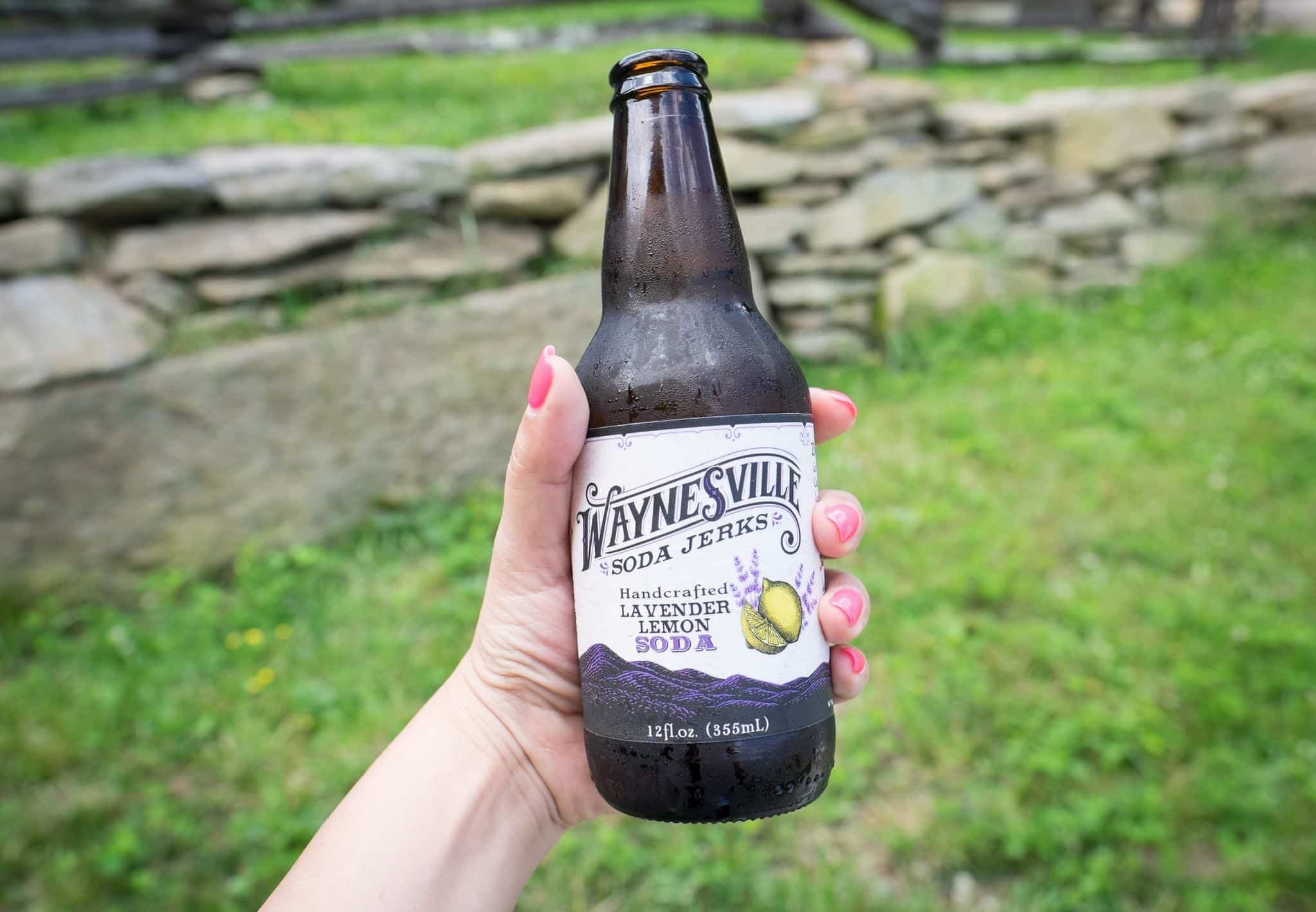 Lavender lemon soda? Absolutely! I rarely drink soda, but I loved this stuff. The Waynesville Soda Jerks are headquartered not too far from Asheville and have other soda flavors like strawberry rhubarb, apple rosemary, and blueberry basil. You can buy them in downtown Asheville at The Rhu.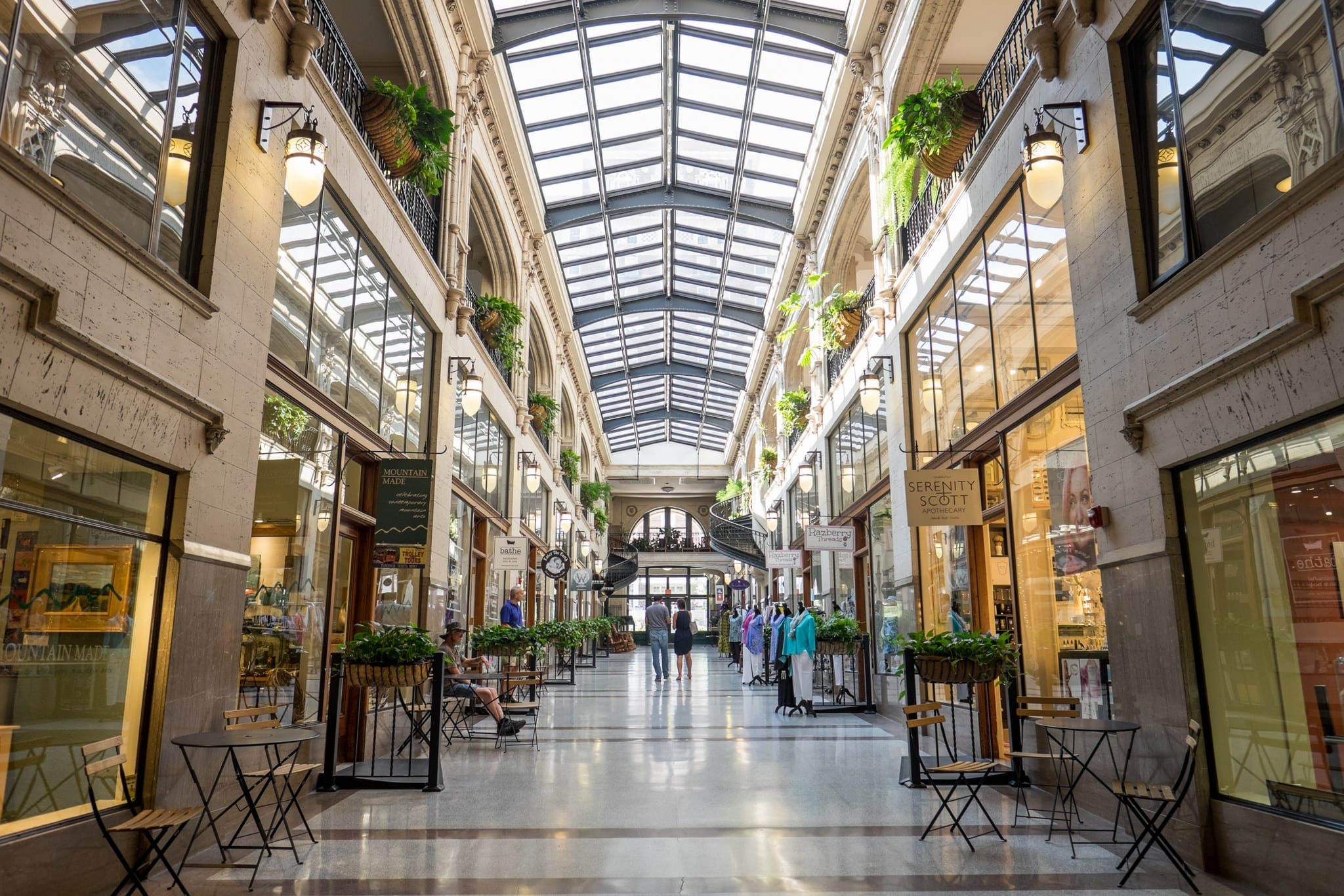 And a surprising amount of Art Deco architecture is in the heart of the Blue Ridge Mountains. We all know Miami is the top Art Deco city in the United States, but who would have guessed Asheville would be a runner-up? This is at the Grove Arcade, a collection of shops downtown. It reminded me of the arcades of Melbourne, Australia.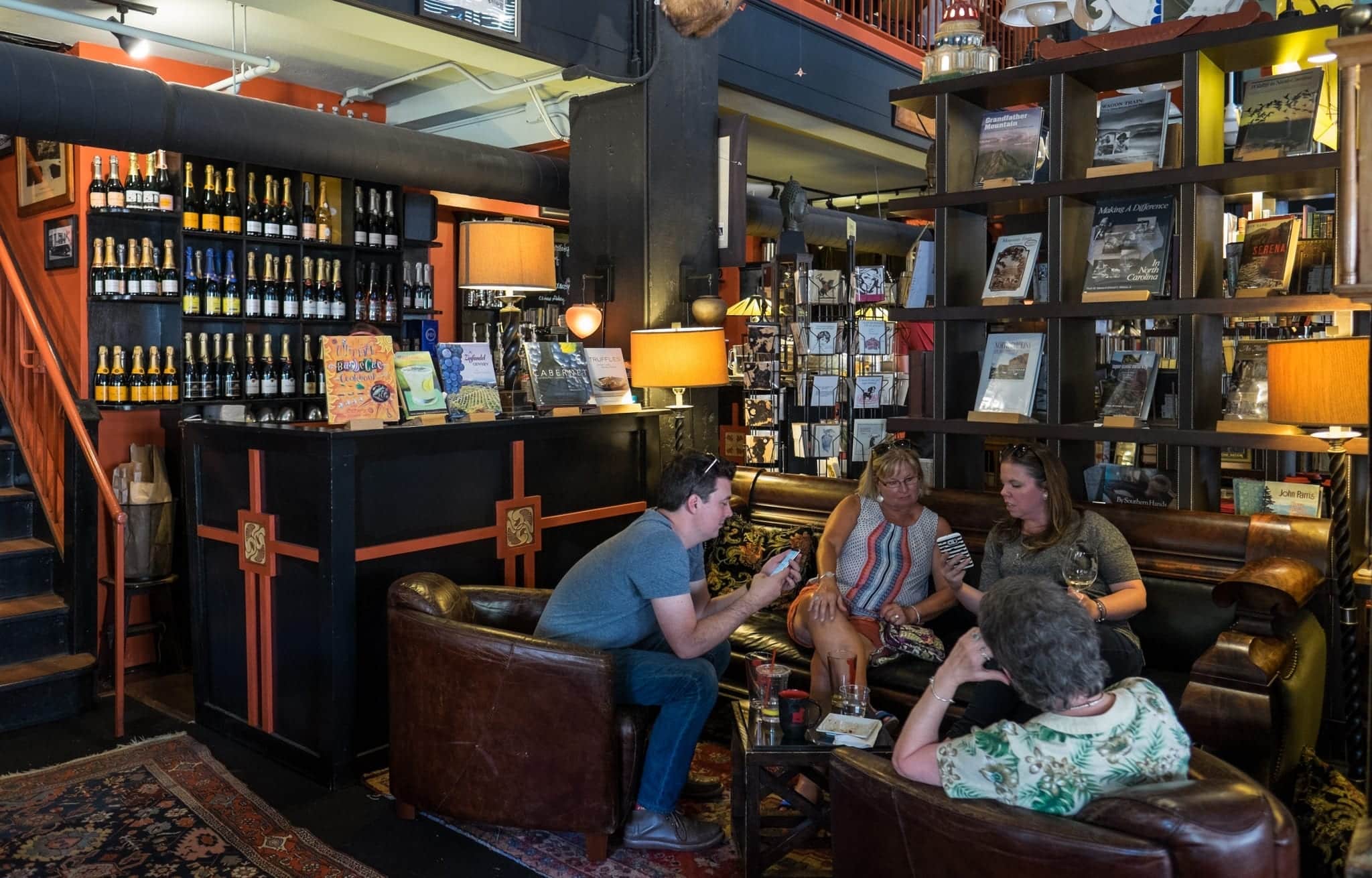 One of the shops at the arcade is the Battery Park Book Exchange and Champagne Bar, which is exactly what it sounds like. Used books. Champagne. A place to chill out.
Considering how much I adore books and champagne, you'd think I'd move in and never leave — but I actually liked another bookstore better. Stay tuned.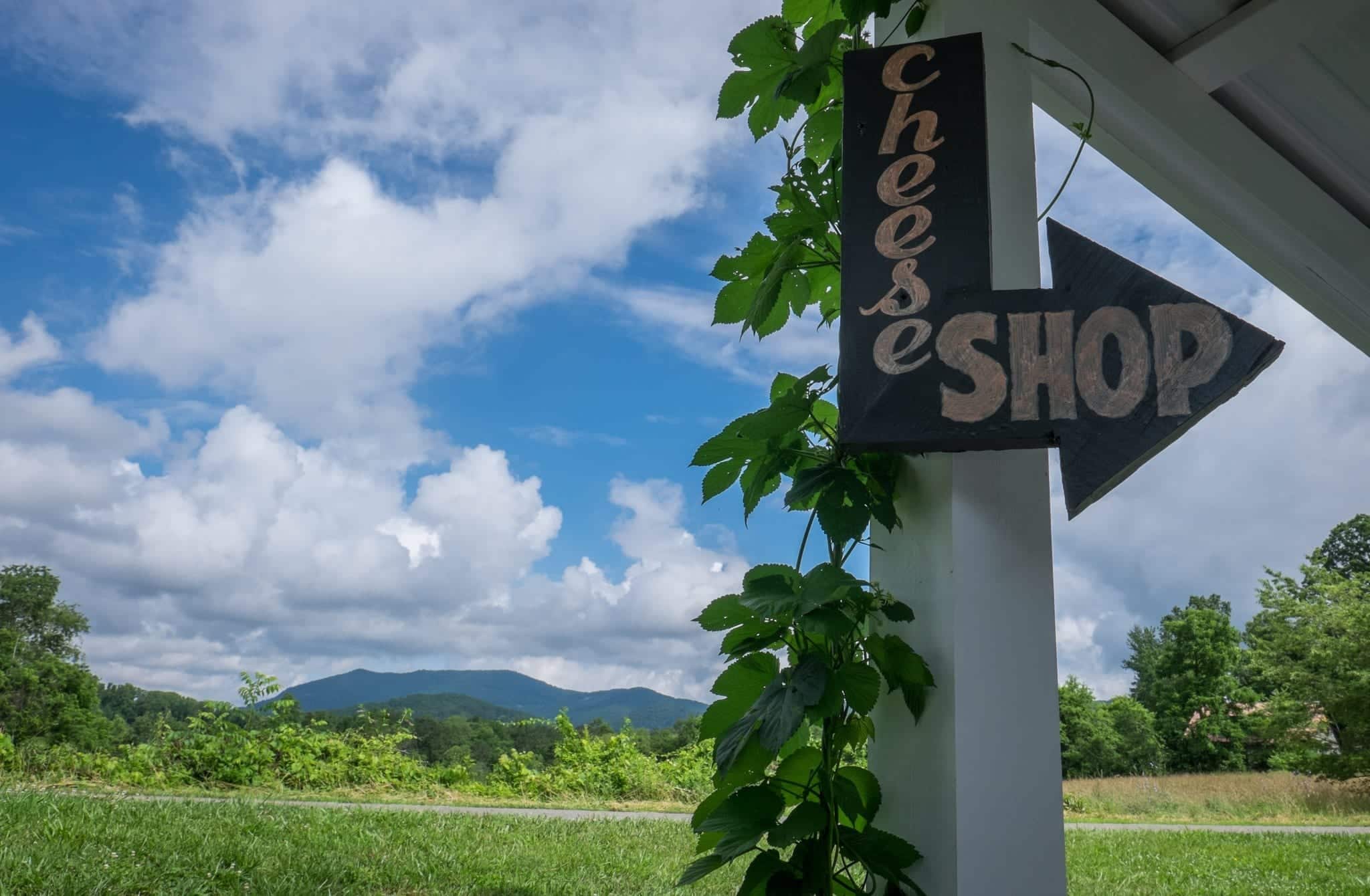 3. Because it's got a literal CHEESE TRAIL.
Asheville is home to several spots on the Western North Carolina Cheese Trail, a new collection of creameries scattered throughout the region.
You know my feelings on cheese.
I got to experience a stop on the trail on a tour with Asheville Farm to Table Tours. These tours seek to educate visitors on how food is grown at the source and used to supply businesses and feed people throughout Asheville.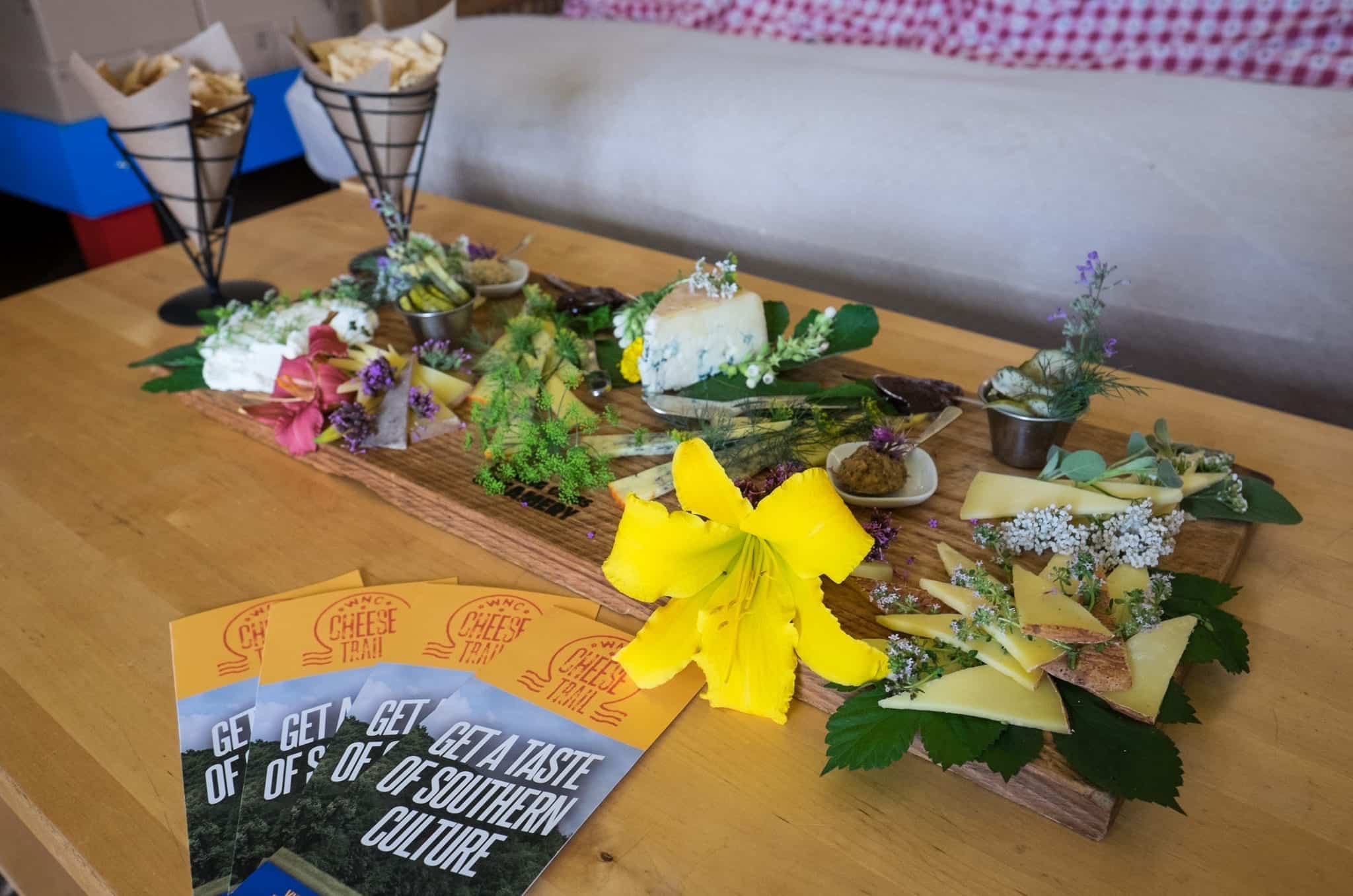 We started with a visit to Looking Glass Creamery where we learned about several of the kinds of cheeses that are made here and were served the prettiest cheese board I've ever seen. I mean, let's take a closer look: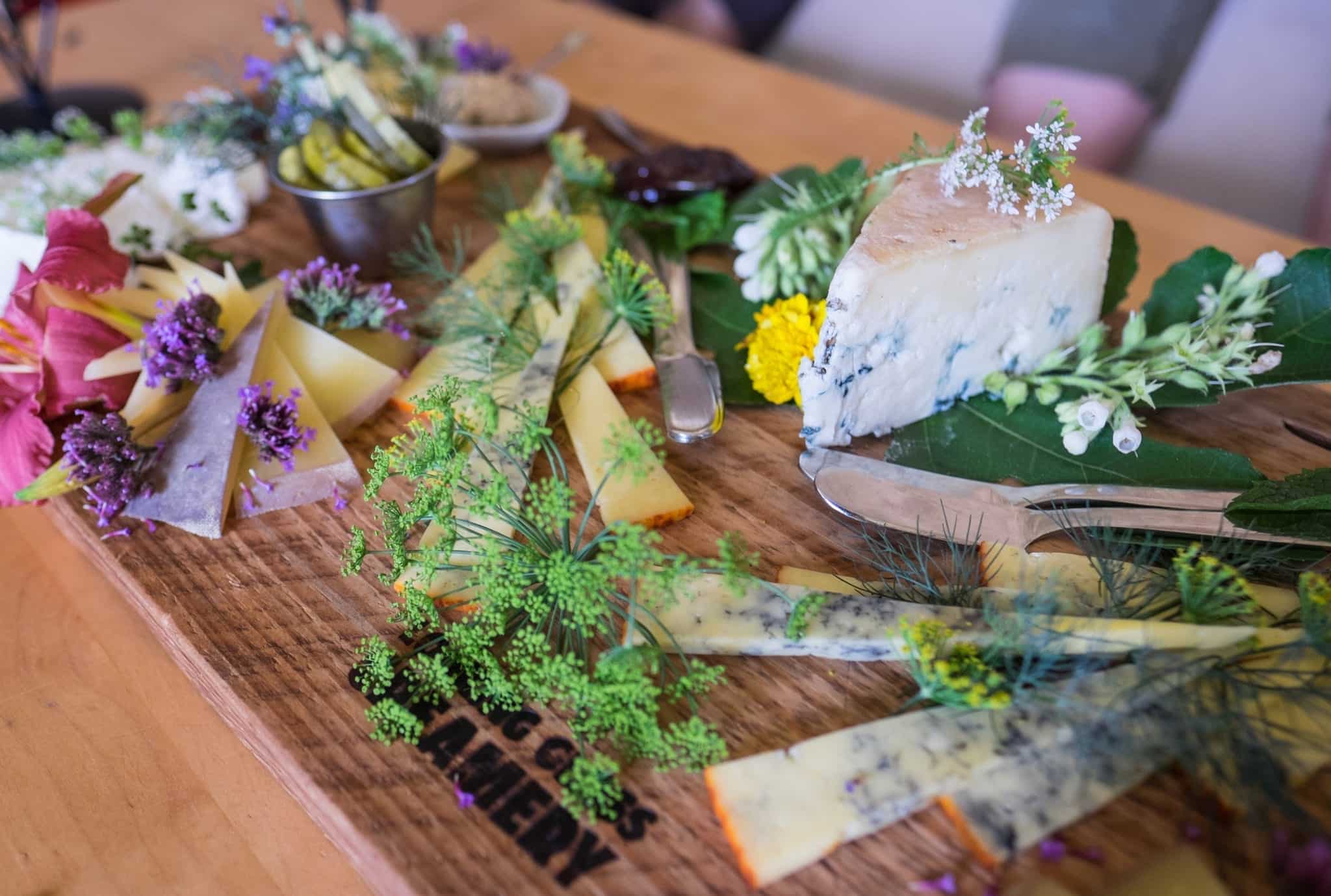 Yes. Without a doubt, the loveliest cheese plate I've ever seen.
In addition to cheese, they also served blindingly hot mustard, an indulgent dulce de leche spread, and strawberry basil "fruit paste," a term I hadn't heard before. Their fruit paste was like a thick preserves, but it's usually even thicker than that — almost like a brick of fruit!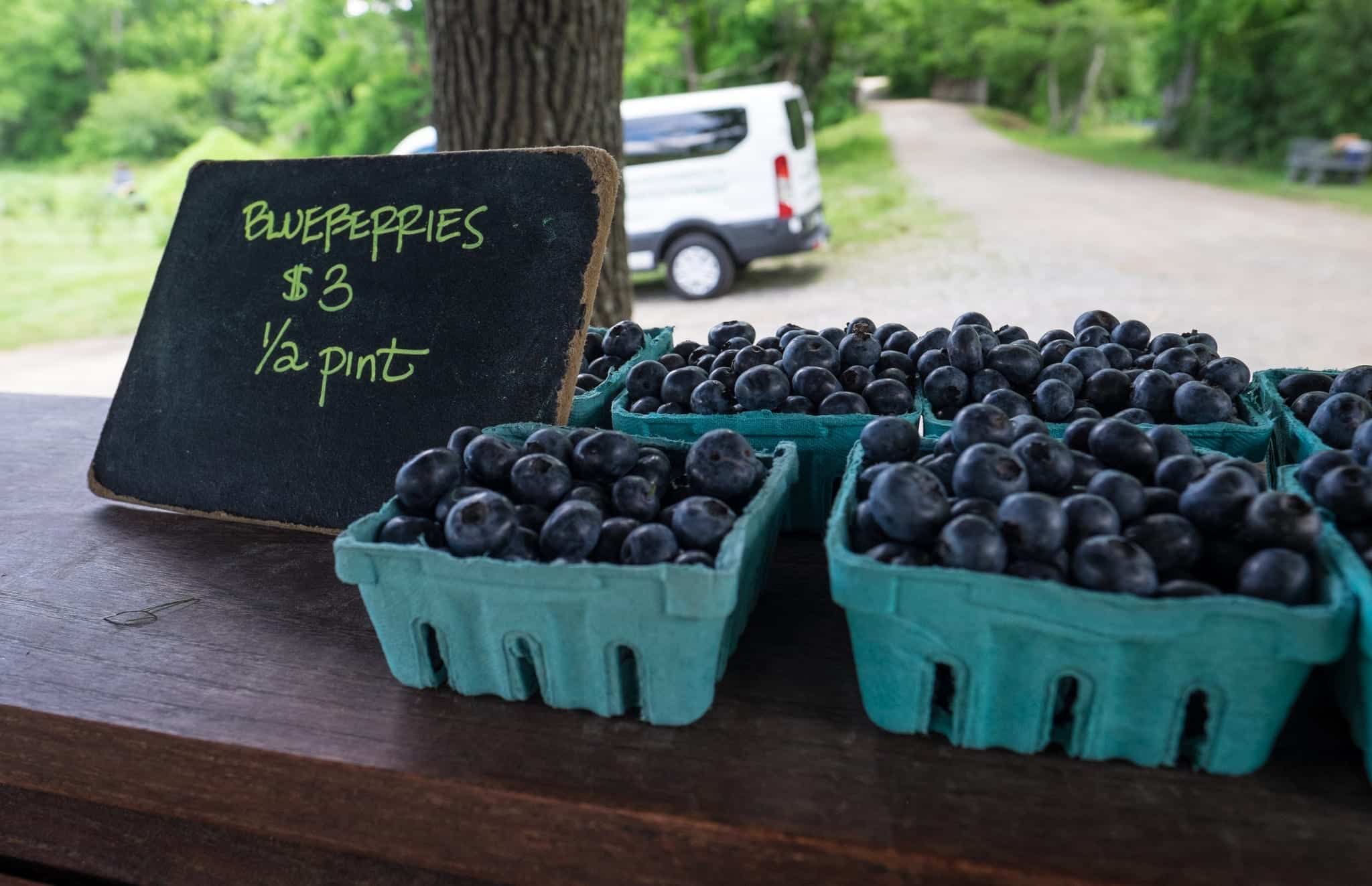 4. Because the farm stands run on an honor system.
Want to buy some produce? Just pick out what you'd like and put some money in the box!
And not just that — they've modernized for the present day. You can also pay via Paypal. How amazing is that?!
Our second stop on the tour was Flying Cloud Farm, which was home to fresh produce, flowers, and an adorable puppy keeping watch.
And what better way to finish your day of farm-hopping with a chance to ogle baby goats and pigs at Hickory Nut Gap Farm? We had a lunch with sandwiches made with home-cured capicola and a salad made with astoundingly fresh feta and topped with purple flowers.
A day out at these beautiful farms, getting to know the farmers and the pride they take in the work they do, was a perfect introduction to the food scene in Asheville.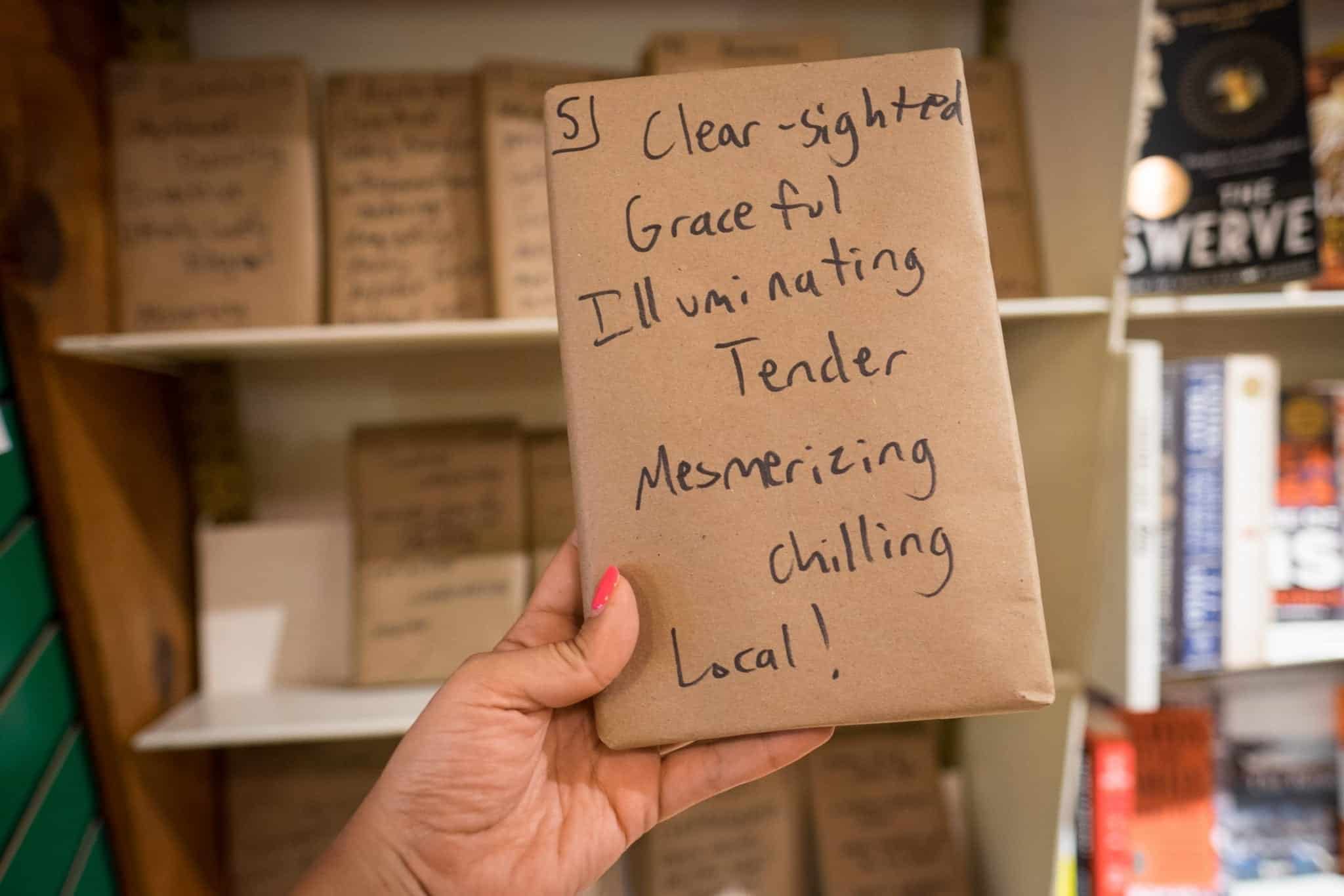 5. Because I went on a blind date with a book.
I always like to check out independent bookstores on my travels, and Malaprop's in Asheville is one of my new favorites. The best feature? You can go on a blind date with a book.
Favorite books of Malaprop's employees are wrapped up in brown paper and labeled with words that describe them. You choose a book based on the words. They can't be unwrapped before purchase, nor can they be returned.
I wanted something from a local author, so I picked up a book labeled, "Clear-sighted, graceful, illuminating, tender, mesmerizing, chilling, local!" I also grabbed a volume of Hafiz poetry from their Persian Poetry section. (Yes, a small local bookstore has a Persian poetry section. I love it.)
I couldn't wait to tear off the wrapping as soon as I bought it.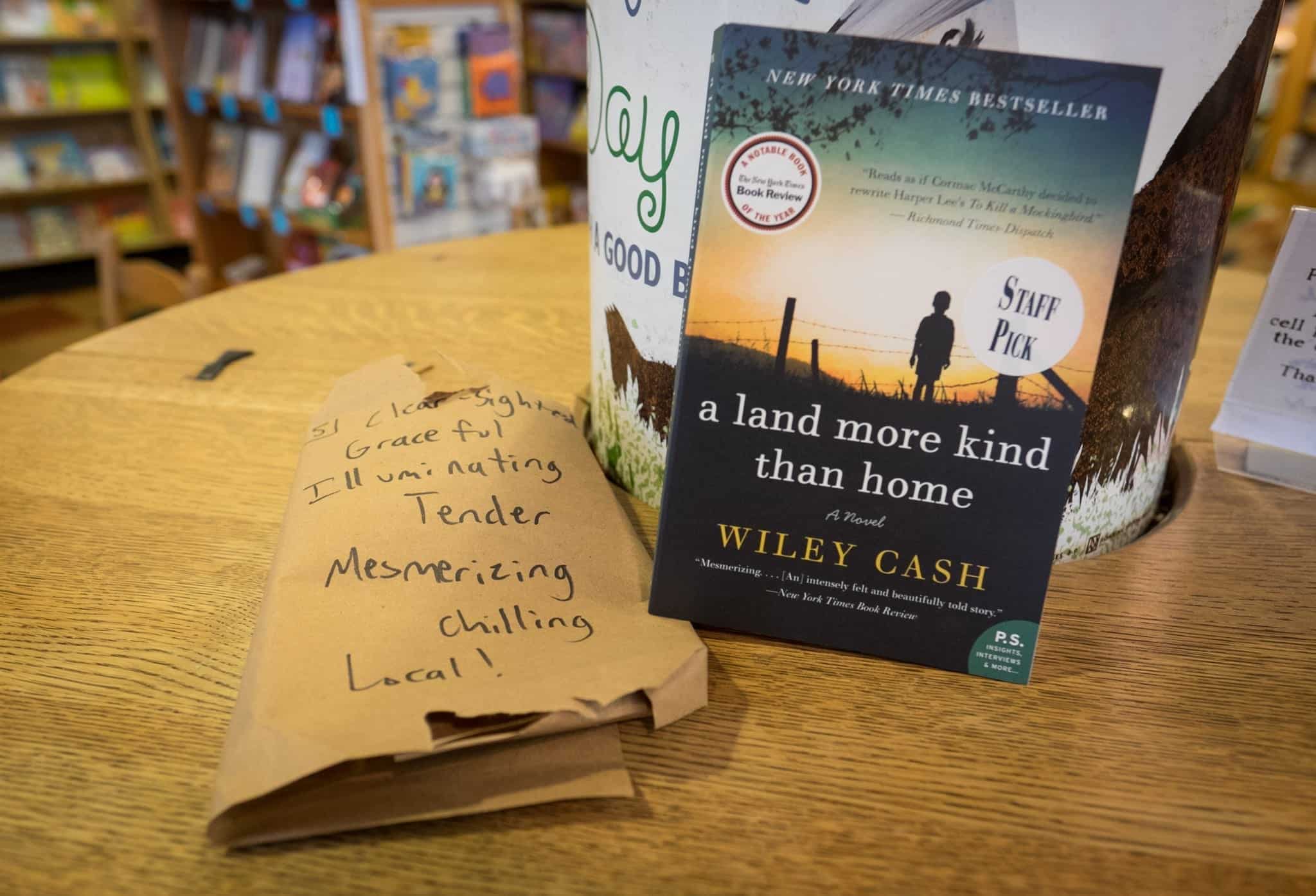 The book was A Land More Kind Than Home by Wiley Cash, a native of western North Carolina. The Richmond Times-Dispatch said, "Reads as if Cormac McCarthy decided to rewrite Harper Lee's To Kill a Mockingbird." Well, I've never been a big To Kill a Mockingbird fan, and I'm still scarred years after reading McCarthy's The Road, so it's fair to say I never would have chosen this on my own.
I look forward to reading it!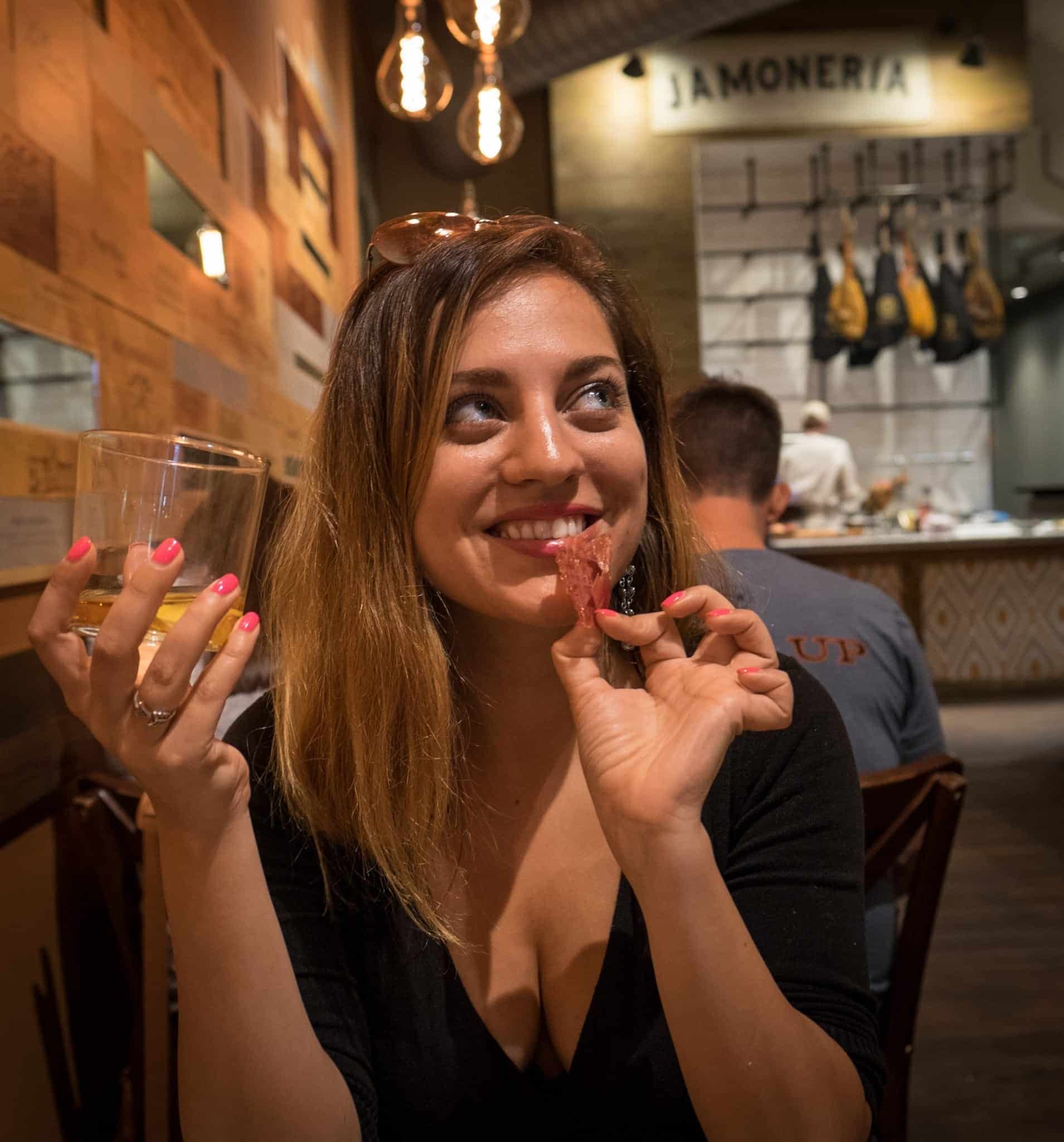 6. Because I had some of the best Spanish tapas of my life.
Asheville's culinary scene has really picked up in the past several years, and one of the standouts is Cúrate Tapas Bar (pronounced Kyuh-RAH-tay), a Spanish tapas restaurant.
I expected the food to be decent but not extraordinary. Was I ever wrong. This was my first meal in Asheville and it remained the best, as well as the best tapas I have ever had outside Spain.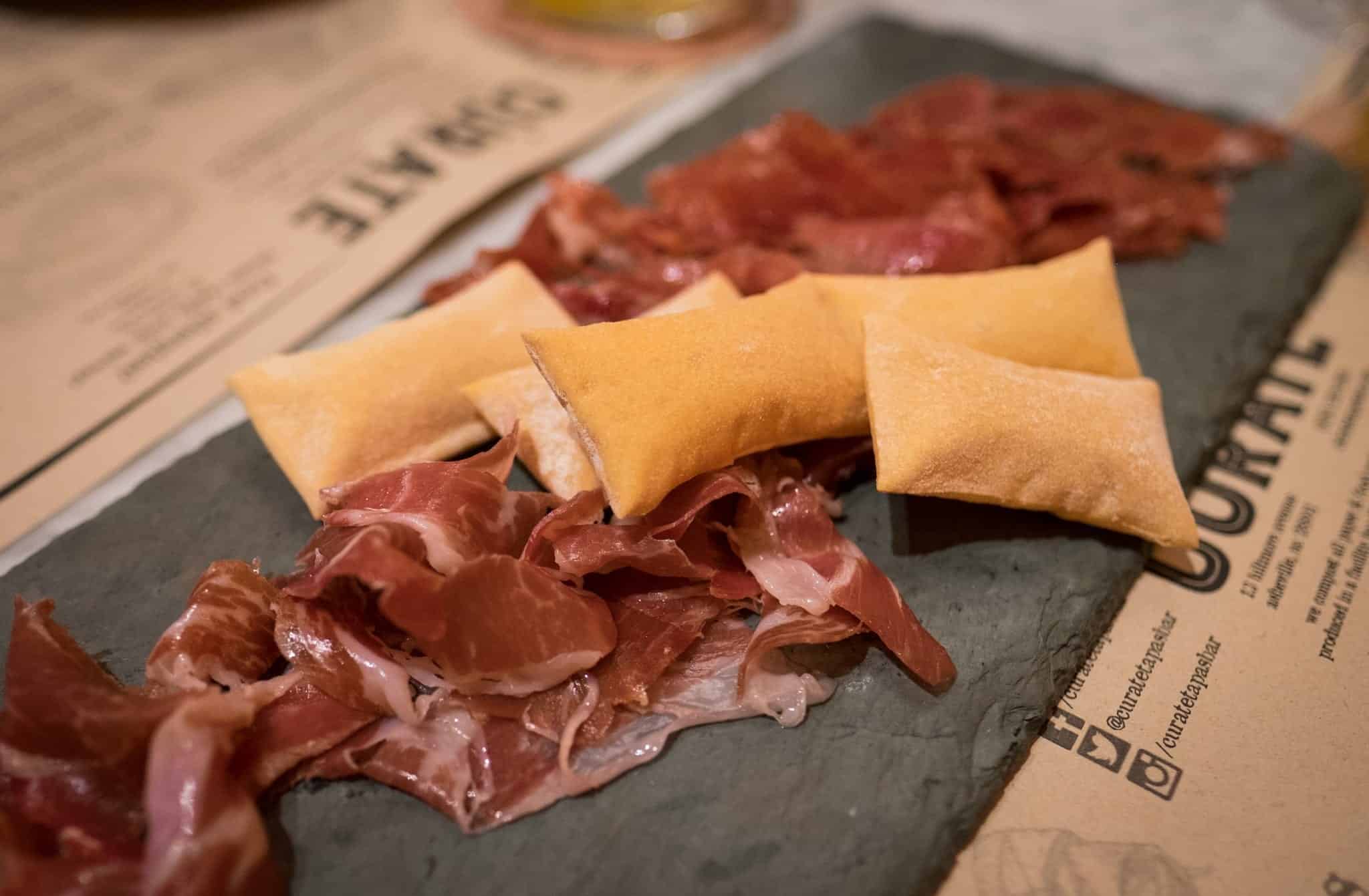 Jamon ibérico, because of course.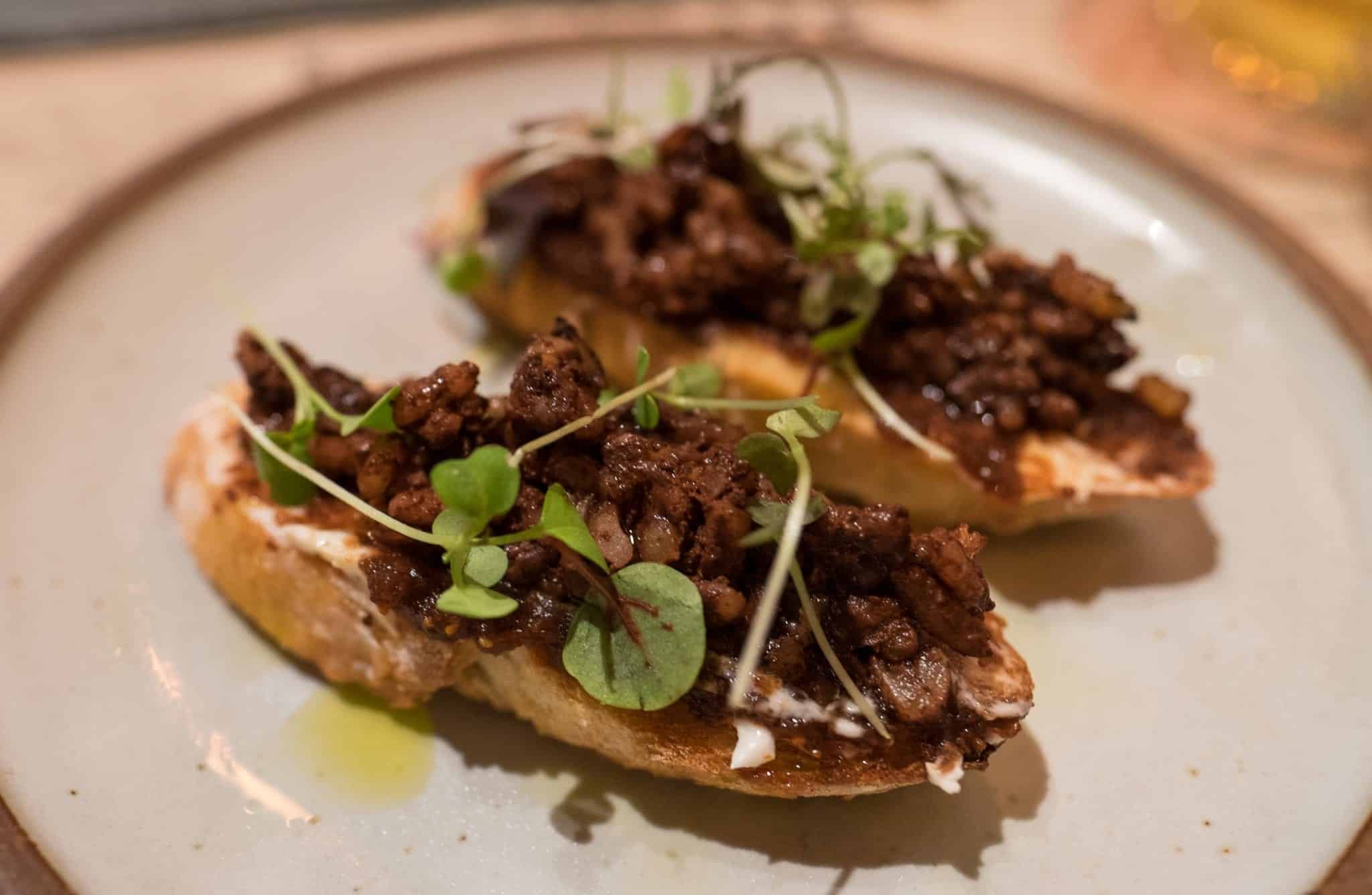 Crostini with morcilla blood sausage.
Cold almond and garlic soup with crab and flower petals.
Also served: pork and mushrooms, two different plates that were tasty on their own but positively sang when consumed together.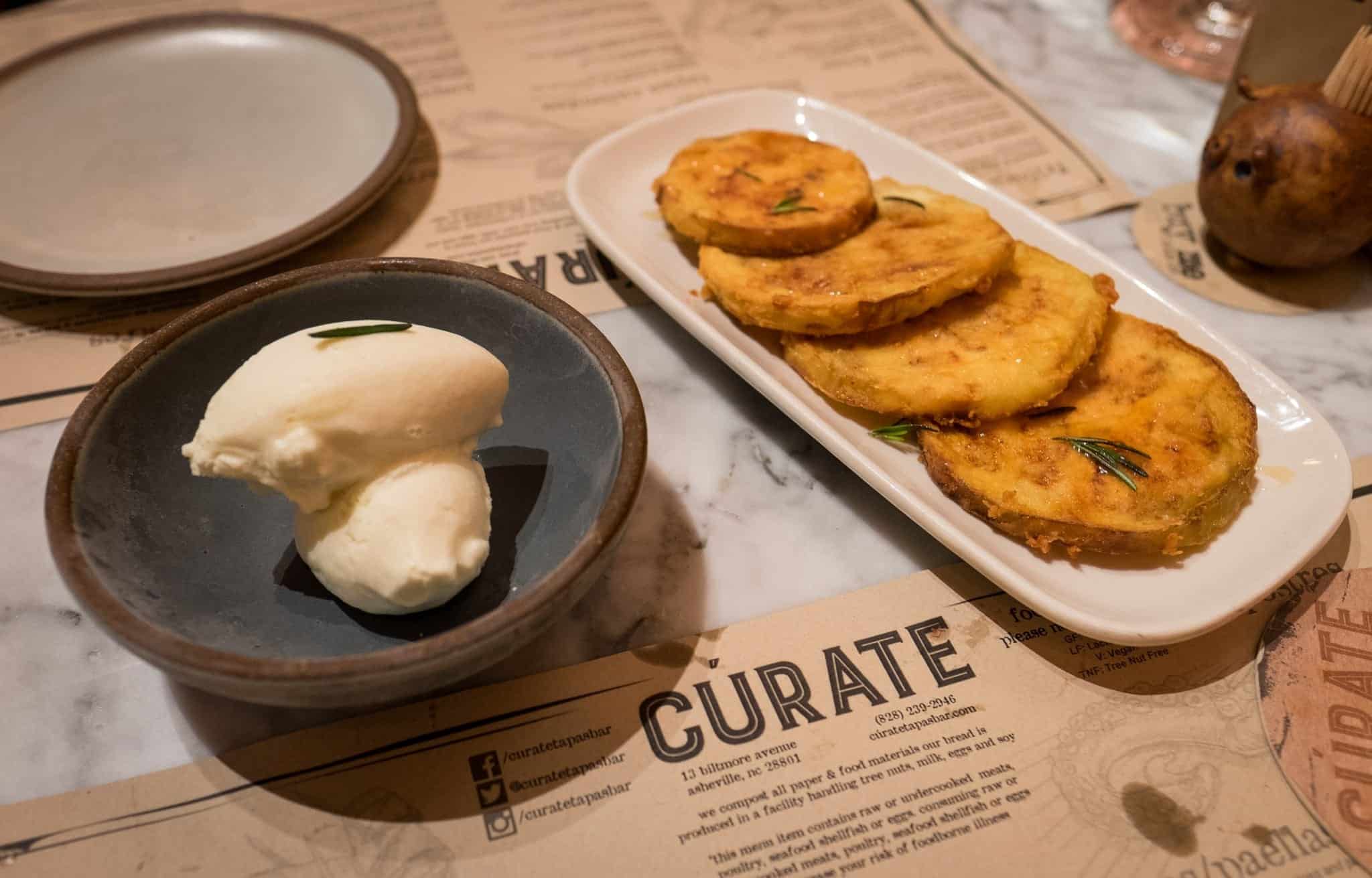 Here's a hint for you — it's not listed on the menu, but get the fried eggplant with rosemary ice cream for dessert. It may not sound like a traditional dessert, but trust me, you'll be smitten.
And just in case, a gin and tonic meringue: tonic-flavored snow, gin-soaked berries, and torched meringue.
Cúrate blew my mind and I would leap tall buildings to have that same meal all over again. They're also famous for their vermouth selection and I discovered how much I love white vermouth with a twist of lemon.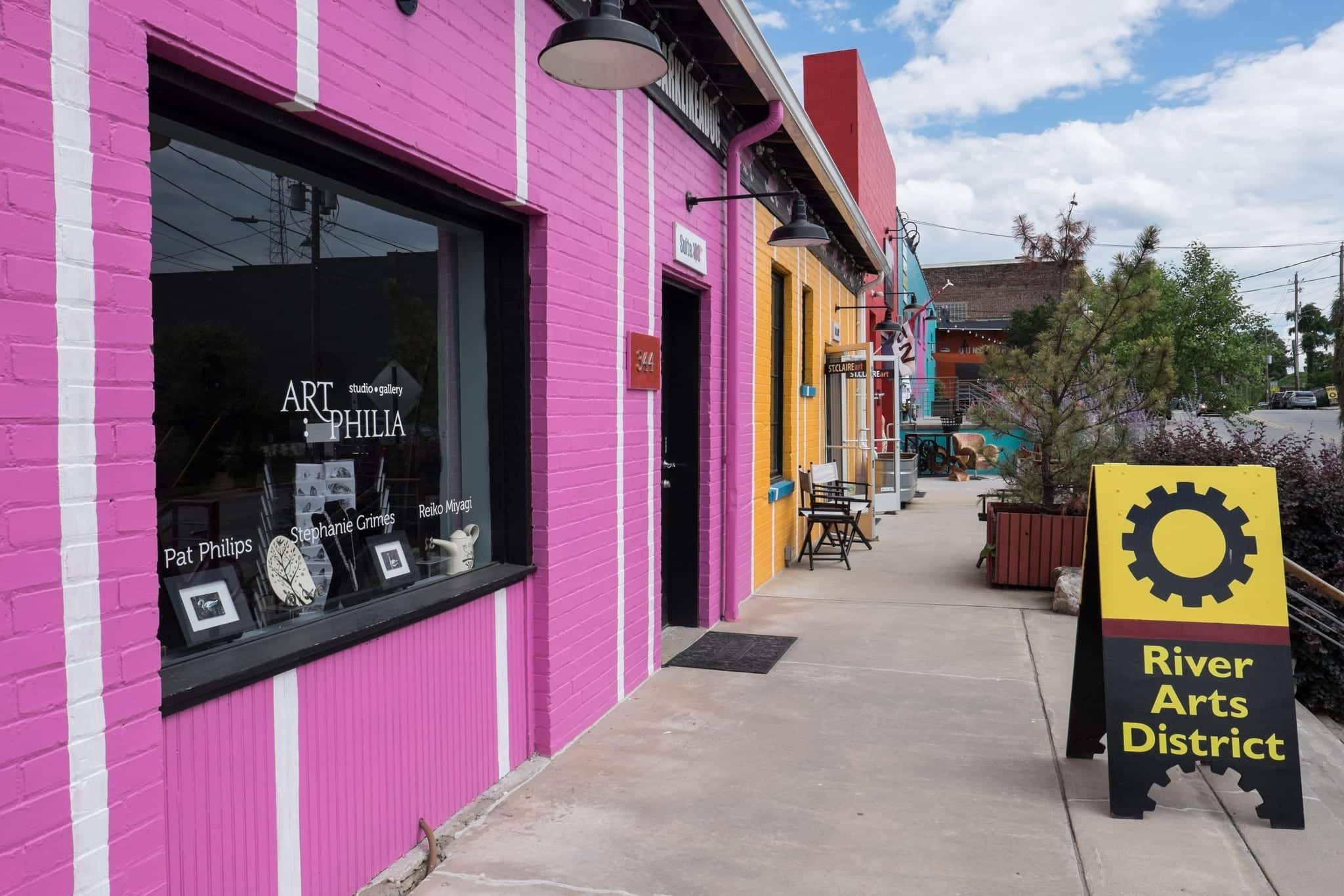 7. Because it's a city of cool, welcoming artists.
After all you've read, would you be surprised to hear that Asheville is a major arts destination as well? Asheville is home to more than 200 artists, many of whom are clustered in the River Arts District, a little more than a mile from downtown.
You can walk around and explore the neighborhood on your own, but I recommend taking a two-hour Asheville Art Studio Tour. Led by John Miguel Almaguer, an accomplished glass artist who even apprenticed in Murano in Venice (!!), this tour took us to visit four studios in the neighborhood.
John has more personality in a fingernail than most people I've ever met. The man isn't just a visual artist — he has the most wonderful presence. You'll love him.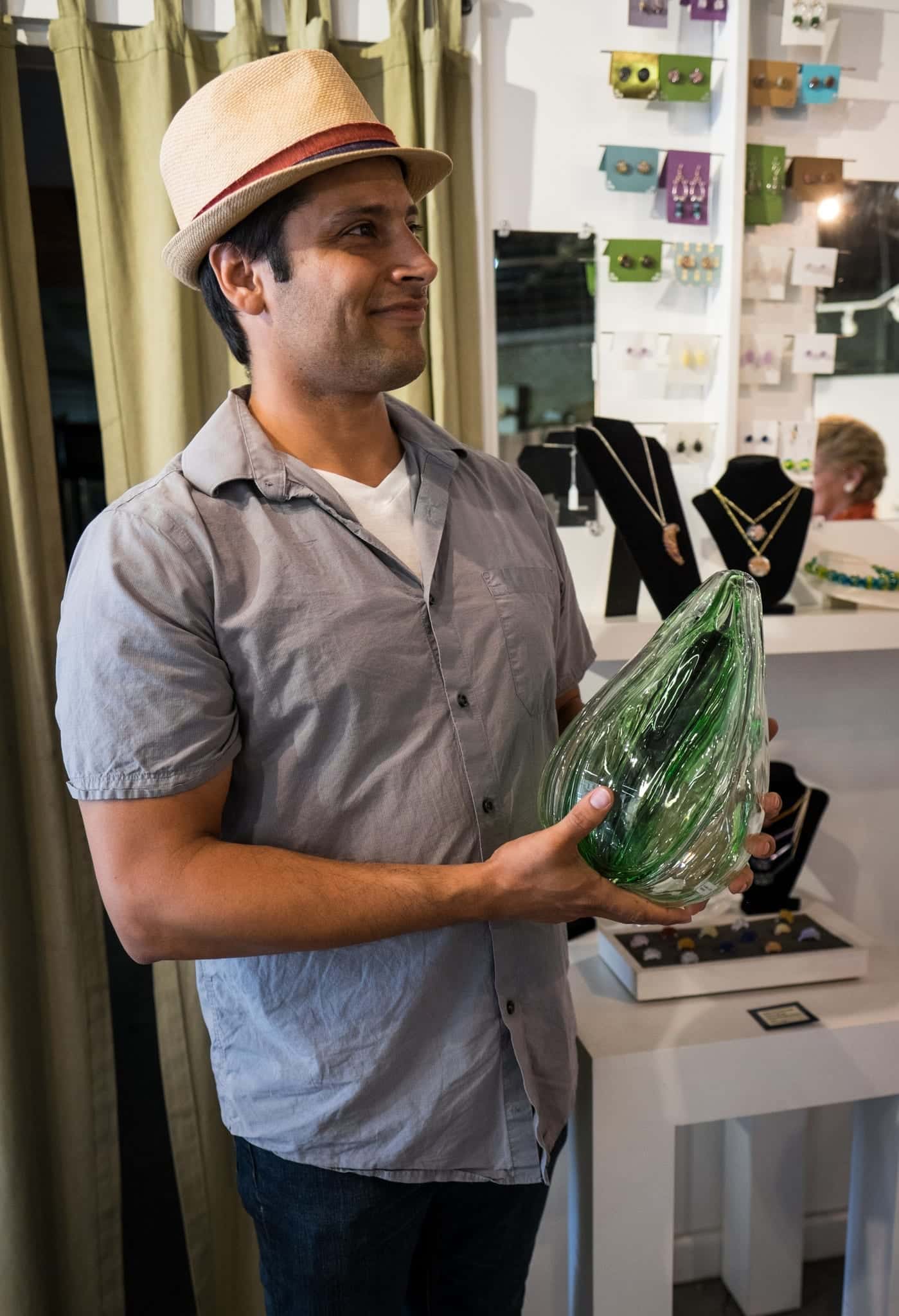 Here's John posing with one of his works at his studio, the North Carolina Glass Center. (Also, I told him he totally reminded me of Bruno Mars. Maybe it was the hat.)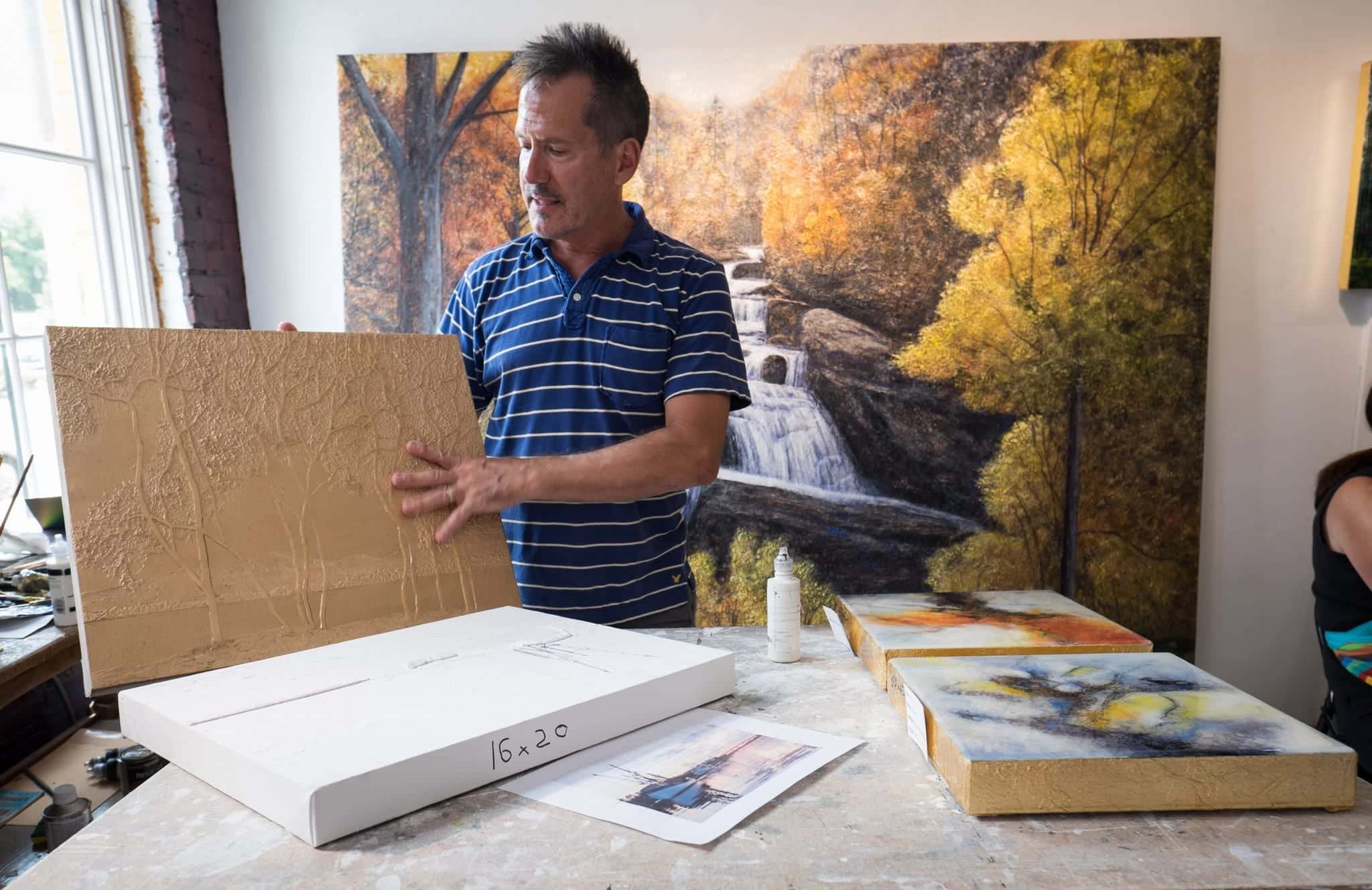 Stephen St. Claire, along with his wife Joy, create masterpieces of oil paint, metal leaf, and resin at St. Claire Art. He's still tweaking his method, Stephen told us.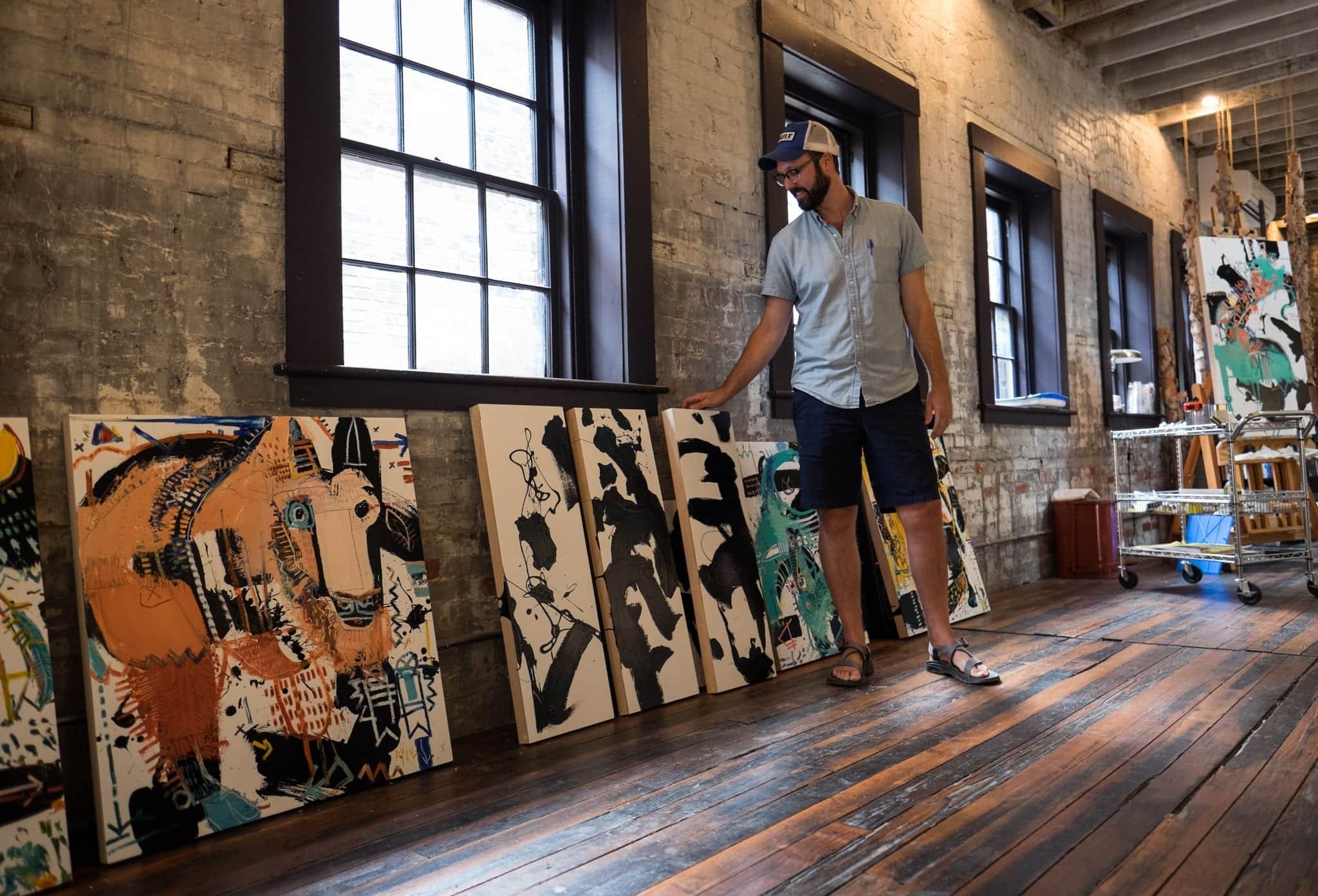 Daniel McClendon creates bright, primitive, abstract paintings inspired by all kinds of animals. I showed him my quokka selfies from Western Australia and suggested he visit WA to be inspired by the quokka for a future subject!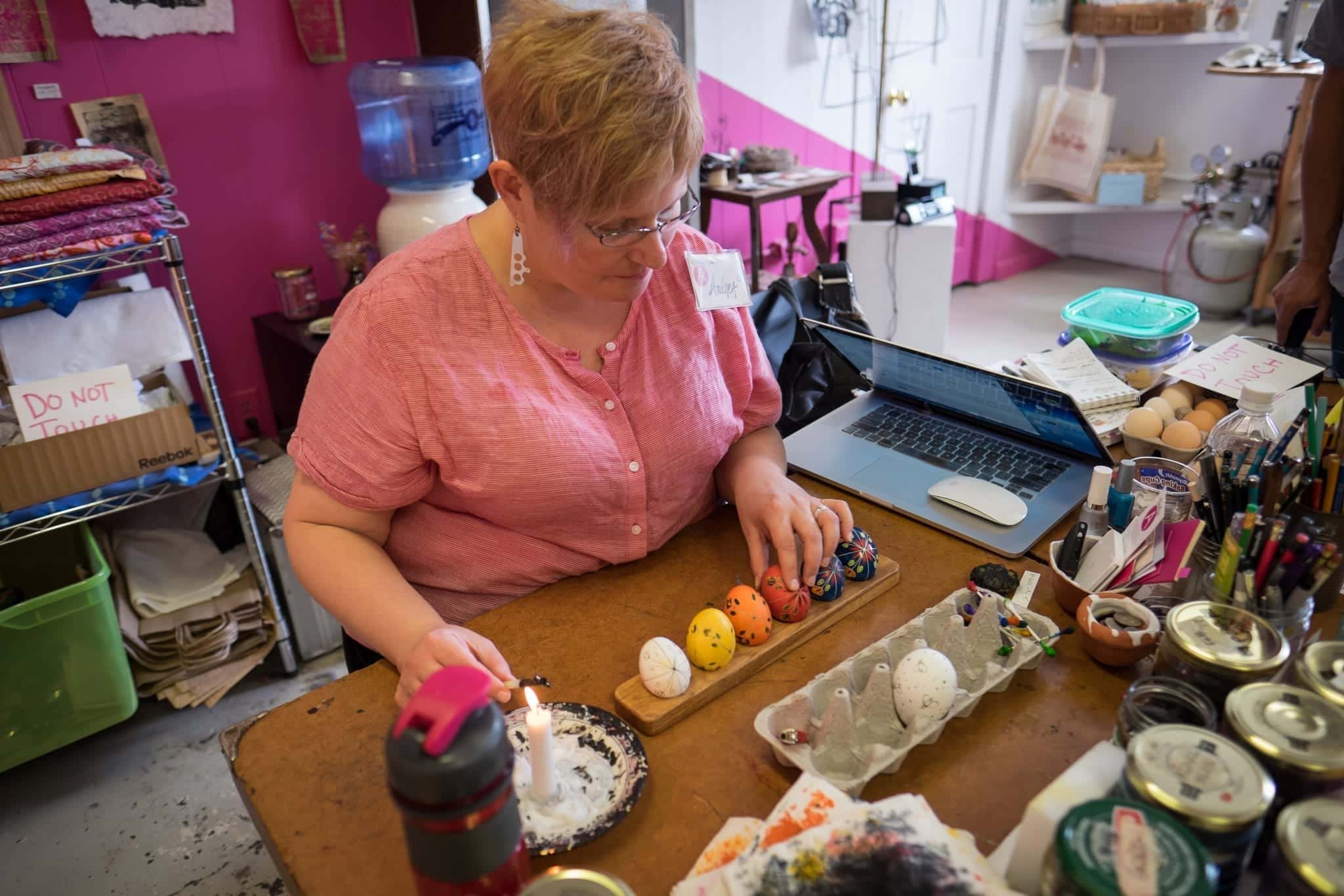 Andrea Kulisch at Studio A creates traditional Ukrainian eggs — and puts a modern spin on them as well with polka dots, trees, and even unicorns! Andrea is of Ukrainian heritage and I encouraged her to go to Ukraine and experience the country for herself.
I know I keep going on about how friendly everyone is in Asheville, but I was so impressed at how each of the artists talked to our group like they were telling their stories for the first time ever, not like they'd done the spiel a million times.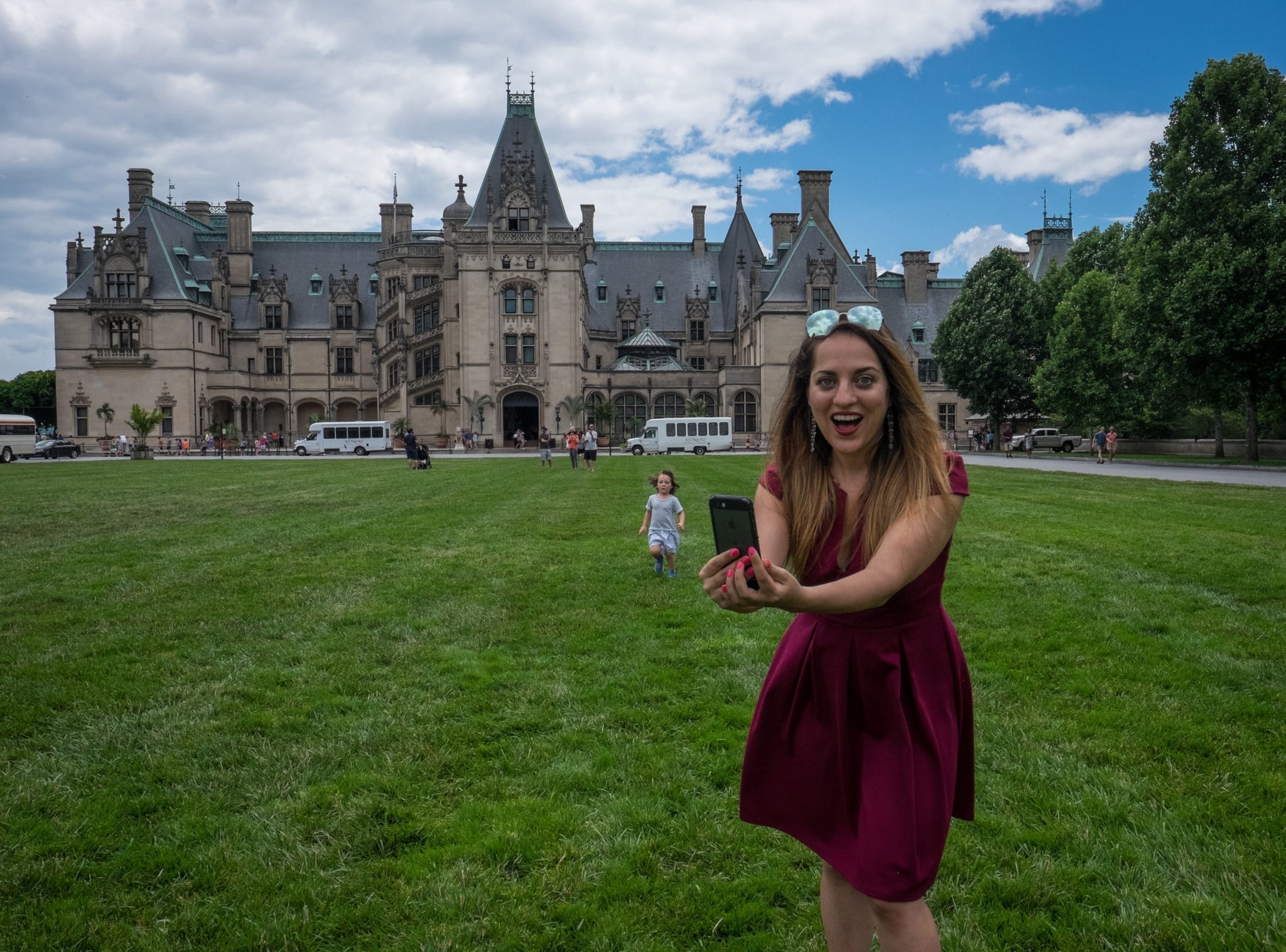 8. Because I got to frolic at the Richie Rich house.
If there's any one attraction you should visit in Asheville, it's the Biltmore Estate. This massive French-style chateau was built by George Vanderbilt in 1889 and it's since become one of the symbols of Asheville.
As soon as I saw the mansion, I knew it looked familiar — but how? Then the answer came from a follower on Snapchat — it was the Richie Rich house! Of course it was! I used to watch that movie all the time when I was a kid!
Seriously, how is this place in North Carolina?!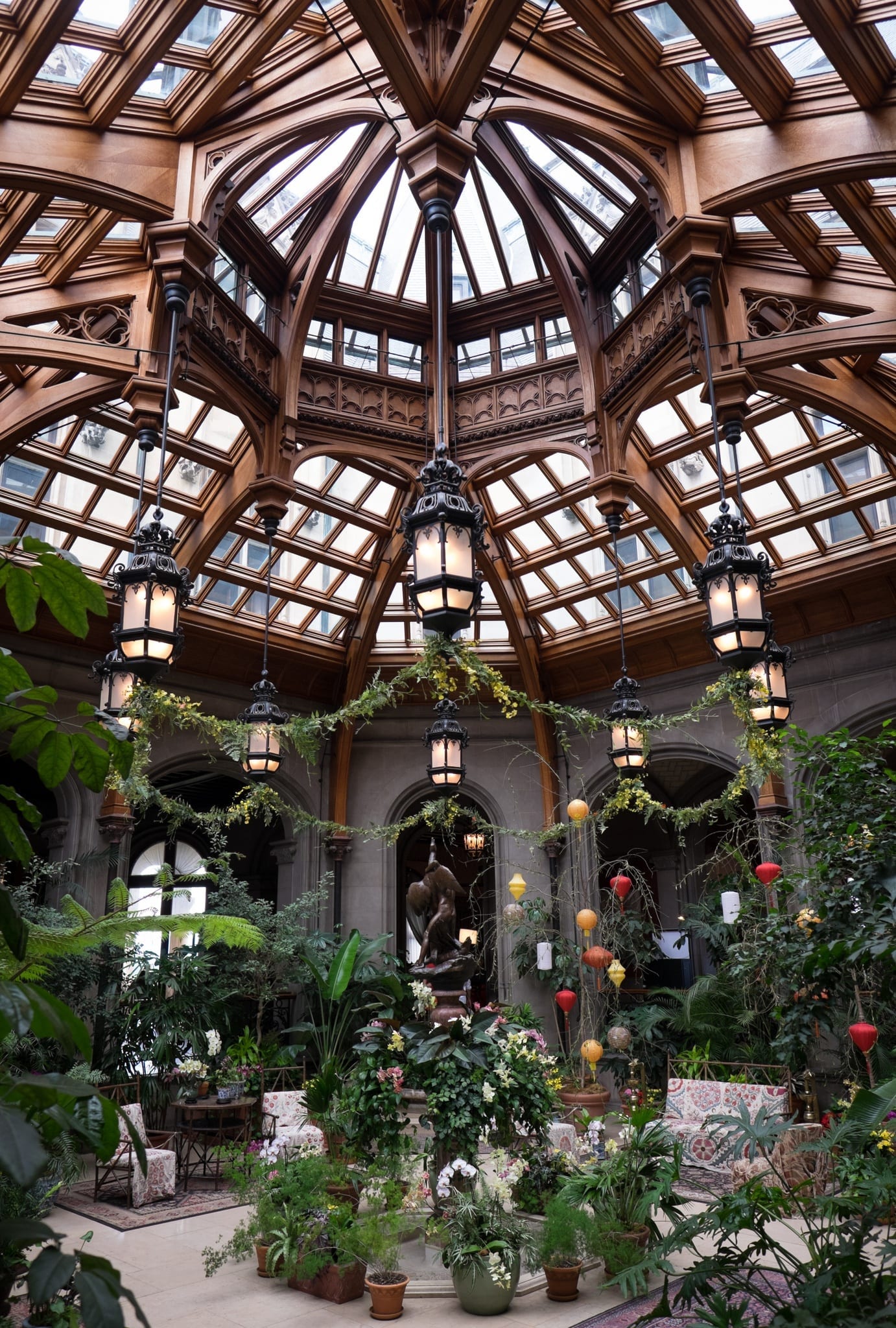 The inside is spectacular — I can only imagine how beautiful it is decorated for Christmas.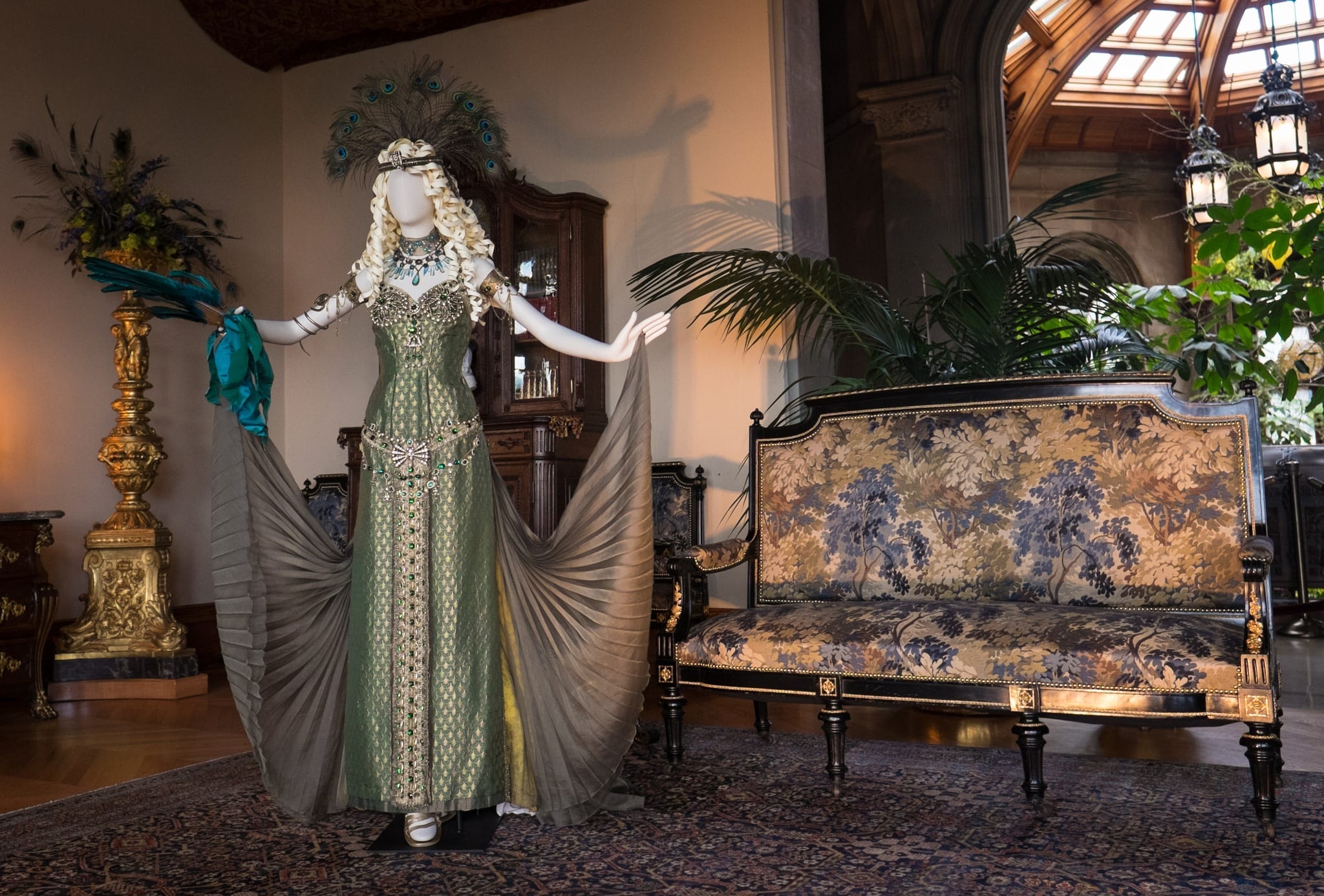 George Vanderbilt was an avid reader — he averaged 81 books per year, which puts me to shame — so there's currently a display of costumes from literary movies like Anna Karenina and Finding Neverland. Above is Uma Thurman's peacock costume from The Golden Bowl.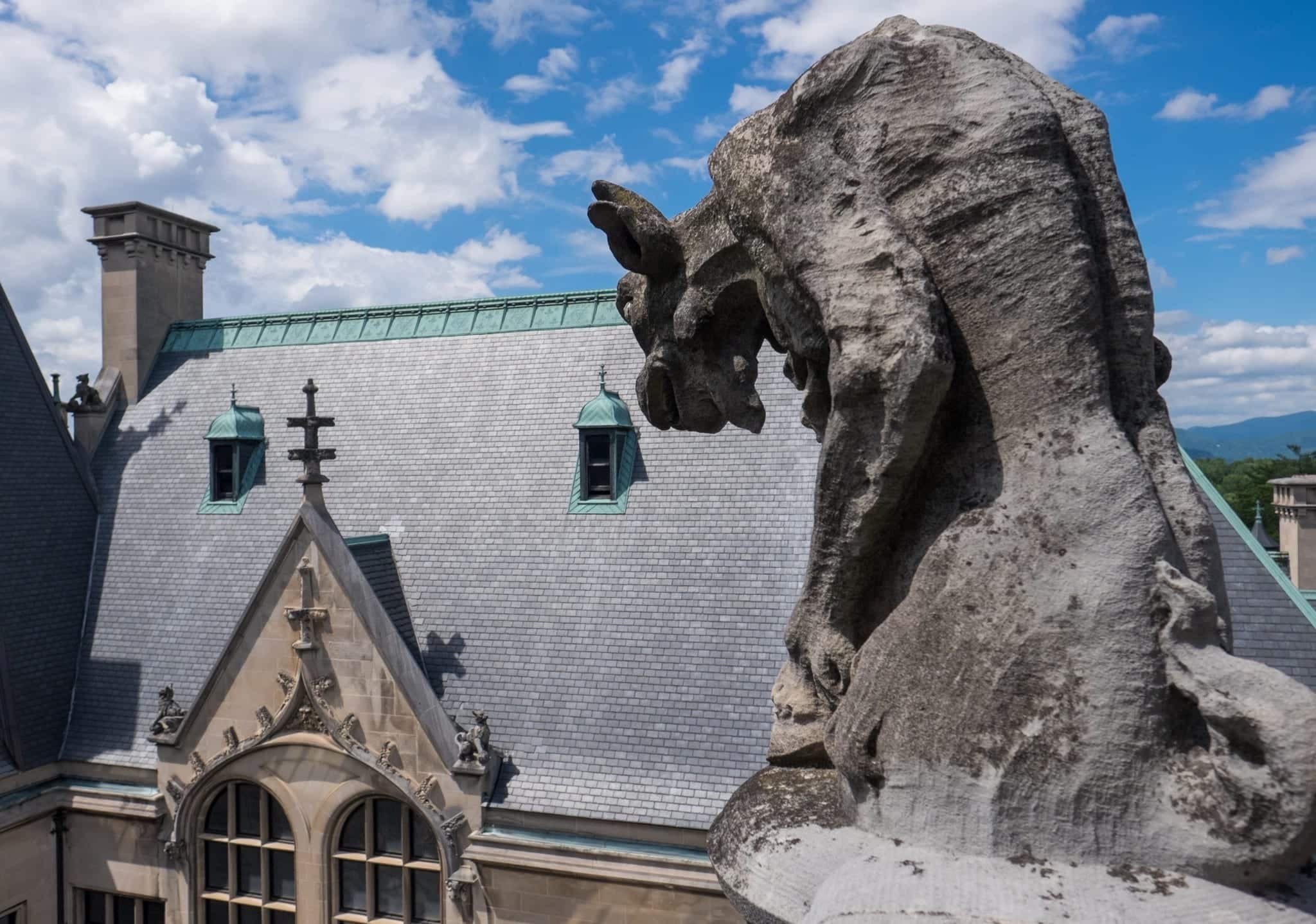 If you want to see even more of the mansion, the rooftop tour is pretty cool. I can't believe those gargoyles!
The Biltmore is such a cool place, and there are plenty more grounds to discover, including a winery and some gardens. And if you're looking for the ultimate Asheville selfie, throw on your favorite red dress and pose in front of the building!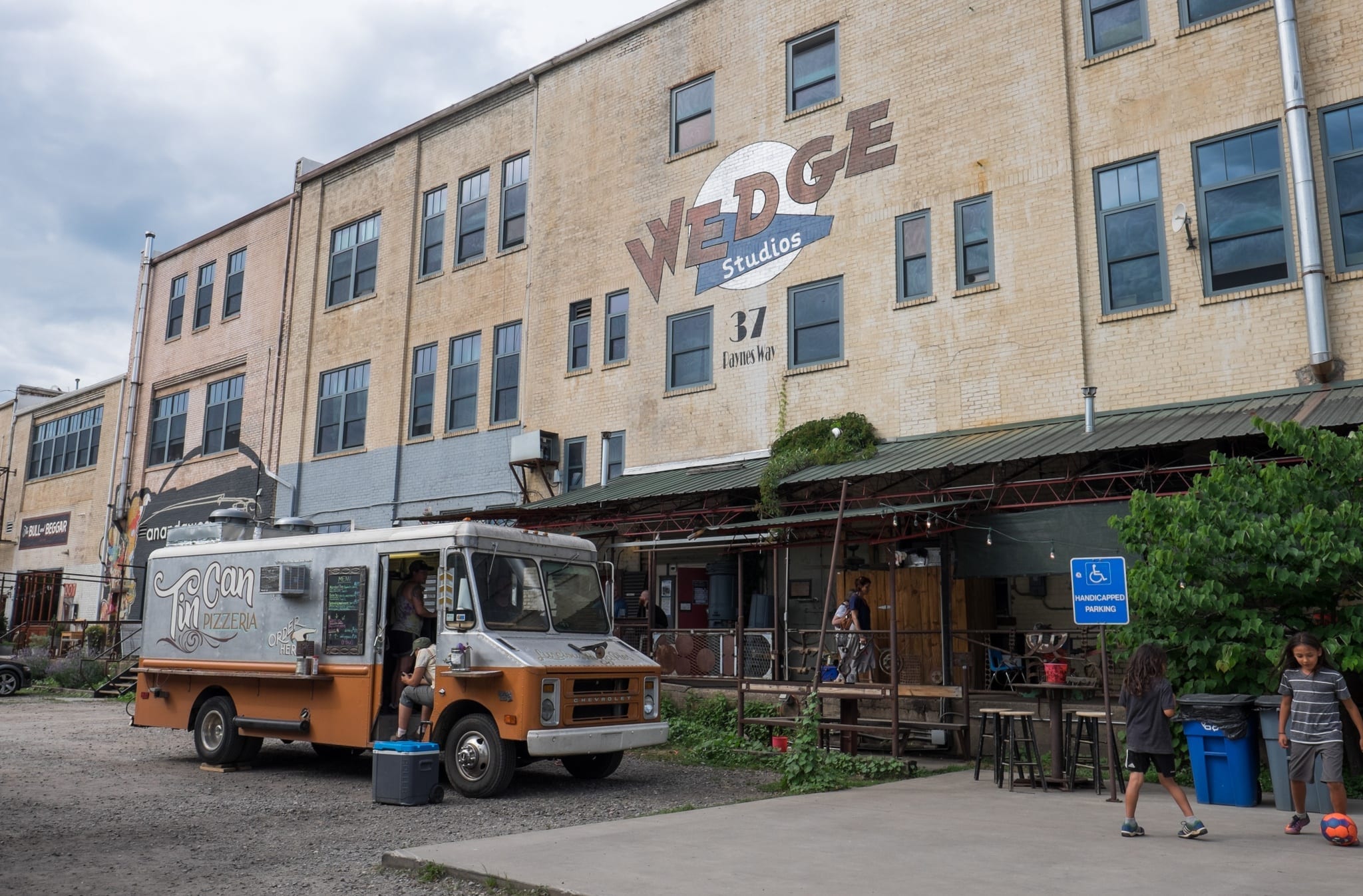 9. Because I found a brewery that was just right for me.
Asheville is home to more breweries per capita than any city in the United States — so if you love beer, you need to come here at least once in your life.
I like beer, but I'm not a hardcore beer fan — I'll go to breweries in the company of my beer-loving dad and sister, but not on my own. Still, I liked the look of the Wedge Brewing Company, down in the River Arts District, and decided to give it a whirl on my way back from the Biltmore Estate. I couldn't go to Asheville and not hit up a brewery.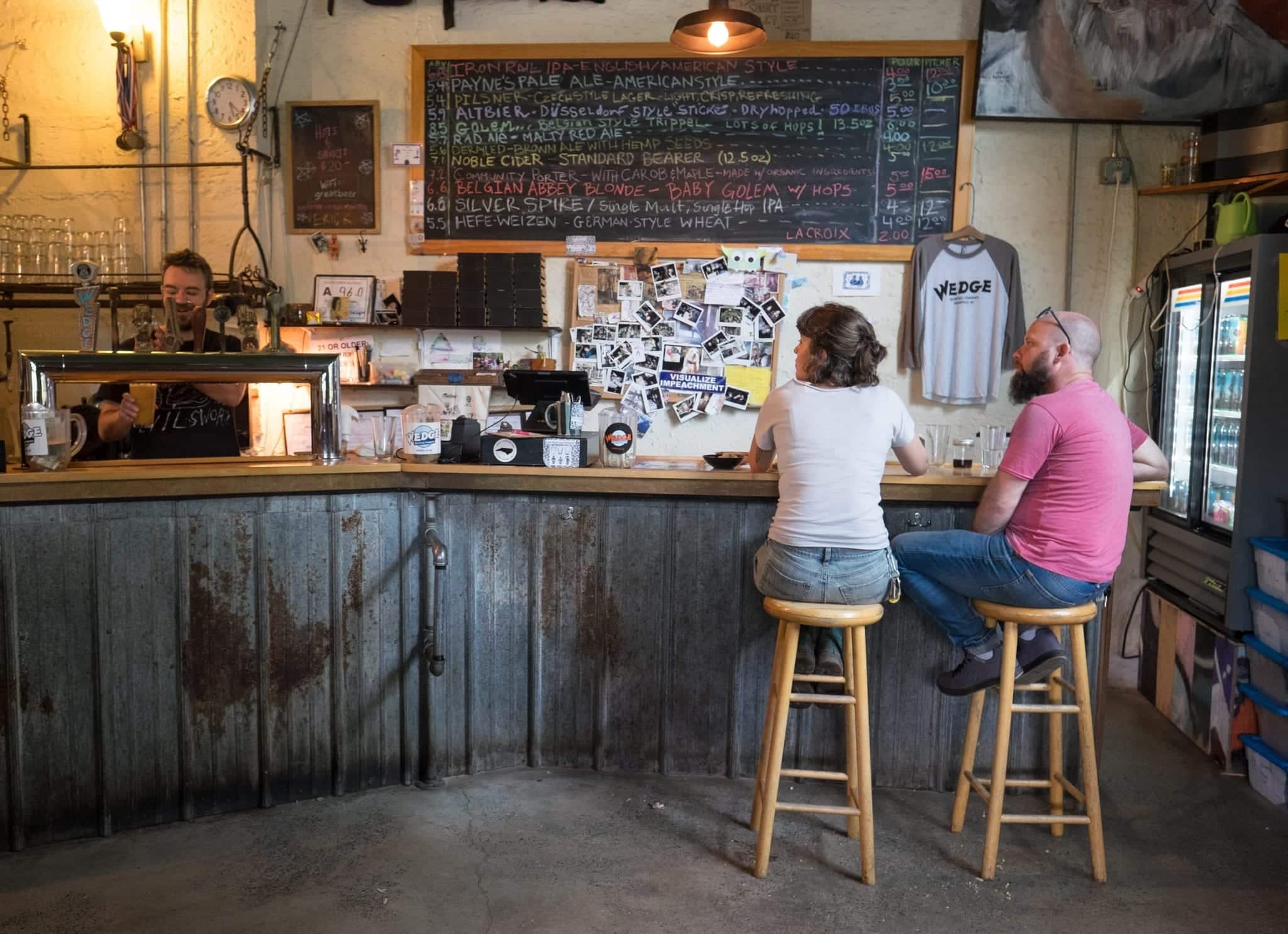 Like everywhere else in Asheville, the Wedge is casual and welcoming. And it's a family-friendly brewery, with games for kids and space for them to run around during the day. (It becomes adults-only after 8:00 PM.)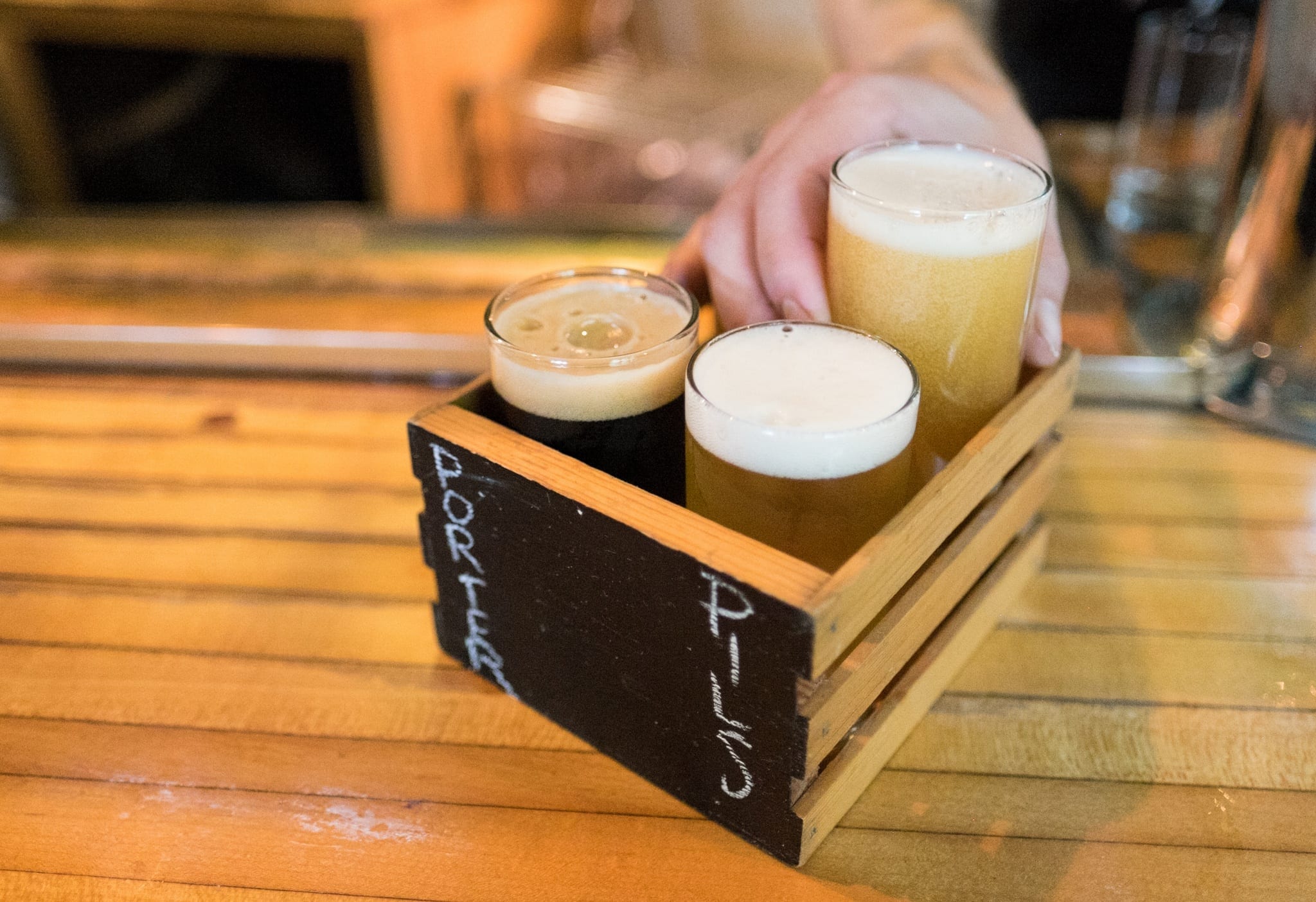 I tried four beers and especially liked their Hefeweizen and porter. But it was so nice to just sit outside in the shade, enjoying a few beer samples, and watching the freight trains go by. Chill breweries are the best breweries.
You can read more about Asheville's beer scene here on Explore Asheville.

10. Because Southern cuisine is the sweetest of cuisines.
Blackbird is one of the signature restaurants in Asheville, and if you're looking for something southern with a twist, this is a place to visit. I adore southern food and go for it whenever I can, but it's always best at the source.
I started with a local peach and brie salad. Peach and brie is a heavenly combination — how have I never had that in my life?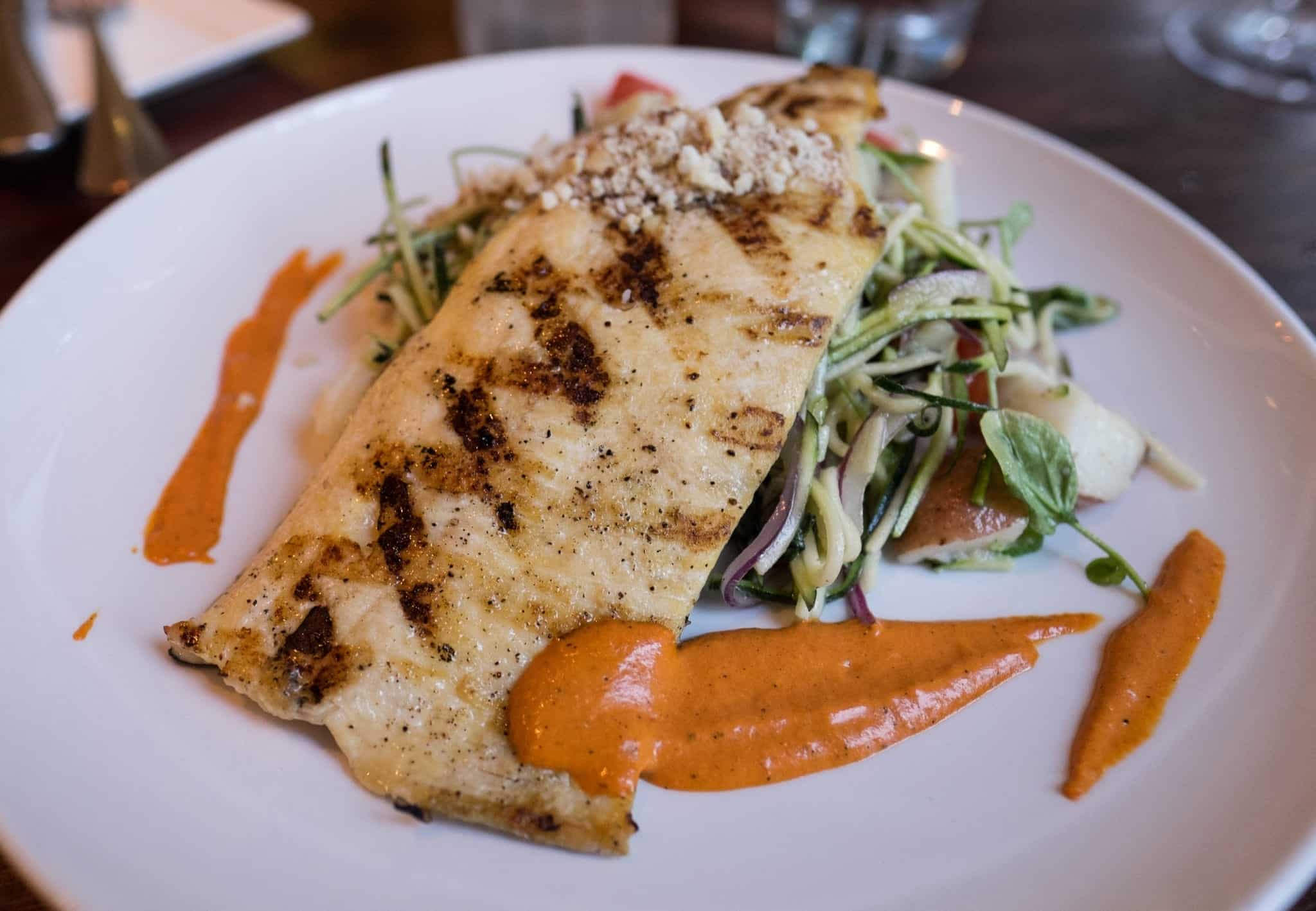 Next up was trout with a peanut romesco and zucchini watercress salad. Owner Jesson Gil told me that he considered this dish his "death row meal." It was fabulous — and also light, which is great considering how much heavy food you'll be eating in Asheville.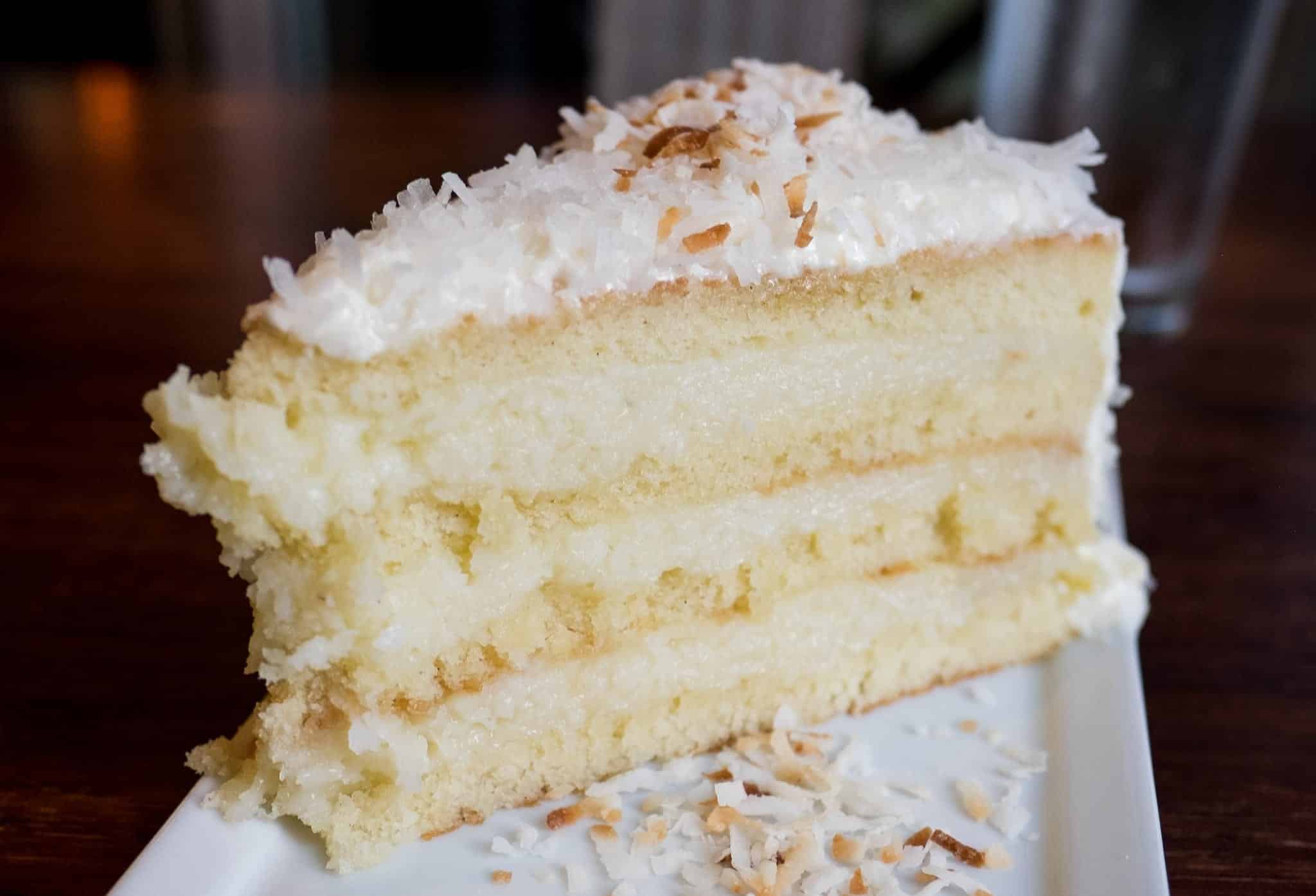 Of course I had to order their award-winning coconut cake. ("Don't worry, I'll bring you a box," my waitress told me. "Just how big is this cake?!" I thought. The answer? Pretty damn big, and yes, I did use the box.)
OH MY GOD, THIS CAKE. SERIOUSLY, THIS CAKE. It is so decadent.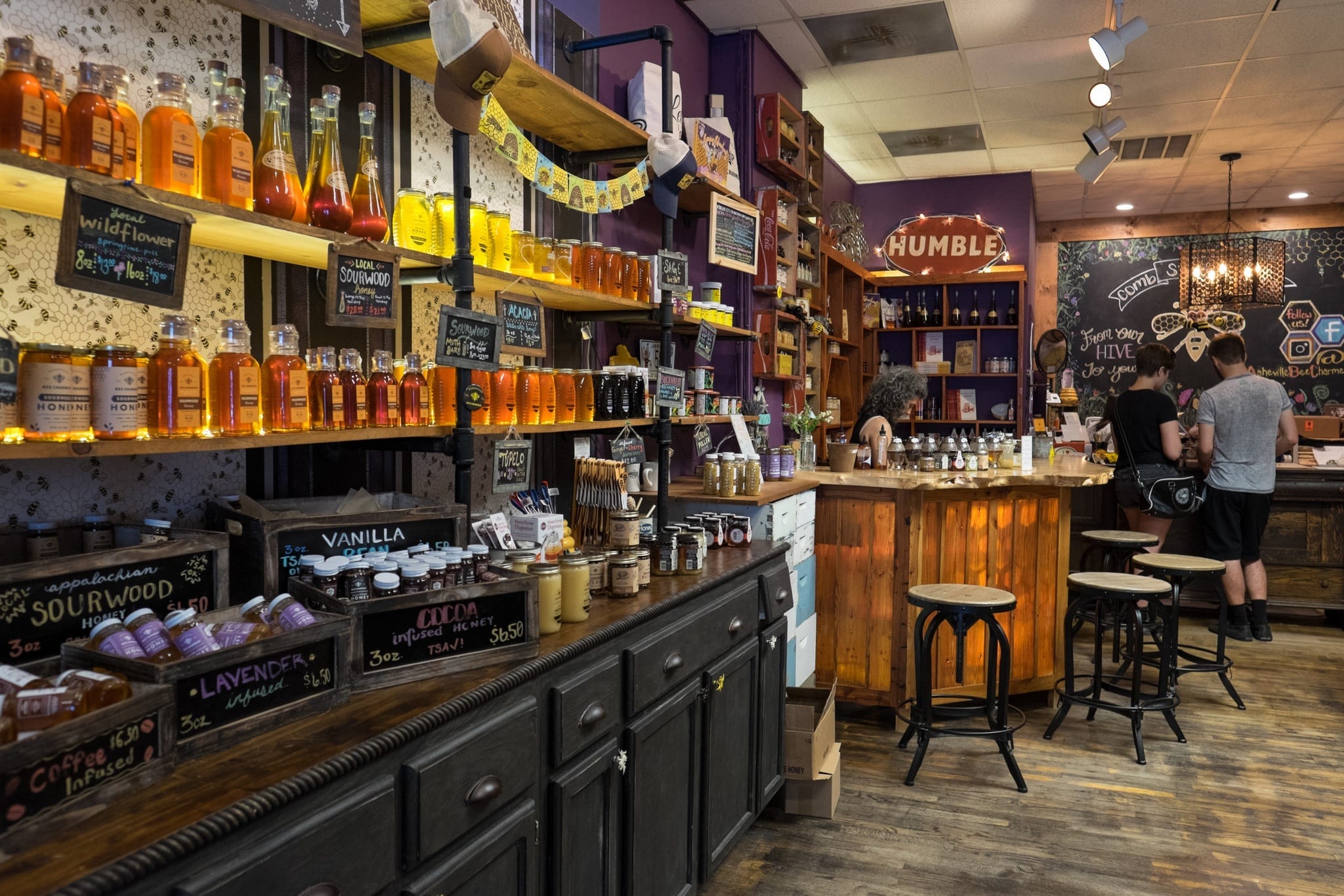 11. Because creative small businesses thrive here.
One of my favorite shops I visited was the Asheville Bee Charmer, a beautiful store devoted to honey and related products.
Owners Kim and Jill came to Asheville from Chicago and envisioned their business out of "a passion for honey, a curiosity for bees, a love of cooking, and a yearning for connection to community."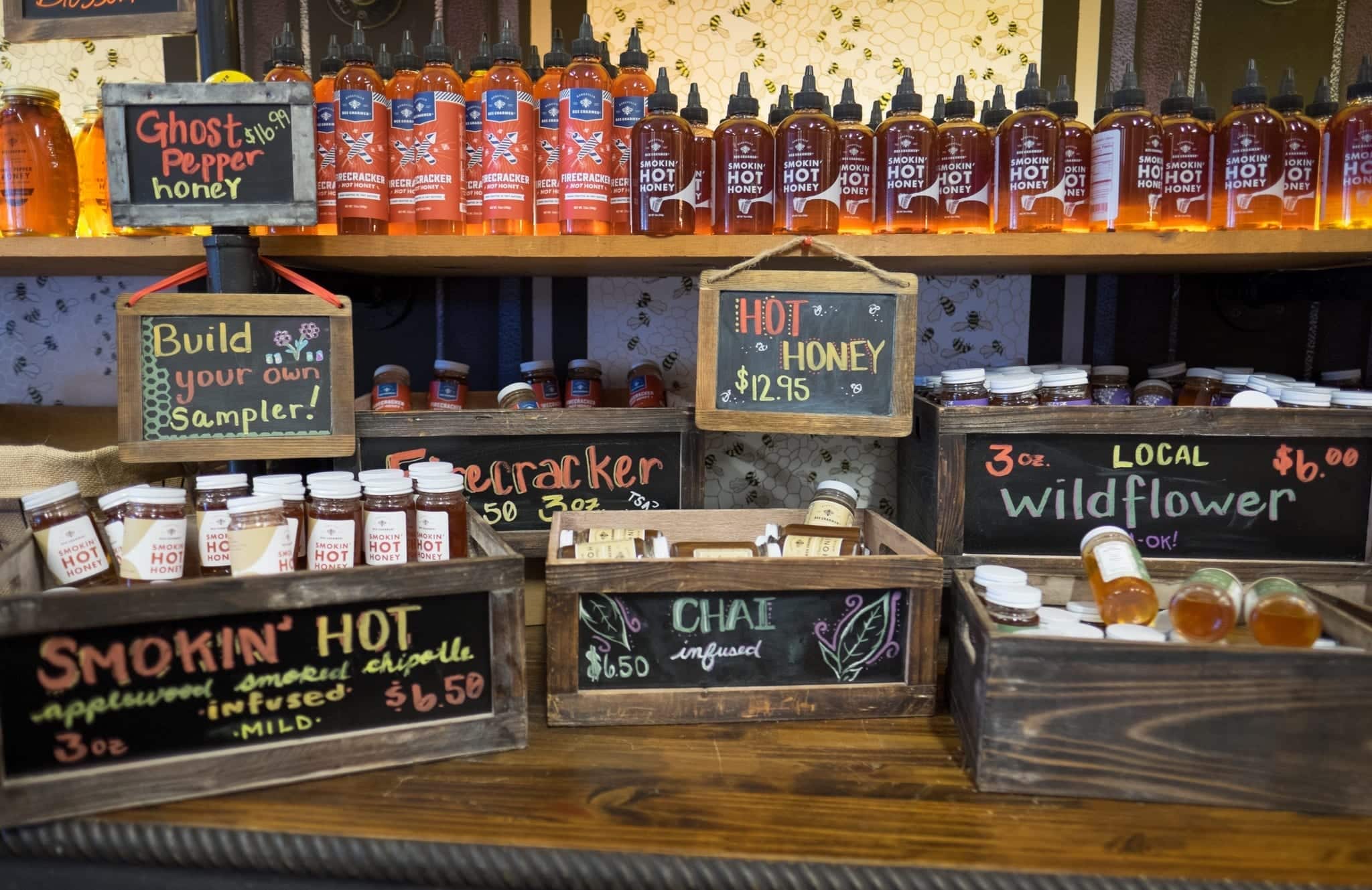 "What do you wish people knew about honey?" I asked Kim. "That honey is not just one basic product," she told me. "There are 350 kinds of honey. Tasting honey is like tasting wine."
And I tasted a lot of honey. Dark buckwheat honey that could substitute molasses. Chai infused honey that would be fantastic in green tea. And I even tried ghost pepper honey, which was certainly hot but not nearly as bad as I feared.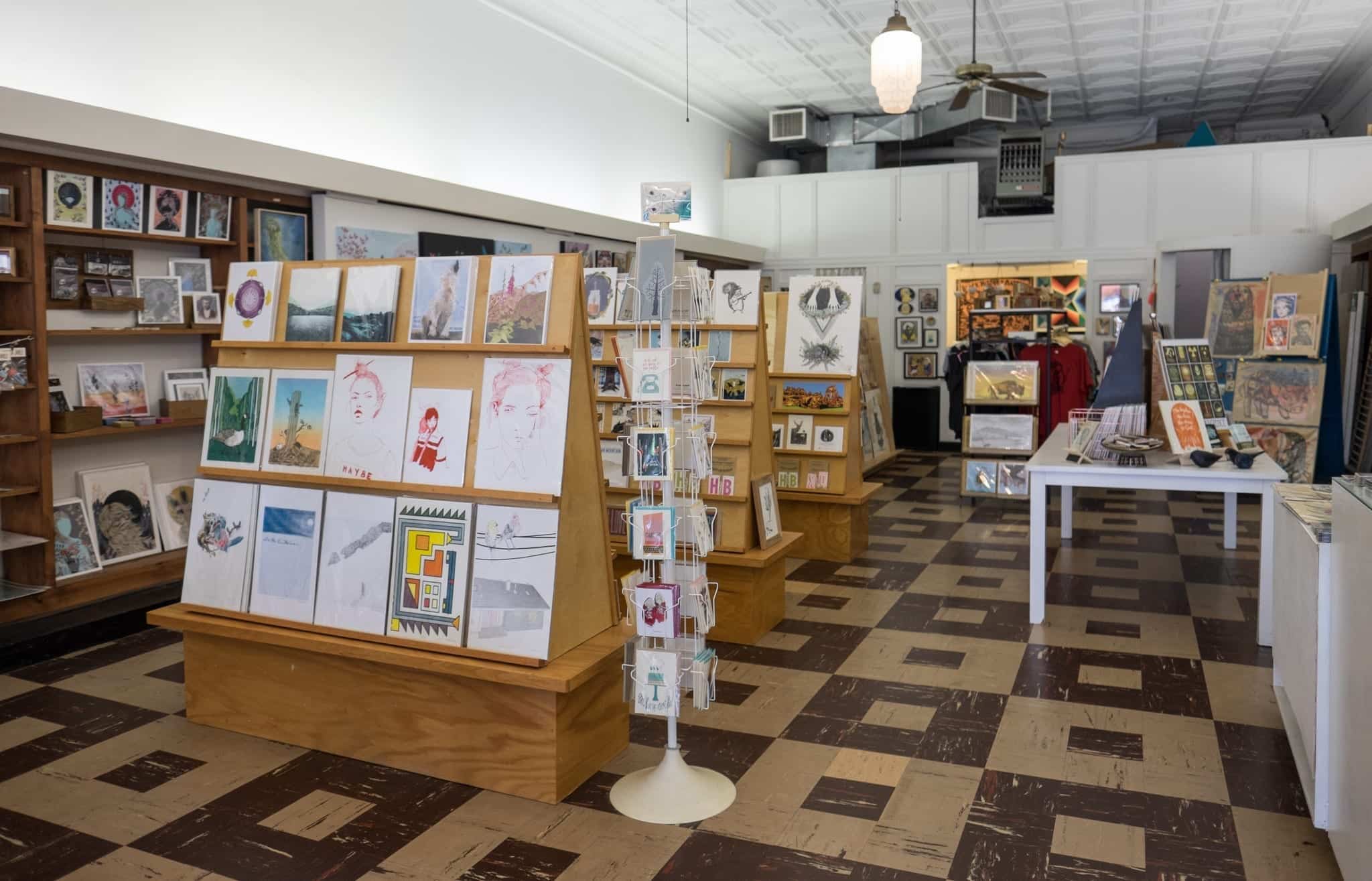 Since moving into my apartment, I've tried to pick up something for my home on most of my trips. In Asheville everyone recommended I check out Horse & Hero, a store filled with prints, cards, and creations by local artists.
This is a cool store, and you can find original art for fairly cheap. I picked up a print that reads LOVE IS OVER TAKING ME upward and downward.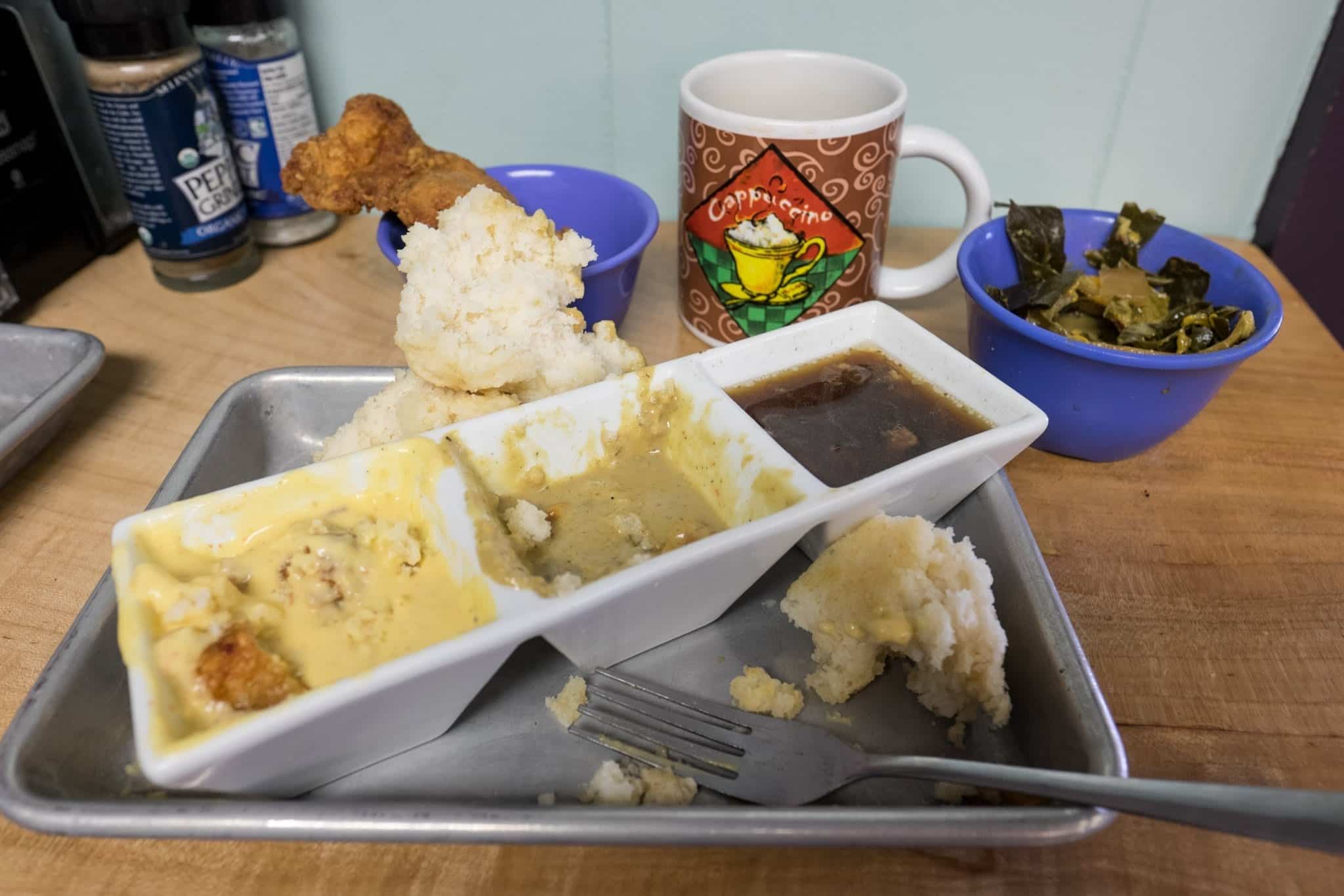 Biscuit Head came highly recommended by my friend Amy, a former Ashevillian. In my experience, one recommendation trumps several recommendations, so I had to go. What are they famous for? BISCUIT AND GRAVY FLIGHTS. (Not the best picture, but I was so hungry I dove in and forgot to photograph it first. I apologize for what I did when I was hungry.)
You get to choose three kinds of gravy with your biscuits. I chose fried chicken, sweet potato coconut, and espresso red bean. Sweet potato coconut was simply outstanding. They also have several gluten-free varieties, which is nice, because biscuits and gravy are normally an extremely glutenous dish.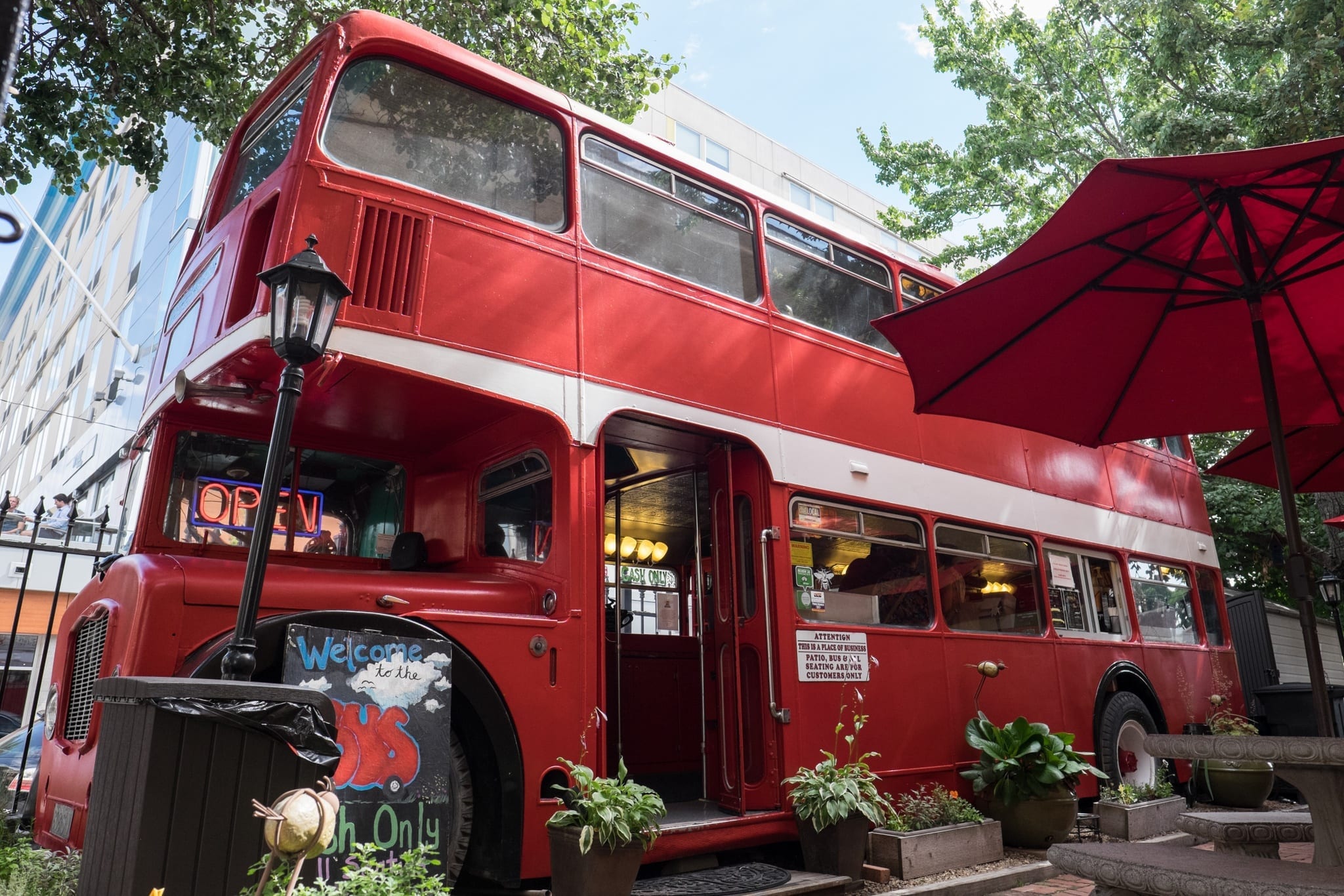 And this has to be the coolest — a red double-decker London bus turned into a coffeeshop! It's technically called Double D's Coffee and Desserts, but most people in Asheville just call it the double-decker bus.
The bus doesn't drive anywhere, but it's parked in a lovely little lot where you can sit outside at a picnic table underneath an umbrella.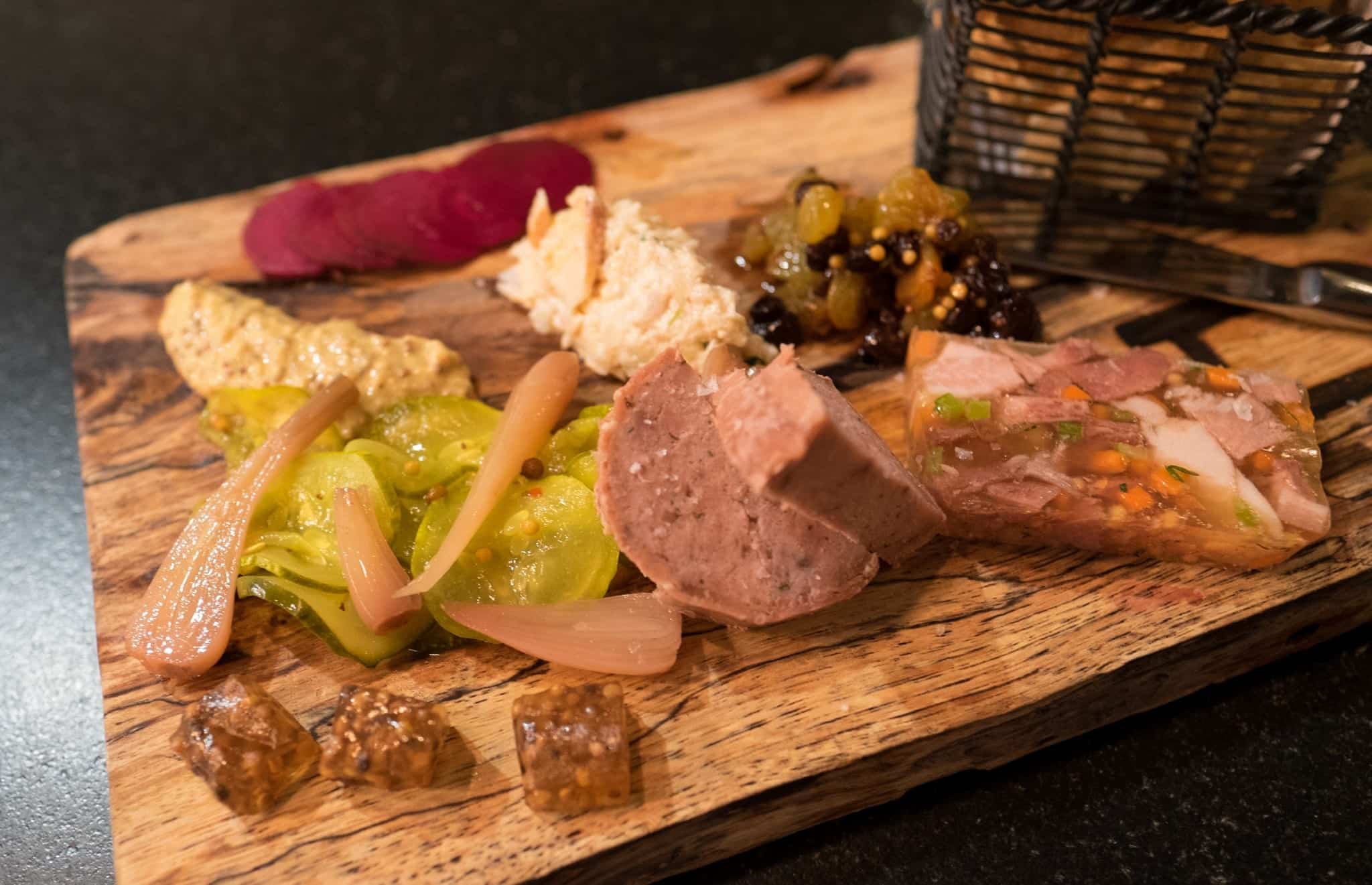 12. Because local food can be innovated into something new and different.
For my last dinner in Asheville, I ate at Rhubarb. Rhubarb specializes in local ingredients but with very sophisticated twists, and it was the restaurant I found most akin to a high-end restaurant in a city like New York.
I go crazy for charcuterie in any form, but Rhubarb's offering took it to the next level. Look at all those various meats packed into gel! Including headcheese! A lot of people might blanche at this plate, but I was in heaven.
Ever had goat cheese burrata before? I had not. (The goat cheese is in the center; mozzarella still forms the outside.) It was served with pickled strawberries, stewed rhubarb, and crispy shallots.
The pickled beets and cucumbers were perfect counterparts, but the highlight was the pickled ramps! Ramps grow wild in the Blue Ridge Mountains.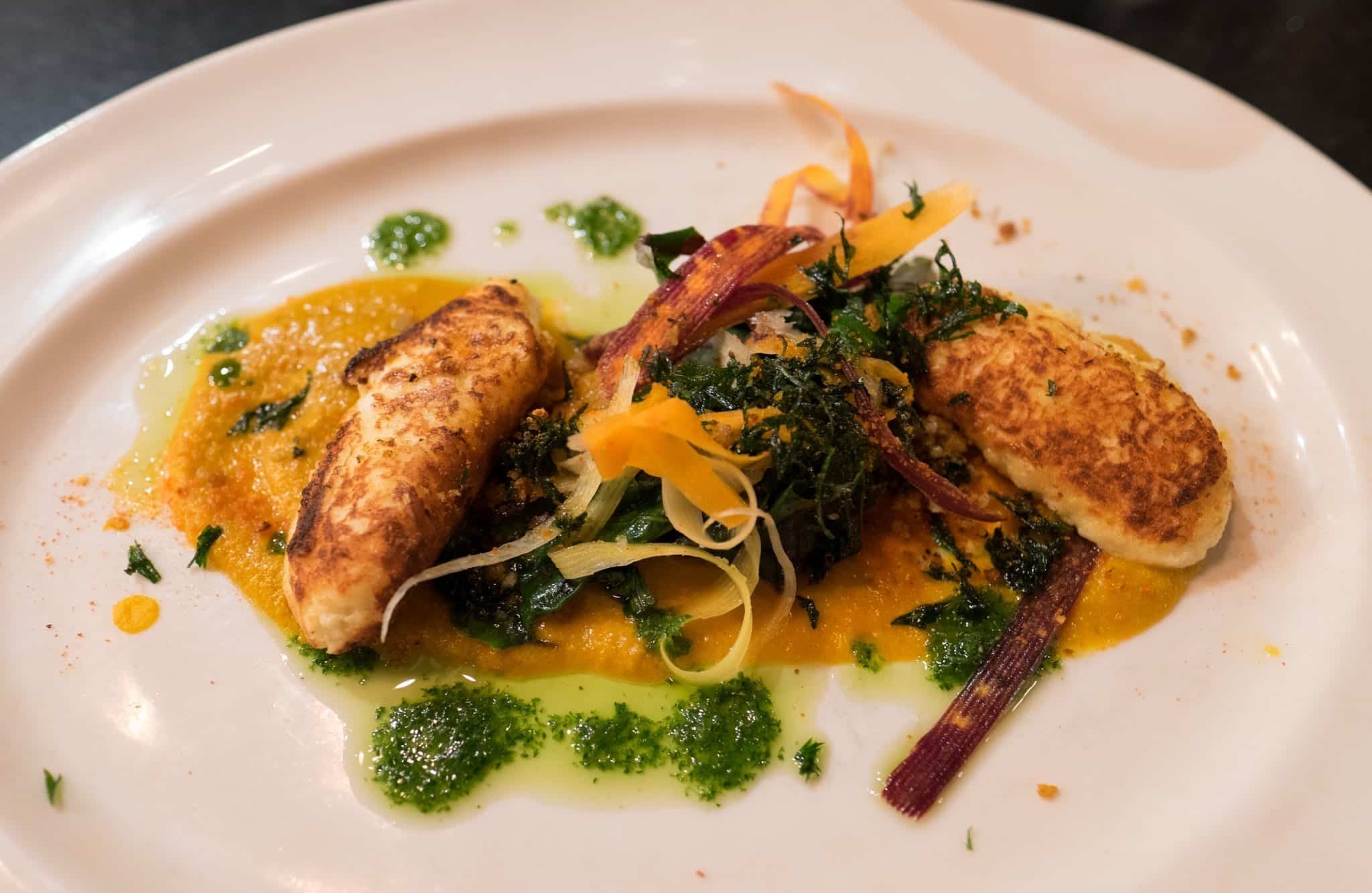 Rhubarb is the only place besides The Spotted Pig in New York that I've seen serve gnudi — it's like gnocchi, only made with ricotta instead of potato.
I have to say that no meal delighted me more intellectually than the spread I enjoyed at Rhubarb.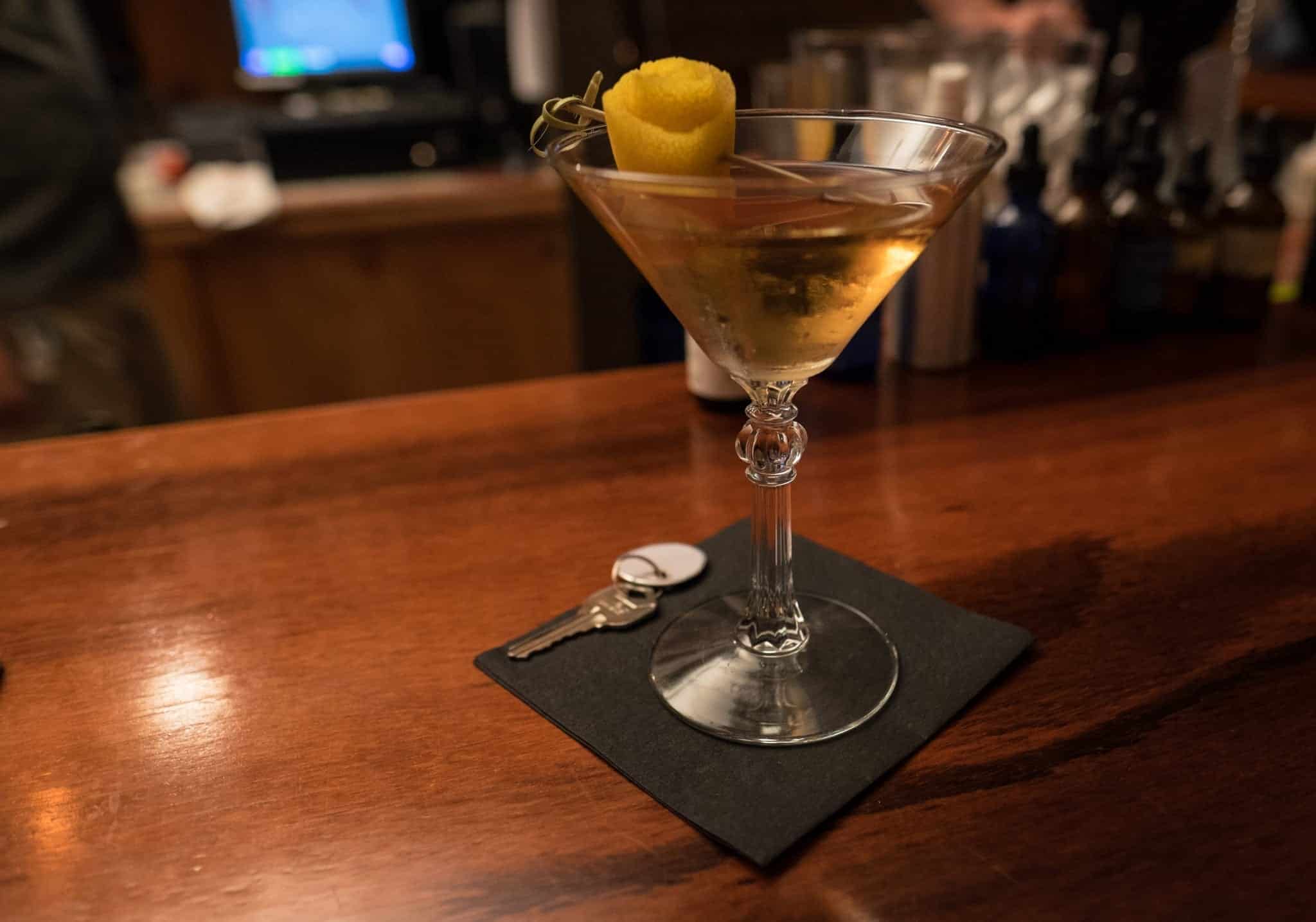 13. Because the cocktail scene is loads of fun.
Asheville might be most famous for beer, but I'm a cocktail girl — and there are plenty of places to enjoy cocktails around the city.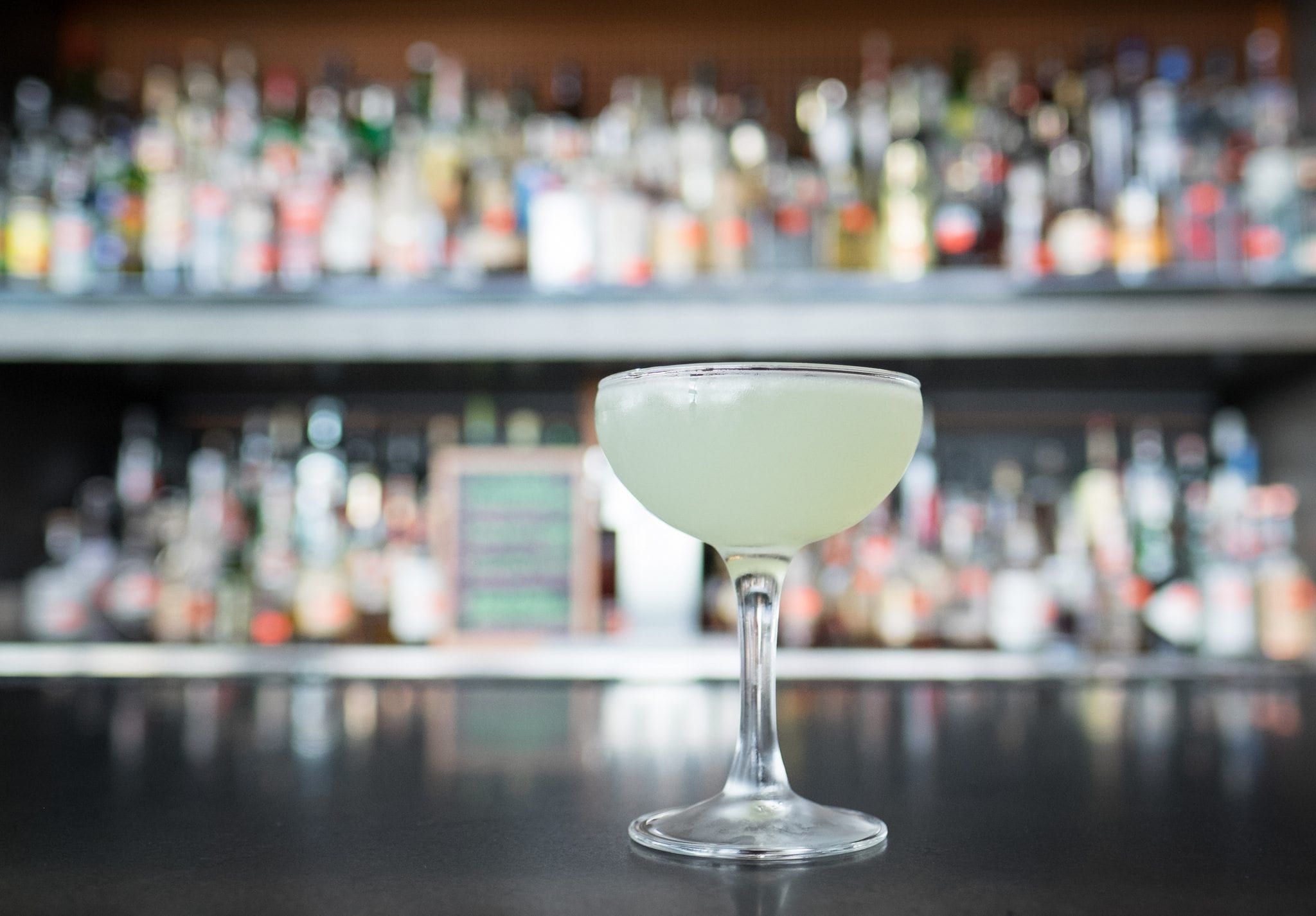 I stayed at the Hyatt Place in downtown Asheville and they're known for their rooftop bar, The Montford. I ordered a Last Word cocktail made with Bombay gin, green chartreuse, maraschino, and lime. You should go for the view, especially during sunset.
For the cool factor, there are two spots I recommend you check out: Top of the Monk, where they serve each cocktail with a key to a tiny mailbox (what's inside is a surprise!), and the Crow and Quill, a Victorian gothic lounge that looks like something Edgar Allen Poe dreamed up. (The door is unmarked; go by its address. Also, ask for a cocktail infused with tobacco smoke — it's quite a show.)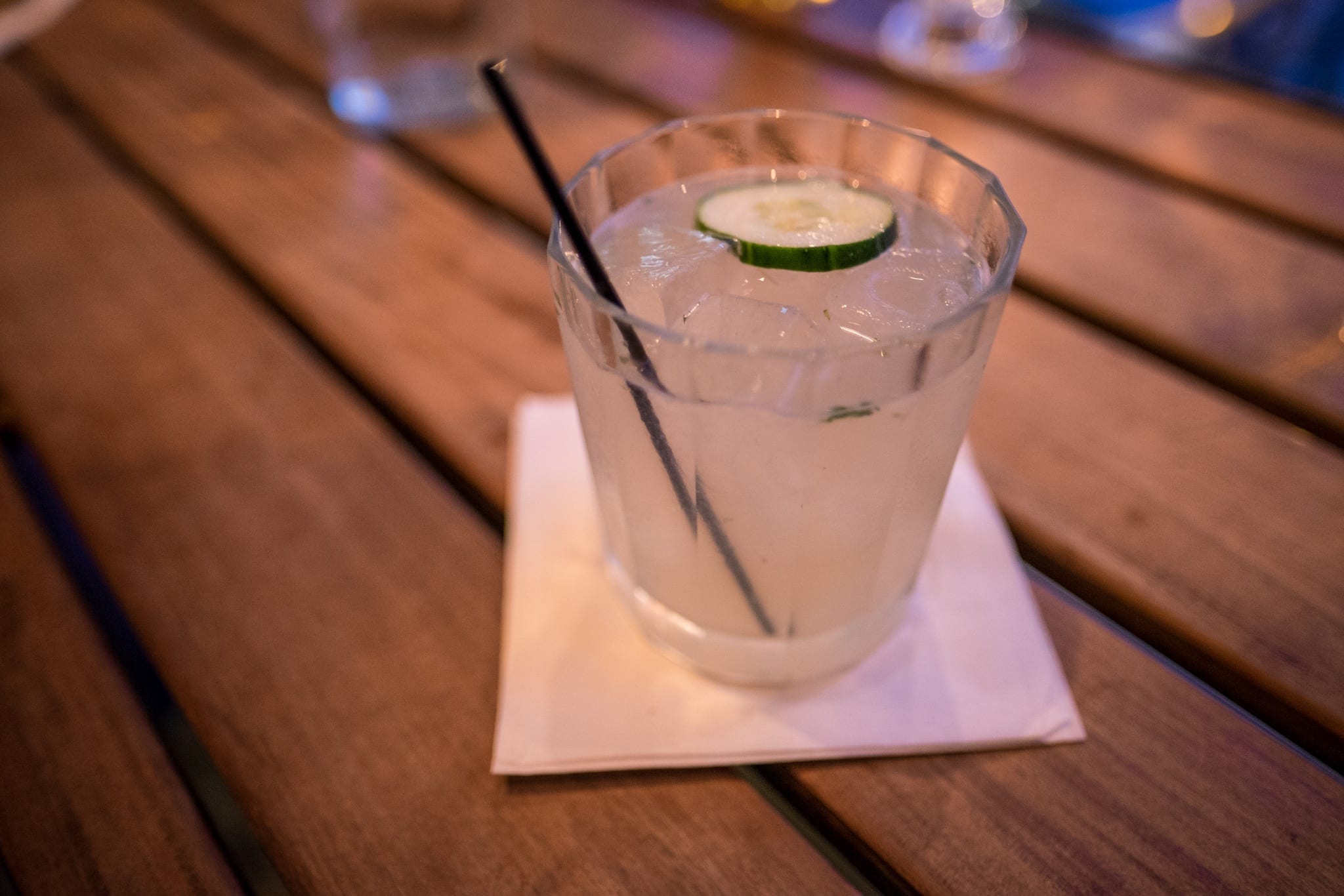 But the absolute best cocktails, in my opinion, were made at Sovereign Remedies. I had the most fabulous gin cocktail — light and citrusy and delicate, the perfect beverage on a hot summer night. I never go to bars alone, but I did in Asheville for research purposes — and I actually made a friend! A cool girl who works in the hospitality industry in Asheville who was also enjoying a cocktail solo.
"It doesn't look like it, but I'm at work right now," she said, holding her glass up to toast.
I raised my glass in return. "So am I." We burst out laughing.
I might have returned for a second night in a row.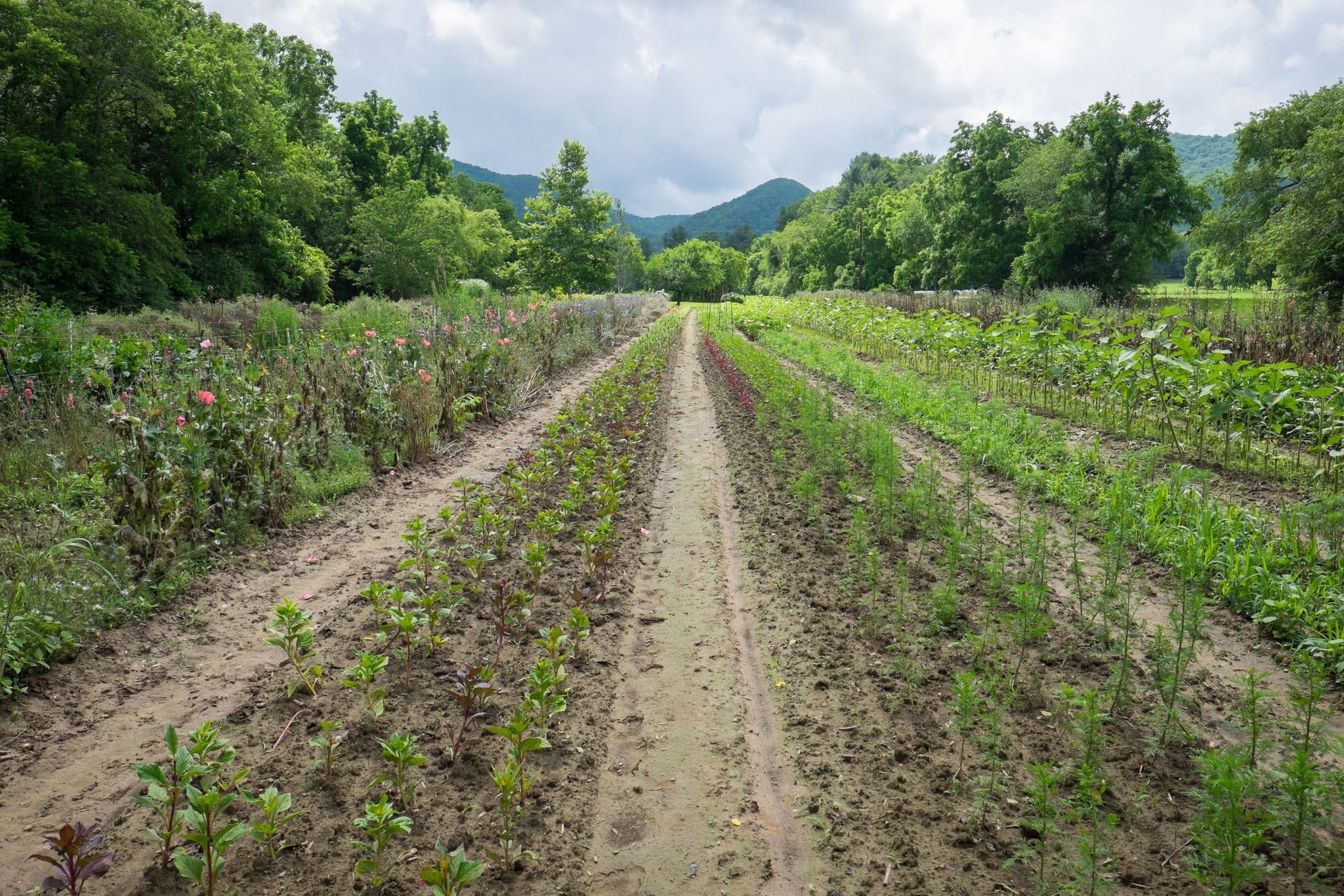 14. Because there is SO much more I want to do!!
A weekend is not enough time to experience the best of Asheville. I think something like five days would be perfect.
At one point I gazed over the French Broad river and saw people floating along in tubes and thought, "I want to be there."
I didn't get to do too much outdoorsy stuff, and I definitely want to go rafting and do some hikes to waterfalls. Here's a guide to hiking in Asheville.
I want to visit the Sierra Nevada Brewery, which is a LEED-certified building and a beacon of environmental sustainability in architecture.
Oh yeah, and I need to hit up the French Broad Chocolate Lounge for dessert. I was fed such amazing desserts this weekend that I couldn't justify going!
But most of all, I want to get into the mountains during the foliage season. The best foliage in Asheville is in mid-October, by the way.
Looking for more? Here's a list of 50 things to do in Asheville.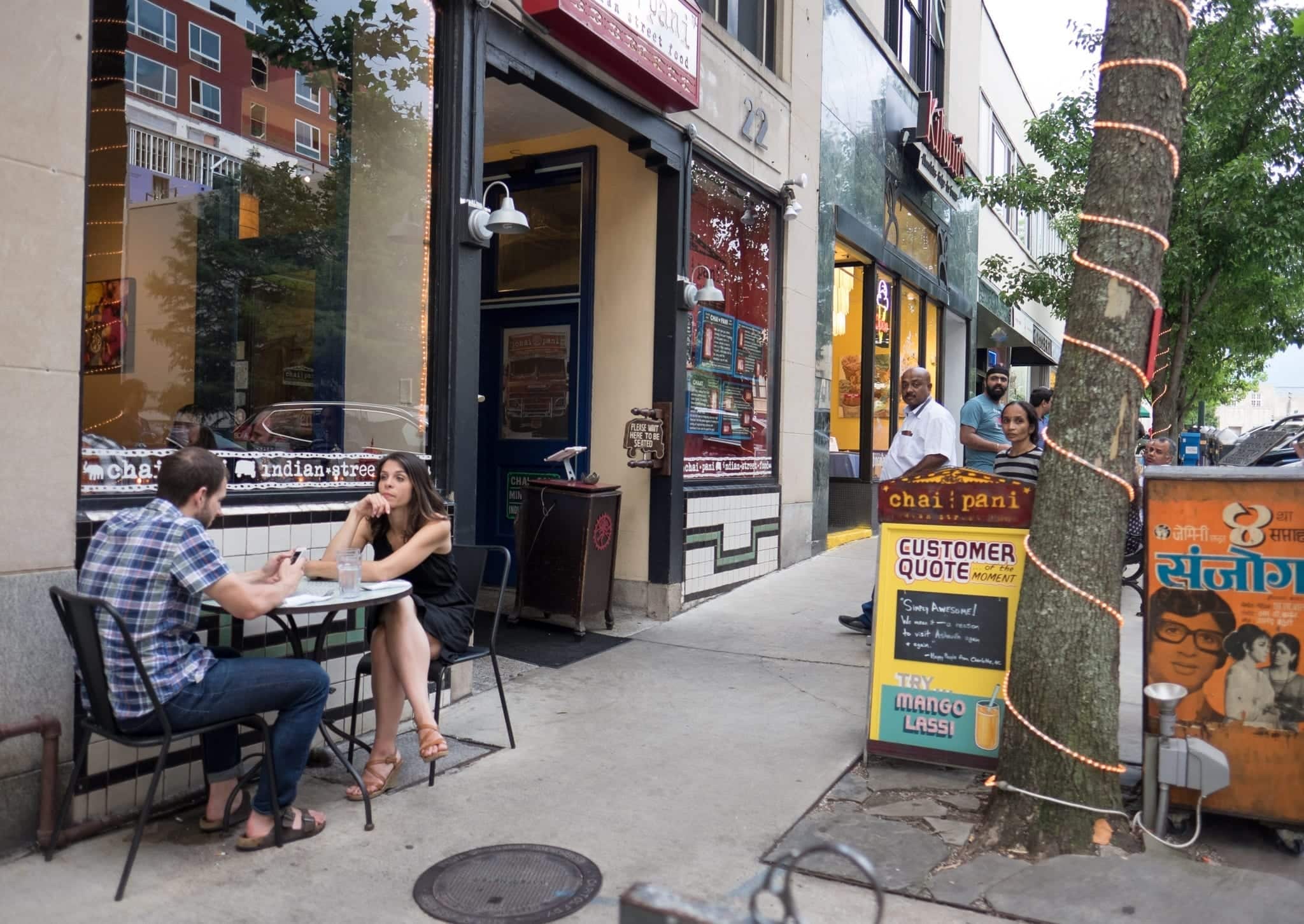 This all sounds good — but did anything negative happen?
No, not really! Part of that was because the Explore Asheville team and I planned the trip to be closely tailored to my interests and what I thought you, dear reader, would enjoy reading the most.
I will say one thing, though — remember how I said that in most places, 98% of people are awesome? Well, I did meet part of the 2% as well. I was photographing a street with my wide-angle lens and a saxophonist who thought I was photographing him yelled, "You know it's rude to take a photo of a musician and not give him a dollar!"
Oh ho ho. You're talking to the girl who constantly yells at her friends, If a street musician made you stop in your tracks, you owe him a dollar!
Yeah. I wanted to say that. But you always think up your best comebacks a few seconds too late. ("Dude. I just gave a dollar to that guy juggling on a board with a dog on his head. You were literally playing Old McDonald Had a Farm.") Anyway, long story short, he wouldn't stop yelling at me and people were staring. So I gave him a dollar while grumbling, "This is just to prove I'm not a jerk."
You guys know I always write about the bad experiences along with the good ones. And if that's as bad as it got for me in Asheville, well, it was a pretty awesome weekend.
Where to Stay in Asheville
Where's the best place to stay in Asheville? It's a small enough city that there are plenty of central options! Here are the top rated central stays at each price tier: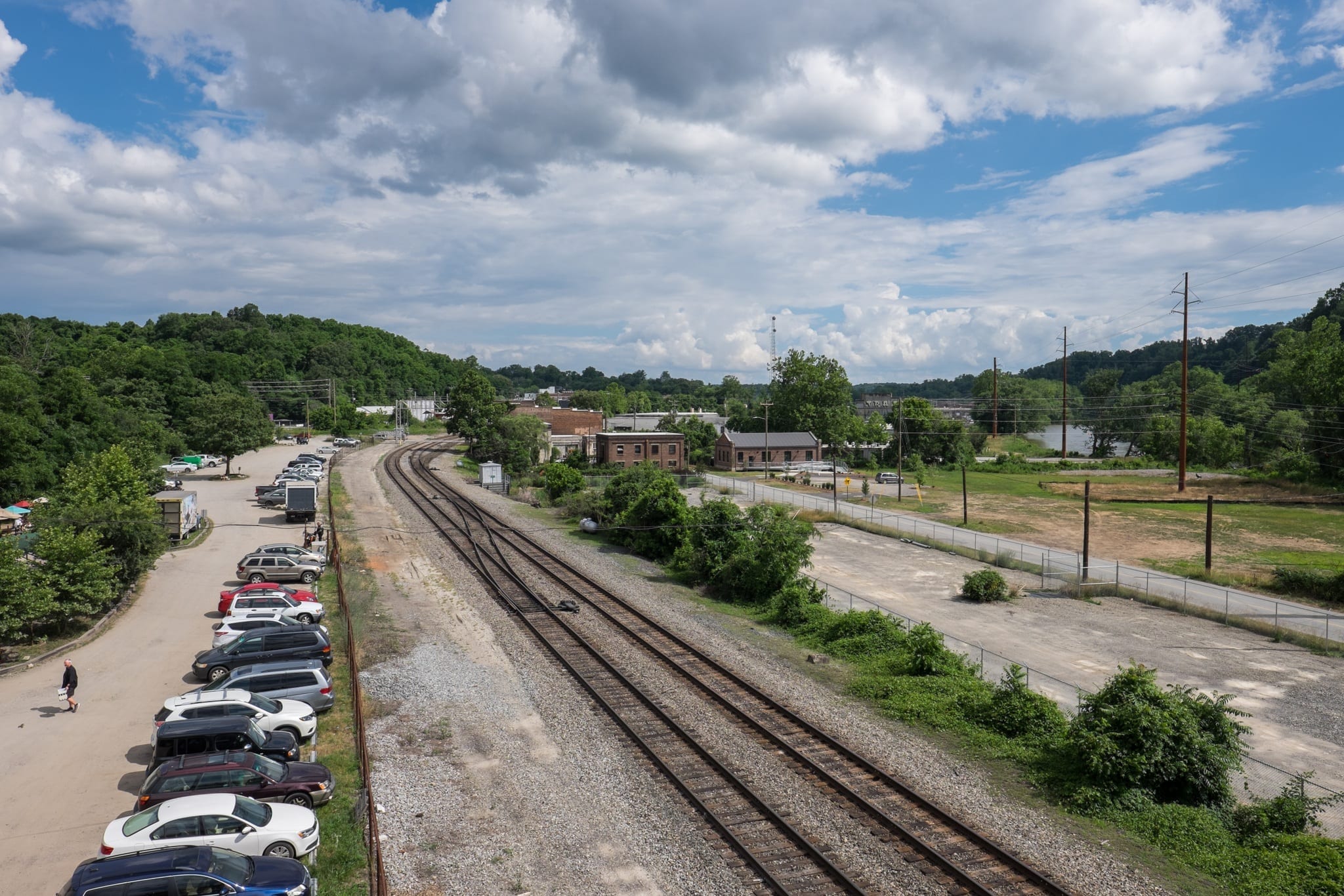 The Takeaway
Asheville is one of my new favorite U.S. getaways. And I feel like it would be great for all kinds of travelers — solo travelers, couples, groups of friends, families. But there are a few types of people who I think would especially enjoy Asheville:
Couples where one partner loves the city and the other loves the outdoors. I know a lot of couples like that and Asheville is the best of both worlds.
People into local, farm-to-table cuisine. There are so many options to get into local fare here.
Art lovers and collectors who like to chat with artists. I found the art scene here to be very open and friendly.
Beer fans. I mean, if you're into beer, this is the place to come.
And even if you don't fit any of that criteria, keep Asheville in mind. If you're looking for a nice destination in the US that isn't too overdone, where you can eat great food and visit cool businesses and spend time with some of the friendliest people in the world, I bet you'll enjoy Asheville for sure.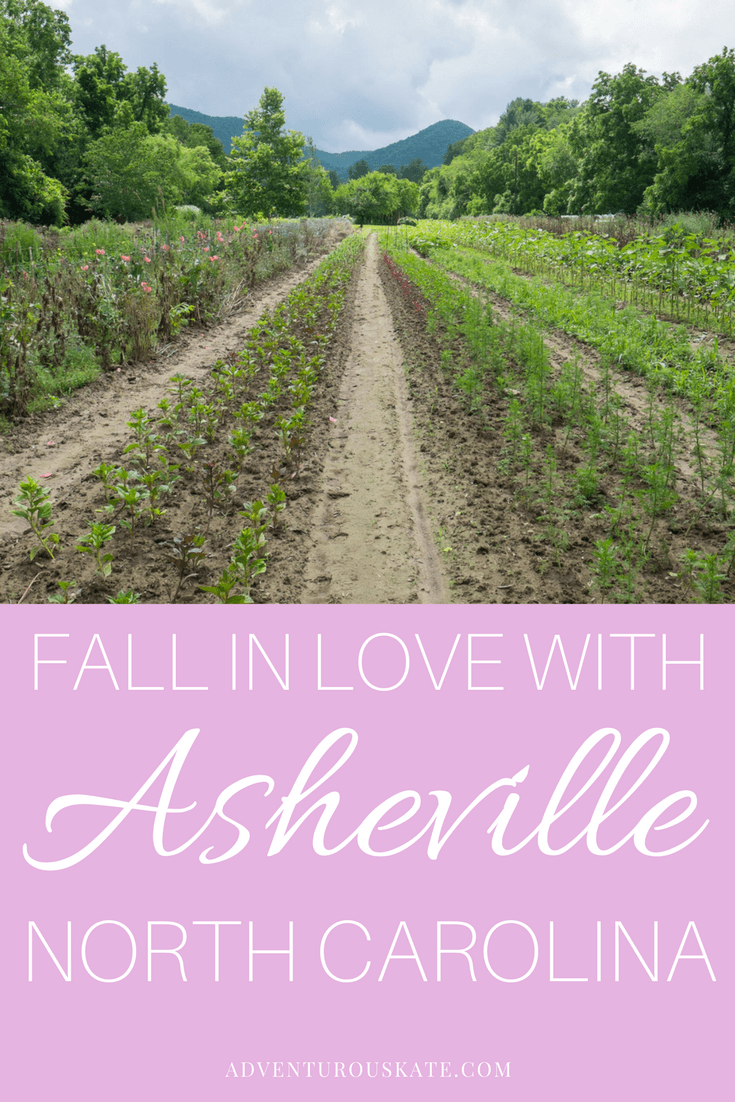 Essential Info: In Asheville I stayed at the Hyatt Place and highly recommend it. It's modern with artistic twists (they also bought some local Asheville glass art, I noticed!). My room was huge and had beautiful views of the mountains. Rates from $161. There's an indoor pool. The hotel offers valet parking or self-parking at the same price: $16 per day.

I had hoped I could do Asheville without renting a car, but I soon learned it was best to have a car. If you're visiting the Biltmore Estate, you absolutely need a car, unless you're booking a tour that picks you up and drops you off at your accommodation. Plus, the airport is about a 14.5-mile, 20-minute drive from downtown. Other than that, you can get by walking and using Lyft.

Admission to the Biltmore Estate starts at $75 for adults. You can get a $10 discount by booking seven days in advance. Kids age 16 and under are free through Labor Day.

Asheville Farm to Table Tours start at $89 per person, start in the morning, and include a late lunch. My tour was in Fairview County, but the specific itinerary can vary each day. See more tours here.

Asheville Art Studio Tours last two hours and cost $32 per person.

I never travel anywhere without travel insurance — it could save your life (or finances). For this trip to Asheville, I used World Nomads and highly recommend them.
Many thanks to Explore Asheville for hosting my stay in the city and helping me plan an itinerary filled with things I loved. All opinions, as always, are my own.
Have you been to Asheville? Does it look like your kind of city? Share away!