Adventurous Kate contains affiliate links. If you make a purchase through these links, I will earn a commission at no extra cost to you. Thanks!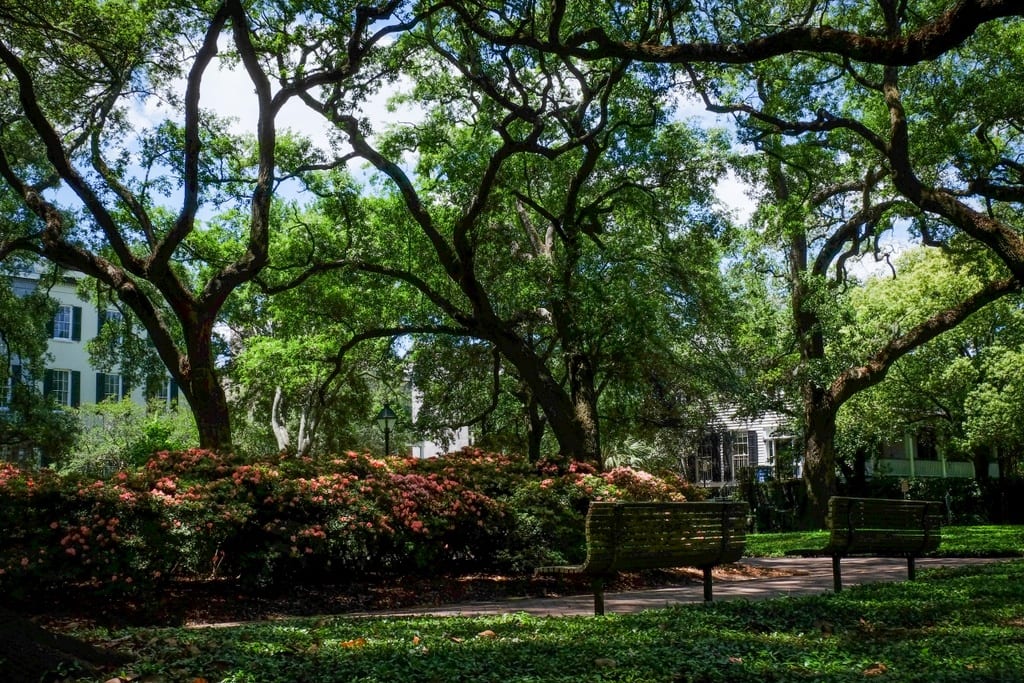 Two years ago, I visited the city of Savannah, Georgia, for the first time — and it immediately became one of my favorite places in the world. Since then, I've been wanting to get back.
Savannah is a place that I feel viscerally. And it's one of the best places to travel alone.
A few other cities give me that same feeling. Granada is the sun beating down, blindingly fluorescent whites, flamenco flowing through the air, the Sierra Nevada mountains turning purple in the sunset. Paris is two worlds, the grandeur and aesthetics and perfectly put together people set against a backdrop of graffiti and trash and street harassers, each side refusing to acknowledge the other. Seoul is technology and caps and sneakers and steaming grills and writhing street octopus.
But Savannah? Savannah is different.
The essence of the city curves through the air like wrought iron, smoke, the oak trees that dot the city squares. It's equally sweet and sinister. Savannah is said to be one of the most haunted cities in America and you can feel stories and lives swirl around you.
Recently Visit Savannah got in touch and invited me to return for a visit. Of course I knew I would take them up on their offer — it's Savannah! — but this turned out to be one of the best and most fun campaigns I've worked on recently.
Here are the reasons why I fell in love with Savannah.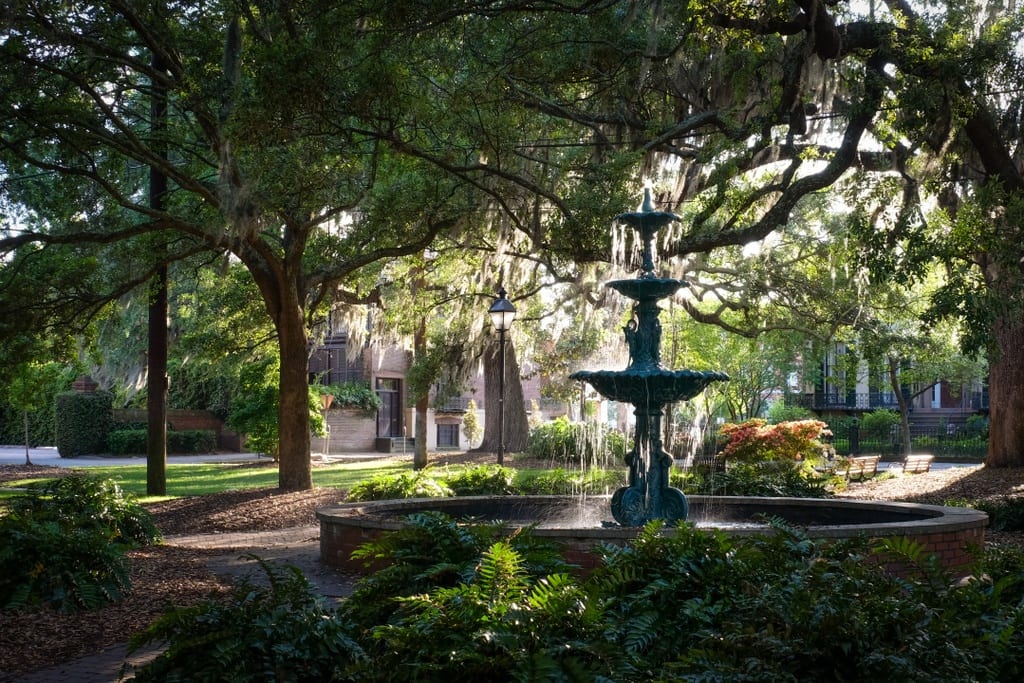 The Squares
Savannah has an unusual city layout: it's home to 22 squares that divide the city into wards. While they were originally created to facilitate military exercises, today they're known for their beauty.
Each of these squares is like a mini park, named for a historical figure with a statue, fountain, or monument honoring a different historical figure in the middle.
Above is Lafayette Square, home to the prettiest fountain. I absolutely love that photo.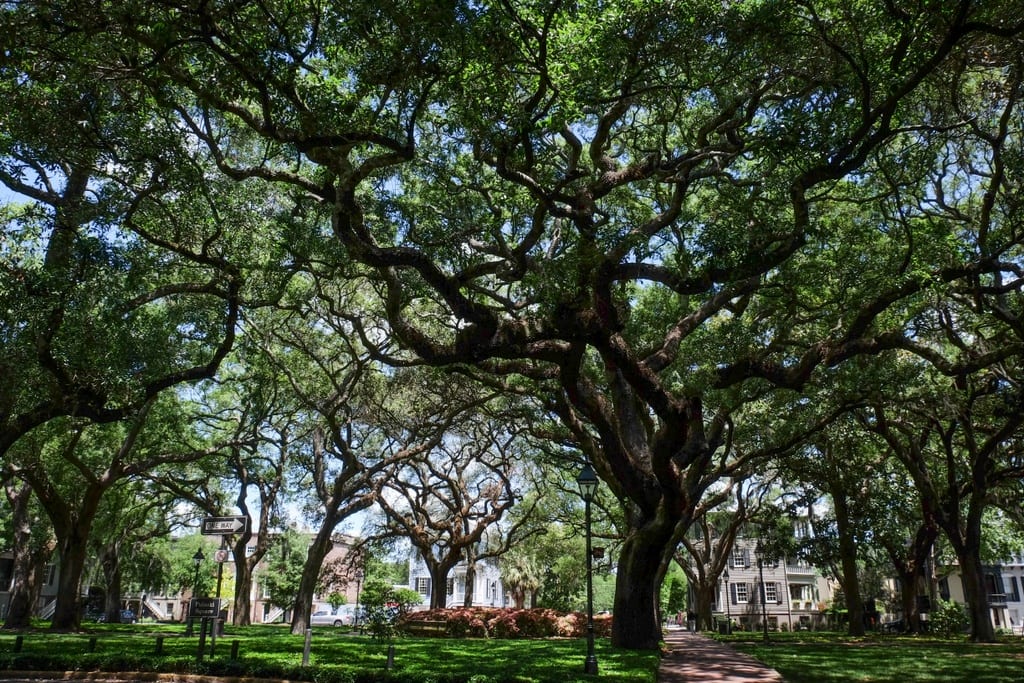 Pulaski Square is another one of my favorites. This square is beautifully landscaped with pink flowers.
Chippewa Square is the most famous square of all. See that little sign in the bottom left? That's where Forrest Gump sat on a bench and told his life story!
The bench has since been moved to the Savannah History Museum, but you'll still find plenty of people taking photos!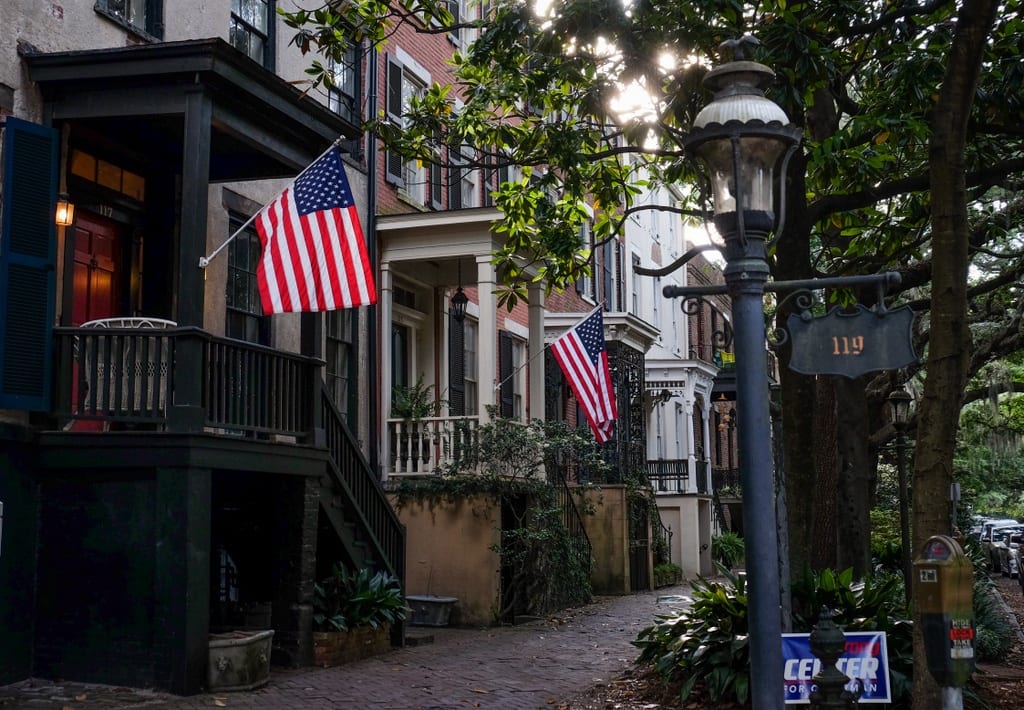 Southern Hospitality and Friendliness
I was walking down Jones Street and photographing the stately homes when a woman in workout gear stopped and called out to me.
"Are you visiting?" she asked.
"Yes!" I replied.
"There's a great house down on the next corner." And she began telling me the stories of nearby buildings and some of the celebrities that inhabited them, before recommending a vintage shop to check out.
That's Savannah — and the South. People are always starting conversations out of nowhere and reaching out to help you.
I won't lie — if you're from the northeast, and especially if you're an introvert, you may feel unnerved at first. I'm unnerved every time I go to the South or the Midwest and am hit with this wave of atypically friendly interactions. But then I grow to love it and even become more outwardly interactive myself.
To my non-American friends, Southerners are far friendlier and more talkative than typical Americans. (I can feel the English paling in horror as they read this.)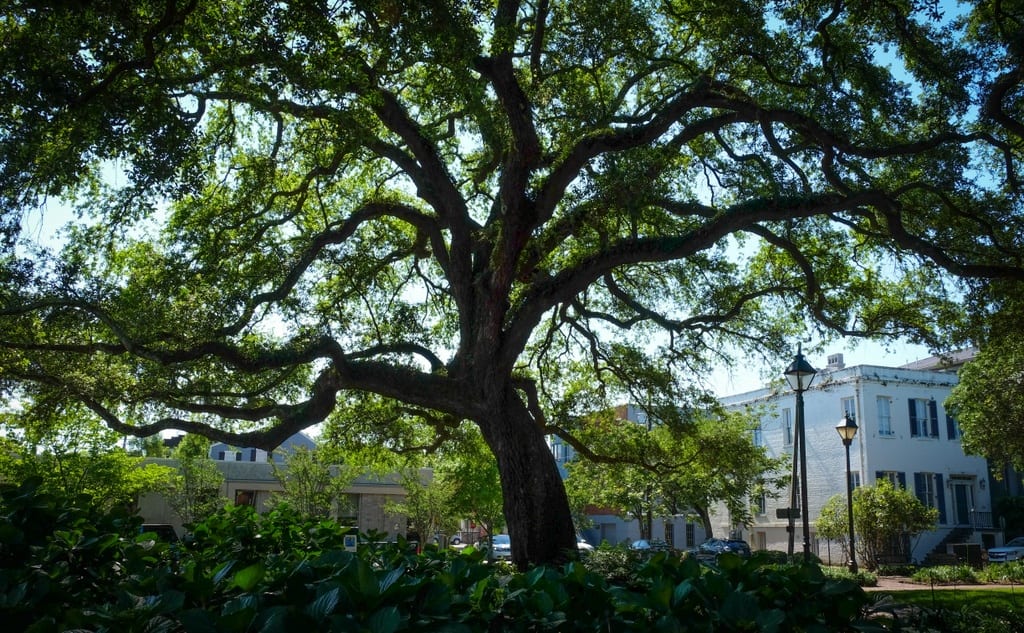 Oak Trees with Spanish Moss
Savannah is filled with oak trees — the kind that twist and turn in varied directions, the kind that would appear in flashes of lightning in a horror movie, the kind that might have thrown apples at Dorothy in The Wizard of Oz. Add some dripping Spanish moss to the top and you've got the perfect Southern look that you see in so many movies.
I wanted to photograph every tree I saw and was constantly on the search for the perfect tree photo.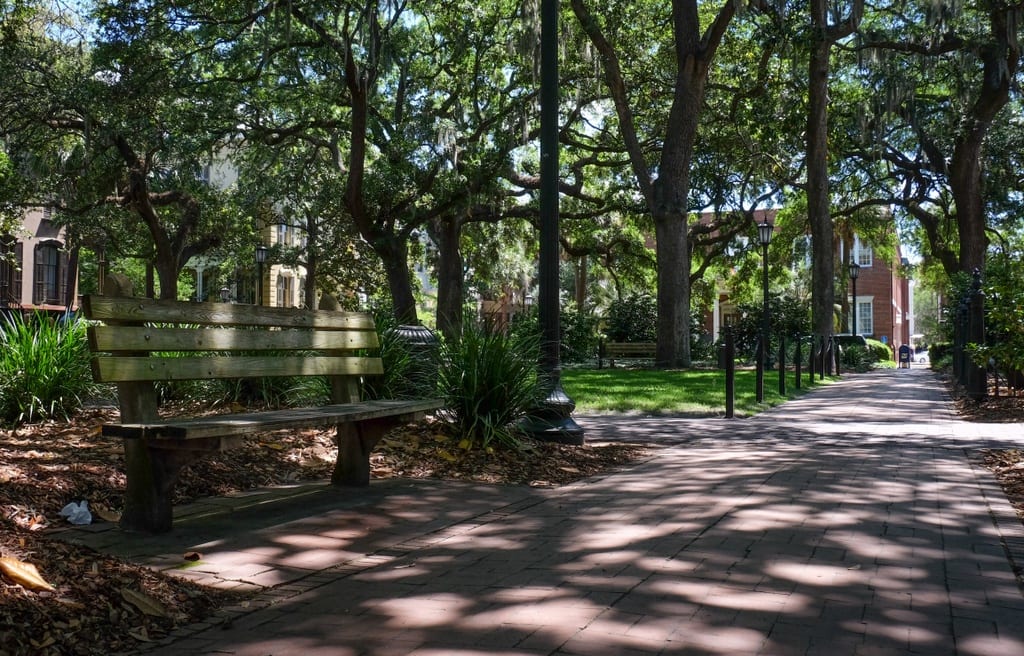 There's just one downside of the trees — they make photography very difficult. Almost every square is completely covered with patches of shadows and light, almost making it look like camouflage.
That photo above was edited to within an inch of its life and it still came out very patchy.
I was disappointed with my Savannah photos the first time around. But I think I've grown as a photographer since then and am a bit better at handling these kinds of shadows.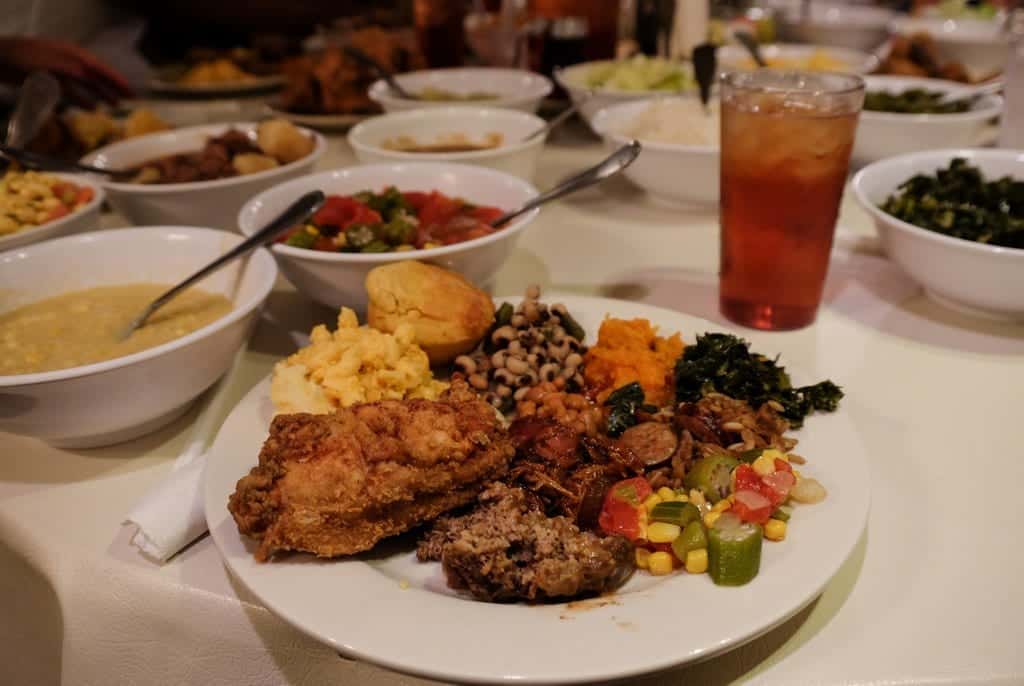 Incredible Food
The American South is one of my favorite culinary destinations. Southern food is amazing — and, um, not the healthiest. Be sure to pace yourself!
Now, Savannah is not the most sophisticated city out there, culinary or otherwise. Don't go there expecting to hit a home run at every restaurant you would visit. But some Savannah restaurants are truly excellent and worth making the cornerstone of your trip.
Here are my top three favorites:
Mrs. Wilkes' Dining Room — This is one of my favorite restaurants in the world. People line up early here to eat incredible Southern food served family-style at communal tables. EVERYTHING on the menu is fabulous. The fried chicken is unbelievable; their cheesy mashed potatoes rock my world; there's some kind of pork that falls apart beautifully. And who knew banana pudding could be so good when not made from a mix?
The Olde Pink House — This haunted building is known as the best restaurant in Savannah. Solo travelers tend to eat at the bar; I made two solo traveler friends there! Their BLT salad is justifiably famous and I also enjoyed the shrimp and grits (the grits were a cake), she-crab soup, and a praline basket filled with ice cream and fruit. Skip the blackened oysters; they had too much going on.
(Don't look at me like that! I took tastes of every dish and shared the rest with my new friends.)
Collins Quarter — I fell in love with this funky cafe. Their avocado toast, topped with radishes, tomato, and a poached egg, is one of the best avocado toasts I've ever had. And their lavender spiced mocha was unbelievable. More on that further down.
Midnight in the Garden of Good of Evil
Have you read Midnight in the Garden of Good and Evil? It's incredible. It topped the nonfiction lists for several months in the mid-90s and spurned a film, starring John Cusack and Kevin Spacey and directed by Clint Eastwood.
This book is a nonfiction novel by John Berendt covering a murder and subsequent trials that rocked Savannah in the 1980s. (A nonfiction novel tells the story of true events using literary style and flair.) But forget the murder — the craziest thing about the book is how bizarre of a place Savannah is and how vibrant, conniving, fascinating, dreadful, and almost cartoon-like its residents are.
If this book had been pitched as a novel, nobody would have published it. It would have been too unbelievable. I think it's the best book ever written about a destination.
The most interesting thing is that this book kickstarted mainstream tourism in Savannah. Savannah in the 1980s and early 1990s was a bit isolated and wary to outsiders. As soon as the book came out, people started flocking to Savannah in droves, trying to get a piece of that crazy Savannah for themselves.
The biggest advice I can give you is to read this book before you visit Savannah. And even if you're not planning to visit Savannah, this book will have you booking a flight in no time.
Quirky Shops and Businesses
Savannah is a wonderful city for shopping. There are plenty of chain stores, but take my advice — keep your money as local as possible and discover some of the treasures of Savannah.
Here are a few of my favorite local businesses:
The Paris Market — I am in love with this store. It's filled with beautiful, Parisian-themed housewares and trinkets. Everything in the store is so elegant, you start to convince yourself that you should buy some wasps' nests to display in an apothecary jar. (Yes, they sell those.)
Satchel — Satchel sells custom leather handbags and accessories. The shop doubles as a workshop and it smells amazing! The bags are adorable and I couldn't believe how cheap they were — $65 for a wristlet and $185 for a larger bag. And that could be for custom bags, too. Bags like that would cost at least double in New York.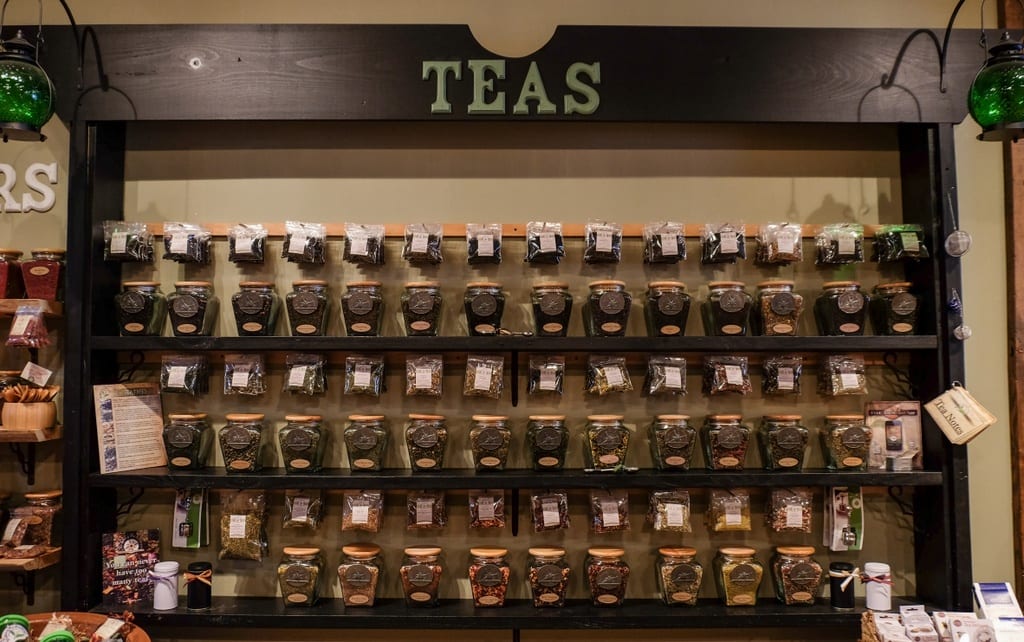 The Spice and Tea Exchange of Savannah — If you love food, or want to buy souvenirs for loved ones who love food, this is the place! I loved exploring all the teas and spices. They even have a sugar wall! (I bought some habañero sugar. No idea how I'll use it yet…)
The Book Lady — I love a cozy used bookstore. If you do, too, this is a place for you.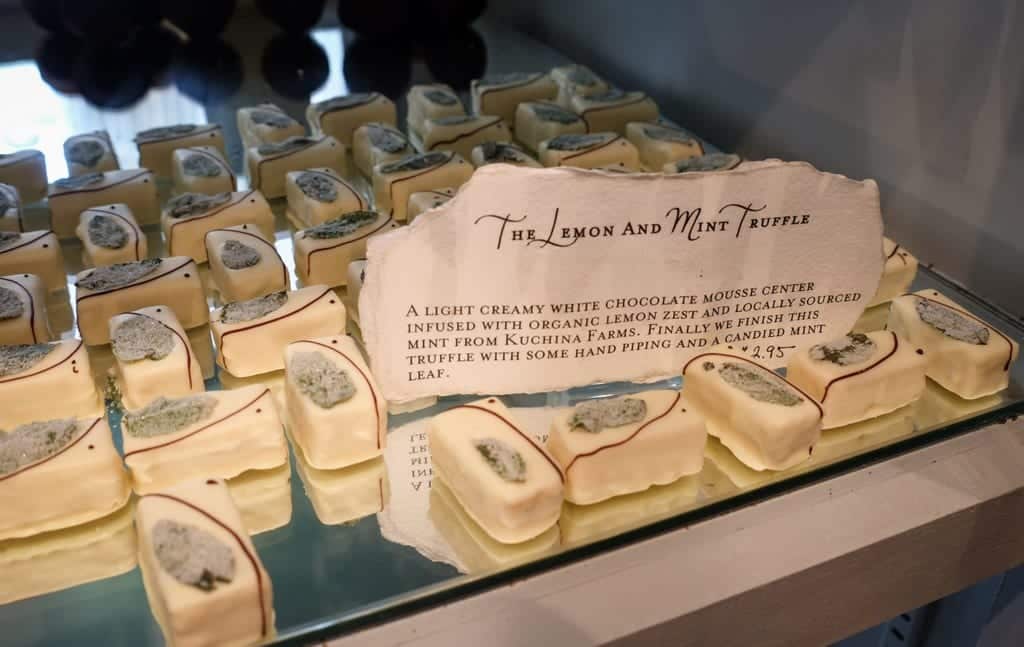 Chocolat — Pricey (think $2.50 each) but gorgeous chocolate truffles! I'm a fan of the lemon mint white chocolate truffles.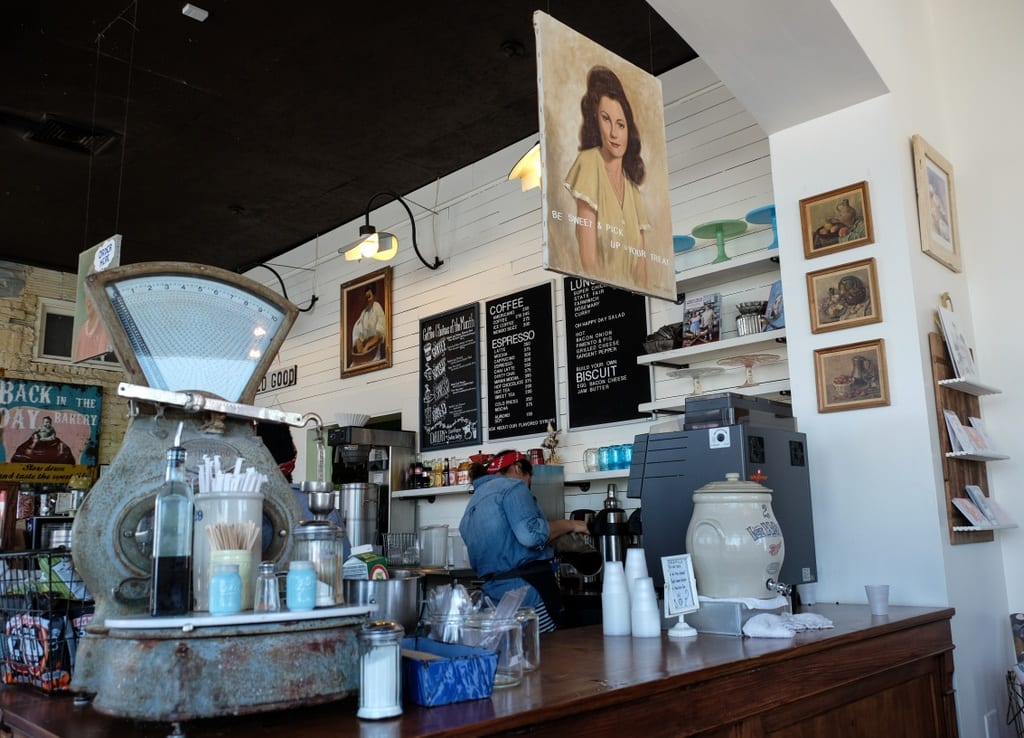 Back in the Day Bakery — Delicious baked goods in a funky, vintage setting. I loved how the employees all dressed like Rosie the Riveter! Their Earl Grey and lavender cookies are fabulous; the coffee is nice, too. If you're coming for lunch, I hear the bacon and onion jam sandwich is fabulous.
(Note — two different Savannah women told me to be careful in the neighborhood around the bakery. It looked perfectly pleasant to me, but when multiple locals tell you something like that, you listen.)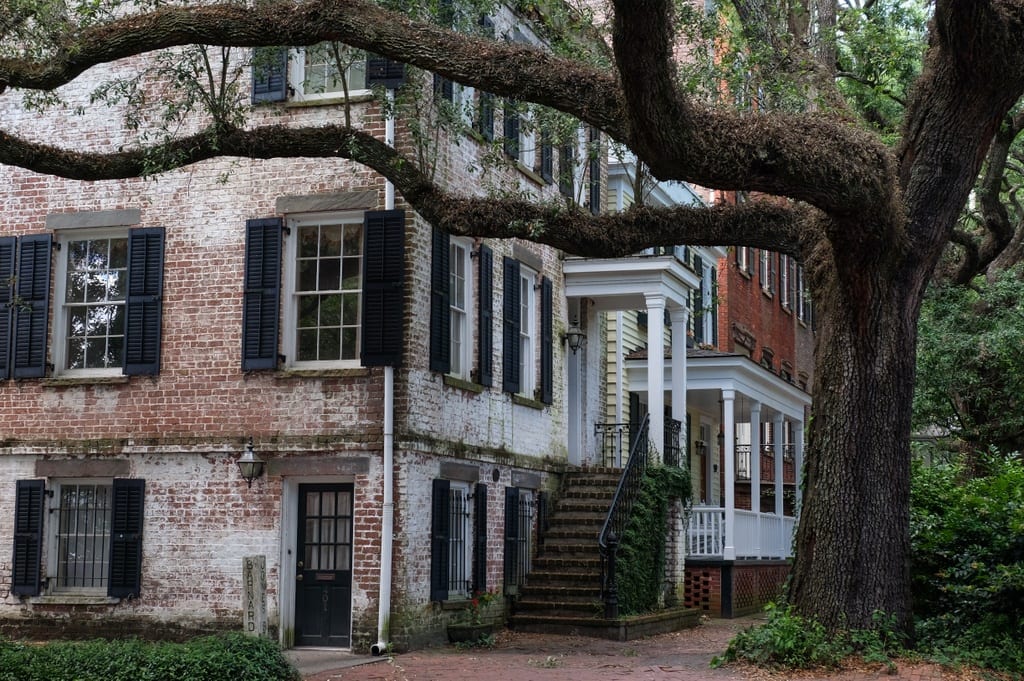 Beautiful Architecture
When I was in high school, I loved driving around and looking at fancy houses. It's still a hobby of mine today — though I'm far likelier to explore on foot.
Some of the most beautiful homes in Savannah are around Jones Street and Forsyth Park. Walking around here is a great way to walk off your food baby from Mrs. Wilkes'.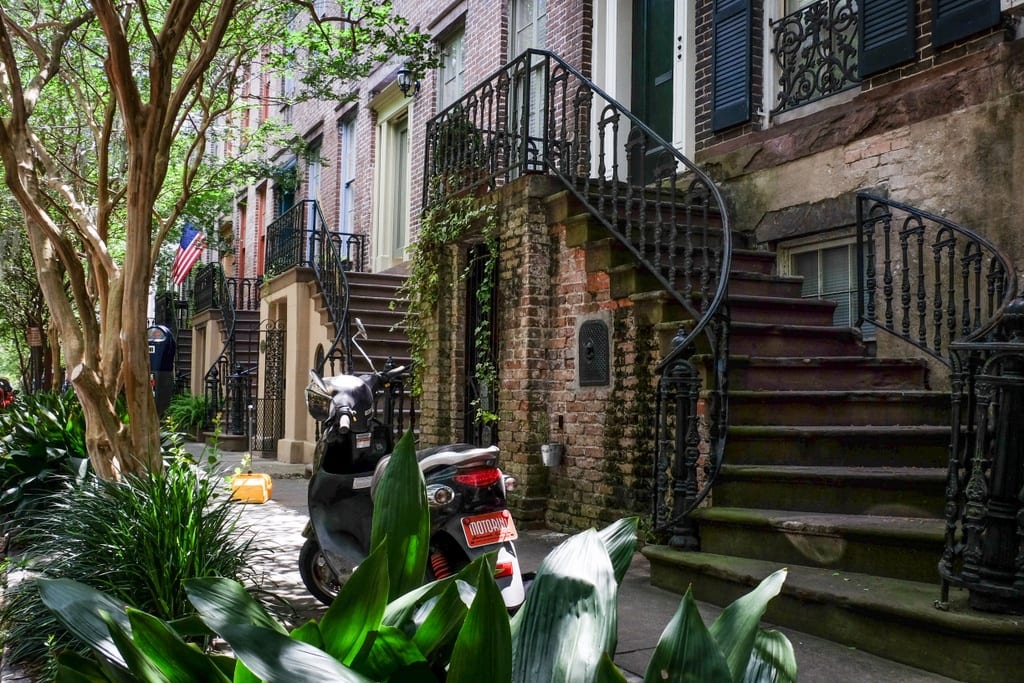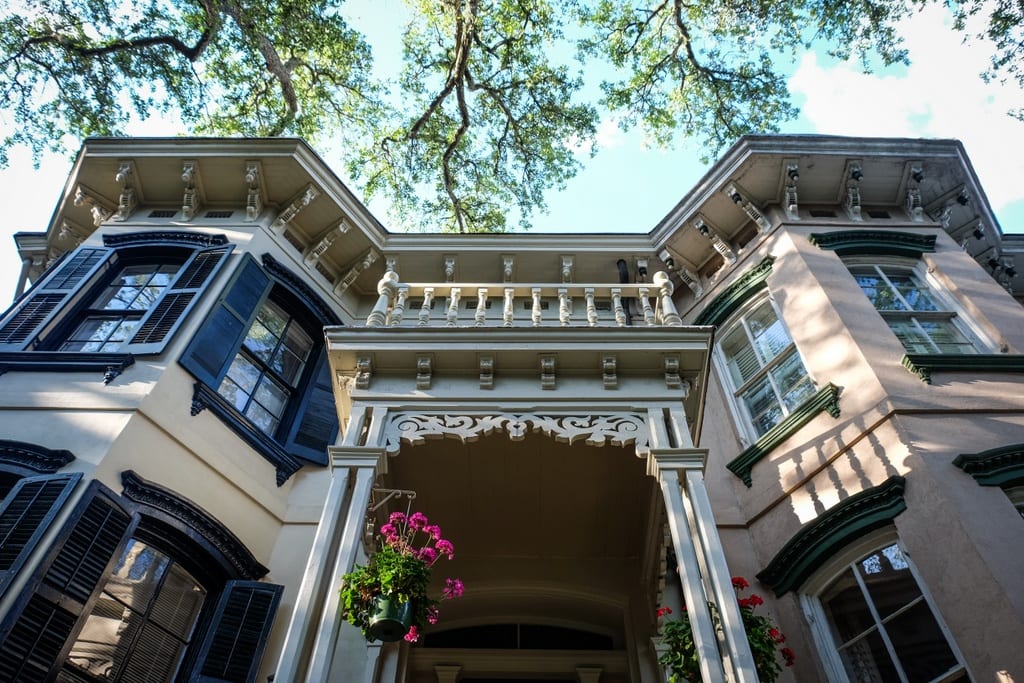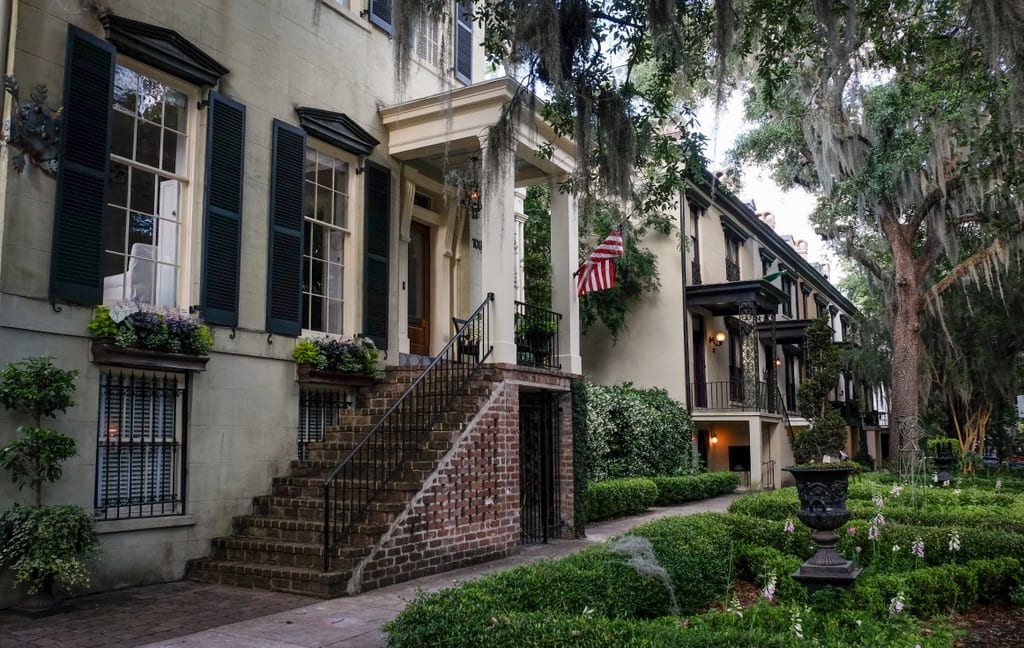 On my last day, I joined a tour with Architectural Tours of Savannah, and I was so glad I did. I don't know too much about post-1800 architectural styles beyond "that's pretty" and the tour shows how Savannah evolved and changed over time.
Jonathan, the guide, is very affable and knows his stuff backwards and forwards. I also loved that our group was definitely on the nerdy side (Woohoo! My people!) and eager to participate in discussions.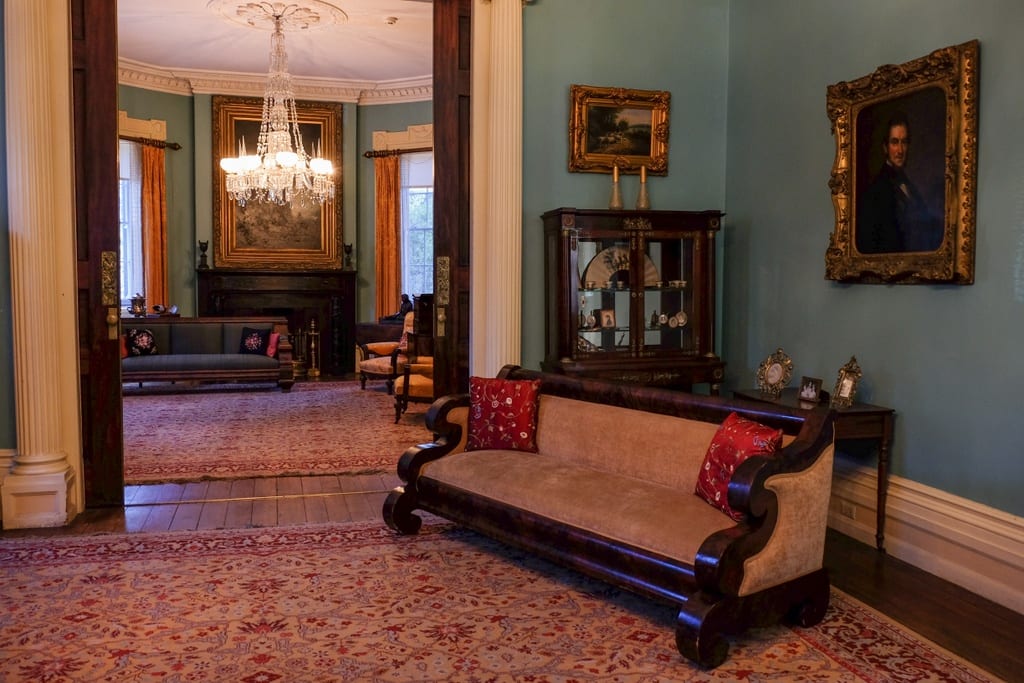 Alternatively, take a tour of a historical home. I visited the birthplace of Juliette Gordon Low, founder of the Girl Scouts and a truly fascinating woman. I knew nothing about her before visiting, but I'm so glad I learned about her.
Making a pilgrimage here is a must if you were a Girl Scout!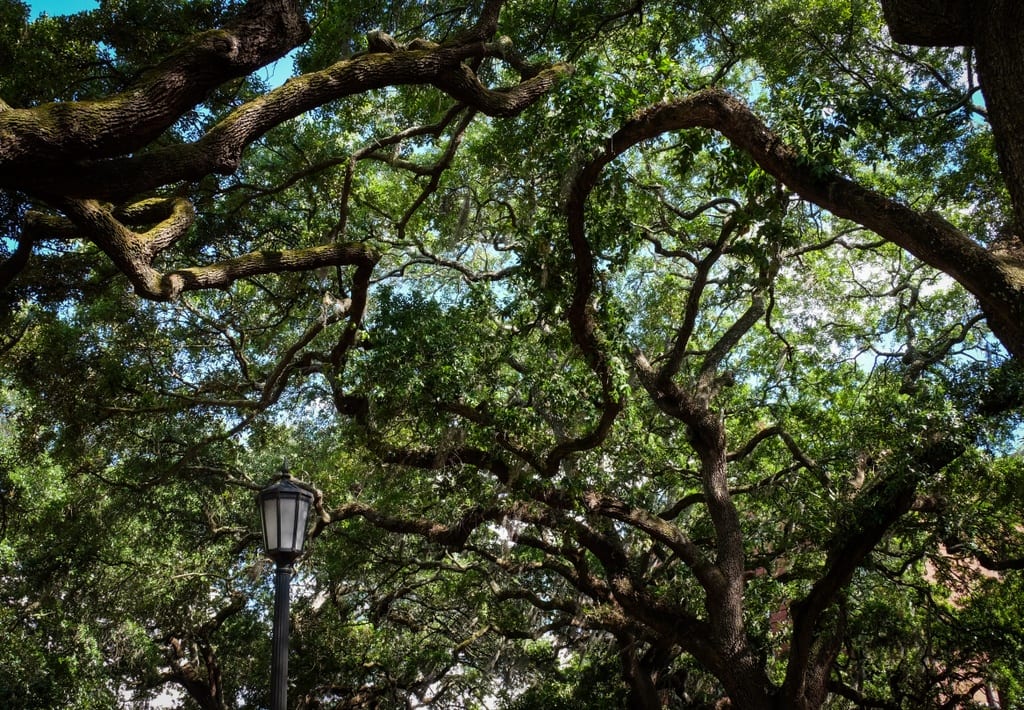 Fabulous Weather
If you're getting sick of the cold up north, Savannah is a lovely place to visit. I visited in early May this time and temperatures were usually in the low 70s (20-24 C). People were saying that it was unusually cold for that time of year.
I also visited in February and usually went around wearing a blazer or cardigan.
Most locals I spoke to recommended visiting in April, May, or September for optimal weather conditions. The summer can get very humid.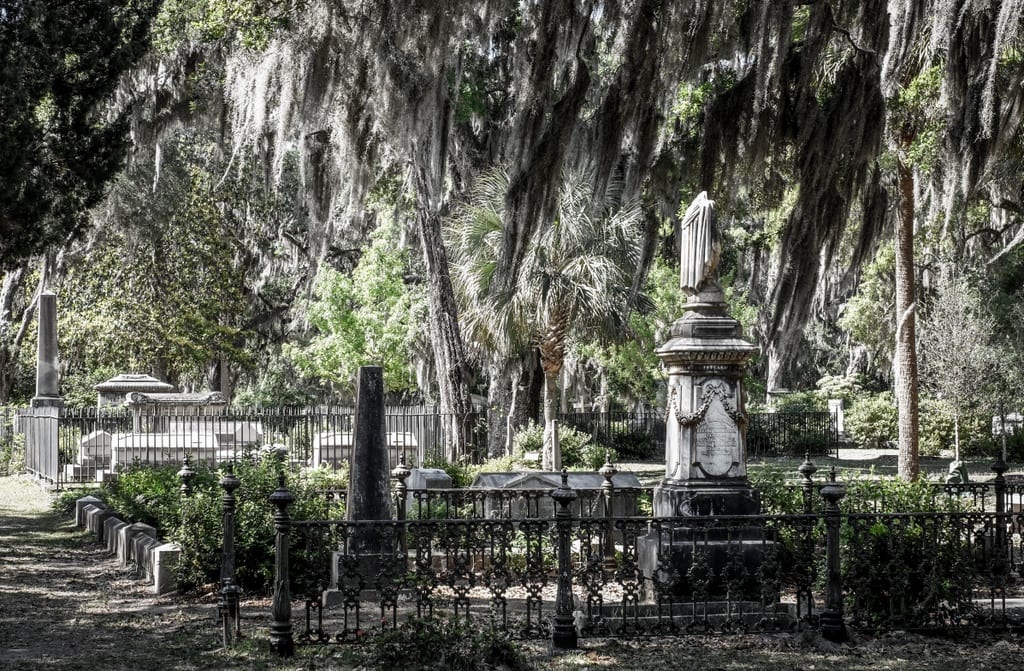 The Hauntings
Let me be clear — I don't usually like scary stuff. The last haunted house I visited was in Vegas in 2009. I refuse to watch horror movies. And I don't go on ghost tours anywhere.
But I do love a good story. Particularly when it involves a scandal. And most of Savannah's ghost stories seem to be wrapped up in scandal.
Two years ago, I went on the Dead of Night ghost tour in Savannah and it was one of the best tours I have ever taken. The history is fascinating and going on an adults-only tour late at night made it more fun than a regular tour, but what made it most special was the guide, Skippy. Skippy knows every secret in the city and tells the stories so well. I'd listen to him talk about anything.
Yes, Savannah has its ghosts. And I'll never forget standing in a dark square, listening to a recording ghost hunters made of a female ghost in Savannah screaming, "Y'all get out! Y'all get out right now!"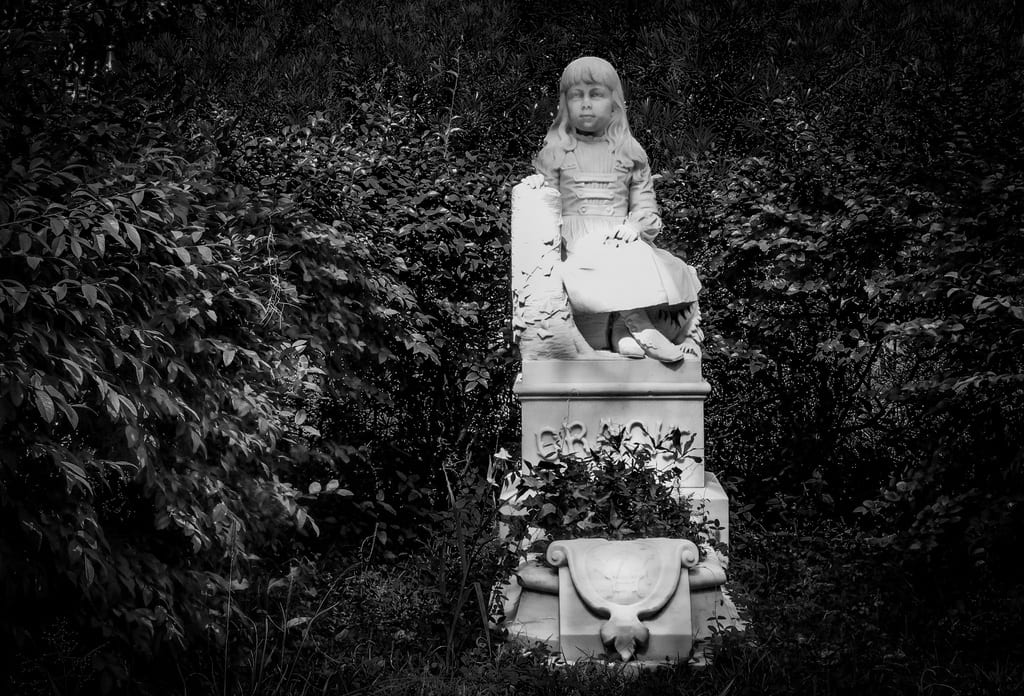 On this trip, I visited Bonaventure Cemetery for the first time. It's not quite the most ornate or elaborate cemetery I've ever visited (that honor goes to Recoleta Cemetery in Buenos Aires and Lafayette Cemetery in New Orleans), but it has plenty of Southern gothic creepiness and lots of good photo ops.
And that's where I had my encounter with a ghost — Little Gracie.
Little Gracie was famous in Savannah. Her father managed one of the fanciest hotels in town and she charmed every guest who came in. When she was six, she fell ill with pneumonia and died two days before Easter. Her grief-stricken parents buried her in Bonaventure Cemetery and later left the city.
Many Savannah locals say that you see Little Gracie's ghost wandering through town, looking for her parents.
I stood at Little Gracie's grave, taking photos from a few different angles, then stepped slightly to the left of the center of the gate.
I looked into her eyes — and something whooshed into me. From that angle, it was like she was staring into my soul. I felt something seize up inside me and hit me on the back from the inside. I was immediately filled with fear and suddenly felt the need to be right next to my host, even though other people were around.
Was that Little Gracie? I think it was.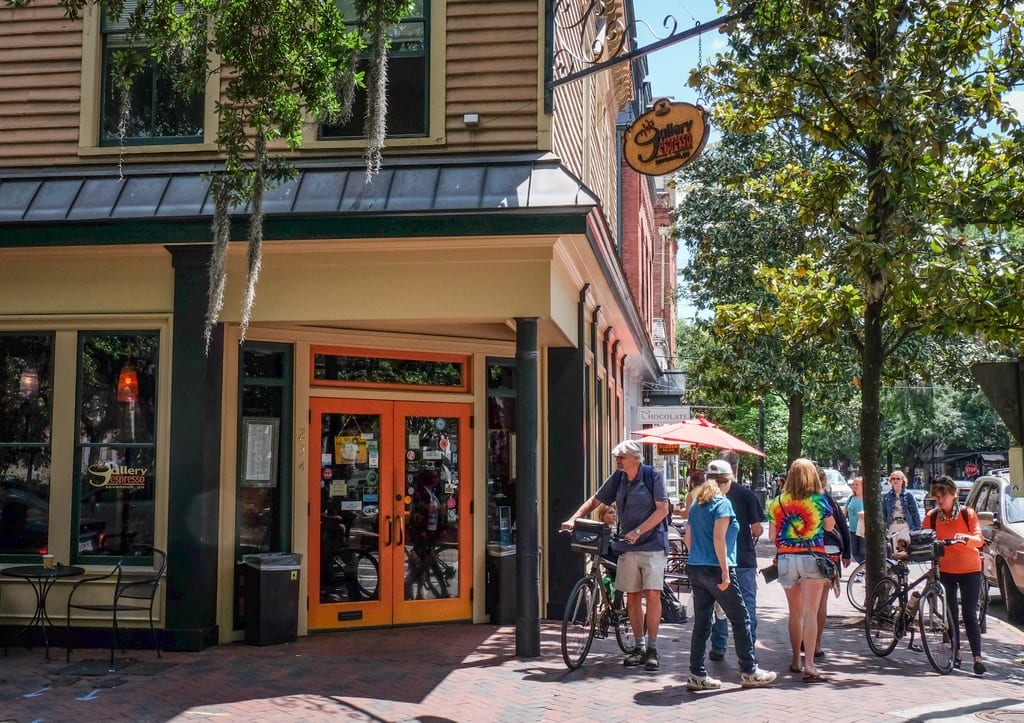 The Artsy Atmosphere
Savannah is home to the Savannah College of Art and Design, one of the best art schools in the United States. Having a student body can strongly affect a city's atmosphere, and even more so when it's an artistic student body! As a result, you can see lots of art throughout the city.
The students at SCAD are intimately involved with their community, and I love that.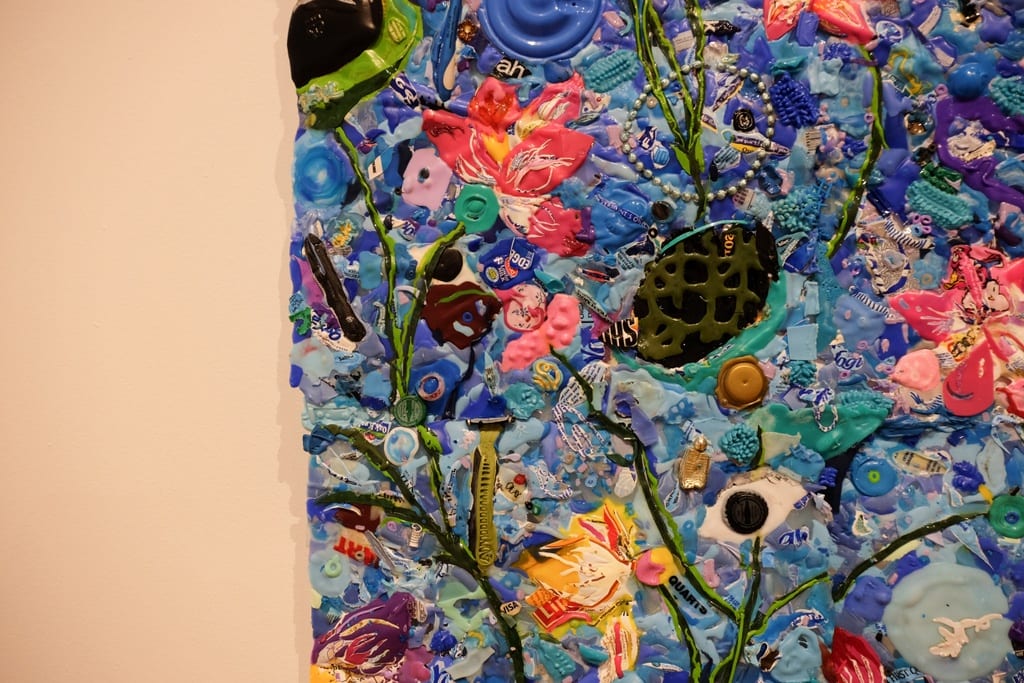 Also worth visiting is the Jepsen Center at the Telfair Museums, which is home to the "Bird Girl" statue, the city symbol that was on the cover of Midnight in the Garden of Good and Evil. I loved wandering around and seeing the modern art collections.
Currently on display was a photography display of Elvis at age 21.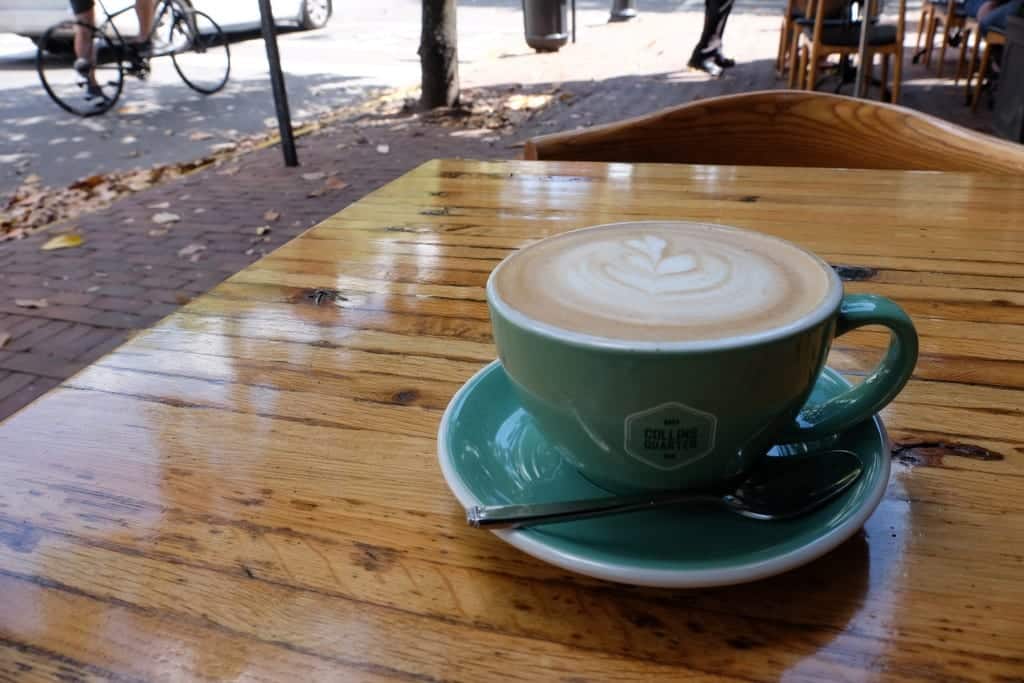 The Lavender Spiced Mocha at Collins Quarter
When I arrived in town, my hosts at Visit Savannah told me I had to try the lavender spiced mocha at a cafe called Collins Quarter. I was so intrigued that it was my first stop after I checked into my hotel!
And then I returned the next day.
And the day after that.
Sweet and gently spicy; floral but not overpoweringly so. Not a harsh, hardcore coffee like I usually get in New York. I found a new favorite.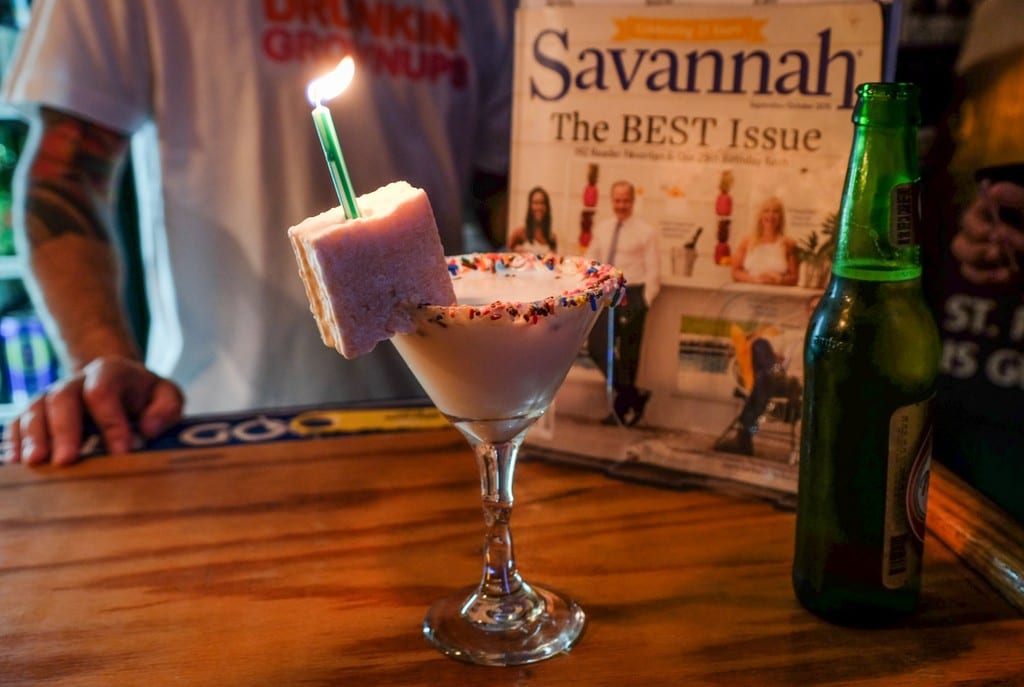 The Birthday Cake Martini at Jen's & Friends
Jen's & Friends looks like a typical dive bar — then you grab the menu and realize that they have 300 martinis available!
The Birthday Cake Martini is a must if you're celebrating a birthday in Savannah. How awesome does that look?!
Not your birthday? Lie and say that it is. Or be like me and order a super sweet watermelon lemon drop garnished with a Blow-Pop.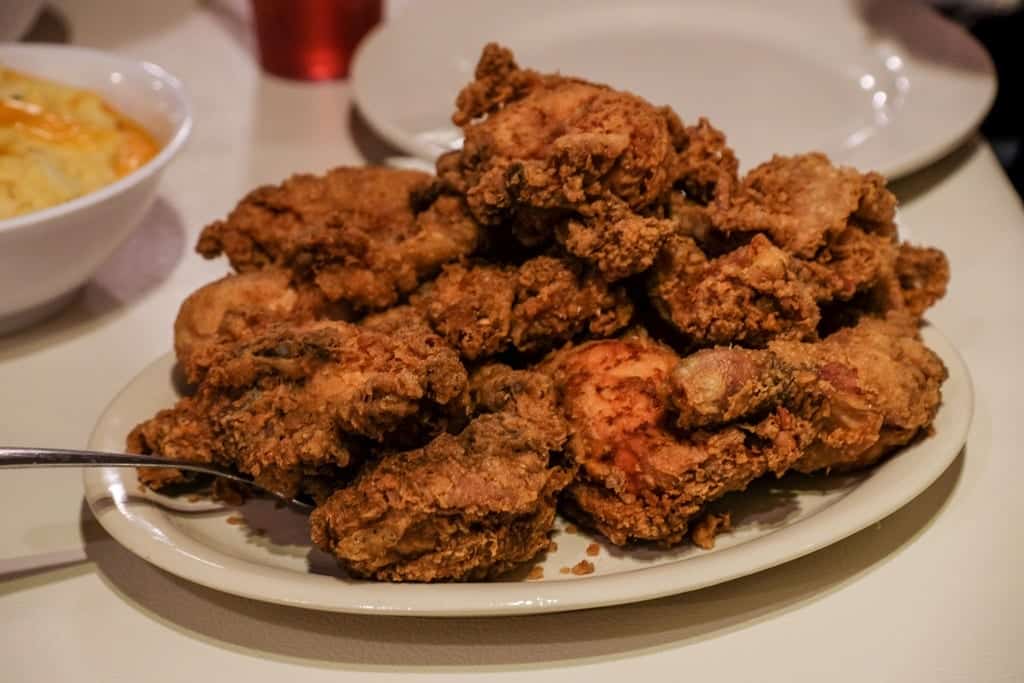 The Fried Chicken at Mrs. Wilkes' Dining Room
Best fried chicken I've had in the South.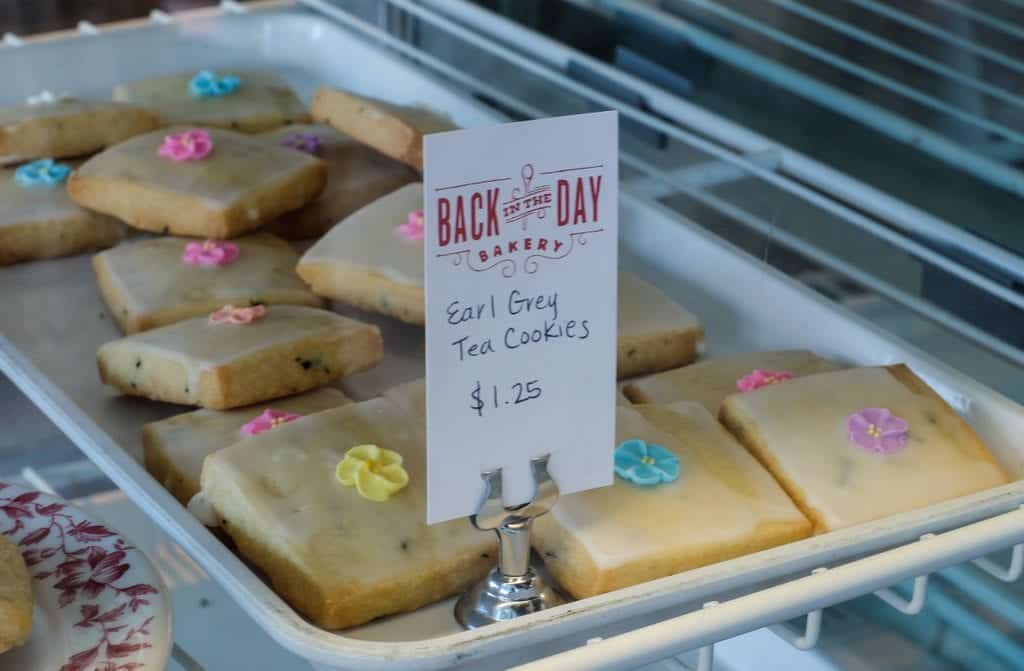 The Earl Grey Tea Cookies at Back in the Day Bakery
I took four of these home.
I planned to give two of them to my sister.
That didn't happen.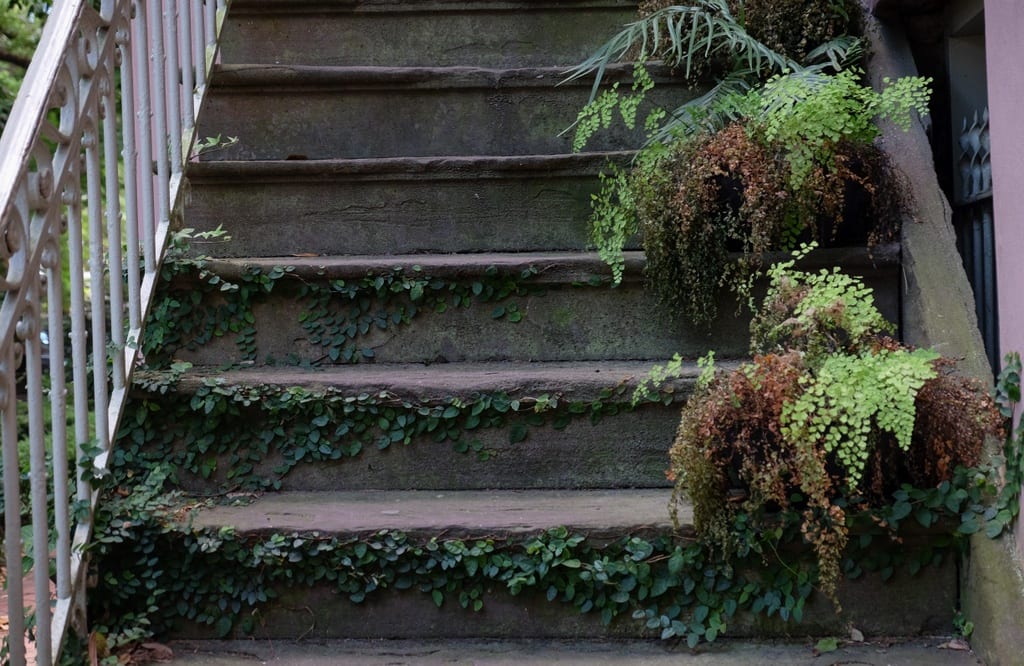 Value for Money
Granted, "value for money" is relative depending on where you're from. Let's just say that you get tremendously more for your money in Savannah than you would in New York, San Francisco, Los Angeles, Chicago, etc.
I mean, living in a city where it costs $15 for a fancy cocktail downtown and maybe $13 for a fancy cocktail where I live way uptown, it's insane that the tricked out martinis at Jen's & Friends are only $12. Or that the unlimited feast at Mrs. Wilkes' Dining Room is only $18.
The South can often be a wonderful place.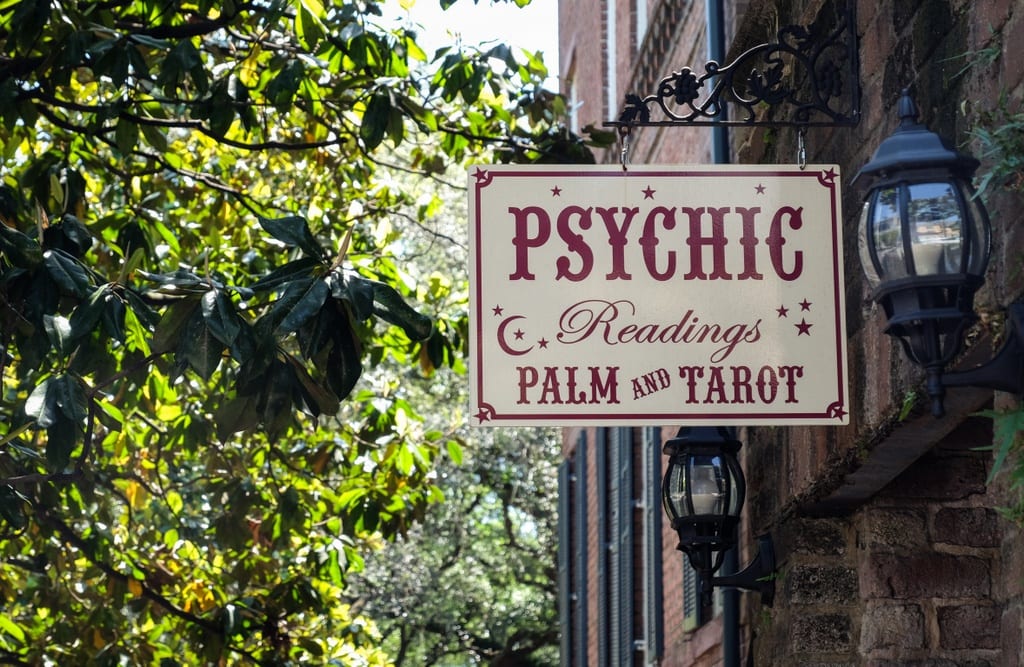 It's Easy to Get There
I flew direct from JFK on JetBlue — and even though I booked only a few weeks in advance, it only cost me $204. (I flew in on Thursday and out on Saturday, which helped. It's often more expensive if you fly Friday, Sunday, or Monday.)
You can get direct flights from 21 US cities including New York, Boston, Chicago, Minneapolis, Dallas, Houston, Philadelphia, Pittsburgh, and Washington, DC. The full list is here.
If you wanted to include Savannah as part of a longer trip, you could easily pair the city with other destinations along the coast: Charleston in South Carolina, Georgian islands like Cumberland Island and Jekyll Island, St. Augustine and Amelia Island in Florida. Atlanta is a three-hour drive away. If you were even more ambitious, you could do a two-week road trip from New Orleans to Charleston like I did two years ago.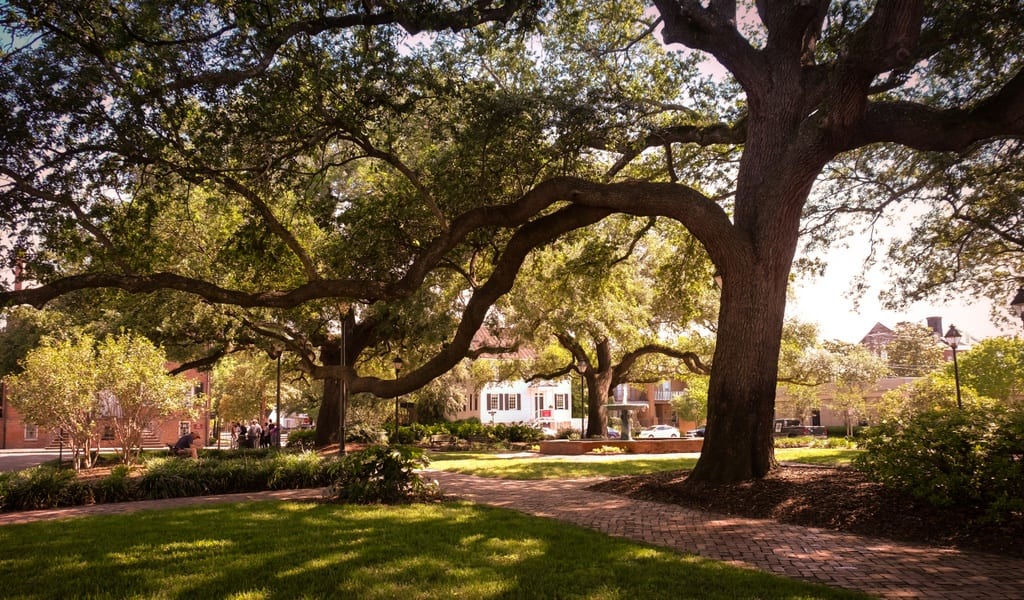 The Takeaway
On my second visit, I left Savannah feeling even more enamored than before. Savannah is almost like my mistress — fun, warm, unpretentious, and so different from my home of New York.
I plan to be back whenever I can. I keep thinking of different friends and family members whom I want to bring here.
By the time author John Berendt published Midnight in the Garden of Good and Evil, he had been splitting his time between New York and Savannah for years. He was just fascinated by this city and couldn't stop visiting.
I totally get it.
Savannah may not be the self-isolating town that it was back in the 1980s. But there's something indescribable that compels you to return here, again and again.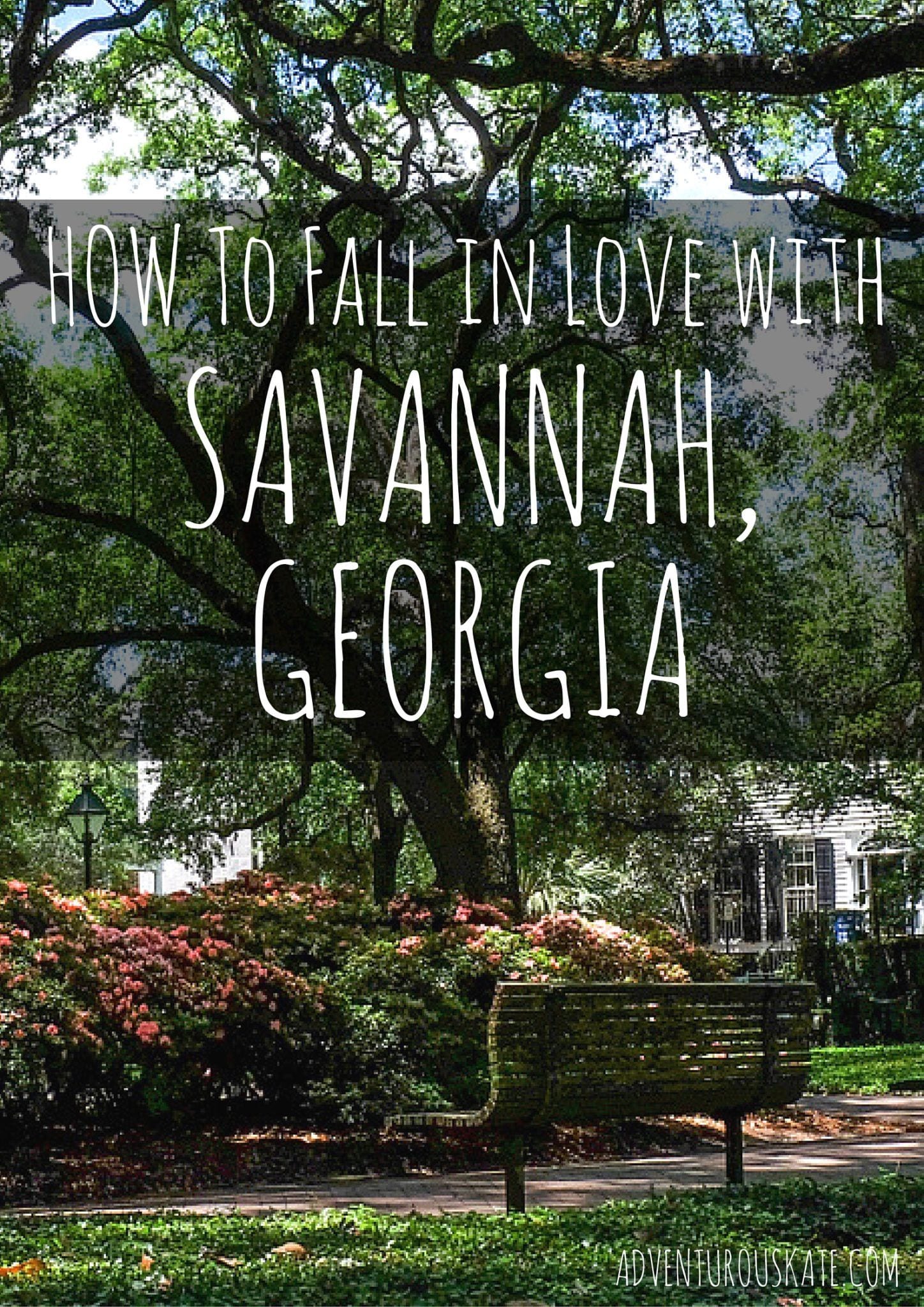 Essential Info: In Savannah I stayed at the Andaz Savannah, a Hyatt-branded hotel that I adored and highly recommend. Rates from $249.

The Andaz is especially good for solo female travelers because it's located on a busy square in a populated area and the elevator requires a keycard in order to work (only guests can use it).

I also appreciated the leg-shaving stand in the bathroom, the free glass of wine upon check-in, and rumor has it that the bar serves candied bacon but won't tell you when it's coming out. It's also in a perfect location, in the Historic District just off Broughton Street, and close to plenty of restaurants, shopping, and squares!

Find deals on Savannah hotels here and see all Savannah Airbnbs here. Whatever you do, make sure you stay within the Historic District.

Architectural Tours of Savannah cost $30 and are held daily at 10:00 AM.

Tours of the Juliette Gordon Low Birthplace cost $15 for adults, $12 for students, and $10 for Girl Scouts (call ahead on the latter).

The Dead of Night Ghost Tour costs $29.95 (get 10% off when you sign up for the newsletter) and is a late-night adults-only tour.

Tickets to the Jepsen Center cost $20, last one week, and also include admission to Telfair Academy and the Owen-Thomas House (the latter of which Jonathan the architectural tour guide highly recommends).

Unless you plan on doing a lot of driving, I recommend getting around Savannah on foot and using Uber or Lyft when you need them. A 20-minute Uber to the airport cost me $18; a trip from my hotel to the Back in the Day Bakery, a few miles away, cost $6.

If you haven't bought Midnight in the Garden of Good and Evil yet, what are you waiting for?!
This campaign is brought to you by Visit Savannah. All opinions, as always, are my own.
Is Savannah your kind of place? Would you like to visit now?
Get email updates from Kate
Never miss a post. Unsubscribe anytime!