Adventurous Kate contains affiliate links. If you make a purchase through these links, I will earn a commission at no extra cost to you. Thanks!
As soon as I decided to visit Chicago for a few days, I began planning meticulously. I started talking to everyone I knew who lived in Chicago or had visited there. I asked questions, took notes, even had a document in my Evernote compiling my information.
All this information…was about food.
I mean, yes, I wanted to do an architecture cruise and see Second City and have a meetup with my Chicago readers, but really, I came to Chicago for one primary reason — to eat!
Chicago is home to many unique food traditions, fantastic high-end restaurants, and its interesting ethnic mix means you've got great food from around the world. In short, there's far more to Chicago's food scene than deep dish pizza.
As a result, I ate quite well during my five days in the city and now consider Chicago one of my favorite food destinations in the United States. Here are seven of my favorite places to eat in the Windy City.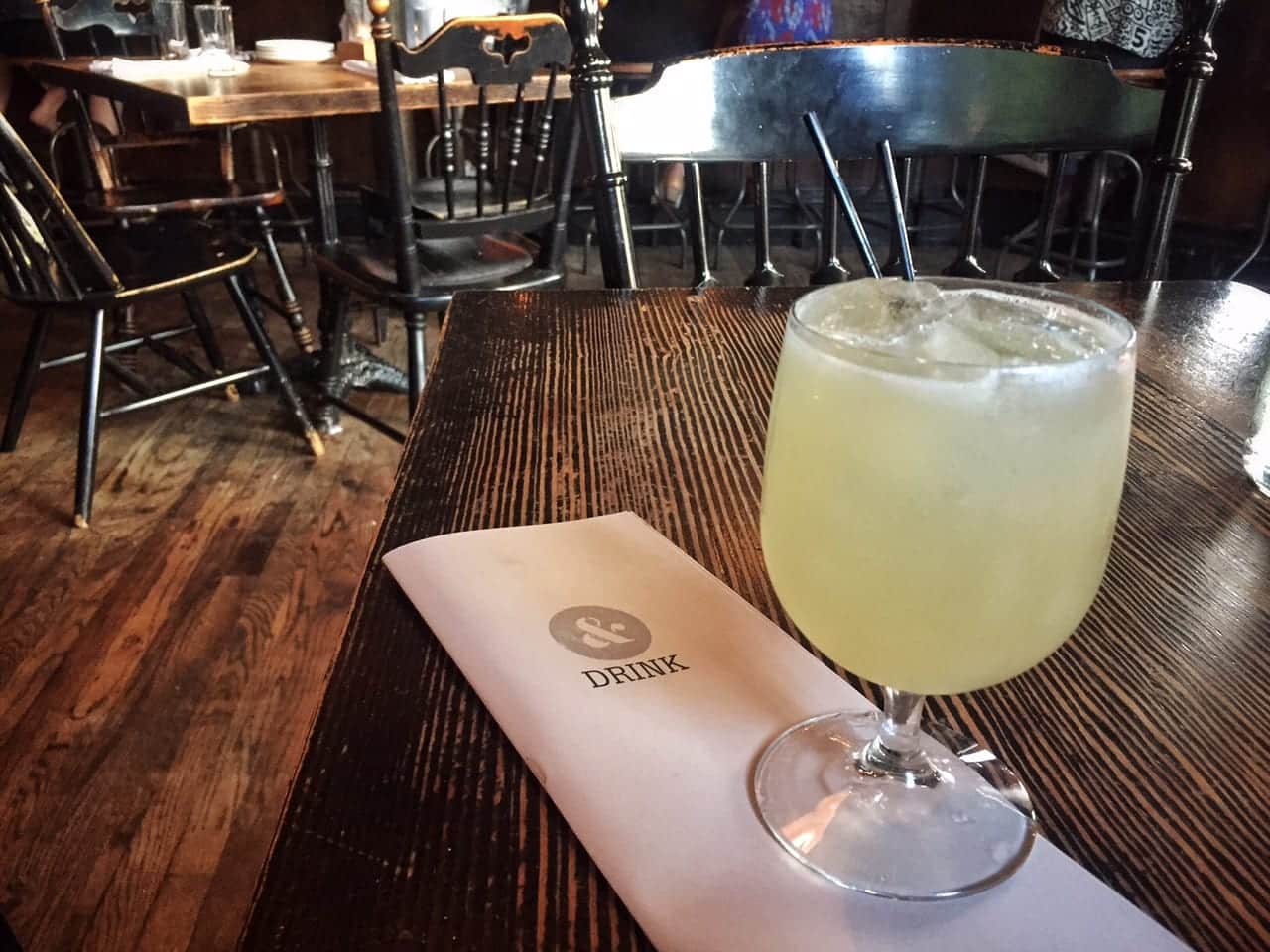 Upscale and Trendy Fare in Logan Square: Longman & Eagle
Longman & Eagle was recommended enthusiastically by a friend I made in Panajachel, Guatemala, and he swore up and down that their foie gras was one of the best things he's ever eaten.
Longman & Eagle is an inn that doubles as a bar and restaurant. It oozes upscale hipster class, with a wide whiskey selection, craft cocktails, and a super-fancy menu.
I started off with one of their signature cocktails, the Chicago's Hour: CH London Dry Gin, Jeppson's Malort, Old Style, Grapefruit, Lemon. If you're a gin drinker like me, go for it! Gin and lemon is one of my favorite combinations and they knocked it out of the park.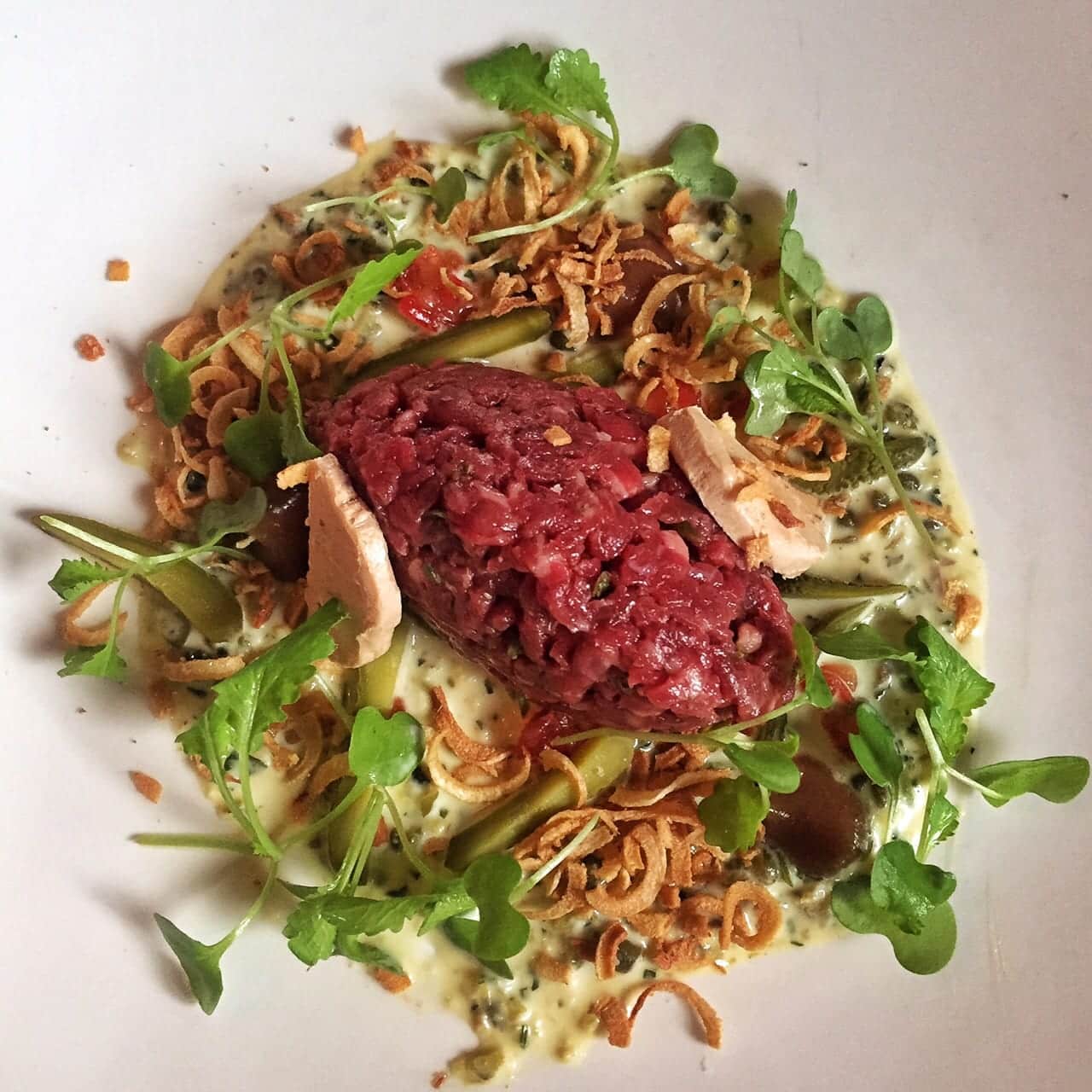 Unfortunately, they were transitioning their menu and didn't have the foie gras dish on the menu. But foie gras did accompany the beef tartare.
The full listed item: Beef Tartare, Foie Gras Torchon, Medjool Dates, Pluot, Mustard Greens, Buttered Challah, Truffle Gribiche. Very American in its complexity.
And delicious. I know raw meat isn't everyone's cup of tea, but when beef tartare is done well, it's out of this world. There were so many levels of flavors in this dish!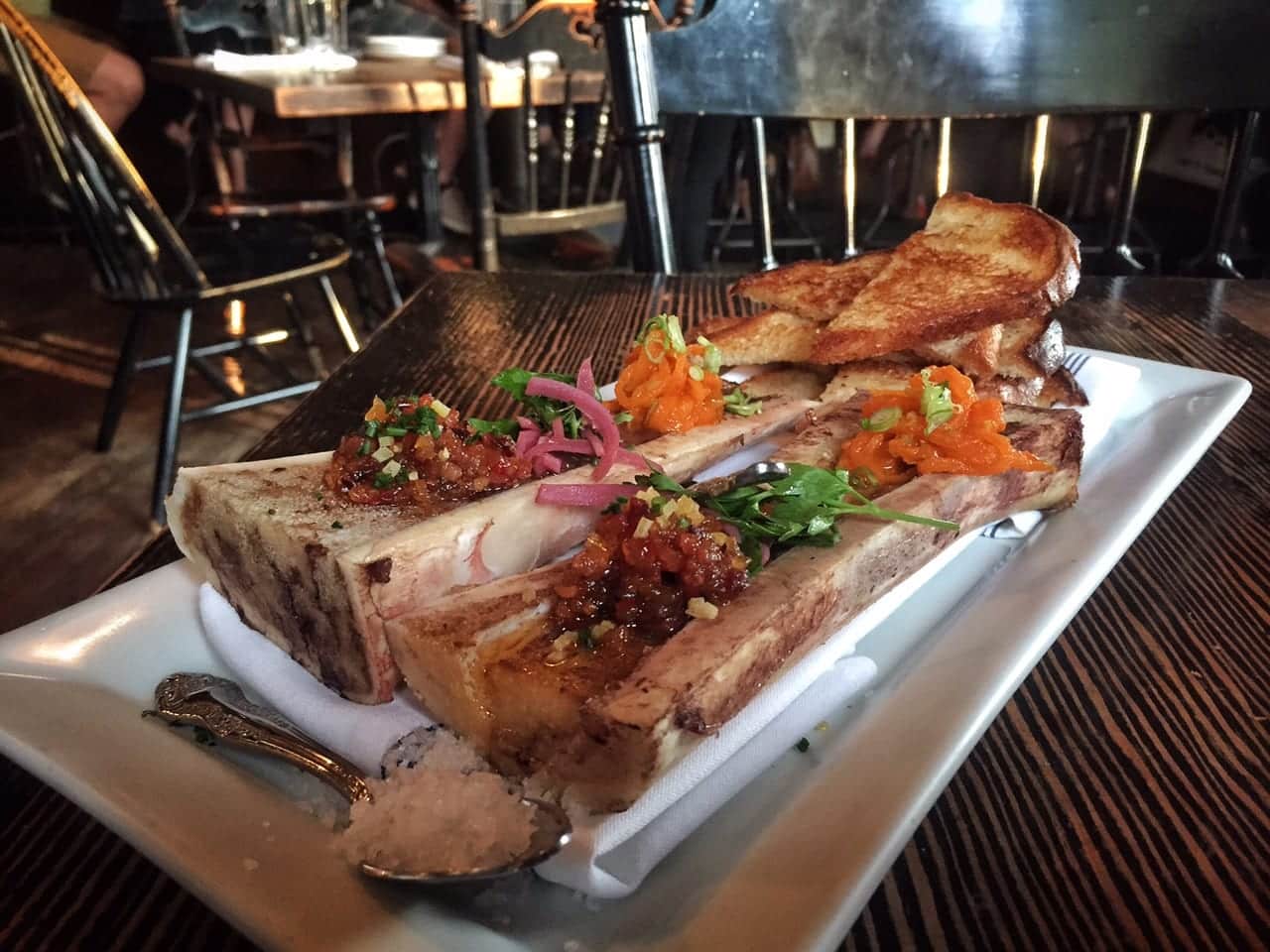 Up next: Slagel Family Farms Bone Marrow, Bacon-Shallot Jam, Green Apple Kimchi, Pickled Garlic & Shallots, Parsley, Sourdough.
I love bone marrow — it's a deep, rich kind of meat. I think this bone marrow had a LITTLE too much going on (one of the jams was not my jam, incidentally) but it was still glorious.
And to even things out, lest we eat nothing but meat, some salad!
Not just a salad. Gem Lettuce Salad, Compressed Strawberries, Grilled Radicchio, Haricot Vert, Smoked Blue Cheese, Pistachios, Root Beer-Sherry Vinaigrette.
I still remember how pleasing the crunch of this salad was — I've never had such cold, firm, crispy lettuce in my life. And those compressed strawberries? Addicting.
Longman & Eagle was my favorite restaurant in Chicago, and if you're looking for a special meal, this is my top recommendation. I am definitely returning on my next visit!
Beef Tartare, $18. Slagel Family Farms Bone Marrow, $15. Gem Lettuce Salad, $15. Chicago's Hour cocktail, $10.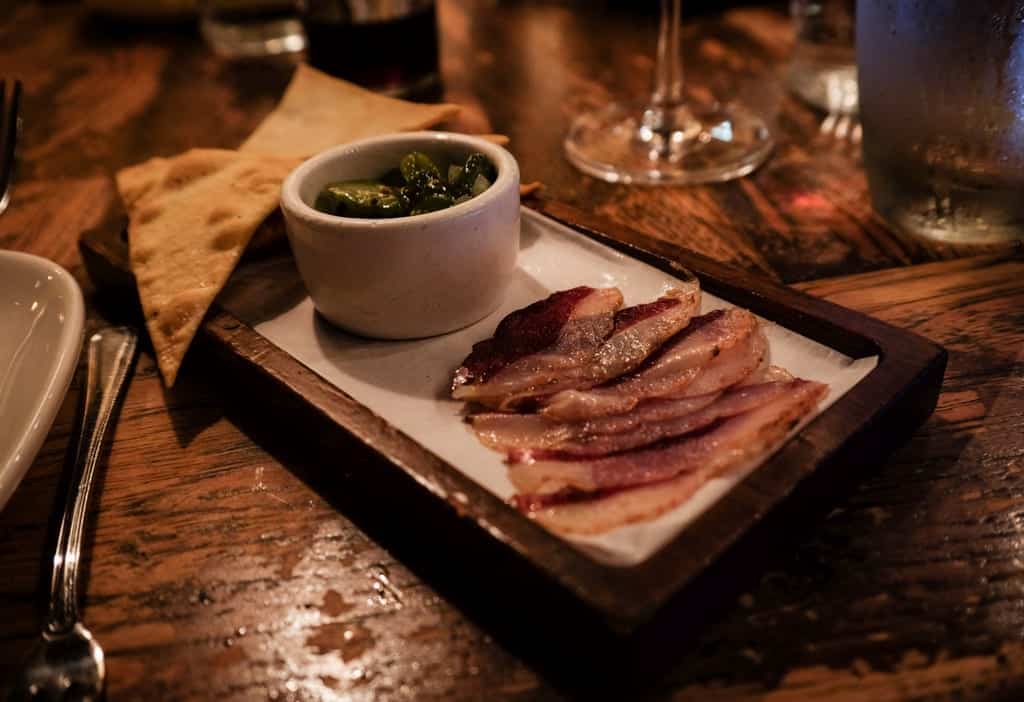 Cured Meats and Nose-to-Tail Eating: The Purple Pig
Longtime readers know I have a burning love for cured meats and nose-to-tail eating. As soon as I began researching, I stumbled across The Purple Pig, and it seemed like the perfect restaurant for me.
Cured meats. Small plates. Wine. Unusual pig parts. And purple is one of my favorite colors!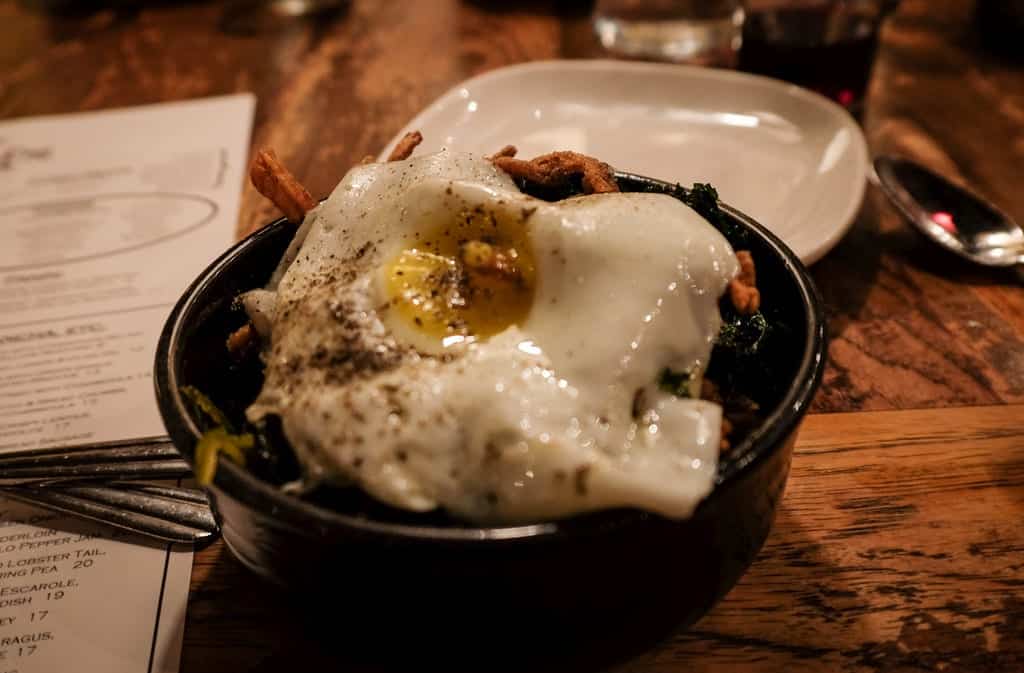 Crispy pig's ear on top of crispy kale with a fried egg on top. If ever there was a dish created for me, this would be it! I loved it. The pig's ear was almost like fried clam strips, and the kale made me feel like I was being healthy. Ha.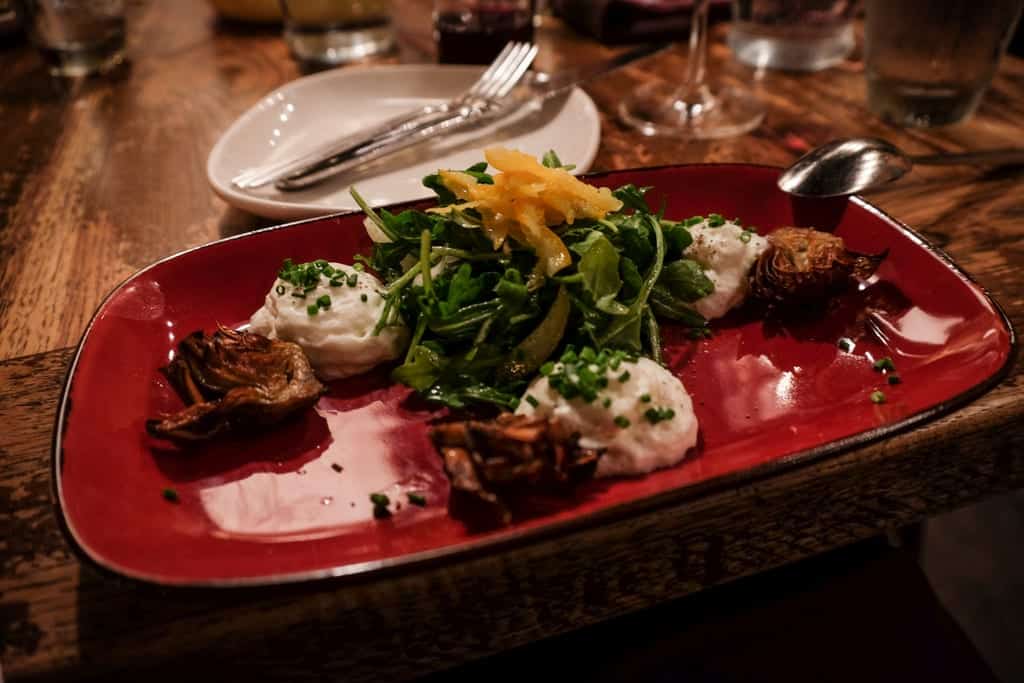 I also tried some whipped burratta with artichokes, and to be honest, while delicious, it was a bit of a letdown. Whipped burratta is like taking the finest steak and grinding it into hamburger. Burratta is meant to be sliced with a knife, oozing all over the place. Those artichokes were nice, though.
Many of The Purple Pig's meats are cured in-house, so I sampled some duck prosciutto as well (pictured above the headline). Very, very good.
Also, the wine list here is outstanding. I couldn't believe there was Croatian wine on the menu! Croatian wine is so rare to find it in US liquor stores, let alone restaurants! Of course, there was no way they had it by the glass, so I went with a Barbaresco from Piedmont.
The Purple Pig is in the Magnificent Mile area, so it's very convenient if you're hitting up Millennium Park or the Art Institute or doing an architecture cruise. Also, there are big communal tables in the bar area, which made me feel comfortable as a solo traveler.
Pig's ear with crispy kale, pickled cherry peppers and fried egg, $9. Whipped burratta with artichokes, $9. Duck prosciutto, $10.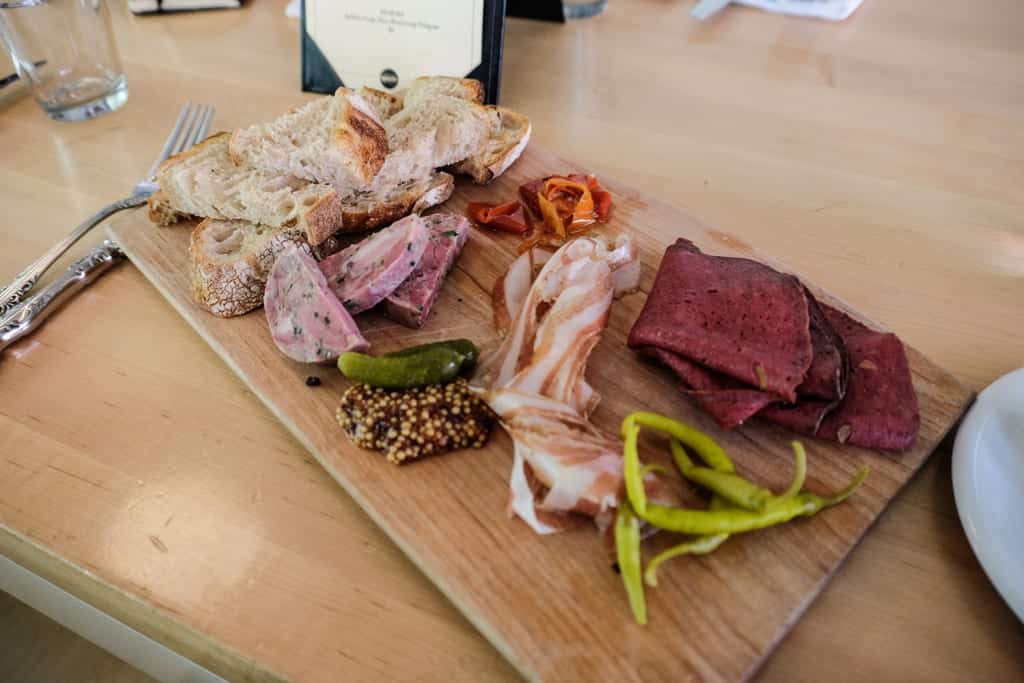 Super-Local Butchery: Publican Quality Meats
When talking to people about Chicago restaurants, Publican seemed to pop up in every conversation, yet nobody outright declared it his or her favorite.
Then I ended up at the small deli next door: Publican Quality Meats. Right away, I was impressed by the huge variety of local house-cured meats available for purchase, as well as lots of other homemade dishes.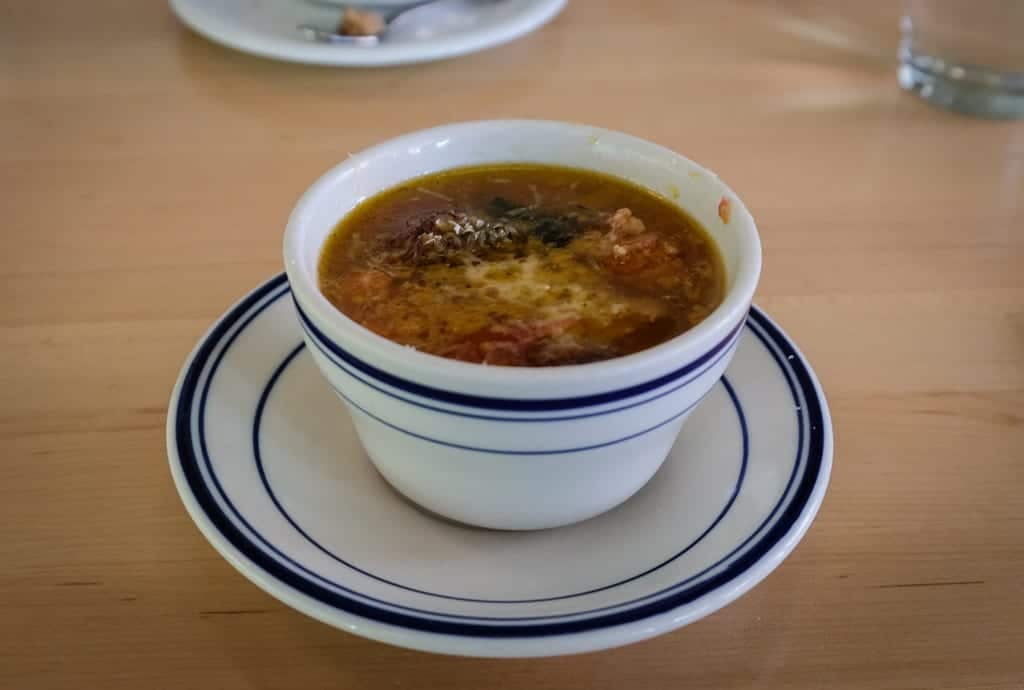 I was excited to see ribollita on the menu — it's one of my favorite Tuscan dishes, a peasant soup made from stale bread and whatever leftover vegetables are available. Publican, of course, added meat. Rock on, butchers!
For my main dish, I decided to go with a charcuterie plate. Each day, there are five options from which to choose. I went for blood mortadella, an unusual kind of prosciutto (whose name I can't recall, sadly), and headcheese. HEADCHEESE!
With bread, pickles, peppers, mustard, and a few other accoutrements, this made for an excellent lunch.
Ribollita, $4/7 for cup/bowl. Butcher's cold charcuterie plate, two for $8, three for $13, five for $19.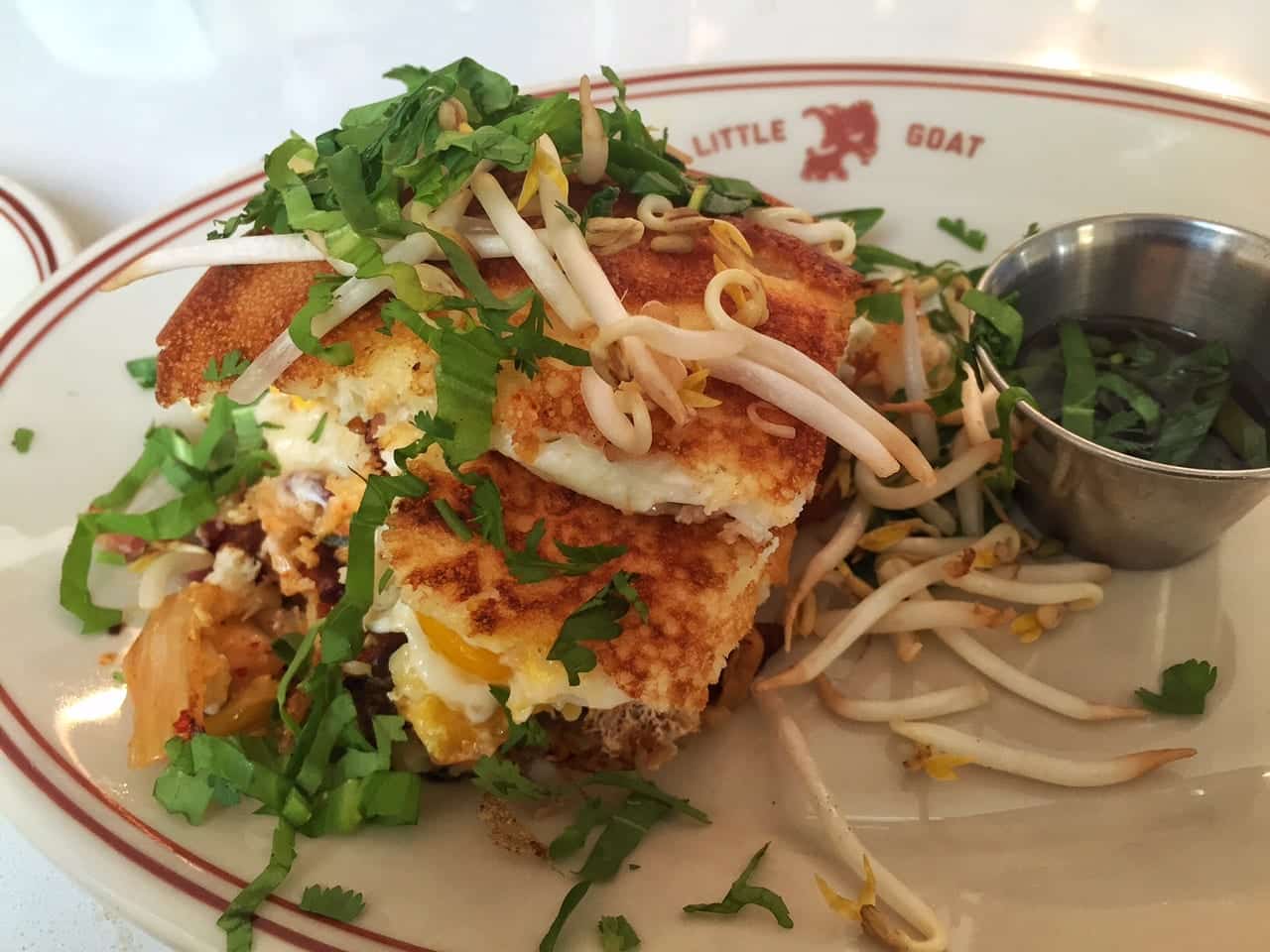 Fancy Restaurant Meets Down-Home Diner: Little Goat Diner
The Girl and the Goat is one of Chicago's most famous high-end restaurants, owned by Chef Stephanie Izard. But what about a more affordable restaurant? Enter the restaurant's little sister, the Little Goat Diner!
I went for lunch but my eyes immediately went toward a breakfast specialty: Kimchee & Bacon & Eggs & Pancakes Asian Style Breakfast Tasty Thing. Easy decision!
It's more of a pancake dish, very light, with layers of eggs and bacon in between the batter. The kimchee was not as plentiful as I would have liked (I am a kimchee fiend — you should have seen me in Korea!), but it was a fun and unusual dish, perfect for the atmosphere.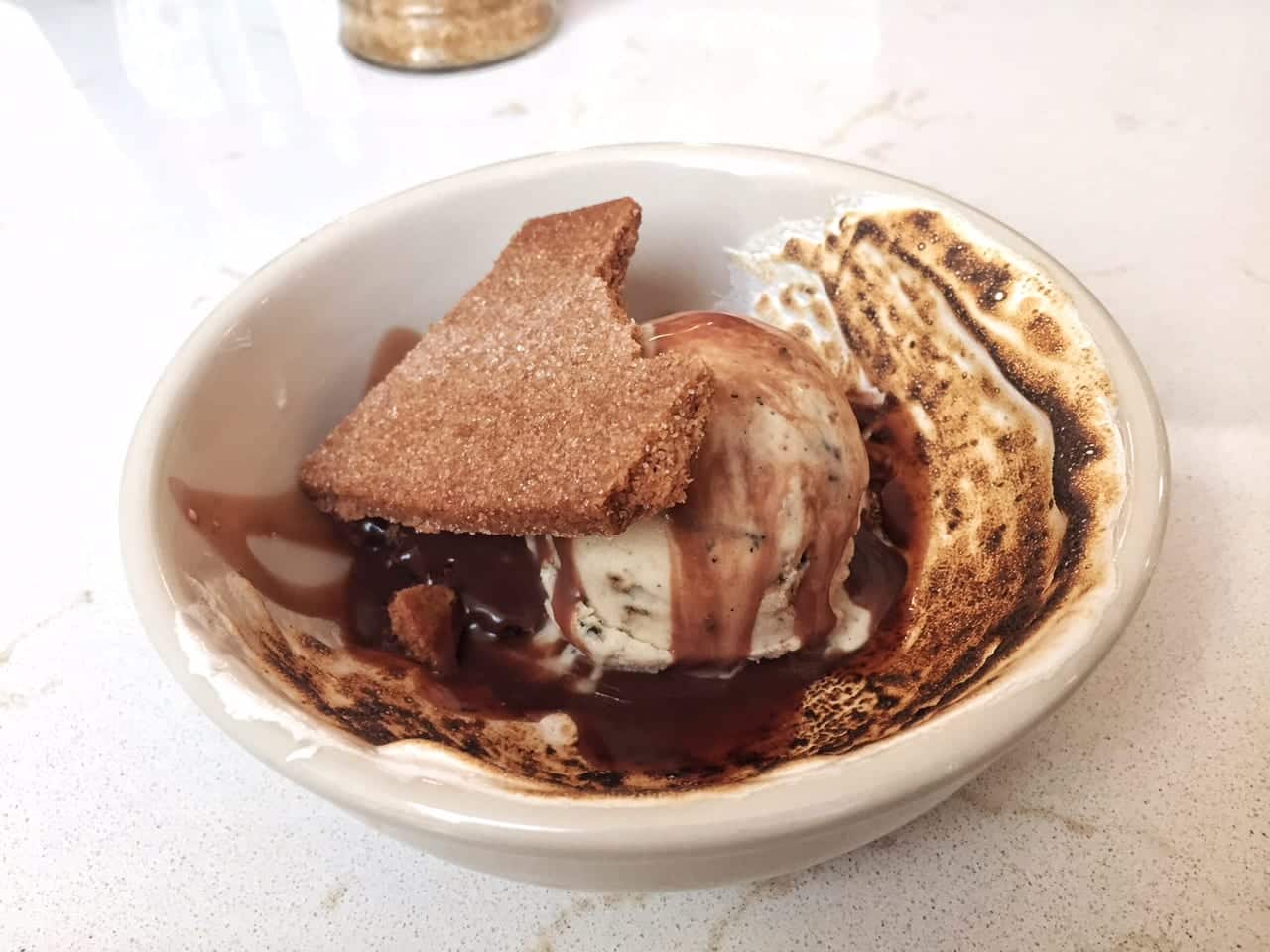 I rarely eat dessert or anything sweet, but I had to try one of the featured desserts — a s'mores semifreddo.
The dessert featured marshmallow ice cream, a homemade graham cracker-like cookie, marshmallow fluff charred by a blowtorch, and a chocolate sauce halfway between hot fudge and syrup.
I swore I would only have a few bites. For research purposes. Yeah, that flew out the window pretty quickly.
The Little Goat was a lot of fun and it's a great place to get a high-end meal on a budget. And for solo travelers, the diner counter is perfect!
Kimchee & Bacon & Eggs & Pancakes Asian Style Breakfast Tasty Thing, $13. S'mores Semifreddo, $8.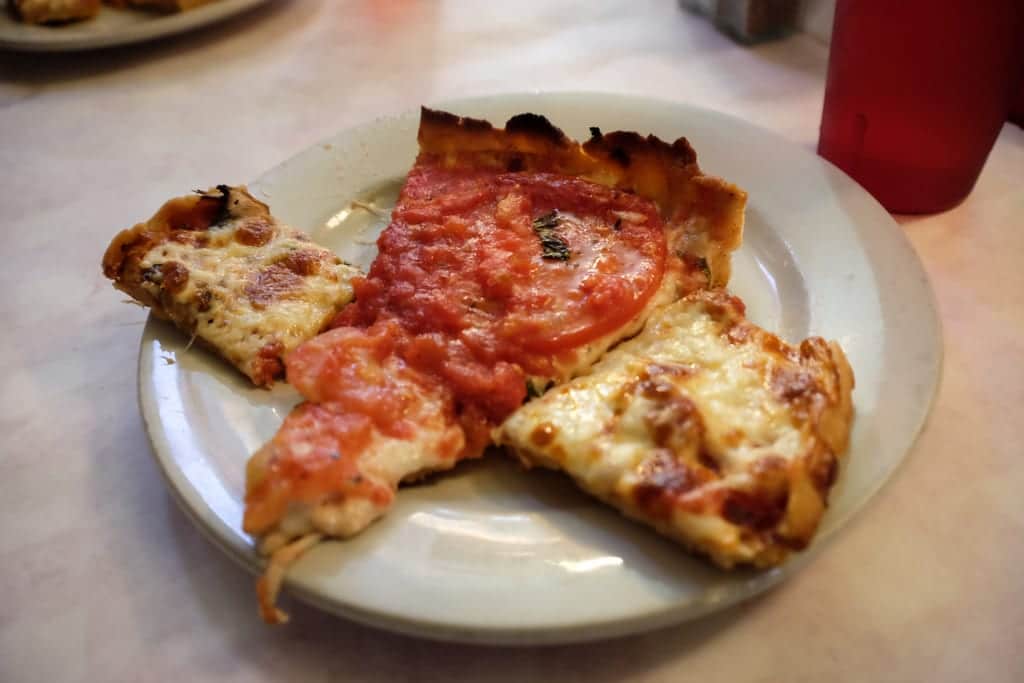 Diving Into Chicago Pizza
There is so much to learn about Chicago pizza! After hearing rave reviews from my friends Cailin and Steph, I booked myself on the Original Chicago Pizza Tour. We visited four different pizzerias over the course of a few hours (Pizano's, Flo & Santo's, Pequod's, and Piece, though the offerings change each day of the week).
I'm not going to lie — this was one tour where I felt a bit awkward to be a solo traveler. Perhaps because there was also a big family group and everyone else was paired up. I didn't connect with anyone until fairly late in the tour.
(Side note: I was staying at my friend Wren's apartment in Chicago, and she has a cat named Pizza and a pizza necklace. I was tempted to borrow her necklace for the tour — but yeah, showing up alone to a pizza tour while wearing a pizza necklace would have made things a million times more awkward! Where's my champagne?)
Other than that, the tour was great. Our guide, Jonathan, was a curmudgeon and a half. The history and trivia was fascinating. The pizza was mostly awesome (except for Piece — turns out New Haven-style pizza is not my thing at all. How can you sleep at night without putting mozzarella on your pizza?!), and I was pleased to sample several kinds of Chicago pizza in a short period of time.
Cailin's review and Steph's review have a lot more details on the tour. GO HUNGRY, whatever you do!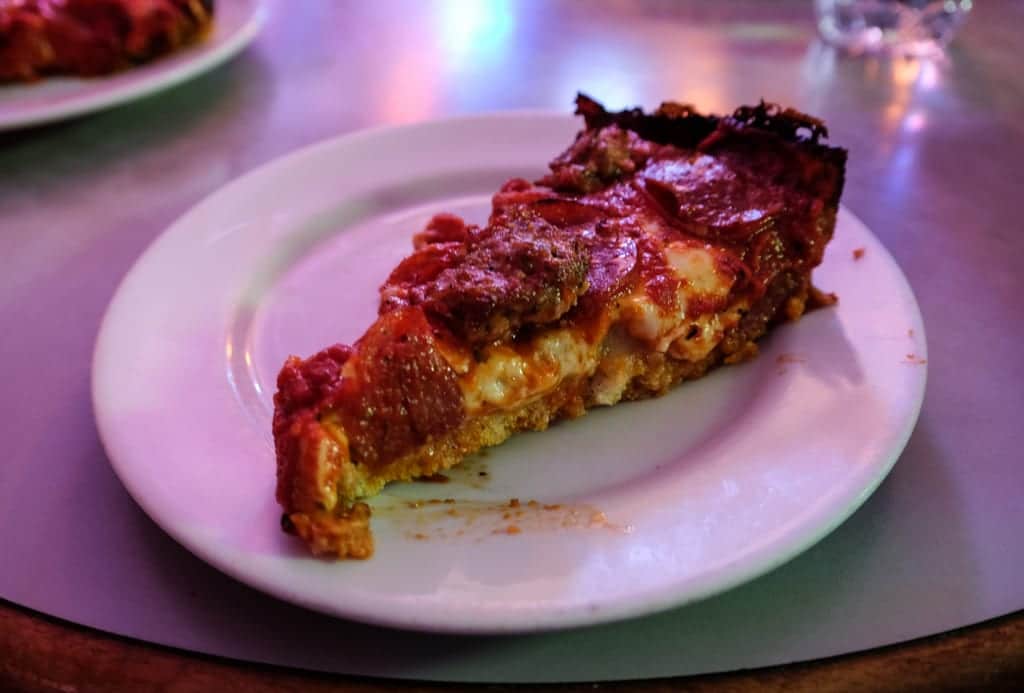 Deep Dish in a Dive Bar: Pequod's
I tried a few varieties of deep dish and my favorite overall was at Pequod's, a tiny dive bar named after the ship in Moby Dick.
Deep dish is like a casserole — a very thick crust topped with lots of sauce, cheese, and toppings. Pepperoni is the most popular pizza topping in America, but sausage is the most popular topping in Chicago!
I think it was the sauce at Pequod's that I loved — it had a wonderful, robust mix of spices, a big contrast to the lighter sauce on the deep dish at Pizano's.
Pequod's signature is layering mozzarella on the bottom of the crust, so it rises up and caramelizes (even burns) along the edges. Don't complain that your pizza is burnt — this pizza is turnt!
Personal pan pizza, $7.45. Toppings are $0.50-1.20 extra.
Polish-Italian Fusion Pizza: Flo & Santo's
I've never been to an American city with a big Polish population before; the only time I've eaten in the very Polish Greenpoint neighborhood of Brooklyn, I had Thai food. (Wince.)
Between that and having never been to Poland (egregious travel oversight alert!), I'm not too familiar with Polish cuisine — but I really liked the fusion fare that I had here.
Flo & Santo's brings together Chicago's Polish and Italian dishes with a twist — putting them on Chicago South Side-style pizza! The Flo's Polish pizza features kielbasa, sauerkraut, and applewood-smoked bacon. The Marco's Italian Beef pizza is a take on the Chicago Italian beef sandwich and features shaved beef, giardiniera, caramelized onions, and fire-roasted tomatoes.
Both were fun takes on pizza, and I liked the Polish one best. Next time in Chicago I hope to sample the ravirogi, their ravioli-pierogi hybrid.
Flo's Polish and Marco's Italian Beef pizzas, $18/22/26 for medium/large/family. Ravirogi, $13.99.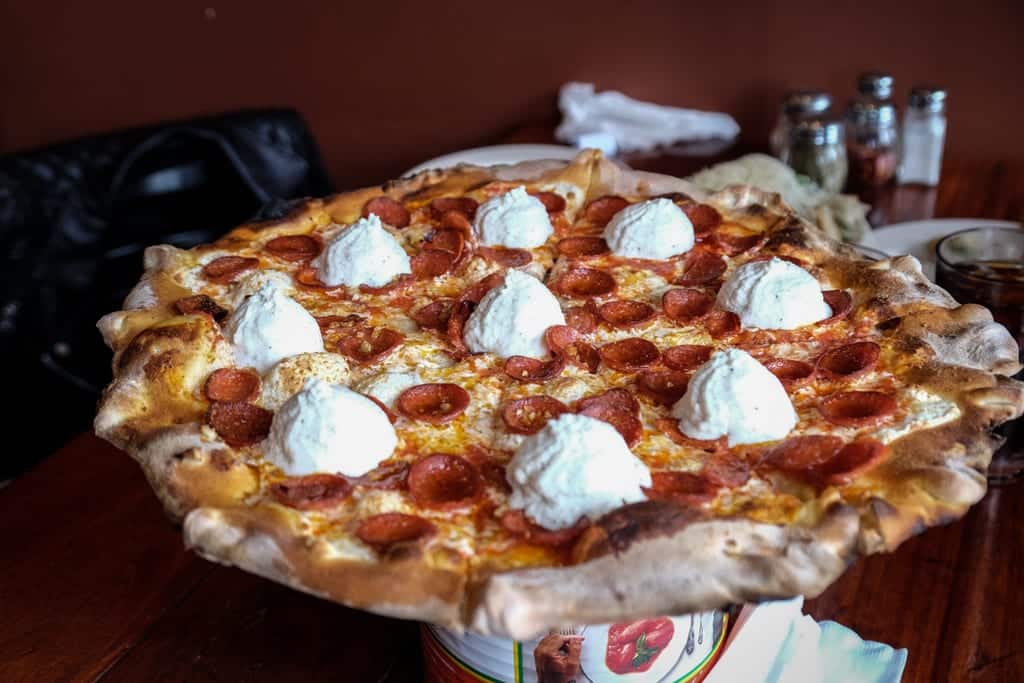 My Favorite Chicago Pizza: Coalfire
Of course I try five different Chicago pizzerias and my favorite is the one run by two guys from Massachusetts! But in all seriousness, Coalfire has some of the best pizza I've had anywhere.
Coalfire is home to the only coal oven in Chicago and the pizzas cook super-fast!
Both Cailin and Steph declared Coalfire their favorite pizza in Chicago, and since Cailin was coming back to Chicago, we made a special trip.
We split a pepperoni and whipped ricotta pizza, and it was sensational. Amazing flavors. Super-thin crust. Neapolitan with an American twist. It's definitely going on my list of favorite pizza places in the world.
If I lived in Chicago, I would eat here all the time!
Pepperoni and whipped ricotta pizza, $18.
Hot Dog with a Side of Trash Talk at The Wiener's Circle
Ever since I first saw The Wiener's Circle on Food Network, I've been dying to visit. It's just a little hot dog stand that comes alive at night — the staff verbally abuse you as you order!
IT. WAS. AWESOME.
Cailin took a video of me placing my order and getting a side of sass.
And on the way out, the girl called me "Fake Nicole Ass Richie." HA! (Cailin: "Oh! It's because of your tan!")
As for the food? Great hot dogs. Zero complaints.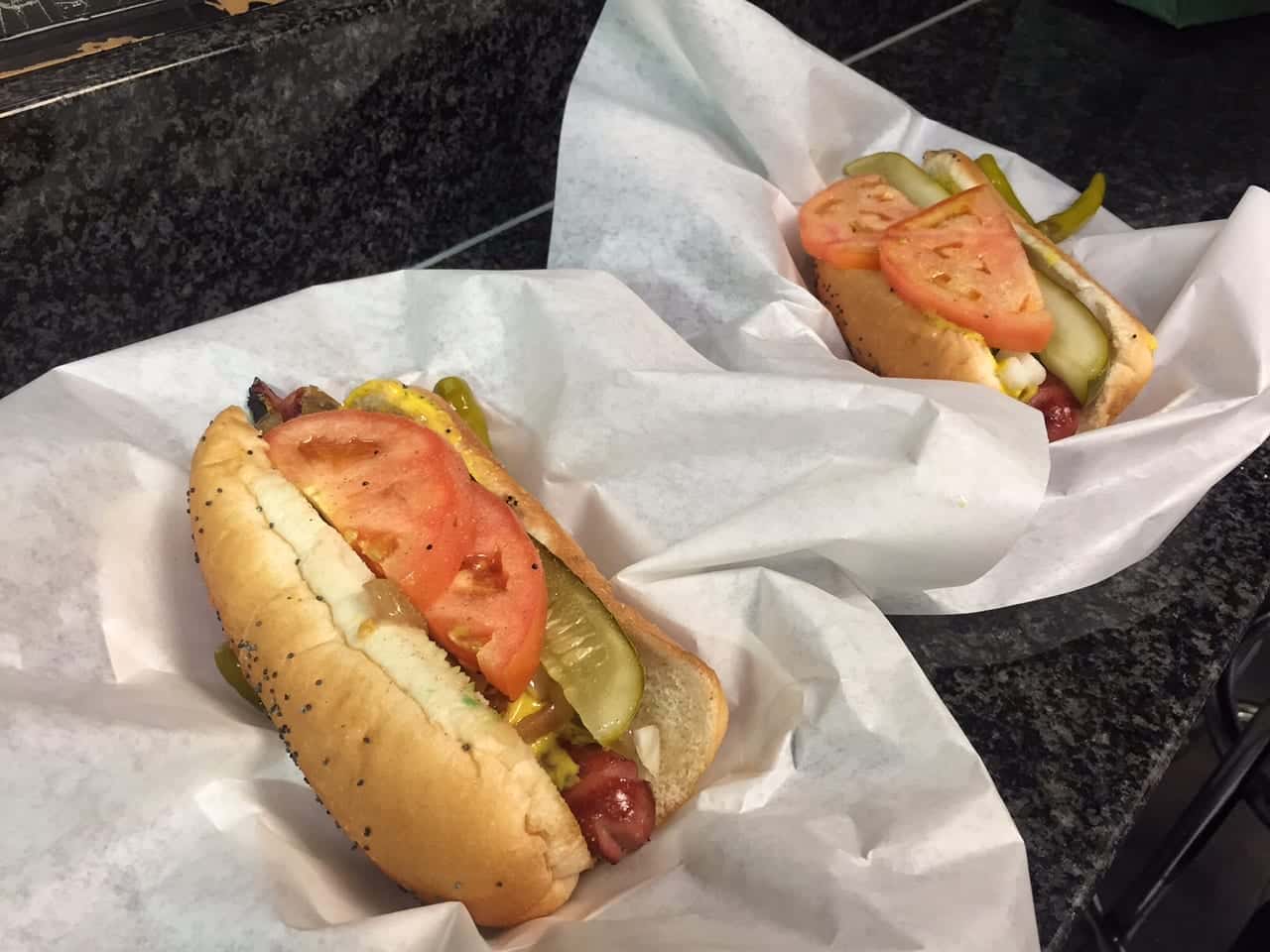 The Chicago hot dog is very strict about its ingredients: mustard, relish, onions, tomato, a pickle, two sport peppers, and celery salt. Do not even think of skipping any of those ingredients — or worse, adding ketchup. Travesty!
Char dog, $3.20.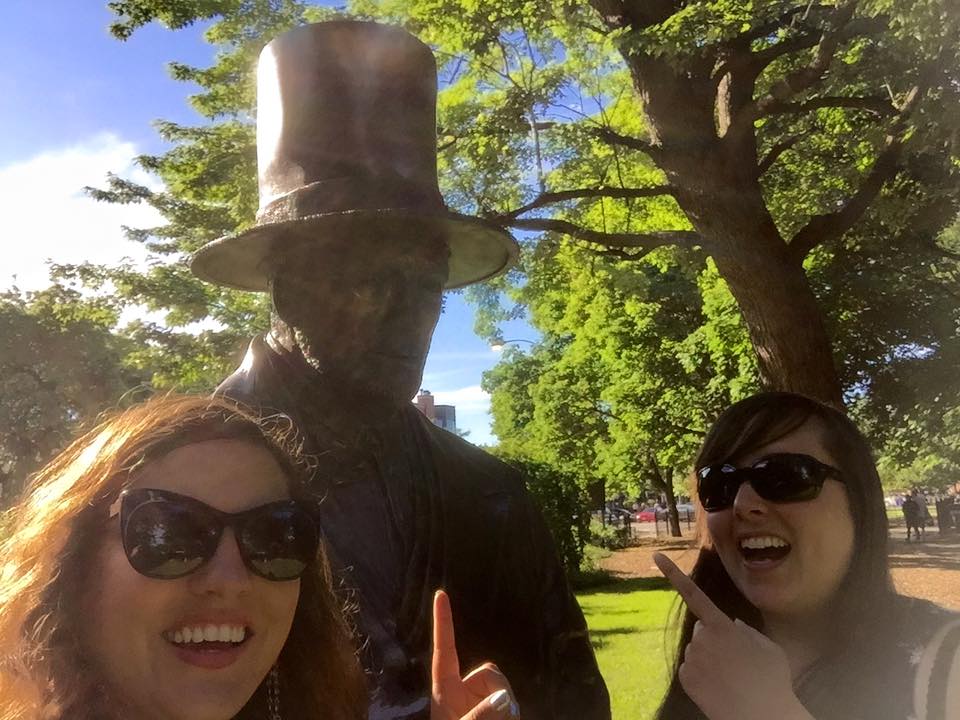 And If You're Thirsty…
I didn't spend much time exploring the bar scene in Chicago, but I did find two fabulous watering holes! (Didn't get pics of either, but that's a pic of the aftermath!)
It rained for most of my time in Chicago, but on the one sunny day, Cailin and I spent it the best way possible: drinking margaritas on the patio at Big Star in the very hipster Wicker Park! Margaritas, sunshine, chips and guacamole — that's the recipe for a perfect afternoon.
The second was Hopleaf in Andersonville, where I had my meetup with my readers. It's pretty far north but well worth the trip, thanks to a huge selection of Belgian beers and a warm atmosphere. If you're into beer, this is a must-visit bar.
The Takeaway
I think my five days in Chicago was the best stretch of eating I've ever had in my life! (Believe me, I made up for it by going on a diet of salads and green juices for the next week.) Even if you're a picky eater or not that into food, Chicago might make a foodie of you yet!
PIN IT!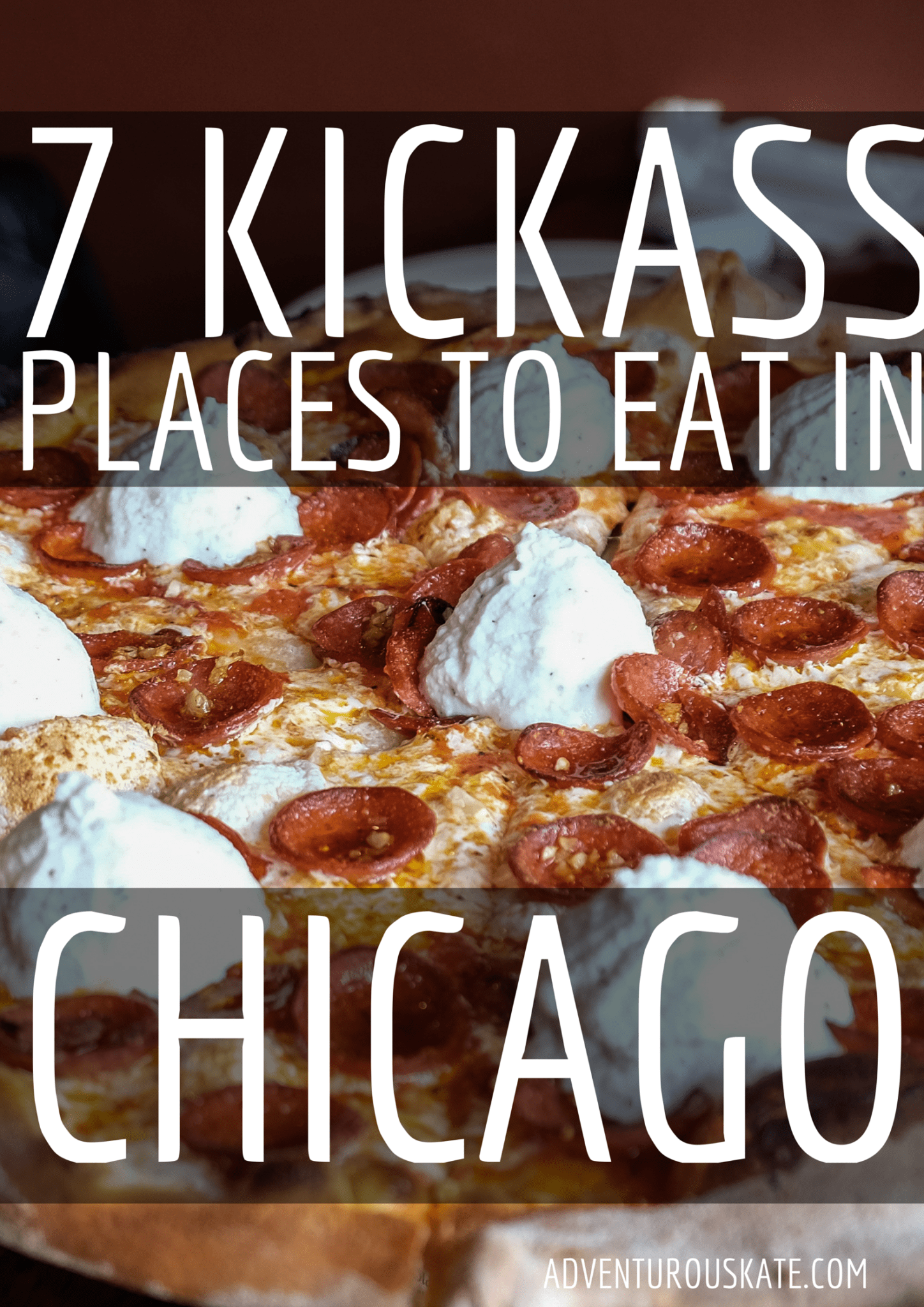 Essential Info: Prices are listed with the dishes above.

The Original Chicago Pizza Tour costs $60. It's not a walking tour; you're transported by bus. I paid for the tour myself.

I stayed with friends in Chicago but you can find hotels here.
Special thanks to my friend Wren for letting me crash at her gorgeous apartment during my time in Chicago. I'm totally moving in with you and Pizza, by the way. Is that cool with you? 😉
Have you been to Chicago? Where is your favorite place to eat?
Get email updates from Kate
Never miss a post. Unsubscribe anytime!