Adventurous Kate contains affiliate links. If you make a purchase through these links, I will earn a commission at no extra cost to you. Thanks!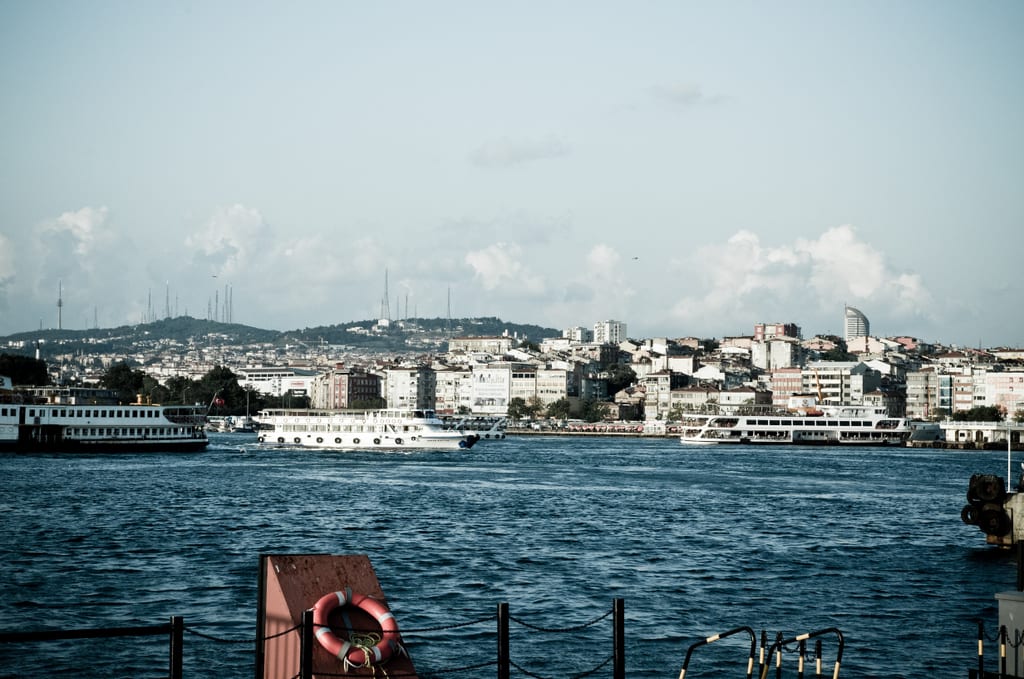 "Go to the Asian side — it's one of the best things to do in Istanbul."
Nearly everyone told me this on my first trip to Turkey nearly two years ago. Yet for some reason, I spent my first trip firmly ensconced on the European side of the Bosphorus (journeys to Sabiha Gocken Airport notwithstanding).
Why didn't I go? I was exhausted. I talked about it a bit at the time, but it was more than I let on. It was a hard time in my life for many reasons, and I was a mess.
This time, in a much better place mentally and physically, I resolved to visit Istanbul's Asian side once and for all — and ended up with a fabulous day in the Asian neighborhood of Kadikoy.
A Foodie Welcome
Fellow blogger Katrinka invited me and Tom to visit her in Kadikoy, the neighborhood where she's been living as an English teacher for the past several months. Katrinka, a film photographer and fellow Massachusetts girl, couldn't stop visiting Istanbul — so she moved here!
Her goal for the day was to show us the best of Kadikoy and feed us everything in sight. Considering how much Tom and I love food, she definitely had the right people!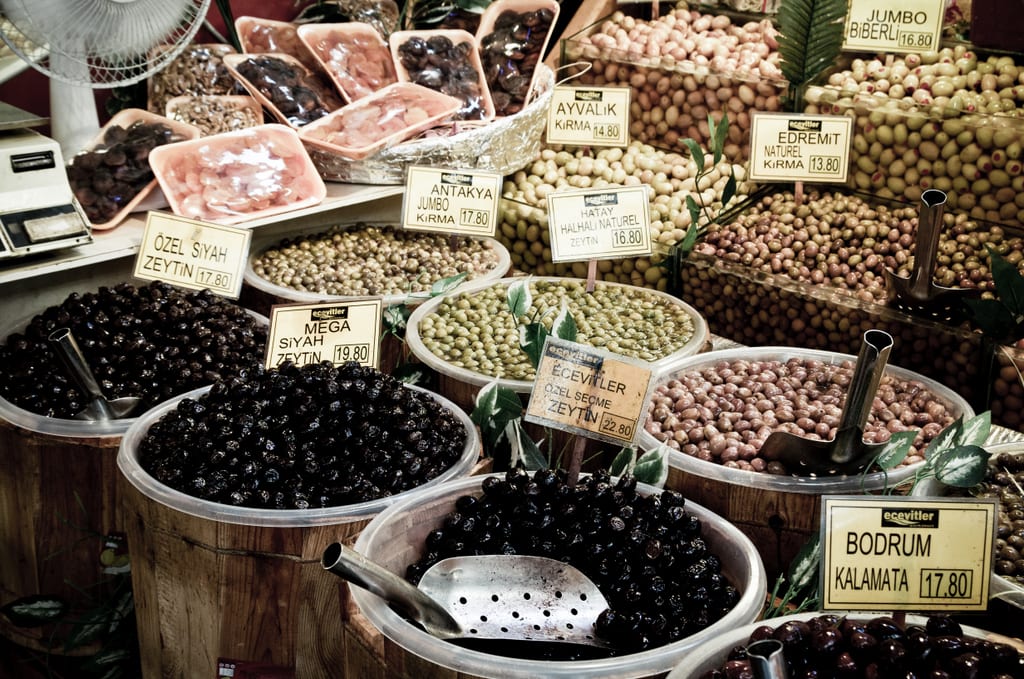 My first impression? Kadikoy is home to the neatest markets I've ever seen. I'm used to markets being a mess of produce and meat and fish jammed every which way, all for the sake of as many sales as possible, but that wasn't the case in Kadikoy.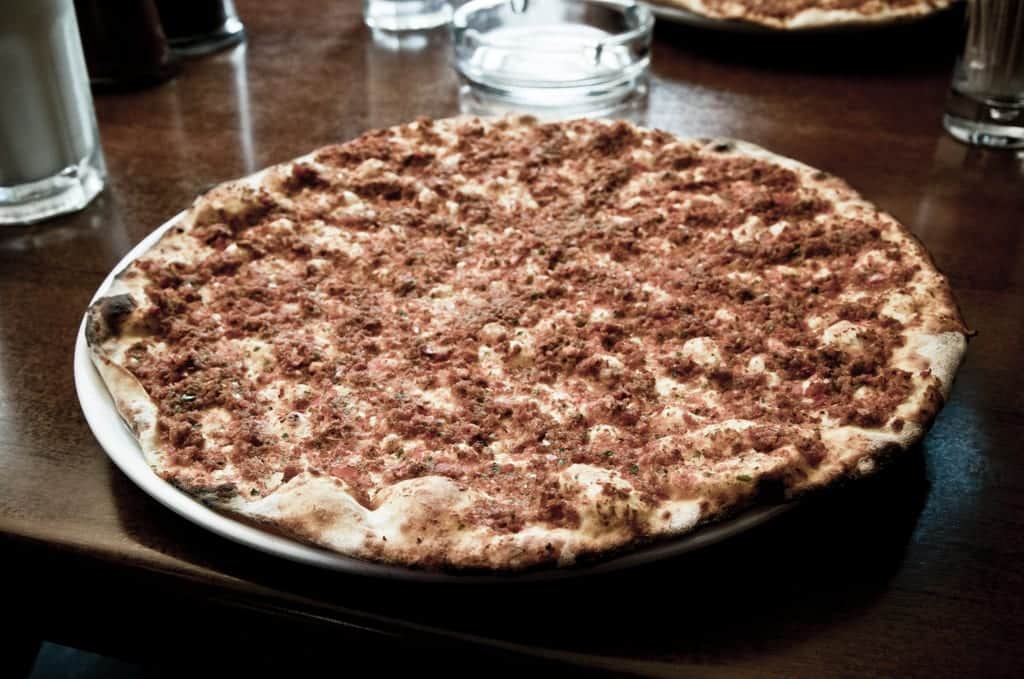 Our first food stop was for lamacun, a pizza-like concoction topped with lamb, at a place in the market called Halil. This is the best lamacun in Istanbul, Katrinka told us, and they only have two things on the menu: lamacun and pide, a boat-shaped pizza-like concoction.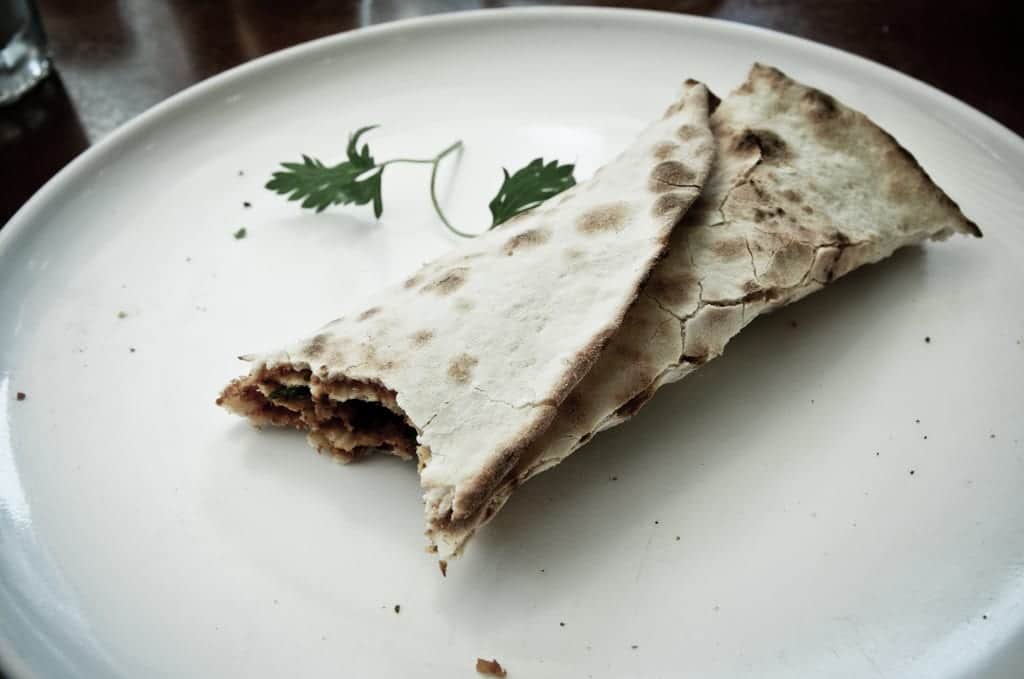 How to eat a lamacun? Squeeze lemon on it, throw a good handful of parsley on it, and roll it up like a burrito!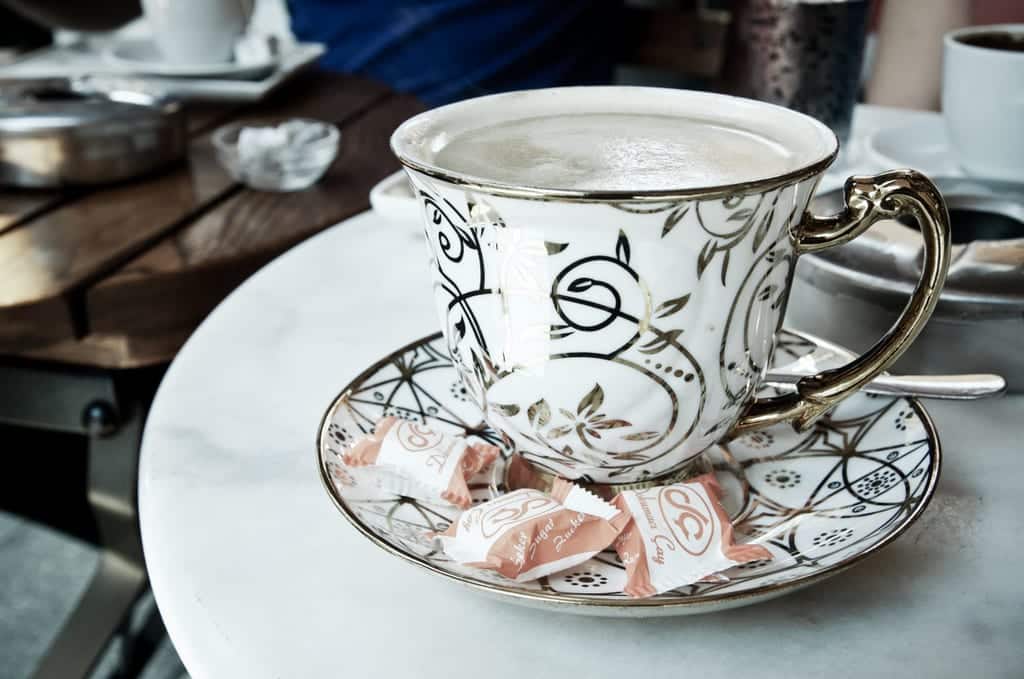 And Turkish coffee — one of few beverages that I just don't like. As much as I love coffee, I'm not a fan of the thick black substance that Turks drink. But I'll gladly take a cappuccino!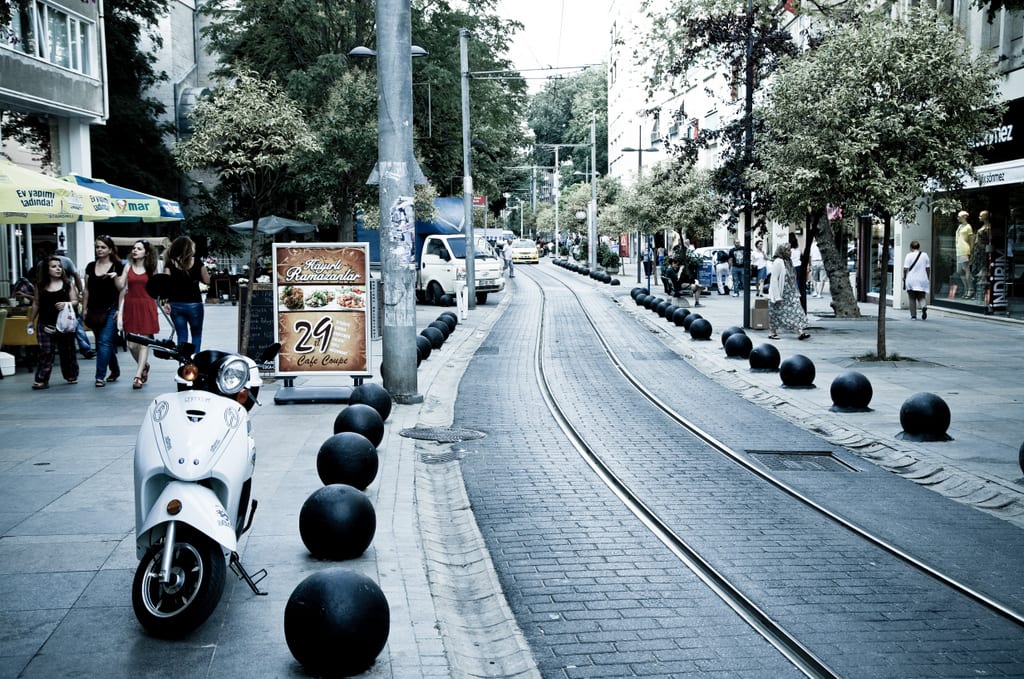 Getting to Know Kadikoy
Kadikoy has a modern feel to it, even more so than the Taksim area. The streets around the Moda area are filled with cool bars, tattoo shops, and cafes filled to the brim with birdcages. The graffiti here is most definitely street art, reflecting the hippie community.
If I lived in Istanbul, this would definitely be the neighborhood.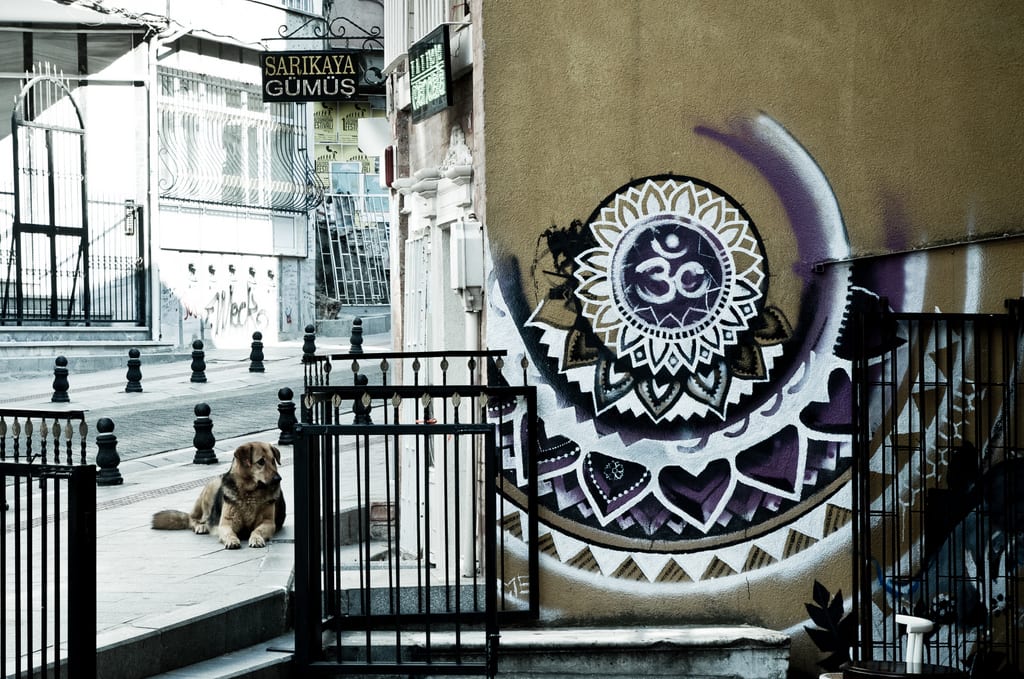 And just when you think that this could be somewhere in America, maybe even a neighborhood in Brooklyn or San Francisco, and then you get a glimpse of something that is so uniquely Turkish.
Like three older ladies in long patterned dresses and headscarves.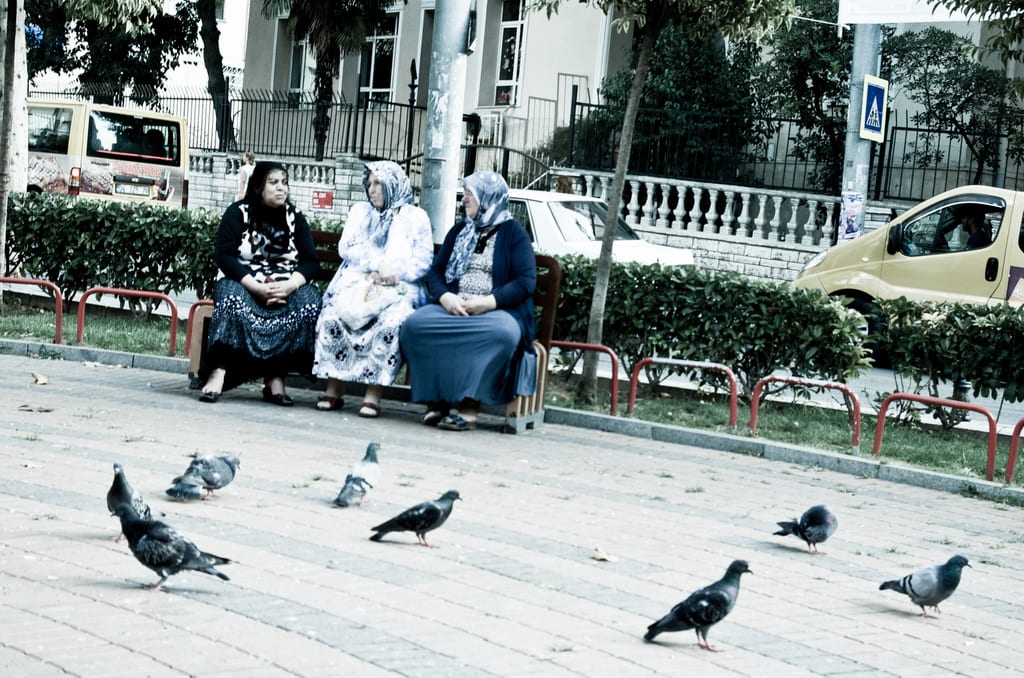 Or a market that doubles as an outdoor tea salon.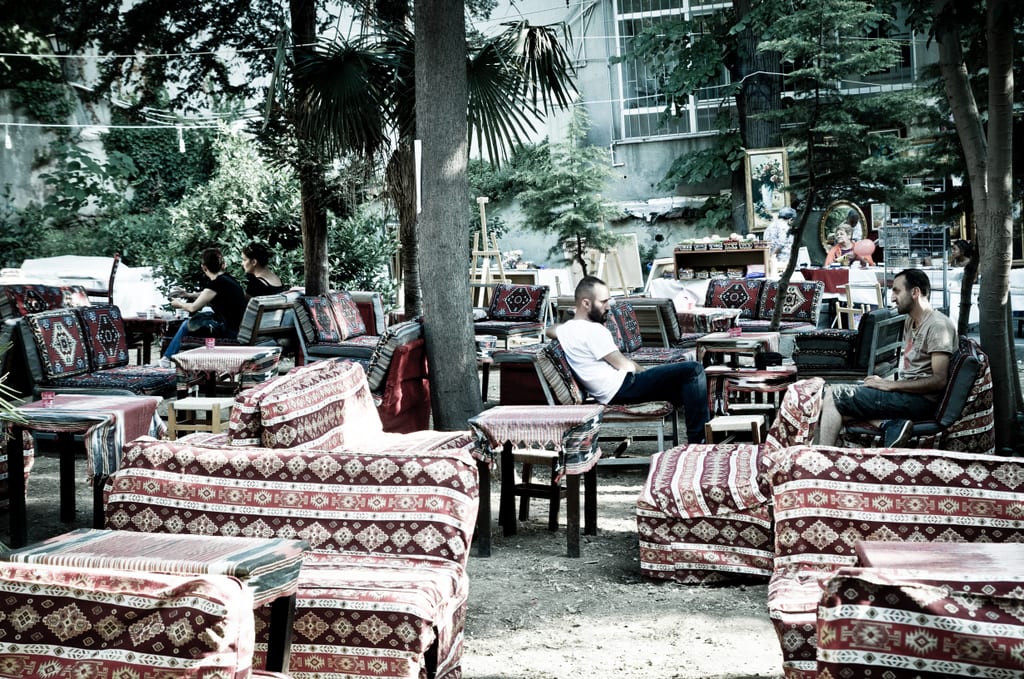 In fact, it was in this market that I found the souvenir to outdo all souvenirs.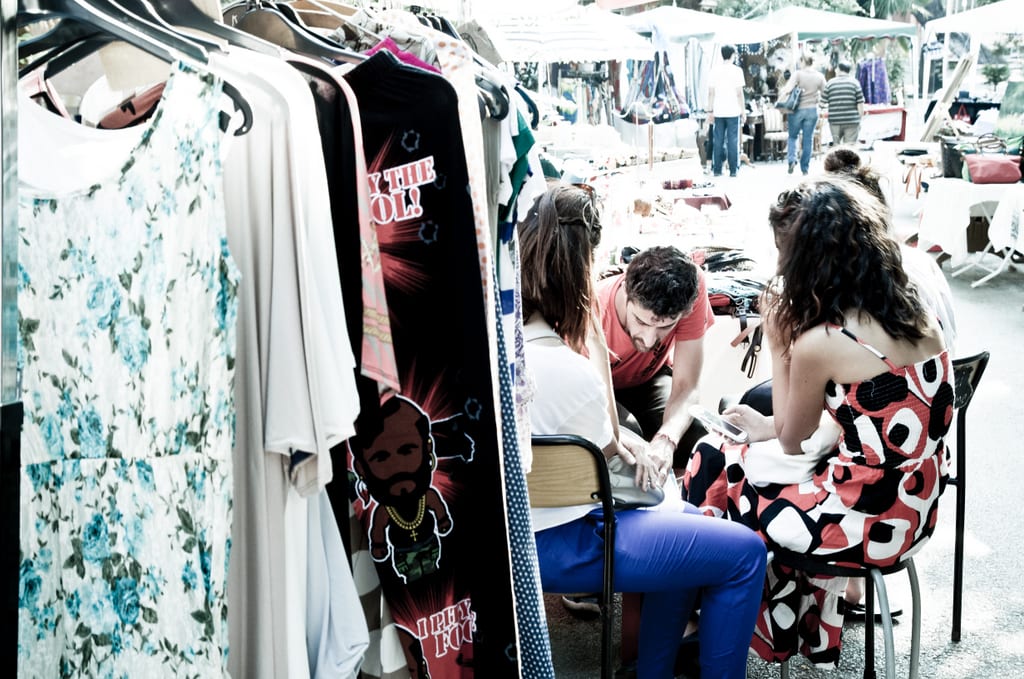 Yes. That is a pair of Mr. T pajama pants that say I PITY THE FOOL!
At 10 lira ($5), I HAD to buy them. Where else are you going to find something like that?!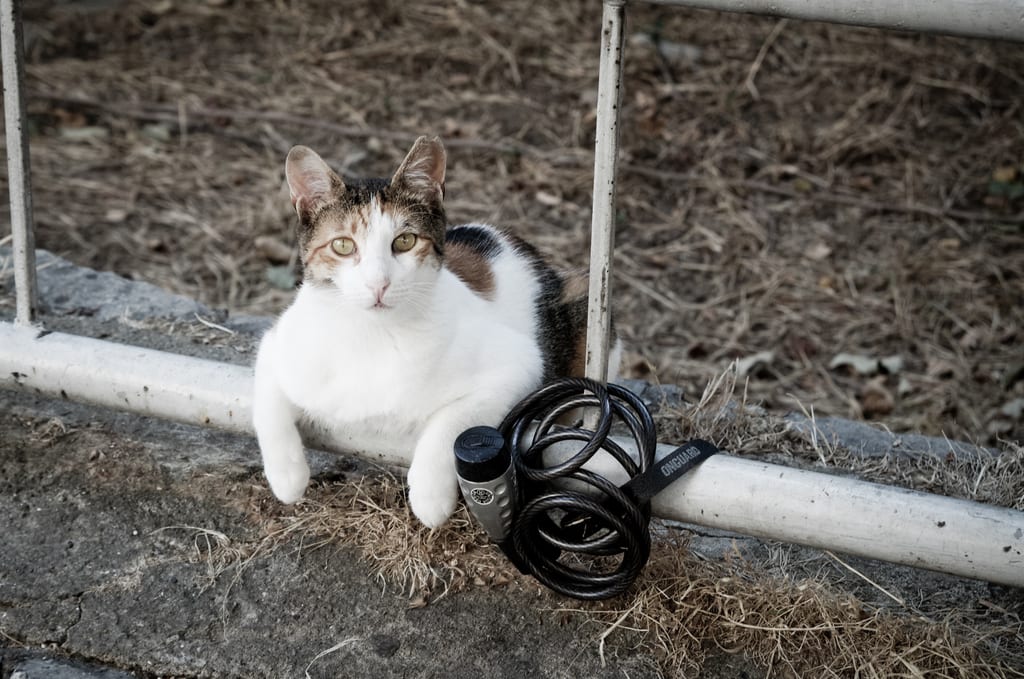 The Local Wildlife
Istanbul is home to a significant stray cat population. In Kadikoy as well as the other parts of Istanbul, it's common for locals to take care of them — so these cats look remarkably healthier and happier than most of the strays you've seen.
As you can imagine, some of these Istanbul kitties live like royalty.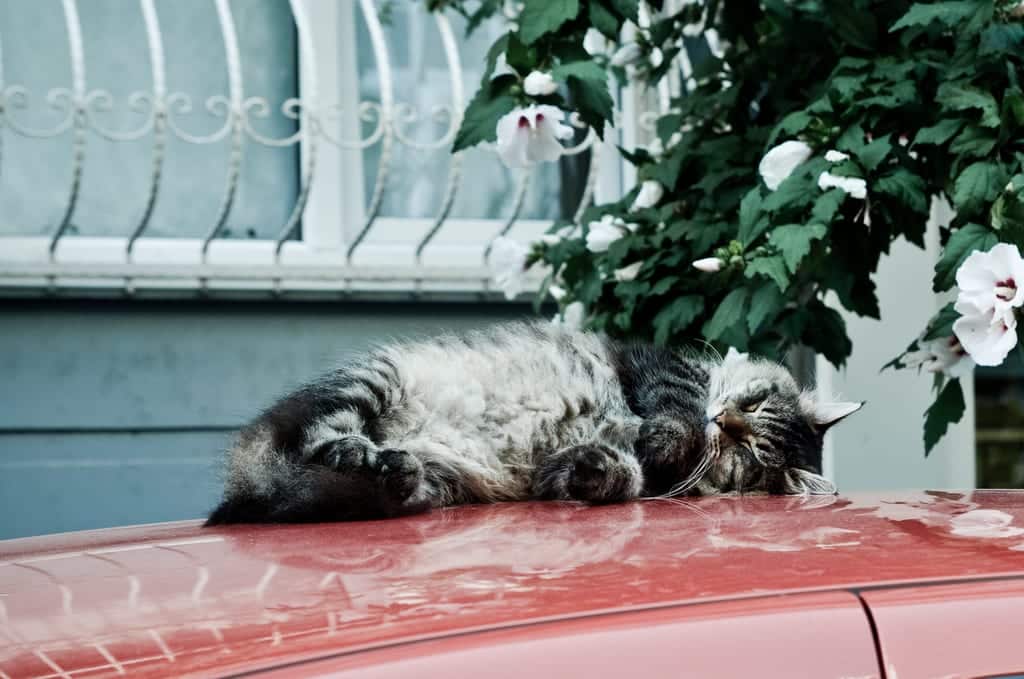 And that includes napping wherever they damn well please.
But as I nibbled on a cherry ice cream cone, one Kadikoy kitty darted across my line of vision and quickly took my breath away: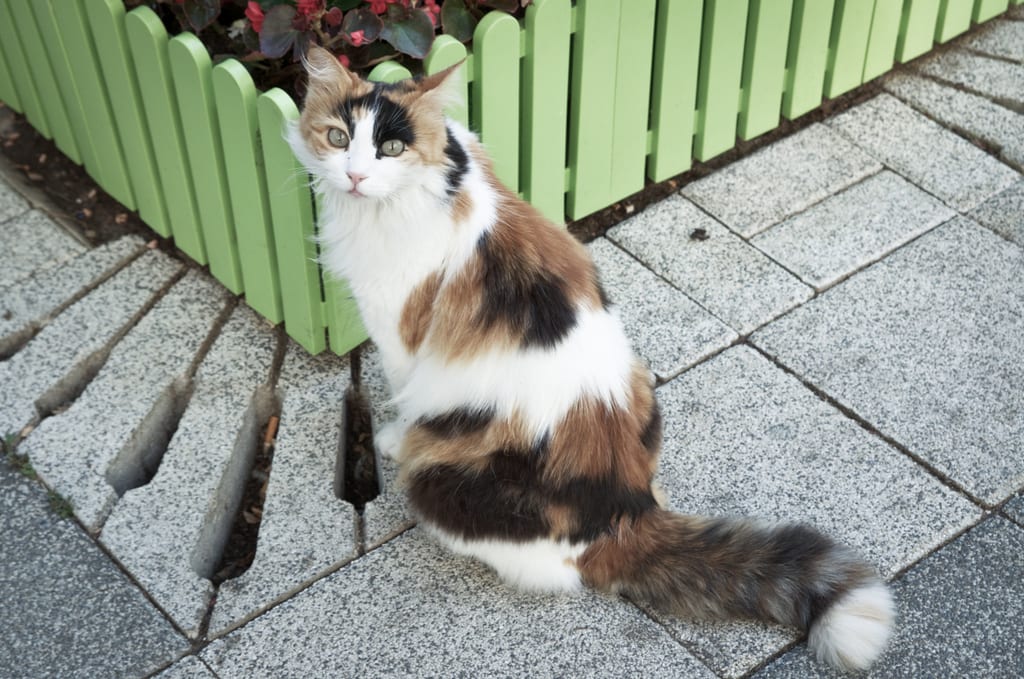 Can you believe how gorgeous this cat is? She's better-looking than most humans! I don't even like pets, and I wanted to take her home…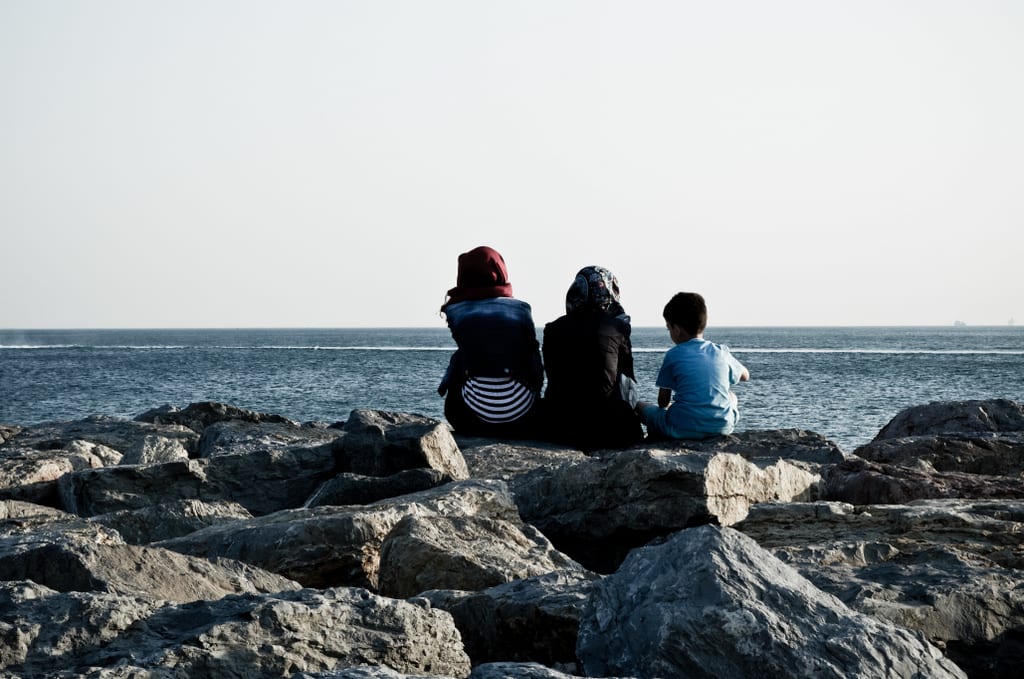 At the Water's Edge
Kadikoy's best feature, however, is its waterfront. It snakes along the edge of the land for miles, taking in fantastic views of the Sultanahmet skyline.
We finished our afternoon with a lengthy summer stroll, warm ocean breezes blowing through our hair.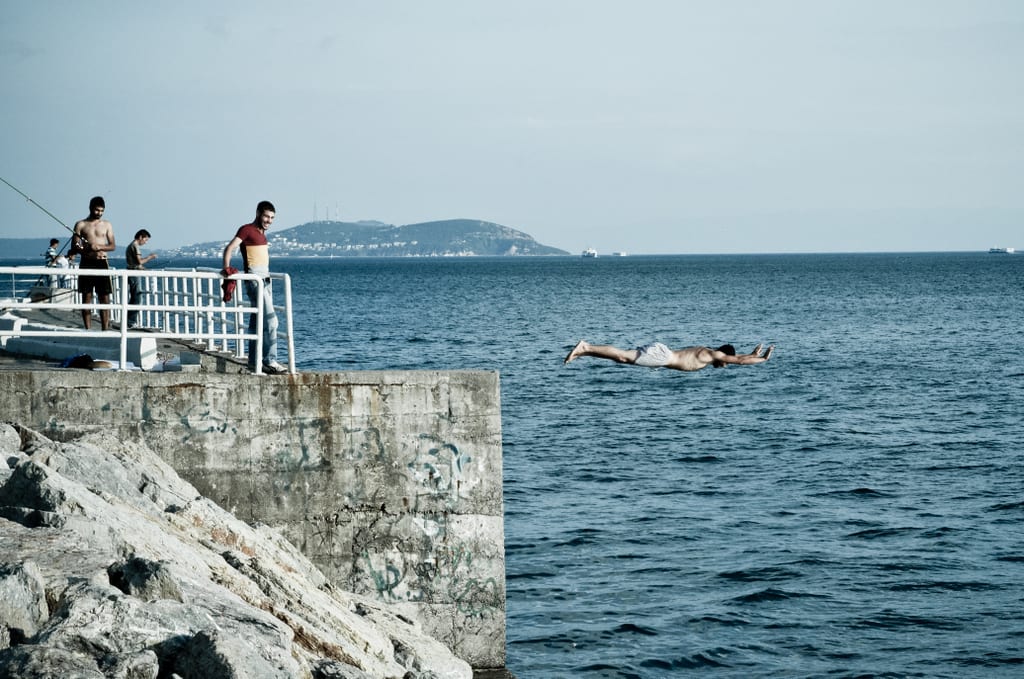 It turns out that if you take pictures of guys doing jumps off the edge, they'll start showing off! I don't want to think about how red this guy's chest must have been after his belly-flop…
Soon the four of us took a seat on the rocks along the edge and were joined by Katrinka's friends as we watched the sun sink beneath the spires of Haghia Sophia and the Blue Mosque. Unbelievably, pods of dolphins leaped out of the Bosphorus, dancing for us.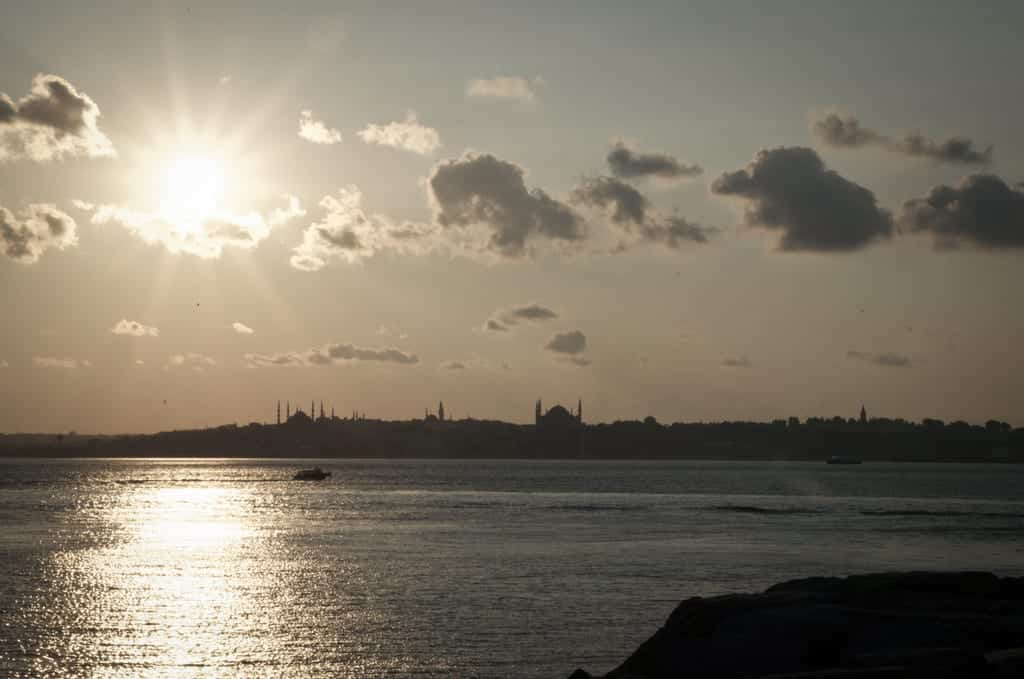 It was pure magic — and a perfect end to a memorable day. Everyone knew what they were talking about — taking the ferry to the Asian side was one of the best things I did in Istanbul.
---
READ NEXT:
Solo Female Travel in Turkey — Is Turkey Safe?
---
Essential Info: Ferries to Kadikoy leave from spots on either side of the Galata Bridge: the Eminonu stop is closest to Sultanahmet, and the Karakoy stop is closest to Beyoglu. The fare costs 3 lira ($1.50) and the ride takes about 15 minutes.

I stayed with friends during my time Kadikoy. You can find Kadikoy hotels here.

I used World Nomads travel insurance on this trip. I never travel without it and recommend buying it before all trips. It will help protect you financially if something goes wrong.
Get email updates from Kate
Never miss a post. Unsubscribe anytime!