Adventurous Kate contains affiliate links. If you make a purchase through these links, I will earn a commission at no extra cost to you. Thanks!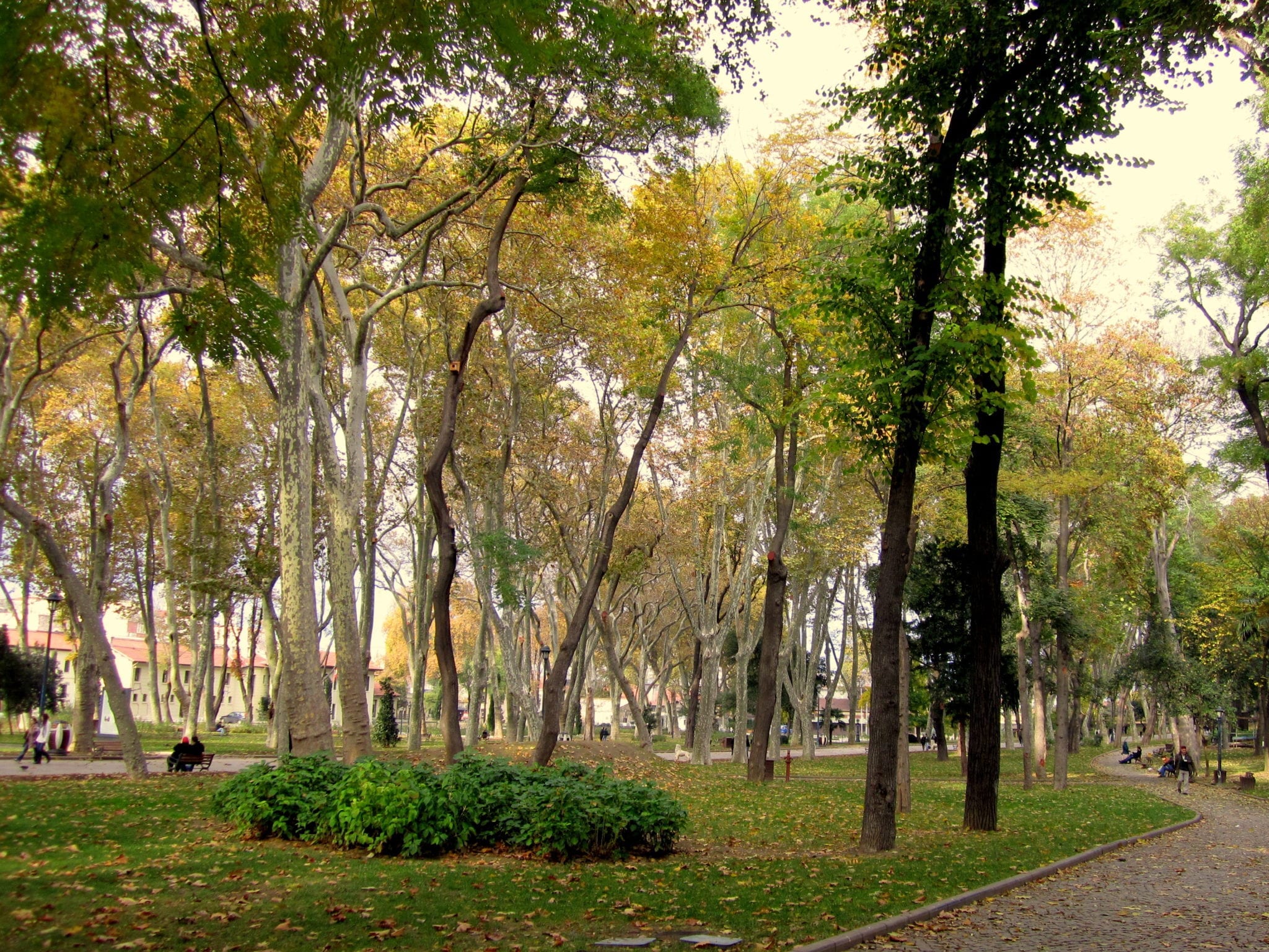 When I got to Istanbul, I was physically and mentally exhausted.  I had just had a very fun but very tiring week in Jordan, which came immediately after an exhilarating but exhausting week at WTM in London.  Planning those back to back wasn't the brightest idea in the universe, and I had basically been going nonstop for the past 14 days straight.
I needed a break.
Fortunately, the timing couldn't have been better.  Two of my travel blogger friends, Jodi of Legal Nomads and Wandering Earl, were in Istanbul and similarly exhausted.  Jodi had just survived a few weeks of driving across Morocco and Earl had just finished a Eurail trip from Switzerland to Bulgaria.
For those first five days, we didn't do much.  We took walks.  We ate chestnuts, chicken pudding, and a LOT of kebabs, and we hung out and split bottles of red wine at our hostel.  We played with the stray cats that dot the city.  We talked about travel blogging nonstop.  We made goofy videos about Istanbul.
And that was exactly what I needed at that time.
That's one thing that people don't talk about enough — the importance of taking a break while traveling.  It can be tempting to power straight through so you can see as many things as possible, but more often than not, you'll end up losing your mind.  Whether you're traveling for four days or several months, you need to build in time to relax and unwind.
And the amount of time that I need varies, but I know when I'm ready, I'll spring up with excitement, ready to move on to my next destination. Five days later it hit, and I was ready to continue my Turkey holidays in Cappadocia.
Agora Guesthouse — A Fantastic Hostel in Istanbul
When you're taking a break, you need to love the place where you're staying.  And in Agora Guesthouse, I found a fabulous place to stay in Istanbul.
Agora Guesthouse is a hybrid of a hostel and boutique hotel in Sultanahmet, just south of the Blue Mosque and Aya Sofya.  Many people turn their noses up at staying in the touristy neighborhood (I know those people — they all stay at Lub-D Silom in Bangkok), but I think it's nice to stay in Sultanahmet.  Agora's surrounding streets are absolutely beautiful, and it's enchanting hearing the call to prayer from the Blue Mosque and the many surrounding mosques.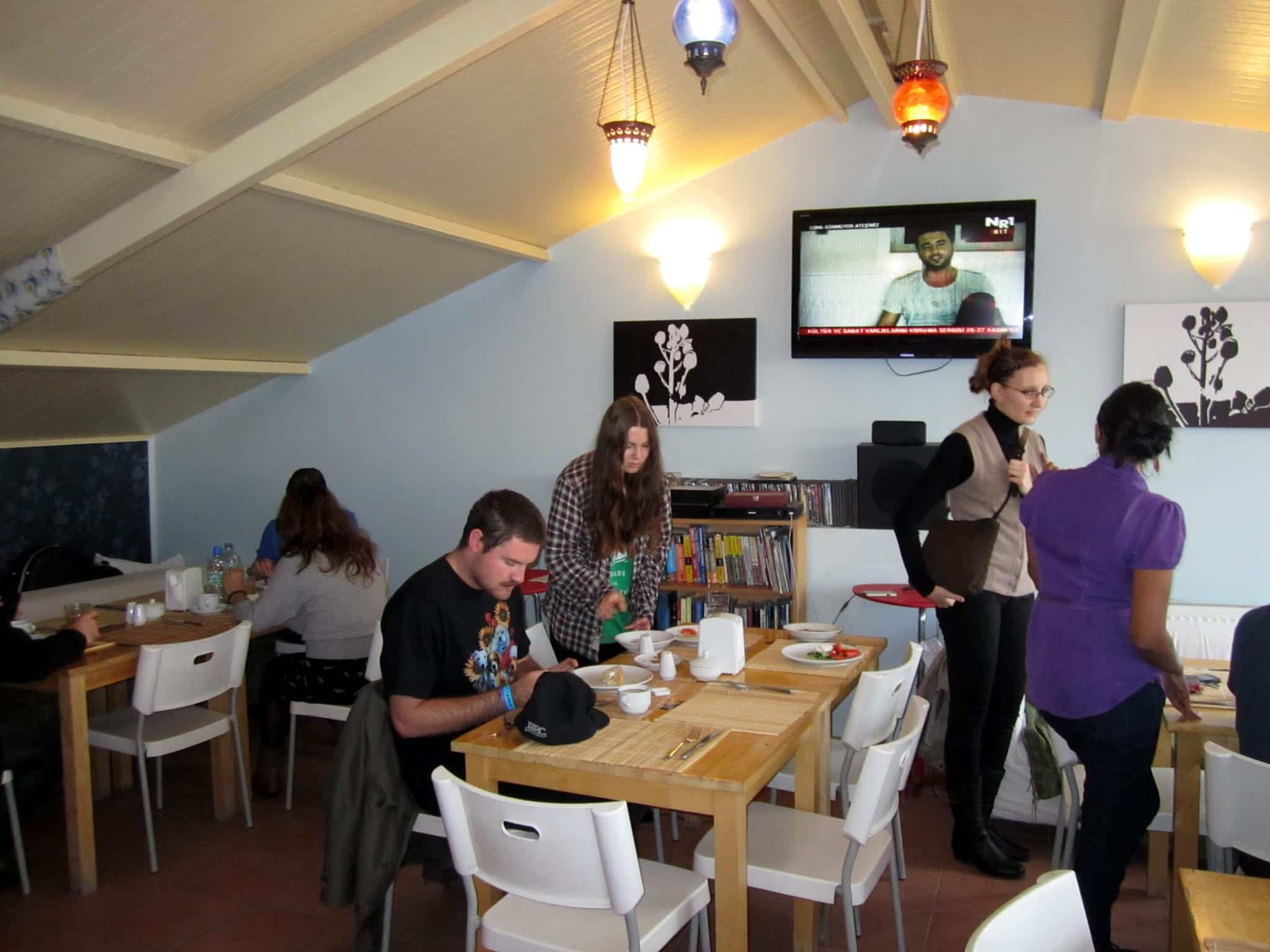 The best part of Agora Guesthouse is the cozy common room on the top floor.  It's a very chill place to hang out and make friends.  This definitely isn't a party hostel — it's more of a have a drink or two with friends and watch music videos all night kind of place.  I loved it, and it made a great office for me during the day.
When the weather is nice, the roof terrace must be amazing.  It was a bit too chilly to sit up there in winter, but I did catch a perfect sunset there.
Agora Guesthouse also has the best complimentary breakfast I've ever had at a hostel, complete with the Turkish staples (tomatoes, cucumbers, feta, hard-boiled eggs and bread), and cereal, granola, yogurt, fruit, plus coffee and tea.  You do not want to miss breakfast at this hostel!
Beyond that, Agora Guesthouse is one of the cleanest hostels I've ever seen.  They clean the bathrooms daily, as all hostels should, and they also do an impressive heavy-duty cleaning each week.
And the staff?  They rocked.  They all knew me by name (though it was usually "Crazy Kate" or "Flying Kate" — yeah, not sure what they meant by the latter) and Jodi, Earl, and I particularly bonded with the quirkily humored owner.
Would I return?  I already have!  From now on, Agora Guesthouse is my go-to place for staying in Istanbul, and one that I recommend to you all.
I received a complimentary stay from Agora Guesthouse.  All opinions, as always, are my own.