Adventurous Kate contains affiliate links. If you make a purchase through these links, I will earn a commission at no extra cost to you. Thanks!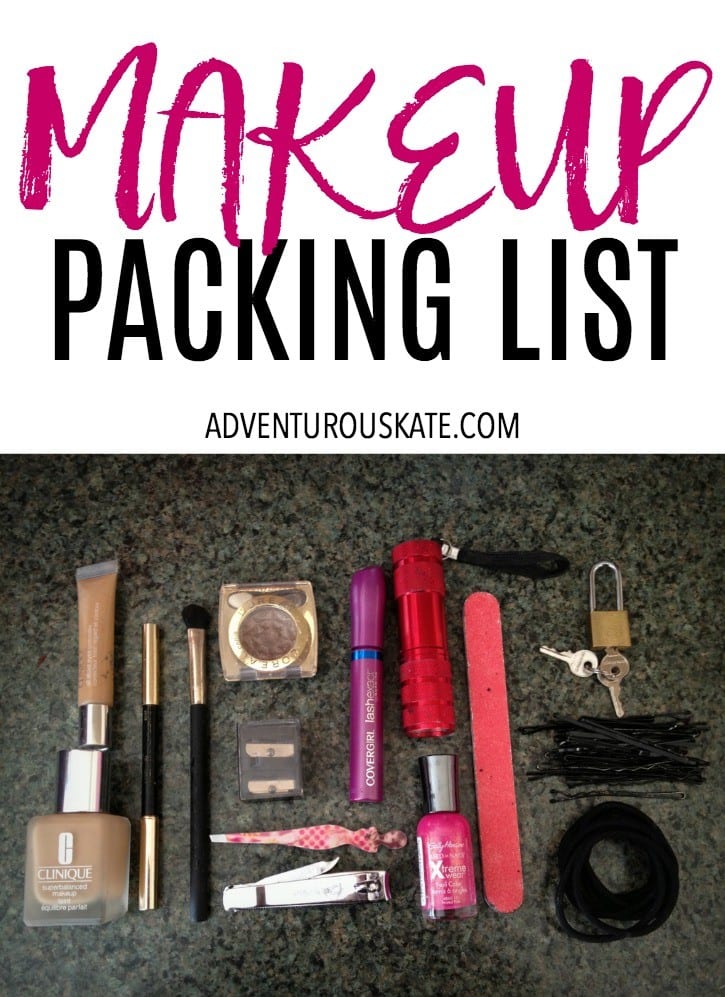 This edition of Ask Kate is about how to look good on the road without packing your entire bathroom cabinet.
Hi Kate!

I have a question for your Ask Kate series: as a woman constantly on the road, how do you maintain some sort of beauty routine? What are your beauty must-haves on the road? How has your beauty routine changed from your old more "static" life compare to your current "nomadic" lifestyle?

OK, I totally lied. It was three questions. But… they're all related.

Hope to read your answer soon!
Full disclaimer: I've never been a crazy makeup or beauty product girl.  I have always gone with a simple look that works, rarely deviating from it.  The only time I buy new makeup is if my eyeshadow explodes or I need lipstick to match a bridesmaid's dress.  That's about it.
But my home beauty routine happens to work phenomenally for travel as well.  My advice for you?  Find a simple, versatile look that looks great on you, and take the basics on the road with you.  That goes for makeup, hair, nails, and skincare.
Makeup
Unlike a lot of women, I always wear makeup on the road because I think I look better in pictures when I'm wearing it.
My makeup look is a simple day look, but it's versatile.  If it's night or a special event, I just layer the eyeshadow until it's darker and draw my eyeliner on thicker!
Here is what I take with me when I travel:
Hair
My hair is a crazy, curly mess, and it tends to blow up when I travel to humid climates.  I give tips for traveling with curly hair here.
I also get my share of haircuts on the road.  My absolute best haircuts have been in Italy, and my most interesting, time-intensive and precise ones have been in Asia.  I have yet to get a horrifying haircut abroad (fingers crossed!).
Here is what I take on the road:
Nails
As a lifelong pianist, I keep my nails short.  I rarely do anything to them, but I do love getting regular mani-pedis in Southeast Asia, where they usually cost under $5.
Here is what I take on the road:
Sally Hansen Xtreme Wear is the toughest nail polish I've ever used.  Hot pink has always been my default color and I have the nail polish with me for important occasions, like the wedding I'm going to this week. I don't take nail polish remover with me, but I buy it if I need it.
Skin
If there's one bit of beauty advice that I want every woman to take, it's this: use facial moisturizer with broad spectrum SPF every day.  Between skin cancer and early-onset wrinkles, there is no reason not to.  You don't have to spend a lot of money — the one I use costs about $10.
Here is what I take:
And that's it!  I take a small bag for makeup and a slightly larger bag for my toiletries.
Traveling long-term doesn't mean you need to either bring an arsenal of products or look like a hobo. Just a few key products will have you traveling light and looking great.
Get email updates from Kate
Never miss a post. Unsubscribe anytime!