Adventurous Kate contains affiliate links. If you make a purchase through these links, I will earn a commission at no extra cost to you. Thanks!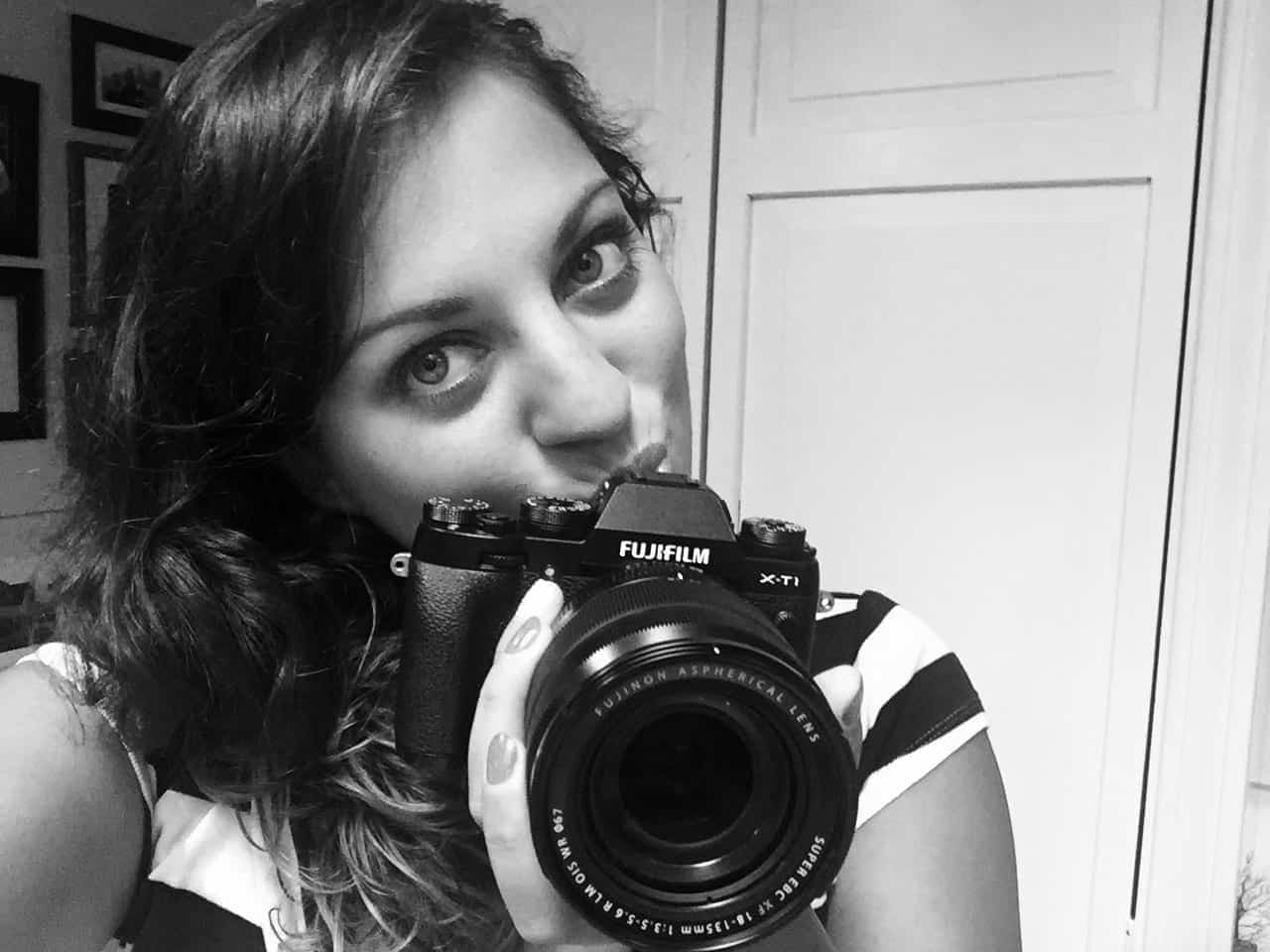 This spring, I made a big decision that more and more travel photographers are making: I decided to switch from a DSLR to a mirrorless camera.
In other words, I said farewell to the Nikon D5100 that I had been using for two years in favor of the Fuji X-T1, a mirrorless model.
And I could not be happier about it!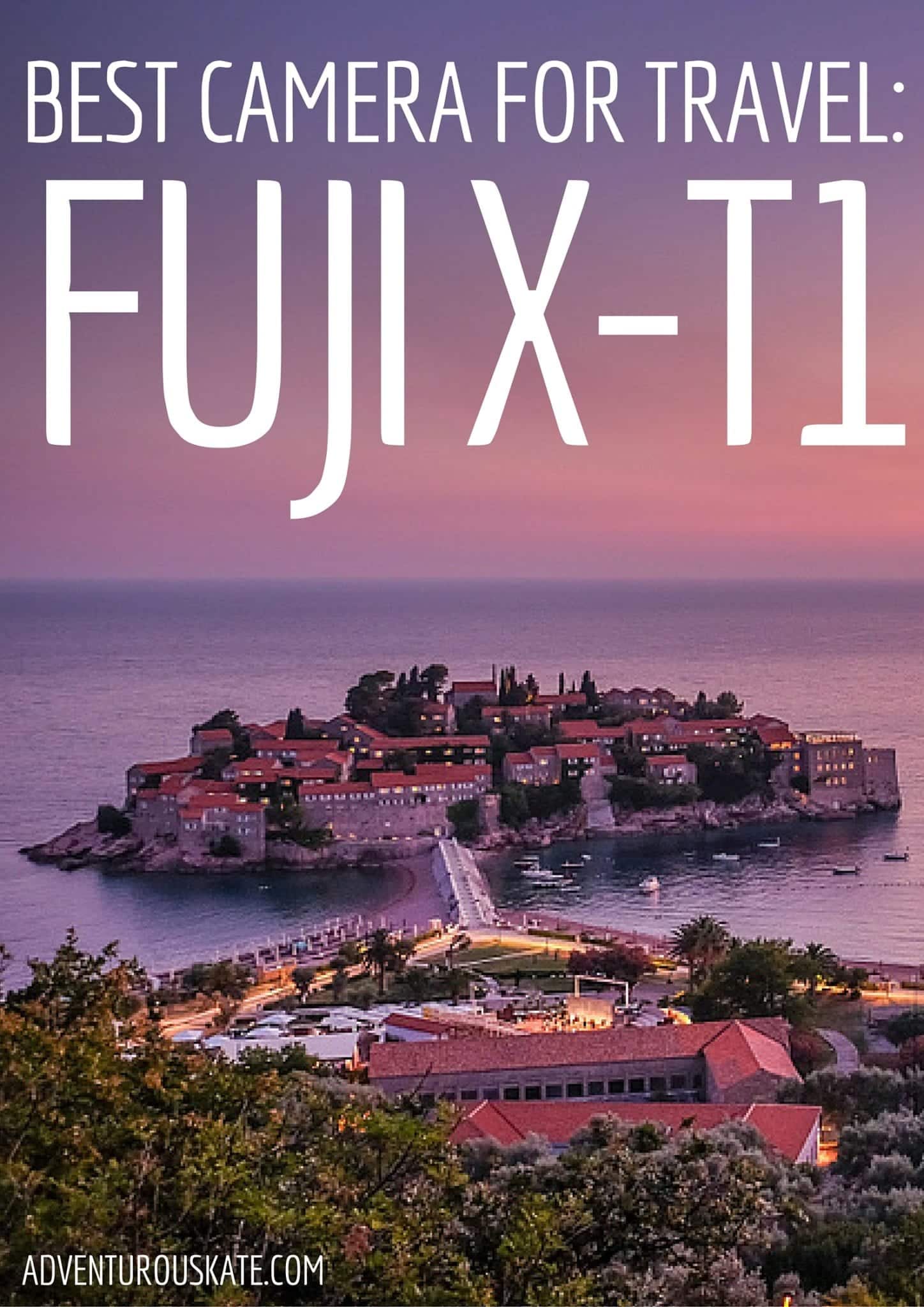 What is a mirrorless camera?
DSLRs are the big professional cameras with lenses that you see pro photographers and serious amateurs use. They have mirrors in their bodies — the light enters the camera, reflects off a mirror, and hits the sensor.
By contrast, mirrorless cameras omit the mirror. For that reason, they're much smaller and lighter, yet they provide a similar quality.
All of the photos you're about to see in this post, excluding the selfie of me with the camera at the top, were taken with my Fuji X-T1.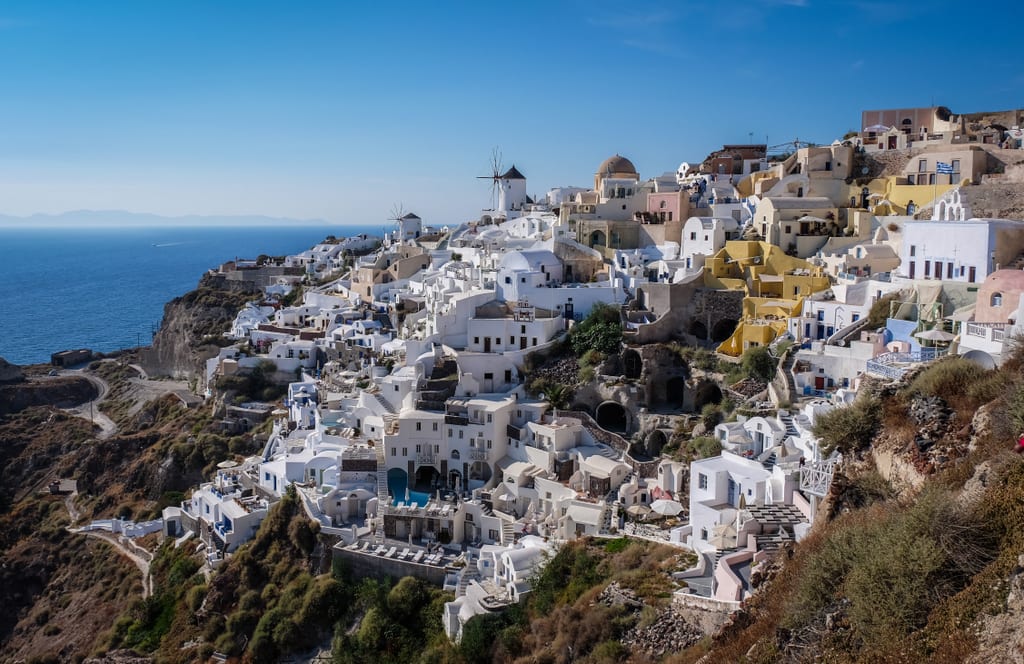 Are mirrorless cameras as good as DSLRs?
Generally speaking, the best mirrorless cameras are very close in quality to many DSLRs. Some mirrorless cameras are even better. Technology has been catching up at a rapid rate, which is very exciting!
My Fuji X-T1 is better than some entry-level DSLRs like my Nikon D5100, but not as good as some high-end DSLRs like the Nikon D810 or Canon EOS 5D.
But the truth is that the vast, vast majority of photographers — even pros — don't need the most high-end DSLR in order to take photos of excellent quality.
In other words, for your needs, a premium mirrorless camera provides all the quality you need.
Another thing — keep in mind that you don't buy a mirrorless camera to save money. Some DSLRs and lenses, including my former Nikon setup, are cheaper. You buy a mirrorless because it's a better overall product.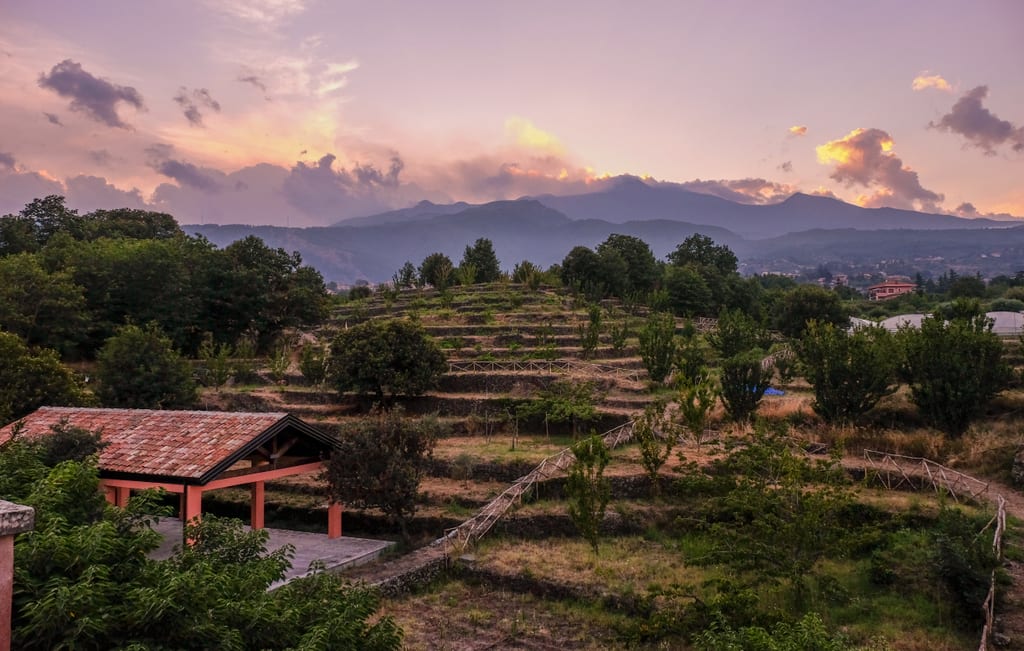 Why use a mirrorless camera for travel?
In a nutshell: excellent quality with a much lower size and weight.
Honestly, the irony is that carrying around a heavy camera can be a deterrent to taking photos! I know that there have been many times that I've skipped out on taking my camera with me because I didn't want to carry the weight.
The Fuji X-T1 is so much lighter and smaller. It doesn't bug me to casually take it out with me, even if I'm going out for the whole day. If I use a larger purse, it fits right inside!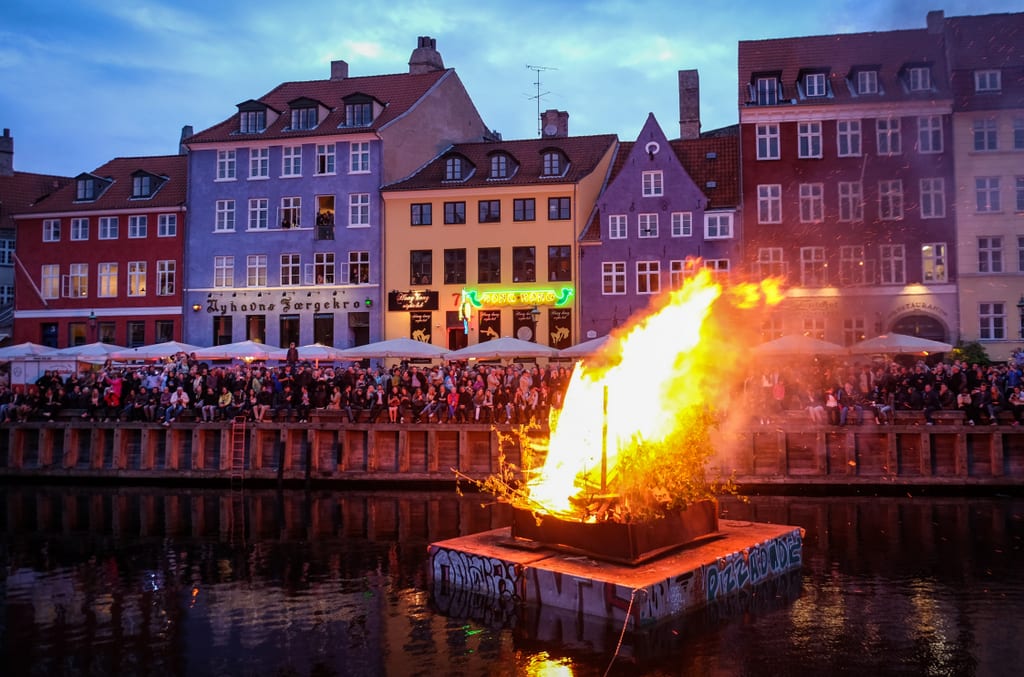 My Best Photos
I've wanted to write a Fuji X-T1 review since I bought it in May, but I decided to give myself a few months to get used to it and test it out all over Europe so that I could share a varied portfolio of photos with you.
Every photographer is different, but generally when shooting travel photography, you need to cover a wide variety of shooting: landscapes, architecture and cityscapes, food, people, street photography, and events. (Personally, I'm not big on shooting people, but I try to get the rest.)
Here are some of my favorite shots: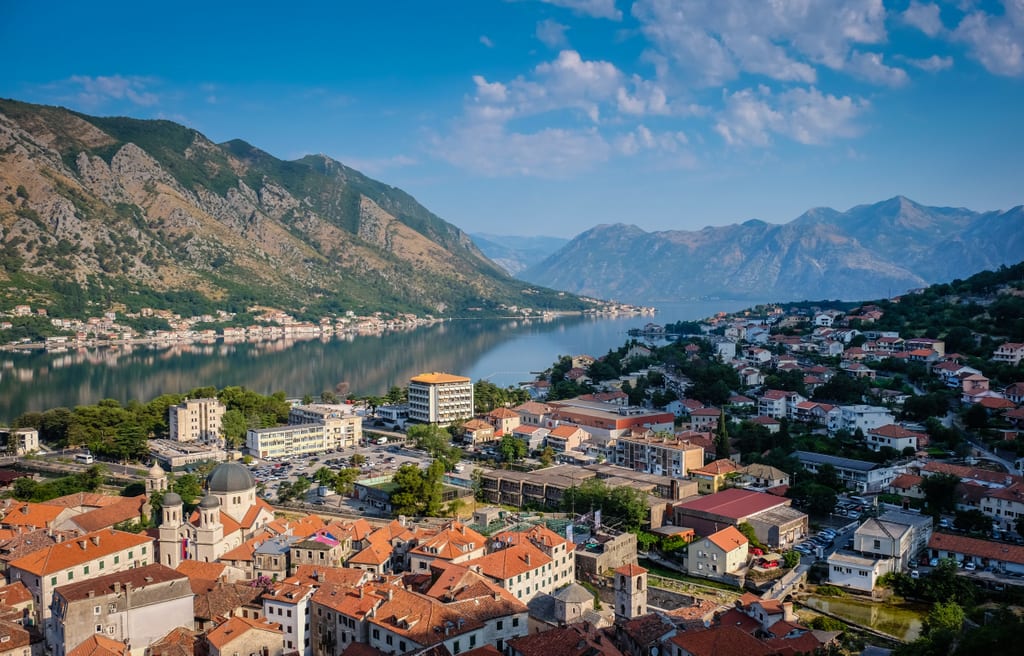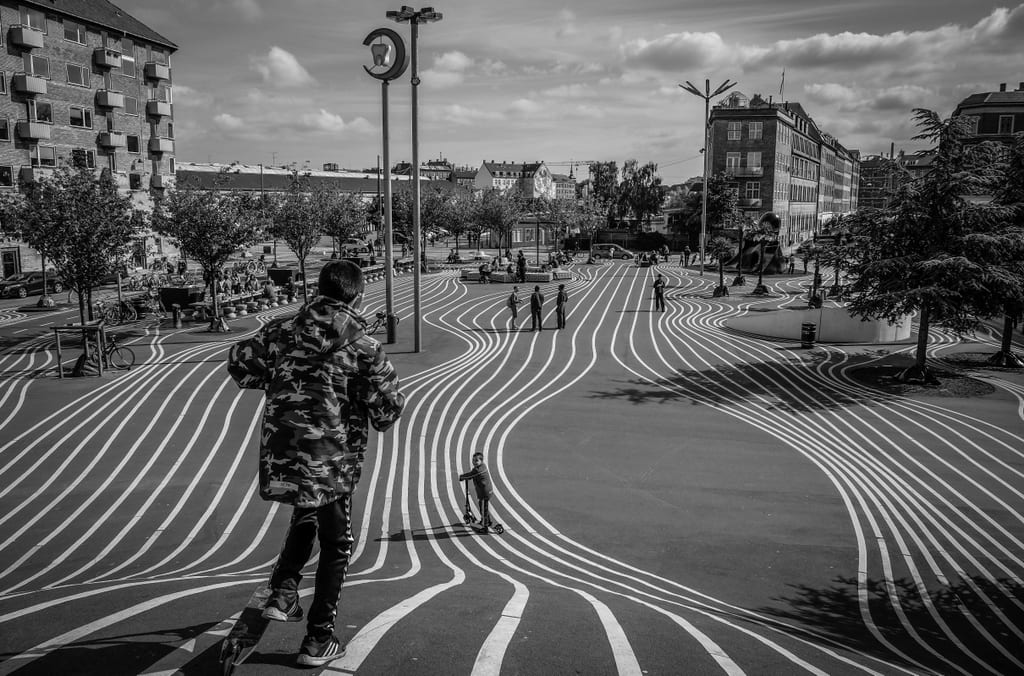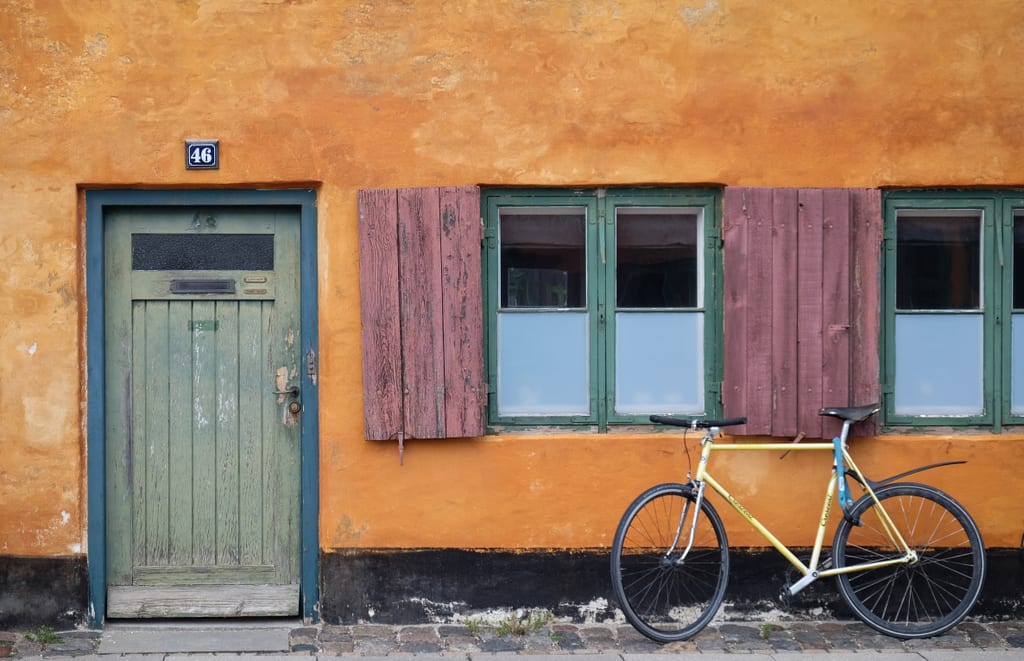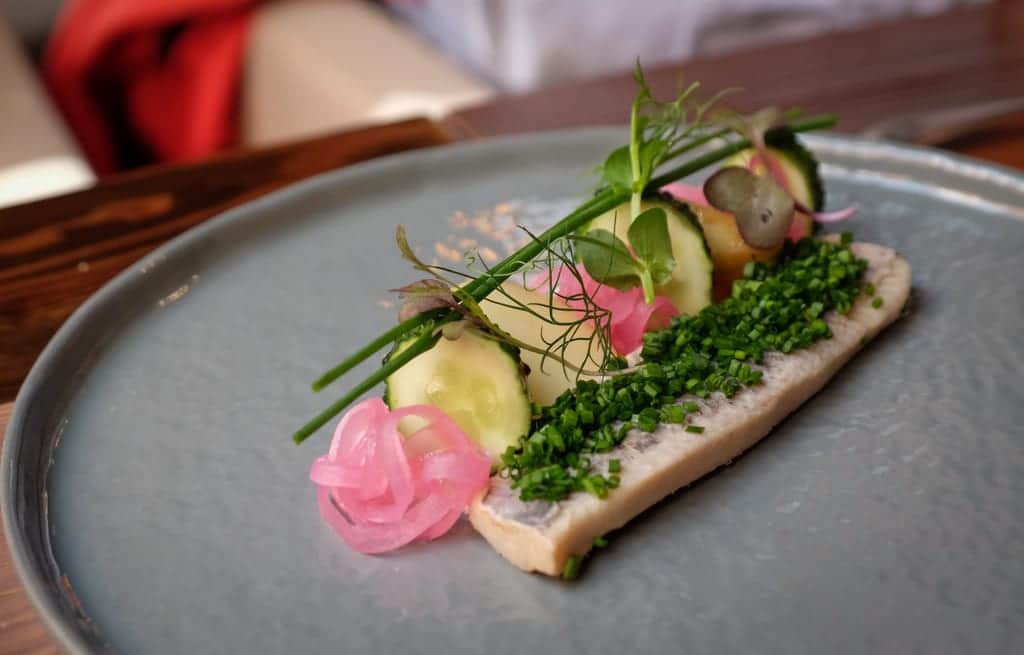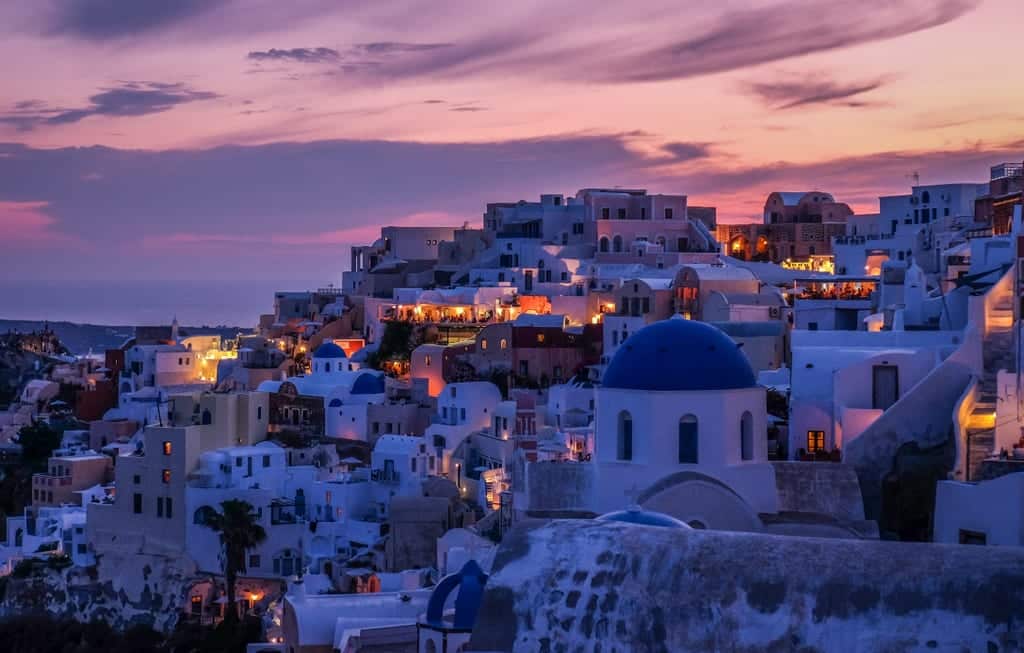 Which Mirrorless Camera is Best for Travel?
At this point in time, there are three top-of-the-line mirrorless cameras by three top brands: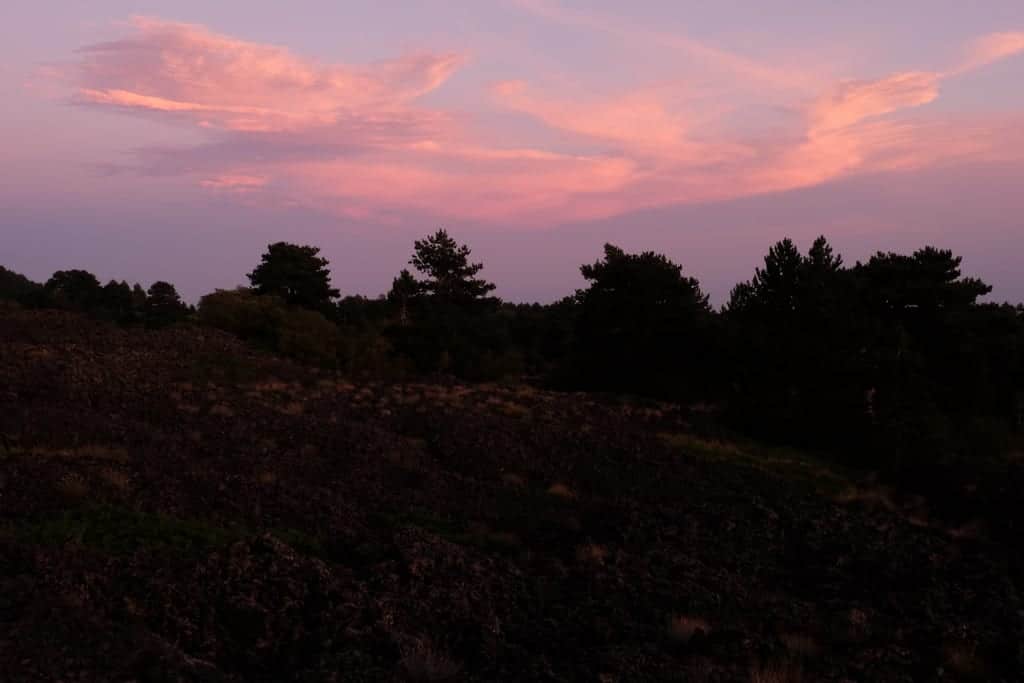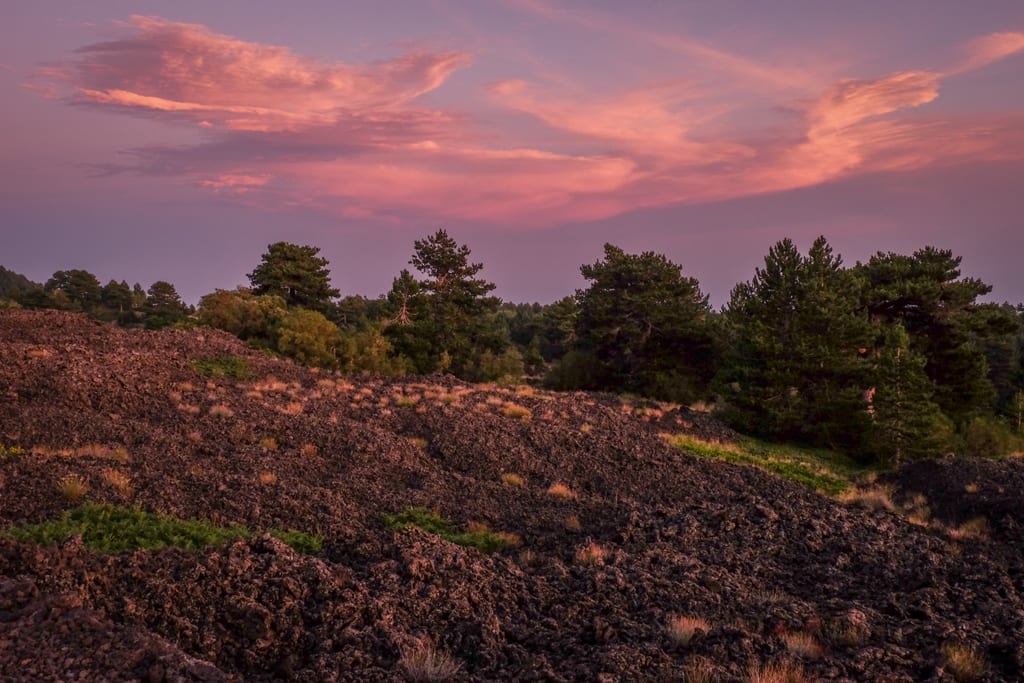 Fuji X-T1 Review: Why I Chose IT
Honestly, this was a completely independent decision on my part. I had zero influence from sponsors and while finances are always a concern, I was willing to pay full price for the best camera. It was important to me to get the best quality lightweight camera possible for the sake of my work.
I wanted a camera that could grow with me — that would be useful for years, no upgrade necessary, and would take me into the future. A camera that I could add lenses to over a long time period.
After researching the particulars, I narrowed it down to either the Fuji X-T1 or the Sony A7ii and asked several of my friends who are professional photographers for their opinion. The verdict?
Every single pro photographer told me that the Fuji X-T1 was the way to go.
Seriously. I was floored by how in favor they were of Fuji. (That's not to say that no pros use the Sony A7 or A7II — I know some who do and absolutely love their cameras.)
Here are the three main arguments they put forward:
"The Fuji's lenses are better." They're also lighter and cheaper than the Sony's Zeiss lenses.
"The Sony is better if you need full frame or are selling giant prints — but you're not doing that." Most people aren't.
"Photos from the Fuji just look better." Well. That's not quantifiable, but certainly interesting.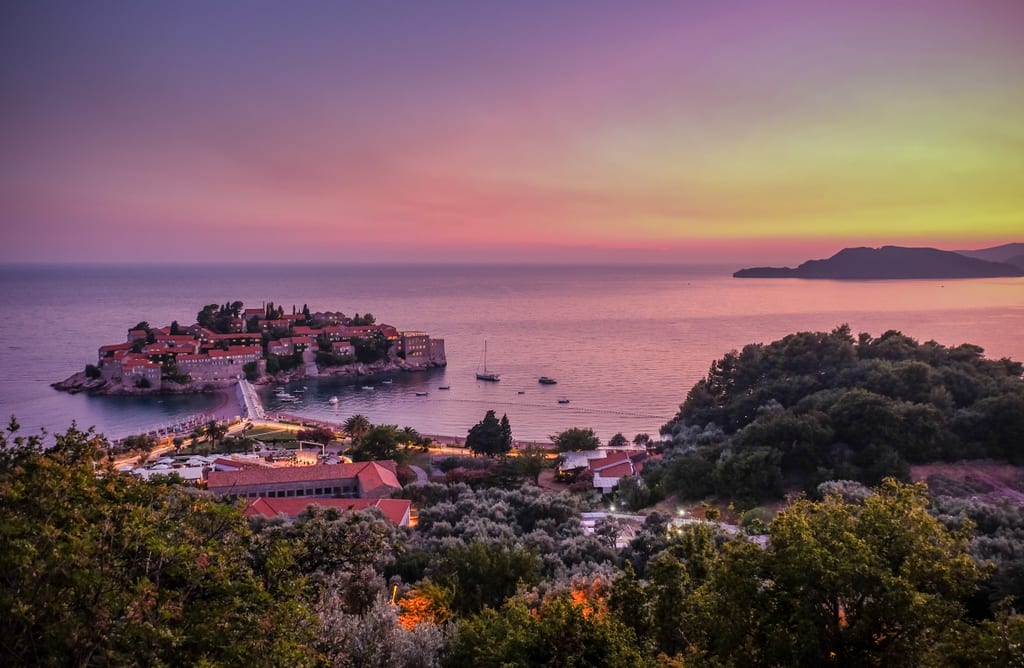 Fuji X-T1 Specifics
Image sensor: 16.3 megapixel APS-C X-Trans CMOS II
ISO Sensitivity: 200 – 6400 (extended to 100, 12800, 25600, 51200)
Sensor Cleaning System with Ultra Sonic Vibration
Memory Cards: SDHX / SDXC memory cards / Class 10 (not included)
Still Image File Formats: JPEG, RAW (RAF format), RAW+JPEG
Movie File Format: MOV / H.264 / Linear PCM Stereo
Lens mount: FUJIFILM X mount
Image Stabilizer: Supported with OIS-type lenses
Exposure Control: TTL 256-zone metering, Multi / Spot / Average
Exposure mode Programmed AE / Shutter Speed priority AE / Aperture priority AE / Manual exposure
Synchronized shutter speed for flash : 1/180 sec. or slower
Continuous shooting Approx. 8.0 fps (JPEG : max. approx. 47 frames)
Approx. 3.0 fps (JPEG : up to the capacity of the card)
Focus Modes: Single AF / Continuous AF / MF Distance Indicator type Intelligent Hybrid AF (TTL contrast AF / TTL phase detection AF), AF assist illuminator available
Weight Approx. 440g / 15.4 oz. (including battery and memory card)
Battery Life for Still Images: Approx. 350 frames under "normal" shooting conditions.
What I Love About the Fuji X-T1
Wi-fi connection. This has CHANGED MY LIFE. After shooting with my Fuji, I can instantly send the photos to my phone, edit them in Snapseed, and upload them to social media. An absolute game-changer, especially for a travel blogger who shares in real time!
Weather sealing. If you've ever tried to take photos in Iceland or Scotland, both of which I visited this summer, you know that the weather can turn violent in a flash. You want to have a camera that is as protected as possible, and the weather sealing is critical for that.
No more wasted shots while guessing exposure. On my previous DSLR I got pretty good at trial and error with guessing the exposure level. But on the Fuji X-T1, the viewfinder is electronic and automatically shows you how the photo is going to come out when you fiddle with the dials! No more wasted shots.
Dials on the top. It could not be easier to adjust my settings, including ISO and exposure compensation.
Retro design. It looks cool as hell, and I love that.
It feels great. I absolutely love having it in my hands. It's strong, it fits my hands perfectly, and nothing slips out of place.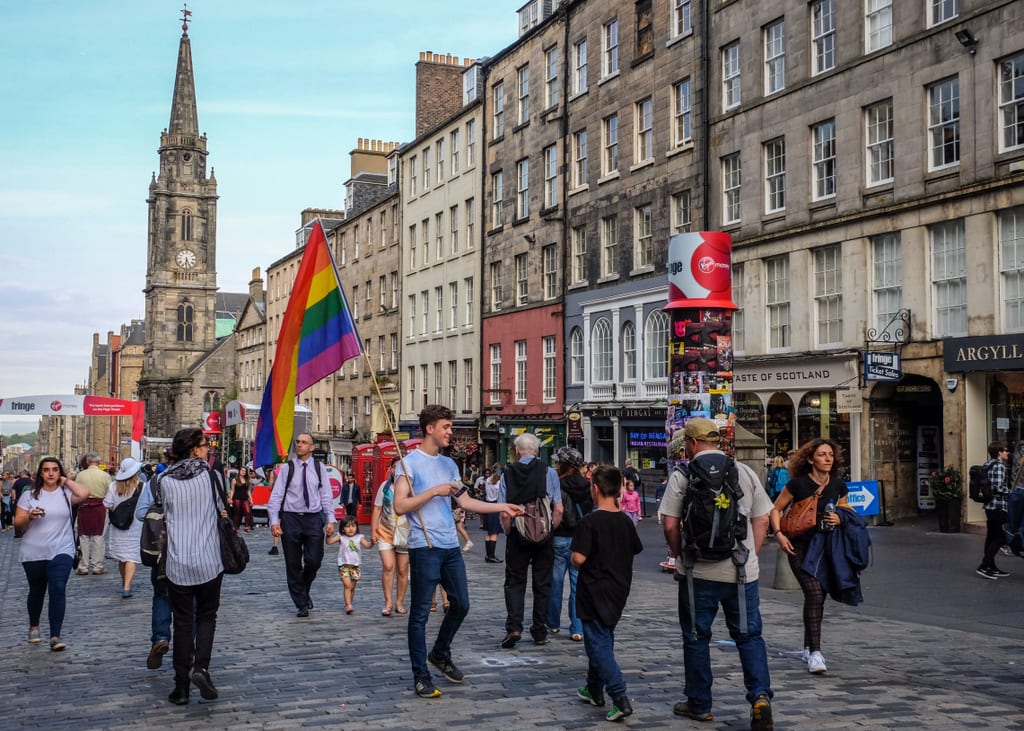 What I Don't Love About the Fuji X-T1
Camera screen. I really wish that it flipped out to face the front for easy selfies — it only angles up and down.
Bottom dials on the knobs. They shift a little bit too easily and I sometimes knock them out of place without intending to.
Video quality. It's decent but not as good as it could be; I shoot most video elsewhere.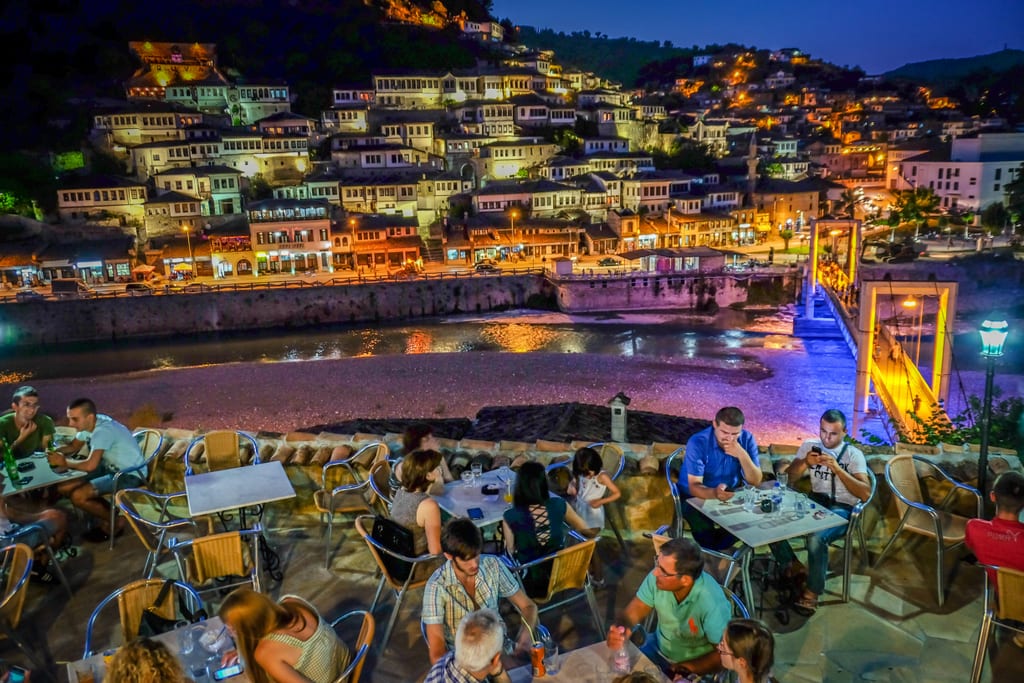 Fun with the Fujifilm Camera Remote App
I love technology! It's easy to set up your phone to connect to the Fuji X-T1 via wifi. The Fujifilm Camera Remote app allows you to browse your camera's images and import your photos to your phone.
Best of all is that with the app, you can use your phone as a remote shutter release. It gives you all the controls and even shows you how the photo looks as you're taking it. That is huge!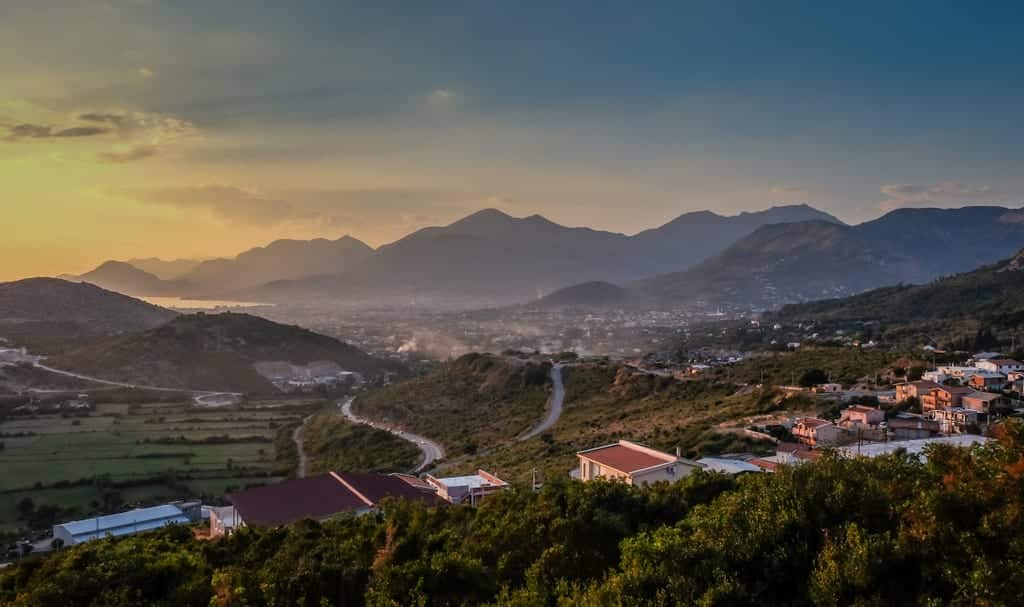 Lenses for the Fuji X-T1
Lenses are where Fuji really shines. Even so, if you just want to stick to one walk-around lens and never take it off, that's fine, too!
Fuji 18-135 mm F 3.5-3.6 — If you want a good walking-around lens that you can use for most instances, get this one. (In fact, you save money if you buy it together with the camera body on Amazon — that's what I did!)
So far, I'm just sticking to my 18-135, but I've got several on my list to buy next:
Fuji 10-24 mm F 4 — Wide-angle lenses are amazing on landscapes. This one has rave reviews.
Fuji 56 mm F 1.2 — This is the fixed lens that many of my pro photographer friends geek out over. It's especially good for portraits.
Fuji 50-200 mm F 3.5-4.8, or, if you've got money to burn, Fuji 50-140 mm F 2.8: If you're planning on shooting wildlife or sports, you should invest in a good zoom. I plan on buying one of these before my next wildlife trip, whenever that may be.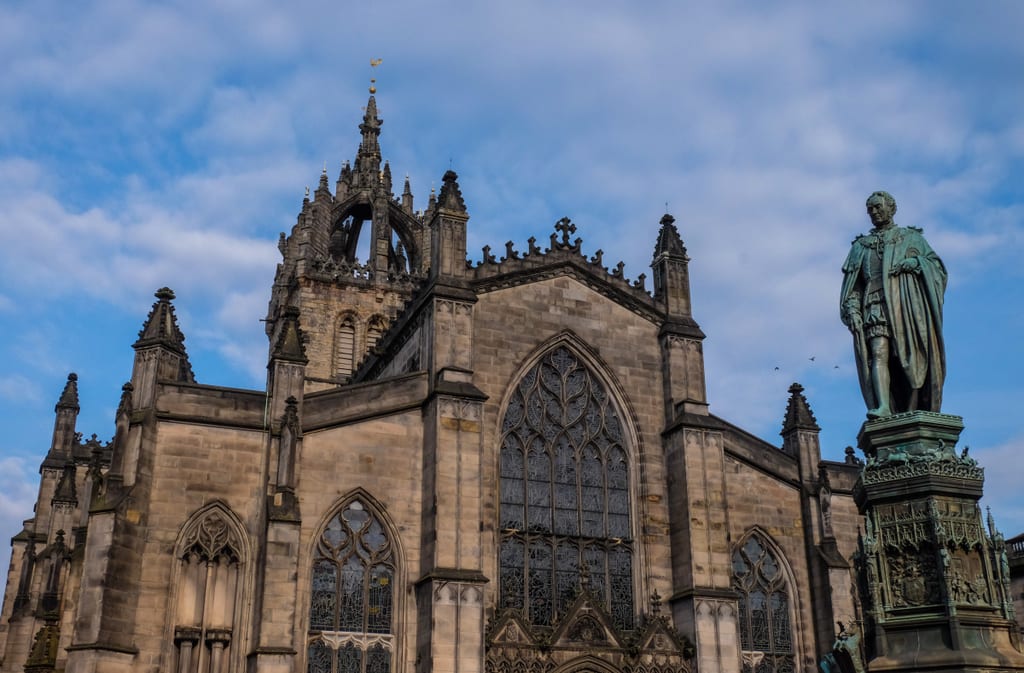 Gear for the Fuji X-T1
Pacsafe Camsafe V25 Camera Bag — I actually own a smaller version of this bag, the Pacsafe CamSafe V17, which I love (and which was given to me for free from Pacsafe as part of a campaign on which I worked), but I actually think the V25 is better.
I am a huge fan of PacSafe products and have used them for years. They work to make their bags as theft-proof as possible with lockable straps, unslashable mesh, and RFID compartments.
MeFOTO A1350 Q1P aluminum tripod — A tripod is the single most important gear that will improve your landscape photography. It's also ideal for shooting in low-light situations and capturing the best colors of the sunset. This is the one I use. And it's purple!
67 mm UV filter — PLEASE BUY A UV FILTER, NO MATTER WHICH CAMERA YOU BUY. It protects your precious lens, and even the most conscientious photographers have accidents sometimes. If you drop your camera onto something sharp, wouldn't you rather replace a cheap filter than an expensive lens?
Samsung M3 1TB Hard Drive — Don't forget to back up your photos, both online and in hard drives.
SanDisk memory cards — The brand isn't vital, but I've always been pleased with SanDisk. Have a few memory card backups, just in case.
Universal memory card reader — This one is a good one.
Spare Fuji NP-W126 Li-ion batteries — Have at least one charged spare on you at all times, and more if you plan on shooting in cold temperatures. The cold makes batteries deplete quickly.
Microfiber cleaning cloths — For removing fingerprints and more from your lens. I keep one cloth in my purse and one in my camera bag — you'll always need one!
Adobe Lightroom and Photoshop — This is the software that I use to edit my photos, and it's great for both amateurs and pros. Tons of tutorials are on YouTube.
Snapseed. For editing photos on your phone, this is the best app there is. And it's free!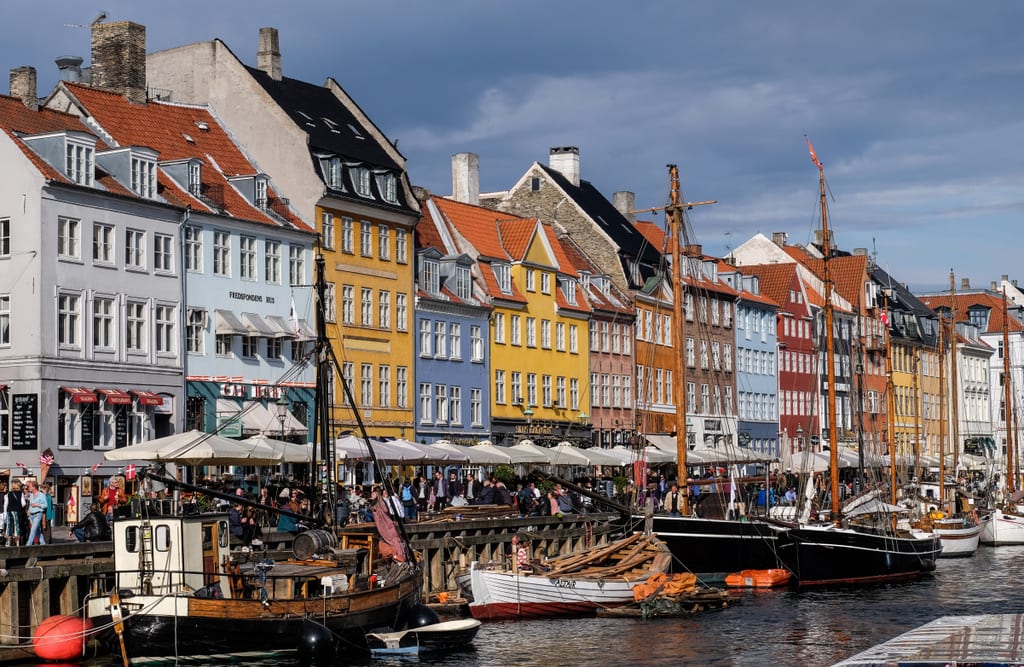 Is the Fuji X-T1 for you?
If you're looking for a professional camera that can grow with you over the course of several years, I think the Fuji X-T1 is an excellent choice. It's light, it's quality, it's excellent for travel, and you wouldn't need to upgrade unless you were getting into photography hardcore.
After making the investment in the camera body and a walking-around lens, you can spend some time using them, and if you want to improve your work, you can gradually add to your lens collection.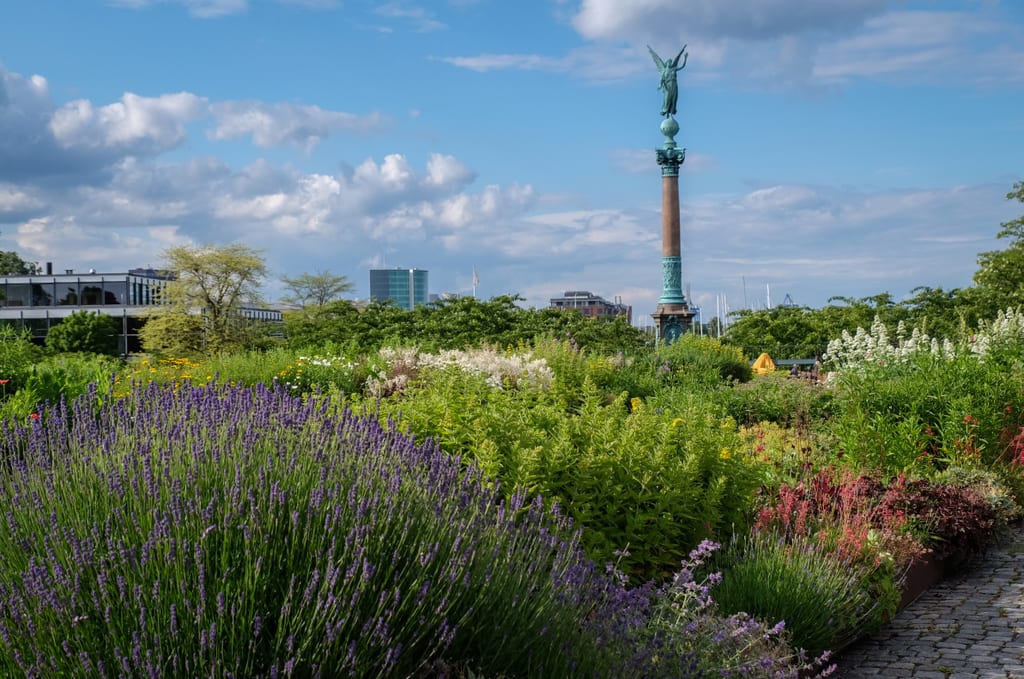 The Takeaway
I could not be more thrilled with my decision to switch to the Fuji X-T1. Every day I am so, so glad that I made the switch, and I'm excited to see where this camera will take me in the future.
One last reminder: a better camera does not instantly transform you into a better photographer. Working on your skills and practicing is what turns you into a better photographer.
If you're looking to improve your photography, take a class. Get a book. Read some blogs. Watch YouTube tutorials. Join an Insta-meet or photo walk. More importantly, go out with your camera, even if it's just your phone, and practice.
And once you combine your newfound skills with a great camera, it's nothing short of life-changing.
Essential Info: The Fuji X-T1 is available for $1,199 for the body only. I recommend buying it with the 18-135 mm lens ($1,899), which will save you some money over buying the lens separately.
Note: Some of the above links are affiliate links, which at no extra cost to you, will earn me a small commission and reduce the costs of running this site.
Have you made the switch to mirrorless? Which camera do you use for travel? Share away!
Get email updates from Kate
Never miss a post. Unsubscribe anytime!