Adventurous Kate contains affiliate links. If you make a purchase through these links, I will earn a commission at no extra cost to you. Thanks!
Loy Krathong is a Thai holiday taking place during the full moon of the twelfth month of the year — usually November.  On this day, Thais build krathongs, or floats and set them on the water. These krathongs bring good luck for the coming year.
Matt and I weren't planning to be in Koh Lanta for Loy Krathong — we originally wanted to be on the other side of the peninsula, on Koh Phangan, for the Full Moon Party.
But moving to the Gulf of Thailand would have meant risking monsoon season.  After a miserably rainy week in Ao Nang finally turned into glorious sunshine, we knew better than to mess with a good thing!
I'm glad that's how things turned out.  Not only did Koh Lanta turn out to be my favorite place I've visited so far, we also got to dive into the local culture for this important holiday.
After renting a motorbike, we cruised down to the southeast corner of the island, home to Lanta Town.  The festival was in full swing.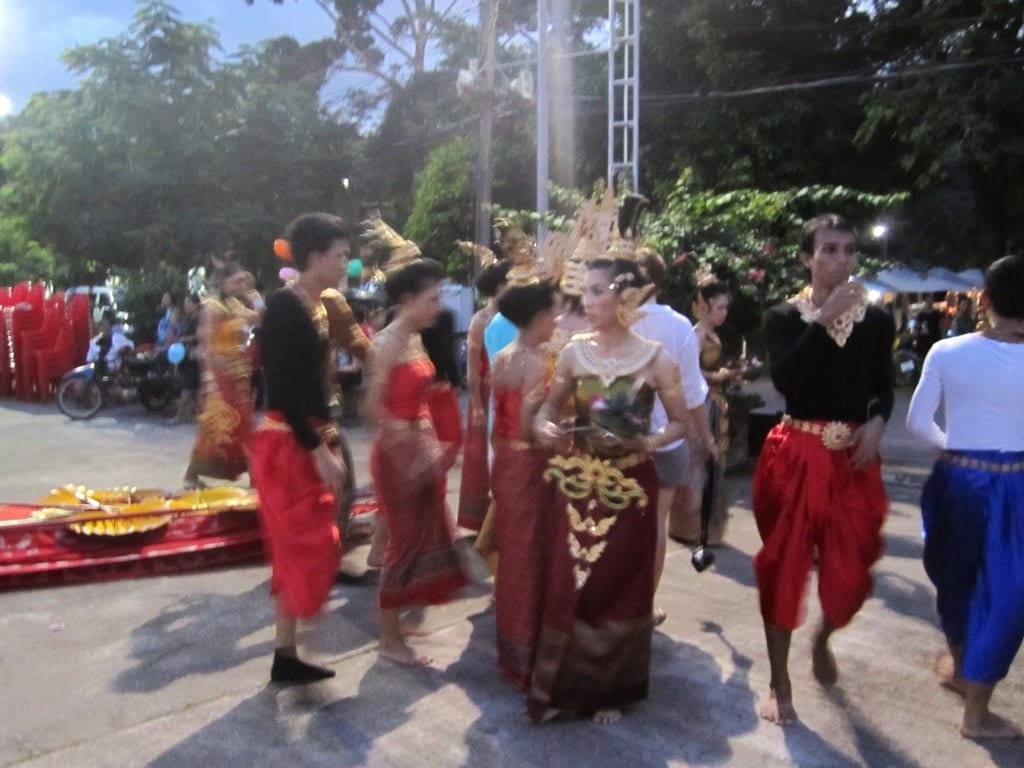 Throughout Thailand, big companies create large krathongs to put on display.  The one below depicts the tsunami.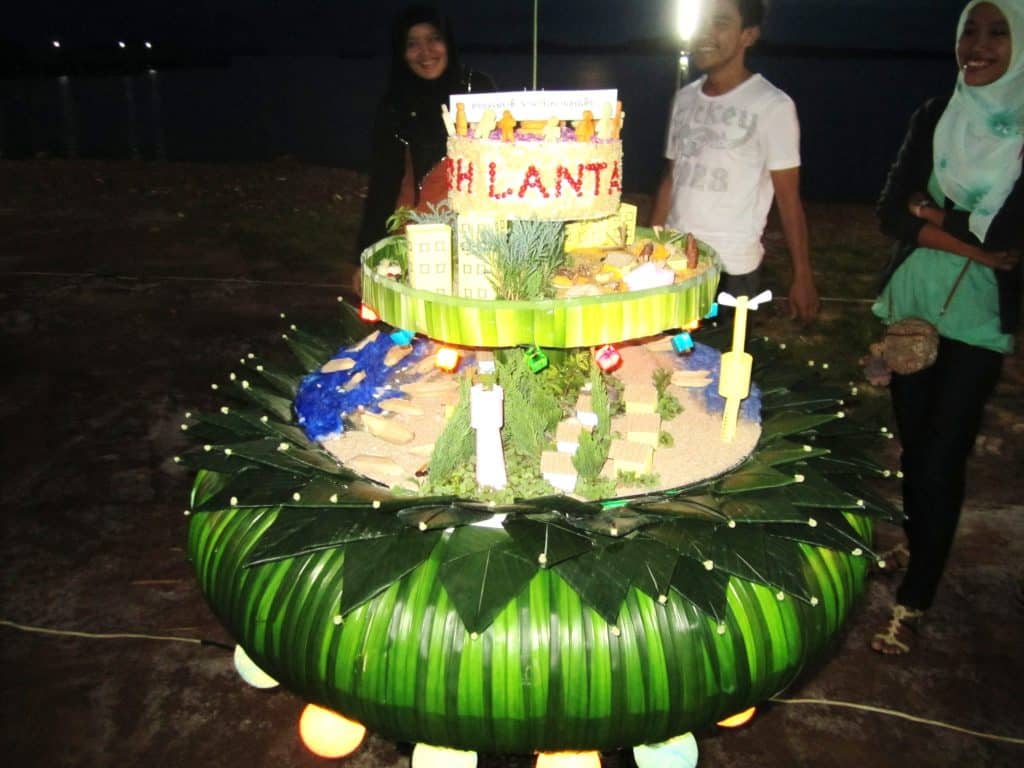 Throughout the evening, there were several performances on stage, including the most ADORABLE dance by little girls.
Soon, it was time to set off our own krathongs.  After befriending a bartender named Tan, she showed us how to set off our krathongs:
First, we cut our nails…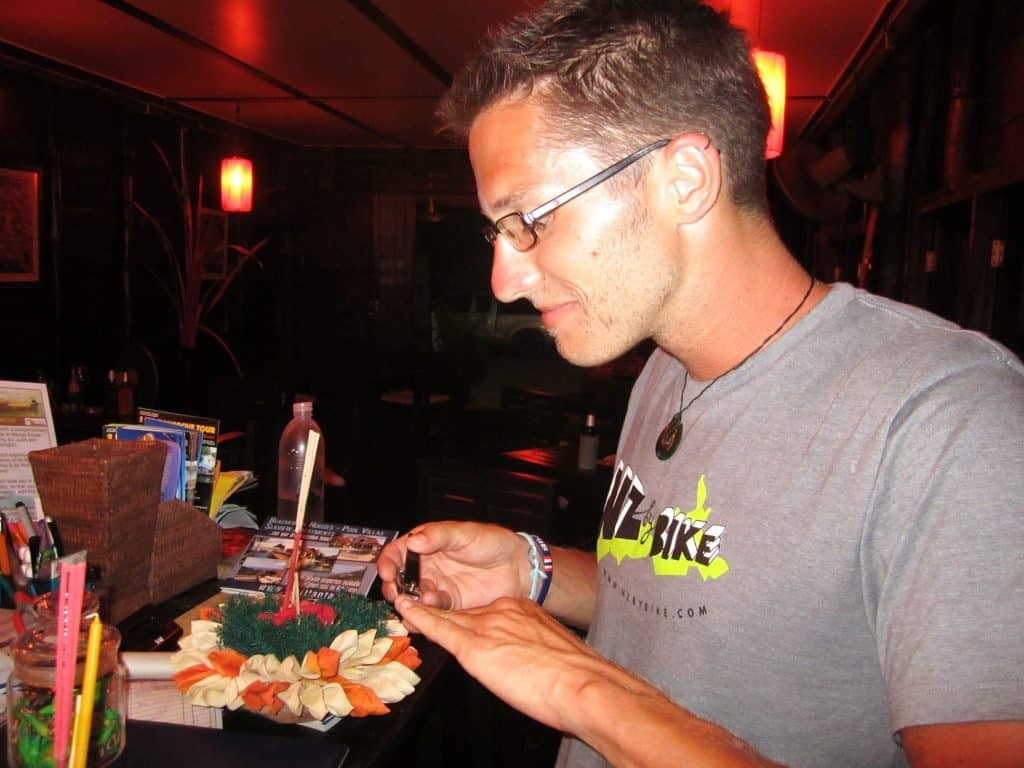 Then we cut our hair (always a traumatic experience for me)…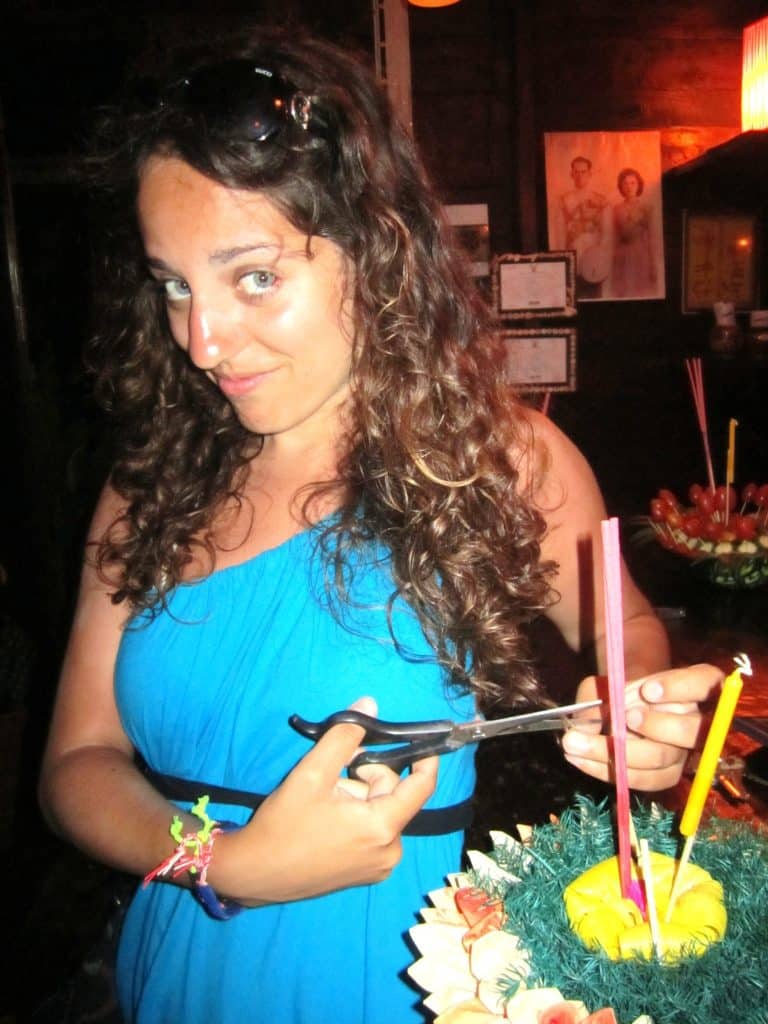 We put the nails, hair and coins in, then lit candles and incense…
And set the krathongs into the nearby ocean.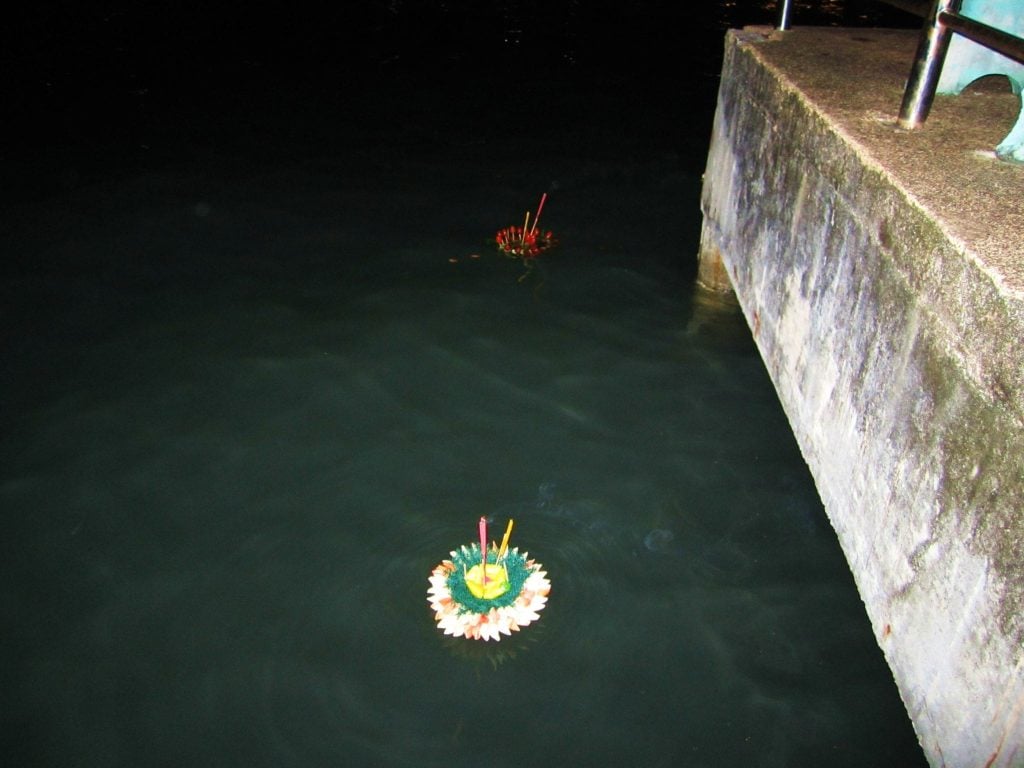 While setting it off, I asked for forgiveness for polluting the ocean and asked for luck in the coming year.
We'll see what happens.  😉
The activities weren't over in Lanta Town!  Up next was the beauty pageant.
It was odd in how subdued it was.  In Miss America, you see the women fall all over themselves with emotion, screaming and crying.  In Thailand, excessive emotion is taboo — so the girls simply stepped forward and bowed, tiny smiles on their faces.
The best thing about this night was that it made me realize how incredibly kind the people of Koh Lanta are.
Throughout the night, the announcers continued to thank the international visitors for coming to Koh Lanta.  (While we weren't only farang, there weren't a lot of them.)  As soon as the food was brought out, people kept urging us to eat, telling us it was free.
Everybody was kind, and helpful, and hospitable, and with a great sense of humor. (You should have seen us trying to figure out how to open the motorbike's gas tank!)  This is yet another reason that I fell in love with this beautiful island.
The Full Moon Party happens once a month.  I'll make it there eventually.  But how often do you get to celebrate a holiday with the locals, and feel welcomed as one of their own?
It was an incredible experience — one that I recommend highly.
Get email updates from Kate
Never miss a post. Unsubscribe anytime!