Adventurous Kate contains affiliate links. If you make a purchase through these links, I will earn a commission at no extra cost to you. Thanks!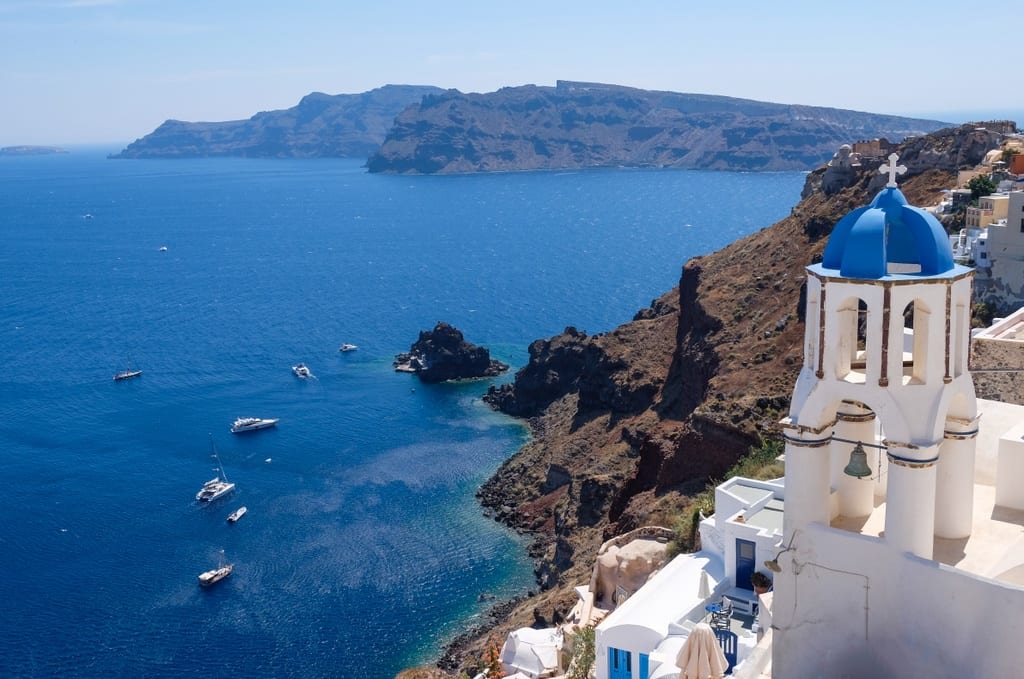 Over the past few years, I've made a habit of visiting my egregious travel oversights. Amsterdam and Berlin got checked off; Japan and Hong Kong were added to my tally; Chicago finally got a visit; I finished visiting every country in the Balkans.
But there was one oversight that had people screaming in incredulity.
"You've never been to Greece?!" my friends would yell. "How is that even possible?"
I shrugged, giving them the answer I give all my readers — "The world's a big place, I'm only one woman, and it hasn't happened yet. I'll get there."
Even so, I knew I couldn't hold off much longer. So when I planned a summer of gallivanting around Europe, there was no question that I would be visiting Santorini.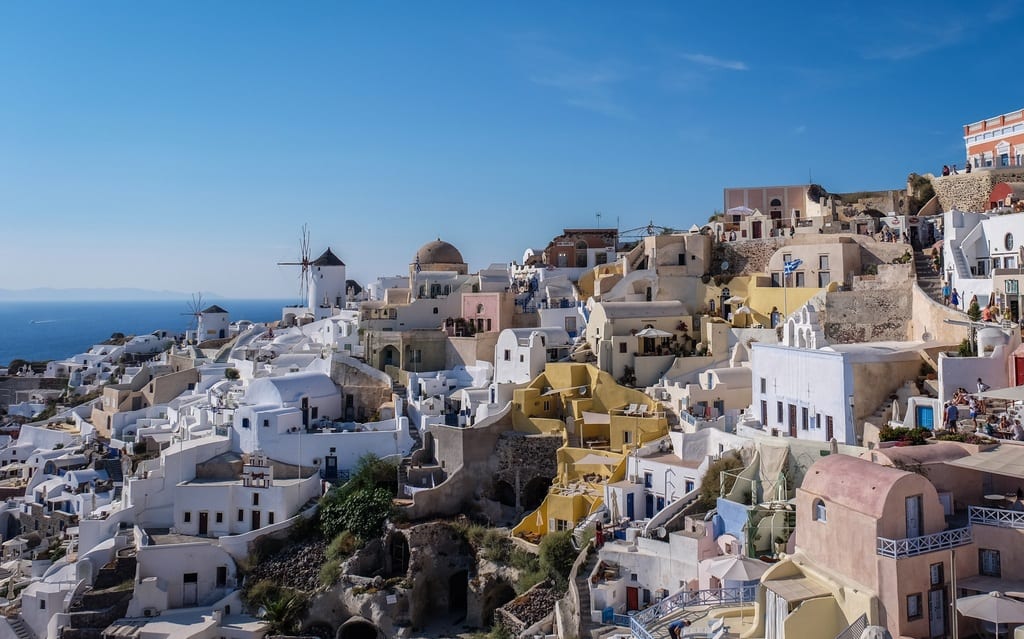 Exploring Oia by Day
Santorini is a small island, but it's filled with a variety of villages. Fira is the main town, located fairly centrally; Imerovigli is a small town with incredible views; Perissa is home to black sand beaches and some of the cheapest accommodation on the island.
But forget everywhere else — people come to Santorini to explore the famous white village that dots postcards. This village is called Oia (pronounced EE-ah) and it's at the northern tip of the island.
Basically, everywhere you go in Oia looks like a calendar shot.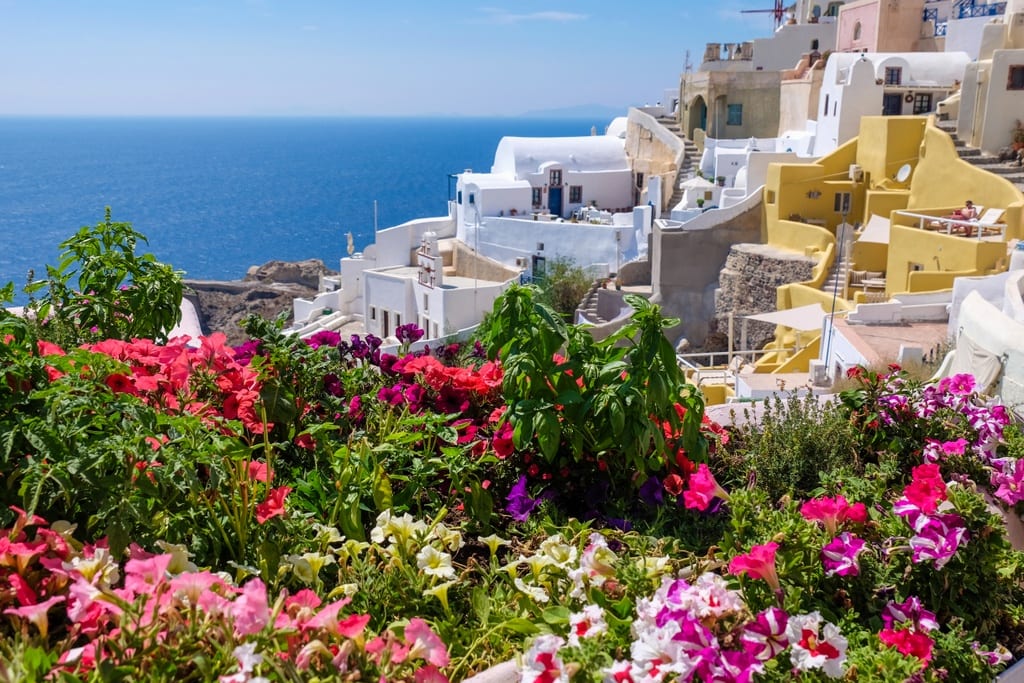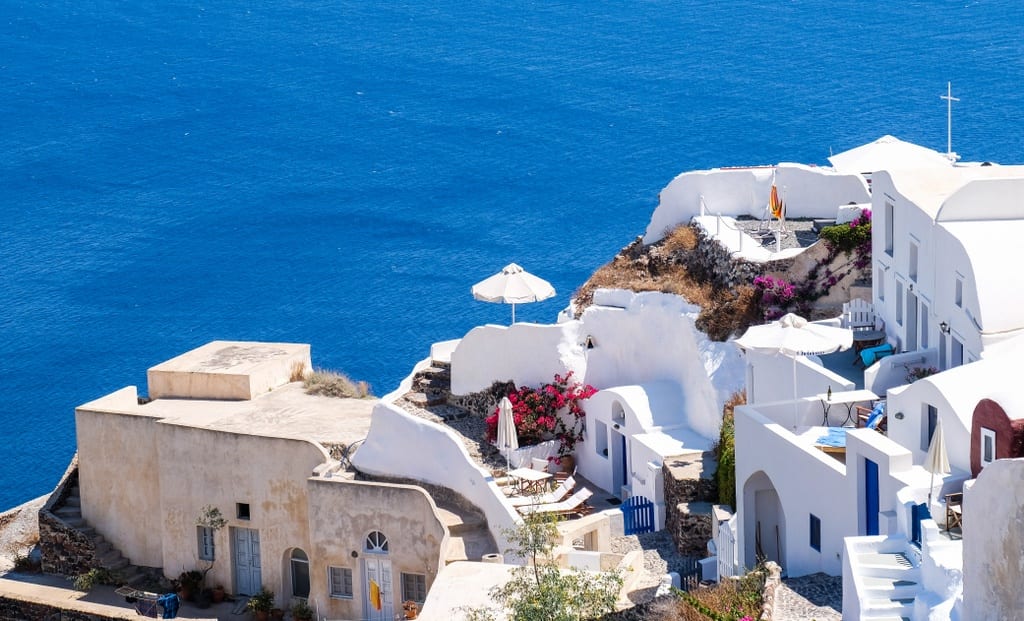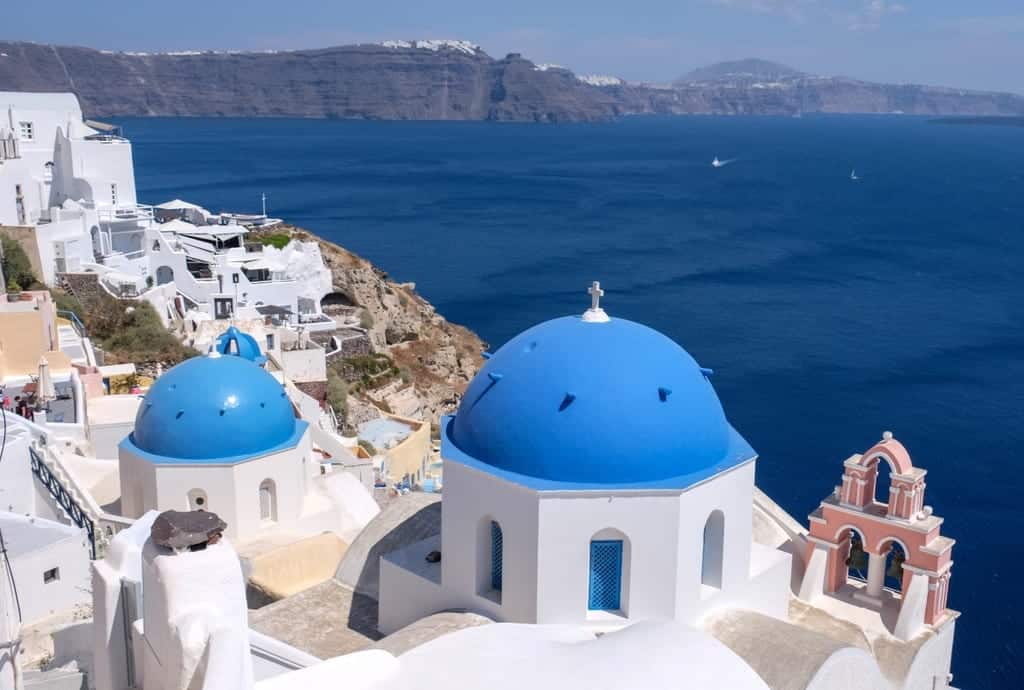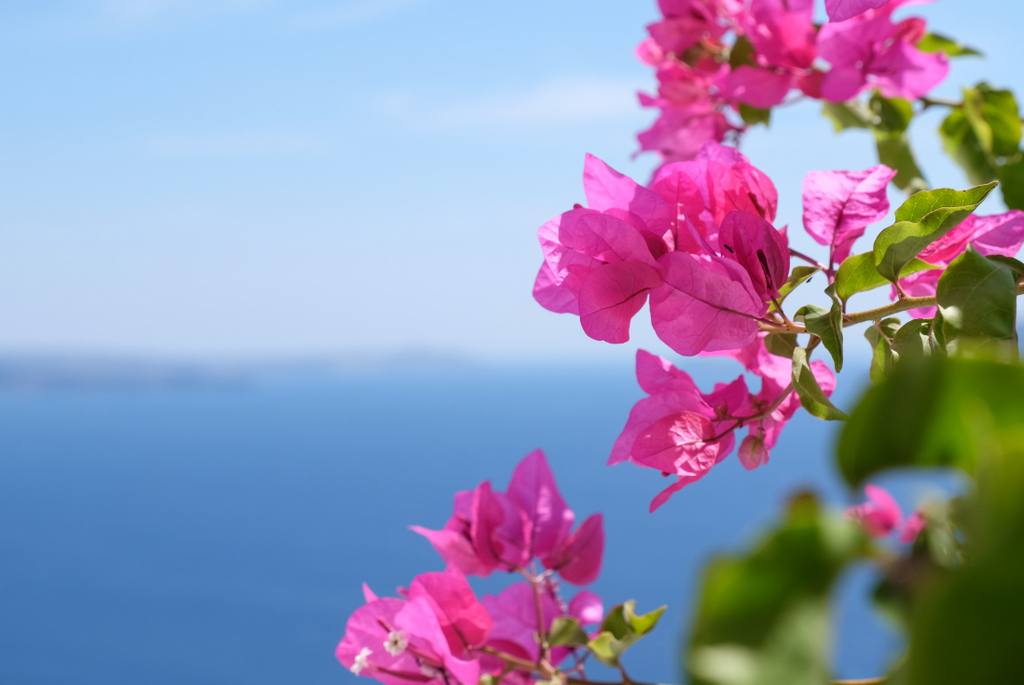 Some uber-famous destinations inevitably disappoint you. Venice can be a sweaty, expensive mess in the summer; the Mona Lisa can barely be seen behind the mass of smartphones.
But Oia — and Santorini — does not disappoint. It's just as beautiful as you imagine.
This seemed like a great outfit at the time…until I realized that Santorini was incredibly windy. I basically flashed the entire island. Joke's on them, though — I wore matching underwear!
Sunset at Oia Castle
While exploring Oia, I looked at every viewpoint with a critical eye — would this be a good spot to photograph the sunset? Or would I be better off elsewhere?
But by the time I got to Oia Castle and saw the view, I knew this was what I wanted to photograph at sunset.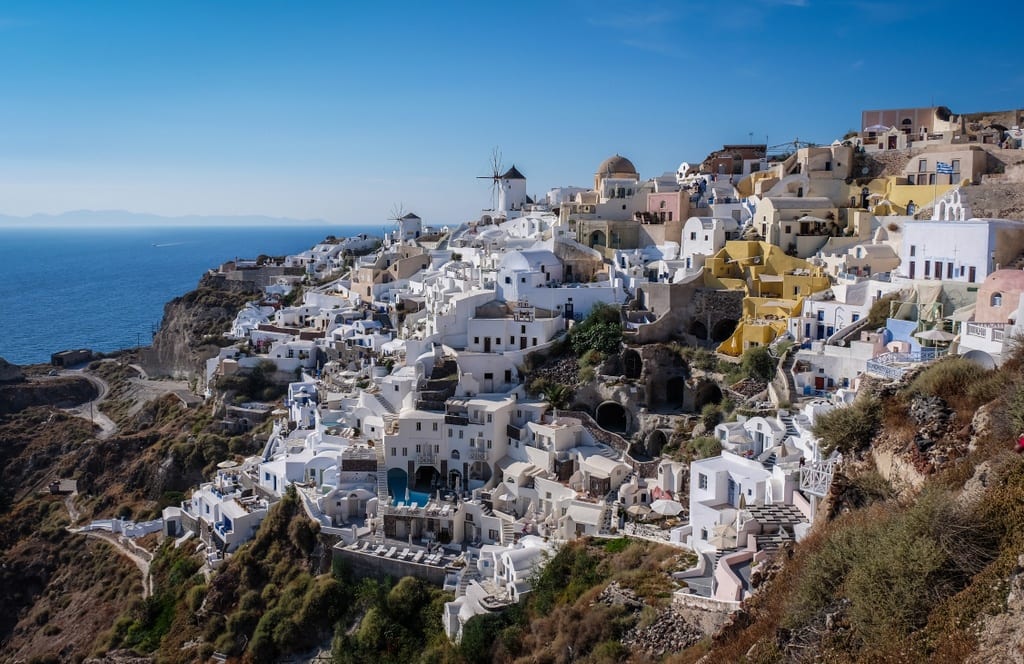 I was so determined to get that sunset photo, I decided to stake out my spot a full 90 minutes before sunset. I contorted myself against a wall and pulled my Kindle out of my purse. I was as happy as a clam.
(This is why I love solo travel. Not a lot of travel companions would put up with that!)
It turns out that 90 minutes was unnecessarily cautious — one hour would have been far more reasonable, even in the busy month of June. But as you can see, it got incredibly crowded.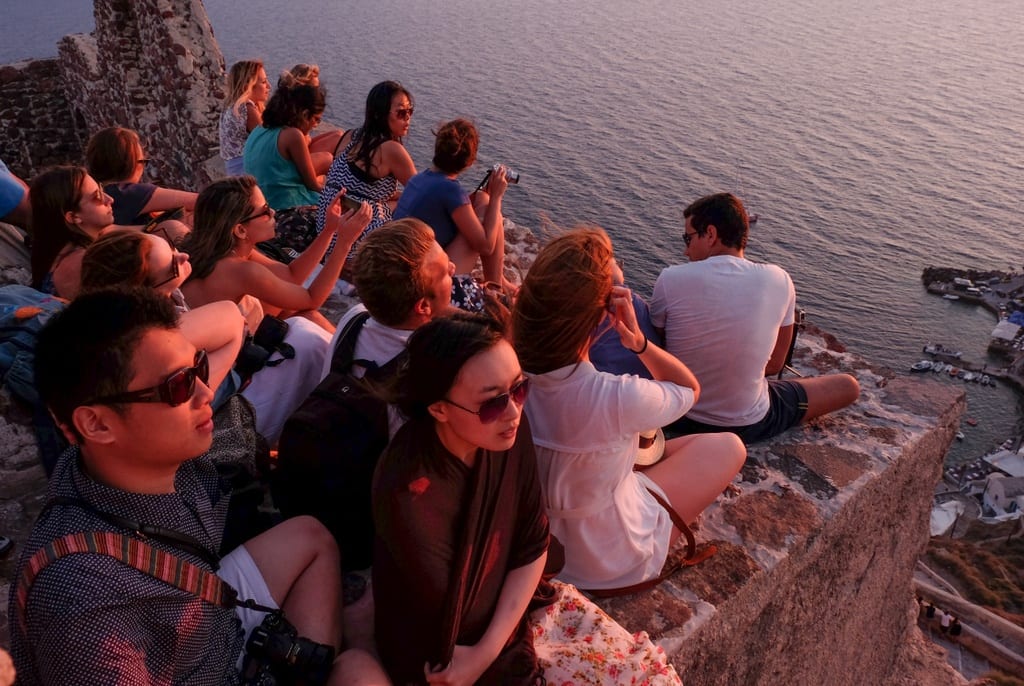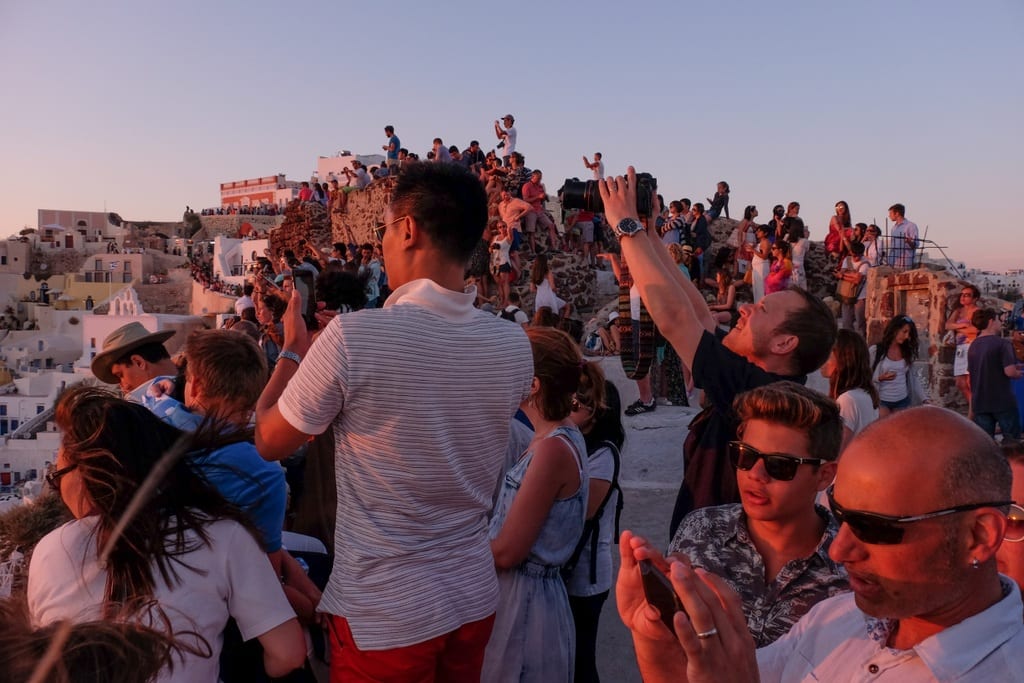 My stakeout paid off. Here's my favorite shot from that night: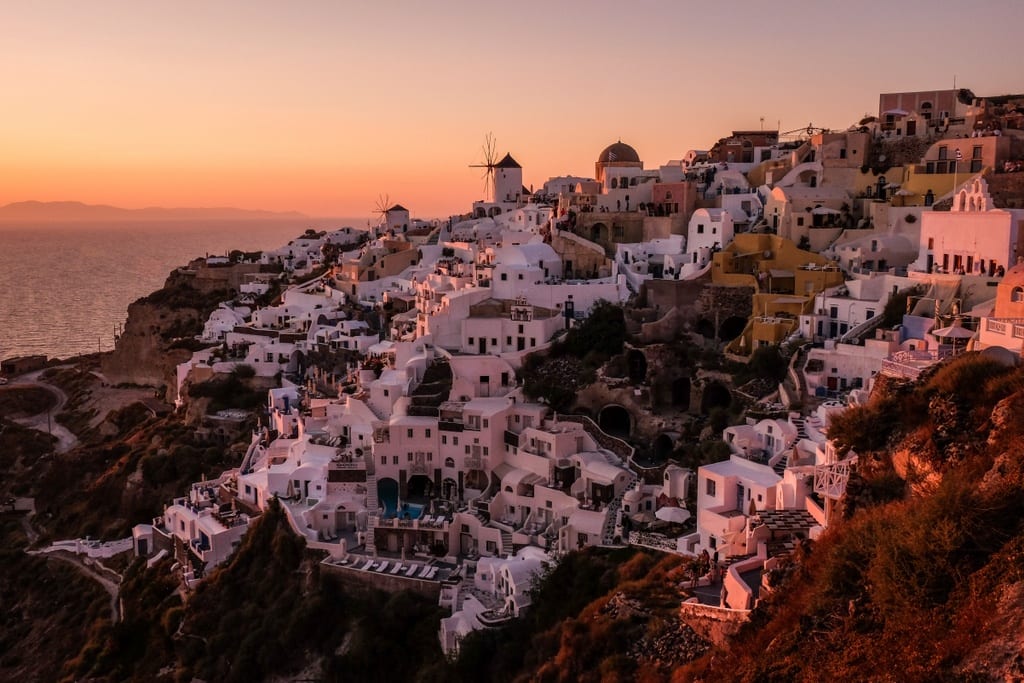 Definitely worth the wait.
Read More: 30 Stunning Mediterranean Islands To Visit In Your Lifetime
Other Sunset Views
As soon as I had this shot, the pressure was off — I had the freedom to go take shots elsewhere in Oia. And over the next three nights, I did exactly that.
It's hard to pinpoint exact locations for these photos, as Santorini is a mess of curvy streets and staircases. Go scope out photo spots early and you'll find some places you like!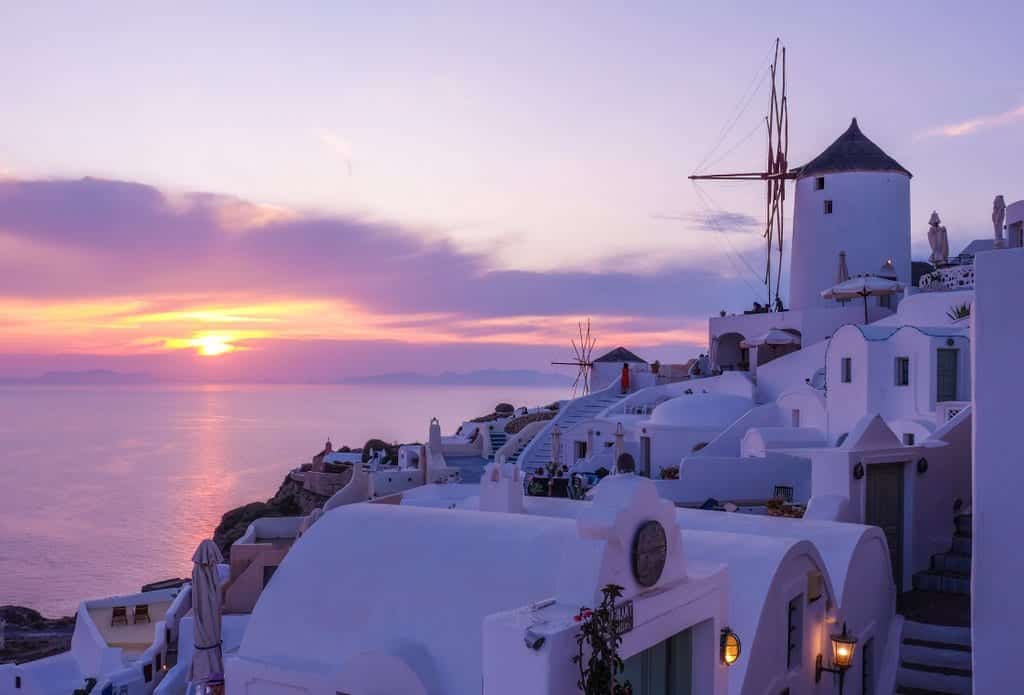 The windmill makes a great focal point. There's a staircase behind it that makes a good point for shooting it.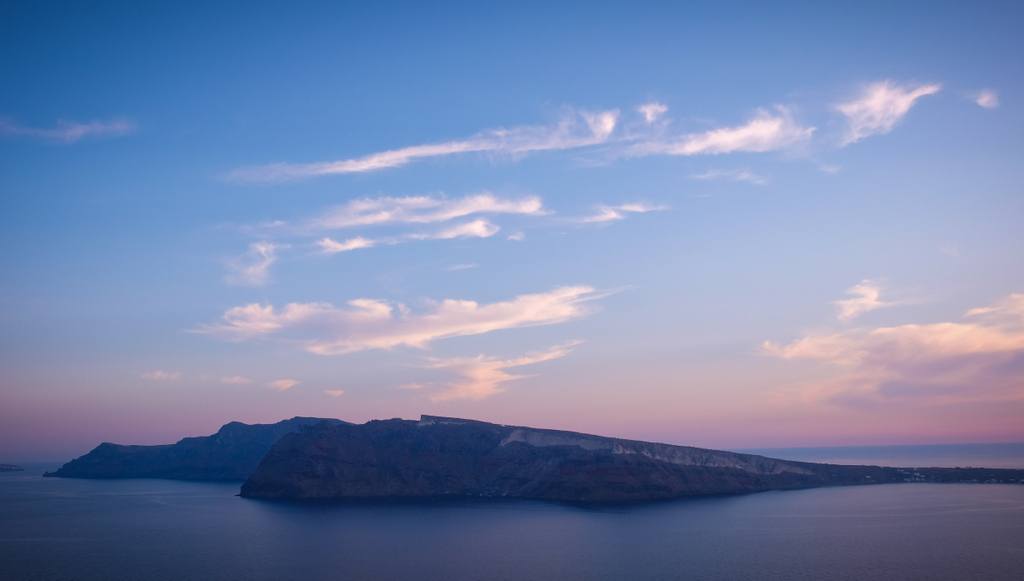 The view off Santorini.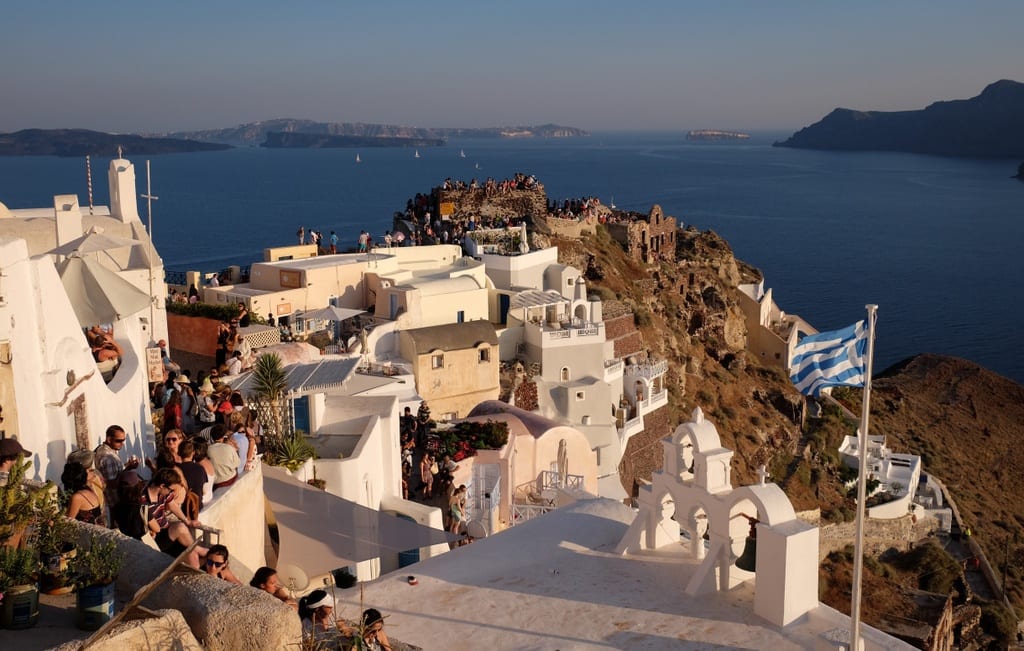 I love looking at the people as much as looking at the sunset!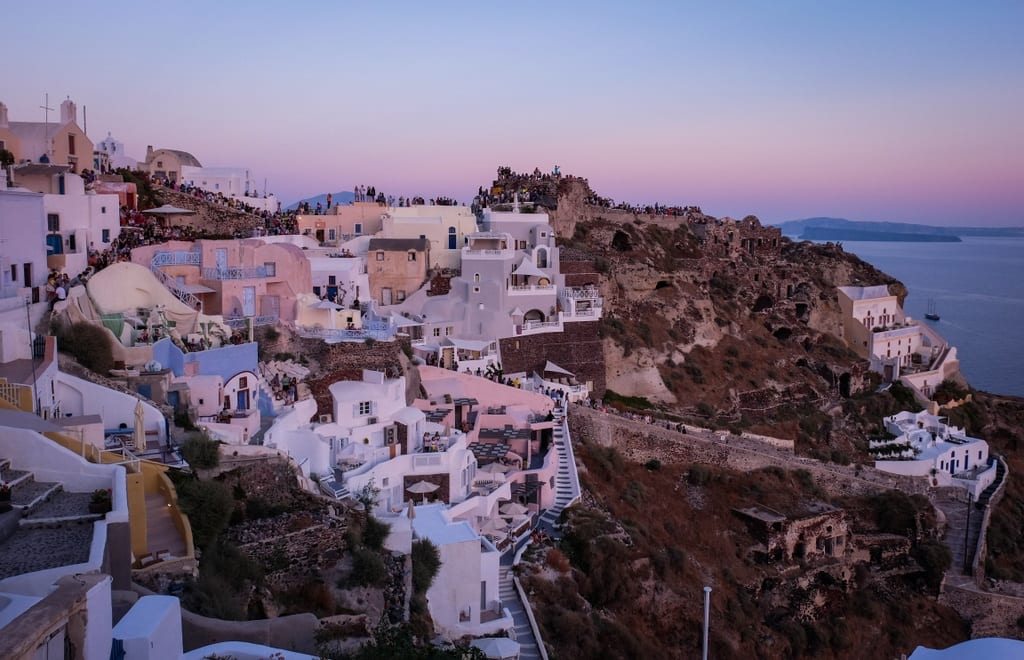 Shooting Oia Castle from the other direction can be interesting.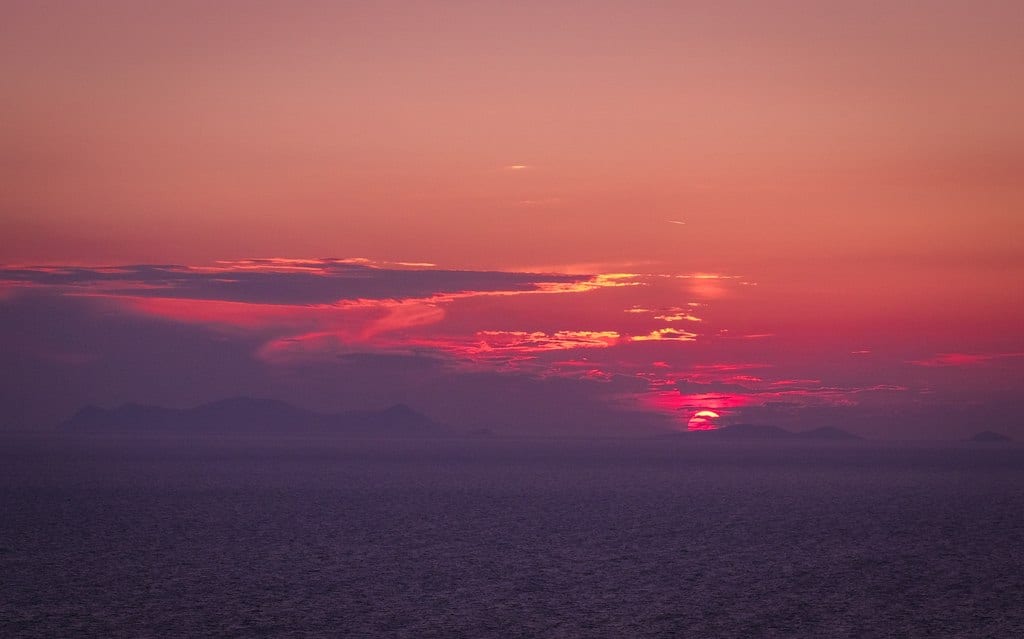 And sometimes just the sunset itself is nice to photograph.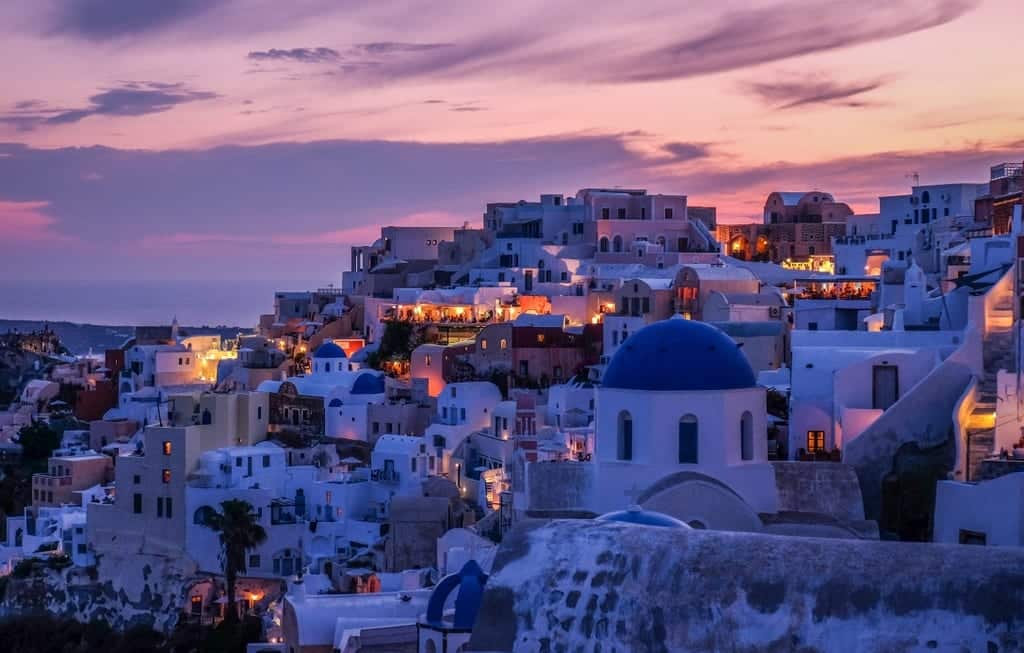 This photo is my absolute favorite!
You can see Oia Castle in the far left — that should give you the ability to orient yourself.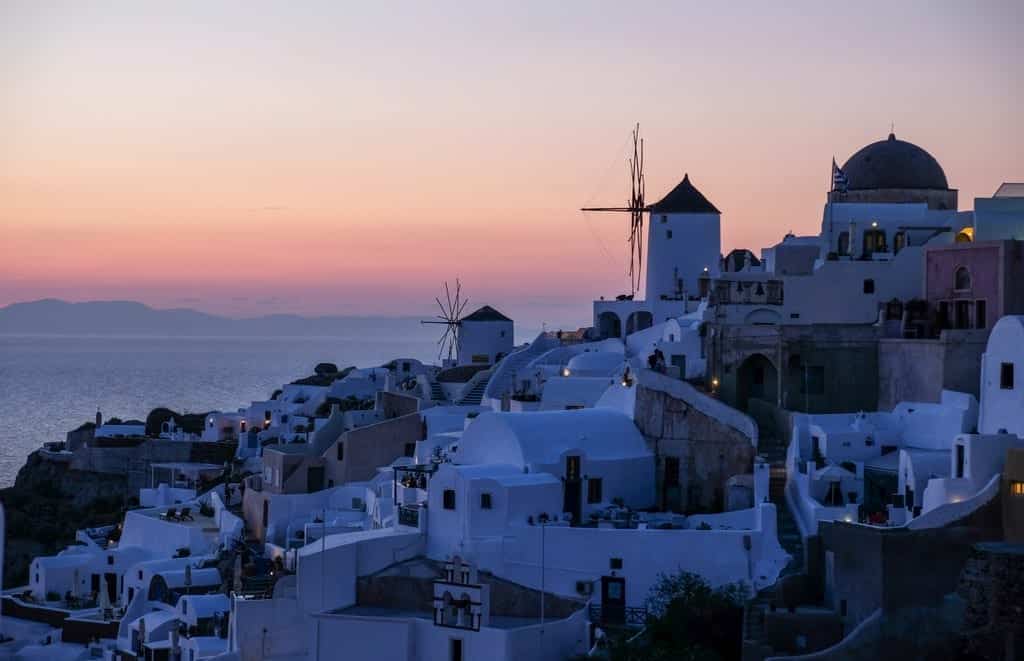 Tips for Photographing the Sunset in Santorini
Find some sunset photos you like before your trip. Save them to your phone — or print them out, if you're old school — and make it a goal to visit the spots with these exact views.
Spend the day scouting our photo spots in Oia. Walk around, explore, and take out the photos you saved to see if you can find the spots where they were taken.
Check the sunset time. Just Google "santorini sunset time" and you'll find it. (Keep in mind that the internet is awful in Santorini. If you don't have good wifi where you're staying, several cafes in Oia will have it.)
Arrive well before sunset. If you're a serious photographer or going to a popular spot, I would recommend getting there at least an hour in advance. Bring your Kindle or a book.
If all else fails, Oia Castle is the classic sunset spot — or just follow people with tripods. Multiple people with tripods is a sign that you're at a good photography spot.
It's not over once the sun dips beneath the horizon! Yes, everyone will be clapping, but only the amateurs will be leaving. This is when it turns into blue hour and the island changes color again. This is one of the best times to get photos — the photo above this section was taken during blue hour.
The Takeaway
I'd be lying if I said my time in Santorini was deep or meaningful — it was nothing but eye candy.
I'd like to say that I was a good travel blogger and explored the island top to bottom, saw the harder-to-get-to beaches and the lesser-known towns…but nope. Did not happen. I pretty much walked around Oia and ate Greek salads. I did briefly go to see the black sand beaches at Perissa…until I got bored and had a Greek salad.
But there's nothing wrong with that. As I flew on to Corfu and then got a ferry to Albania, I felt like I had experienced a wonderful first taste of Greece. Not the only taste — I know I'll be back. There's so much more to discover.
And now it's time for me to work on my next egregious travel oversights: Poland. Austin. Portland. Mainland China. Anywhere west of Toronto in Canada. Who knows what will be next?
Essential Info: These photos were taken with my Fuji X-T1 with an 18-135mm lens. You can buy them together for a discount. If you're looking for a mirrorless system, I highly recommend it.

In Santorini I stayed in an eight-bed dorm at Fira Backpackers Place in the central town of Fira for $23 per night, the result of waiting too long to book a place to stay in high season. Book ahead!

As far as hostels go, it's decent — except they locked the lounge at 11:00 PM and the internet only halfheartedly worked around 25% of the time. It is, however, in a terrific location, a short walk from central Fira and the bus station, where you can get connections to all over the island. Bus trips don't cost more than a few euros.

I had a terrific meal with a longtime-reader-turned-new-friend at Tsipouradiko, practically next door to the hostel in Fira. In Oia, Lioyerma Pool Bar is a great place to enjoy a dip and a champagne before sunset.

If you've got more than $23 to spend, check out hotels in Fira if you want to be centrally based and hotels in Oia if you want to be based in the gorgeous white village. If I went back, I'd want to be based in Oia! Preferably somewhere with an infinity pool like Hotel Katikies or Elea Resort.

Santorini has terrible internet. If you work online, save Santorini for when you can take a few days completely off. I found half-decent internet in various bars and restaurants in Fira and Oia, but check that it's working before you sit down and buy a drink.

I flew in and out of Santorini on Aegean Airlines (check for the best rates on Skyscanner), but there are also several ferry lines connecting to other islands and the mainland. You can view all Santorini ferry schedules here.

The Planet D wrote a great photography guide to Santorini — check it out for more tips!

I saw several people take spills on the stairs in Oia, mostly when they were bumped by someone who wasn't paying attention. Don't visit Santorini without travel insurance — I use and recommend World Nomads. You never know if you'll have to deal with a visit to a doctor or dentist after accidentally falling.

One last thing — Santorini, like many romantic and honeymooner-oriented destinations, can be a bit tough for solo travelers, particularly in Oia. Get ready to hear, "Only one?" with pity from lots of restaurant employees. It's okay — just remember how fabulous you are.

Have you been to Santorini? What did you think?
Get email updates from Kate
Never miss a post. Unsubscribe anytime!